Office design / Global
Scaling up
The actual space in which you work plays a key part in any company's story; find somewhere that reflects your values, get the details right and think of the future. Here's our rulebook.
It's a real challenge for an entrepreneur to build a base that is beneficial to business and uses good design to create the correct culture within. Thankfully, what fledgling ceos might lack in terms of funding and resources early on they make up for in their inventiveness.
It's those entrepreneurs that have a knack for bringing fruits to bear in the business world who are often clever in creating smart work environments. But as a business grows there will come a time when it takes commissioning a canny architect to raise an office's design up a level – and this requires further vision.
It is undeniable that thoughtful office design is good for business. So, to learn more, we've toured our favourite workspaces, from simple home set-ups to bases that have expanded and grown to become the headquarters for global brands.
The lessons we have gleaned have been distilled into this simple rulebook: our guide to designing workspaces that reflect brand values, keep staff comfortable and allow for adaptability as a company scales up.
RULE 1
Eliminate distractions
Lilitt Bollinger, Nuglar, Switzerland
For the modern entrepreneur, working from home doesn't necessarily mean you're operating a small business. But doing business from an environment made for living is a recipe for distraction (a quick trip to a well-stocked fridge can be a slippery slope). For Swiss architect Lilitt Bollinger, who created both working and living spaces in this fine conversion of a former factory in the small Swiss town of Nuglar, the trick is a defined separation and the elimination of disturbance. "There should be a balance and it shouldn't be too cosy," she says of her minimalist workspace, marked by cool concrete floors and timber panelling. Here she works peacefully while keeping clear of the kitchen.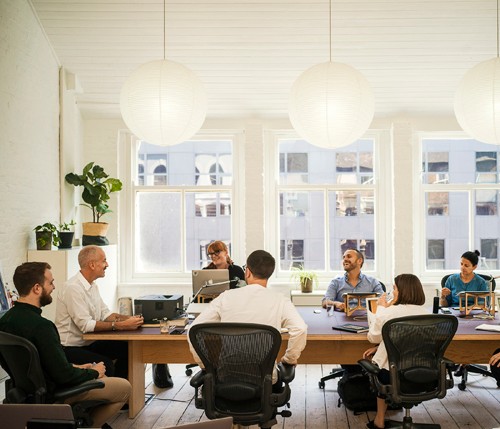 RULE 2
Design for wellbeing
Represent, London
Offices of all sizes benefit from a good dose of natural light and one rule for entrepreneurs looking for first digs is to give ceiling height and window size the same consideration as floor space. These factors benefit staff in London recruitment agency Represent's new office. Opened earlier this year, it was formed on the double-height top floor of an old bicycle factory. While floor space is sufficient for this small business, a window-lined sloped roof allows light to bounce in off white-washed walls. Worker wellbeing is further enhanced by a masterfully crafted timber structure sitting within the space that forms private meeting pods and enriches the office environment with the warm smell of wood.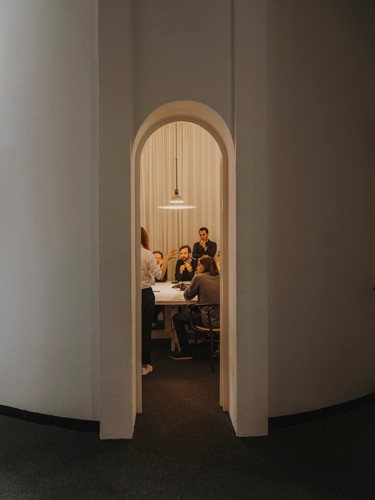 RULE 3
Create room to communicate
Ricardo Bofill Taller de Arquitectura, Barcelona
There comes a point in every office's life where open-plan becomes far too open and private spaces become essential. But meeting spaces shouldn't feel like afterthoughts; a converted storage room will always feel more cupboard than conversational, while erecting glass cubes should be left to those in the aquarium business. What your office needs are meeting spaces designed with dignity in mind; these are the places where big decisions are made, career-defining concepts are refined and conversations that require privacy are afforded. For inspiration look no further than Spanish architect Ricardo Bofill's office. These masterfully designed spaces are set in the theatrical stylings of a former cement factory.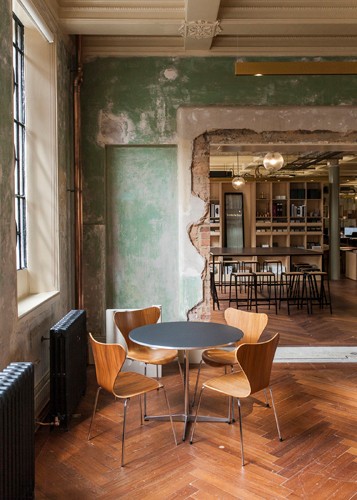 RULE 4
Leave things exposed
Squire and Partners, London
As your business scales up you'll begin to understand the power of "brand" and may feel the desire to use design as a tool to stamp your company's identity onto every nook and cranny of your office. Please don't. When it comes to architecture and your surroundings you can learn a lot from what already exists; if a building has already lasted many years it tends to be because it is well built. London's Squire and Partners knows this fact well and the success of its conversion of a historic department store into its HQ comes as much from what has been left exposed as what has been added. "We didn't want to lose the loveliness," says partner Henry Squire of the layers of history this sensitive renovation reveals.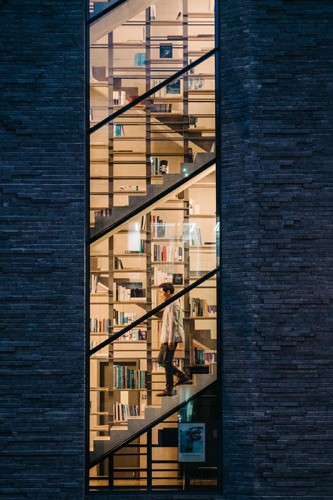 RULE 5
Work with what you're given
Rainbow Publishing, Seoul
Entrepreneurs tend to think big but in their early days are often constrained by tight budgets. However, you don't have to let a lack of funds limit the ambition of your office design if you think about it creatively. Just look at this new home for the young business Rainbow Publishing in Seoul. Here, architect DaeWha Kang worked within the confines of a small footprint site to erect anarrow five-storey structure where the staircase connecting each floor becomes the centrepiece of the design.
A 100-shelf bookcase (handy for a publisher) is adjoined to the light-flooded stairwells, which form stages for staff interaction across the office and have the added benefit of boosting fitness: Kang points to research that shows people who walk up five flights of stairs a day live longer than those that don't. Healthy staff, healthy business.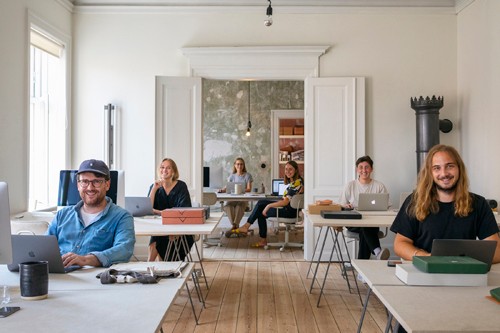 RULE 6
Welcome with your architecture
Frama, Copenhagen
When a company installs a bedroom on its premises it doesn't have to signal the fact that staff are being overworked. For Danish design company Frama's base in Copenhagen, a sleeping space has been added to offer proper hospitality to weary visitors from far-flung regions. Friends of the company, and clients and distributors doing work at the furniture company's centrally located HQ, can rest up here in comfort. The space is made extra cosy by the brand's wares. It's a fine live-in advertisement for Frama products and a finer representation of the values for which the brand stands.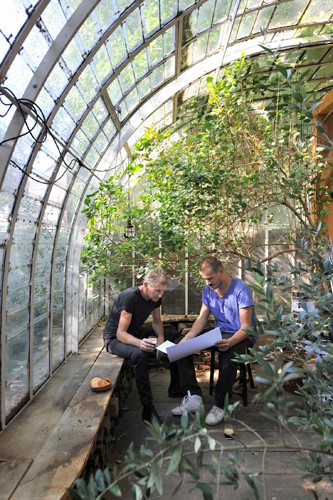 RULE 7
Give staff a break
Studio Valentin Loellmann, Maastricht
Forming social bonds between staff members works wonders for creating a warm company culture. As such, a good workspace design is one that incorporates space for both work and recreation. As we reveal in our report on company cooks, a handsome dining area (and good food) is a key ingredient in bringing your team together. Maastricht-based artist Valentin Loellmann has taken things a few steps further for members of his growing studio. Here, in an environment that was custom designed by the artist, staff can relax in a sauna and work from a botanical garden. Loellmann almost added a swimming pool but decided against it. Some work still needs to happen, you know?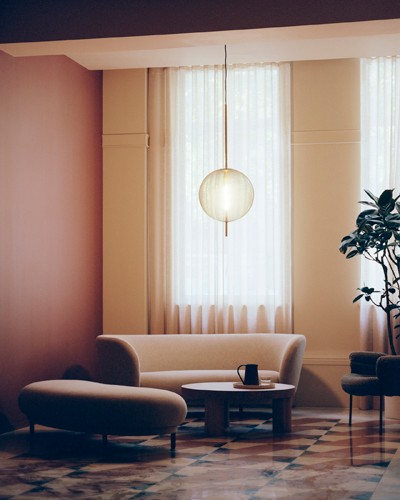 RULE 8
Leave a lasting impression
Note Design, London
Stockholm's Note Design took inspiration from the world's best airport lounges when thinking about how to form the perfect office lobby for London office Summit House. Like a good lounge, any well-designed lobby should welcome new arrivals, highlight the positive attributes of your brand and provide a comfortable space that people will be keen to linger in. From the spacing of the seating (close enough together to avoid isolation but far enough apart to create privacy) to the design of the front desk (inviting but authoritative), your public-facing parts are the ones that require the most manicuring.