Start-ups / Global
This is what success looks like
Will quitting the nine-to-five to be your own boss mean never having to work into the weekend again? Or will it mean never getting home before midnight? We caught up with eight successful entrepreneurs on a Friday evening to find out whether their end-of-day agendas involve cocktails or spreadsheets.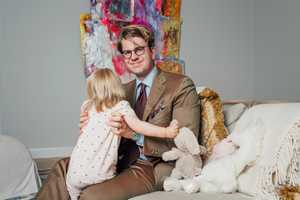 1.
Niclas Ahlström
Made by Choice
Hosting dinners at home for colleagues – and clients – can keep you hungry.
Home is where the heart is but for Made by Choice founder Niclas Ahlström it's also a space for moving his furniture business forward. He often, for instance, brings colleagues home to continue their work in a more relaxed setting. "We envision new products and ideas during dinners with the team," he says. "We innovate together and inspire each other."
Ahlström says that these dinners help the team to build purpose and passion, and to appreciate each other's integral roles in the production process. "A good team that works well together is so important," he says. "Someone envisions the chair, someone designs it, someone builds it, someone sells it – you need everyone involved to work with the same goals from the start to arrive at the best possible results. And I like to show my appreciation to every single person involved in that by having them in my home."
He also sometimes organises meals there with people from outside the company. "It's nice to get feedback and ideas from people outside the design sphere. They see things differently," he says. "This is why we like to do cross-disciplinary projects, such as combining art and fashion with product and furniture design. Dialogue between people from various sectors helps us to build a culture of innovation.
"Made by Choice has drawn attention with its minimalist Nordic-inspired pieces rooted in Finnish woodworking traditions. It made a number of best-in-show lists at this year's Salone del Mobile and will soon be expanding to shops in the UK. The company has grown 50 per cent in the past year and has a turnover of €5m. For Ahlström there's a direct link between quality time at home, the quality of the product and success.
"I do a lot of thinking at home," he says. "Without that time and space to think you can't create anything."
MONOCLE COMMENT: Bringing colleagues into your home can be a powerful tool to bring the team together and open up new ways of thinking about work.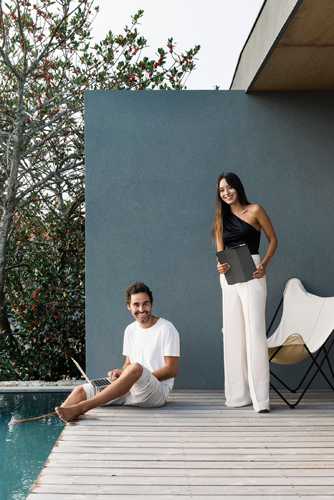 2.
Marta Brandão & Mário Sousa
Mima Housing
Designing for life – and work.
Portuguese architecture practice Mima Housing takes a modular approach to its homes: it creates elegant, contemporary, pre-fabricated dwellings based on a grid system, enabling simple customisation. At 18.00 on Friday you'll usually find founders Marta Brandão and Mário Sousa at the office but it's not about spending hours chained to a desk. "For us, success is loving what we do and feeling good at work," says Brandão. "We attract clients who understand our concept and architectural language and that means we believe in what we do."
They came up with the idea for their business while studying in Switzerland in 2007 and realised their first project in 2011. Success came swiftly: that year the practice won a best building award and today it has 12 employees, 45 completed buildings and 83 projects in the pipeline.
The pair designed the homely Mima Housing office themselves. "Being here doesn't feel like work," says Brandão. "We have a swimming pool and balcony with great views; we eat lunch together; and in the evening we watch the sunset."
MONOCLE COMMENT: You don't need beanbags and ping pong tables to make your office a place where people can relax when needed, as well as work.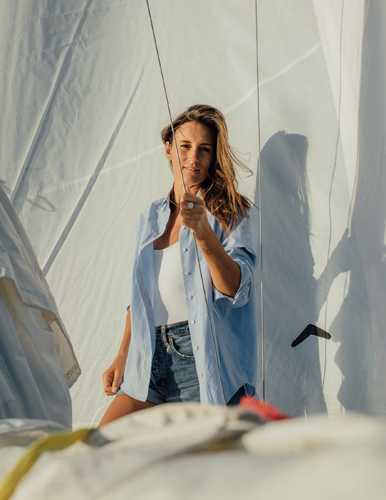 Start-ups are not all plain sailing.
"Being able to work from a place like Sag Harbor on Fridays is a dream," says Max Bonbrest, co-founder of Ayr, a womenswear brand that makes clothes designed to be worn all year round (hence its name). If Bonbrest isn't closing the shop in Sag Harbor on a Friday evening, she's venturing out to sea on her Cape Dory sailboat. "Being able to leave work, drive to a place I love and get on a sailboat with the people I love – that's success."
Ayr now has flagship shops in Los Angeles and New York, a pop-up in Denver and a seasonal store in Sag Harbor but getting there hasn't been smooth sailing. Bonbrest launched the brand in 2014 with two other co-founders under the Bonobos umbrella. But in 2016 all three broke away, taking a handful of employees with them. "We had three months to spin out, incorporate, replatform our site, find an office space and learn all the things we didn't know about running our business."
Despite opening five shops in three years, with two more in Chicago and San Francisco to come, Bonbrest still finds time to get away. "Being able to steal moments of peace at sea is magic."
MONOCLE COMMENT: Location is key for any business, not just in terms of its customer base but also for the wellbeing of its staff.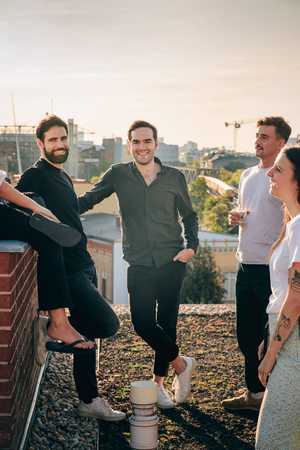 4.
Pascal Blum & Mathieu Caudal
Unu
Savouring the view from the top.
Changing the way people move through cities is one of the central challenges of our times. Six years ago, Mathieu Caudal, Pascal Blum (both pictured, Caudal on left, Blum in centre) and Elias Atahi decided that they wanted to play a part in this transformation so they founded Unu, an electronic-scooter start-up.
Friday evenings see staff members climb a shaky improvised ladder up to the roof of their Berlin-Kreuzberg HQ for sundowners. It is as an apt summary of their journey towards becoming a company with 120 employees. "Nothing was laid out and we are constantly adjusting," says Blum.
Today more than 10,000 Unus fill the streets of cities such as Berlin and Paris, earning €10m in revenue last year. But talking about success doesn't come naturally. "Founding a company is a rollercoaster," says Caudal. "We became resilient; it helps you go through the hard times but it makes it difficult to enjoy the small achievements on the way."
The makeshift rooftop bar, however, offers sweeping views and the chance to talk honestly about their ambitions. "It might sound like megalomania but we want to leave a mark on this city."
MONOCLE COMMENT: Modesty is good but sometimes you need sky-high thinking in order to push your business to the next level.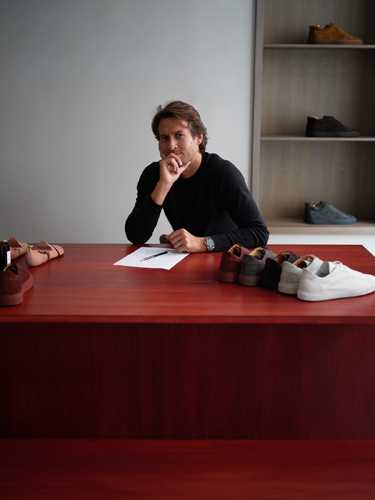 Step in the direction of your passion.
In 2013, Adam Lewenhaupt came to a crossroads in his life: he could either continue down the path he had embarked upon in corporate finance or throw himself into something new that he felt truly passionate about. One year and a launch party later, Lewenhaupt had set up cqp, a brand selling handmade leather sports shoes with fresh colours and neat silhouettes.
Friday evenings are a chance for him to focus on the creative side of his job. The brand has grown steadily year on year and now boasts eight models of shoe sold by more than 30 stockists worldwide. But Lewenhaupt still likes to keep up with the design side of things. "I was able to pivot from being a junior finance guy who was unhappy with life to setting up a business that works," he says. "Now I can combine my job with doing the thing I enjoy.
"The moments I love the most are in the evening at the end of the week when the phone has stopped ringing, the kids have gone to bed and I can forget about time and just draw and think of ideas," he says. "I suppose being able to call that work is, in itself, a success."
MONOCLE COMMENT: Starting a new business is a chance to do something that you enjoy – at least some of the time. Don't lose sight of the parts of the job that make you tick.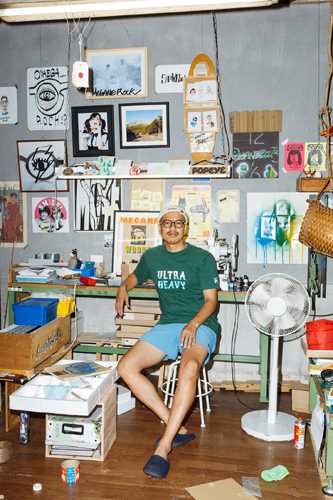 6.
Daisuke Amada
Megane Rock
Whether your business is big or small, keeping everything in focus is key.
Daisuke Amada, founder of Megane Rock, is a rarity in Japan's eyewear industry. He designs, cuts, polishes and pieces together every part of every frame at his small workshop in the city of Sabae, the country's eyewear-manufacturing capital. "Typically you specialise in one part of the production process," he says.
Amada left his career in fashion retail to embark upon a stint in an eyewear factory. He has been running Megane Rock for the past five years, making just 150 acetate frames a month, focusing on one design at a time from 25 different shapes.
On a Friday evening you could find him pulling a batch from a polishing machine, sketching new ideas or packing a shipment of frames. "I've reached a point where I can work at my own pace in my atelier," he says. "I'm happy that I make a product that puts me in contact with so many people. Success for me was never about money; I feel fortunate that I can spend time with people who wear my frames." Amada's reputation has mainly spread by word of mouth. As a result he is kept busy travelling for trunk shows and filling orders from 20 retailers in Japan. It gives people who wear Megane Rock frames a chance to meet the man behind the brand but it also energises Amada. "Most producers don't get to talk with customers," he says. "I do and it motivates me." His disregard for trends partly explains the enduring appeal of his designs. "I ignore fads and I never intentionally design something new," he says.
He's also busy planning his next project: preserving the methods of eyewear-makers in Sabae who are nearing retirement age and have nobody to pass on their skills or equipment to. Amada worries that their knowledge and expertise will be lost. "This place helped me find my calling and now I want to help preserve these techniques," he says. "That's my next focus."
MONOCLE COMMENT: Not every company needs to grow exponentially; sometimes it makes more sense to stay at a size where you can maintain control.