Business toolkit / Global
World at your feet
Whether they're grand business behemoths or single-person start-ups, there's no one-size-fits-all solution when it comes to entrepreneurs. We've traversed the globe and searched across industries to bring you the stories of where, how and why people have decided to go it alone.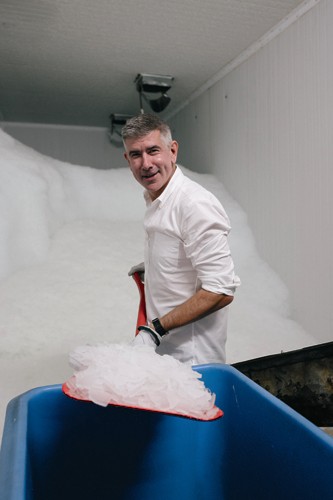 Miami ice  
Alaska Ice Corp
Eric Goeres, aged 47, is the unlikely entrepreneur behind Miami's Alaska Ice Corp, having bought the fledgling company in February after ending a successful 20-year career as a creative executive for several of the biggest names in print and digital media. He says he was seeking a "future proof" opportunity. "Ice is unique in that it is essential and elemental; its use cannot be replicated or disrupted by Facebook, shipped by Amazon or made in China," he says.
It's barely dawn in Miami and the temperature is already above 30C. At the Plaza Seafood Market, Sergio Yanez and his workers are busy arranging colourful rows of just-delivered red snapper, grouper, lobster, jumbo prawns and live blue crabs atop the beds of pure-white ice crystals that will keep them cool and fresh during the searing heat of the day to come.
If such a rich daily harvest from the waters around south Florida is the draw for shoppers at this lively Hispanic street-corner marketplace and café in the city's Allapattah neighbourhood, Yanez knows it's the ice that keeps the wheels of his business turning. It arrives in giant cloth bags, 500kg at a time, from Goeres' firm which is a short drive across town. "The ice is crucial to the fish; we need these guys," says Yanez, who processes and sells a range of seafood supplied by clients from Mexico to the Florida Keys. "Our ice-makers break down a lot. Whenever I need a big bag – which is often – they've always got one ready to go."
Commercial ice is a big deal in Miami, where daytime summer temperatures average 31C. In such heat you might think that the bright-yellow sign on the wall at Alaska Ice Corp's premises in Hialeah, warning visitors of falling snow and ice, is a joke. Yet just steps beyond, in a cavernous and freezing packing room, chunks of the stuff cascade down chutes from two giant ice-making machines on the roof. On busy days production can reach nigh on 45,500kg. Hard hats are obligatory.
From the packing room, Alaska Ice Corp's general manager JC Pino uses a forklift to load the bags onto the company's fleet of trucks, which shift it to where the ice is needed most: flower imports coming through Miami International; large-scale fish companies that import, process, repack and distribute South American tuna; smaller family-run operations such as Plaza Seafood; and Miami's prolific teams of loncheros: food trucks driven around the city that deliver fresh fare including empanadas, cheeseburgers and ceviche to workers at building sites and offices.
"These workers are the backbone of the labour force building future Miami and our ice keeps the food and drink cool in the Florida sun," says Goeres. Another growing line is "emergency" ice: for example, when a restaurant's ice-maker fails and Alaska Ice Corp receives a late-notice call to stock up the freezer of the business in question.
"It's not lost on me that what we're selling is just frozen water," says Goeres. "It's not the internet, it's not a 'like' or an Instagram post and it's not a marketing ploy. It's just a piece of ice. And that very tactile, hands-on nature is what appeals to me."
Banking on start-ups
Getting a business loan needn't be cause for alarm.
You've got a business plan, a few employees and a load of confidence – now what? Funding is often the most daunting aspect of setting up a business but never fear: some banks are rethinking their lending terms and helping entrepreneurs create interesting companies.
Traditional banks can be risk-averse but the better ones offer a helping hand in the form of advice and a network of likeminded businesses. For UK-based firms there's Aldermore, one of the fastest-growing lenders; The Triodos Bank, which only lends money to businesses that pay social, environmental or cultural dividends; and Unity Trust Bank, which is aimed at charities, social enterprises, co-operatives and community organisations.
Technology-driven mobile banks such as Tide and Mercury are appealing for their ease of use but without physical branches it can be hard to get personal support. This is the niche that Bira has cornered. Founded in 1955, it is owned by the British Independent Retailers Association and is specifically built to serve their interests. It disburses about £10m (€11.2m) a year in loans, anything from £15,000 (€16,700) for a used car to a working-capital loan of £250,000 (€279,000) for a shop refit. Its expertise is coupled with speedy service. "If one of our members approached a high-street bank for a loan they might have to wait several weeks before they could speak to someone who can help with their particular application," says managing director John Collins. "We try to turn it around the same day or within a couple of days."
Its trade-association ethos means that it isn't beholden to increasing shareholder value and can put money in things it believes in or thinks will benefit UK retailers. "The job is about putting our members at the heart of everything we do," says Collins. Now, there's an ethos you can bank on.
Don't touch my base
Ditch the buzzwords and keep things simple.
Words are vital when it comes to communicating your company's values so choose them wisely. Whether it's a job title, company tagline or how you address your team by email, corporate jargon adds confusion and frustration. We've collected some of the lowliest examples of this lame lexicon in a glossary for getting beyond work-speak.
Synergy
People think it means The complementary interaction of two ideas
It really means Neither of the ideas was good enough to start with
---
Hot-desking
People think it means "I'm part of the creative elite"
It really means The company is saving money, starting with where you sit
---
Going forward
People think it means From now on
It really means The entire undertaking has been going around in circles until this point
---
Ideate
People think it means Generating solutions
It really means Some people are insolubly daft
---
Action
People think it means Activity; the act of getting something done
It really means Someone who rarely does anything is (or may be) about to do something
---
Touch base
People think it means Catch up
It really means To arrive at the foot of the Himalayas or smoke crack cocaine
---
Strategic
People think it means An important prefix for any occasion that adds impact to the proceeding word, such as "partner", "decision" or, most amusingly, "reversal"
It really means Every decision that this person has made previously lacked any forethought
---
Granular
People think it means Detailed, nuanced and close-up
Really means Nebulous, irrelevant and far from important
---
Stakeholder
People think it means Anyone even tangentially involved in a decision
Really means A decorative item in a butcher's shop for displaying meat
---
Innovation
People think it means Something new and exciting
Really means Nothing new and exciting has happened at this company for some time
---
Low-hanging fruit
People think it means Easy pickings; a simple win
Really means "We've given up aspiring to anything more clever, complicated or competent"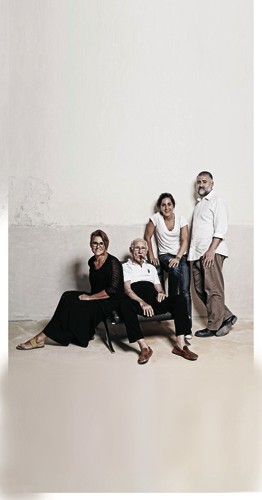 SUCCESSION STORY 01
BlattChaya, Beirut
Building a company involves knowing when to hand over the reins; across the following pages we meet three getting it right, starting with a Lebanese tile firm.
Cement-tile producer BlattChaya was founded 20 years ago after Edgard Chaya's cousin gave him a chest of tile-mould fragments from a previous family enterprise (also called BlattChaya). The company is now a market leader and his four children, of which Karim is the youngest, are determined to continue that legacy.
Edgard Chaya, 90
"I'm proud that I managed to start something that my children want to continue. They caught the bug from me and love the creativity of it. Karim has changed a lot of things in the factory and it has improved the business – even if I wouldn't have done it that way."
Karim Chaya, 47
"I've learned a lot from my father but, above all, my dad is a great believer that the product is king, rather than the customer. If the product speaks for itself then the client will feel the perfection and be happy."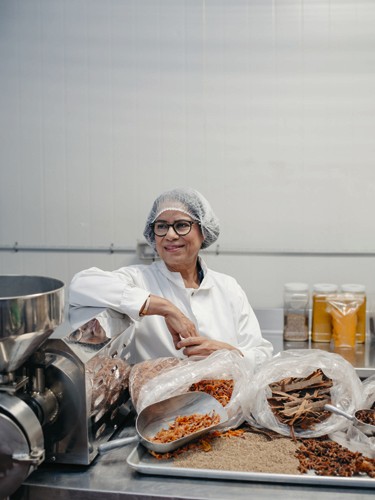 Old job, new tricks
When wisdom and entrepreneurial verve combine
1.
Jaswant Kular, 69
Co-founder and executive chef
Jaswant's Kitchen
Jaswant Kular (above) started out making homemade spice blends for her children. Years later daughters Simi, Roupi and Nimi convinced her that there was a market for her recipes, becoming co-founders of Jaswant's Kitchen in 2010. Now the Toronto brand is stocked in the Ontario branch of Whole Foods and some in the US – and on Amazon. "My life is more rewarding now," says Jaswant.
2.
Bryan Kravitz, 70
Owner
Philly Typewriter
For 15 years Bryan Kravitz repaired typewriters but, as their popularity dwindled, he was forced to stop. But in 2013 his partner noticed a vintage one on sale. "It gave me a hint that there was something there," says Kravitz, 70, who opened Philly Typewriter in 2017. "It couldn't have happened if I wasn't this age. I had this skillset that was buried, then people got into retro; business is thriving."
3.
Kemi Oloyede, 53
Founder and creative director
The Sew London Project
Having taught art and textiles in London for 20 years, Kemi Oloyede was ushered into early retirement at 50 after arts-funding cuts. She resolved to reboot her career and The Sew London Project was born in 2015, offering a bespoke fashion-design service; the company also offers sewing workshops. In 2020, Oloyede plans to open up her designs to other makers by producing patterns.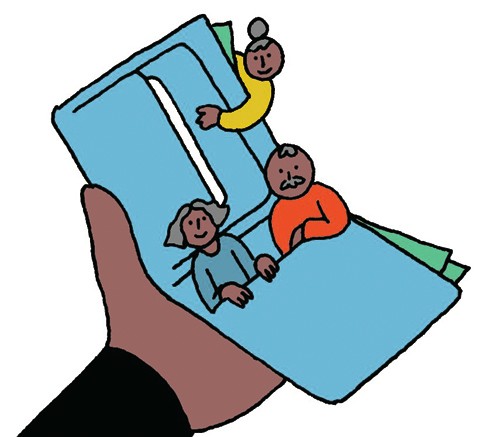 What's at stake?
Why the smart money might not be on external investment.
Aisles of boring business books and hours of idle daydreaming are devoted to pitching that humble business you started to those most promising but precarious of potential creditors: venture capitalists. But why do it? Any savvy investor worth their tailored suit probably isn't quite as excited about swimwear or a supper club as you. Instead they have shareholders to report to and dollar signs in their eyes.
At MONOCLE we feel a little different about the purpose of businesses. Yes, they need to make money but what about building something that lasts a lifetime? Angel investors are fine if you just want to flip the company but think twice if you don't. Luckily the tides of entrepreneurship are eroding the island mentality of making money for its own sake. Customers are wary of firms that ransack neighbourhoods, nations or the environment without giving back. This sense of responsibility is the advantage of family funding and it's still the safest road to take. It can be precarious turning pals or parents into creditors but it also provides some clarity. Should you gamble grandma's savings on that office upgrade? Does dad's diligently gathered inheritance deserve to be squandered on a staff party? Your sister's wedding savings on a website? It makes you think twice.
In the rush to run with the unicorns, many founders quickly forget what got them excited about owning a business in the first place. If you've got faith in your business then a venture capitalist isn't always the answer, particularly if you want to pass along any of the proceeds to help your cousin get their fledgling firm flying.
SUCCESSION STORY 02
Ludwig Reiter, Vienna
Founded in 1885, this heritage shoemaker started out supplying the Austro-Hungarian royal army but these days produces everything from handmade Chelsea boots to briefcases. Fourth-generation Till Reiter runs the firm with his brother but will eventually hand over to his daughters, Anna and Magdalena.
Till Reiter, 57
"They bring so many new ideas to the table. I see the future in them, even if I have trouble understanding it: the importance of social media and online shopping."
Anna Reiter, 31
"When the smell of leather is one of the first things you remember, it's normal to sit and chat about shoes at the dinner table. I always knew I wanted to be a part of the business. It's not a job I leave behind at 5pm, it's my life."
Magdalena Reiter, 29
"I've been working with my father for eight years and we understand each other really well now. He sends me off to meetings on my own these days; it's a sign he's letting go a little and trusts me. We have a lot to learn from him – they are very big shoes to fill."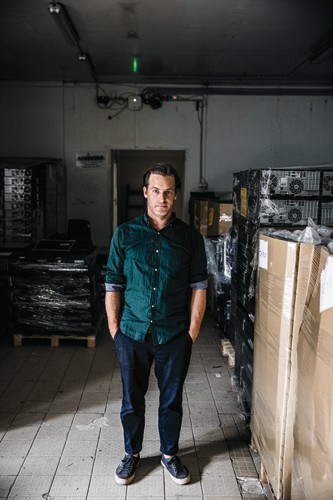 One man, two businesses
Hadrianus & Möbelkunst
On the east side of Budapest, two businesses are tucked away on a street in the Tenth District, Kobanya. The first is Hadrianus, a salvage company for unwanted and broken IT equipment. The second, Möbelkunst, houses the city's foremost trove of mid-century furniture. At face value these businesses don't seem to have much in common but their founder, 42-year-old entrepreneur Andras Fugerth, disagrees. "They share a very similar business model," he says. "Except one is waste and the other is treasure."
Aged 19 and still at university, Fugerth observed that, in an effort to remain in step with the latest technology, offices around the city were discarding tonnes of waste in the shape of computers, telephones and televisions. Someone was missing a trick: the discarded devices could be collected from companies for a price, then either recycled or repaired and resold. So he set up Hadrianus.
Fugerth was glad that his efforts were reducing the amount of waste that was finding its way into landfill but he always knew that there was more to it than giving new life to broken gadgets. As his wealth accumulated he developed an eye for modernist furniture. Among his first collections was a Hans J Wegner CH33 chair he found while living in Finland. As profits from Hadrianus continued to roll in, his home got so full of furniture that he was forced to rent a warehouse near his IT salvage facility and sell off a few items. But there was a problem: he was hooked on the buzz of discovery and continued to collect rare items from his favourite period. "Möbelkunst is now a business employing eight people," says Fugerth. "It has costs so it has to be thought of as a business but it's still run on the premise that it's a good hobby – the thing I enjoy most is the sourcing."
Wearing two very different hats might cause some people to feel overwhelmed. However, the variety that comes from flitting between his two businesses gives Fugerth energy and enthusiasm in spades. "I'm very busy but I also value my free time," he says. "These two businesses keep me occupied as much as I want. If there was a new opportunity then I'd be open to it but not just to earn more money."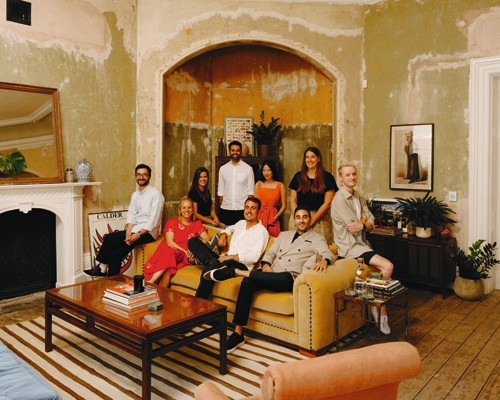 My cabinet: Sharan Pasricha
Ennismore, London
The potted history of Ennismore reads like a business-school case study. Since the group acquired Shoreditch's Hoxton Hotel in 2012 it has expanded at breakneck pace; Hoxton is now a brand with eight locations across Europe and the US, with a hotel scheduled to launch in LA in October. The purchase (and subsequent revival) of luxury Scottish grande dame The Gleneagles Hotel followed. Now Ennismore is turning its attention to the budget category with NoCo, a less expensive hotel option due in 2021.
Once you establish a location, sustained growth in the hospitality industry isn't that tricky according to Sharan Pasricha, Ennismore's founder and ceo. "If you look at our business, we are a hotel but we are also a living room for the neighbourhood," he says. Pasricha is fascinated by the social mores that appear in different cities and how these manifest in hospitality spaces. When it comes to people's behaviour, he is always taking notes: "When Italians have an espresso, for instance, they don't sit down," he says. "What I didn't realise is that if they sit they get charged VAT."
Ennismore is dedicated to sharing the wealth with the neighbourhoods surrounding its establishments. Pasricha talks with pride about his company's work with charity Shelter from the Storm, a homeless shelter in London. Ennismore lent its hospitality nous to the initiative, helping with budgeting and negotiating low prices from suppliers. Chefs from the portfolio of hotel restaurants are regularly brought in to feed those seeking refuge. "Corporate social responsibility isn't just a tagline on the bottom of the website," says Pasricha. "Companies need to spend a lot more time reflecting on how they can add to the conversation."
1. Marcos Eleftheriou Head of internal culture.
"Only Marcos could rally enough troops to get out of bed to paint a homeless shelter on a Saturday morning."
2. Heather Pigott Brand director.
"Could sell water to a goldfish."
3. Hannah Cheston Brand manager.
"Han brings the team together to help us raise that dough."
4. Imran Bhatia Senior legal council.
"The one keeping us all out of trouble."
5. Luke Nurser Project manager.
"A ballbuster when it comes to keeping things on time. Great at beating down suppliers for the best price."
6. Kathleen Lee-Joe Content editor.
"Kath knows how to write a story. She's done everything from establishing the mission statement, to documenting the journey online."
7. Sharan Pasricha Founder and CEO
Sharan Pasricha cut his entrepreneurial teeth at an early age: fresh out of university he founded marketing agency Rush Media. Before long he was being enlisted by an uncle to reverse the fortunes of the family's ailing leatherware business in New Delhi. Pasricha did just that, bringing the company back into profit in 18 months. Moving back to London in 2009 he founded hospitality group Ennismore. Starting with the purchase of a single hotel in a fast-gentrifying area of east London, he has since turned the company into a flourishing hospitality empire.
8. Hannah Marsh Head of learning and development.
"Hannah gets the best out of our people. With Marcos she helped establish our apprenticeship programme so that we can continue to develop."
9. Harry Ashbee Graphic designer.
"With his eye for detail, Harry has worked with Shelter from the Storm on branding: telling their story, creating assets for social media and doing all sorts of hands-on jobs like sign painting."
Help is at hand
Junction Triangle, Toronto
In 2016, when Halo Brewery opened in a two-storey, red-brick building in Toronto's Junction Triangle, it did so sporting a homemade logo that, like the basement the brewery started in, no longer fitted its ambitions. Owner Callum Hay didn't have to look far for help. The move to a new, bigger space in the city's west end, which helped expand production to 2,400 litres of beer a week, also introduced him to useful neighbours: fellow small businesses.
Formerly an industrial area filled with warehouses and factories, the Junction Triangle fell into decline in the 1960s when passenger trains ceased to stop there. Today the area is home to cafés, movie studios, technology entrepreneurs and, just upstairs from the brewery, design firm Underline Studio.
Founded in 2005, Underline is run by graphic designers Fidel Peña and Claire Dawson, who met at another Toronto design studio, Concrete. Since moving to the Junction Triangle in 2012 they'd become regulars at Halo, so Hay turned to the designers for a new brand identity. "We knew Halo's product and they knew us," says Peña. "It was almost like a dream to be able to go downstairs to show them concepts."
The resulting beer labels are modern and geometric, and have had a significant impact on bringing new customers to the brewery. They are also among Underline's most publicised projects and potential clients often reference them.
Underline's office is airy but small and doesn't have a private meeting space. For that they head to another of Junction Triangle's residents, Café Neon, owned by Niki Tsourounakis. Back in 2010, French video-game maker Ubisoft moved into the area and Tsourounakis, who cut her teeth working at her parents' Greek restaurants, was hired to provide food for the launch party. She found out that Ubisoft expected to grow its staff upwards of 600 in five years and thought, "Where are these people going to eat? There's nothing around here."
Within a year Tsourounakis had opened Café Neon across the street. The menu features quiche, salad niçoise and falafel, all served to a hungry lunch crowd made up of workers from Ubisoft and other companies. And when Halo was looking for someone to make bar snacks for its new taproom? Café Neon was the natural choice.
This close-knit web of support, often overlooked in favour of digital connections and social media, offers unique opportunities. "They're such easy relationships to navigate," says Hay.
How do I... pitch?
Marie Perruchet on how to connect with your audience.
I lived in Silicon Valley for 10 years; it's a world of its own. In the Californian sun you're seeing 10 entrepreneurs pitching the same idea in the same hour so you have to perfect that pitch. I quickly realised that storytelling is essential. As a former bbc journalist I know how to make people talk, gain their trust and tell their story but, from my experience, that is not always the case with entrepreneurs.
Why do you want to tell a story? To connect with your audience. It should show loss, struggle and transformation – not unlike all those fairytales you grew up reading. When you think about your start-up, ask yourself this: what's the issue you're hoping to solve or the gap in the market you're hoping to fill? Then explain how your product or service can fix the problem and point out why your target market needs this product.
In order to grab your audience's attention in the first few seconds, tell them how your company has triumphed over adversity and how you are going to go about transforming people's lives. You want to show that you are innovative and that your idea is going to make the world a better place in one way or another.
The guidelines
To simplify your story into a five-minute pitch takes a lot of work and practice. The process is important but never forget what you want to achieve. Aim for fluency while keeping these universal rules in mind:
1. Keep it short. Don't wait five minutes to dive into it and don't beat around the bush. Take the first 10 seconds to grab your audience's attention.
2. Be clear and precise; make every word count. When you push people to be as precise as possible you can paint pictures in your listener's mind to help them remember your idea.
3. Be authentic. You don't want to sound like a clone of yourself. People want to see the real person behind the venture and make a connection.
Prepare your pitch
In Silicon Valley people often say, "Fake it until you make it." As a former journalist I like to deal in facts but I would say prepare your pitch like you'd train for a sports competition. These are the things that you'll want to take into account:
1. Research your audience and know who you're addressing. Perhaps there is something that could help you create a connection.
2. Test your pitch in front of a low-stakes audience – a group of friends, perhaps. Ask your audience to reformulate your pitch to see what they understood and took away from it. Practice will help you gain confidence and when the day comes for you to pitch your business to an investor, you'll be ready. I would recommend recording your pitch so that you can listen to yourself and make the necessary improvements.
3. Go with the flow; don't script it. You don't want your pitch to sound too rehearsed or robotic. It's like driving. When you first start driving you're so tense that everyone's afraid to sit next to you but with some practice you relax and start holding conversations and doing all these things – that you probably shouldn't – while you're driving. When you're pitching you should feel just as confident and relaxed.
4. Get the timing right. I always prefer to pitch in the mornings on Tuesdays to Thursdays. That's because people are catching up with their emails on Mondays and they're distracted by thinking about the upcoming weekend on Fridays.
Ace your pitch
A blossoming entrepreneurial mindset can be witnessed pretty much wherever you are in the world. That's a wonderful thing – but it also means that your competition is stiff. Showcasing your passion is important when pitching, in order to differentiate yourself from others. When the shit hits the fan, how strong are you? How driven are you to sustain the difficulties and struggles that you're going to face as an entrepreneur?
We've all watched politicians on stage and how they tend to deliver their top three messages regardless of the questions they're asked. Figure out what you want to get out of the meeting and what three messages you want to get across. Make sure your top messages are conveyed and repeated so that they sink in.
We are stuck to our screens and constantly bombarded with information but at the end of the day, people just want to connect and engage with others. You can do just that by telling a great story.
Perruchet is an international marketing and communications director who has worked with the likes of Netflix, LinkedIn and Adidas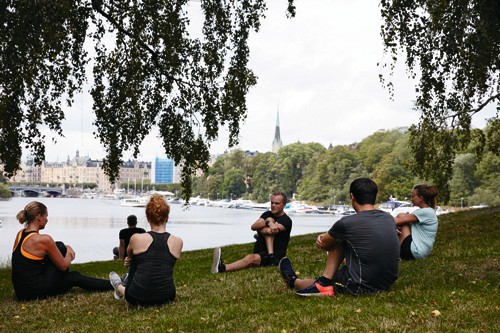 Running with it
Springresor, Stockholm
It's an autumn morning in Djurgården park in Stockholm. A troupe of runners are being put through their paces by Lars Björklund and Lina Johansson, co-founders of Springresor. Their start-up offers group runs, personal diet plans and trips to locations from the Isle of Skye in Scotland to Hallstatt in Austria.
Just months ago, Björklund and Johansson were desk-bound healthcare professionals yearning to break free and work on their fledgling business full time. In May they did exactly that, embarking on a six-month sabbatical, powered by a government grant.
In Sweden this story is a familiar one: employers must permit workers to take six months off if they want to start a new business. Though there are certain conditions; for example, if it creates a "significant disadvantage" for an employer's business, they can decline. If things don't work out, the would-be entrepreneurs are allowed to return to their old jobs. This safety net helps more people find the courage to set up shop alone; between 2007 and 2017 the number of limited companies in Sweden almost doubled, from 27,994 to 48,542.
Both Björklund and Johansson are hoping that Springresor will take off, allowing them to hand in their notice. Björklund says, "The best part is being able to decide what to do with our day; it's made such a huge difference to our lives."
In numbers
1. Stockholm has earned a reputation for being Europe's start-up capital and is second only to Silicon Valley for the number of technology companies valued at $1bn (€907m) per capita.
2. Between 2007 and 2017 the number of limited companies in Sweden almost doubled, from 27,994 to 48,542.
How do I... design a brand?
Designer Lawrence Zeegen on the importance of look and feel.
The first time I really thought long and hard about design was when I came out of school at the age of 16 in 1980 and picked up the first edition of The Face magazine. For me that was the turning point, the moment I knew I was destined for a life in design.
I arrived in London three years later to study graphic design at Camberwell College of Art and then illustration at the Royal College of Art. But the time I spent hanging out in galleries, shops, street markets, bars and clubs opened my eyes to design as much as my time at art school. Even today, when I'm looking for inspiration, I head out. I go for walks, make handwritten notes, scribble visuals, take snaps and visit exhibitions and bookshops.
Why design matters
Design is often thought of as the icing on the cake once all else is complete. My view is that design must always be in the mix from the start; the best brands have understood this. Ensure that design is baked in to how you think and act as an entrepreneur and how you set up your business. Otherwise your audience will go straight to your competitor.
Designing a brand
Focus on differentiating your offer from the competition. Think from the start about how you'd like your brand to behave, what its values will be, where it sits in the market and why the relationship between your brand and your customers will be vital.
Designing a brand is about creating an experience for your clients. If you're developing an app, for example, make sure that design is embedded into the technology; usability and functionality are key considerations and getting the user-interface correct is as vital as a strong user-experience.
Designing a logo
Your logo is the graphic manifestation of your company, product or service, and it needs to work perfectly on screen, in print, in advertising, on packaging and signage. Some of the world's best logos are extremely simple. It should reflect your brand's philosophy and transport the feeling that you want to inspire in people.
Professor Lawrence Zeegen is an educator, designer and illustrator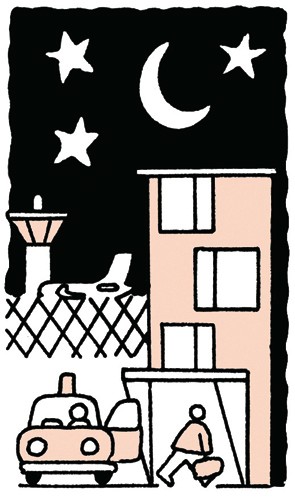 No, not a Brazilian-style love motel but rooms available at times that cater to early and late landings – and don't force you to sit in the foyer until the maid's done at midday. Standard Hotels does a version for a fee but it only operates in four cities.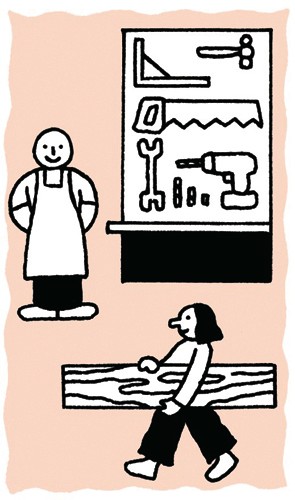 2
A brimming hardware shop
Yes, because we all need a screw now and again. But also because we all miss the expertise and advice that should accompany the purchase of everyday items. There's also a market for a less blokey experience, a scaled-down version of Japan's Tokyu Hands shop that also hosts practical lessons for DIY dilettantes in the evenings.
As the mood shifts to greener, slower travel we are banking on needing more and better overnight train services: carriages you can curl up in and well-equipped boardrooms for business on the move. Enjoy the journey as well as the destination. There's also a case for adding a little romance and fun to travel, even at the lowest ticket price.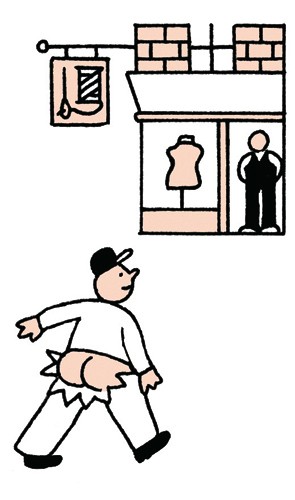 4
A high-street haberdashery
Adept at hems, nicks and fixes – and with a button to match any blazer – this also chimes with the growing realisation that fewer and better made clothes is a sound alternative to fast fashion. How about a catchy, patch-based marketing campaign proclaiming a few slogans: "I'll be darned" and "Holey spirit".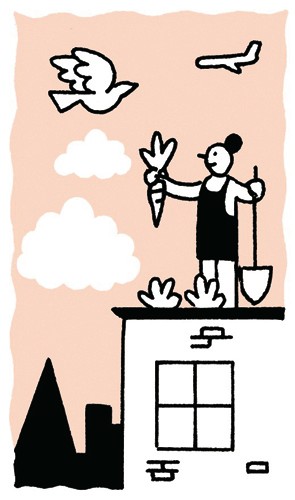 Urban space is tight but what if city folk could sublet areas to grow? Picture an Appear Here (the service for people after a temporary store) for rooftops that would allow green-fingered city slickers space to cultivate a garden – or just a tan. We'd have a side hustle selling soil, bulbs and training for would-be gardeners.
A competent one that's got a black book of the best stock on the market, the owners' and buyers' priorities in mind and isn't into the hard sell. The Modern House in the UK is a success but people haven't cottoned on abroad. The firm shows the power of good images, interviews and a good editor to select great design.
7
A fool-proof proof reader
A crack team of copywriters that can check your menu, shop sign or whatever you're getting emblazoned on your van, window, or website. Remember, an injudicious apostrophe looks bad and undermines your mission – that can all be sorted with a few strokes of the pen.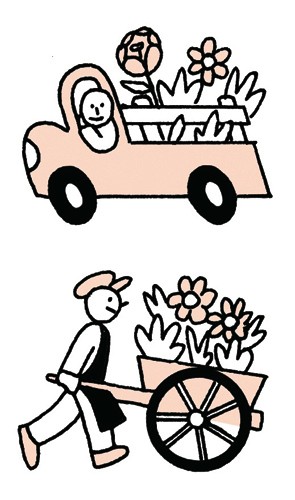 Think of a farmers' market but for flowers. It would pop up on school playgrounds at the weekend and fill the blacktop with rare blooms and the scent of the season. Behind the scenes we would also cater to the biggest and best corporate parties, helping to link local growers in the country to offices in the city.
A travel agency
Booking online is wracked with unreliable tips, opaque offers and charlatans. Customers will save money in the long run by outsourcing their travel to someone with genuine know-how. Also, how about a TripAdvisor for nice people? Somewhere that helps travellers find pleasant places rather than vent their spleen about bad ones.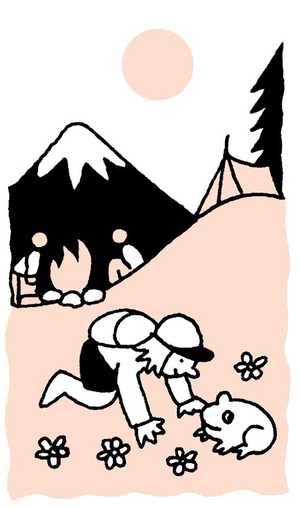 A camp interlude
More than just bundling the kids off to camp, our institution takes its inspiration from the German model and teaches children about nature. Young attendees can climb trees, scrape knees and start fires without too much nannying. We introduce tots to camping, cooking, canoeing and a few life skills worth fostering.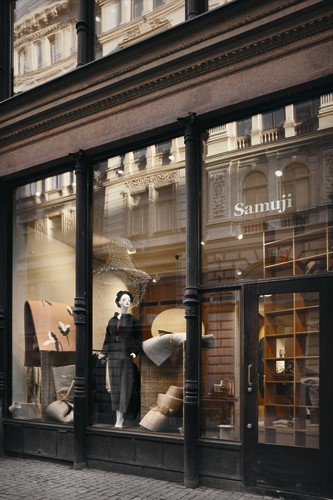 Back from the brink
Samuji, Helsinki
Cautionary tales usually have unhappy endings; this one, however, has hope. It concerns Finnish fashion and homeware brand Samuji, which was founded a decade ago by Samu-Jussi Koski, the former creative director at Marimekko.
Over the years Samuji amassed a cult following for its clean womenswear silhouettes and punchy prints. It opened a New York flagship in 2016 and, at its peak in 2017, managed €2.2m in annual sales and had stockists from Tokyo to Oslo. It was going places.
Yet, as with so many independent brands, the cash flow soon dried up and, at the end of August this year, Samuji issued a plea on its website and social-media feeds asking the public to save it from bankruptcy. "As we sometimes do in life, when trying to grow a business, we misjudge some of the risks and find ourselves in an economic situation that challenges our business," the brand wrote on Finnish crowdfunding platform Mesenaatti. It was a heartfelt appeal. "It was a bit frightening to be so open and candid about the overall situation but we felt that it was the only option at that point," says Koski, reflecting on the campaign.
It worked. The brand was aiming for €400,000, although €150,000 would have saved it from immediate bankruptcy. In the end it made just over €200,000 thanks to some help from Stockmann, Helsinki's leading department store, which promoted the campaign for free on its digital display screens.
For now it looks like Samuji will live to fight another day but the incident is a sobering example of the volatility of running an independent brand. "With the benefit of hindsight, we overextended the resources of a small company," says Frank Svenfelt, Samuji's ceo. "We grew the company aggressively and took risks; many paid off but some did not," he adds, citing poor performance by the New York flagship and the fact that two of the brand's biggest third-party stockists went out of business as key contributors to its downfall. From here on in Samuji will focus on its Helsinki flagship and its online business.
The fashion industry celebrates beautiful things but many of the small, independent brands that prop it up survive because they are canny with money and are hustling, always hustling, to get their goods in front of customers. "The industry in itself is a difficult one and it is going through very significant changes," says Koski. "Focus and clarity on brand messaging – and also tapping into networks for experience and advice – is perhaps even more important than ever." The fate of his brand, played out so publicly, reminds us of the perils of being an entrepreneur in this fickle retail game – and also of the danger of trying to expand, that very human thing to do. There is a lesson here for all of us.
SUCCESSION STORY 03
Sanyodo Shoten, Tokyo
Sanyodo Shoten is a small, family-owned bookshop that opened in 1891. It carries everything from bestsellers to a unique selection of children's books and fashion magazines. The business is run by family members across three generations; Hideko Toyama is fourth generation and her nephew, Ryo Manno, the fifth.
Hideko Toyama, 59
"I learnt everything about how to serve customers from my late father: provide a chair to those who walk with a cane, chat to small children who look a bit lonely and pay a visit if you hear someone is not well. The next generation has brought a new perspective and network of people. Some of our customers have known us for decades through generations of their families and it's important for us to keep the business in the family."
Ryo Manno, 31
"Hideko taught me how to make progress while keeping tradition. Her decision to add a gallery to our bookshop created a new network of people and expanded our potential. My role now is to preserve Sanyodo Shoten and pass it on to the next generation."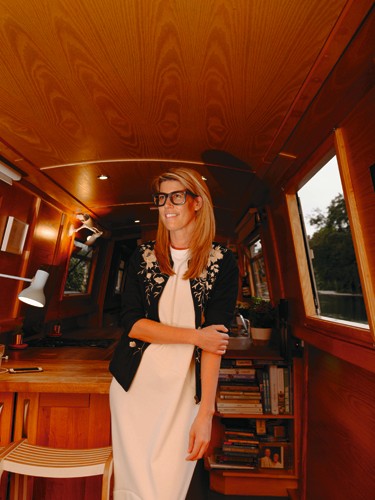 How do I... get funding?
Pip Jamieson has some sound advice on securing the dosh.
I had to build my network from scratch. I had meeting after meeting, slowly working my way up the ladder. My break came when someone introduced me to Brent Hoberman, co-founder of Lastminute.com. He loved what we were doing and introduced me to a number of my current shareholders.
The goal of my company, The Dots, is to take on LinkedIn, which was built for traditional, corporate careers. I want to create an alternative professional network that really works for the creative community. We call ourselves no-collar professionals. We've got nearly 500,000 members so far and I'm on a 10-year journey to become the next big professional network.
I had the luxury of selling a business and seed-investing The Dots myself when I launched in 2014. We've done two rounds of funding since, raising €1.7m in the first external round and €4m in the second. But just because I've approached VCs doesn't mean that it's right for you and your business. The first thing you have to ask yourself is whether you want to take on that money. Because the moment you do, you are not in control of your company anymore. You have other people who you are accountable to.
My advice would be to make sure you research all available avenues. If you're going down a route like mine, realise that VCs either want a billion-dollar business or they don't care if you go out of business. That's the journey I have chosen but it's not right for everyone because I've kind of given my life up to do this. Sometimes a loan is the best way forward and there are numerous start-up loans out there. What I'm also increasingly interested in is crowdfunding with the likes of Seedrs or Crowdcube.
I love the idea of raising part of the money from my community and having them benefit from any growth. If I could be fully accountable to my community and not shareholders, that would be my dream. But I'd want to make sure that there's definitely a sensible cap so that no one's putting in more money than they can afford to lose, because every business is risky.
If you do go down the VC route it's about picking your investors carefully and making sure they align with your values. Raising investment is like going into a marriage but without the benefit of make-up sex! What I love is the diversity of my backers, whom I call shareholders (it gives you the sense that you're all in the same boat). Communication is key for maintaining these relationships. We regularly send updates to them, in which we are very honest about the things that are going right and the things that are going wrong. We're always open to asking for help too. Involving the shareholders on the journey is important but don't overdo it. Push back when a shareholder is overstepping the mark.
Some of my best mentors are investors who have turned me down. They help with different areas of my business now, from tech to scaling. Don't get upset when you get a no. If you like an investor, keep in touch and ask their advice when you need it. They might have turned you down in the last round but they might invest next time.
Recently we've been inundated with people wanting to invest in The Dots, which is a really lovely position to be in. But it has taken me three-and-a-half years to get here. You've got to be patient. It does happen, I promise, it just takes a while.
How to secure funding:
1. Build a network as early as possible. There are wonderful networks such as the AllBright, Blooming Founders and Angel Academe that can help you.
2. Build a portfolio of mentors. I can turn to them for advice and having that knowledge base is incredibly valuable.
3. Persevere. Every no leads to a yes and I'm living proof. If I can do it, anyone can do it.
Pip Jamieson is the founder and CEO of The Dots, a professional network for people in the creative industry