Company culture / Global
Out of office
There's more to feeling part of a tightly knit team than daily meetings and hasty coffee breaks. We catch up with the thriving businesses that nurture their company culture and have taken team bonding to a whole new level – and ask other leaders how they're keeping spirits up while working from home.
1.
Snøhetta
Treks help a Norwegian architecture firm to build better relationships.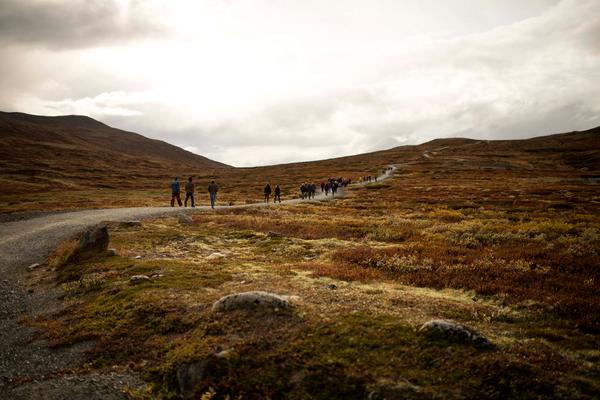 Company traditions become ingrained by virtue of repetition and for Norwegian architecture practice Snøhetta, its all-staff hike up a mountain has now had more than a dozen iterations. It all began in 1990, the year after the studio was founded. "When we first opened, our office in Oslo was above a beer hall called Hall of Dovre, which is a mountain region near the city," says Kjetil Trædal Thorsen, one of the founding partners. "And Snøhetta is the name of the highest peak in the area. We decided to go to see what it was like." That first walk involved eight people; 30 years later, that number has grown with the company and on the last outing there were 200 participants.
With offices in New York, San Francisco, Paris, Innsbruck, Hong Kong and Adelaide, as well as the Oslo HQ, there's always a batch of first-timers on the trek. Yet the hike is no less illuminating for those who are familiar with the terrain. "It's about walking and talking, about discussing what we're going to do next year but also being together for three days and letting people get to know each other," says Thorsen.
Even if the outing does include meetings, talks and workshops, the main lessons are drawn elsewhere. "You have to find the right speed, fight external circumstances," says Thorsen. "You have to help each other and wait for people who are slower. It's about understanding our relationship with the world – an individual and collective experience at the same time."
As the pandemic has forced the team inside their homes, Snøhetta hopes that this year's walk, planned for August, will go ahead. Meanwhile, the situation has pushed the architects to make use of their internal digital platform more creatively: sometimes that means meetings joined by more than 100 people; other times it's impromptu birthday celebrations. "Sharing our experiences online gives us an even stronger feeling of being part of the same collective," says Thorsen.
---
2.
My Little Paris
The French media company encourages employees to speak up.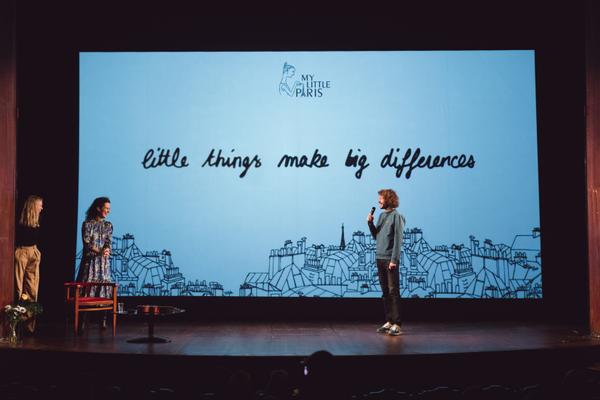 Montmartre's Théâtre de l'Atelier was founded in 1822 and, over the years, it has seen the greats of French drama tread its boards. Over the past few years, however, this hallowed theatre has played host to a different kind of spectacle; one that sees events co-ordinators, computer programmers and marketing directors take to the stage. Every couple of months, media company My Little Paris decamps here for a morning called Megalab that sees employees make a 10-minute presentation on a topic that inspires them.
Everything from the power of DIY to the life lessons learnt by the commercial director during her career as a ballet dancer has been presented at the theatre. "We cover diverse themes," says Maxime Froissant, My Little Paris's chief cultural officer. "One of the best examples was a proofreader from our customer-relations team who gave a presentation on punctuation as a work of art. It was amazing."
My Little Paris began life in 2008 as a newsletter revealing insider tips on the city's hidden gems and feature quirky illustrations and columns on topics such as "40 ways to be a little French". Word spread quickly and the website soon garnered a worldwide fan base. The venture now has offshoots in Marseille and Lyon, as well as a version in English. It has also launched a monthly subscription goody box and an in-house cosmetics brand, My Little Beauty.
Megalab began five years ago as an informal get-together. "It started off as a casual gathering where people would talk about things they had seen or done," says co-founder and ceo Celine Orjubin. "As we got bigger and bigger, we had to rent a bigger space to fit everyone in. That's when we decided to turn it into a proper event."
Giving employees confidence with their public-speaking skills is a key objective. Every speaker is coached by Froissant and brand manager Elisa Rummelhard, who help staff build their presentations. "In the US and UK you learn public speaking at school; that's not the case in France," says Orjubin. "At the Megalab, everyone from managers to interns gets on stage. It has nothing to do with your role in the company. We want you to share your stories."
Even though France has been in lockdown, My Little Paris has kept the Megalabs going. The presentations now take place on  Zoom: five employees present something of interest online. Sixty-five people watched the latest event but all of the brand's 130-strong team can watch at once. "It's a very fun and friendly moment," says Froissant.
---
3.
Northvolt
The battery-maker's team events bring a change of perspective.
Northvolt's ambition is to build the world's greenest battery with a minimal carbon footprint. It's no surprise then, that its annual team events are equally ambitious. For the latest instalment in 2019, nearly half the company mounted their Northvolt-branded e-bikes and set off on a four-day trip dubbed The Future of Energy Ride.
Last September nearly half the workforce mounted their Northvolt-branded electric bikes. The 300-strong group headed 700km north of the firm's Stockholm HQ to northern Sweden. "We passed through villages, lakes and landscapes covered with trees as far as the eye could see," says Jesper Wigardt, vice-president of communications. The trip ended at the company's soon-to-open gigafactory in the city of Skellefteå.
The great outdoors plays an important role in the day-to-day lives of most Scandinavians but friluftsliv (embracing open-air living) helps with fostering cohesion at large-scale businesses too. "I've heard of smaller companies doing these kinds of team events," says operations manager Lovisa Bunner, who has been to every Northvolt company event. "But to organise something of this scale is really impressive." The whole group cycled almost the entire distance, with the exception of a night train between Uppsala and Umeå in the country's northeast. "We wanted to make a statement that you can travel all the way from Stockholm to northern Sweden with a near-zero carbon footprint," says Wigardt, who is a member of the organising committee. "But we also wanted to bring different types of people together."
Participants were split into teams: with more than 50 nationalities in the company, the sub-groups were assembled to reflect different backgrounds, as well as job roles and seniority levels. The main takehome for the cyclists was the power of sharing the experience with their colleagues. "It was only when we arrived in Skellefteå that we all joined up," says analytical chemist Anna Semenova. "There were hundreds of people in front of me and behind me. We cycled through the city as one. You really feel part of something bigger."
As the team is now working from home, Northvolt hasn't given up on its commitment to keeping employees motivated: the firm has created online videos of training exercises so that staff can get their daily workout at home without any need for equipment. To remain up to speed on all things work-related, the teams organise video check-ins every day; on Fridays, they unwind over an online company quiz.
Making the most of it
For many businesses, it's vital to maintain their company culture – and employees' confidence – during the lockdown. How do they do it? 


1.sweden
Oatly

Boosting morale by keeping healthy in mind and body.


This Swedish alternative-milk company, whose oat drink is currently in high demand, is boosting its employees' spirits with the help of online training tips, happy music playlists and – rather appropriately – recipes for healthy plant-based snacks. 
---
2.uk
Uncommon Creative Studio
Finding time for a bit of light relief is vital for keeping the spirits up.
"If there was ever a time when we needed the brilliance of our people, "If there was ever a time when we needed the brilliance of our people, it is now," says Nils Leonard, co-founder of London-based creative agency Uncommon Creative Studio. "All you're trying to do as a leader is to try and protect people from fear." For the studio that has meant finding the time for light-hearted moments, including a game inspired by TV series Through the Keyhole, where somebody films their house and the rest have to guess whose home it is. "Clearly, it's an assassination of their home décor," says Leonard. 
---
3. uk
Laka
Making new social connections helps with employees' wellbeing.
Employees of bike insurance company Laka stick to their habit of a weekly team lunch: now, everybody orders takeaways and chats on Zoom over food. The company also uses Donut, an app that allocates people someone else in the team to catch up with. "It's really important that the team stays connected and forms new bonds in the absence of physical get-togethers," says CEO Tobias Taupitz. 
---
4. global
JLL
This global real-estate firm is keeping office traditions alive.
Commercial real-estate firm JLL provides advice on ergonomics for home office set-ups, how to look after one's mental health and now online yoga classes, courtesy of the team's town planner Isabel Scruby. Meanwhile, marketing executive Alex Luff runs remote painting tutorials for all employees. The Italian team, who have long been working from home, have an after-lunch video "coffee chat" to keep up office traditions, while other teams have organised Thursday beers and quizzes. The company also started an online page where employees share stories of their new work habits, including bloopers, such as dogs snoring or children trying to do their parents' hair in the middle of conference calls. 
---
5.usa
Slack
Funding staff's home office set-ups is paying dividends.
Its instant-messaging service is keeping a lot of businesses connected right now but while dealing with a boom in customer requests, San Francisco technology company Slack is also putting extra effort in looking after its own team. When some 2,000 employees spread across 18 offices had to start working from home, the brand allocated a budget so that everybody could buy the home-office furniture they needed. "Having a sturdy chair, a second monitor or a stronger desk lamp can make all the difference to a person's home set-up," says director of internal communications Amanda Atkins. "We felt that was a worthy investment. We wanted to make working at home a little less daunting. It's one less thing our employees need to worry about during a stressful time." 
---
6.uk
Headspace
Practising what it preaches, Headspace has introduced a mental health day.
As a company focused on providing people around the world with a clear frame of mind, it's no surprise that Headspace is applying the same ethos to its own workforce. CEO Rich Pierson has instated a daily Q&A on Zoom for all employees and the executive team. The company is also allowing every employee a "mental health day" per week, when people can take a break and spend time with family, even if that's over video. 
---
7.canada
Lightspeed
This firm is helping to keep small shops and restaurants ticking over.
Point-of-sale platform Lightspeed has seen many of its customers – small to mid-sized restaurants and retailers – shut their doors in recent weeks. In response it is reimbursing its employees up to CA$500 (€326) spent on takeaways from neighbourhood restaurants or e-commerce purchases made at retailers that are part of Lightspeed's customer base, which will help sustain its clients during the outbreak. 
---
8.netherlands
UN Studio
A healthy dose of competition gets employees' imaginations fired up.
Dutch architecture firm UN Studio has motivated its team to organise a comely work-from-home set-up by means of a "nicest home workstation" photo competition. The prize for the two winners? A €50 plant voucher each. Next is "how are you keeping your kids entertained?", with a book token up for grabs for the most ingenious solution.