The office / Armenia
Working wonders
Absence makes the heart grow fonder – and, it seems, that applies to our offices too. So how can we get the best out of our working environments when we return to them? We've sourced 20 items that should be a feature of every workplace and asked 12 creative thinkers to tell us what aspects of their offices help them to get the job done.
As offices shuttered in the face of the coronavirus pandemic, working from the kitchen table suddenly became the new norm. And it's made many of us realise how much we miss those buildings that are dedicated to enhancing the way we work. Office design is rarely celebrated in the way that the home is, or even the holiday resorts where we spend a tiny portion of our year (well, usually). But now we're all realising how much the office is an environment that's deeply connected with ourselves, our wellbeing and, naturally, our livelihoods.
Remote working has its practicalities, of course, particularly for those companies that are on the smaller side. But we miss the human experience. We miss the ease of face-to-face (not screen-to-screen) communication and we miss how the best-designed offices can enhance collaboration and help productivity.
Reflecting on the value that a real office holds for an entrepreneur, we've called upon the creative industry's top thinkers and designers to remind us (and educate us on) the office elements that we should all be heaping praise upon. The wisdom of these bright business minds will not only help us to appreciate the office for what it is but also for what it can be when design smarts and a little more thought and care are applied to it.
---
in praise of
Colour
David Kohn
David Kohn Architects
"Colour is nothing to be afraid of. In offices, variety and changes in atmosphere through the day should be common so that working life isn't monotonous. You can create differentiation between spaces by having complementary colours in each room and strongly diverging colours from room to room. Using bold colour is effective in impacting the character of an office compared with making structural changes. One can almost create rooms through colour."
London-based architect Kohn, currently working on the city's new Design District in Greenwich, says that he can't work without a run: "It's nice when I'm running but it's even better for the rest of the time."
1.
Tape chairs by Minotti
Italy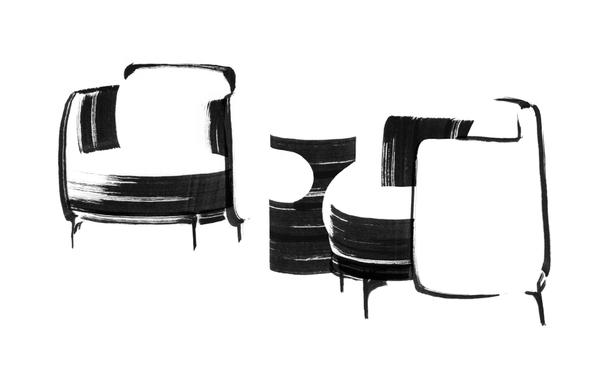 Make office guests feel at ease with these armchairs by Japanese studio Nendo for Minotti. They come in fabric and leather coverings.
sz minotti.com
---
2.
Wall-mounted post organiser by Think of Things
Japan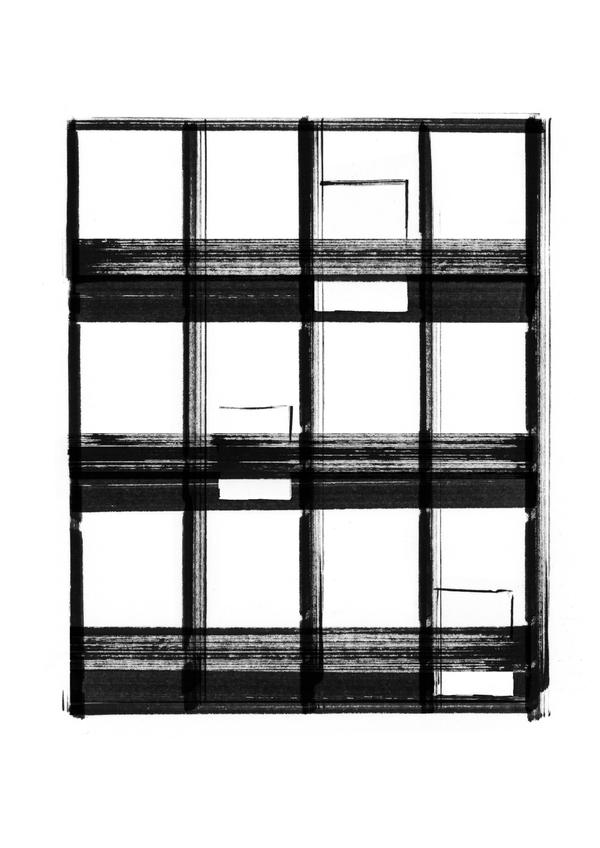 When did we do away with physical in-trays? In Japan these essentials of office organisation never went out of style, as these neat pieces exemplify.
think-of-things.com
---
in praise of
Rooms
Ilse Crawford

Studioilse
"Co-working offices might be stylistically cool but the reality is that many of them just cram people into an open space filled with armchairs and lined with Crittall windows. I don't think we want open plan; we want rooms that are well thought out. Rooms should be sized right for the amount of people working in them, whether that's a room that comfortably fits a team of six or a simple hallway with a bench in it, where two people can have a chat or someone can make a call. Let's be a bit more granular and create proper frames for the things we do at work."
Interior designer and founder of Studioilse, Crawford has mastered the art of welcoming design. Friends who attend her weekly open lunches will vouch for this. Without this ritual, Crawford says that "the week seems to lack focus"
---
in praise of
Office plants
Eliza Blank

The Sill
"People have an inherent desire to connect with nature and be around plants. And the best way to do that is to incorporate greenery into our interior spaces – it has a material impact on our ability to be productive and creative. There are a number of ways in which you can provide access throughout the office, whether it's something decorative such as a piece of moss art on a wall or a hanging plant in the corner. But plants don't have to just be aesthetic – they can serve a real purpose in an office, whether it's functionally dividing a space, creating privacy or blocking and filtering sunlight."
Eliza Blank's New York-based The Sill is the city's go-to company when it comes to home greening, through its shops and door-to-door delivery. As you'd imagine, Blank can't work without "a line of sight to some sort of greenery".
---
3.

HiLow table by Montana

Denmark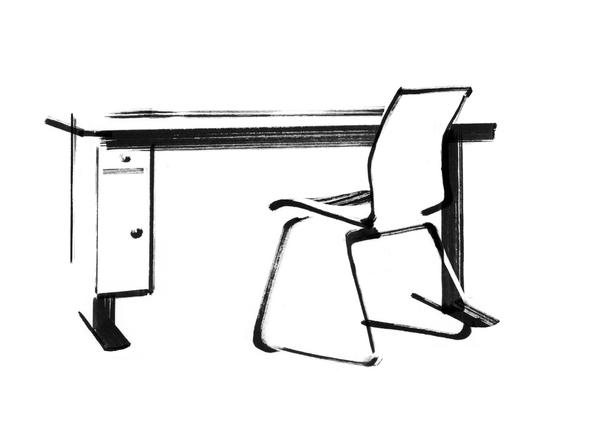 The design-focused Danes have actually managed to make a standing desk that looks aesthetically sleek. And when adjusting it down to seating height you can pair it with a Montana Panton One chair, as illustrated. Now you're in business.
montanafurniture.com
---
4.
Documents folder by Kokuyo

Japan
The Japanese stationery-maker knows how to add lively colour and style to the workplace. Its cute organiser is also sturdy enough to hold a serious pile of papers.
kokuyo.com
---
5.
Wogg 70 shelving by Wogg
Switzerland
Form a lobby display to be proud of with Wogg's tubular steel shelvingsystem. Its trays can be positioned horizontally for storage or at a jaunty angle to show off your favourite printed matter.
wogg.ch
---
6.
Wagner chair by Objekte Unserer Tage
Germany
These stackable chairs are practical in their space-saving nature and comfortable too. The oak backrest curves into an armrest.
objekteunserertage.com
---
7.
Vanity unit by Boffi
Italy
A quality bathroom reflects a company's investment in people and can boost staff morale. This Italian manufacturer's fine modular systems can be equipped with shelves and compartments.
boffi.com
---
8.
Skillrow rowing machine by TechnoGym
Italy
While Technogym's team of interior designers can plan the perfect workout room for your office, those with a cosier workspace can utilise its slimline rowing machine.
technogym.com
---
9.
Dancing Wall by Vitra

Switzerland
The modular Dancing Wall's sturdy metal frame can be reconfigured as a bookshelf, TV unit or room divider to provide privacy or a useful office tool
vitra.com
---
10.
1291 hanging lamp by Wald-Haus
Switzerland
Our ideal office has no ceiling lights at all – too radical? With great task lamps and hanging pendants we can create a warmer environment and these slim, timber hanging lamps are essential to our scheme.
wald-haus.ch
---
in praise of
Natural materials
Yuki Ikeguchi

Kengo Kuma & Associates
"A biophilic design approach is beneficial in an office. Just because it's an office it doesn't have to be rigid and rational. Humans find comfort and inspiration in natural elements, which should be present in an office. Simple things, from wooden flooring to interior gardens or a terrace to bring in fresh air and natural light, will enhance creativity and productivity. I focus on this and implement nature as much as possible."
Partner at Kengo Kuma & Associates, Ikeguchi recently led the Odunpazari Modern Museum project in Turkey. Her needs for a good working environment are simple but "natural light is essential," she says.
---
in praise of
Silence
Oliver Jahn

German Architectural Digest
"Nobody likes to be glued to their desk eight hours a day. But creating fancy recreation areas does not work. Yes, you need project rooms and sofa islands to facilitate communication but you must provide airy, silent space as well. Some current workspace concepts seem to venture into coffee shop meets cubicle. That's a fail. The key to success is to offer a whole variety of opportunities – technically and conceptually."
Oliver Jahn, editor in chief of German Architectural Digest, led the furnishing of the new Munich offices that its publisher, Condé Nast Germany, moved into in 2018. He loves the AD Style Bar: "Meeting there is the new Slack."
---
in praise of
A convivial conference room
Britt Moran

Dimorestudio
"The office conference room is often sterile and devoid of decoration. I've never understood this, as it's a room you do business in and should be representative of your brand. We've designed beautiful desks for our conference room, we have nice art on the walls and an attractive fresco ceiling – no one is falling asleep in there."
Dimorestudio is one of Milan's most celebrated interior-design firms. Co-founder Moran seeks inspiration in the studio's library, "an inspiring range of art and design books that I can't work without".
---
11.
Tolomeolamp by Artemide

Italy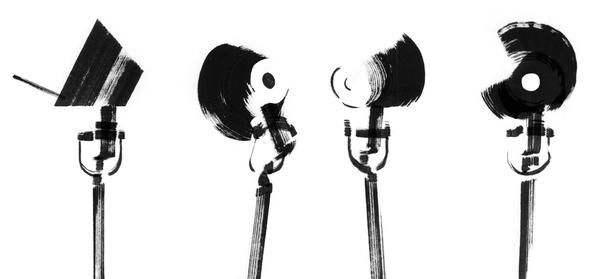 Add a pop of colour with Artemide's switched-on relaunch of its best-selling Tolomeo Micro lamp, which comes in some dashing bright shades.
artemide.com
12.
Sigill outdoor bench byNola

Sweden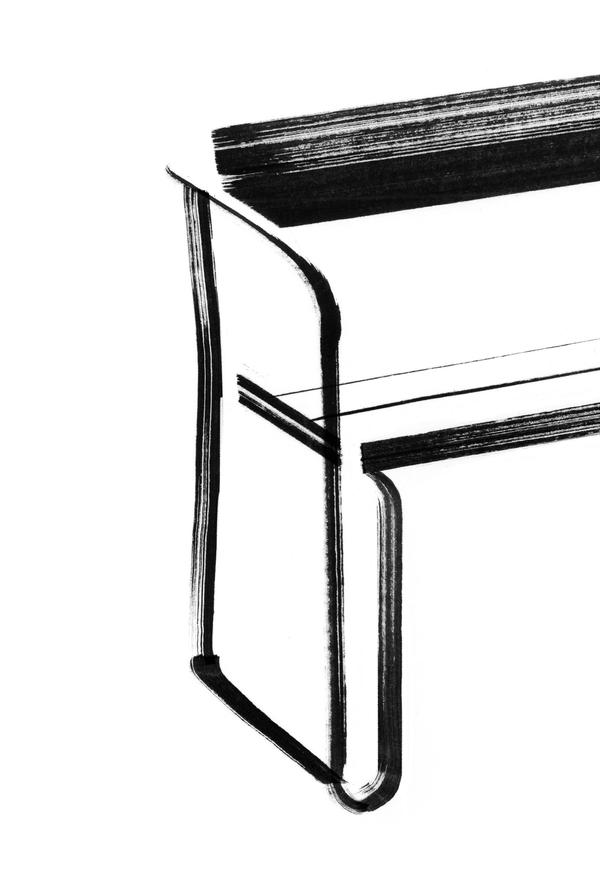 Stockholm's Nola and Note Design Studio are improving alfresco staff lunches the world over with this outdoor bench, which can easily be stacked and packed away for another day.
nola.se
---
13.
Cutlery by Mono Germany

Germany
Designed in the 1950s, Mono's stylish and functional forks, knives and spoons have remained the best-looking utensils in office canteens for decades.
mono.de
---
in praise of
Owning a space
Ernst van der Hoeven

MacGuffin
"Central to our office is a clustering of desks by Egon Eiermann. We chose them not because of the iconic design but because of the design 'disappearance': it becomes a huge white platform that we put everything on. Shelves you keep ordered, a table you keep empty but a desk can have chaos and the chaos on my side [of the desk] is different to the chaos on my co-editor in chief's. It's good to have a physical place to work that is yours and you can leave your clutter. We respect each other's mess – there is a border."
Alongside Kirsten Algera, his desk-partner and co-founder of MacGuffin magazine, Van der Hoeven, whose most recent edition of the biannual title focused entirely on desks, can't work without his unique brand of office exercise. "Our office is in an attic and if I am getting frustrated or I can't concentrate, I hang on the ceiling beams and do pull-ups," he says.
---
14.
Mailbox by Stebler

Switzerland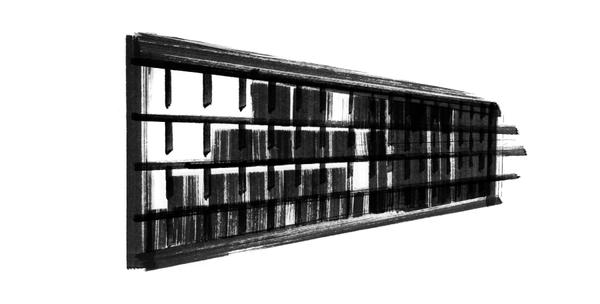 Make their delivery of your documents a pleasure with a sleek letterbox.
stebler.ch
---
in praise of
Repurposing
Fanny Bauer Grung

Quincoces-Dragò & Partners
"We work with re-use as a conscious choice. There's so much new being built today that it's more interesting to work with existing spaces rather than something that's built from scratch. When it comes to office design, working in an existing space can be challenging but also easier because you get to work with a story that was already there – and it allows you to add a layer of your own."
Designer and co-founder of Milan architecture firm Quincoces-Dragò & Partners, Bauer Grun's office needs are simple: "My desk must be pristine and I need a comfy chair."
---
in praise of
History
Karin Novozamsky

Karin Novozamsky
"In some offices you can feel the good energy straight away, particularly in old buildings that are imbued with history. Here you can imagine and feel the stories of many lives – and it adds to the environment. Old buildings were built to last. In my office, a baroque-style palais in Graz, you feel the beauty and elegance of its architecture while you work."
Austrian brand and design strategist Novozamsky can't work without order: "A desktop reflects your personality and I am a person of structure."
---
15.
Boby trolley by B-Line

Italy
A list-topper for fastidious office organisers, B-Line's cute, recently relaunched 1970s tidy trolley is customisable and comes in both bright and sober tones.
b-line.it
---
16.
Click shelving by New Tendency

Germany
As it says on the box, these click-together shelves are minimalist and without bolts. Hang the slim steel pieces on a girder to store books, documents and decoration.
newtendency.com
---
17.
Electrified S2 Bike by Vanmoof
The Netherlands
Dutch brand Vanmoof has been pedalling its handsome electric bicycles to companies small and big – its bike-hire scheme is used by the likes of Ace & Tate.
vanmoof.com
---
18.
Hallersystem by USM

Switzerland
No office-furniture glossary would be acceptable without highlighting this system. Making offices smarter since 1965, usm's bespoke shelves provide adaptability and can scale up alongside your company.
usm.com
---
19.
Layers Oak flooring by Dinesen
Denmark
Whether it's for a cosy basement conversion or a spacious corner office, timber touches have a health-enhancing benefit. Which makes an investment in Dinesen's European oak flooring a worthy one.
dinesen.com
---
in praise of
Office Humour
Daan Roosegaarde
Studio Roosegaarde
"One of the most annoying things in a creative meeting is when, after a pitch, the client says, 'Yes, but...' We'd rather talk about 'What now?' To combat this, we designed a chair that has voice recognition built into it and when it hears the phrase 'Yes, but' ('Ja, maar') it gives an electric shock to the bottom. Obviously we don't sit clients on it but the fact that it's there is a talking point."
In Rotterdam-based artist and designer Roosegaarde's factory-style office you won't find much clutter: "The less stuff there is in a space the more it can be filled with ideas."
---
in praise of
Homeliness
Anna Liu
Tonkin Liu
"As architects we've watched the workspace evolve to be more homelike – but we've always worked from home. You can't fake homeliness in an office. The home-office allows for different modes of work: you can do the 'work work', such as answering emails, in a formalised setting, and the things you love, like reading and research, in your cosy home library."
Architect Liu has been appreciating the view from her home office in London for years. "Looking out of the window at a piece of the sky," is something she can't work without.
---
in praise of
The central kitchen
Charlotte Rey

Campbell-Rey
"The idea of the central kitchen is wonderful. It's an old-fashioned concept that's been reinvented in the workplace in the past five or 10 years, as we realise the importance of a human touch. A central kitchen is a strong investment in an office community because it's an easy way to make people feel included and get them exchanging ideas. In the 1940s and 1950s, Italian factories such as Fiat all had central canteens because they were social levellers."
The co-founder of London creative consultancy Campbell-Rey can't work without physical tools. "In our office you'll find tonnes of books, notes and samples everywhere," she says.
---
20.
Regua tablebyUnifor

Italy
Portuguese architect Álvaro Siza draws beauty from function in this handsome solid-wood desk.
unifor.it