Business toolkit / Global
Sunny outlook
It's certainly been a bumpy ride for businesses big and small, so how have they weathered changes in the way that we shop, eat and work? Meet the smart souls who have found a way to rebrand and thrive as our world continues to evolve. And how they really make a difference to the communities they serve along the way.
If you're a young buck in Italy looking for a sunny pair of socks, a turn-heads jacket or some flattering strides, all you need to do is nip into town on your scooter. Every Italian town seems to have a good menswear shop – and one for women too. This year is set to leave a few more UK towns equally well equipped as brand owners survey the national retail scene and decide that, for now, they will opt out of shops in big-city centres.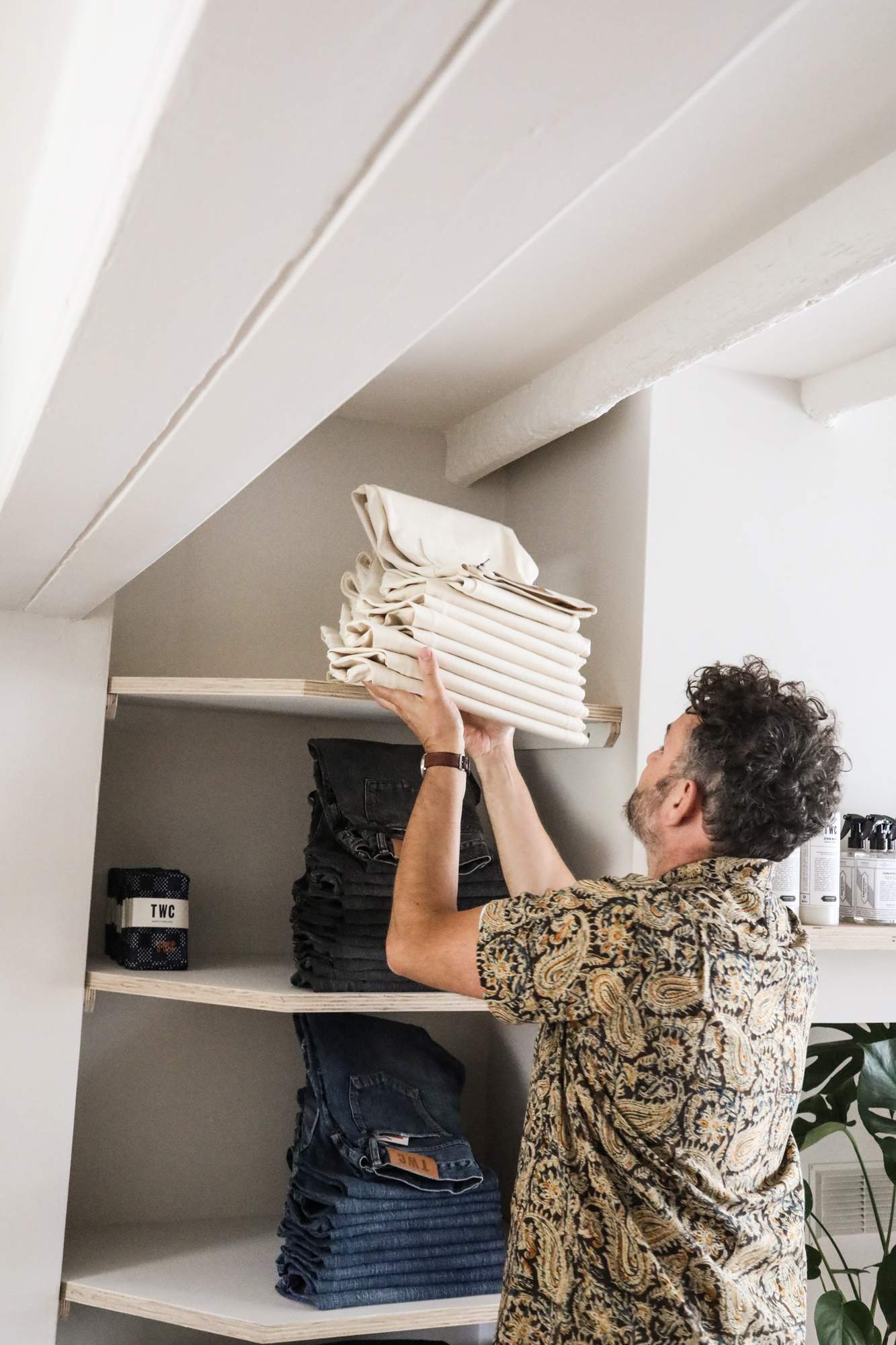 Take The Workers Club, known as TWC, which makes the sort of functional, detailed items that quickly become wardrobe favourites. Founded in 2015 by Adam and Charlotte Cameron, the business has been run from rural Oxfordshire for some years, even as it grew and the owners took on interesting consulting work. And now? "We've been working remotely for years and people couldn't understand how we did it but recently there's been a real cultural shift," says Adam.
"We've been working remotely for years... recently there's been a real cultural shift"
During lockdown they decided to deepen their country roots and take on a high-street shop in Goring, a village that sits on the River Thames in an affluent area full of people who like fashion. "It's really interesting seeing people shop the collection," says Adam, adding that they can also fulfil orders from here and that the rent is half what they would pay in London. He also says that Goring is busy, even pulling in tourists and shoppers from London.
This is a move that other labels will want to look at because it brings together quality of life and direct access to wealthy shoppers, many of whom have barely been out of shorts since March and could do with a fresh look. 
theworkersclub.co.uk
zürich
What the maître d' saw
It's a tricky act balancing business and the buoyancy of a humming restaurant but Catharina Joss does it more gracefully than most. As maître d' and general manager of Bürgli, a classic Swiss spot with a view of Lake Zürich, she has kept an eye on the trade for 25 years.
"The restaurant was founded in 1945. We've had the same head chef for 10 years, the same waiting staff for 20. So we have a lot of regulars. We keep three of 30 tables back for regular guests, always. When they phone, we might reserve them a table with a view of the lake or a cosy spot beside the piano. Our dinner service has changed completely. We have two shifts: one from 17.00 to 20.00 and the next from 20.30 until midnight, as we have to keep guests apart by 1.5 metres. The work is harder but business is still good." 
restaurantbuergli.ch
manufacturing
Street smarts
Norway
"From shirt-sleeves to shirt-sleeves in three generations," is an American phrase that encapsulates a commonly held view that business empires, and wealth, rarely survive being passed on. Jan Christian Vestre (pictured), the third generation to run his clan's street-furniture brand, clearly hasn't been listening.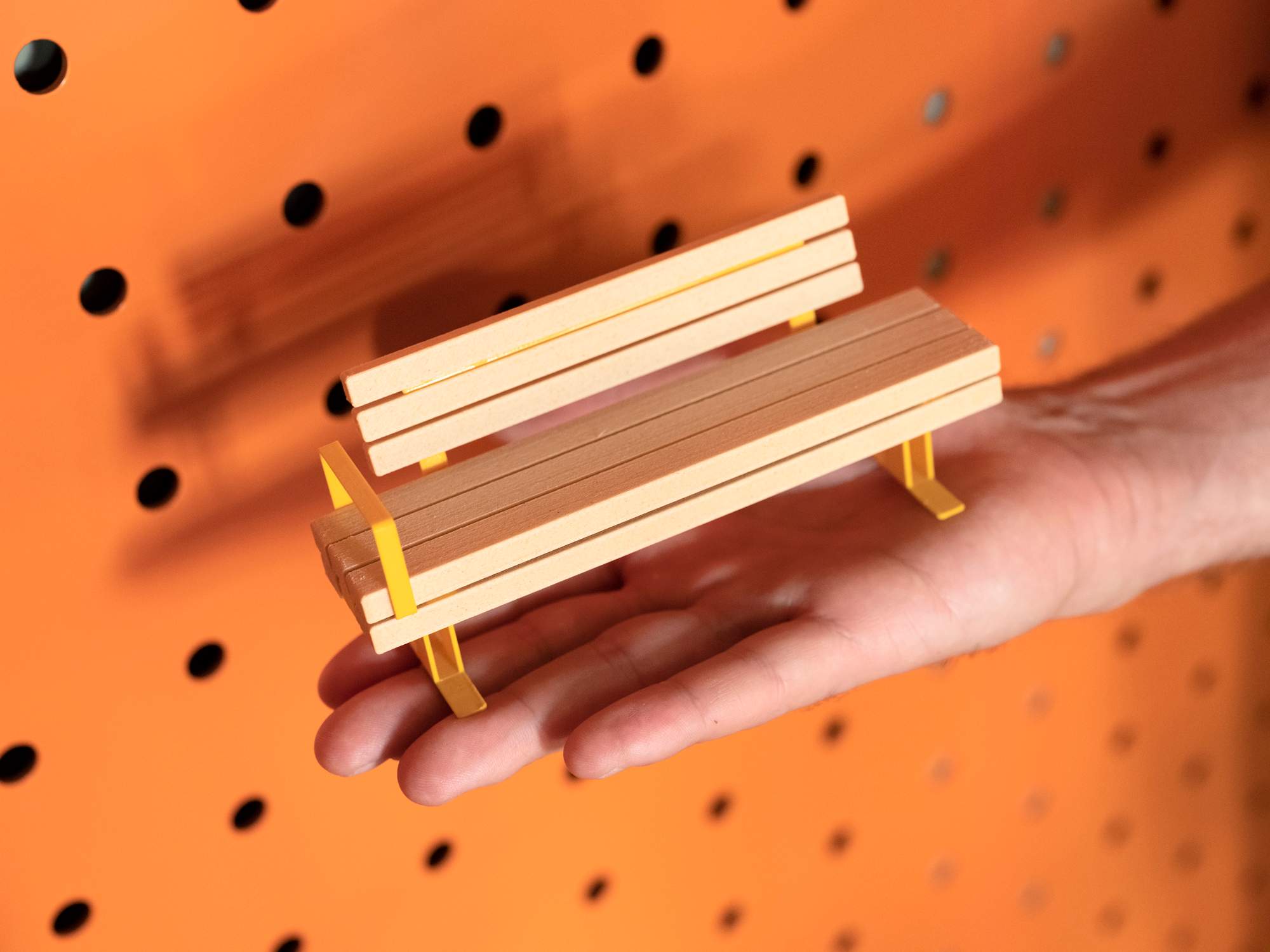 In 2012, aged 25, Jan Christian became CEO of Norwegian family-firm Vestre and has since tripled turnover to a healthy NOK202.5m (€21.2m) with an average sales growth of 20 per cent every year since taking over. And he now employs 60 people. Founded in 1947 by former sailor Johannes Vestre as a mechanical workshop in Haugesund, a coastal town in Norway's west, today the company's benches, bins, planters and bicycle racks dot public spaces in the US, Germany, Italy and beyond.
Only two of Norway's export categories – salmon and furniture – experienced growth last year and Vestre is poised to ride this wave of international demand, with sales outside of Norway and Sweden estimated to hit NOK60m (€5.7m) in 2020. Vestre's success defies the common perception that it is too costly to manufacture in Norway. And Jan Christian even argues that there is no better place to move towards a greener approach than in a country where sustainable raw materials and clean production practices abound. Vestre's factories operate on renewable energy and the firm is on track to produce all of its own energy by 2025. Vestre also offers a lifetime guarantee against rust.
"It's much easier than people believe to do things differently"
In July, Jan Christian made headlines by announcing that he would spend NOK300m (€28.4m) building a factory designed by Bjarke Ingels, set to open in 2021. Called The Plus, the ambition is for it to be the world's most sustainable furniture factory, while also accommodating Vestre's growing team and production capacity. It's also a call to arms. "It's possible to save the environment and make a profit," says Jan Christian, challenging other Scandinavian firms to follow suit. "It's much easier than people believe to do things differently."
 His daring attitude also includes saying no, such as the time when he declined a lucrative project in London to create benches with spikes to deter rough sleepers. This approach is informed by Vestre's tight-knit family-run model. "We lose in the short term but, in the long run, we're on the winning team," he says, explaining that being family-owned means that they can make long-term decisions without feeling the wrath of investors, who often have short-term profits on their minds.
Inside Vestre's Snøhetta-designed headquarters in Oslo's affluent Frogner neighbourhood, Jan Christian sits across from his mother Elisabeth. Visiting from New York are also his cousin, Kristoffer Vestre, and his wife, Allegra Garretti, who heads up Vestre's team in the US, a flourishing market. Kristoffer says that business often spills over to the dinner table and family gatherings, which he appreciates for the synergy of ideas. 
Talk predictably turns to the pandemic and Vestre's Stoop: an innovative nine-seat, multi-level bench that, while sitting as pretty in Vestre's showroom as it does in New York's Times Square, wasn't designed with physical distancing in mind. Might benches need another redesign to accommodate our new world? Perhaps. But whatever the issue at hand, Jan Christian says that he is not afraid to tackle it head on. "Outdoor spaces will become even more important now." 
Stoop bench
Sure, it may not be made for physical distancing. But its clever three-tiered design means that we'll be eagerly awaiting the day we can all pack back on.
Parklets 2.0
Designed to fit inside one parking space, Vestre's clever seating and dining areas are especially relevant now that alfresco dining has taken over city streets.
Folk litter bin
Standing on a single post, the sleek silhouette of the Folk litter bin adds a touch of grace to one of the more unsightly pieces of urban infrastructure.
advertising
Age of the manifesto ad
Global
There was a time in British advertising when television ads were so good that they drew as many viewers as the shows themselves. The 1980s saw creative freedom mixed with huge budgets. Ads went from selling soap and cornflakes to airlines and computers, and the result was cinema-scale entertainment. Things have changed a bit since then and the quality has taken a hit. Earnest moralising has replaced entertainment and what we are left with is the manifesto ad.
It usually begins with a defiant voice giving a toast to a group of people ("Here's to the have-a-go heroes"). Cue uplifting piano keys, sweeping strings, clunky poetry and a complete lack of self-awareness. The scripts are written like political speeches, all dramatic repetition and fragmented sentences. Visually, they're mood boards on a screen and they run on for longer than any normal human attention span, stretching the limits of how much you might care about frozen oven chips.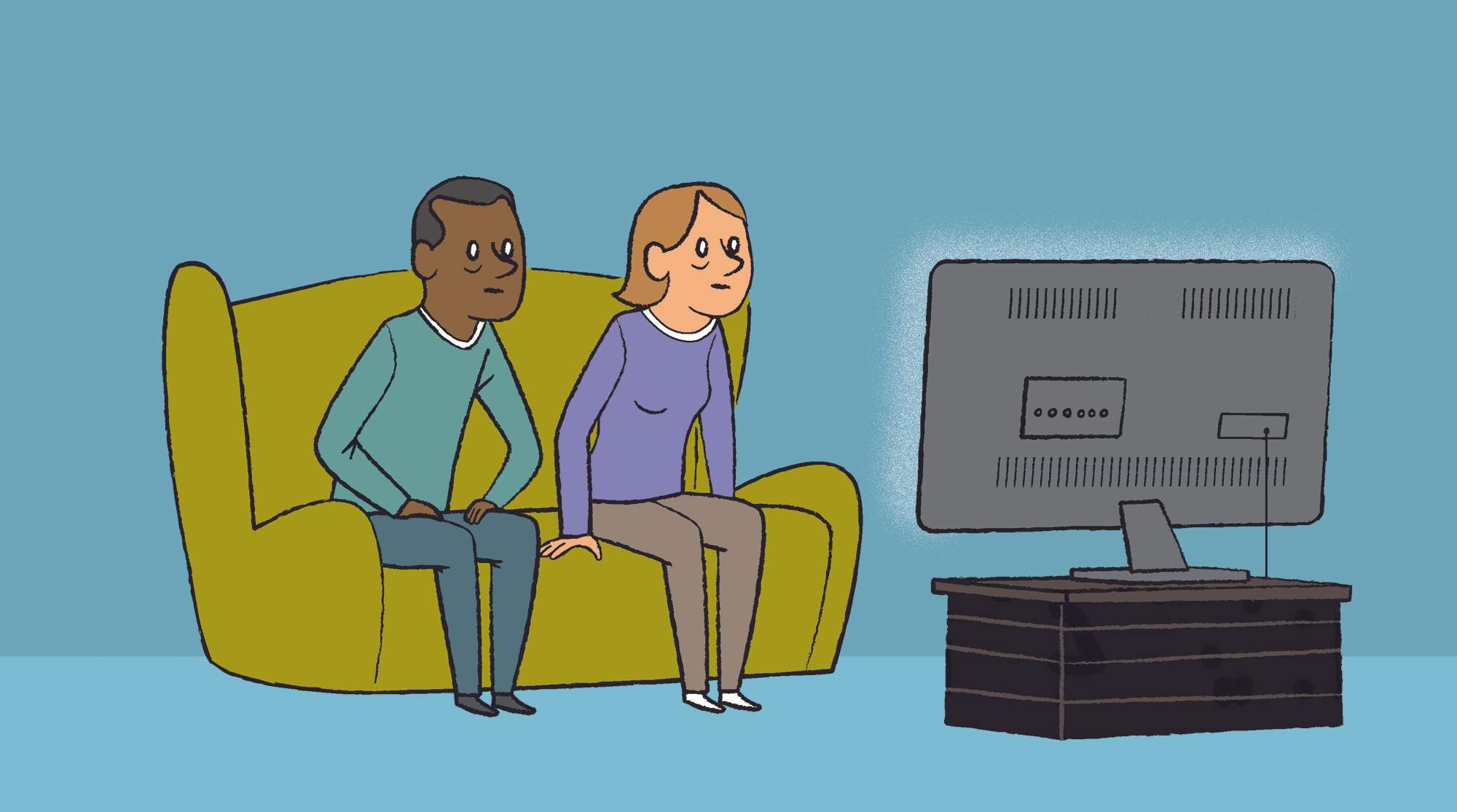 Where's the wit, where's the irreverence? Where's the entertainment? And why does it have to be so long? Surely, this much earnest wholesomeness can't be good for you. It's easy to see how we got here, as brands desperately grasp around for a purpose or a cause to align to. In branding, manifestos are usually used as an internal tool to rally the troops or explain the business's story but they always stayed behind the curtain. Now the curtain's up and manifestos are centre-stage.
The thing that many brands haven't grasped is that, by and large, people don't want to be instructed on morality by corporations that sell consumer goods. While the gist of what they're saying is often admirable, the appearance of the logo at the end simply serves to undermine the whole thing. It's unarguable that there's plenty of good intention behind the messaging – increasing inclusivity and helping others in need are clearly good things – but they would be better served to say less and do more. Put the budget into action that makes a difference or make an entertaining ad that stays relevant to your brand.
This isn't strictly a new phenomenon. Apple's "Here's to the crazy ones" ad in 1997 was a stake in the ground for a company positioning itself as a bastion of creativity against the vanilla Microsoft behemoth. It hit all the right notes and set Apple on the path to domination. But that was Apple and 1997 was a simpler time. Surviving our hyper-politicised news cycle can be tough and advertising should be a refuge from the language of politics. After all, it's convoluted, opaque and dull. Is that really what a business should be aspiring to? 
design
Why it's bye-bye ping-pong
Global
There's a lot of debate about the future of office design, with many predicting the demise of open-plan layouts. Maybe. Let's see how real the shifts are in the months and years to come. But it is worth questioning all of these design elements. For example, removing walls was done to improve communication but according to one Harvard study, open-plan offices actually reduce face-to-face conversations by 70 per cent, while also leading to 50 per cent more emails (who wants to be overheard asking about finances or performance targets?).
But what is clear is that, for now, the office is going to be a place where work gets done. All those silly office designs that were spawned by Silicon Valley – a world of beanbags and inter-floor slides – suddenly seem out of step with the times. We need handsome offices fit for purpose; places that are smart and comfortable. Here are five office-design elements that are headed for the history bin. Why, after all, design an office to look like an apartment, when lots of workers are, well, still at home? Indeed, these design clichés are hopefully being ripped out as we speak. 
The most visible sign that you work in a technology office. Are you "disrupting" or just knocking a tiny ball over a net? Along with overly familiar copywriting and an aversion to collared clothing, the ping-pong table became a staple of a sector desperate to appear easy-going. There's nothing wrong with being casual (nor ping-pong) but too many businesses came to rely on "forced fun" as a stand-in for what defines a good office.
Is a bean bag really a chair? Or is it just an oversized pillow with the always looming threat of a major mess attached to it? Either way, bean bags certainly never project an air of authority. And, even when their slumped occupants managed to win a client's business, they were always hard-pressed to stand up and shake hands on the deal.
It was always a little perverse to have your employees pore over a brief in what appeared to be a surf shack or a ski chalet when, in fact, they're stuck in an office in a suburban business park. Themed rooms never fooled anyone, nor did they stoke creativity. Keep the office tasteful and allow your employees to hop on a surfboard or skis on their well-deserved holiday.
Yes, we mean the playground type. Why were they in offices? Good question. Slides are the ping-pong table's more deranged sibling in the "forced fun" family of office design. While your office's slide was probably used about three times, ripping it out is no easy task. We recommend filling it with concrete and letting it stand as a monument to bad decisions vowed never to be repeated.
A drinks trolley is nice and an office fridge for beer and wine is always appreciated but there's no need to make your office resemble a pub. Plus, an office is supposed to support its neighbours, not act as a fortress where employees never venture beyond its walls.
---
urban farming
Growth spurt
Japan
Launched this spring, Tokyo Midori Labo is a visionary green platform tasked with creating a self-sustaining urban neighbourhood. Situated in Nihonbashi Hama-cho in east Tokyo, its four-storey botanical garden-like office catches the attention of every passerby. "It was important to visualise our mission in the form of a building," says the project leader, Taichi Saito (pictured).
Saito was already the founder of Daishizen Inc, a Tokyo company that provides gardening and landscape-design services, but his entrepreneurial drive saw him embark on this new venture. "I've travelled across Japan and have also been asked by municipalities to revitalise their regions," says Saito. "One day I realised that these places are full of rich nature; they have fishing and farming. But urban areas produce almost nothing when it comes to food."
So he decided to change that. When he spotted that the Hama-cho area was dotted with empty properties, tucked behind large commercial developments, he smelled an opportunity. "It's a traditional area, home to manufacturing and culture. It was the centre of Tokyo where people created a lot of things. So I thought of starting local production for local consumption." He assembled a team that included three other businesses: indoor-farming-market leader Farmship, technology-meets-agriculture company Plantio and Green Snap, one of Japan's largest online green-application services.
The team's vision immediately won support from property giant Yasuda Real Estate. "They were already working to make Hama-cho a green, creative area," says Saito. After two years of building, the result is Tokyo Midori Labo, home to 70 employees and 300 varieties of plants. The farm produces crops such as grapes, melons, kinkan fruit and tomatoes.
"I thought of starting local production for local consumption"
The four executives meet every two weeks. "You can get admin done remotely but it's important to share a physical space because you need energy to make something new." There are already new projects in the pipeline, aided by neighbouring businesses and the Chiyoda Ward. The ground-floor café will house a seed bank where people can pick up seeds and compost and sign up with renewable energy companies.
The vision might sound idealistic but Saito knows his onions about running a business. "We're different from a traditional start-up," he says. "We are four [leading] companies producing extra resources to pour into this." 
tokyomidorilabo.jp
---
work culture
Clout of office
Dinner with a former colleague – one of the initial intake of writers who helped to get Monocle started. We talk about all the people who he worked with and I'm struck by how they have stayed so tight with each other. He's been to their weddings, is godfather to one of their children, speaks to them regularly. They are his network. There are some who are getting a little overexcited about the demise of the office. They suggest that no longer having to go to one will deliver unimagined freedoms – even if the main ones seem to be the right to wear athleisure at all times. But offices are about so much more. And a good one can set you up for life. One of the most important things that they can deliver is a fledgling network that kicks into play when times are tricky. A good office, filled with good people, can see you through anything. For a young generation it is a sin to make them believe that a lack of personal networks will be a long-term benefit. We need to feel that we are part of something bigger. We need someone to ask, "How was your weekend?" 
This comment first appeared in The Monocle Minute, our free daily newsletter. To read more business views, sign up at monocle.com/minute
hard sell
The perils of public relations
Global
How did an industry aimed at making things clearer end up making things so complicated? Part of the problem: there are six public-relations professionals for one journalist these days. It's a sad state of affairs and it means that every journalist out there is sitting under a deluge of press releases. Cutting through the clutter requires a deft touch. And while we're certainly no PR pros, we are the recipients of thousands of pitches: some good, some bad and most painfully mediocre. Here's a subjective guide to improving pitches and press releases. 
Ask, 'Is this worthy of a press release?'
Does a list of the best-selling hamster wheels really warrant a press release? Too many emails about non-newsworthy items and you'll be relegated to the junk folder.
Choose your opener wisely
The cat-and-mouse game that is PR hinges on pretending you know who you're pitching to. Opening with "Hi there" reveals you don't have any idea and indicates that what follows will likely hold no appeal.
Bye-bye buzz words
Synergy. Granular. Cutting edge. Purge them from your pitches and press releases. Use simple language but don't take that to mean being overly familiar is the sign of a good pitch either. We're looking at you, endless exclamation marks and winky faces.
Trim, trim and trim some more
Legend has it that Ernest Hemingway once wrote a six-word story: "For sale: baby shoes, never worn." The point? Words are powerful but easily diluted. Four pages of text isn't necessary for a new sofa, no matter how plush it may be.
Quit telling us how you feel
"Pleased to announce." "Thrilled to announce." "Excited to announce." Frankly, you'd have a better chance of grabbing our attention by saying, "I'm lukewarm about this new product but here goes…" Just tell us what you're selling and we'll go from there.
Attach your story to something larger
The best pitches for anything, from a new product to a new building, help contextualise why it matters. What does it say about how we live? Yes, we understand that's our job but we do appreciate the help.
transport
Up in the air
Global
The era of the modern airship is about to arrive. It's a claim that's been made again and again in recent decades – and then nothing happens. But several manufacturers and operators claim that this time it's for real and that they will revolutionise air transport.
The reason: airships are fantastically efficient compared to other aircraft, with up to 90 per cent energy savings on comparable trips. What's more, they don't need infrastructure such as runways to operate. Of particular interest are airships' ability to transport large cargo. Paris-based manufacturer Flying Whales, for example, began with ambitions of changing logistics for the French logging industry: an airship could carry timber from remote forests without the need for roads and trucks. That would save money and be better for the environment.
Airships are fantastically efficient compared to other aircraft, with up to 90 per cent energy savings on comparable trips
The airship is nothing new so what has hindered its comeback in recent decades? For one, they're expensive to develop. Without proven production lines or a guaranteed market, risk is high. But Igor Pasternak, CEO of US-based manufacturer Aeros, says that the coronavirus is going to accelerate things as we rethink our global logistics system. "You talk to the end user about cargo airships and they know they need them. The benefits are clear," he says.
If that's true, Flying Whales might be the best positioned of all. With an initial assembly line planned in France and further facilities planned for China and Canada, the company says that we'll see its first airship operating by 2023. Flying Whales foresees dozens of industry-altering uses, from carrying wind turbines from factory to installation sites to placing prefabricated houses in remote areas (currently being looked at by Canada for its far north) to unloading shipping containers on small islands and in areas without deep-sea ports. With a lifting capacity of 60 metric tonnes, the airship could accomplish in one trip what it takes helicopters many to do, with a fraction of the fuel burn.
The business case for passenger airships is less developed but also being pursued. Swedish start-up OceanSky Cruises is already selling tickets for its first voyages to the North Pole, starting at SEK900,000 (€87,000) for a two-person cabin. CEO Carl-Oscar Lawaczeck says that the company, which will function like an airline, is positioning itself for the ultra high-end market first with hopes of lowering the price and broadening its customer base later. They've also promised customers a refund on their deposit if they don't operate by 2024.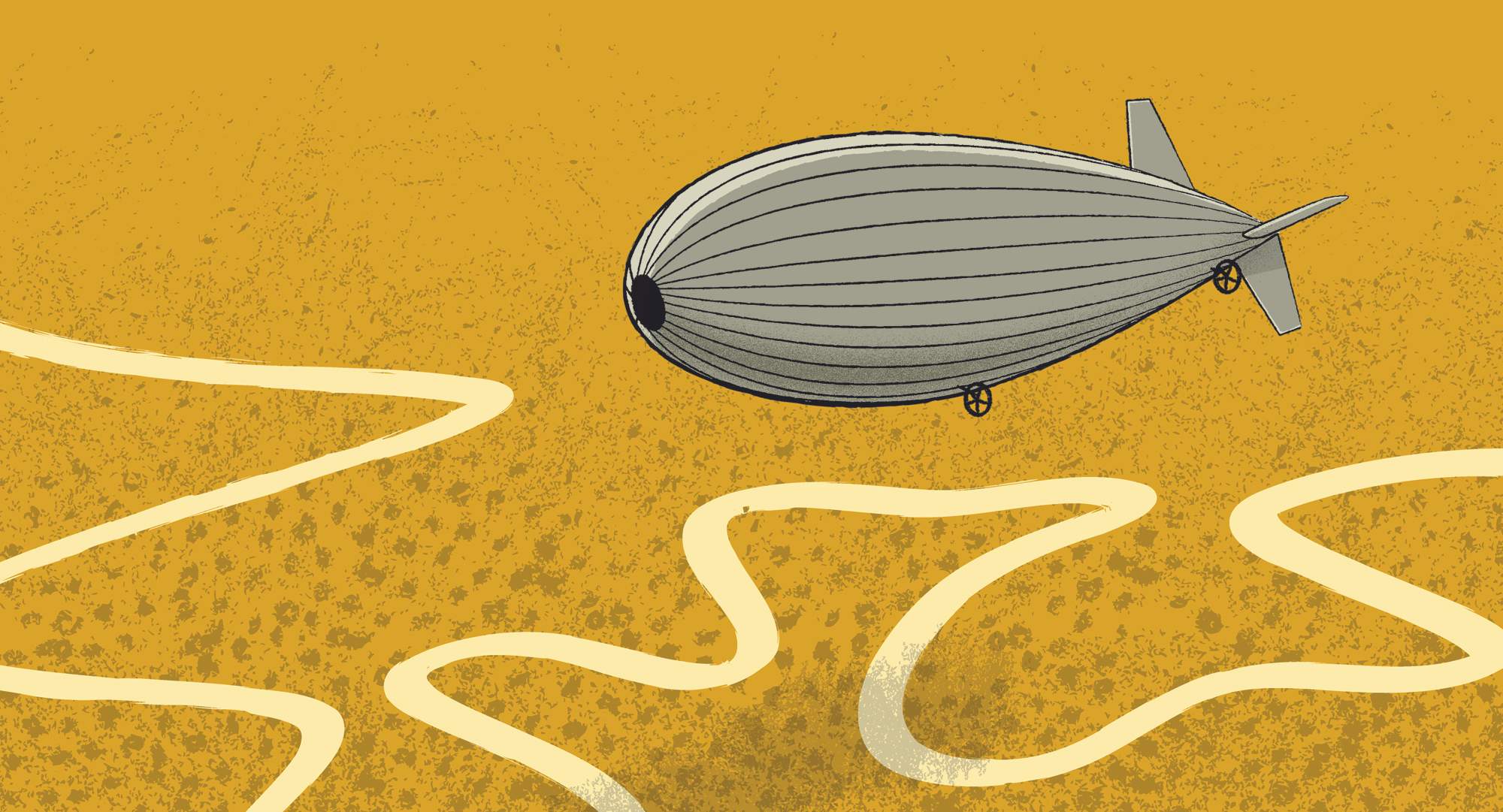 Unfortunately for the industry, airships still call to mind the Hindenburg disaster, which happened in 1937 (and saw 36 deaths, including 13 passengers). But prospective clients will be happy to know that helium (unlike hydrogen, which turned the Hindenburg into a flying bomb) is an inert gas that can't catch fire. Airships are also slow, with most cruising at about 100km/hr. That's a hindrance if you need to get somewhere fast for a meeting but if there were to be an accident on landing at, say, 40km/hr, consequences would likely be minor. "You'll get a bruise if you're unlucky," says Lawaczeck.
The striking thing is that airships, which are potentially big business, are based on 150-year-old ideas. It has just taken this long for technology to catch up, and a renewed focus on environmental concerns, to make the airship a viable vehicle once again. Lawaczeck says that if we want to cut our transport emissions, the notion of intercontinental flights or heavy-lift cargo operations on all-electric planes is a pipe dream because batteries simply won't have the necessary energy density for years to come. "The only solution to the problem is airships." 
It's not just airships that get talked up. In the drinks trade, marketeers also try to endlessly promote various tipples as the next big thing – forgetting that the same trick, with the same refreshment, was tried five years ago, and 10 years ago and… you get our drift. Take sherry. It's lovely but it just cannot shake off its reputation as an old folks' drink. But that doesn't stop people trying. "This," they say, "will be the summer that everyone goes sherry crazy." But nothing changes. So the airship folks are buoyant but we'll only believe it when we see a blimp in the sky. 
doing business
New horizons
Africa
Headlines about African business talk up the foreign investment pouring in from China and while infrastructure is improving, so too is social mobility. A new crop of small businesses is tapping into a young and growing population and offering founders new niches. Here we survey three places on the up with alluring prospects.
1.
Mauritius
By Andrew Mueller
In many respects, Mauritius is an easy sell. In the World Bank's Ease of Doing Business rankings for 2020, Mauritius placed 13th – ahead of Australia, Taiwan and the UAE, and by far the highest in Africa. "We wanted a stable environment," says Forbes Mavros of jeweller Patrick Mavros, which moved here from Zimbabwe. "But we still wanted to be in Africa – we're an African brand. We also wanted an environment that inspired us."
Businesspeople speak highly of the country's political and economic stability; Mauritius has polled consistently at the top of the Ibrahim Index of African Governance. Also frequently cited are its plentiful air links to Africa, Europe, Asia and Australia, and a time zone handily in between Europe and Asia.
2.
Tunisia
By Mary Fitzgerald
Next year Tunisians mark 10 years since the revolution that ended decades of autocratic rule. Tunisia's path since has been smoother than its neighbours' but high youth unemployment remains. One upshot is that younger Tunisians see entrepreneurship as a way forward – universities now offer modules in it – and are challenging the old way of doing things. Tourism and hospitality are the backbone of the economy but there's also a spate of designers and artists who draw on craftsmanship and Tunisian materials.
Entrepreneurial efforts were boosted by the Startup Act, passed in 2018, which aims to make it easier for businesses to launch, run and wind up. Walid Sultan Midani, founder of video-game company DigitalMania, was key to the process. His company launched in 2011 when only a handful of start-ups existed in Tunisia. Today, he says, that there are more than 600.
Using Tunisia as a base to sell from was profitable in the case of Fouta Harissa. The two Tunisian-Americans behind it rethought the traditional hammam towel and ship the hand-loomed handicrafts worldwide. "Entrepreneurship is not a silver bullet," says co-founder Alia Mahmoud. That said, start-ups are a start.
3.
Durban, South Africa
By Samora Chapman
Durban's population of 3.8 million is diverse – a mosaic of African, Indian and European descendants who call this beautiful but not always straightforward city home. One potential lure for enterprising individuals is that it is home to the largest Indian diaspora outside of India. Trade between the nations has grown steeply – India's exports to South Africa have increased threefold in the past 10 years.
Some businesses are looking to make a difference closer to home too. Homii is making security solutions including facial-recognition software to create safer inner-city spaces and residences in order to tempt people back to the CBD. It's a smart idea in a city with a grim past: people were moved from the business district during apartheid and the majority of the population still lives outside the city. If the city centre continues to improve, then Durban might have more than the beach to recommend it to entrepreneurs from across the continent.
expert view
Office politics
Katrina Kostic Samen is a believer in the power of the office, which is handy now that her design agency, KKS, is part of Savills, the international estate agent. She's spotted a simple disadvantage of toiling at home: "People always said that productivity would fall if people worked from home but it hasn't," she says. "It's stayed the same but you work longer to get everything done." Getting people back in the office groove faces challenges, she admits. One of the biggest impediments to encouraging people back to the office is senior managers, aged 35 to 55, who see no obligation to get back to their desks – even if the work-from-home mantra is damaging the lives and opportunities of younger staff. On all of this she is very clear: if you are in an industry where you need to make deals, then this home-working world will fail you eventually. But she also believes that companies will be reluctant to take on towers and keener to occupy more campus-like locations, with windows that open, some greenery and extra space becoming highly valued qualities. 
design
Private function
USA
The Schlumberger Administration Building in Ridgefield, Connecticut, may not be the first Philip Johnson-designed building that Scott Fellows and Craig Bassam (pictured, Fellows on left) have restored – the pair have owned two residences designed by the architect – but it is the latest. At 600 sq m, the building was Johnson's first commercial project, built in 1952 as part of the Schlumberger Oil Company's commercial campus. In 2006 Schlumberger left town and the building stood empty. But in 2017, after eight years of painstaking restorations, Bassam and Fellows turned it into the HQ of their eponymous furniture brand.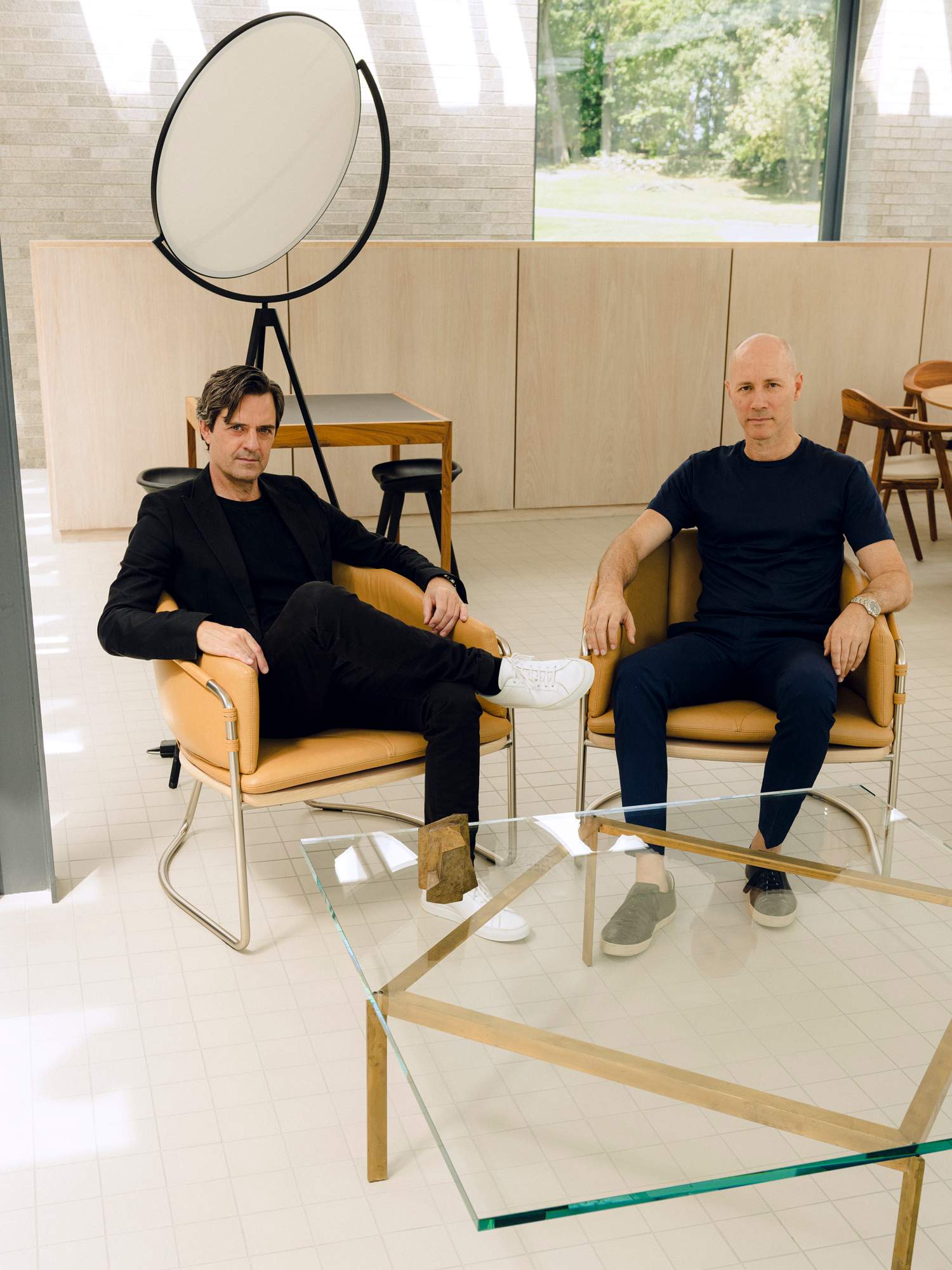 The building is thoroughly modernist: its rectangular steel frame is enclosed with glass walls and a leafy courtyard. The interior, which has a glass-cased meeting room and communal spaces, is awash in natural light thanks to 80 skylights. And ringing the building is a design feature more common to the mid-20th century than today: private offices, each with high ceilings and a large window wall. "It's very gracious," says Fellows. "There's a connection to nature, there's light everywhere and fresh air in every office."
"We wanted something that went back to this mixture of private offices and collaborative spaces"
While coronavirus has forced some businesses to reconsider their open-floor plans, BassamFellows was ahead of the curve. As former creative directors at Herman Miller, the pair often heard about how open plans fail to achieve what they touted: improve collaboration and communication. "You'd think it would be collaborative but it's not," says Fellows. "Everybody has headphones on because everyone is trying to get their work done. The pendulum swings the other way to where it almost becomes anti social. We wanted something that went back to this mixture of private offices and collaborative spaces."
And staff "wanted to come back because it's comfortable and nobody feels unsafe," says Fellows. "The building is more relevant now than ever."
---
on the up
Good year for business
Global
This year might have been bad news for global economies but there are some notable outliers. We highlight a handful of brands that are flourishing thanks to their business acumen and a bit of good fortune.
1.
Thousand
Co-founder Gloria Hwang
usa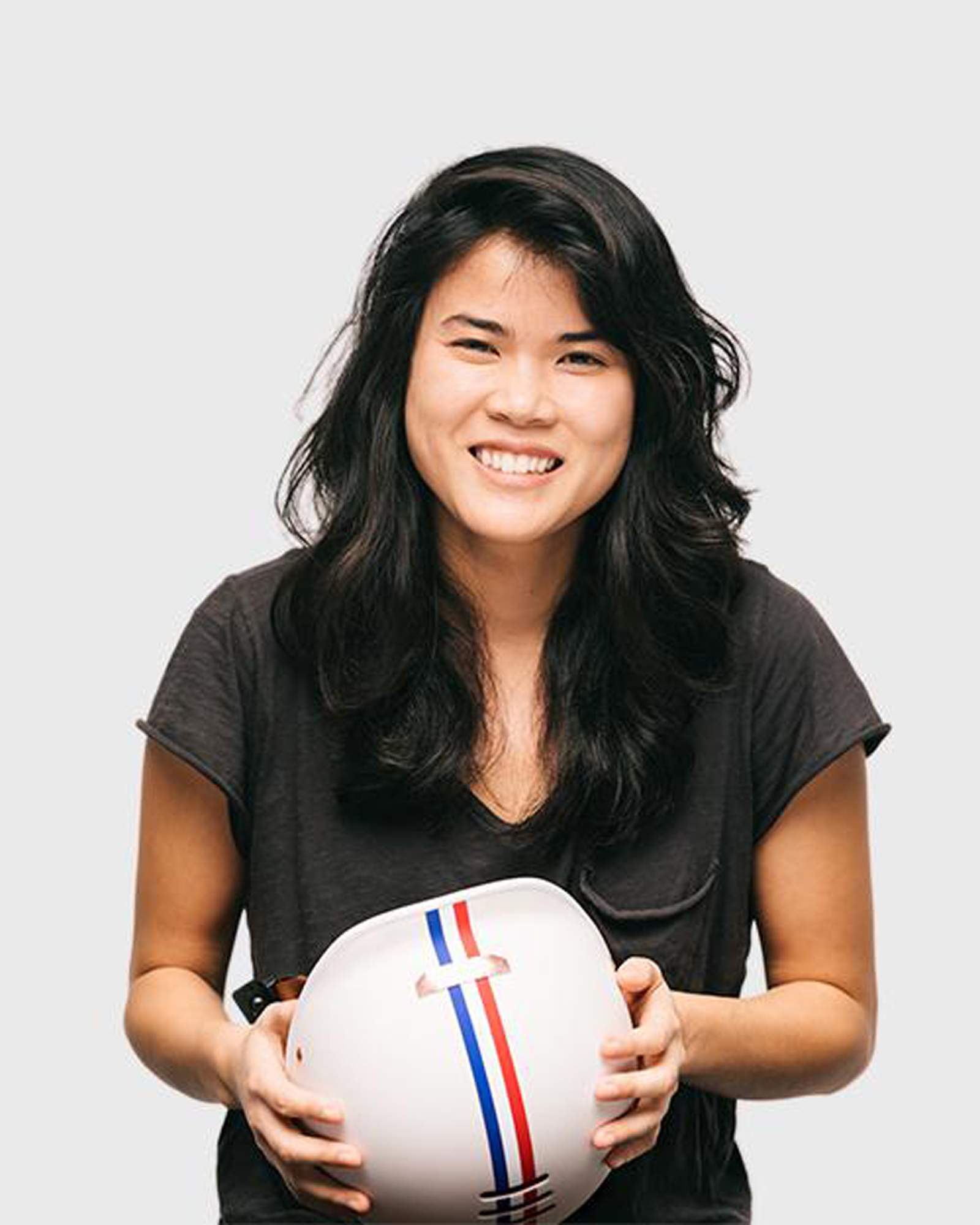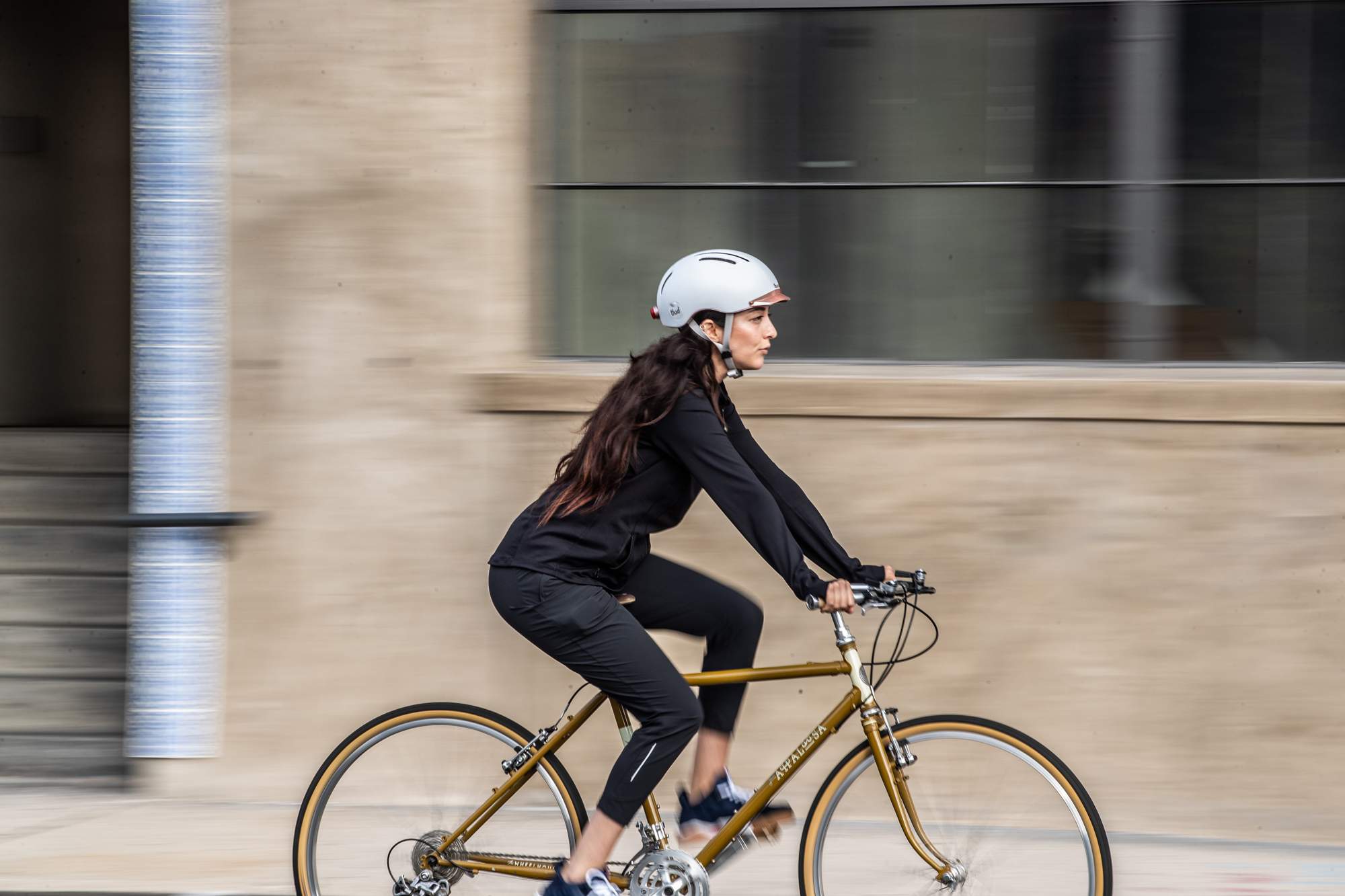 Residents of cities everywhere have taken to cycling with a certain gusto in recent months, kicking off an industry-wide boom that's seen cities fast-track construction of bike lanes and bicycle manufacturers struggle to meet demand.
Among the businesses seeing an uptick is Thousand, the Los Angeles-based helmet brand that Gloria Hwang (pictured) and Amar Patel launched in 2015. The business started with a good idea: that cycling helmets needn't skimp on looks. "The idea struck me that if you make a bike helmet that people actually want to wear, you'd help save a lot of lives and I really felt like it could encourage cycling within cities," says Hwang.
"About three or four weeks in, we started seeing this huge surge in anything bike-related"
The product has resonated with consumers and since launch, Thousand has seen sales double or triple every year. Yet the business was threatened in early 2020 when coronavirus ground the global economy to a halt. "But about three or four weeks in, we started seeing this huge surge in anything bike-related," says Hwang, explaining that the boom was kicked off by people in need of an alternative to public transit or those simply looking for an activity. As a result, Thousand's e-commerce sales grew by 800 per cent, while the brand's dealers requested hundreds or even thousands of helmets at a time. "We couldn't keep anything on our shelves," says Hwang.
While the past months have posed plenty of logistical challenges, from backed up supply chains to product launches co-ordinated from home, business is looking bright. "It has been a challenge to keep up but we're happy that we're on this side of things," says Hwang.
---
2.
Faunatar
Founder Johanna Valo
finland
As the pandemic hit Finland in the spring, Finns moved to remote work and generally spent most of their time tucked away inside their homes. And in a bid to stave off loneliness, more Finns than ever have felt the urge to acquire some company from the animal kingdom.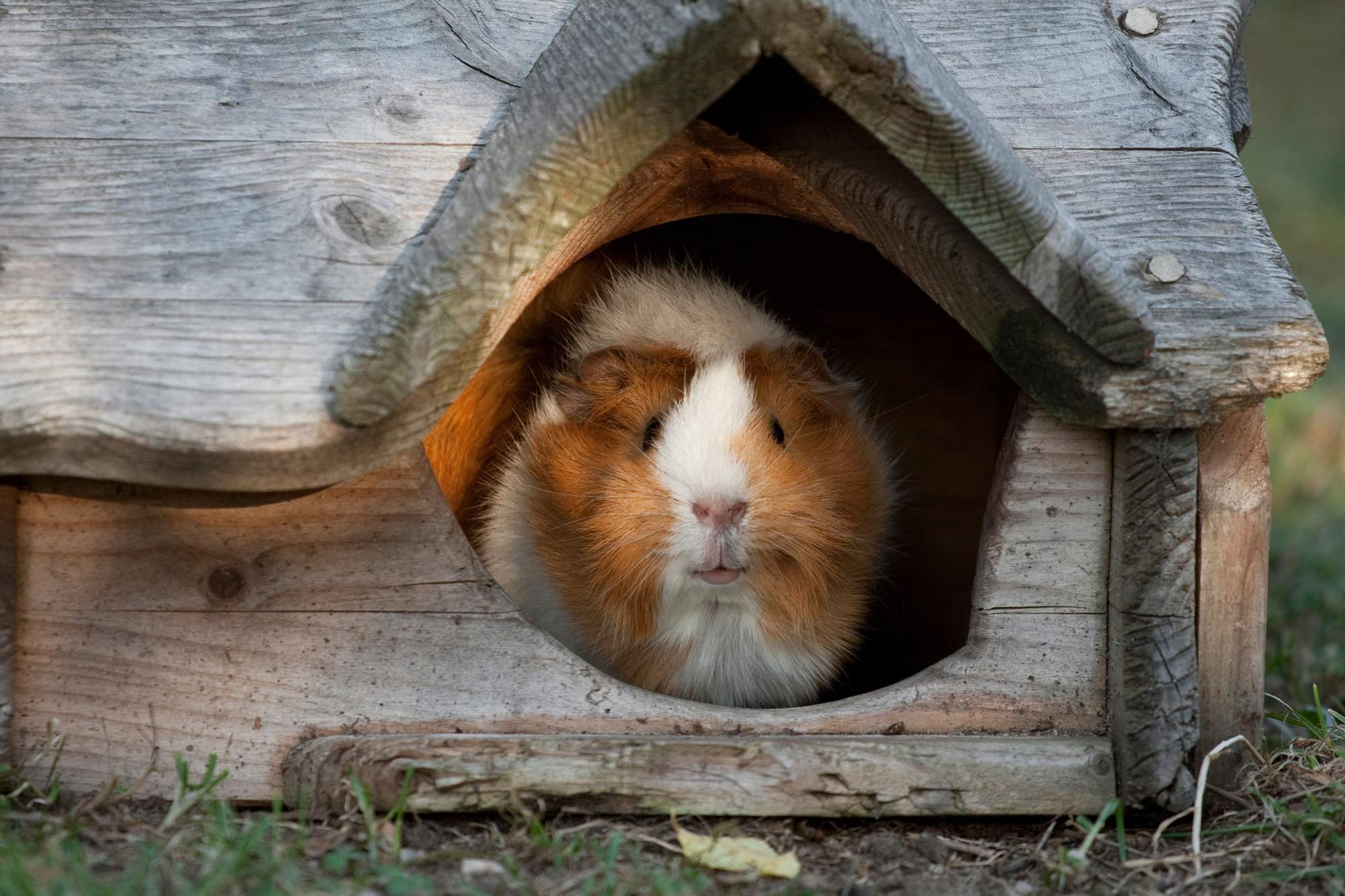 "Our sales of hamsters and guinea pigs have more than doubled. It's clear that the upsurge in sales is due to the fact that people have been spending more time at home," says Johanna Valo, the founder and CEO of the independently owned pet supply retailer Faunatar. Founded back in 1980, Faunatar now has more than 20 shops throughout Finland – from Helsinki to Tampere – which employ close to 100 people.
While Faunatar sells everything that Finnish pets like to snack on and play with, from dog bones to scratching posts for cats, the retailer also sells all kinds of small animals, such as fish, spiders and even snakes. Snakes have been popular during the pandemic (don't ask us why) but it's the small furry animals such as guinea pigs and hamsters that have been the biggest hit thanks to their cuddly nature. And for good reason: plenty of studies have found that owning a pet can be a boon to both physical and mental health.
Although life in Finland has become less isolated, the pet-shop boom, according to Valo, is still very real, with demand outstripping supply. 
---
3.
Raze
Founder Vincent Fong
hong kong
As Gary Ling and Jolly Tse stand inside their empty lifestyle shop in Kwun Tong, a two-man team from Raze, armed with spray-paint guns and a compressor, coat every shelf, table, mirror and flat surface with an invisible film that promises to kill viruses and bacteria for up to six months.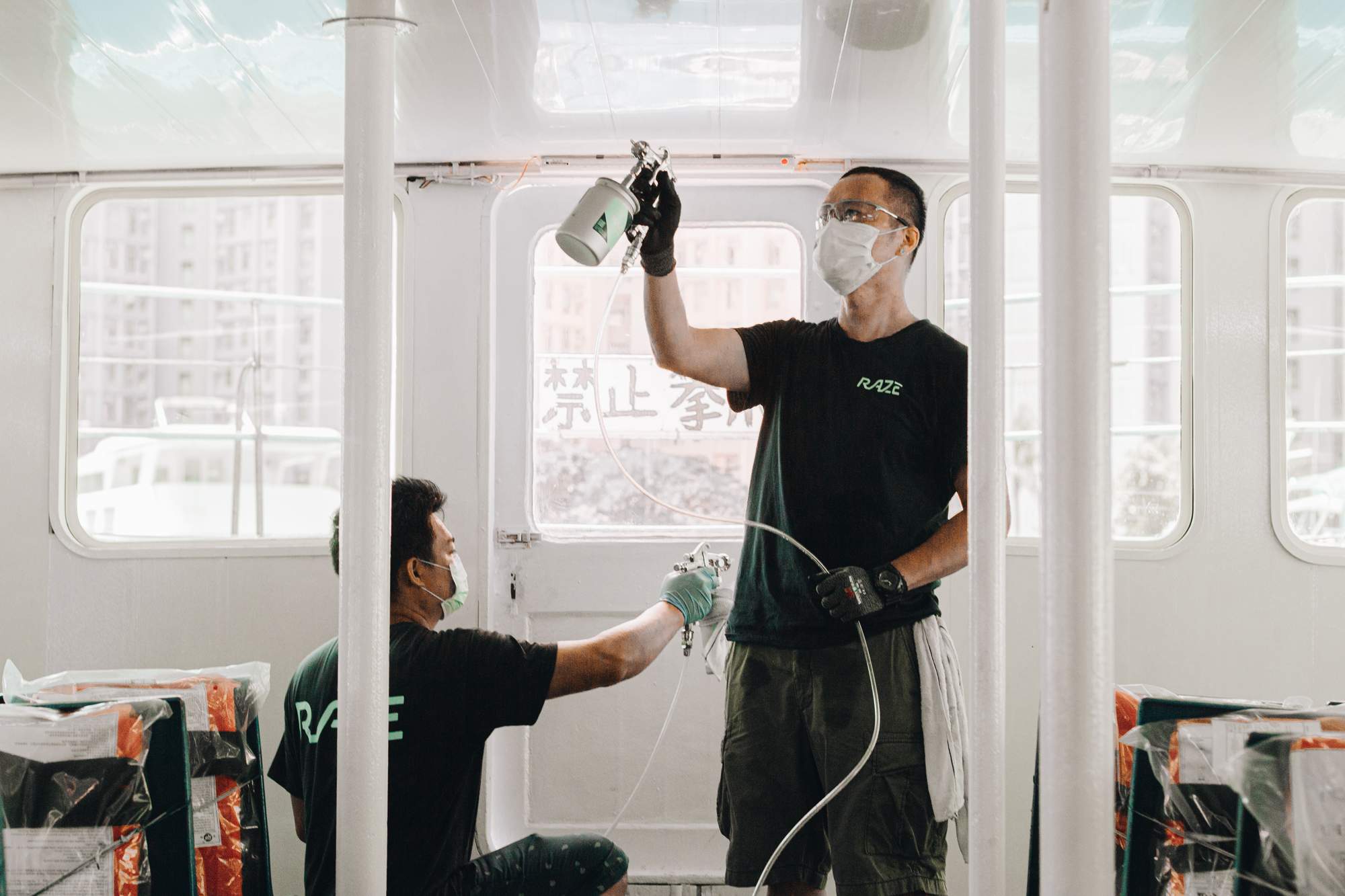 This photocatalytic technology is all the rage in hygiene-obsessed Hong Kong and Raze – now working in a crowded market – has a growing customer base that includes retailers, offices, restaurants and much of the city's transport network. "This year has massively accelerated our plans and consumer education is the most important part," says 28-year-old founder Vincent Fong, who recently signed up four joint ventures in Italy, South Africa, Macau and the UAE.
Timing is everything for a new enterprise and the two-year-old start-up only began developing a consumer product last year. Fong's original plan for commercialising the chemistry, developed by scientists at a Hong Kong university, was to sell it to pig farms – the dirtiest proof of concept he could imagine. "That's where I got my validation that it works," says Fong. Raze makes no specific claims to protect against Covid-19 though; surfaces covered in Raze still need a regular clean. 
With consumer interest likely to peak during the pandemic, Fong is making long-term plans by recruiting third-party brands to incorporate its technology into their own products, similar to Gore-Tex. A virus-killing wall paint will be released soon to test demand. The buzzy start-up has not forgotten its roots: Fong remains excited about pig farms and Raze still intends to clean up in agriculture.
---
4.
City Grange
Co-founder LaManda Joy
usa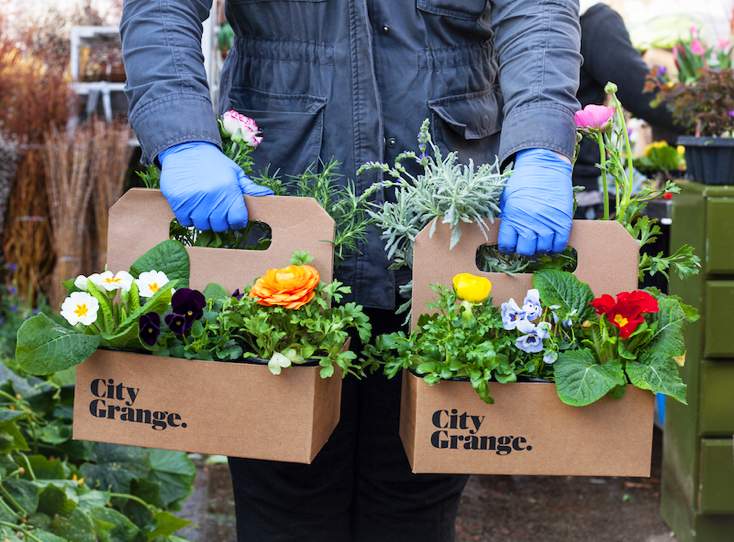 "Our belief is that the world would be a better place if there were more gardeners in it," says LaManda Joy, founder of Chicago's City Grange gardening shop. Joy's wish, if the recent success of her business is any indication, is bearing fruit.
Founded in 2019, City Grange, which has outposts in Lincoln Park and Beverly, has seen a spike in online sales in recent months. "But in-store sales have also been fantastic," says Joy. "[And] we've definitely seen an uptick of new gardeners." Many first-timers have arrived not with ambitions of vibrant flower beds but growing their own veggies. While that interest was initially driven by the same supply-chain fears that emptied grocers' shelves of toilet paper, many novice gardeners have since become repeat customers after realising just how rewarding growing your own greens can be.
Others have simply wanted to add a dash of colour to their homes, through house plants or windowsill garden boxes. "A lot of people have just wanted joy; to beautify their places. When you're stressed out, stuck at home and reading the news, plants are a real antidote to that," says Joy. Also an educator, City Grange's class about pollinating plants has proved to be especially popular (attendance for all its classes has doubled since moving online), as Chicagoans hope to lure butterflies and birds to their windows.
Coronavirus hasn't sheared City Grange's plans for growth. New shops are in the works, while Joy recently signed a lease for a new space that will be exclusively dedicated to making house plant and flower deliveries. Coronavirus may have cast a dark shadow in recent months but at least it's driven many to get their hands into the earth.
Other products doing well in 2020:
Skipping ropes: Judging by the big boys and girls skipping in city streets (jump rope for our friends in the US), this is the year when you could really make money from old rope.
Paint: The

DIY

boom triggered by lockdown saw paint sales soar as cracks were filled and fresh coats of white applied. Alternatively the paint just sat there. So a pretty good time to be a proper painter-decorator able to pick up the pieces – and the brush.
Bird feeders: As we connected with nature, sales of kit to attract our avian chums boomed. But this could not get rid of a nutty issue: the millions of mini packets of nuts no longer required by airlines.
PHOTOGRAPHERs: Chris Aadland, Jan Søndergaard, Jonathan VDK, Jonah Rosenberg. Images: Shaun Darwood. Illustrator: Christophe Jacques