Offices / Global
The view from here
An open, shared working space can promote creativity and open discussion within teams. But as a CEO, how do you foster collaboration with the rest of your office? Here, three company leaders in different fields let us into their unconventional set-ups.
72 /100
Architecture
Alexandra Hagen
Role: ceo, White Arkitekter
Location: Gothenburg, Sweden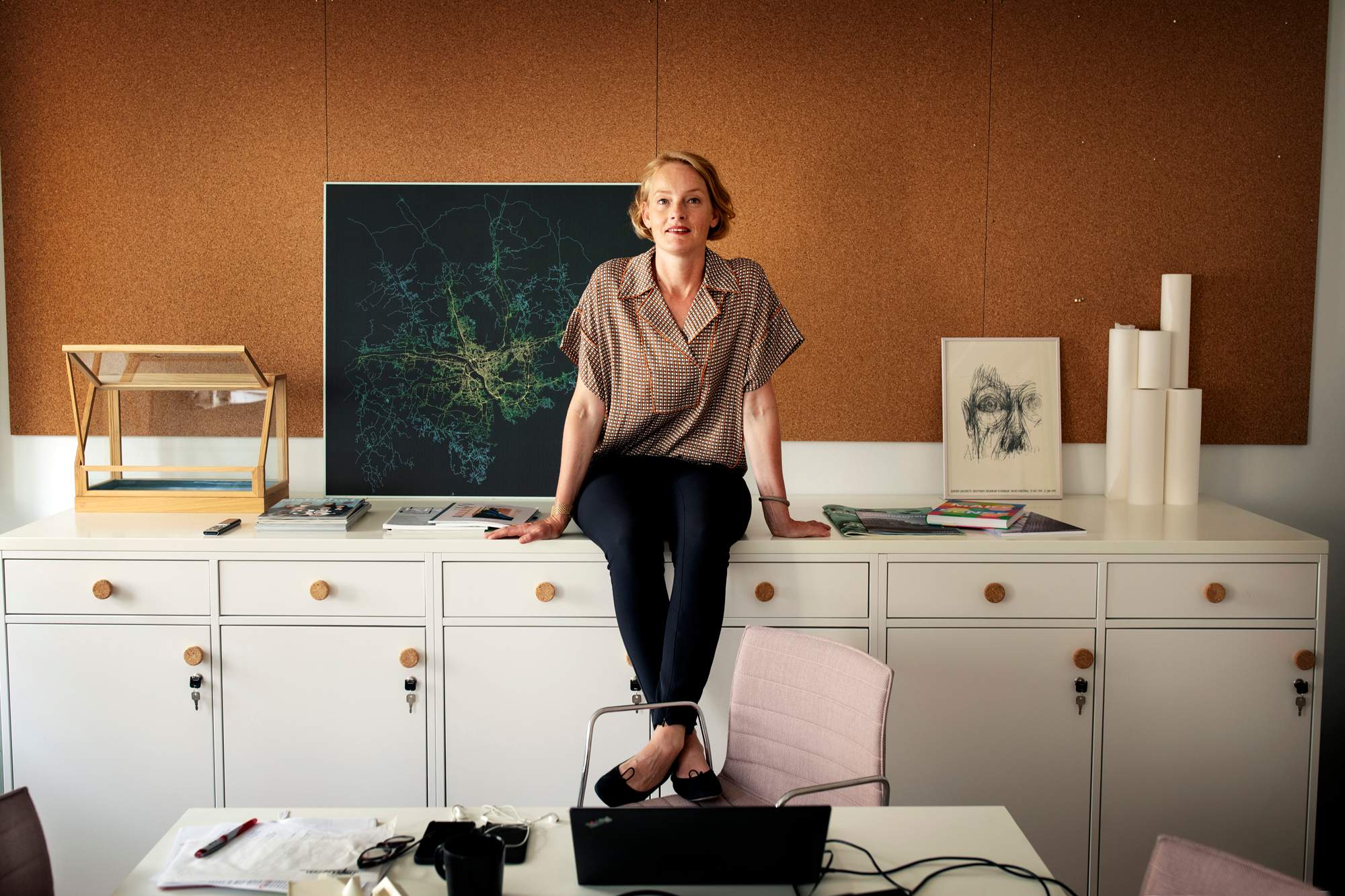 White Arkitekter has grown from its humble beginnings in Gothenburg in 1951 to become one of the largest practices in the Nordics, with a staff of about 800. It's an employee-owned company, an ethos evident in ceo Alexandra Hagen's choice of workspace. "We're not a practice of corner offices," she says. "The best space in the studio is always available for everyone. There are others who spend much more time in the studio and need space. I travel a lot, so I don't have my own office.
The company's chief, who took the role in 2018 after 17 years with the firm, works from a conference room revamped by the practice's interior designers. "They gave me a wall for pin-ups and a wall for writing, and a desk in between, which they found in the building's basement. They replaced the top, which was in bad shape, and refurbished the legs."
The company's chief works from a conference room revamped by the practice's interior designers
The resulting space is popular with her colleagues too; it's almost always full when she arrives. "It's exceptionally clean at the moment but normally there would be sketches, papers and books, and designers sitting in here reviewing things." This, Hagen says, is a good thing: it feeds creativity, encouraging chance encounters and discussions about the work. "It's hard to be creative by yourself. You need someone who has a different view. Creativity emerges from that collision between different perspectives."
---
73 /100
Hotels
Sharan Pasricha
Role: ceo and founder, Ennismore
Location: London, UK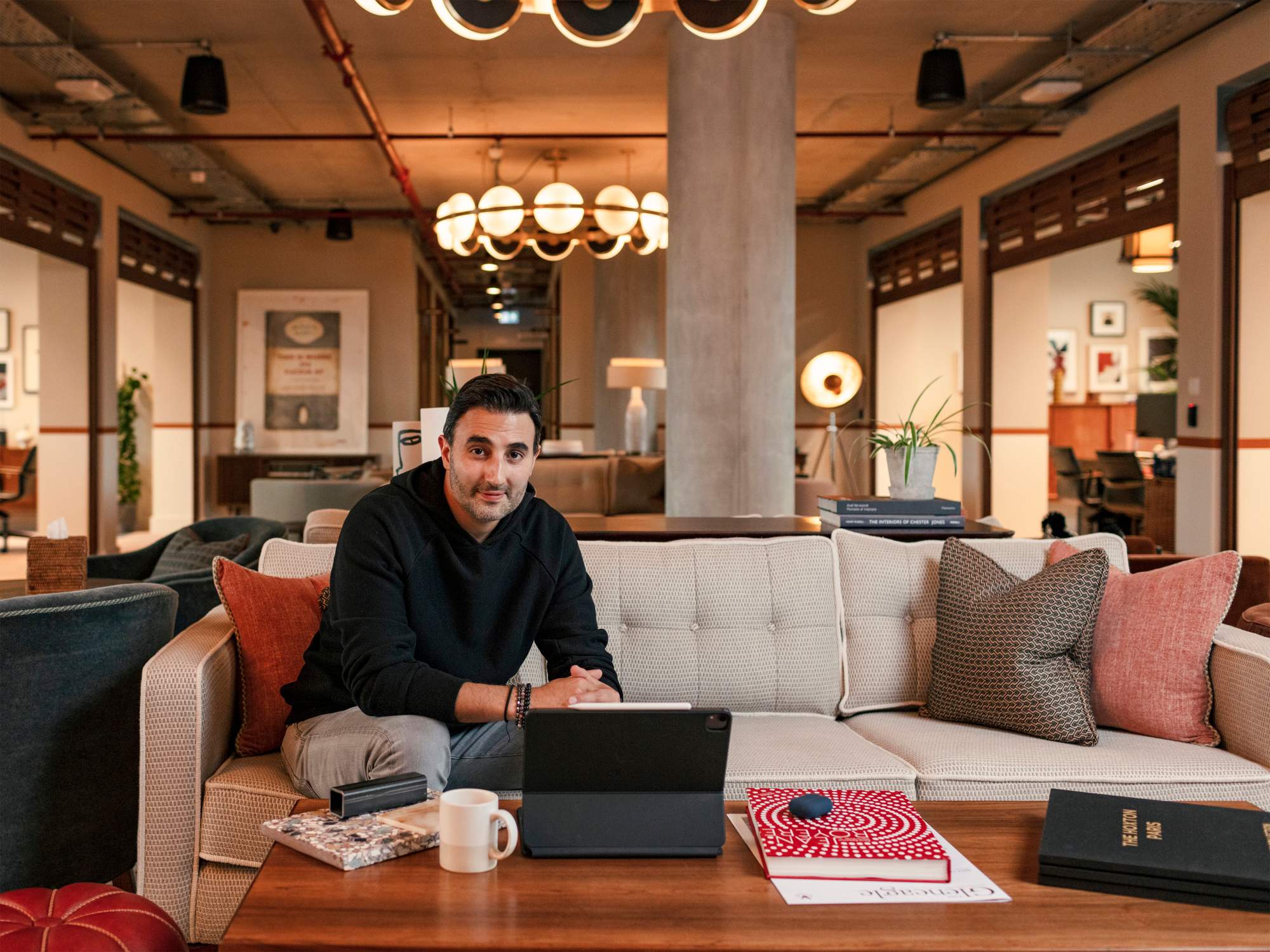 Sharan Pasricha doesn't have a permanent office. The hotelier and developer works from Ennismore's restaurants, co-working spaces and hotels, including The Hoxton. You'll often find Pasricha, and his designers, working in the lobbies. "By spending time with our guests and getting a sense of how they interact with our brand, our people and our physical spaces, we can better understand what we can provide," he says
The space has a pantry kitchen, a generous living room, offices and open-plan seating. It's homely, for good reason
Mostly, though, Ennismore's team of 120 are based at Working From, one of his co-working spaces in London's Southwark. The residence-inspired space has a pantry kitchen, a generous living room, a mix of offices and open-plan seating at desks and high tables. It's homely, for good reason. "I've always wanted every person who works for us, and with us, to be the best version of themselves. Creating an office environment where people feel at home accelerates that."
So where does Pasricha pitch? "I love to sit next to our graphic design team, or sometimes the investment team," he says. "I'm one of those entrepreneurs that needs to be in the middle of the action."
---
74 /100
Education
Rama Kayyali
Role: ceo and co-founder, Little Thinking Minds
Location: Amman, Jordan
Over the past three years, Little Thinking Minds has grown rapidly to become a leader in Arabic-language education. Its online courses and assessments are used by 200 schools and 80,000 students across the Middle East, North Africa and Europe. Rama Kayyali's team has also grown rapidly. So when fitting out a new headquarters earlier this year, she ensured that her office was centrally located, with glass walls. "I wanted to feel part of the team and for the team to feel that they could approach me." The desk is a relic from a previous office fit-out but it suits the ceo's personality. "It's really big, so we can easily have meetings or lunch at it, which helps me to stay involved," says Kayyali. "I'm a bit of a scattered person too, so I need a wide area to spread my notes and papers." 
Photographers: Alex Ingram, Åsa Sjöström, Hazem Jweinat