Essays / Global
Work in progress
From finding balance when building a brand to questions over the future of entrepreneurship in Hong Kong and the US, our six essays explore what it will take for businesses to retool and thrive during the rebound that could be just around the corner.
1.
Take the gentle approach to business
By Sophie Grove
In our adrenaline-fuelled world, it's easy to get swept up in the race. But it pays to be the tortoise rather than the hare.
Why go into business? Is it to secure a global brand, brave the slings and arrows of venture capitalism and create a market monopoly? Or is it based on a quite different impulse entirely: a yearning to create something that will propel you out of bed in the morning; to build something that does good, that will give you purpose and fulfilment – and even a palpable sense of joy?

There will always be that business archetype, the suited ceo who's hellbent on chasing unicorns. Or the sleek, single-minded leader intent on flipping a profit. And there's no doubt that cutting corners can offer quick rewards. Yet many entrepreneurs are choosing to nurture close-knit businesses and expand them at a more gentle pace. They are creating projects that are anchored in communities, with the aim of restoring pride in neighbourhoods. Rather than voracious growth, these enterprises are a slow-burn, happy to do one thing well. Whether it's retail, hospitality or design, they're led by a robust set of values rather than complex consumer research and spreadsheet projections. 
A sense of altruism is no barrier to profitable success – quite the reverse. Rather than clouding business acumen, a clear sense of ethics brings a galvanising clarity to a new venture. "If you have a really strong set of corporate values, then strategic decision-making actually becomes very simple," says Celia Moore, professor of organisational behaviour at London's Imperial College Business School. "That efficiency drives sustainability and profitability. There's a lot of waffling that happens when you want to look ethical but you really want to cut corners. You end up doing this wiggle – trying to thread a needle that really doesn't exist."
Circumventing the waffle is easier then it appears to be; a clear mission can be as good as any complicated business plan. "I set out to revive a factory," says Corinne Jourdain Gros, who gave up her job as a publicist in 2014 to buy Digoin ceramics, a sprawling factory complex in rural Burgundy. The company's brown, glazed stoneware was once a firm fixture in many French kitchens. Digoin employed hundreds of locals to produce the vessels that are used for making cassoulet and commercial mustard. They're also utilised by butchers when cooking terrines. Plastic resulted in the demise of Digoin's fortunes and the company had been shuttered when Jourdain Gros stepped in. 
Her vision for the business began with an urge to save skilled jobs in the regional community and preserve a way of life that she feared might disappear. "In France there used to be a specific dish for every regional speciality," she says, adding that her reimagined Digoin stoneware is now stocked by everyone from The Conran Shop in London to Merci in Paris. "There's a new generation that wants to use our vinegar-making urns or our pots for preserving cornichons. This is part of a movement."
A strong mission statement is a steady steer for expansion when a business starts to grow. "It's about doing things that feed the mission, and that mission feeds the business," says Lucie Basch, who co-founded the anti-food waste app Too Good To Go in 2015, and now runs 15 offices with 600 employees across the world. Basch admits that she never planned to run a global company. When her platform took off, the company fell back on the strength of its conviction as a guide. "A lot of people think and then do," she says. "We went for it."
Now that the brand's teenage growth spurt is behind it, Basch says that the team have spent time defining their philosophy and integrating it into every strategic decision. "Now, because we're growing so fast, it's particularly important for us to work on our values," she says.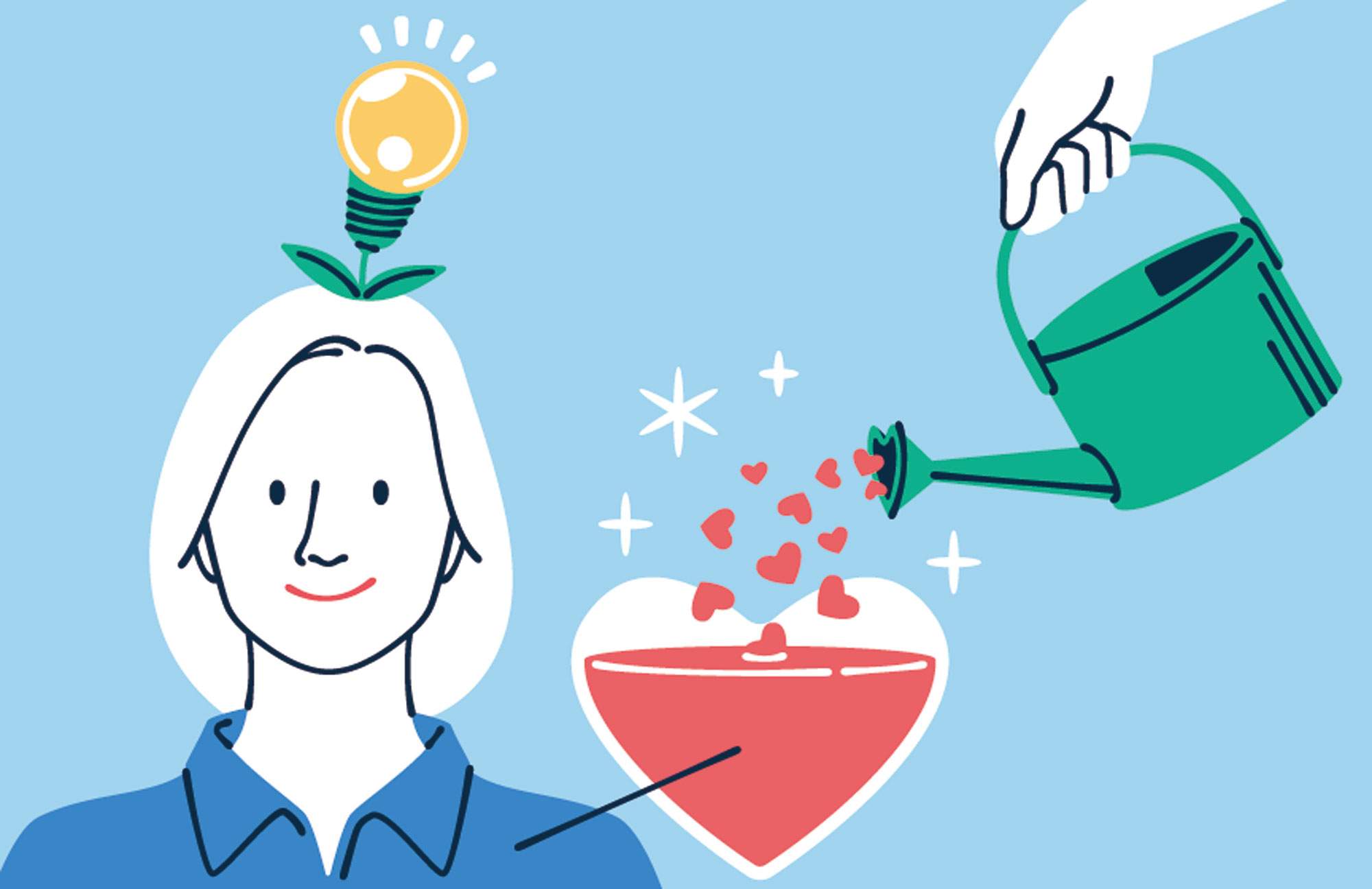 There's a growing sense that a strong, benevolent philosophy, which puts a premium on employee wellbeing, can reap many rewards for businesses. "Working somewhere that does good and is good feels good," says Imperial College's Moore. "Research shows that if you have an organisation with a strong social mission, you can get excellent employees who'll stay for longer and have higher levels of commitment. Leaders who are courageous recognise what a powerful force this can be."
Clever business owners also realise that the wellbeing of their staff is key. Companies are investing in space and resources to give their employees room for contemplation away from the clatter of keyboards. These range from rooftop vegetable gardens to in-house yoga facilities. This isn't just about designing a base that offers beanbags, or even architectural talking points. It's a question of liberating employees from their desks and allowing them to talk, sit outside and feel good about work.
Umberto Napolitano, who co-founded the Paris-based lan architecture studio, believes that there is value in encouraging staff to contemplate in beautiful surroundings. He opened a new Paris headquarters in 2018 and designed two thirds of the space to feel like a home. Although there are desks in rows on one floor, above them is a sitting room with indigo sofas, a kitchen, a refectory, a lush courtyard and some big sunny rooms with no stated purpose. Above that, there's a flat roof that's furnished with outdoor seating. "You have to invent the way that you use the space and that freedom brings creativity," says Napolitano, who admits that unshackling the staff from their desks took some time to reap rewards. "In the first period there was a lack of concentration. It's a bit like a Montessori education: we have this freedom, now what do we do with it? But step by step, people have become very reactive. After a year, I can see the results."
Napolitano has created a way of life for himself and his 34 employees. His Parisian practice, like many offices, workshops and factories, is a cause, a calling and a reflection of his and his partner's ideals. With some iconic projects under his belt, he feels that now is the time to consolidate rather than expand. "Society has been driven by the idea of progress and capital gain but now we're thinking about an alternative kind of life," he says. "How much time do you want to spend with your family? How do you want to live?"
The challenge for him, as for many successful business owners, is how to preserve the practice's size and unique dynamic. It's a philosophy that's not about growth but the quality of every working moment. "Now there are deep and complex questions: 'How do we experience this level of architecture without becoming a machine? How do we keep in context with the world without being in our own prison of results and economy?'"
Napolitano's answer? To open a Sicilian restaurant, Pianoterra, on the ground floor of his practice. Rather than adding more staff, this project is about widening scope and engaging with the neighbourhood. "It's the idea of creating an ecosystem that allows us to eat well or meet over a coffee in a public space," he says. "It will also be an art gallery."
Preserving the humanity, joie de vivre and authentic essence of a business is as challenging as rolling out a global franchise. So perhaps it's time to raise a glass to those gentle, perfectly balanced businesses that have plotted a careful path to expansion. And perhaps it's time to join them.
About the writer: Grove is monocle's senior correspondent and for our pages has interviewed everyone from top ceos to start-up heads. After stints in Istanbul and Paris, she's attempting a gentler pace of life in East London.
2.
It's time to disperse
By Deborah Talbot
The age of the metropolis has not yet passed but sharing out the big-city resources would be to everyone's benefit.
Are we about to face a mass exodus from cities? The rise of flexible and remote working has left many observers predicting that our future might not be urban after all. Yet they might be speaking too soon: perhaps this moment is more about the dispersal of urban life than about its actual disappearance.
It's true that there is nothing that's inevitable about concentration in urban areas. The modern Western city came about fairly recently, driven by the industrial revolution and, later, the development of banking centres. In the global south, according to urban economics academic Alexandra Panman, urbanisation is a consequence of poor conditions in rural areas and inadequate transport links. "Only a very small minority have the option of working from home," she says.

Most of all, urbanisation has been driven by the economic power of cities. Figures from the UN suggest that 68 per cent of the world's population will live in cities by 2050. The number of megacities (places with populations of more than 10 million) has grown from three to 31 in just over 40 years.
Today it seems as though the changing nature of work, technology, climate change and the likelihood of novel viruses causing disruptions to ecosystems are all conspiring to push us in another direction. But whereas remote working might be popular for those with the right jobs, it has the downside of isolation and stress – hardly conducive to productivity and innovation. Is there a middle ground?
Naji Makarem, a lecturer in the political economy of development at Bartlett, University College London, says that we aren't necessarily looking at a reduction in the economic power of all cities. Instead, we're looking at the "urbanisation of more places"; a decentralisation that is still connected to – and feeds off – larger cities. Technology can support this, he says, by allowing "people and firms outside the urban core greater access to urban interaction and consequently productivity and innovation".
It's a concept that should be supported by the corporate world. Companies are rushing to find new configurations for collective working, such as flexible workspaces, suburban satellite offices and co-working. Workplace app developer Desana, which recently launched Cityworks – pairing office-less workers with desk space – says that the time for suburban and rural co-working has come.
We're not looking at a reduction in cities' economic power but an urbanisation of more places
New ways of working have opened up opportunities for groups such as the disabled, carers and parents, particularly women. Yet even for those who prefer to work remotely, creativity requires a community nearby. Suburban phenomena, from punk to community shopping malls – or the reorientation of the creative consciousness to nature and the green economy – all show that different environments can inspire innovation. Employers could be freed from the geographical boundaries of the talent search, while highly skilled people living in smaller cities and rural locations can enhance the wealth of their localities (what academic Andrés Rodríguez-Pose calls the "places that don't matter").
We've always thought of the city, suburb and village as distinct places. But with our workspaces dispersing from city-centre offices into rural hubs, our ways of working, and our understanding of urbanism, is about to become much more fluid.
About the writer: Talbot is a journalist, author and researcher specialising in urban and rural development, and sustainability. Her latest book is called Who the Hell is Jane Jacobs?
3.
Should I stay or should I go?
By James Chambers
Hong Kong's harsh new security law won't drive away the entrepreneurs enticed by mainland opportunities.
One of my first proper conversations about Hong Kong's national security law was discussing a small-business owner's contingency plans. To protect his identity – an indicator of where things stand right now – let's call him Robert. His chief concern, as co-owner of a content-marketing company, was what would happen if mainland China's great firewall were to be extended to Hong Kong, cutting off access to Google, Whatsapp, Dropbox and all of the other US software that he and his two business partners rely on to run their company.
Back then, in early July, the possibility of this happening sounded ludicrous. "That'll be the end of Hong Kong," I remember declaring. A few months later, internet censorship has become a genuine concern. Robert's short-term solution has been to invest in a virtual private network but the business is also building up a parachute office in Singapore; part of the company had already been registered there last year before the pro-democracy protests began, to serve its client base on the island.
The next major business decision that Robert will have to make will be which one of the founders has to leave Hong Kong for the Lion City. As it turns out, there are plenty of reasons why Hong Kong is an Asian business hub, beyond its low tax rates, language skills and free port (it doesn't levy customs tariffs and has limited excise duties). What's more, the upsides to living in this city have become even more apparent and appreciated during the pandemic, including the waterfront backdrop to our discussion over a Friday post-work beer as we watched the sunset over Victoria Harbour.
Robert's debate about whether to stay or leave is one of many being had in this city of 7.5 million. I've spoken with a dozen or so entrepreneurs about the security law and their opinions vary. For every founder who is waiting to see, there is another who's not the slightest bit fussed. Digital firms are sending their data storage overseas, whereas traditional bricks-and-mortar businesses see the security law as a good thing: a return to stability and safety. 
Those with firm plans to leave tend to be doing so for family reasons – so their children can attend a certain school or grow up with a garden. Entrepreneurs with long memories view the security law as the latest chapter in the city's colourful history. "Hong Kongers have never been in charge of their own destiny, so this doesn't change anything," said a property professional. "Once there is a resolution, it's usually back to business as usual."
Deep connections with Hong Kong are one unifying factor. Entrepreneurs are entwined with their businesses and often embedded in a city, so upping sticks and leaving is not as simple as a multinational moving a regional head around Asia or a laptop-carrying freelancer floating away on the wind. Most founders worth their salt will have invested heavily in Hong Kong and all are loath to suddenly throw their life's work away at a steep discount.
Businesses in Hong Kong have been hit harder than most. Politics has been playing tag with the pandemic and, for the time being, it is impossible to separate the two disrupters. An event company I called in on said that a promising 2020 pipeline had been killed, wrecking years of hard work. The founder had actively supported the protests but the commercial realities of dealing with Chinese sponsors had brought his advocacy to an abrupt end. As a result, they had just finished a shareholder meeting with only one thing on the agenda: why are we continuing? The answer: to keep fighting for business survival, if not for democracy.
To get the full answer to this question from entrepreneurs, we will likely have to wait for a coronavirus vaccine. Unlike much of Europe, Asian borders remain closed, providing convenient cover for collective can-kicking. "Where would I even go?" is a popular refrain. It's both a comment on Asia's worsening record on freedom of speech and the deterioration of Western governance. The pandemic has highlighted a laundry list of problems in other parts of the world, dampening any mass exit.
Salaried workers (and some outspoken political activists) are among the first to leave. They are a mix of locals who fear losing freedoms and foreigners who have lost fat expat packages during the downturn. But many entrepreneurs are here to make money from Hong Kong's close ties to the mainland. It serves as a conduit to China and the security law is seen as an added cost of doing business with the continent-sized country of 1.4bn people that's not going anywhere this century.

There is a feeling that, after a rough few months, even years, Hong Kong's reward will be a return of mainland money. That's why this city went on a bull run after the Sars epidemic in 2003 and made a lot of entrepreneurs – who took big risks and bet on this city during its darkest hour – very rich. It helps, of course, that your average founder is politically cold-blooded and blessed with natural optimism.
Even entrepreneurs in Hong Kong's hard-hit hospitality industry are prone to positivity. Several view a mooted influx of mainland talent and an outpouring of white-collar expats with rose-tinted glasses. Modern Chinese are growing in sophistication, they say, demonstrating a greater appreciation for design and sustainability than their Hong Kong counterparts. Word-of-mouth reviews via WeChat can help a brand expand on the mainland.
Would banning Google and Facebook change this? It depends on the industry. My own concerns in the media are not the same as those of someone working in property or coffee. Rule of law – or trust in an independent and international standard judiciary – is often cited as the biggest red line. Lose it and Hong Kong is just another Chinese city, so you might as well be in Shanghai. But while the legal system will be tested to the limit as judges begin to hear criminal charges under the security law, the commercial courts and arbitration centres will continue to operate for all of the foreign companies that want to do business with China. Those with Chinese experience are less likely to be put off.
The real cost is likely to be the countless new overseas investors and curious entrepreneurs that never decide to touch down in this city in the first place. Can Hong Kong attract new talent? We will have to wait and see. People have short memories and Beijing has made noises about extending the "one country, two systems" arrangement beyond 2047. So Hong Kong's special status – or whatever is left of it – might even get a new lease of life.
In reality, most of the founders I spoke to have yet to draw up any definitive plans. "The spread of local-government corruption would be a red line for us," said one brewery founder. "That's why we didn't set up in China in the first place. I don't want to have a good 'relationship' with a politician to be able to run my business free from harassment."
I had a follow-up chat with Robert in mid-August. He was meant to have a contingency-planning meeting just before we spoke but it had been postponed because the founders were all too busy with new work. Hong Kong's political framework might have fundamentally changed this year but the business of making money still goes on.
About the writer: Chambers is monocle's Hong Kong bureau chief and Asia editor at large. Born without an entrepreneurial bone in his body, he is inoculated against the city's zeal for buying, selling and building, despite living in Hong Kong since 2014.
4.
Retrofitting for 'the new normal'
By Chris Smith 
Coronavirus is going nowhere fast so our workplaces must be adapted to minimise its impact. Here's how. 
"This is definitely the weirdest virus I've ever had to deal with," my colleague informs me. At least I think that's what she said behind her obligatory nhs employee's surgical mask, and I nod my agreement. But it's hard to understand each other, especially when you're two metres apart. There's background noise and you can't pick up the usual prompts from someone's face. We're waiting in the queue for the coffee shop at the hospital where we work. The layout is, of course, a legacy of the old normal and is totally unfit for the new. The line, marked out with black-and-yellow tape, snakes through what used to be the seating area. I find myself wondering how we're supposed to have those "water-cooler conversations" that once spawned world-changing scientific and medical insights when we can't even chat properly over coffee?

Let's face it, we all hate this and we're desperately hoping it'll soon end. But the bad news is that it's not going to. All the evidence points to Covid-19 remaining a thorn in our social sides for many years to come. It took 15 years of concerted global effort to declare smallpox finally eradicated. Polio is taking even longer. And, perhaps most damning, in 2018 there were 10 million cases – and 150,000 deaths (that we know of) – from measles, for which there has been a very effective vaccine available for decades. What this adds up to is the conclusion that the much-anticipated arrival of a coronavirus vaccine is not guaranteed to deliver the panacea – and a return to the "old normal" – that we all crave, and certainly not instantly. The best guess I've heard is that the disruption is set to last for years yet, and the "new coronavirus" is destined to become "the old coronavirus" and circulate forever.
What this means in practical terms is that, for now, the only weapons we have at our disposal are the age-old but nevertheless tried-and-tested techniques of public-health medicine, which is what we're calling "physical distancing". This intervention works by breaking the chain of transmission of the virus. But the realisation that we've created toxic working, commuting and shopping environments has come as a shock to many, especially if, like Google, you're putting the finishing touches to a new huge London HQ that was almost certainly designed with the normal we used to know in mind rather than the present reality. The recent trend had been towards designing buildings that subconsciously usher you into the lift (by making the stairs impossible to find) forcing you to share air with the other occupants for as long as it takes to reach the 15th floor. Often there are no windows you can open, while open-plan working packs in as many employees as possible. All of this means that many offices are perfect crucibles from which to forge infectious outbreaks – and not just of coronavirus.
But this sombre wake-up call does have a silver lining: it is prompting researchers and architects to rethink the way that we "do" airflow in buildings, in order to minimise the spread of disease. Take a hospital ward, for example. With better control over how air moves around the patients' bed spaces, you can create currents that carry away most of the infectious particles that a person coughs or sneezes and guide them safely into floor ducts. Coupled with air-purifying systems that filter and disinfect the air they eject, patients can be cocooned inside "bubbles" of clean air that keep infection away.
A similar approach can be applied in the office or even to the train that gets us there, to minimise the transmission of infections between workers. This is good news for industry because, according to the UK's Office for National Statistics, more than 140 million working days are lost to ill-health in the country every year. It's tempting to speculate that a significant proportion of those illnesses are picked up at work. So if we make the workplace healthier, we can look forward to better productivity and fewer sick notes.
Other bright ideas include installing ultraviolet light sources in ceilings to blitz bugs that drift past on air currents. Although the prospect of an array of UV lamps overhead sounds alarming and might conjure images of an office staffed by workers that look as though they live permanently on the Costa del Sol, it's quite safe. Researchers have found that one very short wavelength of UV, called far-uvc, does not travel any appreciable distance through air and cannot penetrate human skin. But it deals a deadly blow to the genetic material inside viruses, bacteria and fungi, instantly disabling them.
For surfaces and places that people tend to touch frequently, building designers are also switching to alternative materials that are easier to clean or, thanks to in-built tricks of chemistry, are automatically anti-microbial in their own right. Copper door handles, for instance, originally ditched in favour of cheaper plastics, are making a comeback since scientists discovered that the metal has powerful microbe-killing powers. There are also spray-on chemical treatments that self-assemble into anti-microbial coatings when they land on a surface. Some of these even claim to work for weeks at a time and even on human skin, although the evidence is still quite sketchy.
The really good news is that all of these interventions don't just work for coronaviruses. The same strategies will also protect us from outbreaks of flu, winter vomiting bugs and even the common cold. So coronavirus could be the catalyst that we need to clean up our act across the board.
Ultimately, as uncomfortable as it is, this all adds up to the fact that, because the new coronavirus will be with us for a long while yet, we are all going to have to change the way we do business. Some buildings will need a refit and certain industries just won't be viable – but opportunities will burgeon for some sectors that couldn't compete previously. Personally, I won't miss the commute but I am definitely mourning the demise of my regular "normal" coffee break.
About the writer: Smith is a consultant clinical virologist at Cambridge University. He has served as Monocle 24's health correspondent during the pandemic and also presents The Naked Scientists podcast and Five Live Science on bbc radio.
5.
Are you decoupling already?
By Nader Mousavizadeh
As hostility between China and the US grows, business leaders would do well to plan their strategies to suit.
China, for all its faults, is having a moment. The pandemic has accelerated a number of trends that play to the Asian economic power's strengths, both in its domestic economy and its global influence. These are trends such as digitalisation, automation and cashless commerce. But perhaps the most significant shift is in the relationship between it and the US. Although the view that China is an adversary and no longer a competitor precedes Donald Trump's spell in office (and will succeed him too), the unavoidable question for business leaders in the new normal of US-China relations is: are you decoupling already?
The companies best able to navigate the frayed relationship will be those that can leverage deep roots in both countries and have the market strength to propose new structures that can satisfy leaders on both sides. But the escalation of US-China tensions is also leading management boards of global businesses to consider alternatives. That includes making radical changes to their capital, corporate and governance structures if they hope to thrive in the key geographies of the US, China and Europe.
Just as in the (now arguably defunct) "one country, two systems" approach to Hong Kong, global companies might need to adopt a "one business, two countries" strategy to operating in the US and China. This could mean "designing out the threat" of a collapse in the US-China relationship by ensuring that factories, entities, teams and value chains are reworked to operate in China in a way that is sealed off from US reach. In a post-coronavirus world, this could involve separating the supply chains of specific sectors, especially pharmaceuticals and biotech, to ensure that the US regains what it perceives as the "supply chain leverage" that it lost to China. While there will be different approaches to such a reconfiguring, the momentum is there across a number of industries and regions.
JPMorgan Chase ceo Jamie Dimon said it memorably in his annual letter to shareholders this year: "Entering into a crisis is not the time to figure out what you want to be." But when it comes to US-China relations, this moment is forcing companies to do exactly that.
About the writer: Mousavizadeh is the founding partner and ceo of Macro Advisory Partners and was a special assistant to former UN secretary-general Kofi Annan.
6.
The future of small business in the US
By Tomos Lewis
Entrepreneurs can flourish in turbulent times but well-aimed economic policies and incentives must add support. —
You don't have to flick too rigorously through the chronicles of recent US economic history to find that, when the economy slows, a spurt occurs shortly after. Entrepreneurship tends to flourish as the economy contracts and people search for new opportunities. Start-ups and fresh ideas fuel the rebound.
But in the febrile atmosphere of a divisive presidential election campaign – one that is taking place in the context of a pandemic, a cratered national economy and ongoing demonstrations against systemic racism – the opportunities for rebuilding an economy in a meaningful way, from the ground up, seem to have a particular energy this time around.

"To me this is an opportunity. It is a reshuffling of the deck in ways that you very rarely see in one's lifetime," says Ryan Wilson, ceo of The Gathering Spot, a members' club that he co-founded in Atlanta in 2016 to facilitate relationships between the owners of the city's small- and medium-sized black-owned businesses with Atlanta's broader commercial and creative communities. "The best entrepreneurs understand that, even during a crisis, [it's] the best time to solve new problems."
The Gathering Spot's membership runs the gamut of Atlanta's business and creative sectors. Its youngest member is 22 years old, its oldest is 88. Its doors reopened early post-lockdown – in the wake of the killing of George Floyd in May – to give its members a safe space in which to meet, debate and organise amid the anti-racism protests that swept across the country.
All of this gives Wilson a surprisingly positive outlook. "Although I'm not comfortable with our current political climate, I'm optimistic too," he says. "We'll do what is necessary over the next few months to try a different course. And as it relates to small businesses and entrepreneurs, we will be a part of crafting what that new world will be."
Every four years, the US economy is the hub from which the spokes of any US presidential election campaign fan out. Incumbents tend to do well if the economy is strong – and poorly if it is in trouble. Both sides typically offer sweeping, overarching views of the economy writ-large: boosting the middle class, reimagining manufacturing, revamping national infrastructure. But these big ideas gloss over the nuances, the nuts and bolts that make a national economy vibrant and ripe for growth.
What are those nuts and bolts? That would be the small-business economy. And for that to flourish, the question is just how open the door is to entrepreneurs who are seeking to set up their own firms. "We know from research that, during economic downturns, the rates of entrepreneurship generally increase," says Danny Kim, an assistant professor at The Wharton School of Business at the University of Pennsylvania, whose research specialises in the roles that entrepreneurship and immigration play in economic growth. 
Entrepreneurship ascends during a recession for two reasons, says Kim; opportunity costs and necessity. The latter is the product of hiring freezes, companies closing their doors and contractions by larger employers during a recession. All of this reduces the number of jobs on the market (the unemployment rate in the US stood at 10.2 per cent in July). "This is going to be an important time for many to consider starting [their] own businesses," says Kim. "And we haven't yet seen enough efforts in catalysing this next generation of entrepreneurs."
Kim's assessment that entrepreneurs need more help and support isn't unique to the current moment. "I didn't have a lot of help; there weren't a lot of resources," says Danielle Ribner, creative director of Loup, the women's fashion house she established in New York a decade ago. 
Ribner says that it has been easiest to keep things small and to work on her own rather than relying on outside help. "I started the company with the idea that I wanted it to be this big clothing brand. But I realised that there weren't a lot of benefits to that if you want to stay independent and have any control." Making your own mistakes on a path that you have forged yourself for your own business has its benefits, she says. 
Many entrepreneurs simply strike out at opportunities on their own. But there are several things that the next incumbent of the White House could do to help them gain a footing, particularly if the economic terrain remains rocky. The first is a simple acknowledgement of the oversized role that small business, and entrepreneurship more broadly, plays in the US economy. The Small Business Administration (sba), a federal body, reported this year that there are nearly 32 million small businesses (companies that employ 500 people or fewer) operating in the US, accounting for nearly 50 per cent of the country's annual gdp. Loosening the barriers to entry, especially for minority-owned businesses, should be a priority for the next president. 
"Access to capital is the biggest hurdle," says Moddie Turay, a property developer in Detroit. "I'm first-generation, born here in the US, so you don't have that friends-and-family money that people tell you to raise when you're starting out."
It's why Turay established the City Growth Partners (cgp) development firm in 2018 with the goal of redeveloping many of the city's neighbourhoods in a more inclusive way, a counter to other projects that have – in the eyes of many residents – left them out of the city's rejuvenation. 
"Gentrification is something that is [often] done to you; but it's something that has to be done with you for it to be done well," says Turay, noting a current construction of 228 apartments that cgp is undertaking in Detroit's historic Brush Park neighbourhood. The retail spaces in the pedestal of the development will be occupied by businesses that the neighbourhood's current residents have said that the area needs. "For our neighbourhoods in Detroit to grow in the way that they should, it's not just the people living in them who need to be diverse," says Turay. "The people who have a seat at the table, who are helping to open new opportunities in those areas, they need to be diverse as well."
That's a call that resonates beyond Detroit. And it plays into the current structures of entrepreneurship more broadly: "I would love to see more from existing, traditional venture-capital firms," says Kim of the Wharton School, noting that 93 per cent of partners in US-based VCs are male and 76 per cent are white, which "might lead to blind spots in terms of implicit bias".
The tone set by the White House – and the overarching values set out for entrepreneurship – will be crucial as the economy continues to recover and recalibrate in the coming years. "[Your decisions] are tied into policy and what's happening in government," says Christine Hoffman, who founded the Twin Cities Flower Exchange flower wholesaler in Minnesota in 2017. "Do I pay attention to it? Absolutely. But do I directly base things on that? No. The past few months have been a reminder to always be nimble. As entrepreneurs, we need to pay attention to how we move forward, because we're in a very different world now," she adds. "And the election will certainly affect that."
About the writer: Lewis is monocle's Toronto bureau chief and is serving as our US elections correspondent for 2020. He has lived and worked in North America since 2015.