Essays / Global
Working principles
As the world of work reboots after the pandemic, the opportunities for reappraising how we go about our business are manifold. Here six writers and CEOs address key current issues, from flexible hours to physical workplaces and the value of retaining a global outlook.
1.  
Making your presence felt
By David Sax 
The business that knows its place as a part of the neighbourhood will be rewarded by the custom of the community. 
Over the Easter weekend I took a walk with my family along College Street, a major thoroughfare just a block from my house in Toronto, to get the first ice cream of spring. One stretch of the street houses all sorts of businesses – grocery and clothing shops, a library, lots of restaurants, bakeries and pizzerias, and even The Monocle Shop and bureau – that together make up the western end of the city's original Little Italy.
A year into the pandemic, the toll on the businesses in this neighbourhood was obvious. Many shopfronts remained empty, their windows boarded up or plastered with the brown butcher paper that has become a sad sight in towns and cities around the world. On some blocks of College Street, the empty retail spaces outnumber the surviving ones. That weekend the latest victim was Soundscapes, a record shop that had been a beacon of the city's thriving music scene for more than 20 years.
However, during our walk that day I was actually struck by hopeful signs of an entrepreneurial spring as we passed a handful of new businesses putting down stakes in those empty shops. One of them, a Caribbean/Chinese fusion restaurant that had opened in the depths of winter, had set up a table on the pavement. There the two owners stood, handing out tea samples. They had prepared a few of their menu items, including a jerk-chicken sandwich and a plate of oxtail spring rolls, wrapped up for display like a version of those plastic model meals you find in Japan. 
"Hi there, dear!" one of the owners called out to my seven-year-old daughter. "Do you want to try some hibiscus tea?" That offer, which of course we couldn't refuse (marketing tip: children are the soft underbelly of consumerism, even if they spit out your tea), led to a conversation with the owners about their restaurant, its menu, their cultural background and culinary experience. We told them that we lived around the corner and they wondered whether we'd like to try their food sometime (we would). The whole interaction lasted two minutes and cost no more than a few cents in tea and a plastic cup but it accomplished something that illuminated a deeper truth about entrepreneurship that will be one of the most enduring lessons from this past, awful year.
Entrepreneurship might be an economic activity but it is built on relationships that are strongest when they are tangible and firmly rooted in the spaces and the people who exist in the physical world. Although we might talk about the impact of digital technology on our lives, and conflate entrepreneurship with high-flying global technology start-ups, the heart and soul of running your own venture remains analogue.
Sure, you can open a business anywhere with a wi-fi signal and sell your goods and services around the world from the comfort of your home but at the end of the day every business, even a virtual one, exists in a physical place, a community. The stronger the relationship of the business to that community, the better off it will be.
Residents stood beside their local businesses and helped them to survive the long months of lockdown
During the pandemic, many of the businesses around me were able to respond directly to the needs of their local market – their neighbourhood, city and region – by quickly catering to rapidly changing needs. Bookshops were able to offer nearby pick-up and delivery services, and order more puzzles for housebound customers. Restaurants could change their menus to cover takeaway dishes and even offer online wine tastings to regular customers. Even accountants were quick to advise their clients on the local effect of emergency business subsidies and any tax breaks that governments introduced. The coffee shop around the corner ran beans and drinks to the door of anyone who was afraid to leave home; a restaurant put a pantry and fridge of free goods onto the pavement for residents who needed help to get food (and for others to leave it); and the pharmacist who owned the small, independent chemist reached out to her oldest customers in their native Portuguese, which is the unofficial second language of this area, to see who might have questions about vaccines.

The entrepreneurs behind these businesses knew what this neighbourhood needed because it was their neighbourhood too. They worked here and lived here, so they could respond to the area's needs in a heartbeat, far quicker and in a more targeted way than any large company could. There was no talk of abandoning the city or setting up remotely. They were invested in the area, financially, historically and emotionally, and they started fighting for its survival through this crisis from day one.
In return, the neighbourhood's residents stood beside their businesses and helped them to survive the long months of lockdowns and restrictions. People who had never shopped locally before put their money into the streets where they lived, ordering takeaways directly from restaurants rather than from delivery apps, or going through the slight inconvenience of phoning in a book order rather than clicking on an Amazon link because they witnessed – in all those empty windows bandaged in brown paper – what happened when they didn't.
The deeper truth is that all of this rested not only on the physical presence of the shops, offices and restaurants here but on the face-to-face human relationships that their presence afforded. When an entrepreneur hangs out their shop sign in a community, they do so in the hope of connecting with other humans. Although on the surface this might simply look like a desire for customers, in reality these everyday interactions between an owner and their staff, suppliers, customers – and even the traffic warden who passes three times a day – evolve into real, meaningful, humanising interactions.
The brief conversation we had on the street that Easter weekend with the woman who owned the restaurant was more than just a pleasant sip of hibiscus tea and a glance at her menu. It was the start of a relationship between us – between business owner and customer; local restaurant and local diner; neighbour and maybe even friend – that had the potential to grow into something lasting and to endure for years.
The truth that the pandemic revealed for entrepreneurs is that no business is virtual. They all exist somewhere and the greater the bond that an entrepreneur can forge with the places and people around them, the better off we'll all be. 
about the writer:Sax is a journalist based in Toronto. He is also the author of several books, including The Revenge of Analog and The Soul of an Entrepreneur.
2.
World of difference
By Foday Dumbuya
There is no substitute for international travel in driving the fresh ideas and original influences that make up a successful company. 
From the moment that the pandemic began, people have been talking about new ways of working and the end of business travel. Why should we fly halfway around the world, the thinking goes, when everything can now be done with a laptop and a video app? This line of thinking ignores not only the importance of getting out in the world but also the reason why so many businesses were founded and then flourished.
Travel has been an integral source of inspiration for my label, Labrum, and was a crucial influence on the brand's inception. When I returned home to Freetown, Sierra Leone, after being away for 15 years, I was hit with an overwhelming sense of love and joy that is unique to the region. There is an energy there that you don't find anywhere else. Freetown is a vibrant hub of individuality. There is a pride in the clothing that people wear. When you blend this joy for clothing with the bold colour palette that is much loved in Sierra Leone, you can't help but find happiness in the everyday.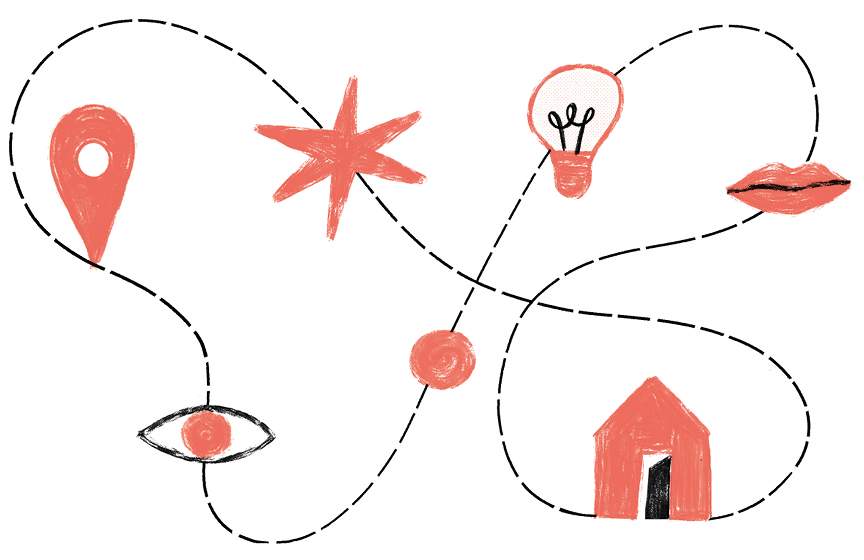 The foundations for Labrum are set on the concept of sharing the untold stories of West Africa. Artisans in Sierra Leone weave and hand-dye fabrics that are used throughout our collections. When we presented our first London Fashion Week show, a group of these craftswomen got together to share a video wishing us luck. Being able to connect with and support people worldwide is a beautiful thing.
When we travel, we gain the opportunity to learn from different cultures and embrace the people who we find in these locations. And although West Africa plays a big part in Labrum, there are other places that have informed the business. I have learned from Japan, Amsterdam, India, Portugal and others, which all influence our designs and add something new to how we work and what we present. From Tokyo, for example, I gained a heightened sense of humility and a clearer understanding of what it means to work hard and stay focused on your goals. These impressions wouldn't have been possible via a 40-minute conference call and a series of emails; I needed to be there, in person.
Some of our production takes place in Portugal, where the team that we work with appreciates our drive to keep Labrum as sustainable as we can. They help us to source organic cottons and we work with them to use deadstock fabrics from the factory when possible. Without visiting we would not have been able to form such a strong bond or place trust in this vital extension of our ecosystem.
Although West Africa plays a big part in Labrum, there are other places that have informed the business. I have learned from Japan, Amsterdam, India, Portugal and others. This wouldn't have been possible via a 40-minute conference call
We could all benefit from more travel, post-pandemic. For entrepreneurs it's not just about building rapport and closing deals. I have a great love for London and particularly the east of the city, where our studio is based. But when you step outside that bubble you will see things – ways of doing business, different approaches to design – in a fresh way.
Labrum wouldn't be able to do what it does without its connections to our global community. It is my ambition to set an example for people to look back on in 50 years or so, to see what great work can come from Africa and to inspire others to have the courage to do the same. The stories that we are telling and the people who they focus on have the power to change the world. Some of them have travelled further than many of us will in our lifetime – we should embrace the knowledge that comes from that experience. 
about the writer:Dumbuya is the founder and creative director of Labrum London. He is a self-taught designer who draws inspiration from all over the world, specifically spotlighting black history and the tales of West Africa.
3.
Sound investment
By Ivan Carvalho
Acoustically unsuitable working environments extend beyond the video call. One Milan-based brand has quietly produced a solution. 
Many people proclaimed that this new era of so-called smart working would bring us only benefits, such as the drop in pollution related to fewer commutes. But other problems – or distractions, if you prefer – have cropped up as companies regularly communicate with staff online. Like the moment in The Wizard of Oz when the feisty Toto tugs open the curtain to reveal the real wizard, our fellow colleagues' domestic workspaces have often been a letdown too: a sea of on-screen headshots composed of badly angled close-ups of chins and nostril hair, poorly lit backdrops and, perhaps the worst culprit, appalling acoustics.

Predicting what the future office would look like had practically become a cottage industry before the pandemic. Now we have realised with alarming speed that it's not just the look and feel of a workspace that matters but also how it sounds.
Thankfully there are companies that are not only planning for our future work set-ups but canny individuals creating products that will address the aural quality of our spaces. Danish architect and industrial designer Mikal Harrsen is one such entrepreneur. In the spring of 2020, as a large swathe of the world's workforce began to migrate online, he launched the website for his new business, Design Editions. The company manufactures high-end acoustic panels, together with a collection of decorative wall pieces and magnetic writing boards, to cater to home and office settings.
Developed in Milan in 2019, Harrsen's Acustica range for Design Editions was born of an idea that came to him when his wife, Thea Mikkelsen, a business coach and author, was holding one-to-one online meetings from their Milanese home with managers in Scandinavia. Harrsen went about researching materials that could combine proper soundproofing with the right aesthetics. He opted to source from premium Danish textile supplier Kvadrat, which creates subtle yet contemporary textile patterns with noise-cancelling properties. These are made from virgin wool and Trevira, a flame-retardant fabric. The minimalist panels are housed in a sleek, eye-catching anodised-aluminium frame that recalls the sharp lines of an Apple laptop. The result is a functional product that's also attractive, whether it's used in someone's home office or a corporate boardroom.
We have realised that it's not just the look and feel of a workspace that matters but also how it sounds
Unsurprisingly, the initial reactions to Harrsen's Design Editions venture have been positive, with acoustic-minded architects, restaurateurs, hoteliers and others keen to explore how they can recast interior walls while adding the benefit of noise reduction. One major client that has understood the product's benefits for both the office and the home environment is leading Italian design brand Cassina, which is now featuring a selection of Harrsen's acoustic panels and decorative pieces on walls in its showrooms.
As for the rest of us who have been passive voyeurs for more than a year – many still attending online meetings and grabbing glimpses of our colleagues at home with the often accompanying scratchy audio and disjointed imagery – ventures such as Harrsen's can give us pause to rethink how we too can improve our acoustic experience, wherever we are working. 
about the writer:Carvalho has been monocle's Milan correspondent since 2007, covering topics including business and design. He works in acoustically challenged home-office spaces in Italy, Portugal and California.
4.
How to spot a business angel
By Max Dautresme
When choosing investors to help realise your company's vision, you could do worse than seeking a little help from your friends. 
Doing business with friends, so the conventional wisdom goes, is neither advisable nor likely to result in a successful outcome. When searching for investors, many look to big names or sometimes even travel overseas to find the cash input that they need to grow their company. In my experience, however, the best business opportunities can often be found right before our eyes, provided we know how to spot them. I met my latest investor during a casual lunch with friends. It was a seemingly fortuitous encounter that has enabled me to grow my business by 20 per cent over the past year, at a time when many other ventures have been struggling.

I met Marcus Foley for the first time in May 2020, in Hong Kong. The city had just endured 18 months of protests and was coming out of a brutal second wave of coronavirus. It was a particularly hard time for everyone there, myself included. I had to reduce my employees' working hours to a three-day week in order to avoid making redundancies, and my interior-design studio, Substance, was in critical need of a cash injection. At the time, Foley, a fifty-something Australian architect and good friend of my business partner, Alexandre Reinert, had just sold his practice and moved to Ubud in Bali.
On the occasion of a friendly lunch with Reinert and Foley, I came to discuss Substance's latest project: a showroom displaying one of Hong Kong's most impressive collections of classic cars. A keen motoring enthusiast, Foley's curiosity was immediately piqued. He then came to visit me at the office the following day in order to take a closer look at Substance's work. Less than 24 hours later he asked to meet me again over a drink – and it was then that he put in an offer. Foley proposed to invest money into the company and become a shareholder, as well as an active partner at a management level.
By bringing in this new partner I was freed up to focus on the quality of our creative output
As an architect, he had been working in the industry for the past 20 years and could definitely help with reaching out to the big players in Asia. Now freshly relocated to Ubud, his involvement would also allow my company to expand to Bali, where the access to abundant sustainable natural resources was something that I actively sought. Creating a lifestyle brand using such materials had always been one of my long-term projects. In short, what Foley brought to the table was exactly what my business had been missing after its 12-year evolution and it could help to propel the company to the next chapter I had envisioned. After getting positive feedback from my associates, I signed on the dotted line and so Foley became Substance's new partner.
Over the next year he brought the knowledge and experience that the company needed at that point in time to keep up its momentum and avoid scaling down. Together we established a new branch of Substance in Ubud, where the agency's creative team is housed alongside production facilities and a showroom, all under one roof. Substance's expansion into Bali also gave us access to the skilled artisans who execute the quality and level of detail that we need for my various projects, including our furniture, lighting and tableware line made from locally sourced and sustainable materials.
Most of all, however, by bringing in this new partner I was freed up to focus on the quality of our creative output and leave the pragmatic decision making to my more business-focused associates. As a result, Substance had its most successful year to date in terms of reach and revenue, and became an international agency with active hospitality projects from Sydney to Puerto Escondido in Mexico.
There is something to be said for choosing to work on an everyday basis with the type of people who share your sensibilities, tastes and interests
You might think that us meeting during the initial lunch was just good fortune but there is actually a larger lesson here. Foley and I connected because of a shared interest and the partnership grew from there. Although many people prefer to keep their personal and professional lives separate, there is something to be said for choosing to work on an everyday basis with the type of people who share your sensibilities, tastes and interests. You might not always match each other perfectly but in many cases you are just as likely to align with someone in your wider circle – whether they are a friend of a friend, a former colleague or even a one-time mentor – as you are with a stranger from further afield.
Call it luck or fate but I found through my network of friends the investor and partner who propelled my company to the next level. It is a good reminder of how valuable good old-fashioned friendship networks remain in this digital age. But it's also proof of how, sometimes, looking no further than the community around you might help you to spot the business investor – or angel – who you were waiting for. 
about the writer:Dautresme is a Hong Kong-based French-Brazilian designer and co-founder of Substance, a multidisciplinary branding and design consultancy agency with offices in Hong Kong, Paris and Ubud.
5.
Calling the tune
By Béatrice Martin
How an artist's impulse to take control of her record label was built on the need to improve the workplace culture for all its employees. 
I had never dreamed of being an entrepreneur. My sudden dive into the world of running a business stemmed, in part, from my desire to create a work culture that I would actually want to be a part of.
I had been with my record label since 2008. It was an independent label in Québec with a reputation for signing artists that were a little bit off the beaten track and then pushing them into the mainstream. They were good to me, so I stayed with them. But that changed in 2020. Following a wave of revelations, similar to #MeToo, within the music industry in Québec, the label's previous owner admitted to turning a blind eye to several events, resigned and announced that he was selling the business.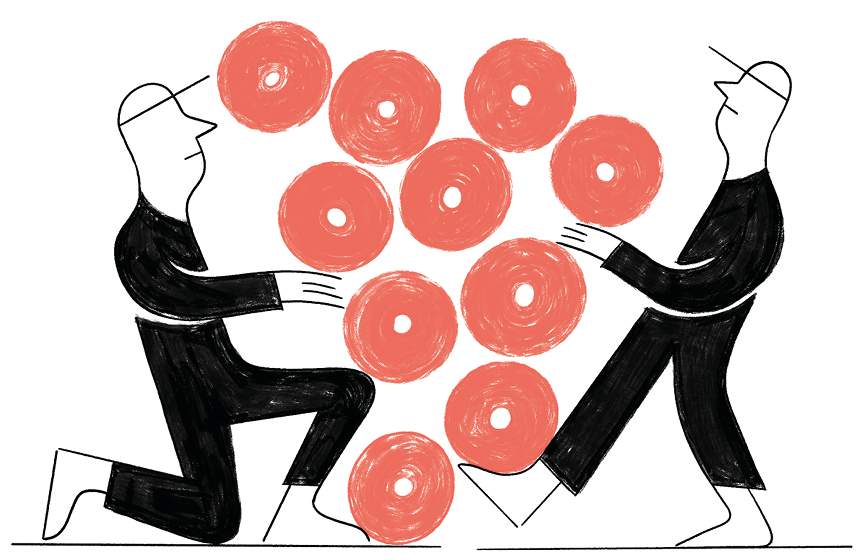 It was a moment of reckoning for me. I never had any aspirations to own or run a record company but at that moment it was important for me to make a move to acquire the business. There are a lot of wonderful artists on the label. In this industry, your intellectual property is entwined with the label that you sign with – your whole catalogue, everything that you own as an artist, your whole life is linked to this. My first thought was, "What if the label gets sold to another entity or somebody who doesn't care about music?"
I also saw an opportunity to not only preserve something but to build it better. I had some money saved up and I made an offer for the business that was accepted. It's a whole new reality for me. And I'm determined that this time around, the label will have a culture that makes people happy and proud to be associated with it.
We started out by drawing up a manifesto on what we believed in as a business and by establishing the guidelines that we should all be aiming for. The music industry is unlike a lot of other industries in that lines can be blurred between what constitutes work and what doesn't; we work in concert venues, we work in clubs, we go to do interviews and we generally conduct a lot of business outside the office environment. That's certainly one of the great things about this industry but it can also give people leeway to behave badly. I wanted to establish from the beginning that such behaviour is not what my label is about.
Another problem with the way the label was run was that every department was working within a little silo. No one was connected with what the other departments were doing. So we kind of tore the walls down and now our departments collaborate more with one another and it's far more open. We made some new hires, mostly women, to create a team of people who want to build a more open working environment. My whole philosophy is basically that to change a culture you have to do it from within.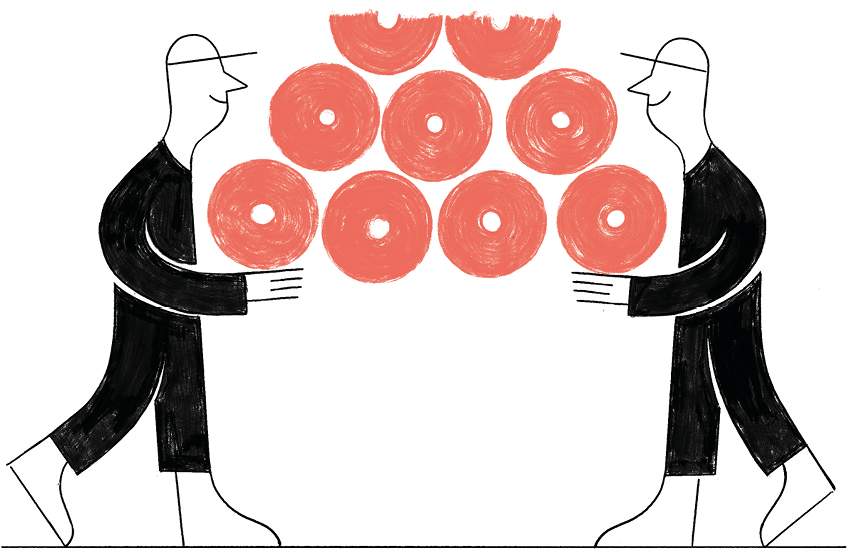 I might be new to running a label but, as artists, musicians are very much entrepreneurs right from the beginning of their careers. You still have to set budgets and make deals and sell yourself. So I had a little company within my whole artist persona. Now I'm transferring that model and that way of working onto a bigger company. It's not just about making it a better business but about making it a business that I would want to work with and be a part of. 
about the writer:Martin is a French-Canadian singer, better known as Coeur de Pirate. She is also now the president and a&r of Bravo Musique in Montréal.
6. 
Lessons for a four-day week
By Elvire Jaspers
Flexible working can be a boon to wellbeing and productivity but it should be flexible in its implementation too. 
With the potential end of the pandemic in our sights, many companies are now struggling to figure out what the working week will soon look like. Firms are considering hybrid schedules, whereby some employees can opt to work in the office part-time, whereas others will work from home all of the time. Several countries, including Spain, are even thinking of making a four-day working week the standard practice throughout the nation.
As much as we like to be flexible, our policy also needs to match the needs of our clients and our company
This is terrain that I know well. In 2014, when I launched WeAreBrain with my co-founders Mario Grunitz and Jack Myasushkin, we decided early on that we would be open to all types of working arrangements for our employees. It made sense for us as we were all based in different countries – one of us was in Ukraine, one in Switzerland and one in the Netherlands. Today we've grown dramatically but everyone still has a flexible schedule in terms of the hours that they work and the location from which they do it.
Of course, as much as we like to be flexible, our policy also needs to match the needs of our clients and our company. As wonderful as a completely flexible working environment sounds, it's not as straightforward as simply announcing it as a policy and expecting everything to just fall into place right away. The way that our company works has been wonderful for us and our employees – and has proved to be successful. But it takes a lot of thought and planning, and a willingness to make it work. Over the years I have learned a lot of tips and tricks about flexible working, which I'm happy to share here.

Get organised
Allowing flexible-working arrangements requires a lot more in the way of organisation. If your company has people who are not working on certain days, you have to organise that within a team so that ongoing projects are always covered. This isn't just about organising time and schedules but people too. We know that there are team members who need more structure and others who want to have more freedom. You need to take a deeper interest as a manager in what your employees need as individuals; you need to know how it's working for them. You then have to connect your company goals with a purpose for the employees, weaving company values into daily work tasks. In that way, you get happier and more productive employees.
Improve communication
At WeAreBrain we have found that as long as you explain your policy properly to your clients and ensure they know that they will always be covered, most of them are happy to go along with it. But it's all about transparency. It's also important to give people the right tools to actually work together and to share information so that nobody is left out of the communication process. This is particularly important.
It is then crucial for managers to ask their team for regular feedback. This will open up communication channels between employees and management, which provides a great boost for team dynamics while allowing you to judge the effectiveness of those roles and procedures that you have put into place.
The fact is that you might not get it right the first time. So you should be prepared to make multiple attempts before you do. Every team is different and every person needs a different kind of support with different aspects of their job, so there is often some variation that you have to bear in mind.
You have to shift away from the belief that long hours spent in the office are a measure of a job well done
Change the way that you measure success
There are so many people out there who are in an office, sitting at a desk for eight hours, from nine to five. And what's their overall output? It's still questionable. You have to shift away from the belief that long hours spent in the office are a measure of a job well done; for us it's about a project being delivered successfully and efficiently. What we have seen is that if you give employees confidence and you trust them to make it happen then the number of hours that they work becomes irrelevant. For us, success is measured by the velocity of the team and by the output that we see.
Be realistic
Allowing employees to have flexible working arrangements will look different from company to company. It will depend on the industry and your company's goals. We are very open to flexible schedules because we are a technology company and working remotely is common in this industry. If you're not a technology company but, for example, a car-making factory, then your flexible arrangements will look very different. They have to fit your company's goals and philosophy. But that doesn't mean it's not possible; companies can experiment with shift work or shortened days. You just have to figure out how it can work for you. 
about the writer:Jaspers is WeAreBrain's co-founder and ceo. After successfully running and selling her first start-up in 2017, she has been involved in numerous digital ventures. Jaspers was included on the Netherlands' NextWomen100 list in 2020.