Fashion / Global
Base lines
In a crowded fashion market, with new seasonal collections clamouring for attention, it can be hard to find simple classics done well, with wardrobe staples often reduced to afterthoughts. That's where these four brands come in. Meet the pioneers of plain who are cleaning up.
The fashion industry sometimes neglects the basics. With companies churning out designs seasonally, competing on the catwalk and aiming to set trends, the idea of creating timeless, long-lasting pieces can often be left behind. But consumers are now thinking more consciously about what makes a great wardrobe. In response, smart entrepreneurs are realising that slowing down the way that the industry operates can be good for business in the long term.
Some newer brands are focused on building businesses around basics – and doing so in a smart and sustainable way without leaving style behind. With competition from global players such as Muji, Uniqlo and h&m's Arket, smaller firms have to work hard to carve niches of their own. We meet four that are getting the basics right.
---
Making sustainability the real deal
Unfeigned, Madrid
Spanish brand Unfeigned is an honest business. With a mission to merge smart and casual basics through sustainable production, the brand's direct communication of its entire supply chain is what sets it apart from others. "Sustainability is the most important priority for us," says co-founder Rafa Gómez. "Anyone starting a brand today needs to consider its carbon footprint in the most ecologically minded manner if they want to be truly successful."
"Anyone starting a brand today needs to consider its carbon footprint"
Gómez co-founded the Madrid-based brand with his sister Maria in 2018. "We wanted to mix fashion and functionality," he says. Establishing a transparent supply chain from the offset, their basics are certified by renowned judges gots and grs. "It takes real commitment to achieve these certificates," says Maria. "And we pride ourselves on it." With two seasonal collections a year and a permanent range of basics, Unfeigned's designs are dominated by neutral hues and clean cuts. Current standout pieces include a cream long-sleeved polo, a graphite-blue cardigan and a pair of loose, indigo jeans. From fabric providers to factories, all of its clothes are made between Portugal and Spain and the process for every product is outlined on the brand's website. "What binds good businesses together is a transparent supply chain," says Maria. "This is an essential ingredient for any new designer who really wants to contribute to change." Through its classic pieces and environmental conscience, Unfeigned is a brand to watch for both consumers and those looking to build a sustainable business.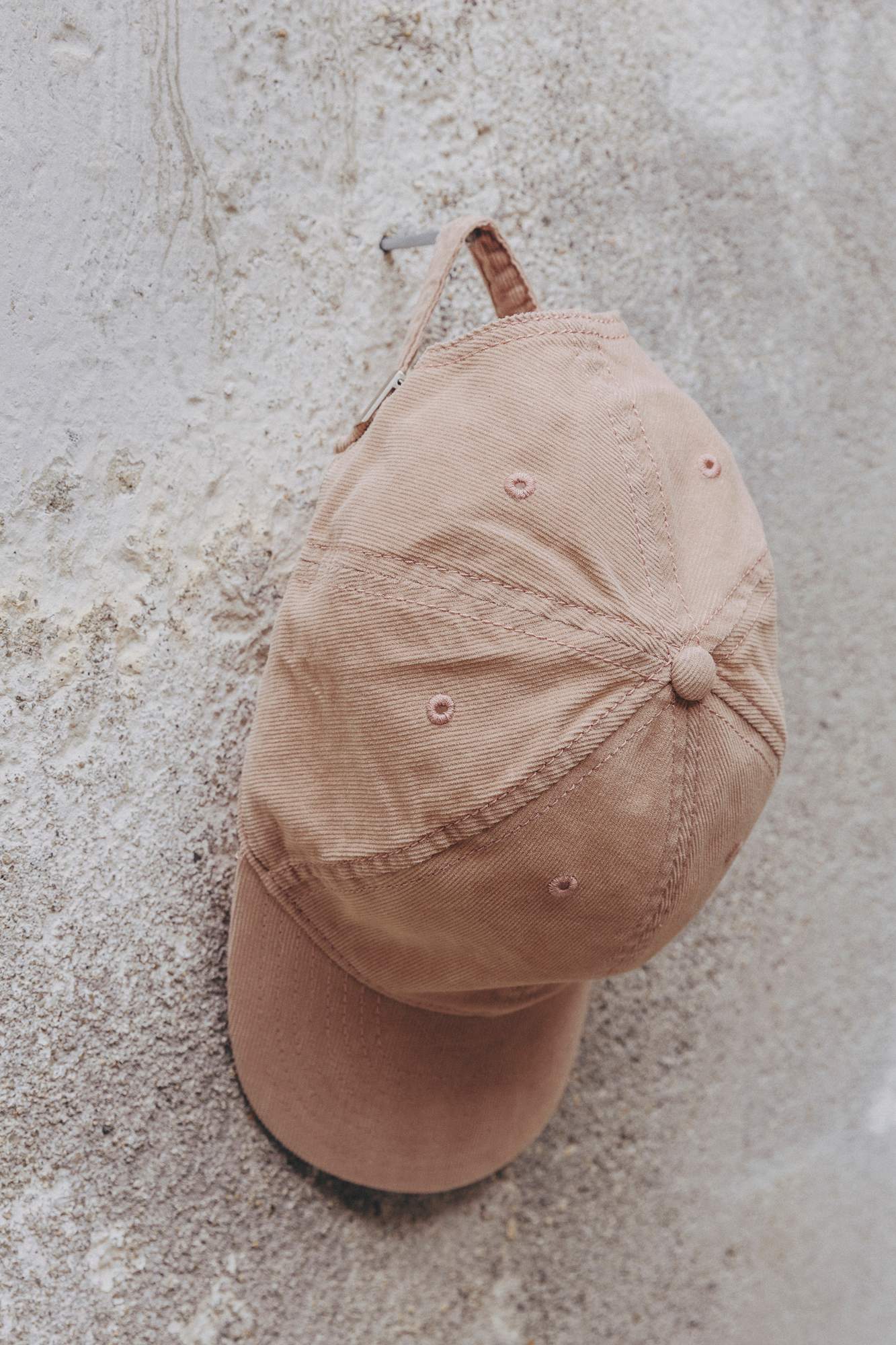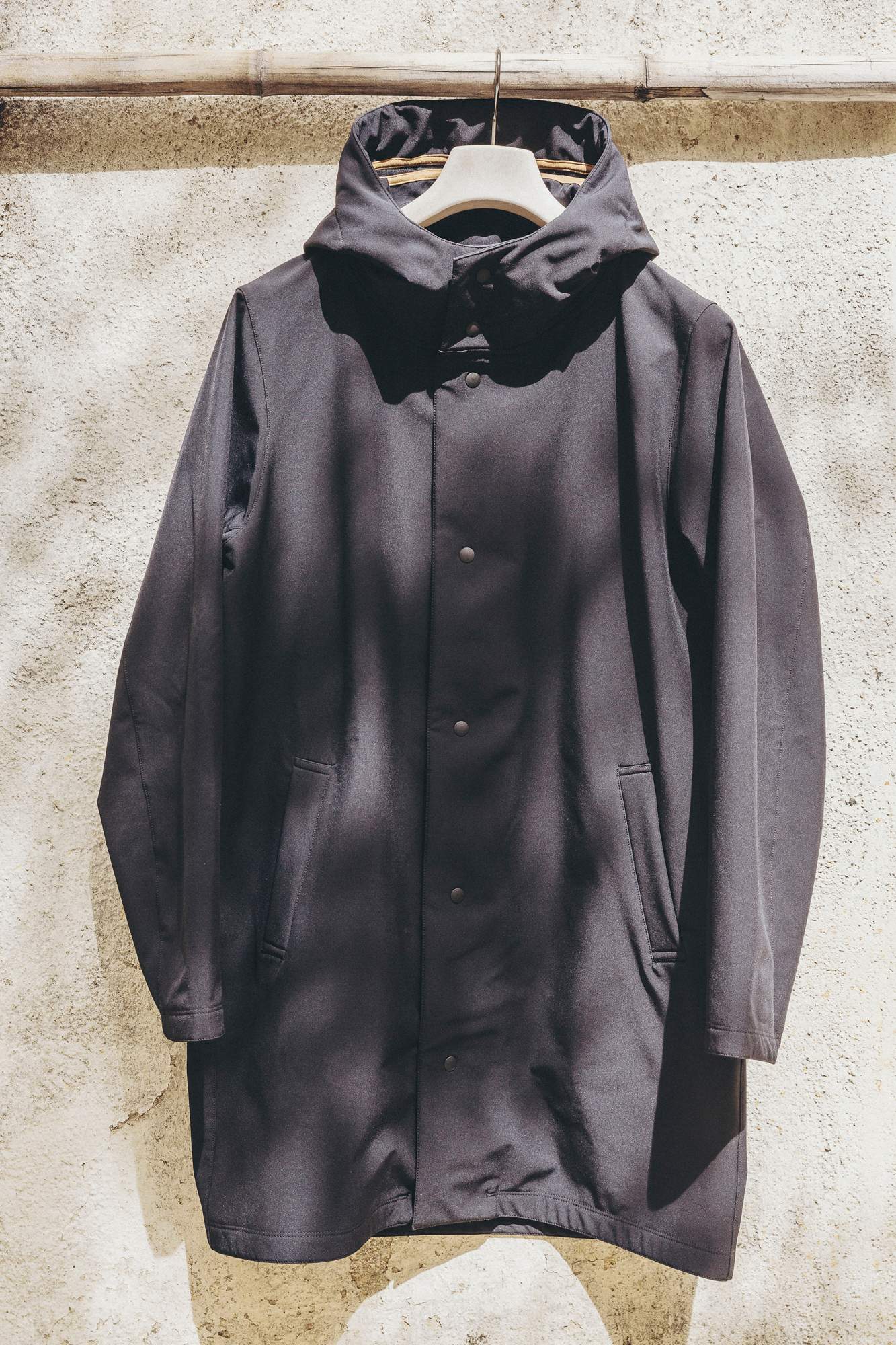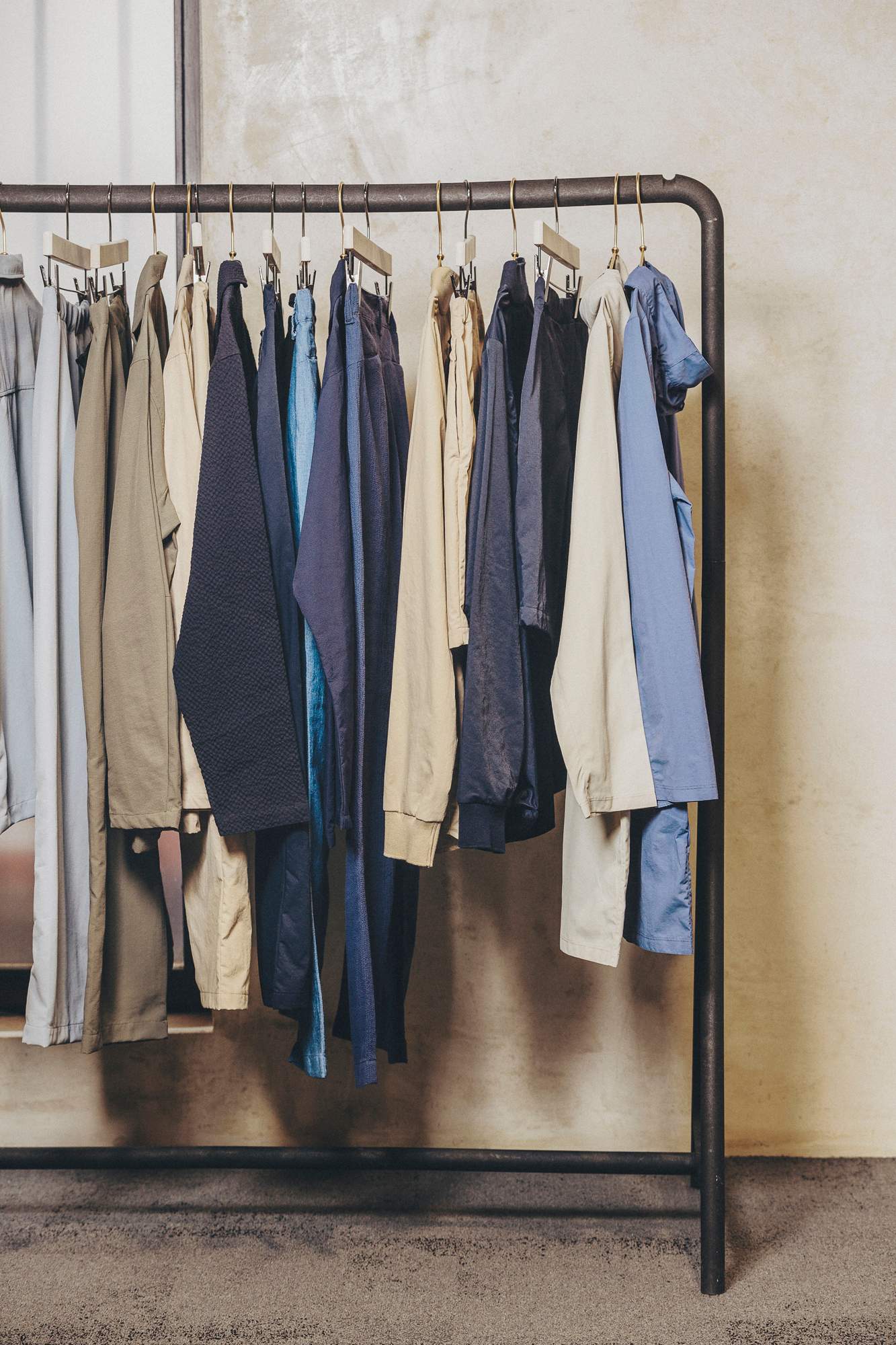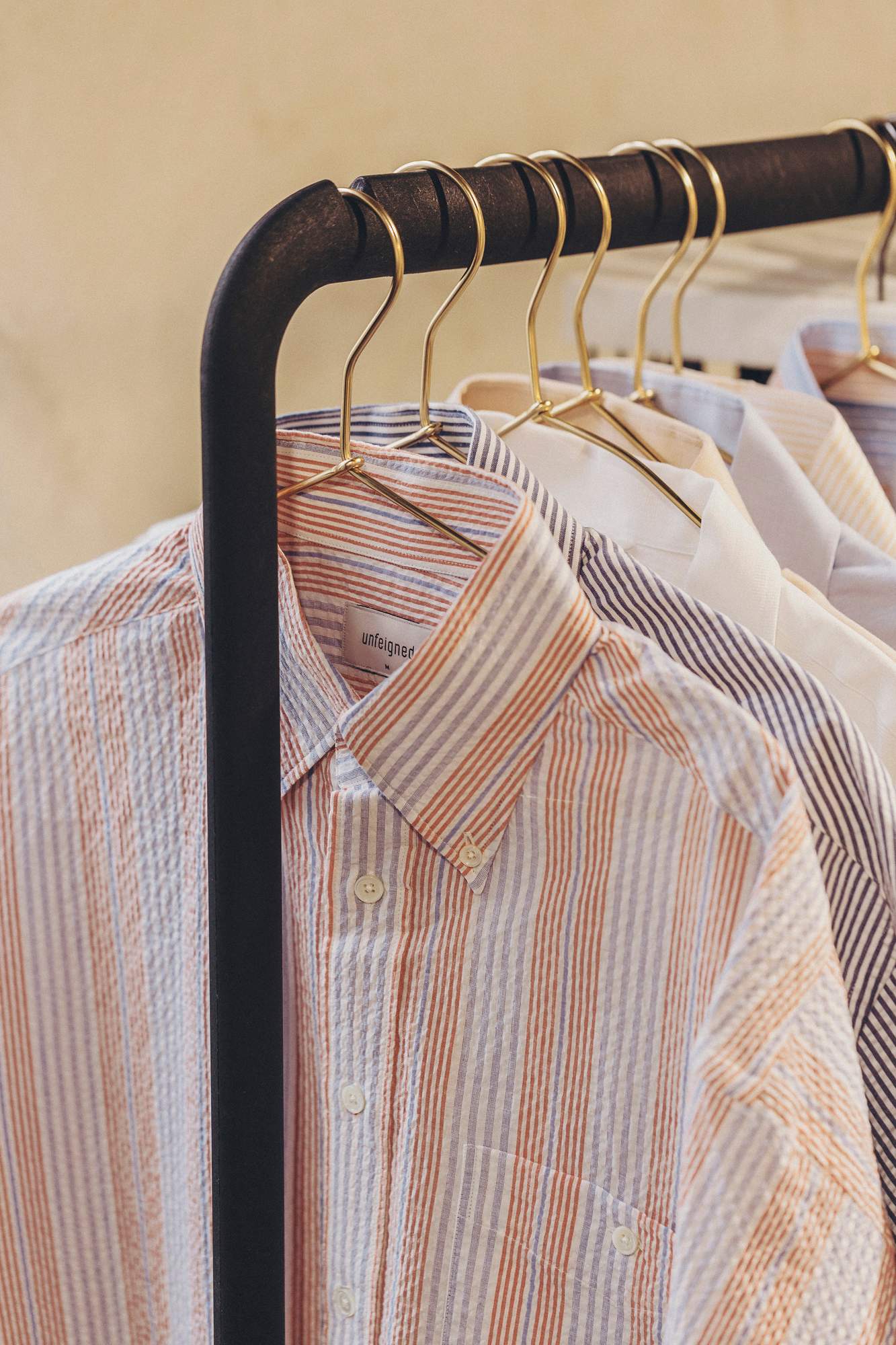 ---
All down to a T
Lady White Co, Los Angeles
When Phillip Proyce launched Lady White Co, a Los Angeles-based menswear line, he did so without the typical long-term view, or the business plans or investors. "I just wanted to see whether we could make a T-shirt in California from start to finish," he says humbly. As it turns out, he can. What started with his own personal curiosity about local manufacturing and supply chains has since become a bona fide clothing company with a robust global wholesale business, a flagship retail space in Los Angeles that Proyce opened four years after starting the company and a second shop, also in Los Angeles, that opened earlier this year.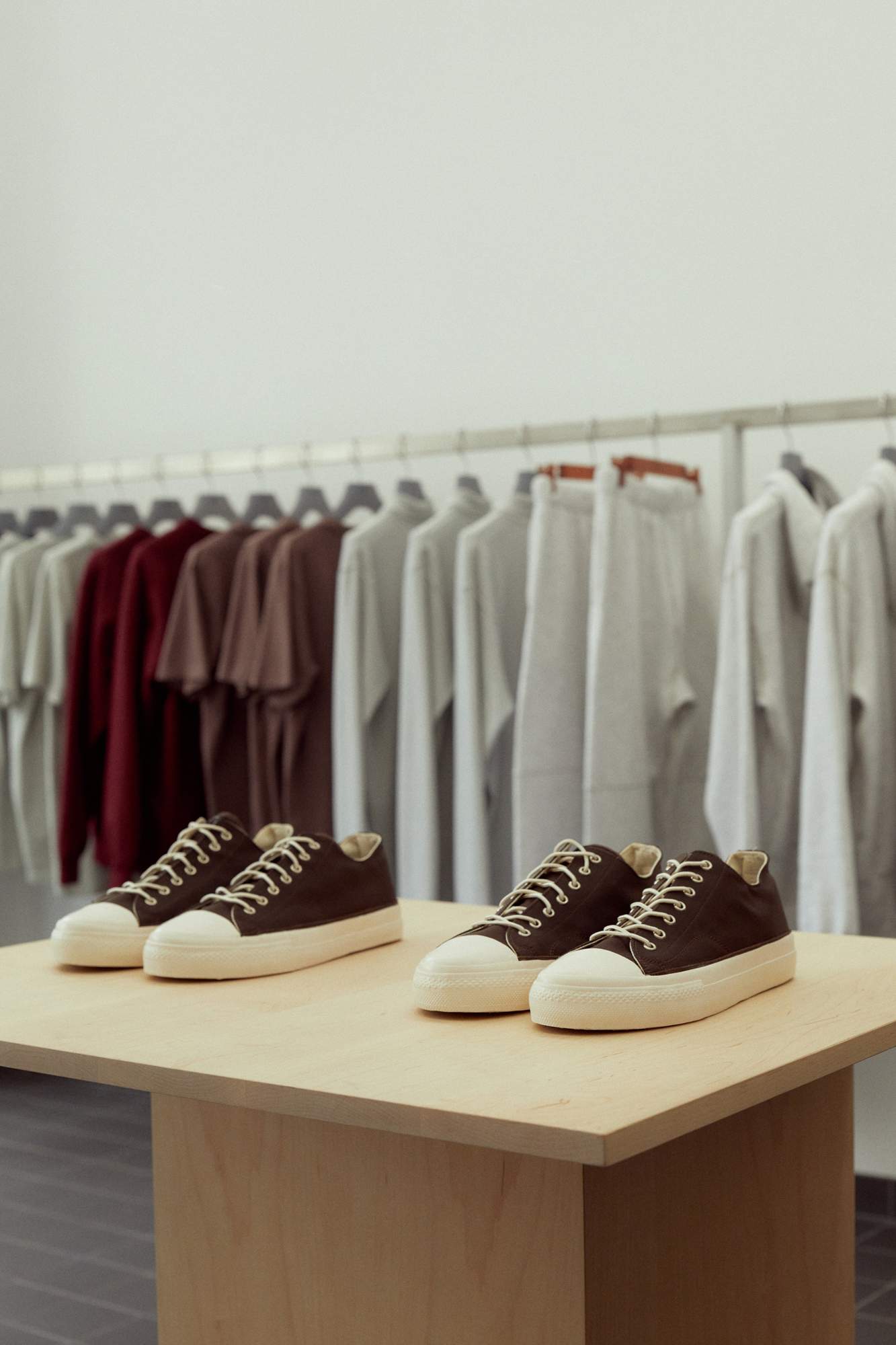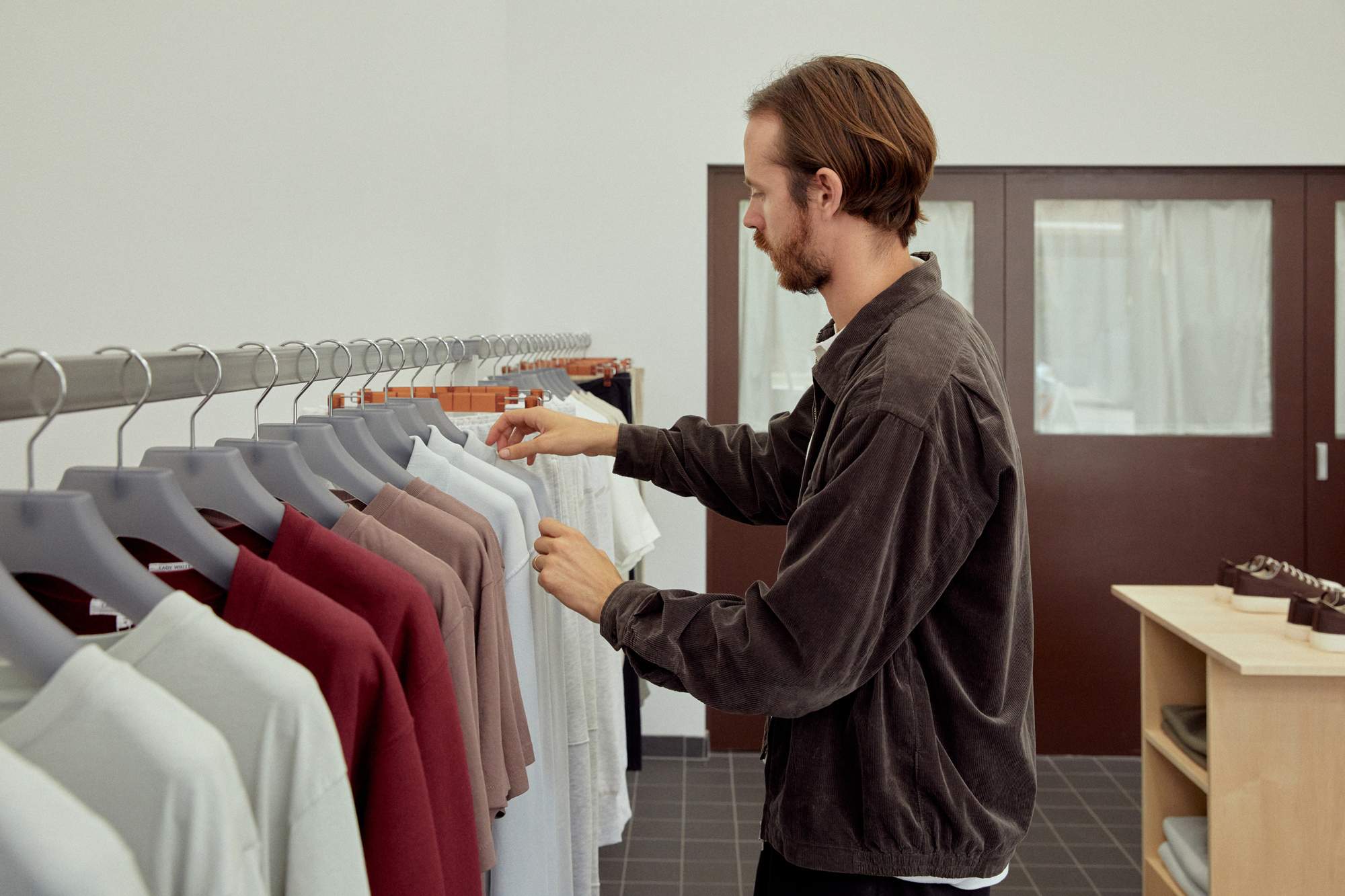 For his first production run, in 2015, Proyce designed and fabricated 500 T-shirts. He was just 25. "I spent every dollar I had to make the 500 shirts," he says. "Then, when I had them, I thought, 'How am I going to sell them?'" He took a booth at a trade show, and when Japanese wholesalers spotted the T-shirts there, they bought the entire run. "That funded the whole brand, so I could then make the next 1,000 shirts," he says. That thousand led to more and he has since guided the company through consistent growth over the past seven years.
"In one day we can make visits to every vendor we work with"
He acknowledges that the market for basics is a crowded place. "Every company makes a blank T-shirt but a lot of brands that offered T-shirts were making them as an add-on or afterthought to their overall collection," he says. For Lady White Co, though, T-shirts represent the very core of the business and Proyce sees opportunity for growth by keeping the brand squarely focused on its origins in basics.
The key to his strategy is quality. "One of the things we found is that T-shirts and sweatshirts have become easy, fast commodities, so for us, the main point is quality," he says. To control that quality, Proyce has kept his supply chains local. Though he started by using California-grown cotton, drought conditions in the American West prompted him to partner with farms in North Carolina. Beyond that, the entire operation of cutting, sewing, dyeing and labelling is done within a 15km radius, which means that Proyce and his team can monitor the entire manufacturing process closely. "In one day we can make visits to every vendor we work with," he says.
As to what lies ahead, the company is staying true to the focused simplicity of its founding spirit. "We don't look too far into the future," says Proyce. "We just want to get the new shop up and running and continue to ensure that the product is the best quality." 
ladywhiteco.com
---
Timeless versatility
Bassike, Australia
"Looking back, it's easy to see that true style usually transcends trends," says Deborah Sams, co-founder of Australian clothing company Bassike. This tells us something about her label's core message; the name provides another clue. Since 2006, Bassike has created handsome staples in quality materials in Sydney's Northern Beaches, embodying the laid-back Aussie lifestyle through T-shirts, linen shirts and more, typically in understated colours.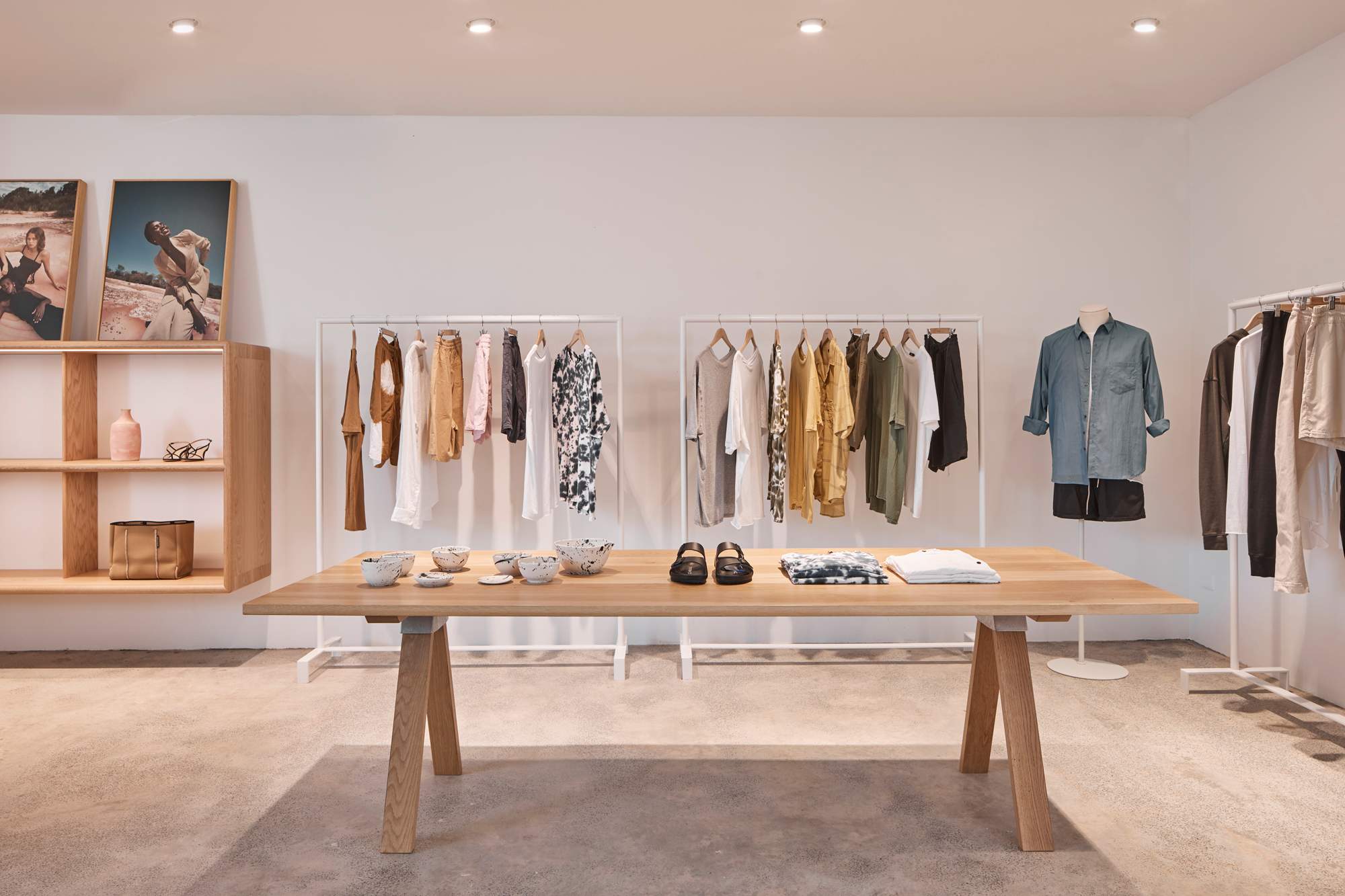 Though conceiving of a company that makes basic clothing well is easy, doing it is harder. "I wouldn't necessarily even use the term basic," says Sams. "It's about creating timeless style. Our customers buy their clothes with versatility and longevity in mind." That has meant sourcing the best fabric, including organic cotton from India and cashmere from Mongolia, and denim from suppliers in Japan. "Things such as using organic cotton, that was unusual when we started," says co-founder Mary Lou Ryan.
It was important to secure supply-chain transparency, says Sams, as it has helped to ensure that goods are sourced responsibly and aided the company in achieving carbon-neutral certification. Bassike's success is evidence that timeless doesn't mean traditional, and it has paid for the company to stay ahead of the curve: it has a broad and loyal audience base across its eight shops.
This forward-thinking isn't reserved to sustainability; it extends to design too. By keeping certain elements simple, Bassike has been able to add creative twists in interesting cuts or textures, making clothes that can be dressed up or down. "I love to pair my organic cotton jersey T-shirts with a tailored jacket for an elevated office or evening look, or with a soft cashmere knit and relaxed trousers for the weekend," says Sams. 
bassike.com
---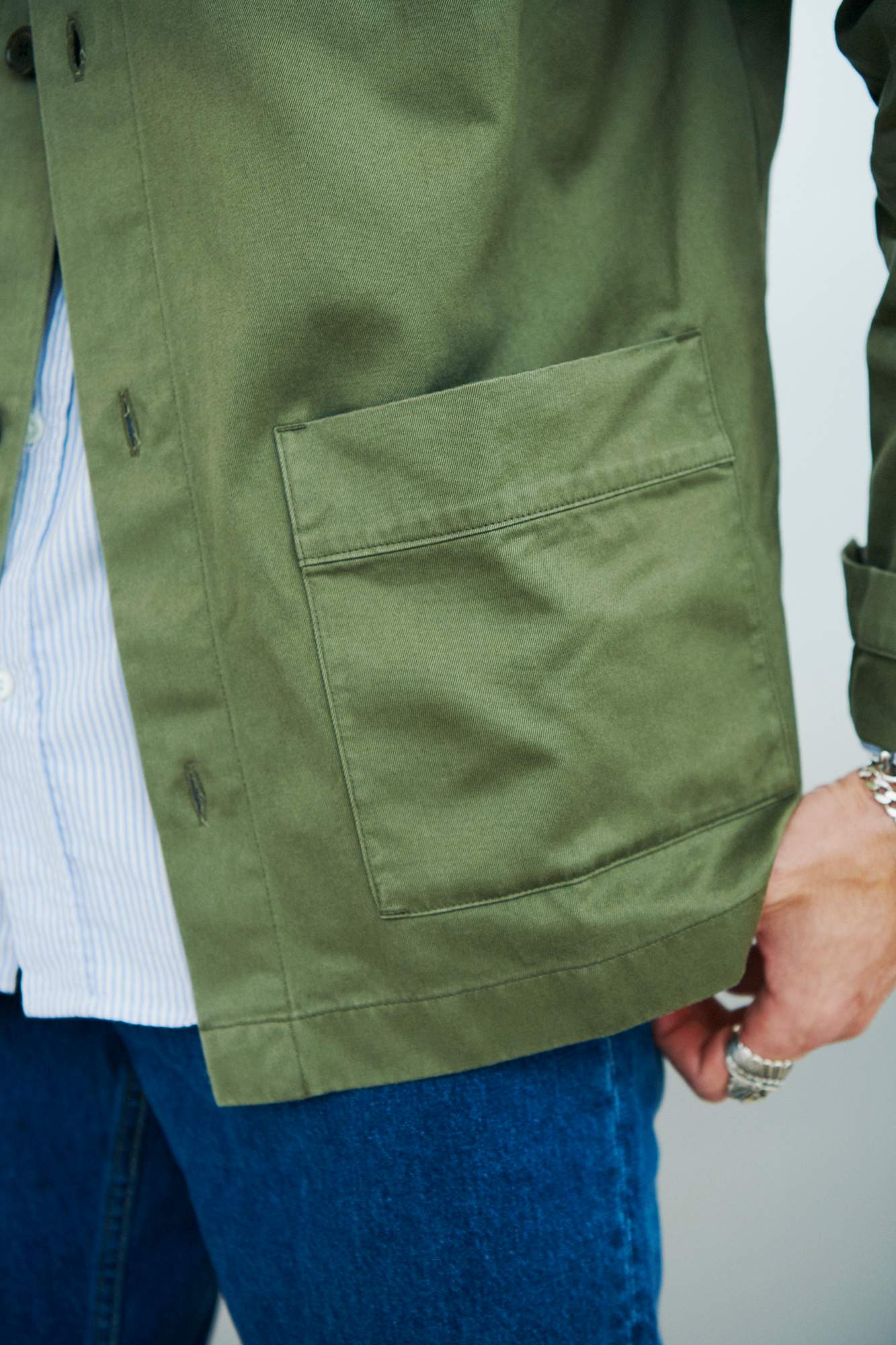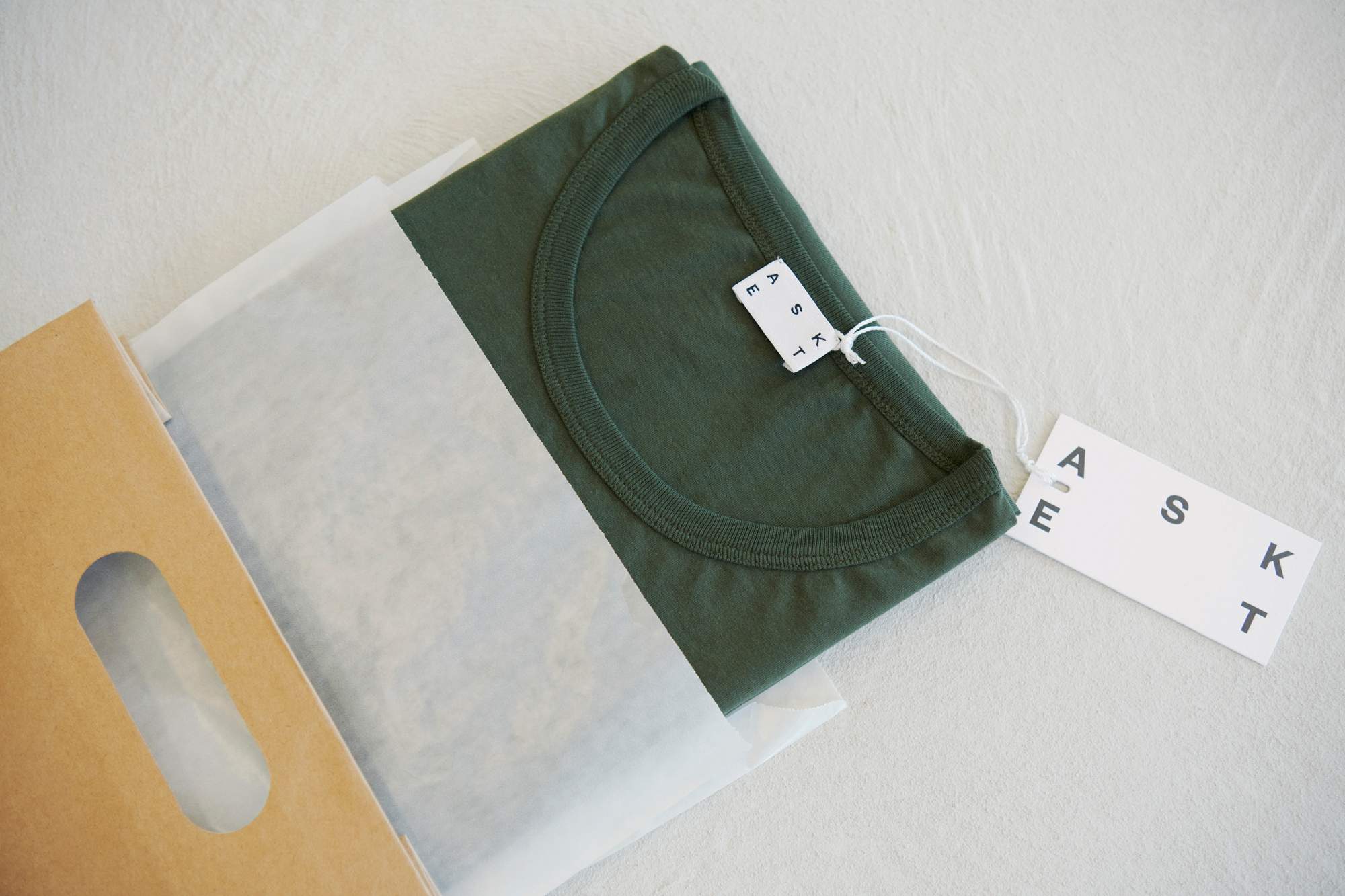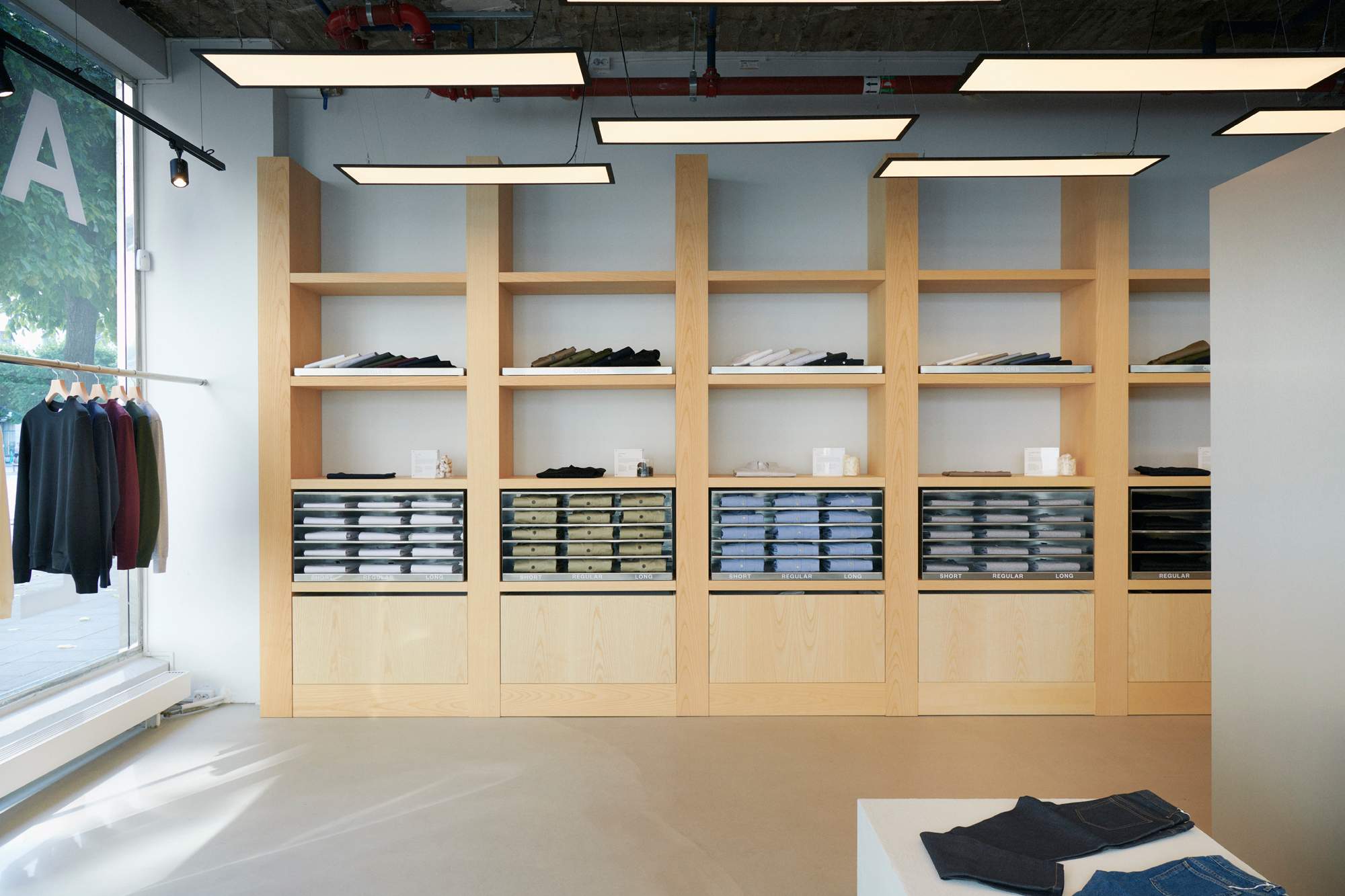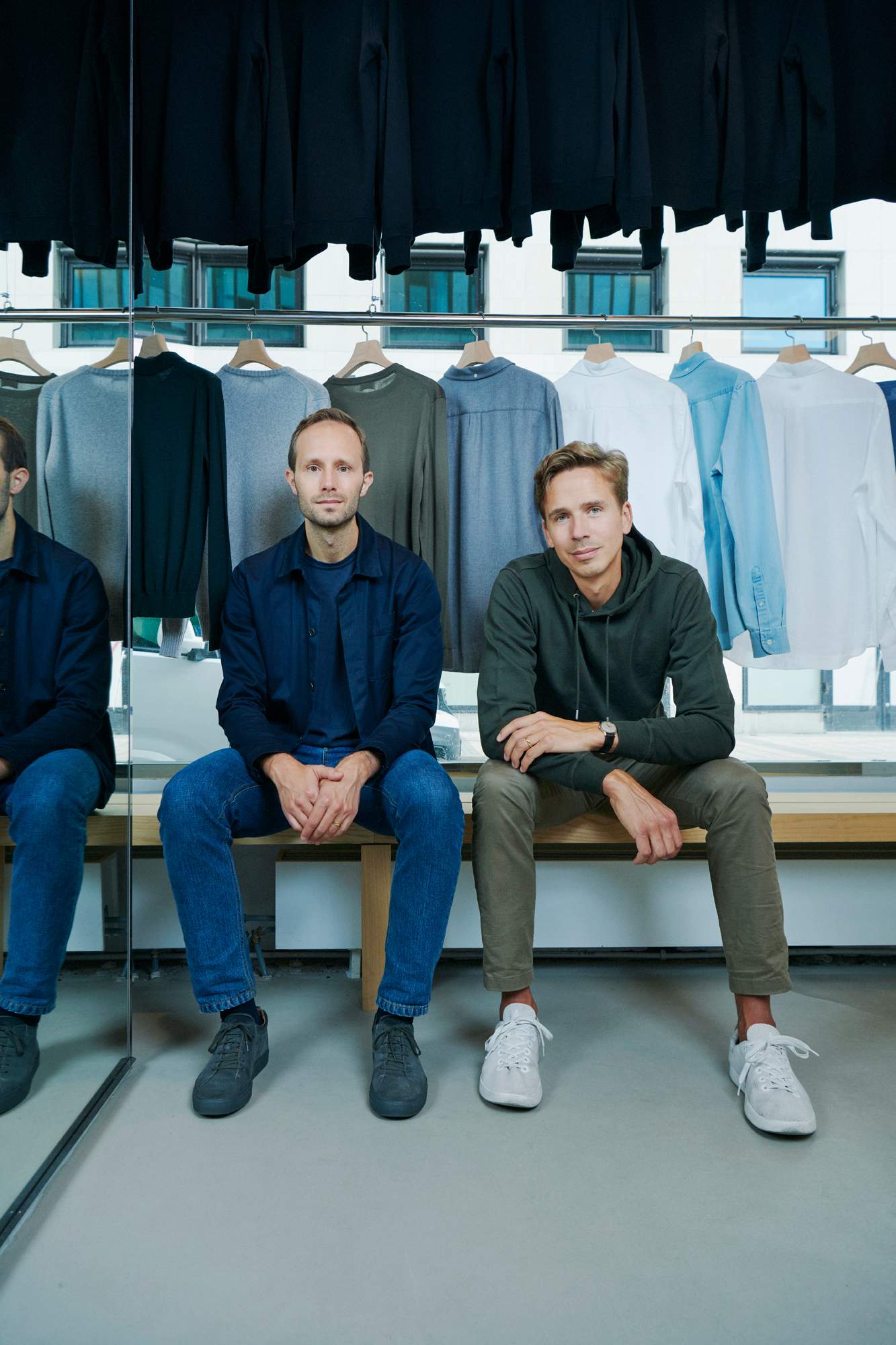 Jakob Dworsky and August Bard-Bringéus, the co-founders of Asket, are fine with you thinking that their products are boring because what's hot must, eventually, go out of style. "Our garments," says Dworsky, "should be in fashion forever."
Asket launched as a direct-to-consumer menswear label in 2015 and epitomises a basics brand at its most focused. There are 36 items in its line-up and no seasons; once added, a product is never removed. Before introducing something – chinos, a rollneck or a polo – the duo ensures that it has been "in demand for a few decades, without much fluctuation," says Bard-Bard-Bringéus. "If you buy it today, it's not going to be out of fashion in 10 years," says Dworsky. They then produce that item in its simplest form, without prints, logos or pops of colour. A brand of dove-grey sweaters, white T-shirts, merino socks and raw-denim jeans, Asket seduces not through design flourishes but durable products, extreme supply-chain transparency and great fit.
Six years and two rounds of modest funding later, Asket employs 29 people and brings in more than €15m a year. In 2020 it broke even for the first time and in 2021 opened a flagship in Stockholm and launched a womenswear line and a repair and recycling service. Growing by 50 per cent every year, it is putting ever more people into unfussy, long-lasting clothes. "You can be boring and still wield influence," says Bard-Bringéus.
"You can be boring and still wield influence"
It hasn't all been smooth-sailing. The basics market is increasingly crowded and without exclusive drops or splashy branding it's tough to stand out. But Asket has done its best to set itself apart. Before any money was coming in, it partnered with a creative agency who helped it to create a slick website and visual identity so that it looked like a "super-polished brand from day one," says Bard-Bringéus.
The company has mostly grown through word of mouth, press coverage and social media. Unlike a fashion brand with vip shoppers splurging on collections, it relies on selling fewer things to a broader network of people. It has customers in 90 countries, although its biggest markets are Germany, the US and Sweden. Unsurprisingly, given that prices fall between high-street and luxury (a shirt is €90), most of its shoppers are aged between 25 and 35.
Asket has found a model that does away with many of the risks that plague other labels: it is not confined to tight seasonal windows or dependent on wholesalers who might slash prices on items that sell sluggishly. Nothing is ever discarded or put on sale. "It's a much easier inventory to manage," says Bard-Bringéus.
The compact range allows accurate sizing. All tops come in the standard five sizes and there are three lengths, short, regular and long. Trousers come in slim or regular "build"; the latter has more room in the thigh and backside. Dworsky calls this approach "mass customisation".
Such fastidiousness extends to tracing the origins of every piece and its component parts in a bid to show customers exactly what they're paying for (an approach pioneered by brands such as San Francisco's Everlane). Asket's organic cotton is sourced from Turkey, India and the US, and wool from Argentina and Australia. Its clothes are sewn in Italy, Portugal, the Czech Republic and Poland. But they want to go right back to the farms behind the raw materials (including the threads used in tags). Tracing cotton is very difficult; batches from different farms are sold in bulk. "Where is it extracted?" says Dworsky. "Where is it processed? How has it been shipped? We want to know everything."
Currently, 91 per cent of the journeys of products are listed online and in the new shop on Norrmalmstorg, where installations let customers "smell the greasy wool and the indigo dye and touch the cotton in its different stages," says Bard-Bringéus. Asket makes clear that "it takes so many monotonous steps, involving thousands of people, to create the clothes that we take for granted every day," says Dworsky. It demonstrates that basic is not simple. 
asket.com
Photographer: Ben Roberts, Johan Wennerström, Cody James