Diasporas in Africa / Global
Continental drift
Leaving your homeland behind to set up a new life in Africa takes fiery determination and nerves of steel. But moving in numbers can offer a host of benefits, as Iranian, Moroccan and French émigrés have discovered. We profile three entrepreneurial diasporas in Africa.
The 21st century has been dubbed "the African century". Countries such as Kenya, Côte d'Ivoire and Ghana have been growing at faster rates than those in Europe or the Middle East – even if from a lower base. Fuelled by massive infrastructure developments and technological leapfrogging, a market of 1.4 billion people has attracted huge investment from outside the continent. 
Diasporas have been in Africa for centuries – some but not all as a result of colonialism. In the late 19th and early 20th centuries, when Tunisia was colonised by France, three times more Italians lived in the capital, Tunis, than French citizens. In most cases the Italians had moved to North Africa seeking a better life. Even today the indelible mark they have left on the language, food and architecture in the country can be felt.
The Lebanese community has been in West Africa since the early 19th century. Back then, most planned to emigrate to the Americas but ran out of money and were stranded part-way. When civil war broke out in their home country in 1975, more Lebanese arrived in the region, seeking stability for themselves and their families. Many became successful entrepreneurs in the food and construction sectors. 
The following three communities have decided to seek their fortunes in contemporary Africa: highly qualified Iranians who are at the centre of the Kenyan construction and retail expansion; French citizens who find that South Africa offers a more conducive environment for doing business than France; and the Moroccan business community in the Côte d'Ivoire's financial capital of Abidjan, that has become a key driver of the kingdom's soft-power strategy in the region. 
---
01 embracing serendipity:
Iranians in Kenya
Exports: $41.7m (€41.7m) in 2020
Main industries: Asphalt, petroleum coke
Main centres: Nairobi, Mombasa
In 1978 and 1979, Iran's revolution turned the lives of its people upside down. The international sanctions that followed increasingly hamstrung the economy, stifling opportunity for its well-educated workforce. Until early 2022, Iran was the most sanctioned country in history. This imposed isolation pushed Iran's mercantile middle class to travel – and often along roads rarely taken by their compatriots. 
The Ehsanis arrived in Nairobi in January 1980. Theirs is an entrepreneurial story that almost didn't happen. For Hamed, his wife Fara and their son Hooman, Nairobi was supposed to be a stopover en route to Australia. The couple had left behind a comfortable life in Tehran. Hamed was working for his father's company, importing chemicals into Iran; back then it was the biggest business of its kind in the region.
"You have to let go of the past. You cannot constantly worry about what you lost"
"Settling here was the last thing on my mind," says Hamed, who speaks English with a gentle Persian accent. "But slowly we discovered that Nairobi had its own charm." So when the Australian embassy approved their visas, they decided to stay in Kenya, hoping to return to Tehran once things had calmed down. But life had other plans. Members of the religious Bahai community that the Ehsanis belong to faced discrimination in post-revolution Iran. Bahai businesspeople are often denied a licence to set up shop, for example. Hamed's parents were persecuted and the family business confiscated. 
"We eventually came to the conclusion that you have to let go of the past," says Hamed. "You cannot constantly worry about what you lost; what may or may not come back. You just have to start again." Hamed decided to set up a business with his brother, an architect, and today they have a veritable empire.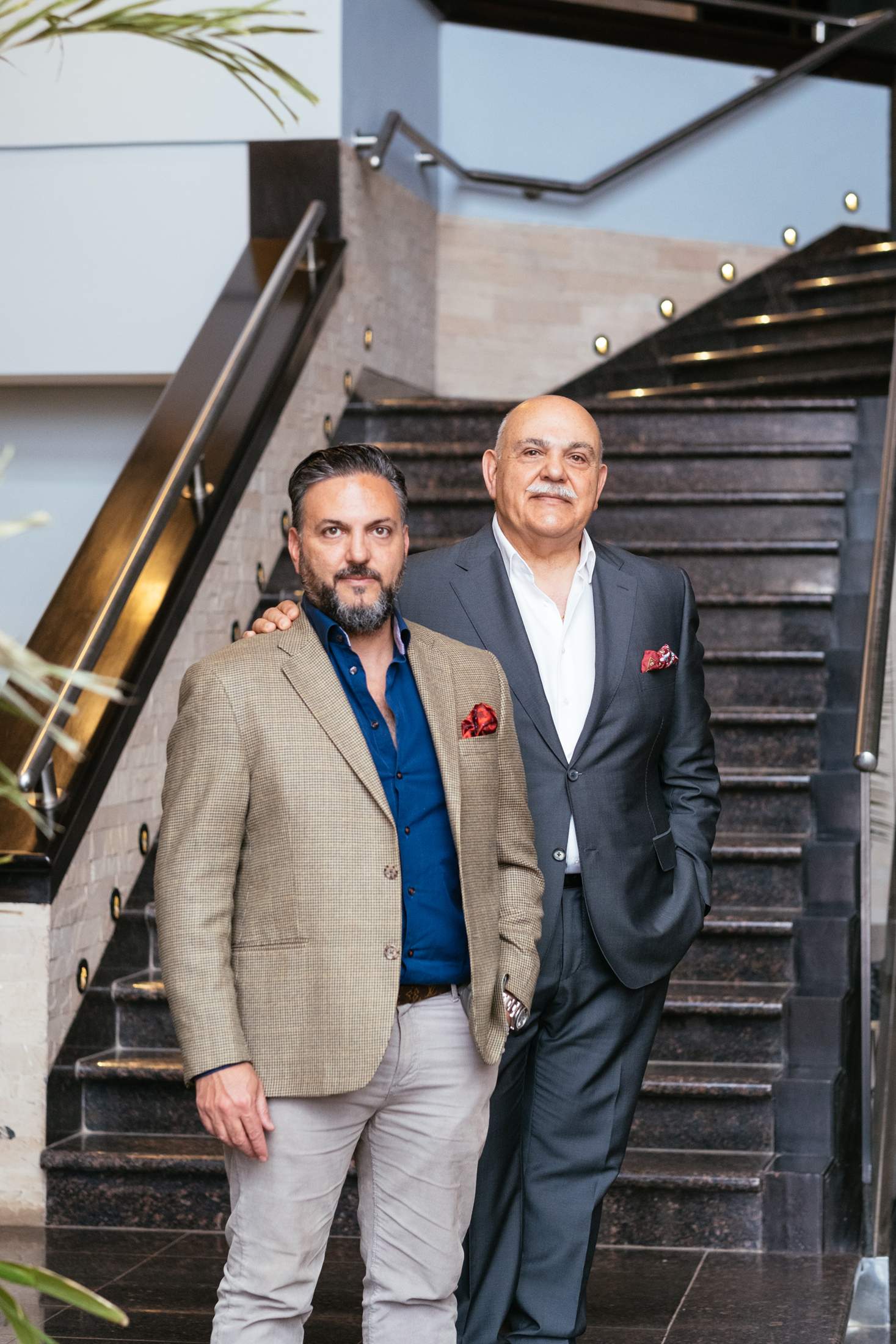 Now Hamed is the managing director of two hotels, Tribe and Trademark, as well as a sprawling shopping centre, Village Market, not far from the UN compound in the leafy suburbs of Nairobi. Fara has turned her passion for African art into a business, sourcing and selling artefacts from all over the continent to clients in the US, Europe and Africa. She also curates a large collection of art for Tribe, one of her husband's two hotels. Their decision to build a shopping centre and boutique hotel outside downtown Nairobi raised many eyebrows at the time, Hooman recalls. "People thought we were mad," he says. "This area was considered too far from everything." 
But being outsiders made it easier for the Ehsanis to see that Kenya was changing. "Many young Kenyans were moving back from the US or UK and returning to Nairobi with a different energy and different approach to how they wanted to see Kenya," says Shamim, the second-born of the Ehsanis' sons. Consumerism was no longer driven by affluent Kenyan Asians or expats but by this younger generation with more disposable income. After finishing university in the US, the three brother, Hooman, Shamim and Soha, entered the family business, while at the same time pursuing their own commercial projects. Hooman and Soha have ventured into residential property together. Shamim manages his own marketing agency. 
"If you want to live here, it's hard to find a job. The only way is to start your own business"
Over the past 10 years, as the Kenyan economy has experienced fairly steady growth, Iran's has been squeezed. Since 2010, the US and EU have imposed further sanctions as a response to the country's nuclear programme. Oil production remains one of the main sources of income for Iran but its economy is much more diversified compared to other countries in the region, such as Iraq or Saudi Arabia. 
"There is a lack of opportunity in my country," says 37-year-old Mohammad Mirjafari, a trained architect from the desert city of Yazd in central Iran. Mirjafari arrived in Kenya in 2011 to oversee a building project. It was his first time outside Iran. After completion, he decided to stay. "I saw many opportunities here and very few competitors." Eleven years later he is managing 60 employees across three businesses. 
With construction booming across Kenya, Mirjafari decided to register his own company in 2014 and began importing bitumen, a viscous byproduct of crude oil used to build roads, from the uae in Iran to Mombasa in Kenya. Mirjafari's business grew quickly: within a few years he increased his production from 200 metric tonnes of bitumen to 4,000 a year. Four years ago his company became one of the market leader in Kenya; these days he is selling to other East African countries too. 
In 2016, Mirjafari launched a second business venture importing fresh dates from Iran. Today his range includes 200 different food items, such as nuts, dried fruits and spices. These are sold at 20 Carrefour branches across Kenya as part of their bulk section. "Instead of targeting the super-rich, my idea was to target Kenyan consumers who might have less money but are curious," he says. Two years ago he followed his old passion for architecture and bought land for a property project. "Iranians are used to looking to Europe, to Canada, in search of business opportunities," he says. "But slowly that mindset is changing." 
This shift is probably most evident at the former site of the Iranian embassy in Nairobi's buzzing Kilimani neighbourhood.  The site is still owned by the Iranian government. On the first floor of the so-called House of Innovation and Technology, "Made in Iran" is on full display: pharmaceuticals, high-end medical equipment, tiles – you name it. The products are priced mid-range, between their Chinese and Western competitors. In 2021 it was personally inaugurated by Iran's vice- president, Sorena Sattari. 
Nextdoor is a massive gleaming glass cubicle, with co-working facilities. Ahmed Ayman, a 29-year-old urban designer from Tehran, has been renting and managing the co-working space for the past two years. But this is just a side hustle for him. The real business is running the subsidiary of Diba, an Iranian architecture company with a focus on office design and membrane structures. In 2020, Diba asked Ayman to come to Nairobi for several months to manage and operate their office in the city. "I had no information about Kenya," he says. "All I found was a picture of a baobab tree."
Ayman was thrown in at the deep end. "It was tough," he says. He didn't know anyone in Nairobi and had no experience running a business. "We entered into some risky projects – one of them was without a contract, which caused some payment issues with the client and some losses but the experience helped us to understand the market better." Two years later, with the help of mentors like Hamed Ehsani, Ahmed is a lot wiser and has managed to sign corporate clients such as Standard Chartered, a bank. "We were obsessed with importing everything from Iran but now we are focusing more on utilising our engineering knowledge and sourcing and building more locally." Nairobi has grown on him. "In Dubai, Turkey or South Africa, there are so many competitors. But in Kenya you are one step ahead."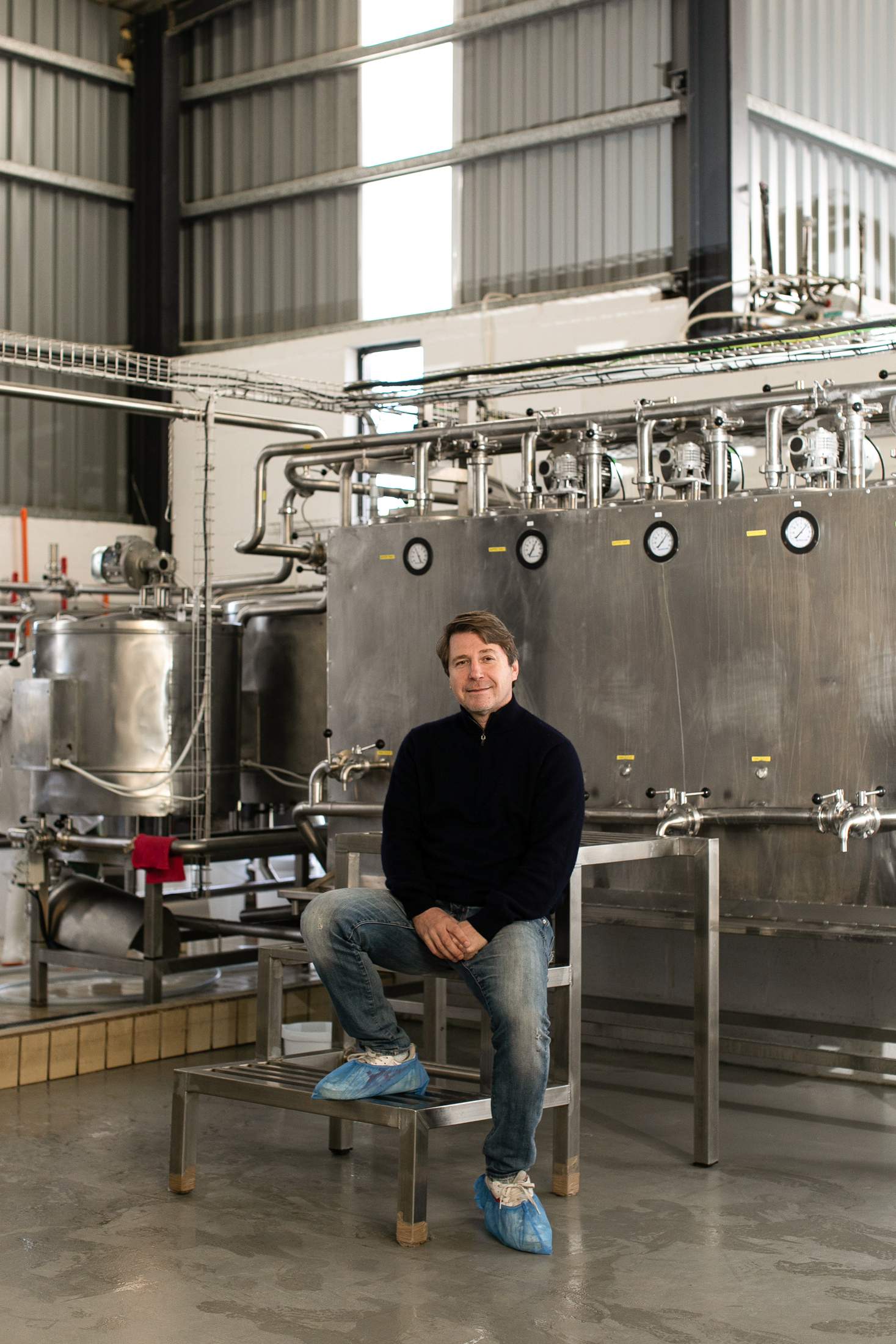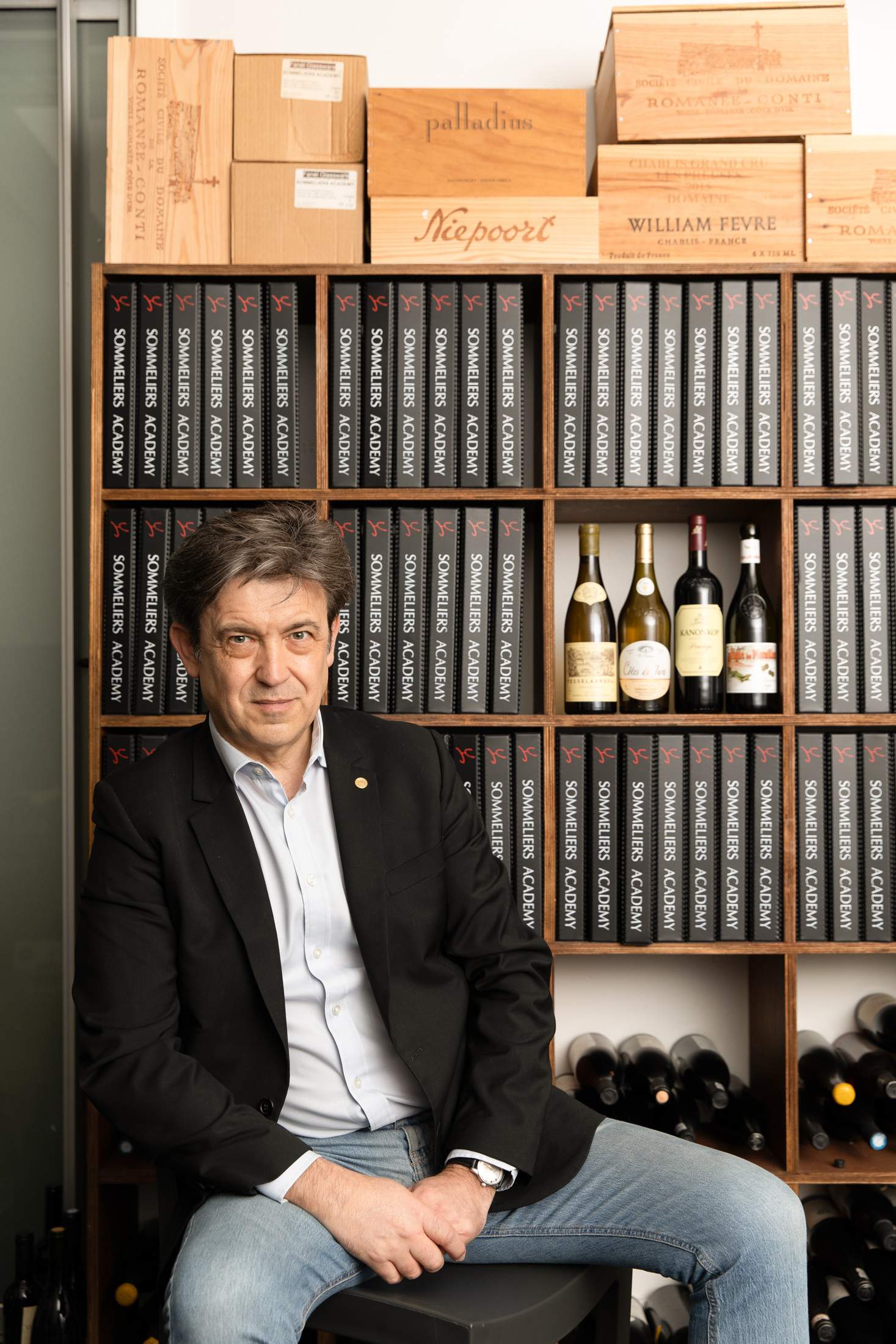 02 en marche:
French in South Africa
Diaspora population: 10,000
Exports: $1.5bn (€1.5bn)
Main industries: Energy, nuclear power
For Eric Bédier, South Africa was love at first sight. "I was amazed by the modernity, diversity and lifestyle here," he says. The Parisian law graduate was so determined to build a life that he decided to set up a business in 2014. "If you want to live here, it's hard to find a job. The only way is to start your own business." Today his company, Yokos, produces five tonnes of dairy-free yoghurt and five tonnes of dairy-free milk a week. Bédier has fully embraced the shift from French law books to food-processing manuals. "When you love something, you can learn anything," he says. Yokos was the first domestic company of its type on the South African market and it now supplies plant-based yoghurt, milk and cheese to supermarkets across the country. 
Bédier now employs 25 staff and is planning to expand Yokos' range to uht milk for export to Namibia, Mauritius and Botswana. "The really hard work has been to scale the business and grow our production staff," he says. Friends and private investors lent the cash he needed to establish a bigger production site in Cape Town in early 2021. "It's impossible to get access to financing here as a foreigner." Nevertheless, he is adamant that being an entrepreneur is easier and comes with more respect in South Africa than in France. 
"When you start a business in South Africa, there is a lot less bureaucracy than in France," says Bédier. "The cost of labour is low, and staff are more flexible. Overall, there is a strong corporate business culture." 
The attitude to newcomers wasn't always thus. Jean-Vincent Ridon first came to South Africa in 1996, shortly after the end of apartheid. The floppy-haired wine broker from Sancerre fell in love with the country, but things were less straightforward then. South Africa was emerging from 30 years of isolation and sanctions, and so was the wine industry. "People looked at me like I was a strange animal," he says. "South Africans were trying to emigrate; they couldn't understand why a Frenchman wanted to move here." 
But Ridon saw the opportunities in the local industry, becoming a Jacques of all wine trades, from importing Portuguese corks and French wine barrels to facilitating the flow of capital from Europe and advising on wine estate mergers and acquisitions. Almost everything wine-related became part of his business portfolio. 
"South Africa now has the highest- qualified wine makers in the world"
"In 1996 I was one of the few here who had travelled," he says. Ridon was able to bring a fresh perspective, contacts and capital to an industry that was stuck in the past. "People were wondering why they should trust a Frenchman to teach them about land that they had been farming for 300 years," he says. "I felt fairly isolated; it was not easy to enter the right circles in places like Stellenbosch or Cape Town." 
Thirty years later, the wine industry has come a long way and business is booming. "South Africa now has the highest-qualified wine-makers in the world," says Ridon, who today manages a sommelier academy. In recent years, wine-makers from France have acquired vineyards here and they are not the only businesses flocking from France: about 400 French businesses, from multinationals to smes, now have bases in South Africa. Among them are French energy giant edf, home- improvement chain Leroy Merlin and sports retailer Decathlon. South Africa, the most industrialised and diversified economy in Africa, is now one of France's primary trading partners on the continent. 
"There has definitely been a huge investment drive from France," says Karen Longley, who sits on the executive committee of the French-South African chamber of commerce. After almost 30 years of living and running a language school in Dijon, Longley, who holds dual citizenship, moved to Johannesburg in 2012. The trained botanist set up her language-training company a year later. Its 40 staff teach English, French, German, Portuguese and Swahili mostly to businesspeople. Volkswagen, edf and Total are among her clients. 
The move from Dijon to Johannesburg has made running a business much less bureaucratic. "I only had corporate clients in France but getting paid was a lot more complicated than here," she says. "Cash-flow was a massive issue. I was busy but the money wasn't coming in. Quite often I found myself financially on the edge of my chair." In South Africa, Longley was able to draw a salary in less than three months after launching her business. Within nine months she repaid the loan she had needed to start it. 
Well-versed in professional communication, Longley's advice to new French expats in South Africa is to take note of the courtesy that comes with greetings here. "The way you are polite in French is by using different grammatical forms when addressing someone. In South Africa courtesy comes with saying, 'Hello, how are you?' then taking note and responding. It's part and parcel of South Africa's business world."
---
03 the power of trade:
Moroccans in Côte d'Ivoire
Diaspora population: 7,000
Exports: $210m (€209.8m) in 2019
Main industries: Fertiliser, seafood
Entrepreneur Chahdi Ouazzani is proudly flicking through pictures of exquisitely carved wood, stained-glass ceilings and intricate plasterwork. He is one of the privileged few to have been allowed inside Abidjan's vast new Mohammed VI Mosque to see how construction is coming along. "It's reminiscent of the mosques back home in Morocco," he says of the structure, which represents the bond between the cultures and commerce of Morocco and Côte d'Ivoire.
The Mohammed VI Mosque, funded by and named after the reigning Moroccan king, is in Treichville, in the south of Côte d'Ivoire's most populous city. It's also a symbol of the North African country's economic pivot south. The 59-year-old king is Morocco's most important politician and a prominent entrepreneur. In the past decade he has driven public and private investment in Côte d'Ivoire, and the wider region, criss-crossing the continent to shake hands and ink deals.
"Life is easy in Abidjan. We speak the same language, French. It brings us together"
Côte d'Ivoire, the world's top exporter of both cocoa and cashew nuts, is the largest economy in Francophone West Africa and one of the youngest, with a median age of 18.9. From 2012 until the pandemic, the economy grew at an annual average rate of 8 per cent. "We have seen a lot of change in the business community since the king first came with investors in 2013," says Ouazzani, who himself arrived in Abidjan from Morocco almost 40 years ago, at the age of 18. "Like everyone else, I was planning to stay a few years," he says. 
Back then the community was much smaller and almost exclusively from Fez, Morocco's second city. Ouazzani first ran a textile business. As the Ivorian economy grew, he expanded into selling household appliances. These days he imports Moroccan handicrafts. "It was easy to settle here – Ivorians were very welcoming and friendly," he says. His children and grandchildren were born and brought up in Abidjan.
Over the years the Moroccan community has grown to be an impressive 7,000-strong. "The Moroccan government are planning to establish a school here; I am looking for land," says Ouzzani, who also heads the association of Moroccans living in Côte d'Ivoire. "There are a lot of opportunities here," he adds. "And unlike other foreign investors, Moroccans are meeting their Ivorian counterparts eye to eye. The secret to our success here is that we are sincere and serious. We share fifty-fifty. It's a win-win situation." Morocco has invested heavily across all sectors of the country, in recent years overtaking the former colonial power, France. Moroccan banks, insurance brokers and property companies have all established a presence.
But the most valuable of all the goods shipped from Morocco is fertiliser. The country is the world's fourth-largest exporter of this prized commodity. In 2015 the ocp Group, Morocco's state-owned fertiliser company, opened its first African subsidiary in Abidjan. According to Mohamed Hettiti, ocp's senior vice-president  West Africa, being in Côte d'Ivoire serves strategic geographic and commercial purposes, such as improved access to neighbouring countries including Mali and Burkina Faso. 
But being based in Abidjan makes more than just commercial sense. "Life is easy in Abidjan," says Hettiti. "We speak the same language – French. That brings us even closer." The 50-year-old engineer has been with ocp since 1999. In the past he worked in operations and pipeline management in Morocco. Today he is the face of his country's fertiliser diplomacy in the region. As prices soared following Russia's invasion of Ukraine, ocp increased its production and launched a relief programme for farmers on the continent. This includes making 550,000 tonnes of phosphate-based fertiliser available to smallholder farmers in Africa for free or at a reduced cost. "We are all Africans," says Hettiti, insisting that ocp has a responsibility to do more than just make money from a global supply crisis. "It's in a crisis that you earn friends. Dominance is not a good position."
Encouraging entrepreneurial investment and expanding trade to Côte d'Ivoire has already more than paid off. In 2017, Morocco returned to the African Union after a 33-year absence precipitated by the bloc's recognition of the disputed territory of Western Sahara. Only nine of the bloc's 54 member states opposed its re-entry. Morocco's application to join the Economic Community of West African States is pending, but Côte d'Ivoire has already signalled its support. 
Photographers: Khadija Farah, Stephanie Veldman