How to... / Global
Views from the top
From the freewheeling founder of a Taiwanese scooter company to the president of Japan's perkiest coffee chain, we've tapped some of the world's savviest leaders for their insights into doing business better.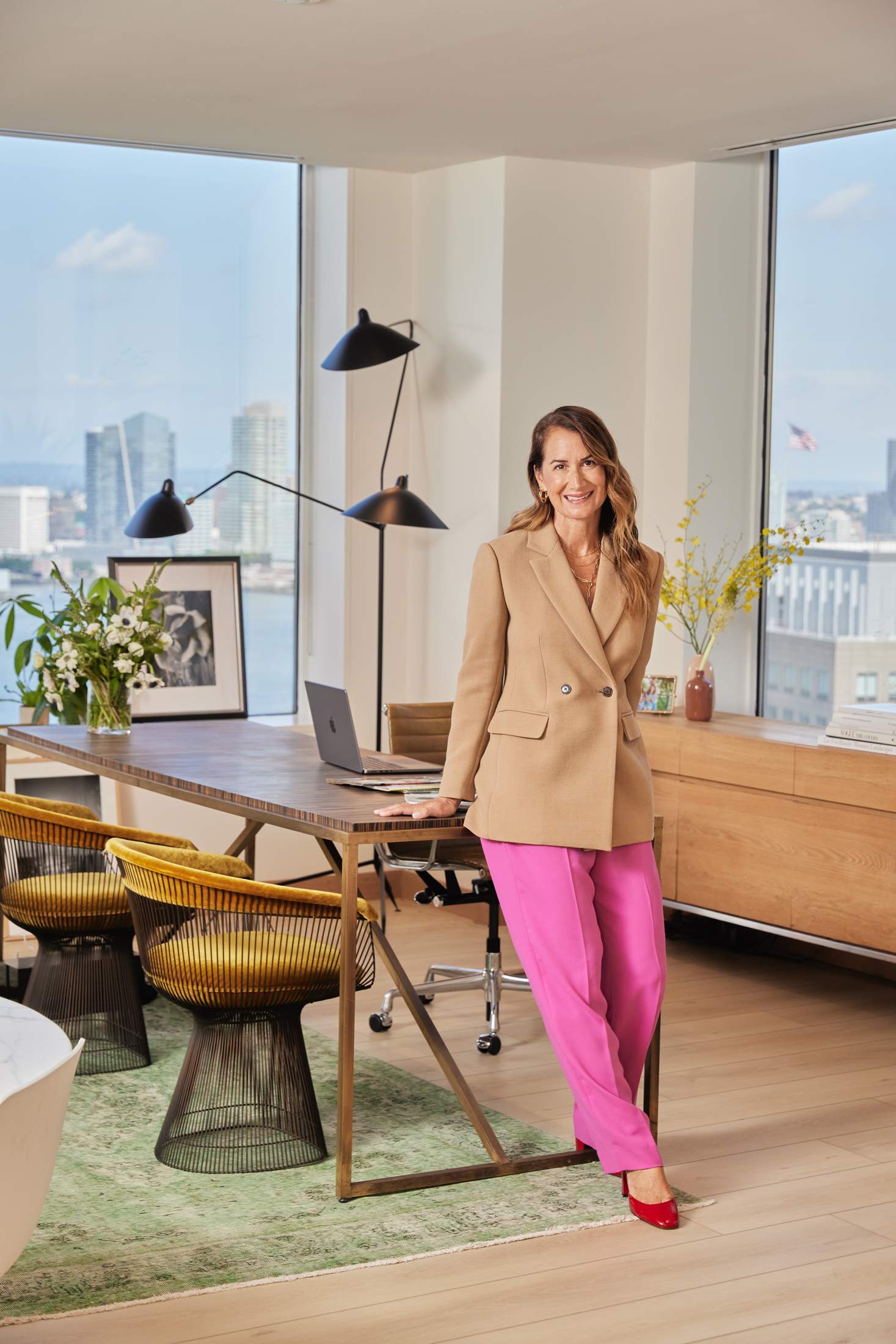 Libby Wadle
CEO, J Crew Group
How to... revive a brand
Launched in 1983, New York-based J Crew enjoyed decades as a go-to retailer for clothes that were classic, approachable and a little aspirational. Then, with the arrival of former Gap ceo Mickey Drexler and star designer Jenna Lyons in the 2000s, the outfit turned from a slightly preppy brand into a fashion phenomenon. Eventually, however, customers decided that J Crew had become too big for its chinos. Lyons stepped down in 2017 and Drexler left two years later, with the company more than €1.6bn in debt. It filed for bankruptcy in May 2020 as the first US lockdowns began to bite.
Libby Wadle was named J Crew's ceo that autumn at the pandemic's peak and immediately sought to address the company's malaise. The firm converted its debt to equity and received a €400m loan in a restructuring deal with creditors. Wadle has already helped to bring sales back to growth but she knows that there is plenty more to do. First, she recruited Brendon Babenzien, former creative director of Supreme, to oversee the company's menswear line. Now she's reviving J Crew's beloved catalogues, rethinking the retail environment and reinvesting in the product.
What have the past two years been like?
A process. We're not fast fashion and we took our time to find the right balance. We had lost some of our old inspiration and energy: people didn't feel inspired either to work or to shop here. But we've found a new sweet spot by being ourselves and trying to reignite the flame around the brand.
How do you bring back that excitement?
One of the things that J Crew really invented was this idea of being "in good company". It started with the menswear business a long time ago, when we were collaborating with Barbour, Timex and Alden shoes. We're returning to that strategy this autumn, through a collaboration with French shirting specialist Marie Marot. We also opened a men's concept shop in New York to highlight Brendon's new designs.
Why was Babenzien the right fit to head up J Crew's menswear? 
He hates the term "streetwear" but his roots are with Supreme. For me, though, the magic phrase attached to Brendon isn't Supreme; it's J Crew. He grew up with the brand on Long Island. We didn't have design leadership for a while and he's a very relevant designer. He understands what a more mature customer wants but also gets the younger generation.
In which menswear categories do you see the biggest opportunities to make your mark?
We're thinking about elevated everyday clothing. Non-denim trousers have come back as we're moving into a more dressed-up era and our suiting business is incredibly important.
We're sitting around a table full of old J Crew catalogues. Will they continue to play a part in this new chapter?
We are in the process of reintroducing them. They remain so inspiring. I don't think that anything can replace the printed page.
How crucial are your physical shops?
We have fewer shops than we did in the past but they remain important. We're really thinking about how shops can be our best representation because at one point they became diluted versions of the brand. We are playing around and trying new design ideas, considering better lighting and how we can reposition our fitting-room areas to make the experience slightly more collaborative. The service aspect is a big opportunity.
Cutting costs is one way to save money but you've started investing in better-quality materials. Is that a risk?
We now use European mills for almost our entire men's suiting line. It's the reason why the suits are so good. We also relaunched our men's washed shirting line with a finer-quality fabric because we wanted to bring back the magic of those intricate details that were stripped away over the years. It used to be easy to dilute the quality without it being noticed right away but over time that waters down your brand.
jcrew.com
Lessons learnt:
Sacrificing quality is an easy way to save money in the short term but try it too often and customers will notice. Wadle's approach to restoring J Crew's fortunes involves tempting them back with better fabrics, designs and shops.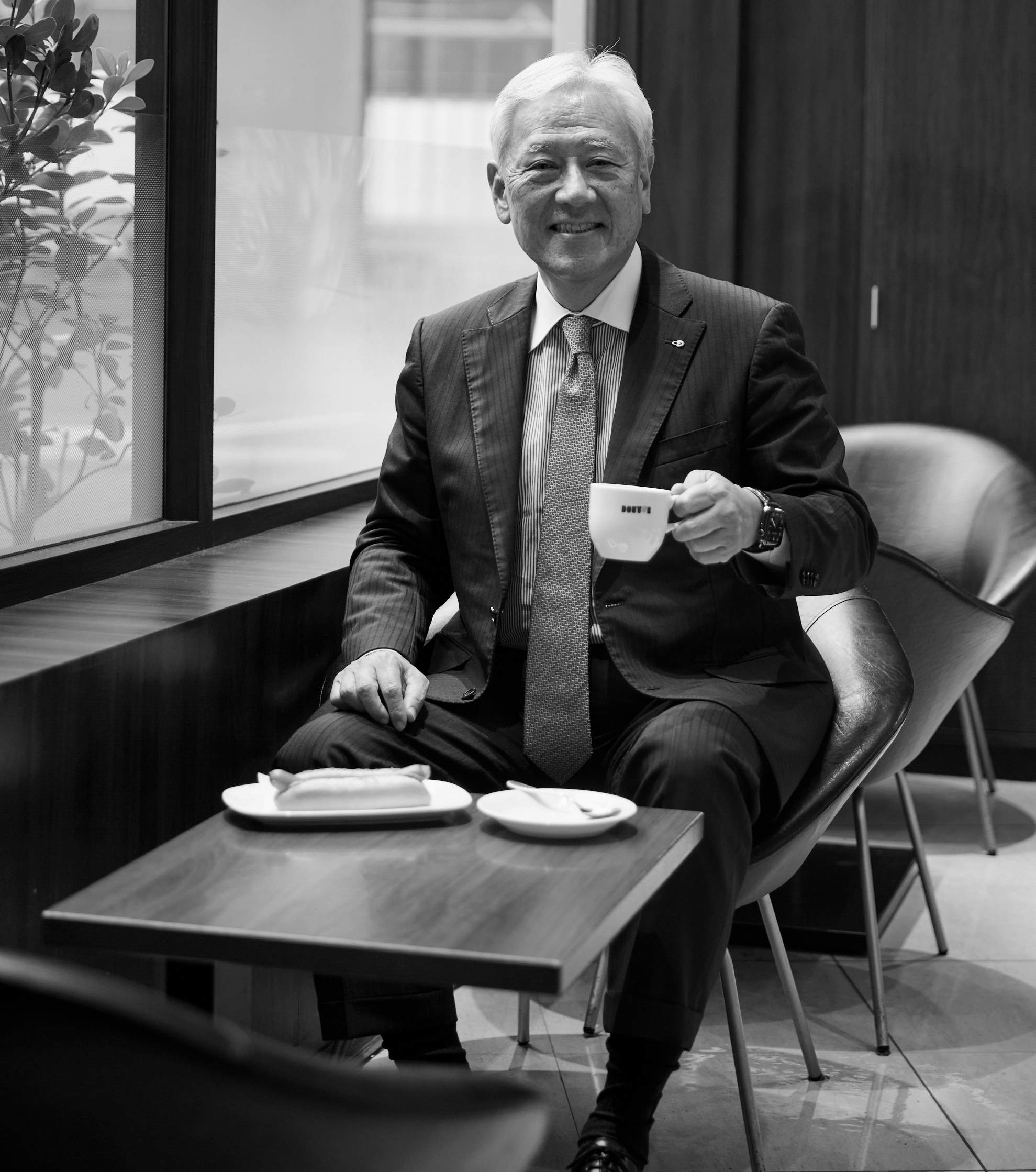 Masanori Hoshino
President, Doutor Coffee 
How to... thrive at scale
Every day in Japan half a million people pass through the doors of a Doutor coffee shop. With more than 1,000 branches, Doutor is Japan's largest home-grown café chain. Though its coffee- roasting business was started in 1962, its first café opened in Harajuku in 1980. Today the company imports 10,000 tonnes of beans a year and owns one of the largest coffee plantations in Hawaii; last year it had a turnover of ¥59.8bn (€428m). And its name? It comes from Rua Doutor Paulo Ferraz da Costa Águiar, the São Paulo street on which the company's founder, Hiromichi Toriba, once lived.
The man in charge today is Masanori Hoshino, who joined the company in 1983. He is president of Doutor Coffee, publicly listed in 2000, and its multibillion-euro parent business, Doutor Nichires Holdings, which also runs other Japanese café chains such as Hoshino Coffee and Excelsior. Here, Hoshino speaks to monocle over a brew in the company's Shibuya headquarters.
What's your usual Doutor order?
A blend coffee and a German hot dog.
Tell us a little about the company's backstory. 
A good cup of coffee is a given but we also wanted to offer a place to relax. We started Doutor in a time of huge economic growth, when everyone was working hard and exhausted. Japan already had a long history of coffee-drinking and kissaten cafés but table service was standard back then and coffee was more of a luxury. 
We wanted to introduce the idea of the self-service café. We estimated that the average worker had ¥1,000 (€7) to spend every day and that had to include lunch and cigarettes. We calculated that ¥150 (€1) was the amount that people would spend on a cup of coffee. So we worked backwards from this to create an operation that would allow us to offer coffee at that price.
How do you keep customers coming back when there are so many options?
Beyond function and efficiency, there are emotional values that aren't so easy to quantify – small details that customers might not even consciously notice. Our saucers are designed to keep the spoon in place when you lift the cup. Our iced-coffee glasses are specially made so that when you swirl the straw, the ice tinkles against the glass like a furin [wind chime], which is a cooling, relaxing summer sound for Japanese people. Our background music is specially curated for us to suit the mood and time of day. It's not a single thing that customers could put their finger on but they sense that the overall ambience is cosy.
Doutor has an admirably simple menu. Is that a deliberate choice?
One of the core pillars of our business is selling beans: we sell a wide variety, from Blue Mountain to mocha and Kilimanjaro. But in terms of the café menu, Doutor doesn't offer hundreds of options. Blended coffee is the standard.
Is there still room for growth in Japan or is the market saturated? 
In terms of domestic growth, physical shop expansion will be limited: there isn't enough space for us and all our competitors to open new shops. That's why I'm telling our staff to think outside the box. The old model was to have a shop on the high street but we have pioneered openings in hospitals, petrol stations and so on.
How are you innovating? 
We are always looking at ways to improve how to roast our beans. That happens at our two roasting facilities in Hyogo in western Japan and Chiba, close to Tokyo. Regular coffee consumption at home has grown in Japan in the past few years, which is good news for the industry. We have developed our own drip bags; it's an easy way to brew our coffee.
You have a mix of directly managed and franchised shops. How do you maintain quality control?
First, our franchise partners understand that quality is essential for a successful business. Second, since our franchisees are not the ones standing in the shop – it's mostly part-timers and students – we maintain quality with supervisors who each look after 15 to 20 shops. We run an internal competition for service and operation to keep everyone motivated.
You already have a Doutor outlet in Malaysia. Is further overseas expansion on the horizon?
We're thinking about Asia and China but there could also be opportunities in Europe and the US. There are challenges too. We want to stay true to our philosophy but also localise. We need to find a balance between those two values. Right now we're looking at Vietnam.
doutor.co.jp
Lessons learnt:
Being a big player doesn't mean you have to be formulaic and predictable. Doutor's coffee is flame-roasted for the best flavour – even though there are quicker, easier ways – and every aspect of the café environment is carefully considered.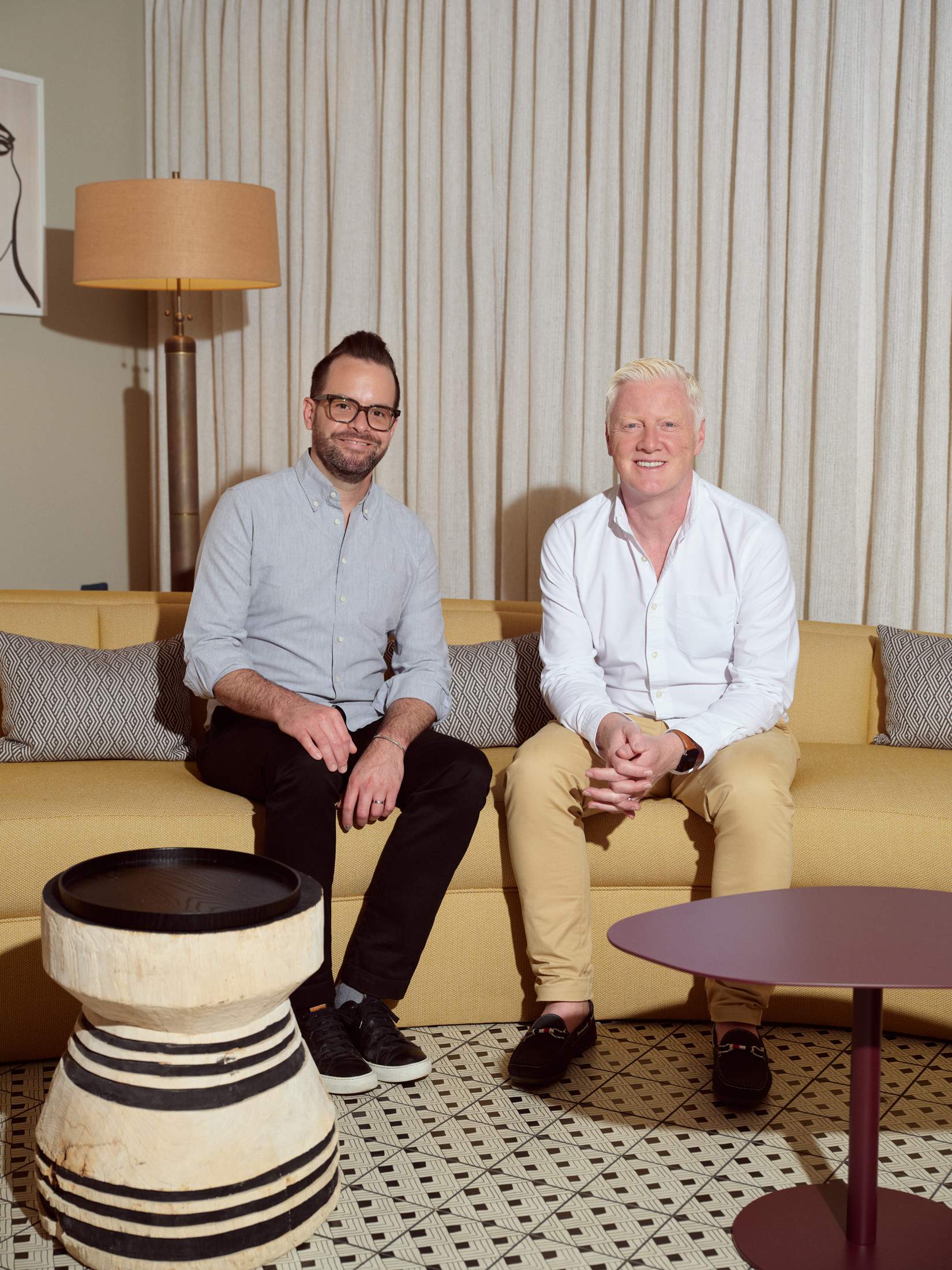 David Bowd and Kevin O'Shea
Co-founders, Salt Hotels
How to... build from scratch
Salt Hotels is one of the fastest-growing boutique-hospitality brands in the US, with eight properties across the country. Its success demonstrates how to grow a brand at speed without compromising on the details. In 2014 founders David Bowd and Kevin O'Shea (both pictured, Bowd on right) opened Salt House Inn in Massachusetts, combining b&b-style homeliness with international standards of service. Both had backgrounds in big operations – Bowd, a Brit, used to run London's Chiltern Firehouse and Chateau Marmont in Los Angeles, while his partner, O'Shea, began his career at Starwood Hotels & Resorts – but had to roll up their sleeves and take on everyday chores to get Salt's first project off the ground. That, they say, is an essential part of the business's identity. Salt works with investors across the US to create its hotels, typically in historic properties requiring a little resuscitation. And it's adding to its portfolio: a members' club in LA will soon open its doors and a bolthole in Nantucket will launch next year. 
Salt has expanded rapidly. How do you keep a brand coherent at that pace of growth?
david bowd: You need to have a clear definition of what you're setting out to create, hire the right people and stay involved as it grows. You should work with someone who understands every nuance of what you've created and why. They should be your shadow, so when you move on to the next project, it's totally consistent.
kevin o'shea: We can go from a small, historic b&b in Cape Cod to something like The Aster in Hollywood. For me, it's a matter of aesthetics. I'm inspired by the buildings that we work with and they inform the design narrative. That's what connects the dots between all of our projects.
How did Salt House Inn get off the ground?
db: Kevin cooked the breakfasts and I cleaned the rooms. It was a tremendous amount of hard work and we learnt as much from our failures as from our successes. I've never been to big hotel conferences and tried to sell Salt in that way. It has always been through recommendations and people who have stayed with us saying, "We're doing a hotel project and want you on board."
How has that early experience helped you?
ko: We have a better understanding of our teams and what they're doing because we've done it all ourselves. For instance, when we're making design decisions, I know what it takes to clean a bedroom so I'm very mindful of that when I'm choosing fabrics or flooring materials. Yes, it's about achieving the look that we want but also ensuring that it won't look terrible in five years.
Where are the hospitality opportunities now?
db: The boutique sector is still small here in the US. So many cities have subpar hotel experiences that don't reflect the local culture. We open in Minneapolis next year; it's such a cool city with an incredible culinary scene and it's one of the cities with the most Fortune 500 companies in the US. But it doesn't have a true lifestyle hotel to stay at.
ko: There are so many untapped markets, especially outside urban areas. I see a lot of opportunity in the Midwest.
Many new hotels are taking cues from Airbnb, where guests check in and out without ever dealing with a member of staff. Is that a good model?
db: That's not hospitality to me and certainly not what we are. My heart is in wanting to look after people. That said, it's important that they have choices and we encourage the front desk to assess what a guest wants. However, we need to communicate to our guests that we know the best restaurants, bars and shops in the area. It's very hard to do that in a non-service, fully technological environment.
You are about to open The Aster, a members' club in Los Angeles. Why now?
db: A lot has changed about how people work and socialise post-pandemic, so we felt that it was a good time for this. The old clubs were the country clubs where the level of service was fantastic. And then came members' clubs, which were very trendy but the service declined as the design improved. We wanted to create something that did both.
Is The Aster a brand that will expand?
ko: We've talked about it. What's interesting for us is really getting to know our members: who loves a negroni at 16.00, for instance, and ensuring that it's ready for them before they get there. It's a kind of service and hospitality that David and I have always been passionate about. There are a lot of interesting opportunities to deliver on that in a way that you can't do with a normal hotel guest.
salthotels.com
Lessons learnt:
O'Shea and Bowd say that building a business as a couple is rewarding but can be tricky. You need to understand what skills each of you brings to the table and set boundaries: it's healthy to remind your partner to stay in their lane.
Horace Luke
CEO, Gogoro
How to... test your mettle
If the origin story of Gogoro's ceo, Horace Luke, could be distilled into one event, it might be a childhood trip to a market in Hong Kong's Wan Chai district. There his mother told him a saying about the three types of people in the world: those who wait for opportunities, the smart ones who create opportunities and the people who let those opportunities fly by.
There's little doubt that Luke, who co-founded mobility company Gogoro in 2011, falls in the "smart ones" category. The Taipei-based company's electric scooters are easy on the eye but it's under the hood where Gogoro is setting itself apart from its competitors. While most electric scooters need to be plugged in to charge – a process that can take several hours – Gogoro's simply need to be taken to one of the company's 11,000 "Gostations" across Taiwan, where you can swap an empty battery for one with full power. "Swapping batteries is the game changer that enables urban residents to adopt electric mobility," says Luke, who is dressed in black and wears round-framed glasses.
In a sign that business is zipping along in the right direction, Gogoro has already licensed its battery system to its Taiwanese counterparts for use in their vehicles. The company's focus is on Asia for now – mainly China, India and the region's southeast – but it hopes to expand further afield. In April, Gogoro became a publicly traded company on the Nasdaq in the US. In the second quarter of 2022, it posted $90.7m (€90.8m) in revenue despite the challenges of the pandemic and a global economic downturn.
Gogoro occupies four floors of a shiny, new office building in central Taipei (it also maintains another office in nearby Taoyuan City). The company offers a simple idea but one that is complex in execution. To ensure that the Gostations work perfectly, Gogoro's team of engineers developed a software system that uses artificial intelligence and machine learning to "smart-charge" batteries, while taking into account Taiwan's sometimes unstable power grid and difficult weather conditions (including typhoon season). Luke, who was born in Hong Kong but was raised and studied in the US, says that his passion for doing something about sustainability made him pivot to electric vehicles after a career spent largely in consumer goods with companies such as Microsoft and htc. 
"We started Gogoro with 27 desks, thinking that it was going to be an intellectual-property- creation or technology company that would outsource everything," says Luke. But he quickly realised that the company would have to build everything itself if it wanted to realise its ambitions. So he drew on skills that he had honed over more than 20 years in product design. "I'm a creator but at the same time I believe that my number-one value is more as a cheerleader and team builder," he says. "I create a platform for other people to create and then go in and make things that they probably don't think that they could have made without this platform. That's my biggest value."
"If you don't do things at the right time, on the right topic, it's really difficult. Timing is probably the most important thing in entrepreneurship"
Gogoro's self-declared pompom shaker is clearly ambitious about where he wants to take the company. Part of that process involves mastering the data that it has accrued through the more than 325 million battery swaps that have taken place since Gogoro launched its first scooter in 2015. Luke says that he sees the company becoming the Google or Android of urban smart mobility, providing partners with the infrastructure to run an electric-scooter network, while also offering its own version of the vehicle. The concept is so novel that some industry analysts have described the 2,000-person company as a battery-maker that sells scooters as a proof of concept.
Like many entrepreneurs, Luke says that there's an element of luck to Gogoro's success. He cites the example of how Microsoft developed a pocket computer in the early 2000s. It failed, despite the company pouring millions of dollars into the project, only for Apple to succeed with the iPhone several years later. "The timing has to be right," he adds. "If you don't do things at the right time, on the right topic, no matter how much you push, it's really difficult. Timing is probably the most important thing in entrepreneurship."
Gogoro's timing, it seems, has been impeccable. Major changes in battery design over the past 10 years have helped to make electric vehicles cheaper and more efficient, while consumer behaviours have also shifted. Recent climate-related disasters and spiralling energy costs are likely to provide an extra incentive for people to gravitate towards Gogoro. For Luke, electric vehicles are a chance to make the planet a better place. "That's what drives me every day," he says.
gogoro.com
Photographer: Sean Marc Lee
Lessons learnt:
Be comfortable with taking on a certain amount of risk. Standing out in a packed field with a clear differentiator means leaving your comfort zone and encouraging others to do the same. Luke says that he is comfortable with "risking it all".
Jo Malone
Founder, Jo Loves
How to... start a second act
Perfumer Jo Malone was already at the top of her field when she founded fragrance and cosmetics company Jo Loves in 2011. She had sold her first brand, Jo Malone London, to Estée Lauder in 1999 in what she calls "the deal of a lifetime" and had stepped down from her role as its creative director in 2006. But it's this new chapter in her career, which began after a five-year non-compete agreement, that seems to be throwing up the most surprises. "I'm pushing myself back into the arena of adventure," she says, sitting in the candlelit studio of the Jo Loves shop in west London. It's a gloomy day but she is all smiles, having just received some good business news.
Her new adventure involves a temporary move to Dubai for what she calls a belated "gap year". There she plans to pursue the many expansion opportunities coming the way of Jo Loves. "We're now in China, South Korea and Australia, and are about to open in several new markets in the next year," says Malone, who is no stranger to launching and scaling globally.
Malone could easily have retired and "gone to sit on a beach" after her initial brand success but her entrepreneurial instincts led her to keep exploring her enhanced sense of smell and search for new ways of telling stories through fragrance. That's why Jo Loves products stand out: they are infused with stories from Malone's life and her travels around the world. Her journeys across Asia, for instance, have inspired a new series of pomelo-infused fragrances that became instant bestsellers. Even more popular are her Fragrance Paintbrushes, which hold the scent in gel form and encourage customers to get creative by applying it to their bodies.
"When I launched Jo Loves, I had four fragrances and no strategy. I wanted to quit every single day for the first few years"
Jo Loves came into its own when Malone opened its first flagship on London's Elizabeth Street, a stone's throw away from the flower shop where she had worked as a 15-year-old apprentice. The shop reflects her world: all-white interiors, piles of fragrances on shelves, a candle studio at the back and a big bar at the centre, where customers can try on fragrances (think wine tasting but for perfumes). "When I brought the concept to Shanghai we had six camera crews filming within an hour and thousands of people queueing to try it out," says Malone. "That's when I started to see the business turn – when I started travelling."
But it hasn't always been a smooth ride. "I was so eager to create again that I made a lot of mistakes when I launched Jo Loves," she says. "I had four fragrances and no strategy. I wanted to quit every single day for the first few years." But Malone had learned the power of perseverance early on in her life. The daughter of a beautician mother and an artist father, who liked to gamble, she grew up on a council estate. "When I mention 'estate', people assume that it was somewhere like Downton Abbey; it wasn't," says Malone, who left school aged 15. "It was like the projects."
Her survival instinct has remained intact ever since. After selling her first company, Malone was diagnosed with cancer and given nine months to live (she is now cancer-free). During this time, she temporarily lost her superpower: her sense of smell. "But I fought it and was desperate to create again," she says. 
Malone is ambitious about where she wants to take Jo Loves, with impact and scale at the forefront of her planning, hence the focus on international expansion. Bricks-and-mortar shops remain key. "People want theatre and entertainment," she says. "If you just whack a lot of product on a wall and expect it to sell, it won't. It's why we're focusing on freestanding shops. We have to create a home wherever we go."
When asked about her next steps, she gives no definitive answer, though she insists that she is open to anything. Does that include new categories beyond perfume? "Possibly," she says. A fragrance exhibition that could sit in Dubai's Museum of the Future, for example? "Why not?" When collaborations with the hospitality industry are mentioned she mysteriously promises to deliver a product that has "never been seen in the market before".
With a renewed appetite for adventure, Malone remains confident and is far from done. "If I wait for someone to knock on my door, the moment will pass," she says. She advises people with good business ideas not to be overly hesitant. It's why, prior to the permanent move to Dubai, Malone and her husband, Gary Willcox, who is the ceo of Jo Loves, decided to go skydiving above the city's Palm Jumeirah. "I haven't been the same person since – all those fears, I left them on the plane." While skydiving might not be for everyone, any budding entrepreneur could learn from Malone's willingness to jump, literally, into the unknown.
joloves.com
Lessons learnt:
When your business is growing, you'll have to decide to sell, get a partner or borrow money. For Malone, borrowing wasn't an option. "Be cautious about partners or selling and being part of something without the full responsibility," she says.
Photographers: Lily Bertrand-Webb, Bill Gentle, Fuminari Yoshitsugu, Cody James, Sean Marc Lee