Mobility. UAE / UAE
Beyond business class
Three Lufthansa alumni hatched a plan to rethink high-end travel with new Dubai-based airline Beond. Ultra-long haul routes and Ferrari-designed seats are just a few of the reasons that they are already off to a flying start.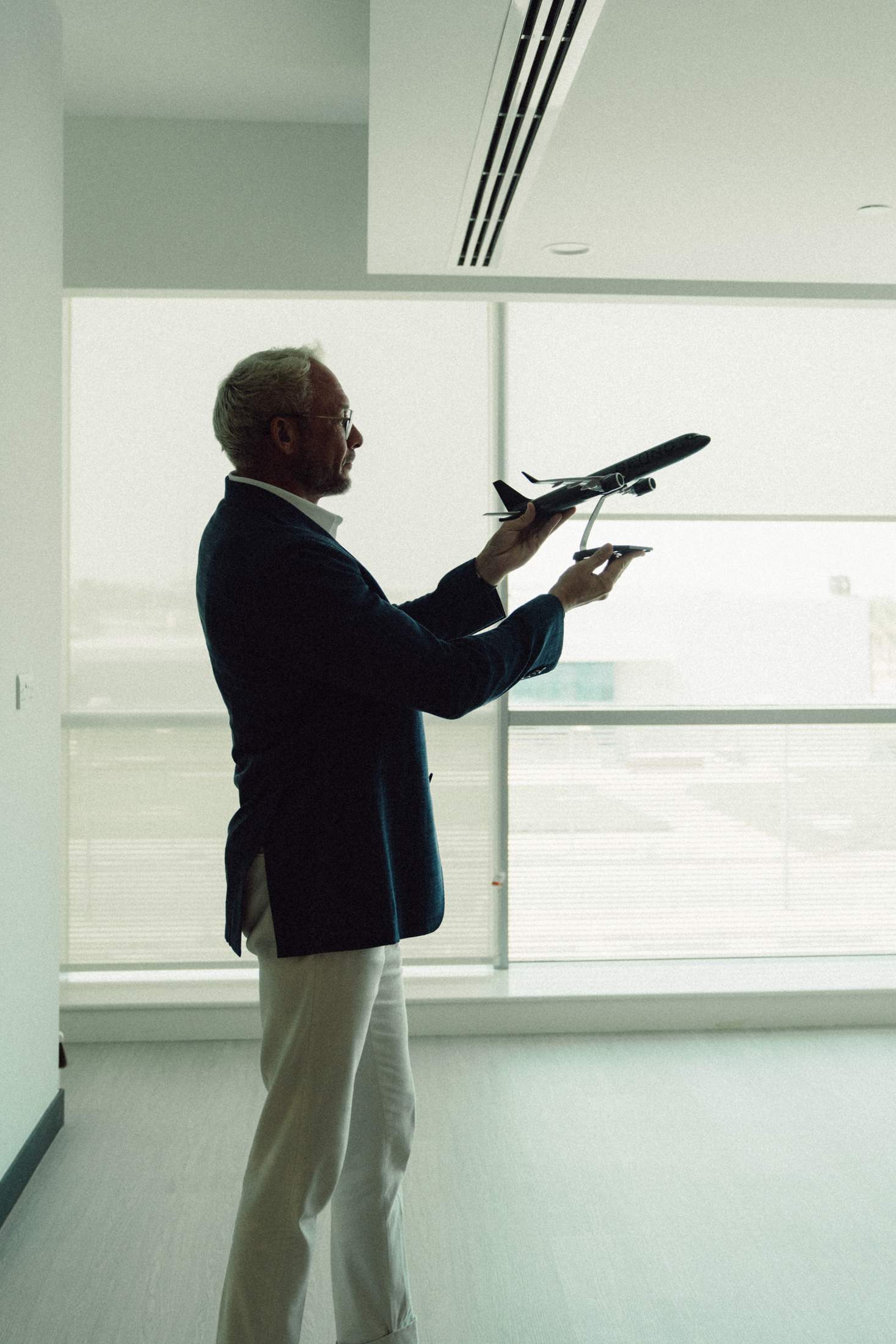 When three aviation industry veterans banded together to launch a premium- only airline, it made sense to base themselves in the uae. When monocle visits its HQ in Dubai South, Beond is just weeks away from its inaugural flight. We buckled our seatbelts and spoke to co-founder and ceo, Tero Taskila, about Beond's sky-high ambitions.
How did you meet your co-founders, Max Nilov and Sascha Feuerherd?
We were working at Lufthansa in the early 2000s. We worked on its consultancy arm, which developed new ideas for the Lufthansa Group and other airlines. We created a company called Private Air, which was like what we do now but solely focused on business travellers. After that project we all went in different directions: Max went to work with aircraft manufacturers, Sascha for iata, and I went into C-suite positions with airlines around the world. Three years ago, we got back in touch and decided to do something together.
How did the decision to launch Beond come about?
Max saw very early on that there was a new plane coming, the Airbus A321xlr, which was a narrow-body aircraft but ultra-long haul – we could fly up to 11 hours non-stop. So, we thought let's make this fully business class and fly longer than anyone has ever flown before in similar configurations. When we started looking deeper, we saw that some European companies had tried something akin to this but had all failed or gone bankrupt. That's when we realised: everyone was chasing the same customer. Whether it's American Airlines or British Airways, they were going for the frequent-flying business traveller. But this sort of traveller doesn't tend to make their own decisions. They often have long-standing corporate deals with airlines or change plans at the last minute and need flexibility, so it was difficult to grab them as clients.
"Running a business is like a roller-coaster, you need to keep frustration and excitement in good balance"
So, what makes Beond different from those failed attempts?
That period of research coincided with this emergence of luxury travel, so we thought instead of going for business-class cabins, let's go with premium cabins. This means that we are after a customer travelling for leisure. They are actually a better yield than corporate customers because leisure flyers are willing to pay the full fare for that premium, unique experience. So we were good to go: we had the plane, refined the concept and knew the target market. 
You're a uae-based business but your main destination is the Maldives. Why?
We canvased premium markets around the globe, showcasing our concept and seeing which ones would fit best. That's where the Maldives came in: it's one of those once-in-a-lifetime destinations and experiences for many. At the same time, other than private jet customers, which are only 5 per cent of those landing in the Maldives, everyone else has to connect in the Middle East. So, we had a clear opportunity to deliver hassle-free luxury from the region.
How crucial is Dubai as a base for your operations? 
Dubai is important for two reasons. One is that having it as our headquarters gives us the flexibility to travel more easily to other hubs and markets. Second is the access to the workforce. There are more than 100,000 aviation professionals in Dubai, from pilots to maintenance and crew, so that pool of talent can help us design the best possible airline. From a business point of view, the tax benefits of the Middle East were also attractive to support that growth.
Speaking of design, Beond has a distinctive dark livery and brand identity. What does the inside of one of your aircraft look like?
One thing that we wanted to make sure was that we were addressing the needs of our clients, who are typically environmentally conscious. It was important to have an aircraft that is low on emissions. By using electronic flight packs, we save up to 3 per cent of fuel compared to other airlines. For the seats, we hired Optimares, a boutique manufacturer in Italy that created an extremely light seat in a classic design. The carbon-fibre shell is designed by Ferrari using the same Formula One technology to reduce weight. Instead of built-in seatback entertainment – which can weigh up to 30kg – we are kitted with iPad Pros. It's all designed to reduce weight and lower our emissions.
What has been the most challenging part of this venture so far?
This is my seventh start-up and each of them had its own challenges. Running a business is like a roller-coaster, you need to keep frustration and excitement in good balance in order for it to work. But a particular issue is the state of the aviation environment, which is driven by several factors. The pandemic grounded a lot of planes and it takes time to make them fit to fly again. Also, the geopolitical crisis, driven by Russia's war in Ukraine, has heavily impacted the aviation sector. We don't get the same access to raw materials due to all the embargoes on trade deals, and more than 700 aircraft – worth $20bn (€19bn) – are stuck in Russia; they are unable to fly due to all the bans and have essentially been rendered useless. So, it has been difficult to find aircraft – we are getting them but not at the pace that we'd like because the bigger players get priority. But luckily, we have partners who believe in us and want to embark on this journey with us. 
flybeond.com
Beond in detail

Founded: Dubai, 2022
Aircraft types and configurations: Airbus a319 (44 premium seats) and a321 (68 premium seats)
Inaugural flight and route: 9 November 2023 – Riyadh, Saudi Arabia to Malé, Maldives
Average return ticket price: $6,500 (€6,200)
Launch cities: Riyadh, Zürich, Munich and Malé
Inflight tableware: Dinnerware designed by William Edwards, cutlery by Robert Welch and place settings by Chilewich