Big interviews. UAE / UAE
Breaking new ground
As a still-young country, the UAE offers bold, enterprising entrepreneurs opportunities to carve out their own path, whether in logistics or property. We meet three business pioneers.
Mahdi Amjad, founder and executive chairman, Omniyat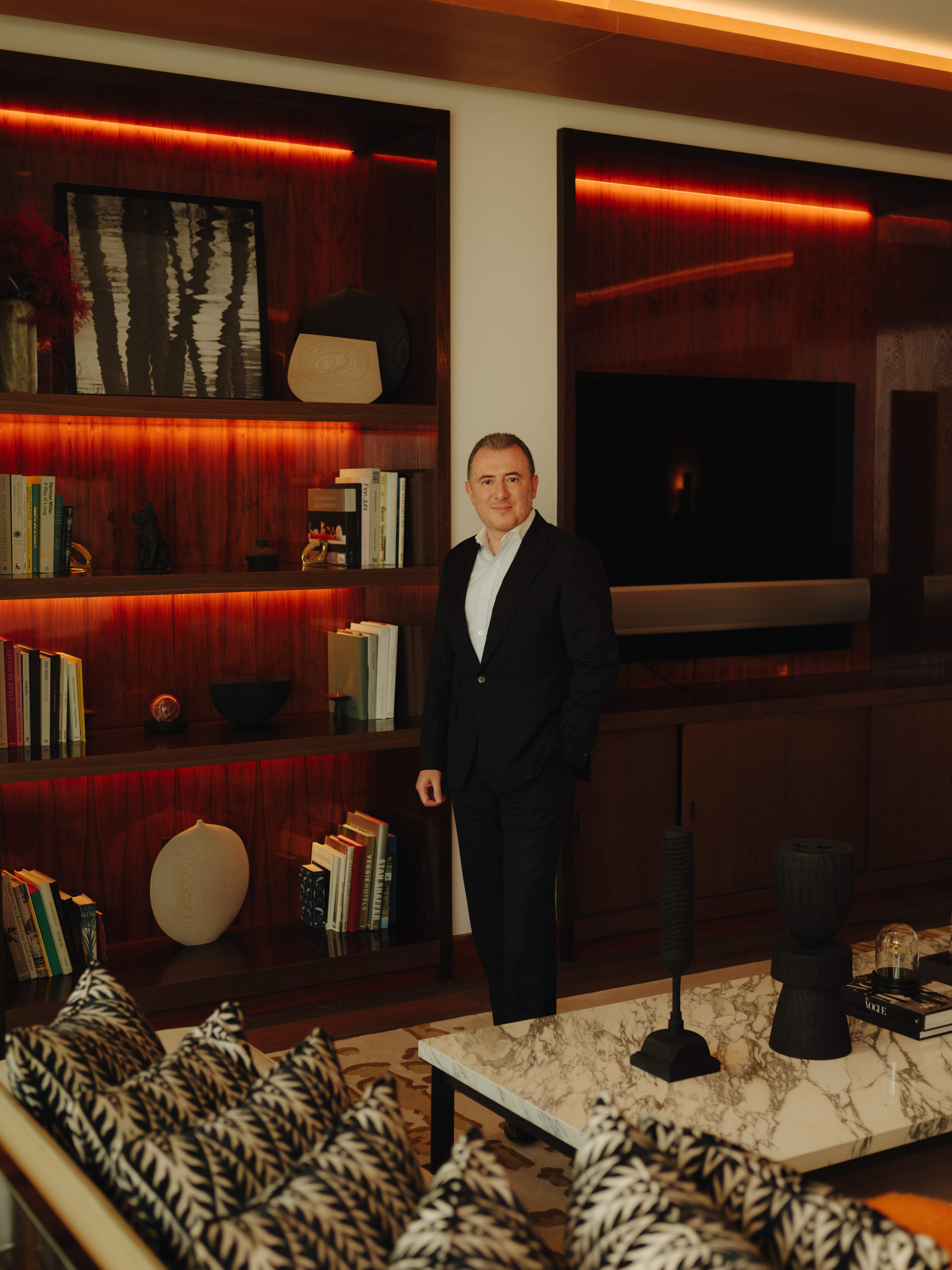 It's hard to imagine how things were before. Apartment 801 of The Lana, an almost-completed mixed-use property consisting of residences and a hotel, looks onto a circular marina sprinkled with yachts and, beyond that, Downtown Dubai's skyscrapers. But not so long ago, none of it was here. "This area was a military camp," says Mahdi Amjad, the Iraqi-born founder and executive chairman of property developer Omniyat, dressed in a dark grey suit. "That's why there is a Defence Roundabout here." Today the area is known as Business Bay. Back then, says Amjad, it was "just desert".
It took gumption to take a punt on this sandy lot in the early 2000s, when the emirate was just opening up to foreign home ownership. At the time, the Creek had yet to be extended. As Amjad pored over the planning maps, it came down to one question. "I asked the government, 'Are you sure that it's going to happen?'" he says. "And they said, 'Yes, we're pressing ahead.' That was when I became a property developer."
Outside The Lana, Amjad's dark-blue Rolls-Royce is parked not far from where site workers are putting the finishing touches to the building. Things have turned out well for Omniyat ("wishes" in Arabic), which now has a portfolio valued at more than $5bn (€4.7bn).
While it was in the right place at the right time, it also would have been easier for the company to erect more conventional glitzy towers instead of the thoughtful high-end developments that Omniyat has built. "The main challenge was in deciding what type of developer we were – what were we going to do?" says Amjad. "I went around the world trying to envision the identity of this company that we were creating."
"My grand- father was a jewellery-maker in Iraq and that has always been part of my DNA"
After studying contemporary architecture in bookshops abroad, Amjad came up with a list of starchitects with whom he wanted to work, from Rem Koolhaas to Richard Rogers. At the top of the list was British-Iraqi designer Zaha Hadid. How he persuaded her to come to Dubai and put her trust in a twentysomething with a property start-up and previous experience in electronics distribution remains a mystery to him. "I still don't know and I would have loved to ask Zaha," he says of the architect who died in 2016. "What did she see in me to have such faith – to come to Dubai and work on a several-million-dollar mixed-use development with a young entrepreneur whose company was in its first year of operation?" That collaboration culminated in the Opus, a mixed-use building featuring 4,800 unique pieces of glass and comprised of two towers that come together at the top and bottom, creating a shape in the middle that Amjad says is "like a melting cube of ice". 
Sitting on a sofa in the vast living room of show apartment 801, Amjad may overuse words such as "exceptional" and "unique" into our conversation but he does so with some justification. He clearly has the nous for creating properties catering to what he calls "a particular segment" of the high-net-worth community. These include the "villas in the sky" of One at Palm Jumeirah and The Lana, which features seven central gardens. The latter, by Foster + Partners, took a number of iterations to get just right. Along the way, Amjad has ticked off several names on his wish list of firms, though he has yet to work with Renzo Piano.
Omniyat is expected to make several new project announcements before the end of the year. It was also in the headlines in September with the news that it had bought the body of water outside our window, Marasi Bay Marina, with development rights. For now, Amjad is giving little away but he promises that it will be iconic. "My grandfather was a jewellery-maker in Iraq and that has always been part of my dna," he says. "I want to ensure that I contribute to this beautiful city."
omniyat.com
---
Pallavi Dean, founder, Roar
One of the uae's most sought-after designers, Pallavi Dean, set up her studio, Roar, in 2013. Since then, it has forged a reputation for her skill and vision by reimagining everything from offices to retail spaces, schools and homes. Born in India, Dean moved to the uae when she was just three months old. She built her career in the Emirates after studying architecture in Sharjah, with a brief professional stint in the UK. Dean has grown Roar from a start-up in a spare bedroom to an international firm. Her 35-strong team works with local makers to fabricate everything from joinery to millwork. Dean recently completed an office space in Dubai and is working on new hotel projects in Rabat and Islamabad, a school in Saudi Arabia and several social projects for the Abu Dhabi government. Here, she sits down with monocle and shares a few entrepreneurial observations.
You once said that your work is at the intersection between design and entrepreneurship. What do you mean?
I have two degrees: an MA in architecture and an mba, which I have just finished. For me, it's not just about pretty pictures and pretty spaces. It has to make sense scientifically and functionally. Return on investment, footfall – all those numbers make a difference to me.
Is it easy to switch between sectors?
Traditionally, you had architecture or design firms that only specialised in hospitality or commercial work but we have always been multi-sector. The reason for this is that you can learn so much through diffusion. I implement a lot of what I have learned in workplace design in the schools and education spaces that we work on. Similarly, I put a lot of what I learn in my hospitality designs into everyday homes. The cross-pollination of ideas is so rich and keeps me on my toes.
There's so much development happening in the UAE. Does that mean there's a lot of opportunity?
I've seen dusty villages grow into cities. In terms of opportunity, it's fantastic. The pace at which we work here is wild. In the UK, I worked on one project for 18 months. I have built seven projects in that timeframe in the uae. For a young designer or someone who really wants to get those 10,000 hours of experience under their belt, this is a fantastic place to be.
"I've seen dusty villages grow into cities. It's fantastic"
How would you describe your leadership style?
My firm is 92 per cent female and that's very intentional. It was about providing a safe place for women to balance their work and life. My leadership style is based on empathy. I'm very assertive and focused on deliverables. I don't care about whether people come into the office but if you say that you'll do something, it has to get done.
There's a lot of talk in the UAE about technology. How big a part of your work is it?
We use generative AI and I spent a lot of time learning about the metaverse. We were one of the first studios in the uae to design there – for a Singapore bank – and I also teach a course on it. You can't just think, "Ah, it's all something in the future. Somebody else will deal with it." I want my clients to know that this technology is out there but it can't perform exactly what it promises yet because the infrastructure isn't ready. But it does give me ideas that I wouldn't have ever thought of because it's working from a database of millions of ideas. Everybody should invest time in understanding this technology because it's so important. 
Your studio is so busy. How do you stay ahead of the competition?
Because the ecosystem is so friendly and ripe for entrepreneurship, people who are fresh out of university set up their own firms. The competition is intense. But I am experienced and have been doing this for more than 20 years. You always have to establish trust with your clients. They need to know that you are an expert, that you are a thought leader in this industry and that it's you who they should listen to. I do a lot of independent research and write a lot of white papers. That's my way of differentiating myself. 
designbyroar.com
---
Fadi Ghandour, chairman, Wamda Capital, and co-founder, Aramex
Fadi Ghandour always has his sleeves rolled up and is ready for business. The eagle-eyed, market-smart investor is the serial entrepreneur who co-founded one of the uae's earliest global success stories: package-delivery firm Aramex, which launched in the 1980s. Today Ghandour chairs Wamda Capital, the uae's first true venture fund. Here, he shares lessons on how to make it big in the Middle East.
How easy is it for an entrepreneur to get funding in the UAE?
It's night and day compared to 20 years ago. There used to be no such thing as venture capital here. Crucially, the sovereign wealth funds have changed their focus. They used to invest outside of the region to generate an income beyond oil but that has changed completely. They have become enablers of a real entrepreneurial ecosystem here, especially in technology. 
Where are the opportunities right now?
There's a lot of purchasing power here and this is a consumer-based region, so there are plenty of opportunities in digital payments, e-commerce, digital banks, last-mile delivery and anything to do with the consumer experience, including entertainment. Many talented engineers have also moved here from countries like Ukraine and Russia.
Has the 'funding winter' – the decrease in the inflow of start-up capital that has been affecting other regions – reached the UAE?
It might be autumn but it's not winter yet. This region continues to generate the most new cash and liquidity in the world simply because of the price per barrel [of oil]. Silicon Valley is knocking on our doors and many financial institutions have set up operations in Dubai International Finance Centre (DIFC) because they want to raise money and there are opportunities to invest.
You built Aramex from the ground up. How did you get started?
When we started in the 1980s, the big boys, such as Fedex and ups, seemed to be completely focused on the US market. And if they even thought about going global, it certainly wasn't to the Middle East, with its civil wars, terrorism and all of the stuff that you don't really hear about any more. So, I went to courier companies around the world that didn't have a presence in this region and told them, "We will deliver here for you." Which we did, even through the civil war in Lebanon and after Saddam Hussein invaded Kuwait. From the start, we created a brand built on reliability.
"It's night and day compared to 20 years ago. There used to be no such thing as venture capital here"
Aramex was the first Middle Eastern company to list on the Nasdaq stock exchange. Would you list it in the US today?
No. At the time, 51 per cent of a company in the uae needed to be owned by a Gulf national, which I am not. As a result, I couldn't list it on a stock exchange here. That has all changed and the law now allows for 100 per cent ownership. In many respects, the uae is completely in tune with the rest of the world: we work a Monday-to-Friday week and the rule of law in the DIFC is largely modelled on British law. In 2002, we bought Aramex back and relisted it on the Dubai stock exchange three years later.
There have been several major IPOs in the region, not least that of the Abu Dhabi National Oil Company. Do you expect that there will be more?
A good chunk of the companies that are going public are either government-owned or semi-governmental. While this is about creating liquidity and deep stock markets, it also creates more transparency [in state-owned companies]. It shows that there is maturity in the economic system. You will see so many more private companies in the next five to 10 years that want to professionalise in this way.
How will technology shake up supply chains over the coming years?
At the centre of this story will be robotics, AI and 3D printing. These things will allow you to create an industrial base close to home and minimise the cost of supply chains and of securing them. There's a new competition happening out there and supply chains are at the heart of it.
wamda.com