HQ audit. UAE / UAE
Clean sweep
One company's trash is another's profit. After revolutionising waste management in the UAE, Beeah has once again set the standard for sustainability with one of Zaha Hadid's final builds – an undulating, solar-powered, AI-controlled base.
Does your headquarters feature an "abstract immersive experience" in the form of a teeming rainforest where you can tout your green credentials to visitors and get clients in the mood to do business? Perhaps it should. There's something charming, if a little eccentric, about the recently opened HQ of Beeah, a waste-management and green-energy behemoth, based in the desert suburbs of Sharjah. Built between 2014 and 2022, the building is one of the last designed by the late Zaha Hadid. From the sloped, tent-like ceiling of the managerial majlis (sitting room) to the furniture designed by Hadid, there is an admirable, almost obsessive fealty to the architect's original vision. Behind the scenes, it's bolstered by artificial intelligence (AI) and smart systems that ensure that operations are kept green and clean. Impressive? Certainly. But does it work as a day-to-day office?
Growth strategy
Beeah is not your typical waste-management company. The public-private firm was founded in 2007 and initially served only the emirate of Sharjah, collecting domestic and commercial garbage and running education programmes to encourage people to recycle. Its efforts paid off. Today the city diverts 90 per cent of its waste from landfill, which goes instead to waste-to-energy plants, reclamation yards and wider repurposing procedures – all processes owned and operated by Beeah. The Gulf Cooperation Council nations are among the world's largest generators of waste per capita but Beeah is turning that around – and reporting a tidy profit along the way. Its blue rubbish trucks and wheelie bins can now be found all over the uae, as well as Saudi Arabia and Egypt's newly built administrative capitals. In the past few years, it has expanded into a group of companies spanning healthcare, property and investments in digital technology. 
Base of operations
In 2013, Beeah set about creating a home that could match its global ambitions. "At a certain point, we had to make a statement as an organisation," says group ceo Khaled Al Huraimel, who built the business from the ground up. Despite the grandeur of his office (and his custom Hadid-designed desk), Al Huraimel is a modest, rather self-effacing Emirati who had long harboured the idea of building something that could embody what he calls the "city of the future". "But if we had talked about this when we started 15 years ago, people would have said, 'What are you doing? You're garbage men.'" 
The building resembles an abstract sand dune or perhaps a conch shell sunk into a manicured patch of copper-coloured desert. The roof is made from glass-reinforced concrete, while waste water irrigates the cactus gardens. An on-site solar farm powers parts of the building, which is kept cool by sophisticated AI that also monitors energy use. Curved concrete structures shield the glass windows of the offices from hot winds and exposure to the sun.
As Beeah grew, Al Huraimel sought to create a building that could communicate the business's core values to a team of 13,000 people spread across the region. "When our employees walk in here, I want them to feel inspired about a more positive future," he says. At the core of this is Beeah's increasing use of AI: the company's trucks and public bins, for instance, are now fitted with sensors that relay data to HQ and monitor collection trucks in real-time. Meanwhile, back at the base, the boardrooms have been set up to "listen" to meetings when they begin, automatically drafting and sharing minutes at the end. That might sound strange but Al Huraimel concedes that Beeah is yet to fully implement all of these AI features.
"If we had talked about this 15 years ago, people would have said, 'What are you doing? You're garbage men'"
Though fastidious in terms of materials, the HQ's design is emblematic of the principles that informed Hadid's best-known works: organic in form yet eerily futuristic and fiercely resistant to uniformity. It apparently took a dizzying number of fabricated panels to form the building's curved, arterial corridors. "We tried as much as we could to take the design intent all the way to the end, which is so often lost in construction," says Nada Taryam, Beeah's chief real-estate officer and an architect by training. The HQ took eight years to build and Taryam kept things on track even when the project's UK contractor, Carillion, went bankrupt in 2018, halfway through construction. "I always wanted to work for Zaha so I feel like I manifested this building [into existence]," she says.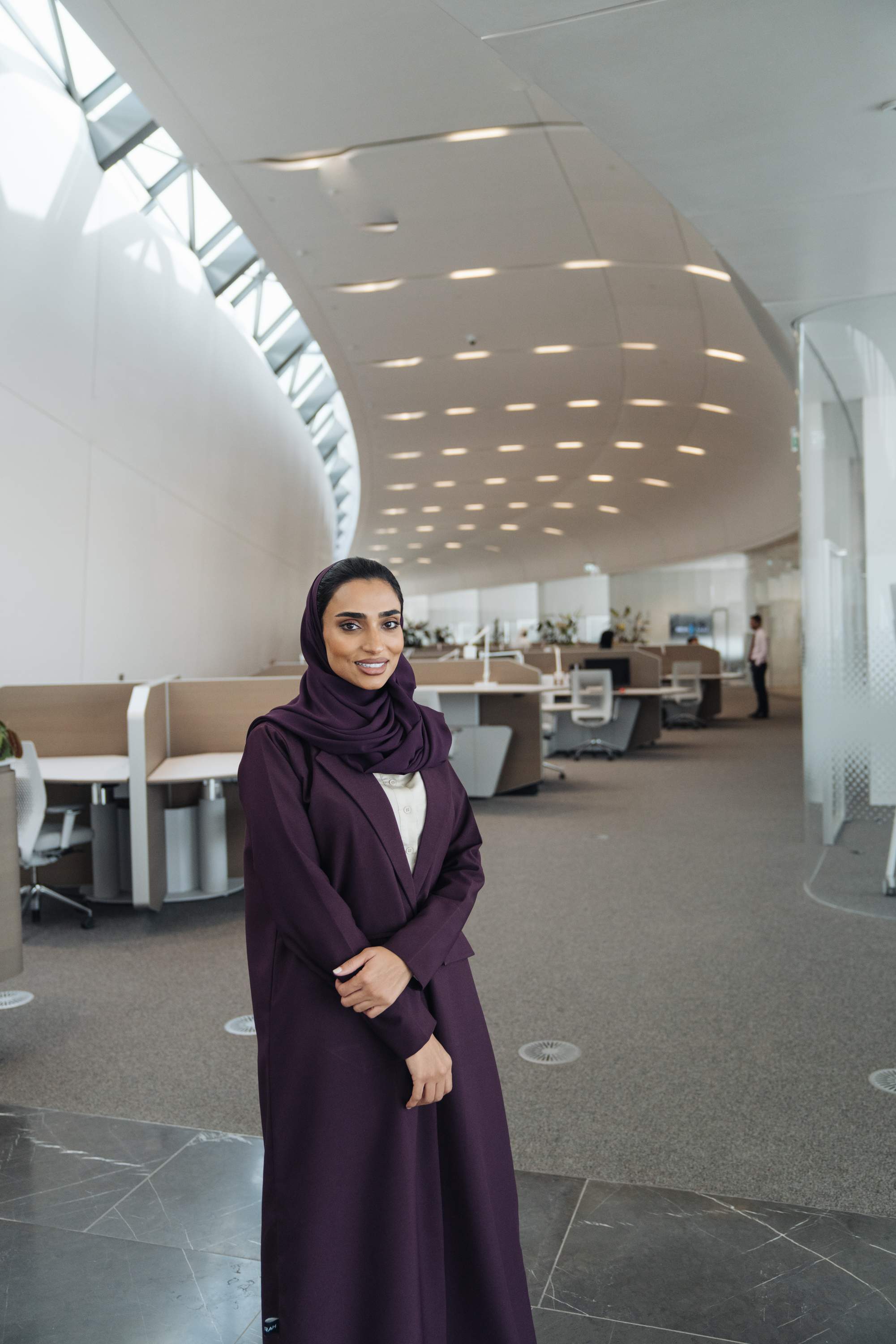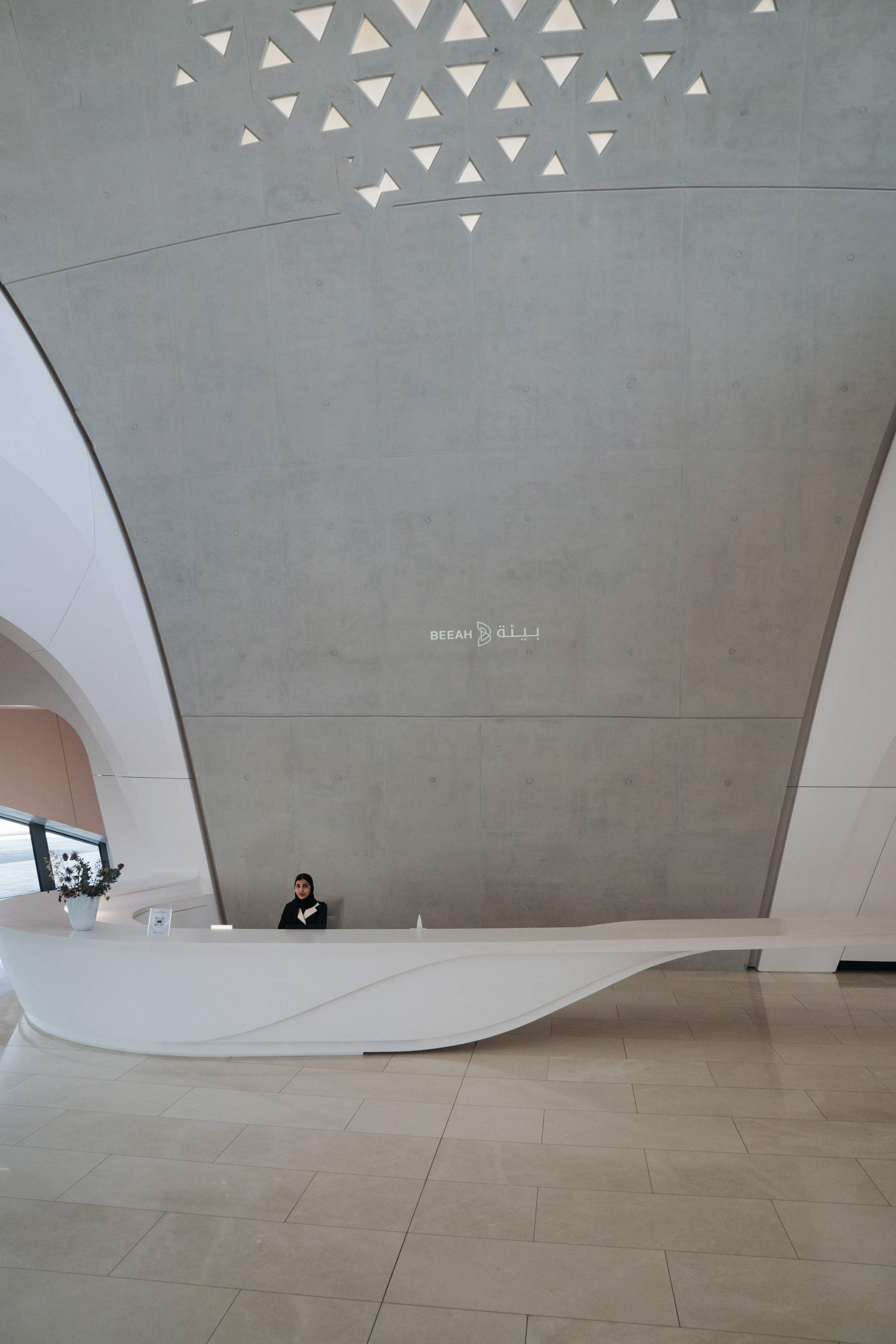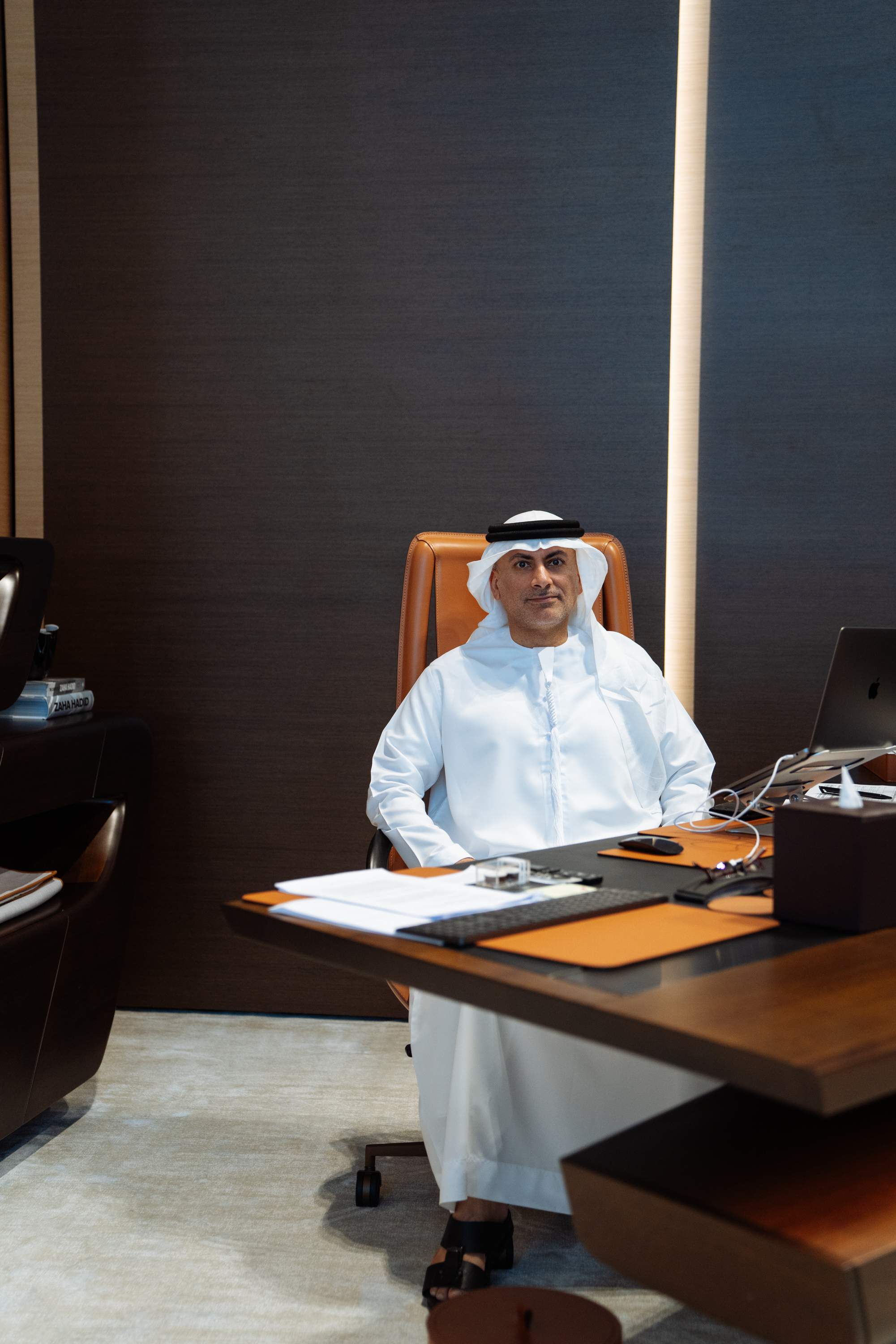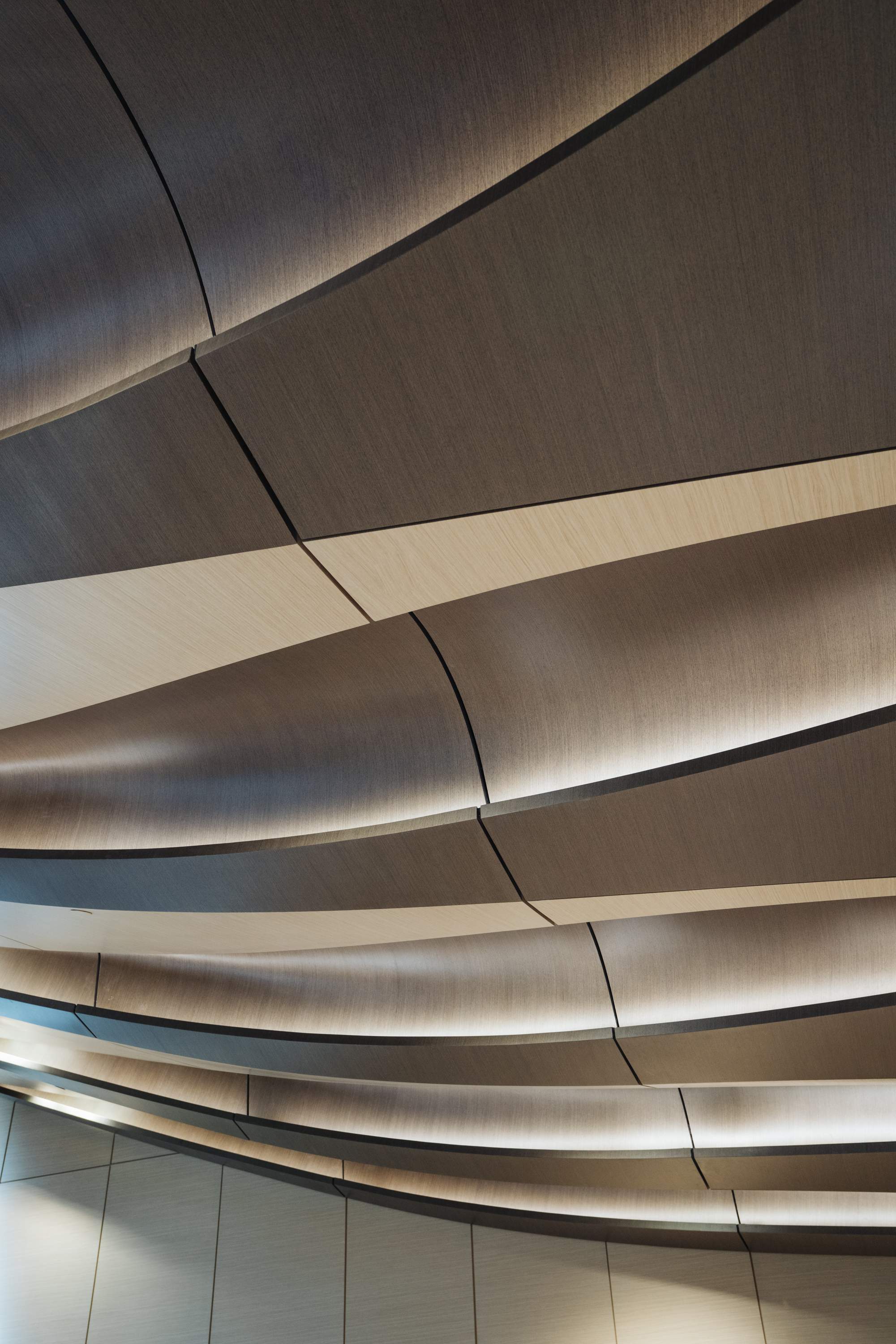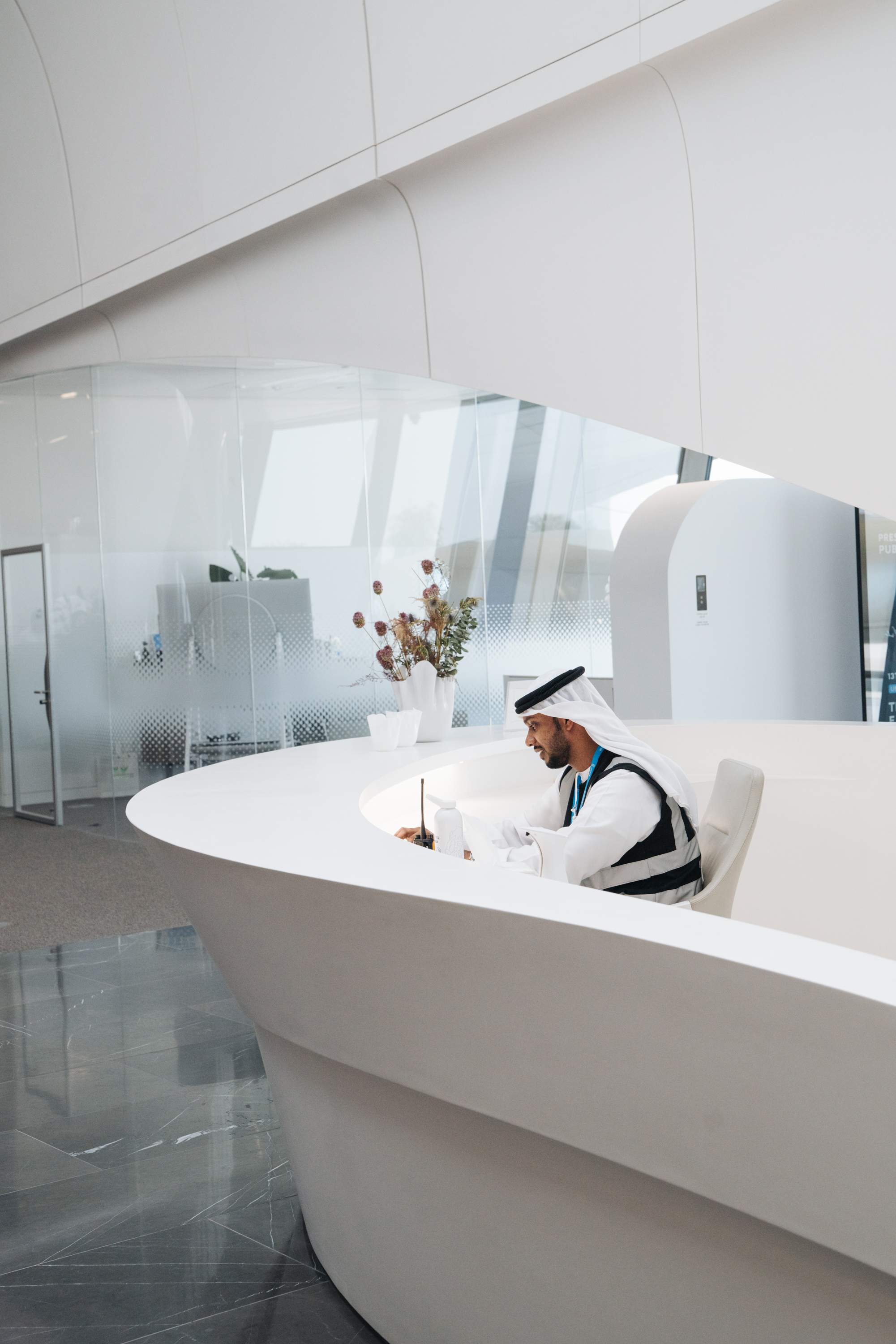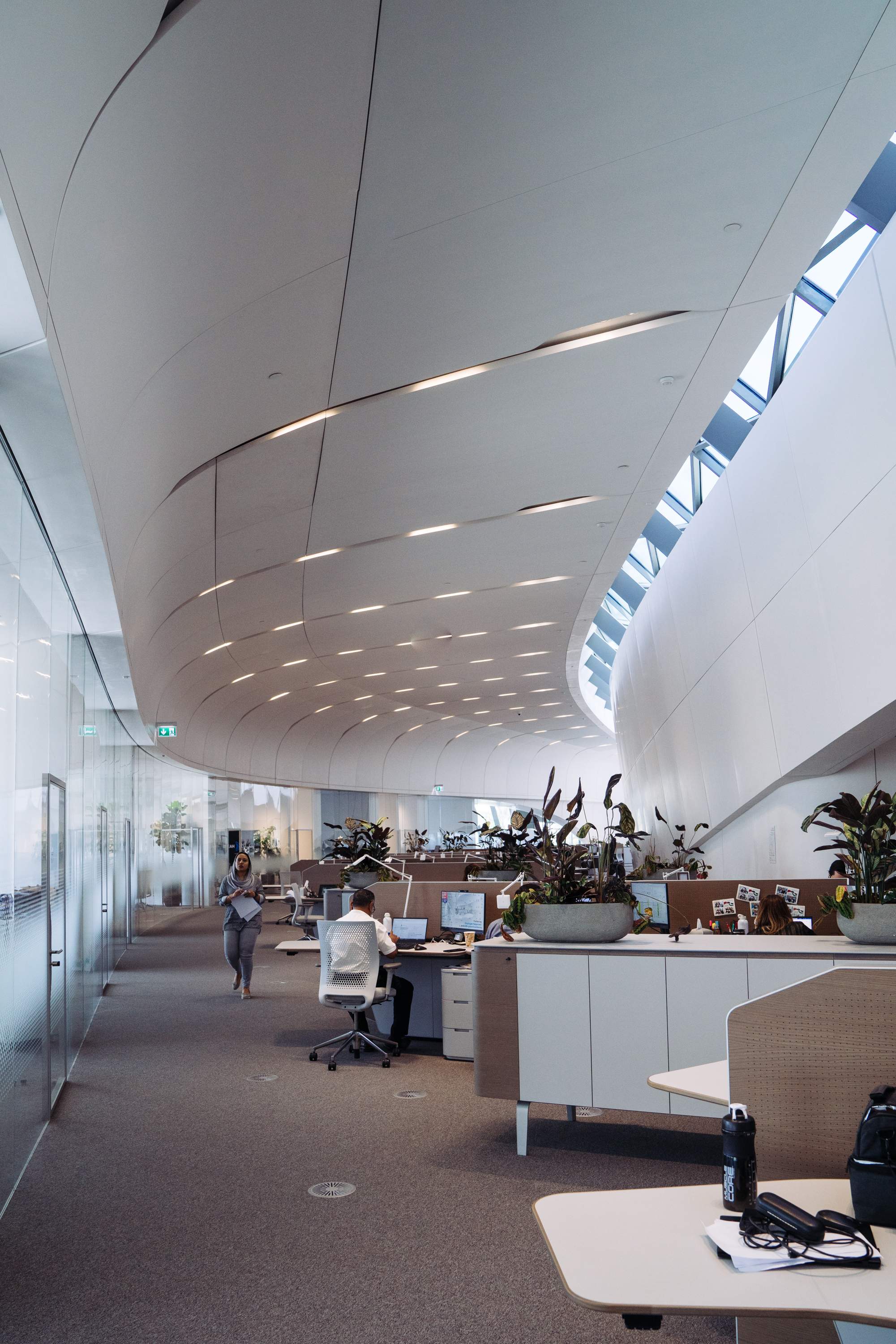 Inside intelligence
Entering Beeah HQ is a little like stepping into an planetarium: you are greeted by a celestial ambient soundscape that sets an elevated, futuristic tone. On the morning of monocle's visit, however, the virtual concierge – a large screen equipped with a camera that can apparently recognise visitors, direct them to meetings and even order them coffee – isn't particularly co-operative. Instead, we are greeted by a smiling receptionist. "I have really come to love the music," she tells monocle.

The attention to detail verges on extravagant. From the doorhandle housings to the ashtrays – yes, ashtrays – in the managers' majlis, everything subtly references dune-like contours. The lobby is filled with a variety of furniture and each piece is starkly black or white, which appears in tune with the predominant colour scheme of dress among the staff. A grand, almost muscular staircase extends up to the managerial floors, while an oscillating ceiling leads employees to the main offices (which comprise sales, operations and marketing) and a cave-like canteen, where wooden beams span the ceiling. Sharjah-born HR executive Abeer Mohammed is on her coffee break. "I like that you can actually see people at many different levels of the company and interact with anybody," she says, referring to the open, glass-fronted offices of management. "That's inspiring to me."
The main offices are serene and illuminated by indirect sunlight. Custom-designed desks by Milan's ACPV Architects can be adjusted for standing work and these hot desks are intended to allow staff from Beeah's other regional offices to drop in and soak up the atmosphere for a day. "It's calming in here, certainly," says events officer Dana Al Khalili, whose duties include setting up the public feasts that are served nightly on Beeah's grounds during Ramadan. "But not everyone here is used to working in an open-plan office. You have to keep in mind that everyone can hear what you're saying." 
Setting the bar
You have to hand it to Beeah: it's easy to talk the talk on corporate sustainability and design ambition but this HQ really walks the walk – and cleans up after itself too. It's already a landmark for Sharjah: given that it sits on a dusty highway lined with desert shrubs and petrol stations, its smooth contours appear on the horizon like a mirage. The place might feel stark and otherworldly on the inside (employees say that it can be a bit like walking into an elaborate 3D render) but it is also the antidote to the region's identikit corporate offices and sets a new bar both in terms of vision and the willingness to pull out the stops to make a statement about sustainable design. With it, Beeah has drawn a line in the sand.
Beeah in numbers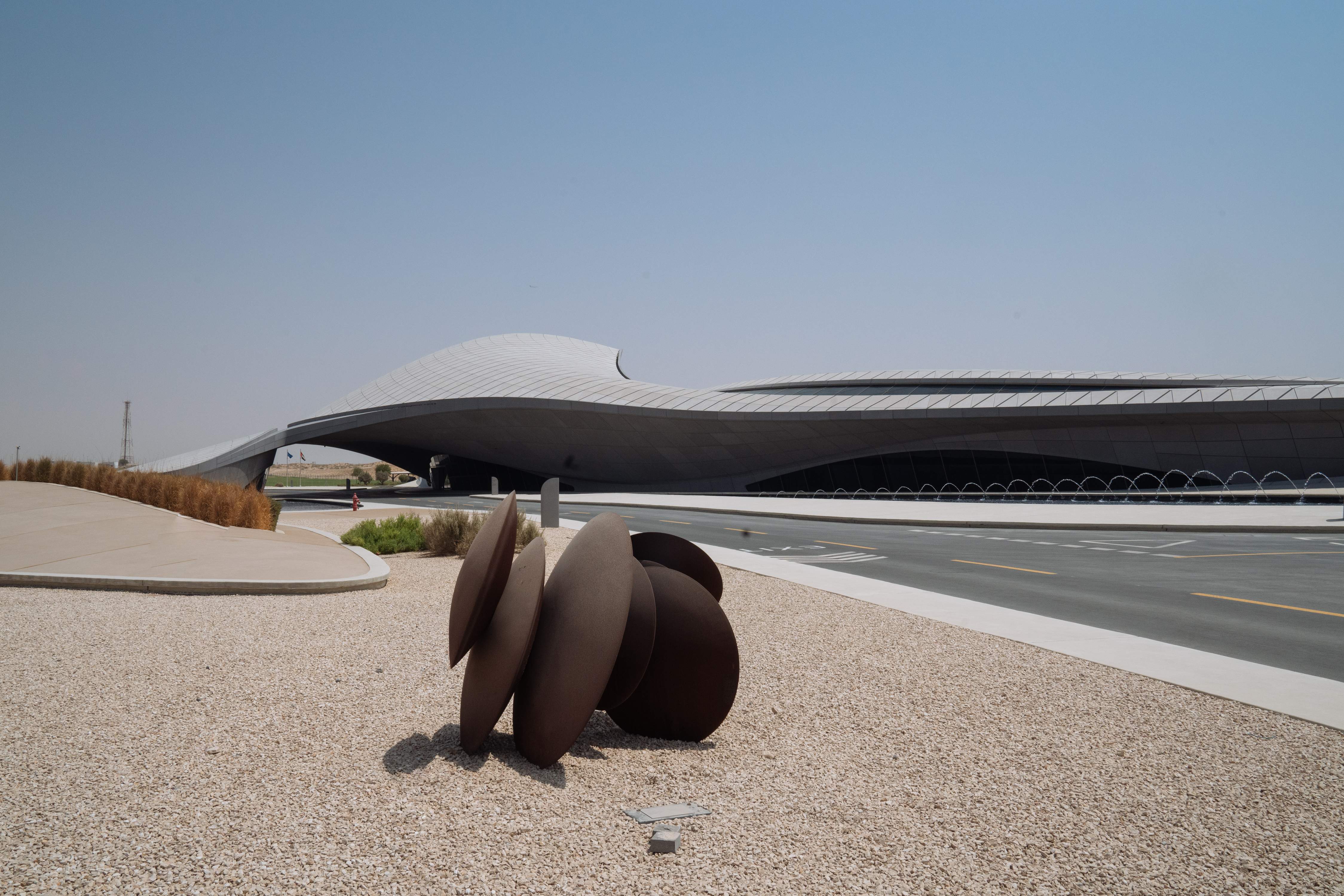 Founded: 2007
Size of HQ: 9,000 sq m
Employees: 13,000 across the uae, Saudi Arabia and Egypt
Bins emptied daily: More than 100,000 of the 123,546 bins deployed – and the public, solar-powered ones are fitted with wi-fi
Rubbish trucks: 1,512 vehicles operating in the uae