Neighbourhood 01. UAE / UAE
Home stretch
Downtown Dubai's breathtaking skyline might be awe-inspiring but, along with its neighbouring districts, it's a highly liveable part of the city.
Downtown Dubai is a neighbourhood that needs little introduction. World-class shopping and architectural icons such as the Burj Khalifa have ensured that the area is firmly on people's itineraries. But don't let the scale of the city's commercial heart mislead you – this is an ideal neighbourhood in which to put down roots, establish a business and enjoy the best that Dubai has to offer.
At its centre is the Old Town, built in 2006 (the name is a nod to the traditional architectural style of the region, rather than its age). "What I like about the area is that it has a feeling of seclusion and privacy," says Jola Chudy, a communications consultant who moved here more than 10 years ago. "Inside the neighbourhood, it's all interconnected by cobbled walkways so it's completely pedestrianised with a lot of greenery, communal areas and shops."
The nearby Safa Park provides shade and greenery in a city where both are scarce and, for the early risers, a run along the Al Jaddaf canal is the perfect start to a day spent inside an office. "It's a real escape from the daily grind," says Chudy, who tells monocle that it is possible to mix business with pleasure here. "I've grown my business a lot through my running community," she says. "Dubai is great for building strong networks. It's just such a dynamic and interesting place to be."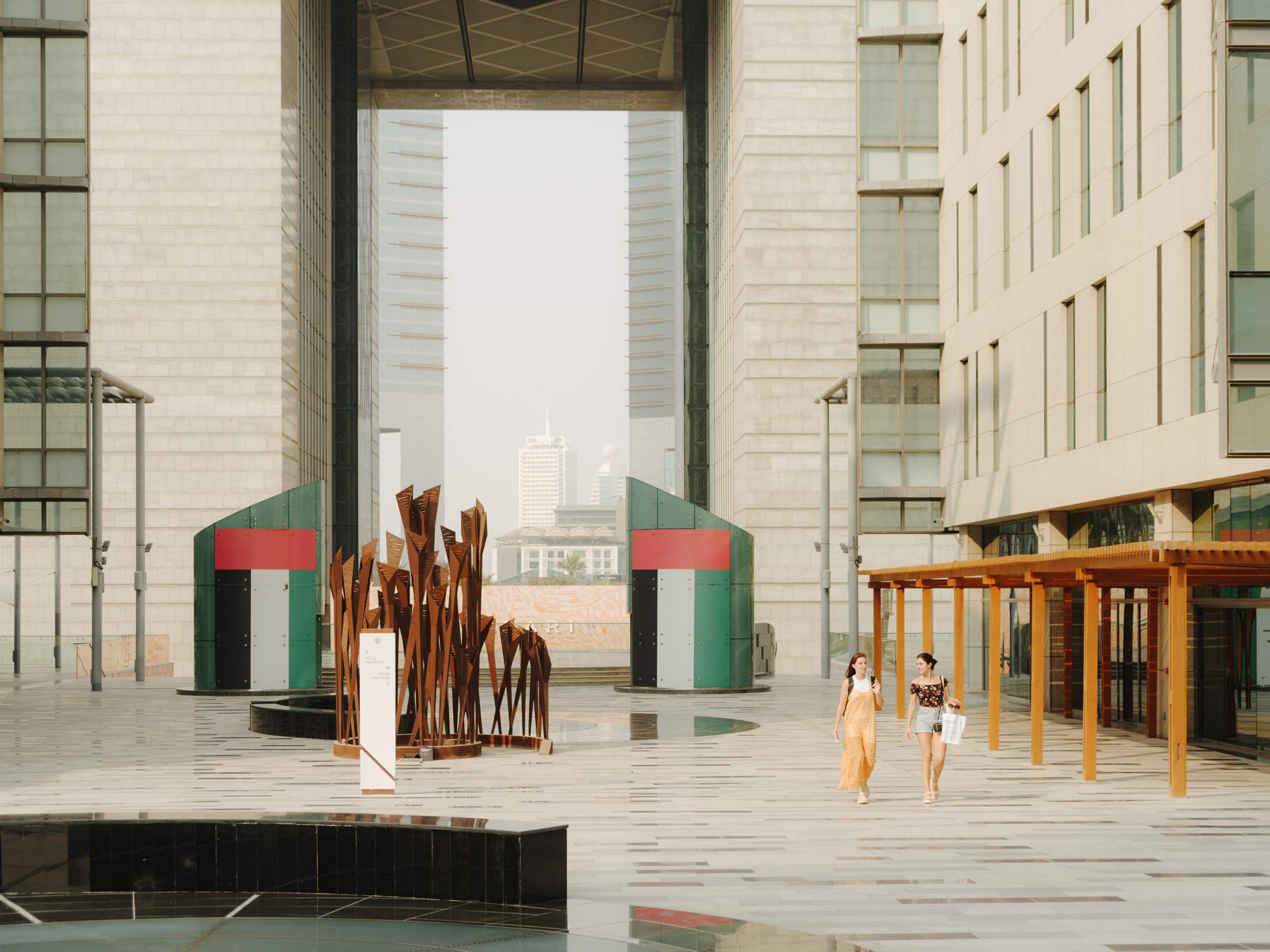 One of the key areas for business in the city is the Dubai International Financial Centre (difc), next to Downtown Dubai. The two areas combined create a super-neighbourhood where retail, hospitality and industry thrive. One such example is Lulu & the Beanstalk, a café, restaurant and bookshop opened in 2022 by sisters Wafa Tajdin and Amirah Tajdin. The pair, originally from Kenya, have also lived in South Africa; they eventually settled in the uae and decided to open the space. "It's such a busy city, so we wanted to create somewhere people could meet, have great food and relax," says Wafa. The venue's colourful interiors are courtesy of Bofink Design Studio from Sweden and the huge bookcase that covers one of the walls hides a DJ booth for when coffees are swapped for cocktails. 
The district's sea of steel and glass might make it difficult to imagine what goes on inside of the buildings that constitute the difc. The office towers are full but a simple stroll through the area's promenades and interconnected walkways shows you that this is a place bustling with life: the hundreds of restaurants are always packed and galleries such as Tabari Artspace, founded by collector Maliha Tabari in 2003, regularly rotate their exhibitions to cater to a hungry creative crowd. 
Though this is a car-centric city, Downtown Dubai and the difc have direct access to the Metro and are separated by just one stop on the red line – so going from your home to a café can be both hassle- and car-free. "It has become increasingly easier to establish a business here," says Chudy. "There's a real 'can do' and 'why not?' attitude. It's a very entrepreneurial place and that is palpable." 
Address book
Near Downtown, the Design District, or D3, is made up of low-rise buildings and walkable streets. It was built with designers, architects and makers in mind. More than 1,000 offices and 100 shops and restaurants call D3 their home and the wider area has a busy events calendar.
---
Eat and drink: 
The Lighthouse The all-day Mediterranean menu here includes calamari, kofta and veal Milanese.
thelighthouse.ae
The Guild This huge precinct in the nearby difc offers varied dining experiences from casual to formal.
theguilddubai.com
Smoke & Mirrors The Dubai outpost of a Doha staple pairs fine dining with incredible views of the city.
SLS Dubai Hotel & Residences, Level 74, Marasi Drive
---
Visit: 

Opera Gallery The uae branch of this international gallery, also in the difc, showcases art from painting to sculpture.
operagallery.com
Opus Designed by the late Zaha Hadid as two separate towers, this 84,300 sq m structure merges into one building, resembling a cube. Today it houses the ME Dubai hotel.
Al Amal Street, Business Bay