Address book. UAE / UAE
Inside information
Now that you're more familiar with all things UAE, you'll want to know where to rest your head, sate your appetite, quench your thirst and pique your curiosity. We've got it all covered in the following directory of the country's key addresses.

stay: The Abu Dhabi Edition
A stylish spot overlooking the Al Bateen Marina. Designed by Lebanese firm Khatib & Alami, its curvaceous form encompasses 198 rooms. The restaurant is headed by British chef Tom Aikens.
editionhotels.com
stay: Emirates Palace Mandarin Oriental 
A palatial beachfront hotel that's to be savoured over a luxurious break rather than on a business trip. Dining options include Hakkasan Abu Dhabi and Talea by Antonio Guida.
mandarinoriental.com 
eat: Aptitude Café
This annexe of Louvre Abu Dhabi is worthy of a visit in its own right. Try the spicy shakshuka or the truffle rigatoni.
louvreabudhabi.ae
eat: Flavors
Argentinian wagyu shawarma and fiery chicken are seared on an open grill by chef Nabeel Hassan, who honed his craft in Damascus. There, he learned the art of flambage, in which meat is smoked with spirits for a rich flavour.
flavorslc.com
eat: Marmellata
Father-and-son duo Raj and Sebastian Dagstani serve up homemade focaccia topped with imaginative ingredients, such as smoked duck breast or sticky figs. A neighbourhood classic.
marmellatalove.com
eat: Niri 
Modern izakaya Niri is a homely Japanese bar and dining room. Perch at the counter to watch the chefs preparing umami-rich miso sea bass and smoky lamb chops that are delicately served in shiso pesto.
nirirestaurant.com
eat: No57
Entrepreneurs Buthaina Al Mazrui and Alamira Noor Bani Hashim co-founded the No57 brand in 2012. The former supper-club hosts now have a café with a modern menu and sharing plates.
no57.co
eat: Saddle Café 
Saddle has various Abu Dhabi outposts, so you're never far from a coffee fix or za'atar croissant. Drop by its bustling cafés on Hudayriat Island and Al Raha Gardens, and its first dine-in spot at Marsa Al Bateen. 
7th Street, Al Raha Gardens, Khalifa City
eat: SLRP
Another Japanese joint – this one's best for ramen. The handmade noodles are superb but expect a twist: truffle oil, caramelised walnuts or mushroom cream. It's the world's first Michelin-starred ramen restaurant.
slrpramen.com
visit: 421
The garage-style doorway of this former warehouse space retracts to reveal a creative hub, studio, library, shop and gallery. Expect all kinds of experimentation, from cinema and pottery to movement workshops.
421.online
visit: Abu Dhabi Fish Market
The new marketplace in the port district of Mina Zayed is home to fresh seafood restaurants, shops and dry-fish stalls. 
Mina Zayed port
visit: Louvre Abu Dhabi
A cultural partnership between France and the uae paved the way for this region-leading art centre by architect Jean Nouvel. 
louvreabudhabi.ae
visit: Manarat Al Saadiyat
In the heart of the uae's new cultural hub, Manarat Al Saadiyat is supporting grass-roots initiatives in an expanding international art scene. Think classes, talks, screenings, exhibitions and more.
manaratalsaadiyat.ae
visit: Things
Take a seat at the espresso bar, which hosts guest roasters from Qatar and Singapore, browse the designer eyewear on sale or attend one of the jazz nights.
wearethings.ae
see: Abrahamic Family House
A symbol of tolerance on a concrete plinth: a mosque, church and synagogue. Architect David Adjaye gave each equal prominence.
abrahamicfamilyhouse.ae
see: Jubail Mangrove Walking Park
Spot the reef herons, sea turtles and flamingos in this marine habitat. It's a refreshing change from the bustle of the metropolitan district.
jubailisland.ae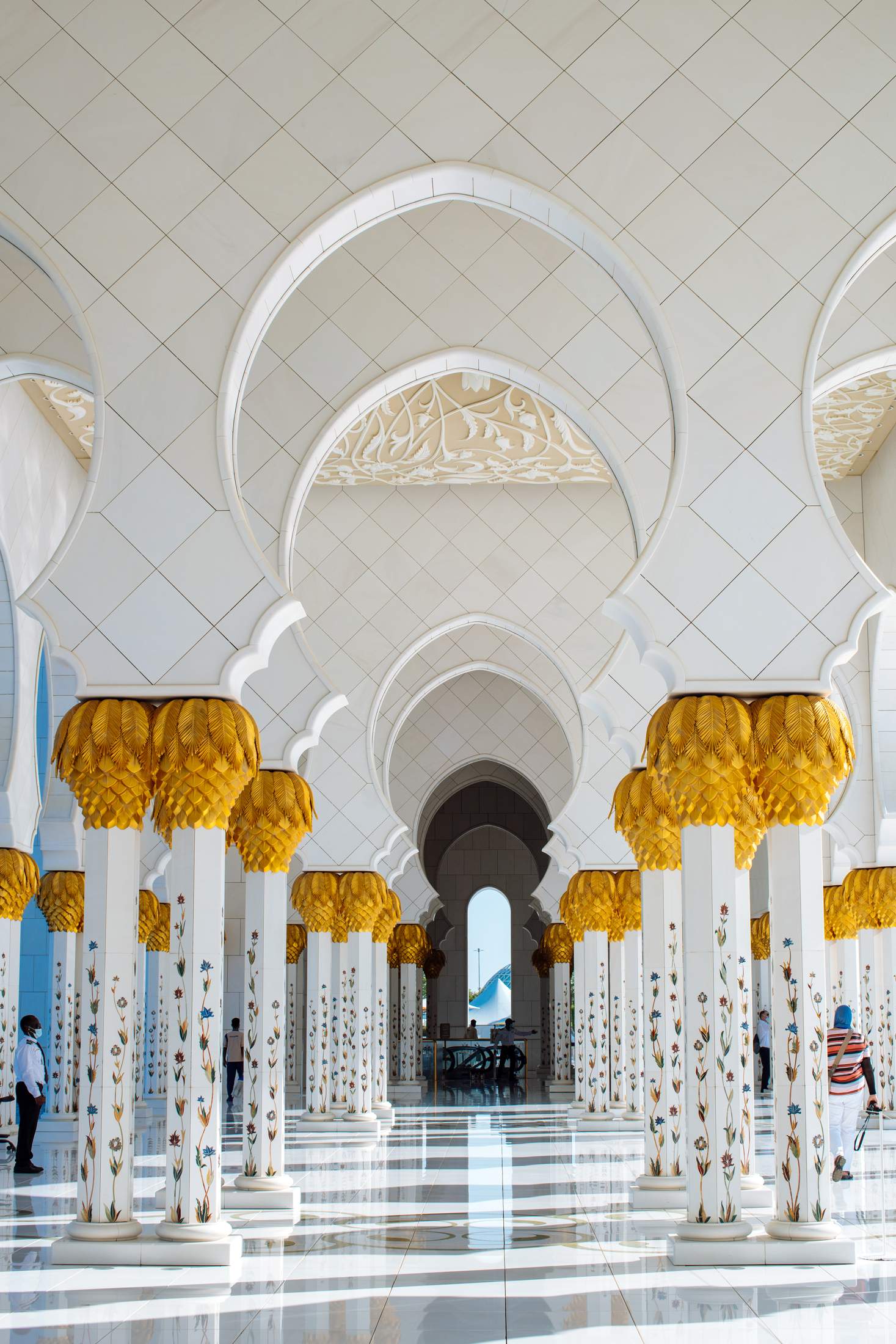 see: Sheikh Zayed Grand Mosque
One of the uae's most remarkable mosques. German chandeliers, Austrian crystals and Indian marble make up the rich details of Syrian architect Youssef Abdelke's masterpiece. 
szgmc.gov.ae
shop: The Galleria
This mall in the city's new financial district is housed in an experimental Arabic lattice-style building. After expansion in 2019, it has become a one-stop retail hub with a rooftop park.
thegalleria.ae
shop: Local 
Jack Brett and Jasim Alkhouri's lively stop-off in Al Zeina includes a streetwear boutique, barbershop for a quick trim and an excellent little coffee shop.
localco.ae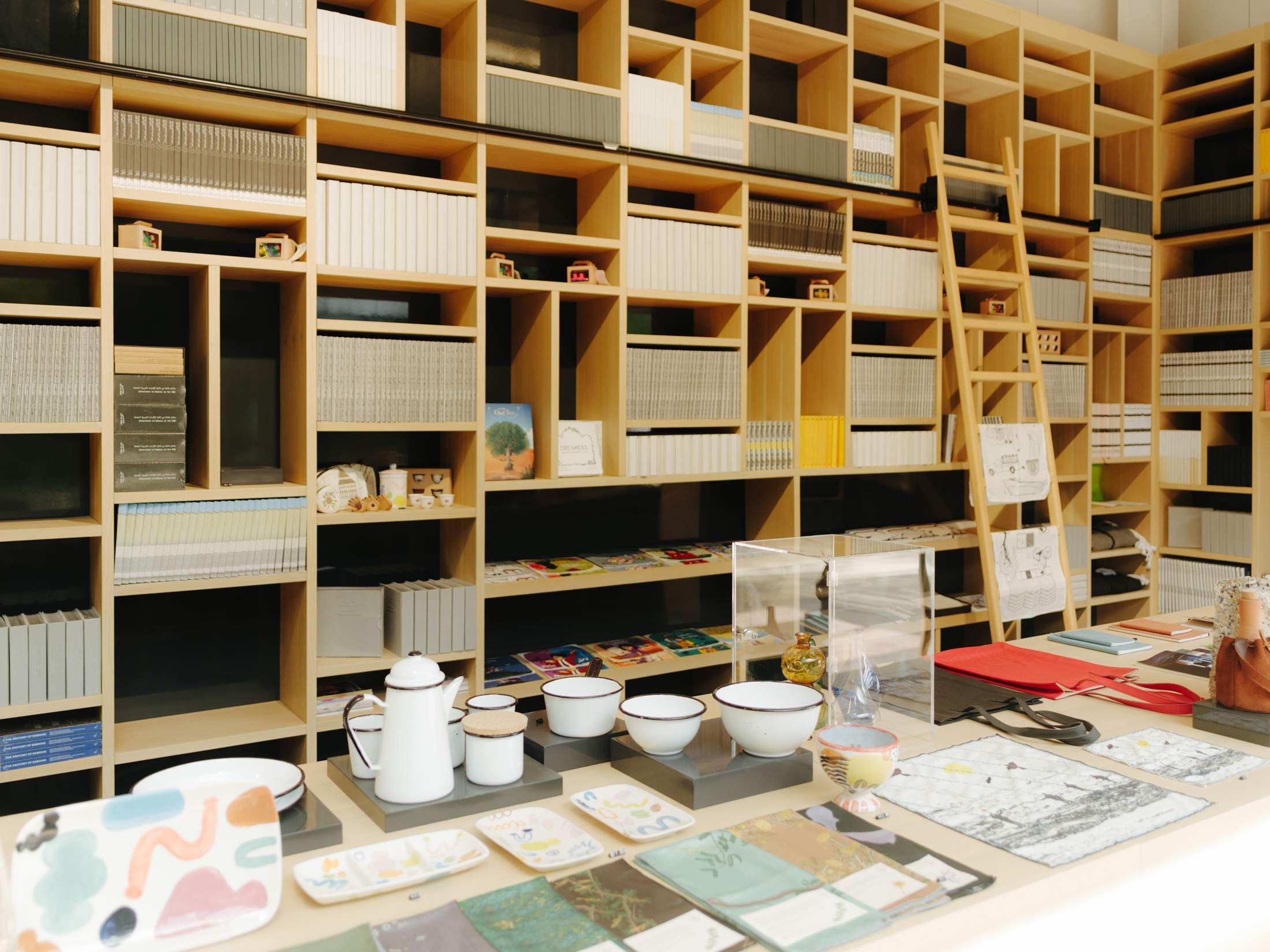 shop: Mazaraa Farm Shop
Juicy tomatoes, sweet potatoes, chillies and aubergines grow here in abundance. The waste is recycled into fertiliser for the farm's menagerie of buffaloes, horses, hens and cows.
11 Lane 438, Al Bahyah
work: Hub71
Abu Dhabi's gateway for new technology companies has collaborated with WeWork to build the city's best workspace on the 15th floor of the Al Khatem Tower. 
hub71.com 
---
stay: Park Hyatt Dubai 
A palm-fringed affair on Dubai's historic Creek with sprawling views. Despite its 223 rooms, the Park Hyatt has a refreshing low-rise residential feel, a short stroll from the golf and yacht clubs and traditional souks. 
hyatt.com 
stay: XVA Hotel
Dubai is home to hundreds of hotels but very few could be considered boutique. xva opened in the Al Fahidi district in 2003 with the idea of creating both a hotel where art lovers could stay and a space to raise the profile of local artists.
xvahotel.com
eat: Al Falamanki
Al Falamanki transports Dubai diners to a Beirut backstreet, complete with shisha smoke and the clatter of backgammon sets. The Levantine fare takes centre stage. Try the hommos Beiruti.
Four Seasons Resort, Jumeirah Beach Road
eat: Bu Qtair
No menu, no reservations and no frills. Bu Qtair serves grilled fish, spicy prawns, parathas, curry gravy and rice. Fishermen make up a good portion of the clientele but those in the know will travel to be part of the action here. Cash only.
buqtairrestaurant.com
eat: The Guild
The Guild is Dubai's louche, leafy tribute to the brasseries of Europe and New York but delivered in true uae style (in other words, it takes things to the max). Its art deco interiors are filled with rich textures and colours. This 1,600 sq m space with five food and drink spots is great for a business breakfast meeting or nightcap. Try the sunken lounge or a perch at the Potting Shed Bar. 
theguilddubai.com
eat: Jun's
A fun, upmarket affair in Downtown Dubai founded by Chinese-Canadian chef Kelvin Cheung. Expect experimental dishes with ingredients and ideas from across the world.
junsdubai.com
eat: Lowe
Lowe's large open kitchen features a wood oven, charcoal grill and a rotisserie, all of which are employed to create chef duo Jesse Blake and Kate Christou's tasty international dishes. Well worth a visit.
lowe-dubai.com
eat: The Maine
Montréal entrepreneur Joey Ghazal brought The Maine Oyster Bar & Grill to Dubai in 2015. There are sites in Business Bay and Studio City, as well as a taco truck and an outpost in London. It's a great space for a deal-sealing drink.
themaine.ae
eat: Orfali Bros
Brothers Mohammad, Wassim and Omar Orfali moved here from war-torn Syria and opened the joyful Jumeirah restaurant in 2021. They soon became the toast of the town for their just-so pastries and inventive small plates riffing on regional flavours.
orfalibros.com
eat: Teible
In Dubai's smart Jameel Arts Centre, Teible, from entrepreneur Peter Ahn, is a Nordic farm-to-table restaurant. The uae's investment in regional produce and farming is starting to bear fruit (and vegetables). 
teible.com
eat: Trèsind Studio
Chef Himanshu Saini's team earned fêted Indian restaurant Trèsind Studio its second Michelin star in 2023. Its bar, Papadom, makes excellent drinks to complement the meals. 
tresindstudio.com
eat: Zuma
Zuma has locations all over the globe but its Dubai outpost is well known for its stellar service and excellent cocktails. Expect modern Japanese food that stays just the right side of traditional.
zumarestaurant.com 
caffeinate: Heal Home
Heal Home feels like a slice of California on Al Manara Road. Expect bright-green matcha lattes and fruity açaí bowls. There's also a decent homeware section for scented candles and uae-made ceramics.
healhome.ae
caffeinate: To the Moon Back
Inspired by speciality coffee shops while studying in Australia, Abu Dhabi-born Zainab Al Mousawi opened her own. The space is decorated with eccentric furniture and the food is out of this world.
La Plage Residence, Al Athar Street, Jumeirah 
see: Alserkal Avenue
This compound in Al Quoz is at the centre of Dubai's creative revival. Its warren-like galleries, cinemas, music venues and more all share an atmosphere that is refreshingly collegiate compared to what you'd find in London or New York. 
Al Quoz, Industrial Area 1
see: Jameel Arts Centre
The ideas of exchange and transparency are reflected here in the design by Serie Architects, with glass walls that look out onto a sculpture park. Come to browse the Jameel Foundation's permanent art collection or one of the many revolving contemporary exhibitions. 
jameelartscentre.org
see: Tashkeel 
An incubator for visual art and design hailing from the uae. The venue's rich annual programme opens the doors for local talent to integrate with the established art world through a host of talks, collaborations and workshops. 
tashkeel.org
shop: Kinokuniya
This Japanese bookshop is the best in town. Based inside Dubai Mall, the region's largest bookshop offers a collection of more than half a million books and countless magazines in languages including English, Arabic, French and Chinese.
uae.kinokuniya.com
shop: Magrudy's
Opened in 1975, Magrudy's is a family-run business and the catch-all for Dubai residents seeking print, stationery, boardgames and more. Loyal customers come for book clubs and talks by authors.
magrudy.com
shop: Mirzam
Run by New Zealander Kathy Johnston, Mirzam's cocoa beans and ingredients – inspired by the region's maritime spice routes – are chosen for their flavours. 
mirzam.com
---

stay: Chedi Al Bait 
The Serai Wing of the Chedi Al Bait hotel's new travertine stone and perforated white- metal exteriors blends with the serene, textile-rich interiors. The two-storey Khalid Grand Suite provides what might be the best night's sleep in Sharjah.
ghmhotels.com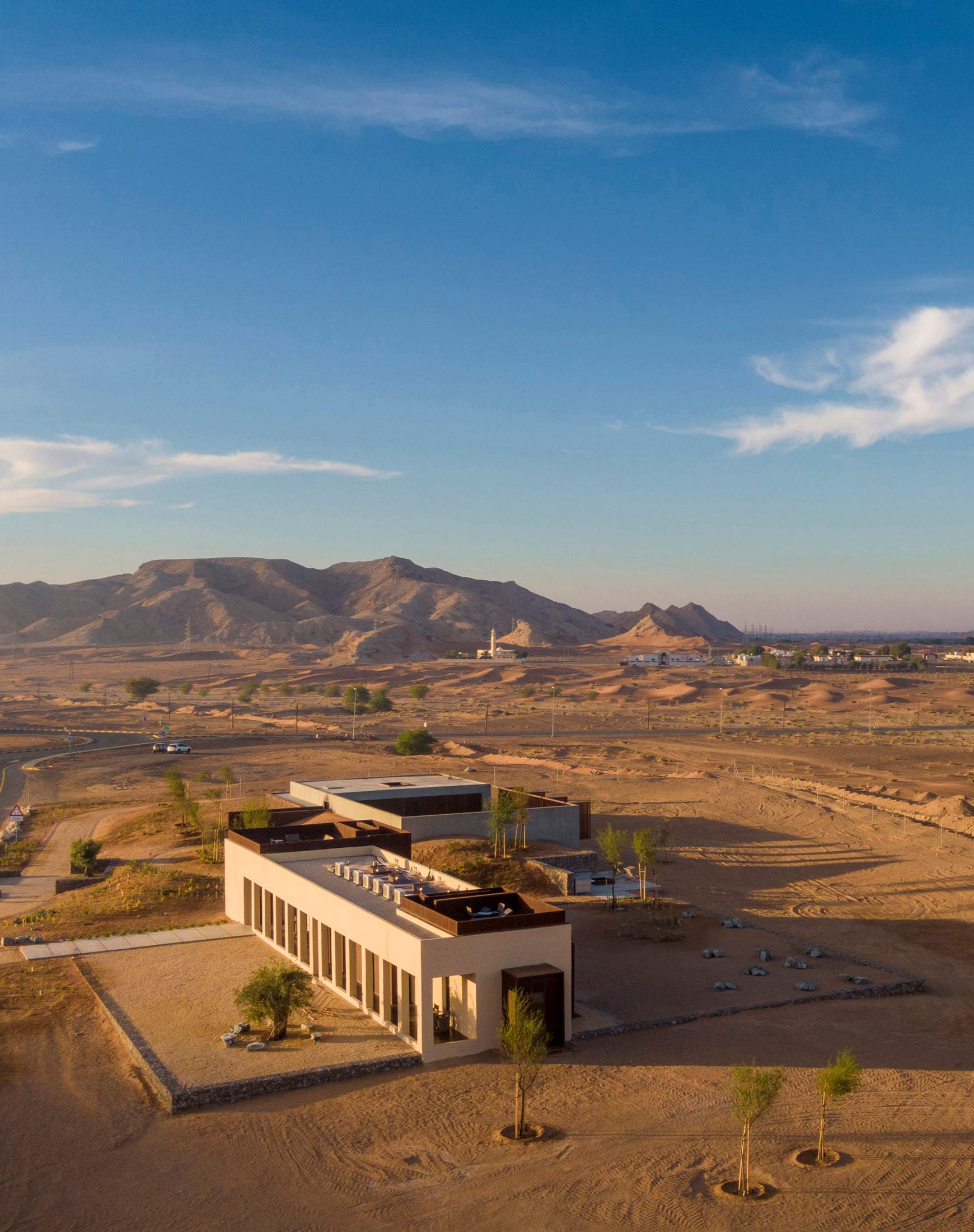 stay: Hotel Al Faya Retreat Sharjah
Two simple 1960s stone buildings have been transformed into a five-room eco-lodge and spa offering fine dining, a roof terrace for stargazing and a swimming pool.
hotels-sharjah-uae.com
eat: Ahmed Ali Kababi & Sons
Founded in 1950, Ahmad Ali Kababi is a renowned no-frills and no-fuss Sharjah establishment. The menu consists of Iranian speciality kabab masti, which consists of small pieces of chicken or lamb marinated in sour yoghurt and grilled on hot coals. 
Maysaloon, Al Sharq
eat: Fen Café & Restaurant
Sheikha Hoor Al Qasimi opened this spot during the 2016 Sharjah Art Biennial, and it has since expanded to multiple venues throughout the emirate. 
Sheikh Abdullah Bin Ali Al Mahmoud Square, Mureijah
visit: Heart Beach
Located in one of Sharjah's most popular tourist destinations, the undisturbed Heart Beach looks out over the Gulf of Oman on the eastern coast of the uae. Unlike in more built-up areas, there are no amenities, so take a picnic and plenty of water.
Al Mudeife 1, Khorfakkan
see: Al Hamriyah Studios
Opened in 2017 by the Sharjah Art Foundation, Al Hamriyah is a revered space on the site of a former souk on the Sharjah coast near Ajman, Umm Al Quwain and Ras Al Khaimah. Designed by Emirati architect Khalid Al Najjar, it's a charming art space for the northern emirates. 
Hamriya West
see: Al Noor Butterfly House
Located across the water from Al Noor Mosque, this attractive structure is home to more than 500 butterflies from 20 different species. The house itself is made from 4,000 aluminium flowers, latticed by 3deluxe architects to allow in the right amount of sunlight.
alnoorisland.ae
see: Flying Saucer
Opened in 1978 as a French restaurant and patisserie, Flying Saucer was renovated and reopened as an exhibition venue for the Sharjah Art Foundation in 2020. The brutalist star-shaped building remains a must-see.
sharjahart.org
see: Kalba Ice Factory 
Peruvian studio 51-1 Arquitectos transformed this 1970s ice-storage facility into a cultural venue, restaurant and hotel in 2023. The Sharjah Art Foundation displays large-scale contemporary artworks here. 
Algurm
see: Masrah Al Qasba Theatre
This multi-purpose auditorium with a diverse programme of music, theatre and art is also home to Sharjah's most important cultural events, including the Sharjah Film Festival. 
alqasba.ae
see: Mleiha Archaeological Centre
Centred around a Bronze Age tomb, this area in the Sharjah desert was transformed into an urban park by Dubai-based Dabbagh Architects. Visitors can explore the indoor museum, desert gardens and stunning surroundings.
discovermleiha.ae
see: Wasit Nature Reserve
Made up of salt flats, ponds and a large lake along coastal sand dunes, Wasit Nature Reserve is a great place to glimpse some wildlife, including almost 200 bird species and a whole host of small mammals, reptiles and insects.
Sheikh Salem Bin Sultan Al Qasimi Street, Al Houma
---
stay: The Ritz-Carlton Ras Al Khaimah, Al Wadi Desert
An hour's drive from Dubai International is the newly relaunched Ritz-Carlton Al Wadi. The hotel draws on indigenous bedouin culture with vast tented suites, traditional watchtowers and ornamental lanterns, making it a refreshing oasis in which to escape from the heat of the desert. 
ritzcarlton.com
eat: 1484 By Puro
At 1,484 metres above sea level, Puro overlooks the rocky landscape of Jebel Jais canyon. Arrive for sunrise or sunset and treat yourself to anything from duck confit to yoghurt muesli. 
puro.ae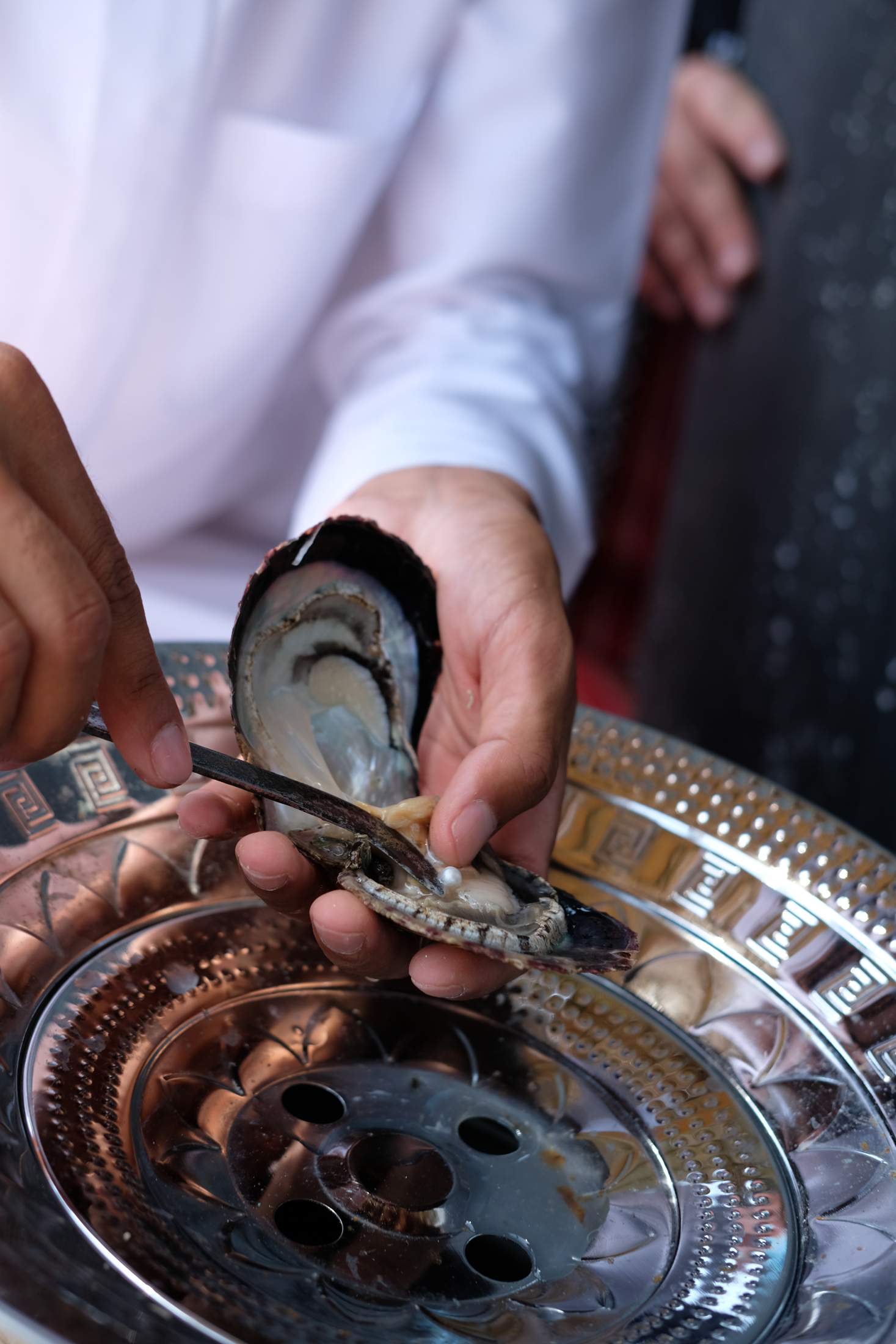 eat: SOL Beach Lounge & Bar
In the Hilton Ras Al Khaimah Beach Resort, SOL offers shawarma, cocktails and seafood. With coastal views and pool access, it is the ideal place to loaf around and relax. Don't miss the chef's piña colada cake.
hilton.com 
eat: UMI
This trendy restaurant offers teppan-yaki in the desert. There's a resident sushi and sashimi chef too, while the expansive bar and lounge area is bordered by a Japanese garden.
Vienna Street, Jazeera Al Hamra
drink: Karma Kafé by Buddha Bar
At Hampton by Hilton Marjan Island, travellers gather at Karma Kafé for the finest in mixology, cuisine and music. Enjoy the stark contrast of the fiery interior and the delicately painted magnolia wallpaper. 
hilton.com
visit: Emirates Flower Farm 
Recently opened to visitors, the Emirates Flower Farm welcomes guests to wander through avenues of dandelions, yarrow, saffron and larkspur, and arrange bouquets at the end of their trip. The farm supplies florists in Sharjah and Dubai. 
uaeflowerfarm.ae
visit: Jebel Jais canyon
Part of the Al Hajar range, Jebel Jais is the highest mountain in the uae. It's criss-crossed with hiking trails and ziplines, all open to visitors. Even in summer, it's much cooler than at sea level below and offers the opportunity for outdoor activities, as well as lunch at 1484 By Puro.
visitjebeljais.com 
see: Al Jazeera Al Hamra
The only remaining intact pearling village in the Gulf region. With a mosque, souk, fort, courtyards and living quarters, the historic abandoned village offers a window into the uae's past. 
ajah.ae
see: Suwaidi Pearl Farm 
In a small fishing village at the foot of the Hajars, the Suwaidi Pearl Farm offers tours of the surrounding Arabian Gulf, as well as jewellery workshops and paddle-boarding. 
suwaidipearls.ae 
---

stay: Address Beach Resort Fujairah
There are many luxury resorts to choose from on the uae's east coast but it wouldn't be a trip to Fujairah without a stop in Al Aqah, home to some of the nation's best coastline, where you'll find this hotel. 
addresshotels.com 
eat: Al Meshwar
Hungry? Then step into this restaurant whose interiors have impressive columns, arches and chandeliers. Al Meshwar has been dedicated to Lebanese cuisine for the past 20 years.
Hamad Bin Abdulla Road 
eat: Hygge Cafe
Inspired by the Danish concept of cosiness, this café's earthy tones are serene. Just off the Al Aqah beach, it's a tasteful spot to try after taking a dip. 
+971 56 109 1417
Al Aqah
eat: Steki
Greek classics such as moussaka, pastitsio and spetsiota might seem out of place in the heart of Fujairah but the curvy interiors of this restaurant mimic the alcoves and rocky coasts shared by Greece and the eastern emirate.
steki.ae
see: Fujairah Fort
This 16th-century fort is the oldest in the uae. It offers a great vantage point to see the city.
Al Sharyah
see: Sheikh Zayed Mosque
Named to honour the founder of the uae, Sheikh Zayed bin Sultan Al Nahyan, this mosque stands out from the vast cityscape of Fujairah.
Al Ittihad
---
stay: Ajman Saray
On a stretch of pristine beach with views of the Arabian Gulf, Ajman Saray was inspired by mashrabiya motifs and intricate zellij tiles. The hotel has a great pool and impressive fountains.
marriott.com
eat: Dragon's Place
On Ajman's coastline, the charismatic Heina and Teddy serve chef Hamza's sashimi and nigiri. For a more intimate affair, there are two private rooms with red floor cushions and shoji paper walls.
Bahi Ajman Palace Hotel, Sheikh Humaid Bin Rashid Al Nuaimi Street
eat: Seascape
In Ajman Corniche's Wyndham Garden, Seascape specialises in a range of fresh seafood.
wyndhamgardenajman.com
visit: Ajman Stud Farm
The Emirati horse-riding tradition is galloping ahead at this site 30km outside Ajman city. The top-notch equestrian centre is the passion project of Sheikh Ammar bin Humaid Al Nuaimi, crown prince of Ajman. 
ajmanstud.com
visit: Al Zorah Nature Reserve
These protected wetlands provide refuge for a host of flora and fauna. With its 7km of waterfront, 2km of beach and a tidal creek, it makes for a perfect setting for windsurfing or kayaking amid nature.
The Pavilion Al Zorah, Al Ittihad Road
---

stay: Vida Beach Resort 
A yellow-striped parasol at the beach delineates a great afternoon spent in Umm Al Quwain. This hotel sits on the beachfront and is our favourite stop in the area. 
vidahotels.com
visit: Al Hamriyah Studios Beach House
The Sharjah Art Foundation's northernmost outpost is a marvel of modern architecture that basks by the beach at Al Hamriyah, equidistant from Ajman and Umm Al Quwain. 
sharjahart.org
see: Sailfish roundabout
If you're driving down Umm Al Quwain's eastern beachside, slow down at the Oqbah Bin Nafae Street roundabout to appreciate some true kitsch. You can't miss the statue of a sailfish leaping from the centre of the roundabout. It's not the only sculpture of its kind: in Dibba, there's a giant paraffin lamp centrepiece and you can pivot around two giant oysters at a Ras Al Khaimah junction.
do: Umm Al Quwain Open Beach
Near uaq's fishing harbour you'll find a 2km stretch of beach dotted with rustic huts operating non-motorised watersports. Kite Beach Center is the best spot to get kitted out with all you need for kite surfing, stand-up paddle-boarding, surfing, kayaking – and it has a decent bar too.
kitebeachcenter.ae