Expo city. UAE / UAE
Lasting impressions
Expo 2020 Dubai showed the world that the UAE can host a global event and the site's sustainability ambitions are now helping it to secure a future as a vibrant business and residential hub.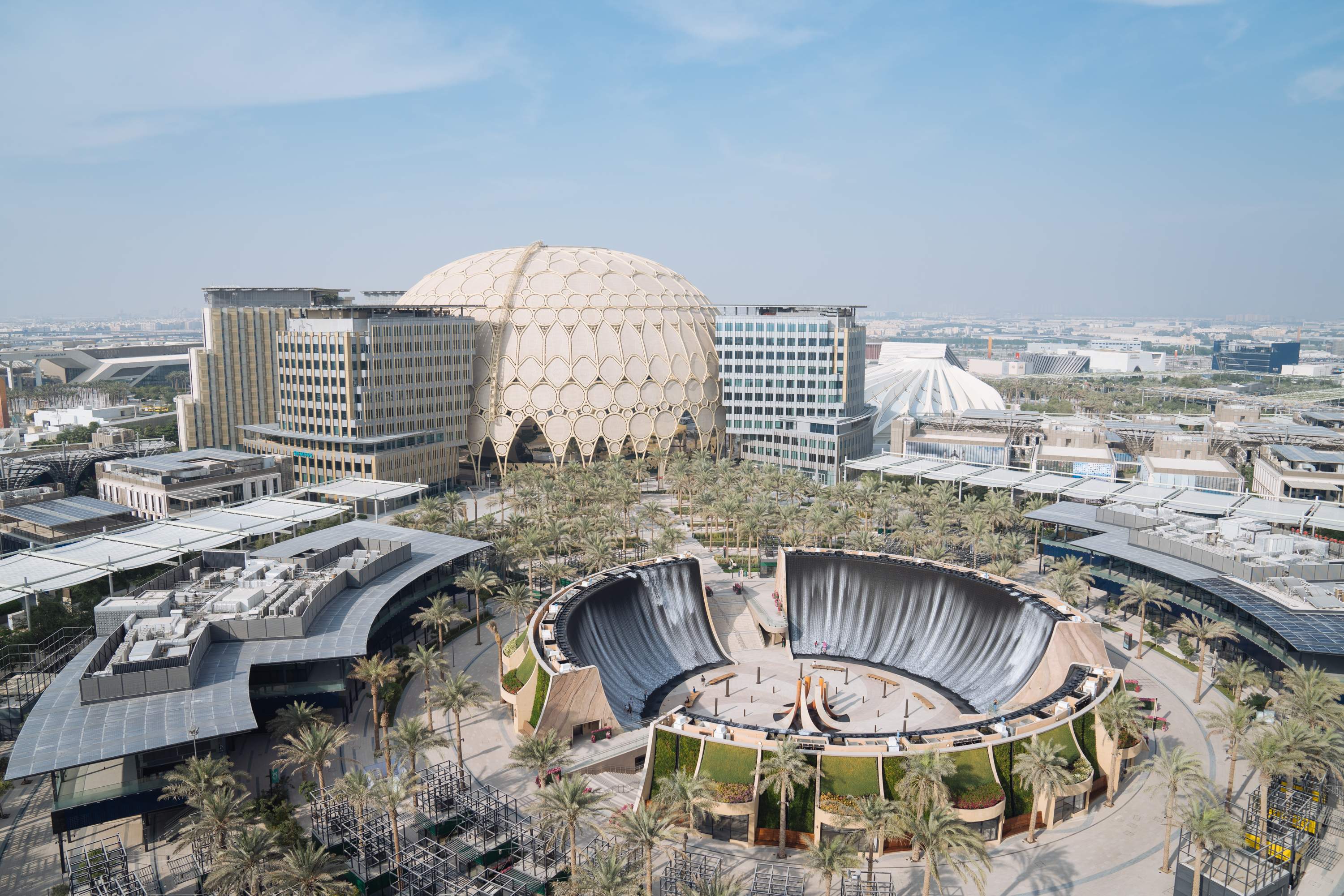 The uae is no stranger to the challenges of rapid urbanisation. But despite this being a nation where development and innovative construction has happened fast over the past few decades, it's important that urbanism unfolds in the right way. Cue the Expo 2020 Dubai, which was postponed and only closed in March 2022. The landmark event was not only the global exhibition's debut in the Middle East and the first hosted by an Arab nation, but it also delivered a new district: Expo City Dubai, which is now home to businesses and will be the site of 2023's Cop28 climate conference in December.
"We want to draw on the lessons of what we have built here and offer Expo City Dubai as an example," says Nadia Verjee, executive director of the Global Initiative of Expo City Dubai. "Urban centres are going to mushroom by more than half of the world's population and many are yet to be built – all the cities that are being thrown up in the Global South by 2050." 
Just south of Jebel Ali in western Dubai, the purpose-built site was planned from the beginning as a future city. Some pavilions used by nations during the exhibition were built as permanent structures; many were repurposed by businesses, others bought by the nations as permanent display spaces. "That's the China Pavilion," says Verjee as she drives me around Expo City Dubai in a golf buggy. "It's now a Chinese cultural centre, where the embassy holds a lot of activities. There were more than 27,000 attendees here for the Chinese New Year festivities, for example."
Verjee has been on this journey from the very beginning. A chief of staff during the event, she is now part of the executive team responsible for the city that it created and fosters business here. "The only way that we could make this happen was by designing both the masterplan and the legacy plan for Expo City Dubai at the same time," she says. "We didn't have to remove or knock down most of what was already built; we could use everything in its second life. And that's a big part of our strategy because it was anchored on delivering a sustainable built environment."
"We want to draw on the lessons of what we have built here and offer Expo City Dubai as an example"
The area's green credentials are among its biggest calling cards. Companies including Emirates, Engie, Siemens Energy and DP World have all signed up for offices in its business hub. "We already have more than 3,000 tenants living or working here, while we're continuing to develop the site and figure out mobility solutions," says Verjee as we pass the Rove Expo 2020 Hotel. But it's not only the big players that have seen the value in calling Expo City Dubai their home. Restaurants, retail and start-ups are also moving in, attracted by the space, which lies in between Downtown Dubai and Abu Dhabi and has a direct connection to the Metro. "It's a great entrepreneurial hub. Small businesses are already setting up here and several of them have grown from the journey of Expo City Dubai itself, eventually fully relocating here."
As we tour the site, one thing stands out: the large concourses connecting the city are pedestrianised and there's a shuttle service as well as shade. "If you have a city that's designed without vehicles as the primary way to get from one place to the next and provide the right kind of cooling, then it can really operate as a 15-minute city – even in this temperature," says Verjee.
Businesses aren't alone in setting their eyes on this part of town. "In true Dubai style, we have already sold out of everything that's available on the market for our apartments and homes," says Verjee as we pass a soon-to-be-completed residential block. "People will be moving into apartments and homes as of the third quarter of 2025." 
The masterplan for 2040 includes the creation of Expo Valley, a community of townhouses and villas surrounded by lush vegetation and cycling trails, as well as high-end amenities such as clubhouses, swimming pools, an outdoor cinema, gyms and hospitality. Prices start at aed3.5m (€900,000). "Even with the villas, we spent a lot of time talking about sustainability; how to keep water and electricity consumption down and how that affects residents. We wanted to have a good balance of greenery and what's built. It's not about maximising profit but delivering a vision for living."