AI Office, UAE
Monocle / UAE
Partnership: Owning the future

The UAE wants to be a leading nation in the field of artificial intelligence (AI) by 2031. As this AI Office, UAE
Monocle partnership reveals, the work to hit that target is long underway – and already paying dividends. 
---
The road to now
Whether you view it as a boundless force for good, a potent existential threat or something broadly in between, one thing's for certain: artificial intelligence (AI) will change the world. 
---
From the roll-out of automated robotics in storage facilities to the machine-learning algorithms helping healthcare professionals provide more accurate diagnoses, the development – and popularisation – of AI technologies is quietly transforming operations across various sectors. "Big four" accountancy firm PwC predicts that it could contribute up to $15.7trn (€14.8trn) to the global economy by 2030.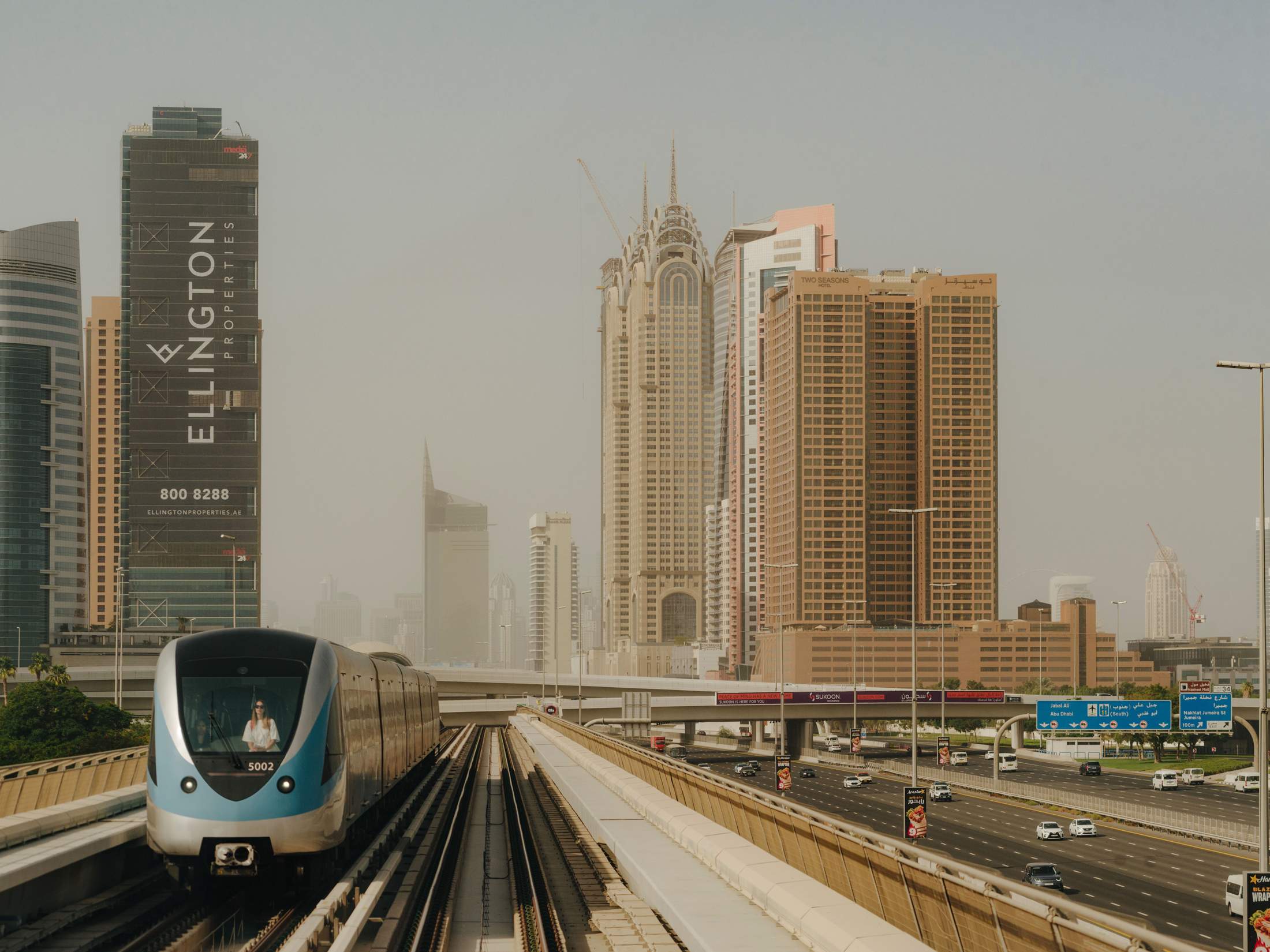 For the UAE, a nation that embarked on a journey of digital transformation at the turn of the century, the opportunities are abundant. In 2017, shortly after announcing a national strategy for AI, Omar Sultan Al Olama was appointed minister of state for AI. Aged just 27 at the time, he was the first person to hold such a role anywhere in the world. His Excellency's objective? To identify and invest in new tools, then spearhead their application across different sectors. His remit was later expanded to reflect the importance of the work: he now holds the title of minister of state for AI, digital economy and remote work applications. 
His Excellency is one of countless Emirati success stories and the AI office has helped the UAE to keep pace with the technology through a combination of investment, infrastructure and legislation: there are golden visas for coders, research centres for testing, accelerator programmes for startups and much more. While the strategy is far reaching, the UAE's ultimate goal is clear: to become a world leader in AI. 
---
---
Omar Sultan Al Olama, Minister of State for Artificial Intelligence, Digital Economy and Remote Work Applications
With a pioneering governmental role, His Excellency is perfectly positioned to understand AI's benefits and challenges.
What was your brief as the world's first government minister dedicated to AI?
The post came out of our leadership's belief that AI will be one of the most important technologies going forward. My brief is not to be optimistic or pessimistic about AI, it is to be neutral. My job is to maximise the opportunities and minimise the challenges by being proactive rather than reactive. What we've done in the UAE on the AI front is a few things. The first is build the infrastructure necessary to ensure that we have an advantage compared to other countries. The second stage now is to translate this infrastructure and talent into tangible outputs. 
The are calls for a global framework around AI. Can the UAE take the lead?
I just came back from speaking about this at the United Nations. We are a neutral country: we work with everyone, we are quite pragmatic in our approach and we understand the challenge of AI for what it is. Sometimes you speak to government officials in other countries and they cannot grasp what AI can and can't do, or what the risks are. There is a need for us to play a role in that. The UAE has, over the past decade, built the infrastructure and ecosystem required to create the unicorns and digital economy companies that we needed.
You are the world's first AI minister. Do other governments need to get with the programme?
So, it was a very lonely post. However, to my pleasant surprise, there is another AI minister in Spain. So now we are two; hopefully, we're going to multiply. But I will say this: historically, if you look at technological trends, government portfolios were created to match technological trends, albeit later.
Let's talk quality of life. What does that look like over the next few years when it comes to AI in this country?
I don't think anyone can forecast the future accurately. Today your life is indirectly dependent on AI. Every question you have is answered by AI. It's called Google, right? When you get lost, you depend on AI through Google Maps. When you want to buy something, you use AI with Amazon and other platforms. When you want to watch content, you go to YouTube. AI is a big component of quality of life. So, you think about where AI can improve government offerings. Why does a person need to ask for a service? It makes absolutely no sense. The government needs to be so smart that, before a passport expires, it tells you that your passport is near to expiry and provides you with a new one.
I'm sure you talk with Silicon Valley companies all the time. What do you tell them about coming to the UAE? 
The conversation has changed, we don't need to sell the UAE. You see very, very few Tesla adverts or Rolls Royce adverts; when you have a very, very good product, you don't need to sell it. I think the world has seen us and paid attention to us. But we cannot grow indefinitely so what we're focusing on now is quality of interaction. At one point in time, we wanted quantity, we wanted to go and invite anyone and everyone who has worked in this sector. Today we want to become a country where we have the highest quality of talent and the highest quality companies because that is what's going to ensure that this becomes sustainable.
What are the benefits of basing a company in the UAE?
Companies can operate in the global market from here in a way that they can't do anywhere else. Firstly, you are in the perfect time zone: you can wake up in the morning and serve Asia, you can serve Europe at noon, you can serve the US in early evening and get a full night's sleep. Secondly, you have incredible connectivity. You can get on an aeroplane and fly to any city in less than a day and attend your meetings. And finally, safety and security here is paramount. When you are an entrepreneur building a business that is going to change the world, it's not about how much more money you generate. What will matter is the fact that you can leave your family at home, attend your meetings and travel abroad without worrying about their safety and security.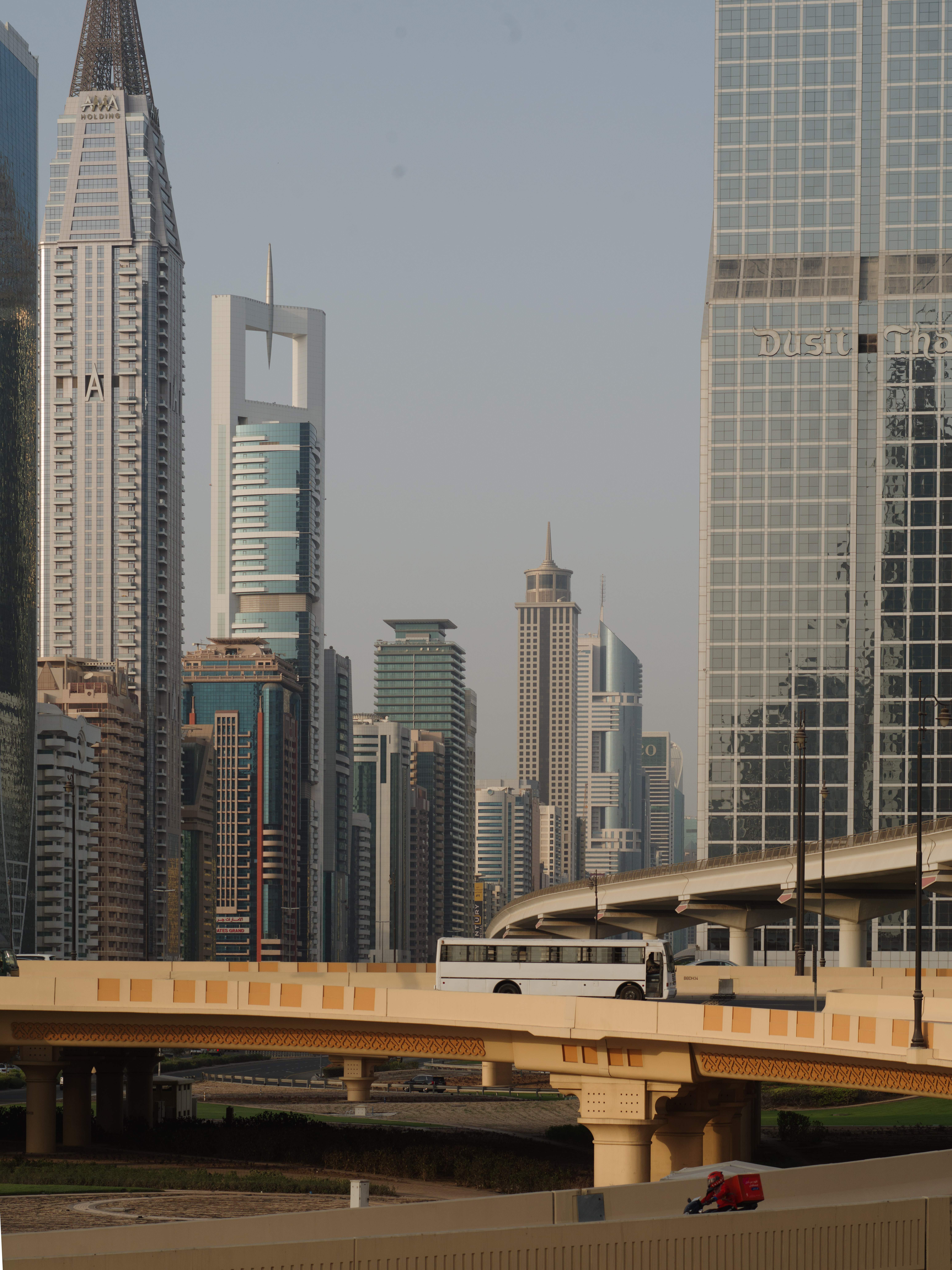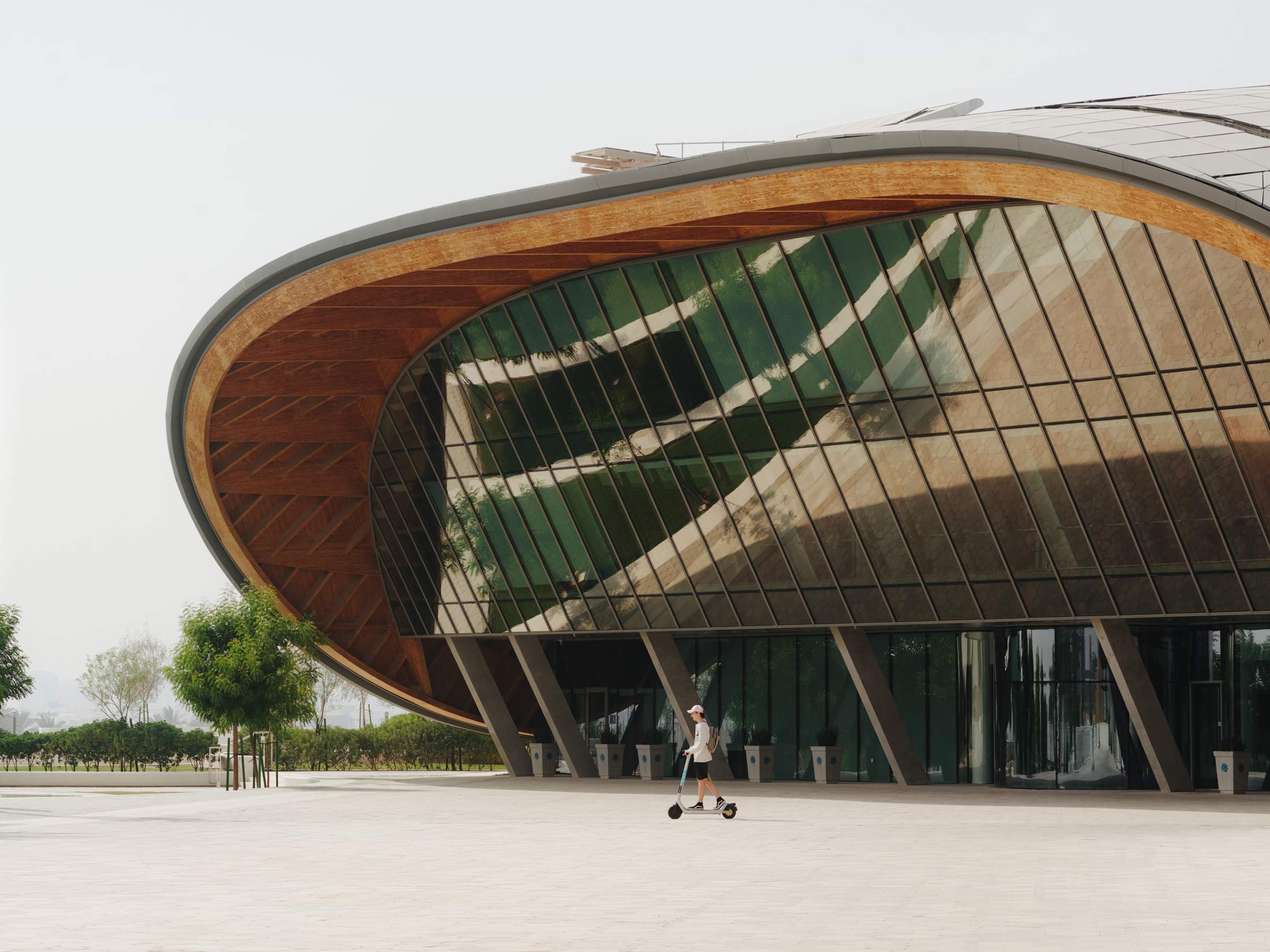 There are concerns surrounding what AI might become. Do you ever worry?
I don't think that there is any change in the world that doesn't bring with it an element of fear. The region has already been at this juncture. From 813 until at least 1515, the Middle East was the beacon of science, technology and innovation. Today we're not ahead, so what happened? Fear got in peoples' heads. And the fear was a technology that had the same capacity for disruption as AI – or less even – and it was embraced by every civilisation in the world except the Arab Muslims. That was the Gutenberg printing press. It was banned in the Middle East for years. And why was it banned? If you look at the conversations, they are very similar to the ones that I'm having today: the calligraphers were worried they would lose their jobs, the religious scholars were worried about it corrupting society, and the leaders were worried that they were going to lose power because people were going to be enlightened.
If we want to learn a lesson from that, it is that technology creates leaps and bounds for those who embrace it – and limits those who don't. The UAE wants to embrace it for good, that's why our motto is "building a responsible artificial intelligence nation".
---
---
From renowned education institutions to blossoming businesses, the plan to accelerate AI in the UAE has resulted in a number of success stories across different sectors and spaces.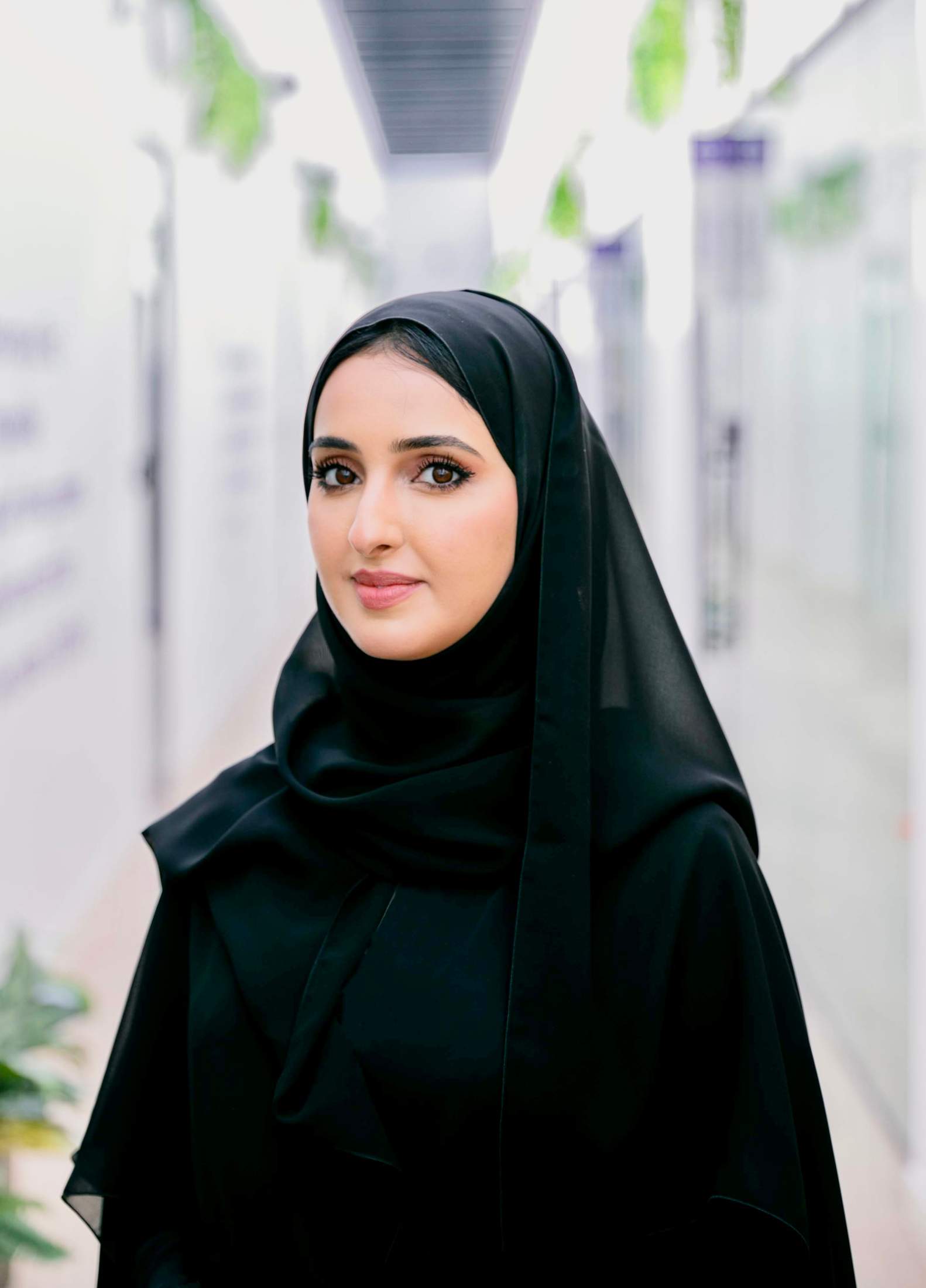 Ebtesam Almazrouei, TII

The UAE boasts a roster of research institutions developing solutions to real-world problems with a global impact. 
"We are a small country in terms of size," says Ebtesam Almazrouei of Abu Dhabi's Technology Innovation Institute (TII). "But we have a lot of capabilities in terms of what we can deliver." 
As co-founder, acting chief researcher and executive director of the applied research organisation's AI cross-centre unit, Almazrouei is one of the driving forces behind Falcon, a large language model (LLM) that just launched its most powerful iteration, Falcon 180B. Almazrouei sees generative AI transforming the likes of healthcare, engineering and coding with its ability to analyse data, automate tasks and more. It's why TII ensured that Falcon 180B is accessible royalty-free for research and commercial purposes, making it the world's largest openly available LLM. It's a real statement of intent – and proof of the UAE's commitment to shaping the sector on a global scale. 
tii.ae
---
Khalifa Al Qama, Dubai Future Labs
For people to flourish, they need dedicated space and resources. A robotics lab in a repurposed retail hub is just one example of that.
When you think of creating space and infrastructure in a city such as Dubai, the mind immediately jumps to newness: fresh commercial developments, shiny skyscrapers that tickle the clouds. So to learn that the Dubai Future Labs (DFL), an applied research lab focused on robotics and AI, exists in the repurposed lot of what was previously a Hakkasan restaurant and bar is something of a nice surprise. "When we started, we called the project the 'robot kitchen'," says DFL director Khalifa Al Qama. "The building that we're in was a mall; now it's an ecosystem of innovation."
Built in 2020, DFL serves as proof of concept for the UAE's ability to develop robotics. Its researchers and scientists build solutions for challenges facing both the government and private sectors, working with partners that range from logistics firms to automotive brands and watchmakers, all while developing their own technologies to take to market. What binds these streams of work is a deep-rooted belief that these tools will improve peoples' lives. "We're creating useful tools that humans need," says Al Qama. And it's in the robot kitchen that he and his team refine these recipes. 
dubaifuture.ae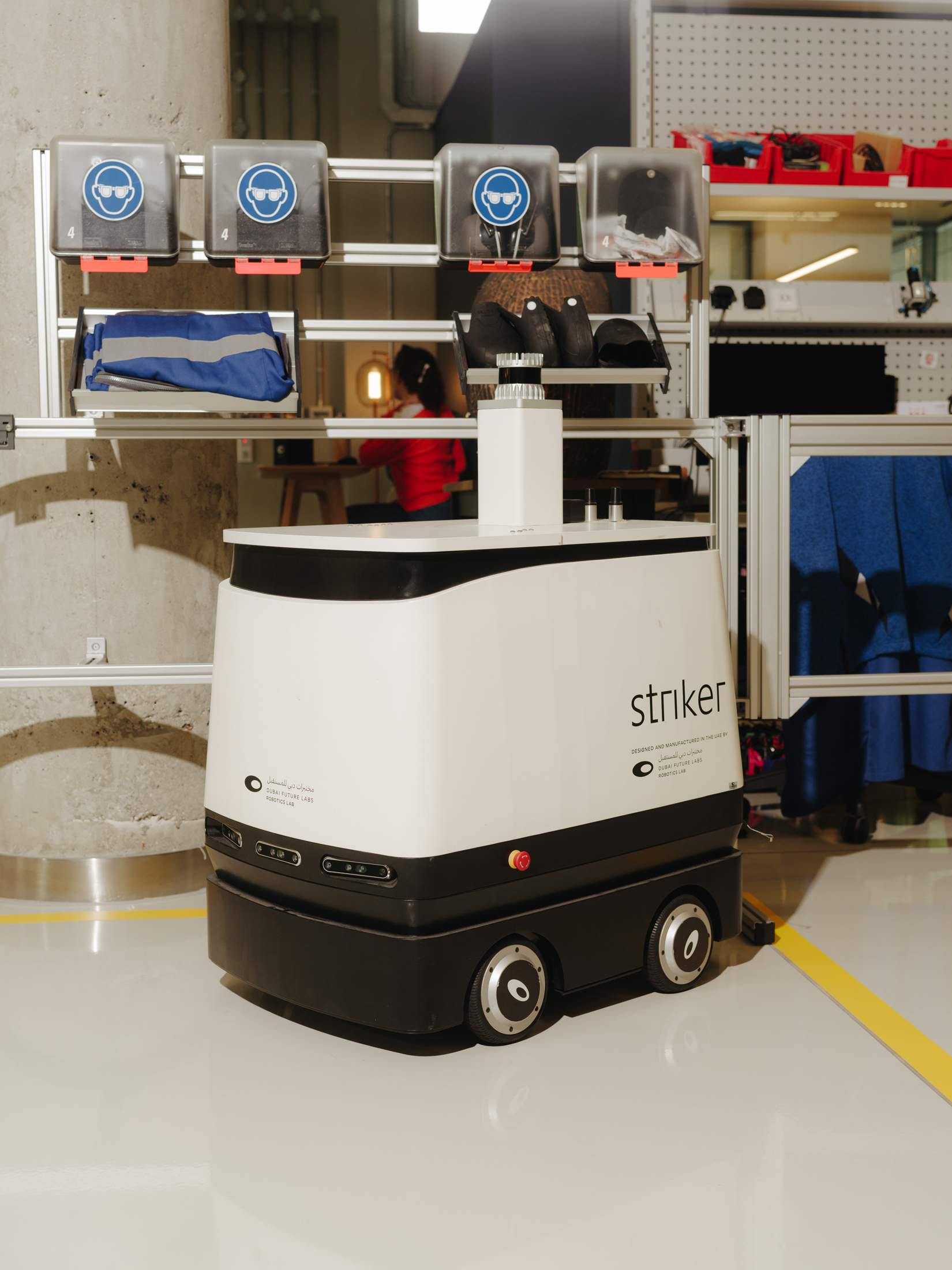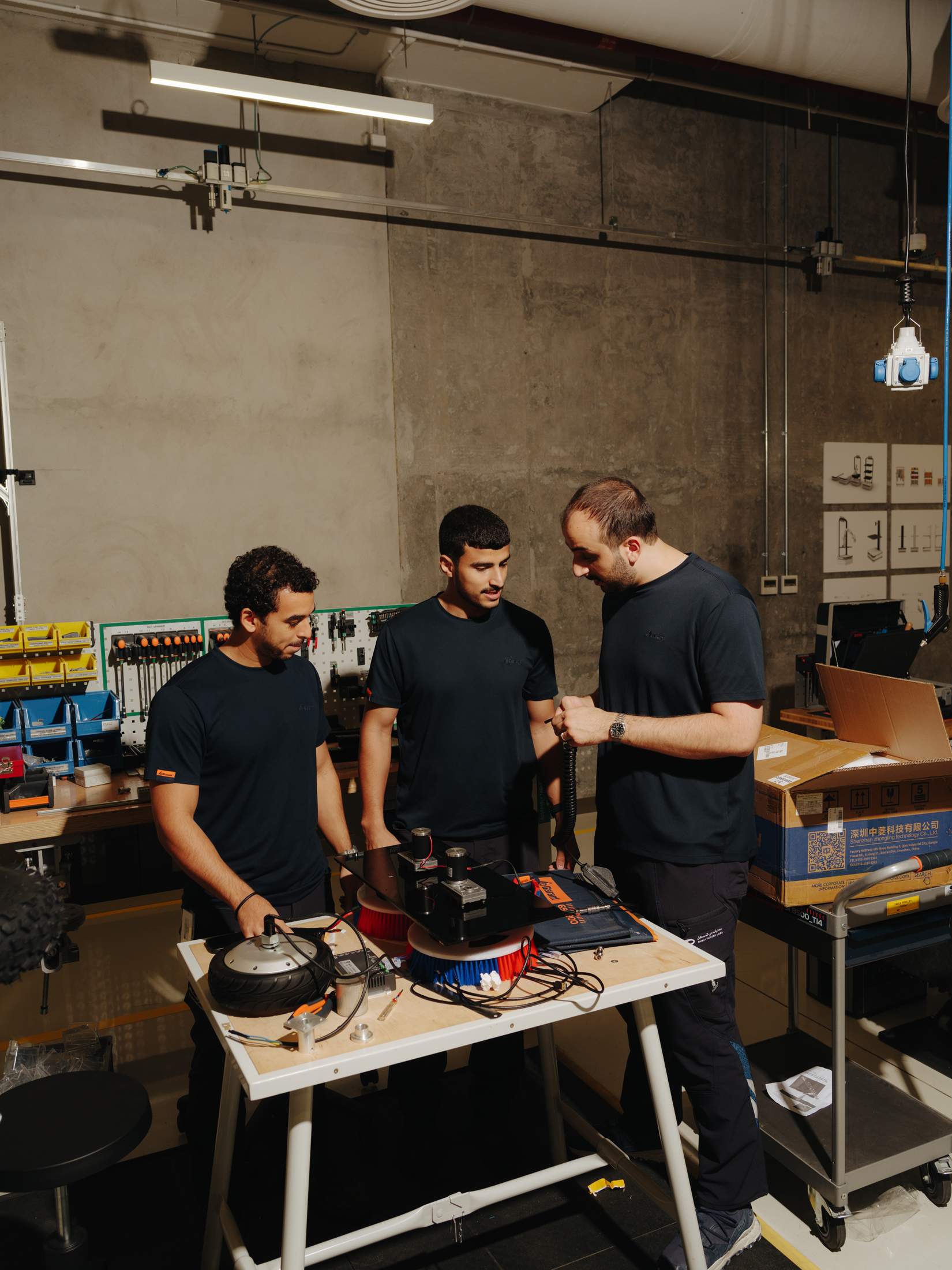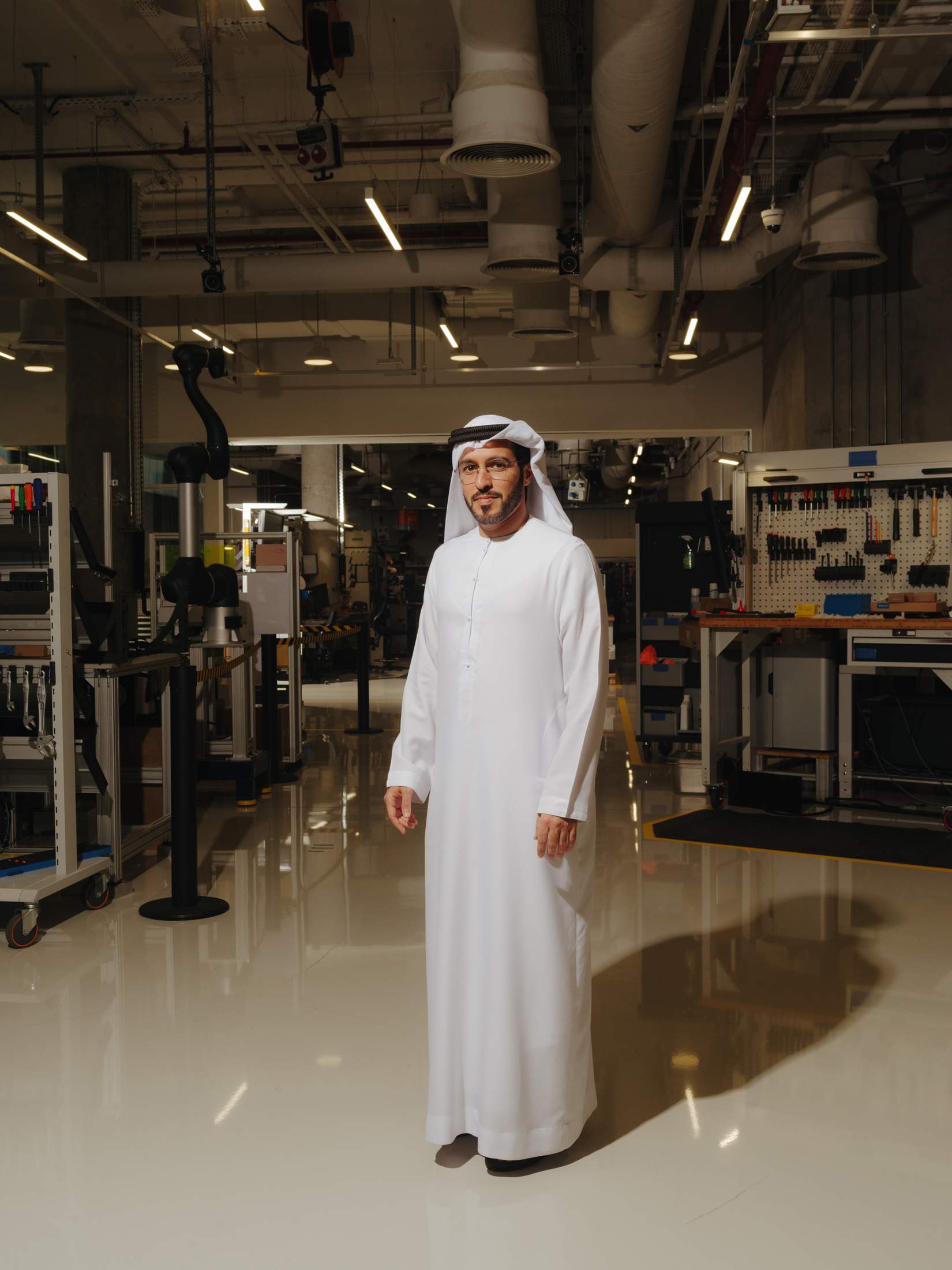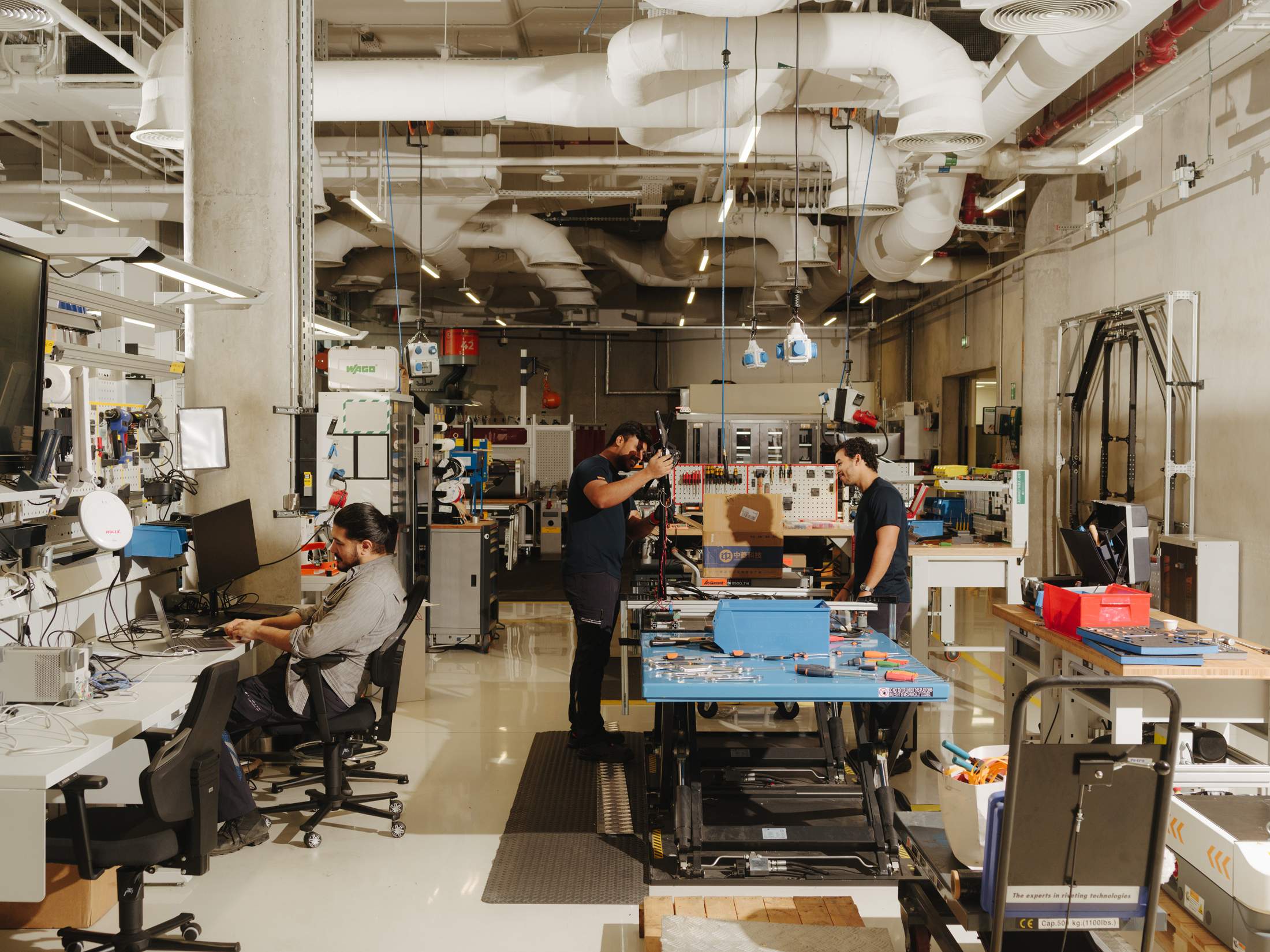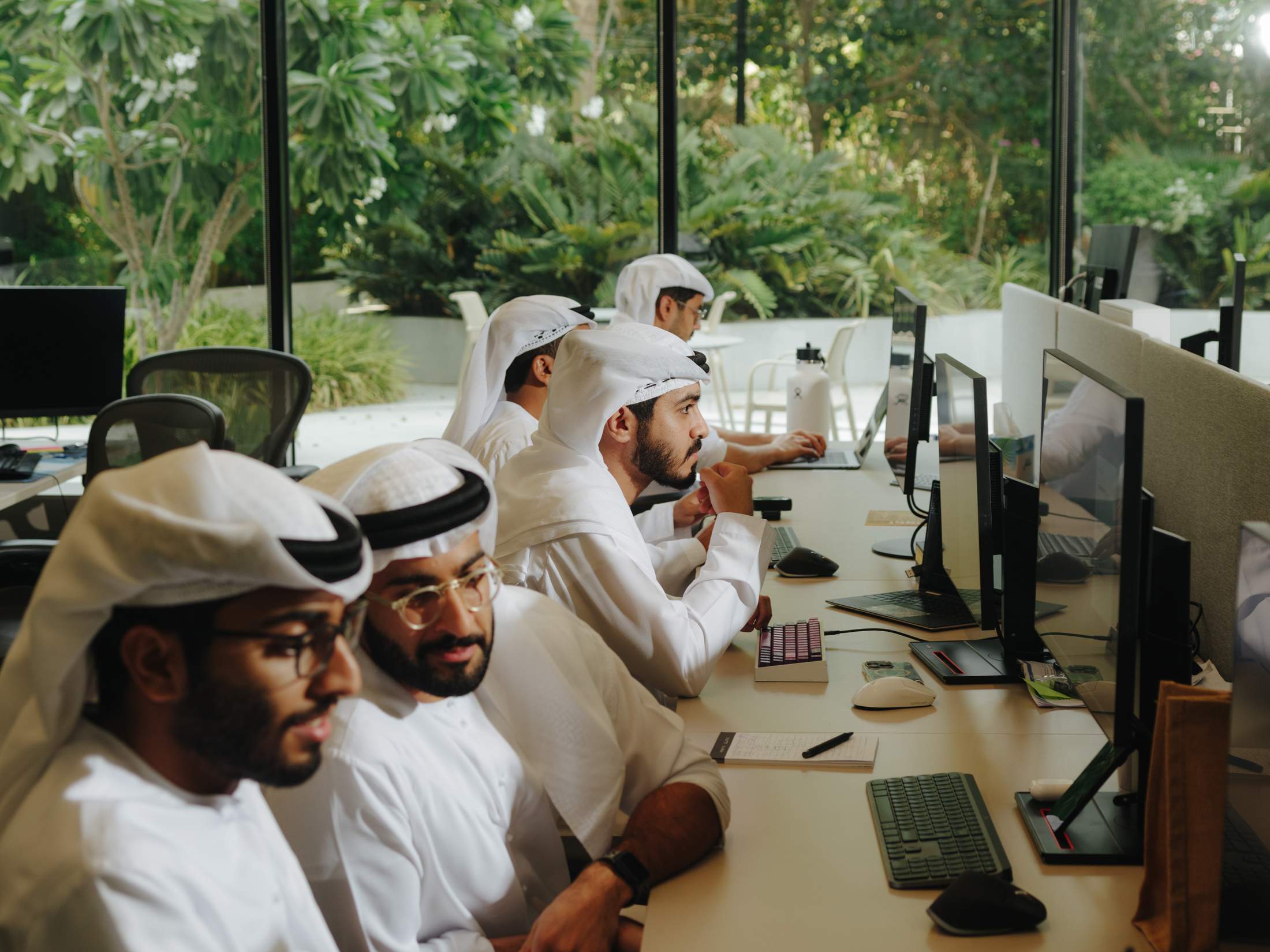 ---
Dina Fares, Ajman Digital Government 
The UAE is growing as an AI destination by attracting the world's best experts and also supporting homegrown talent. 
To establish itself as a top AI destination, the UAE placed time and resources into attracting expertise from overseas – for example, issuing 100,000 programmers with golden visas that grant long-term residence. Just as important are efforts to develop homegrown talent. Dina Fares was part of the first graduating class from the National Program for Artificial Intelligence, a scheme launched in 2018 to equip participants with the knowledge and skills required to successfully adopt AI in their respective field. As the director of Digital Transformation at the Department of Digital Ajman, Fares used the experience to develop and launch a new tool on the Ajman One government services app, which allows users to feed back on their experiences directly. "AI is touching every aspect of our lives," she says. "If the landscape changes, you must be brave enough to change with it." 
ajman.ae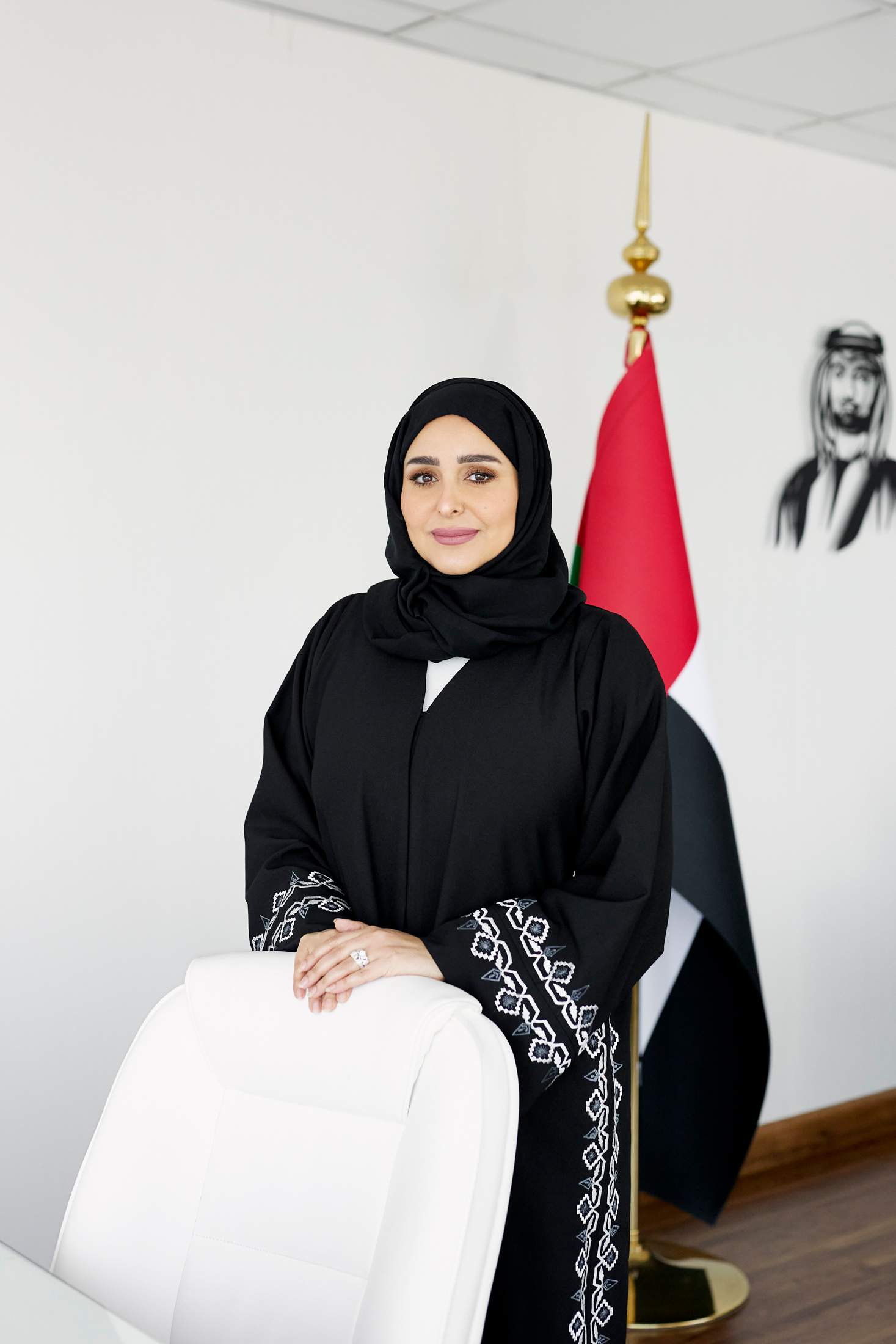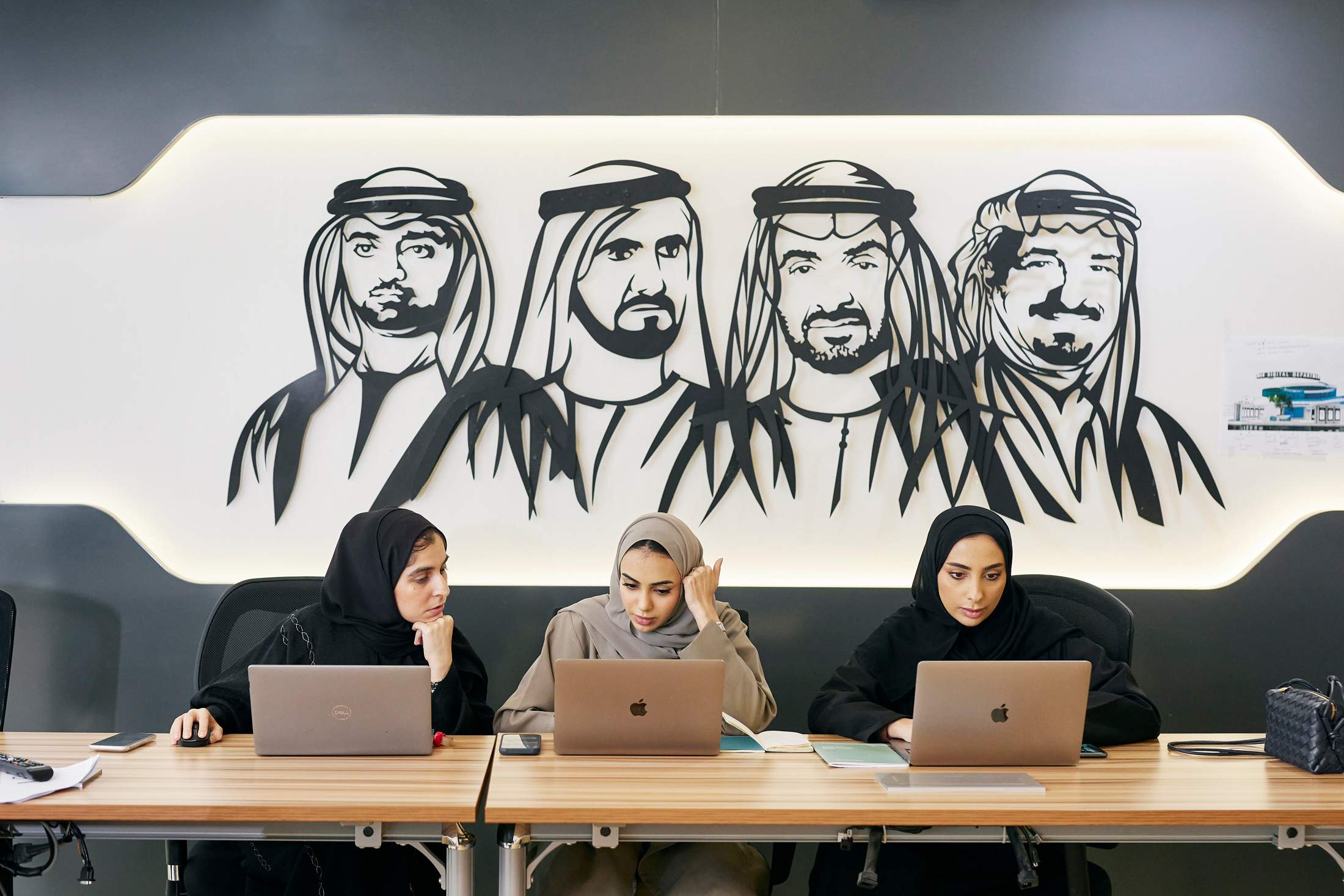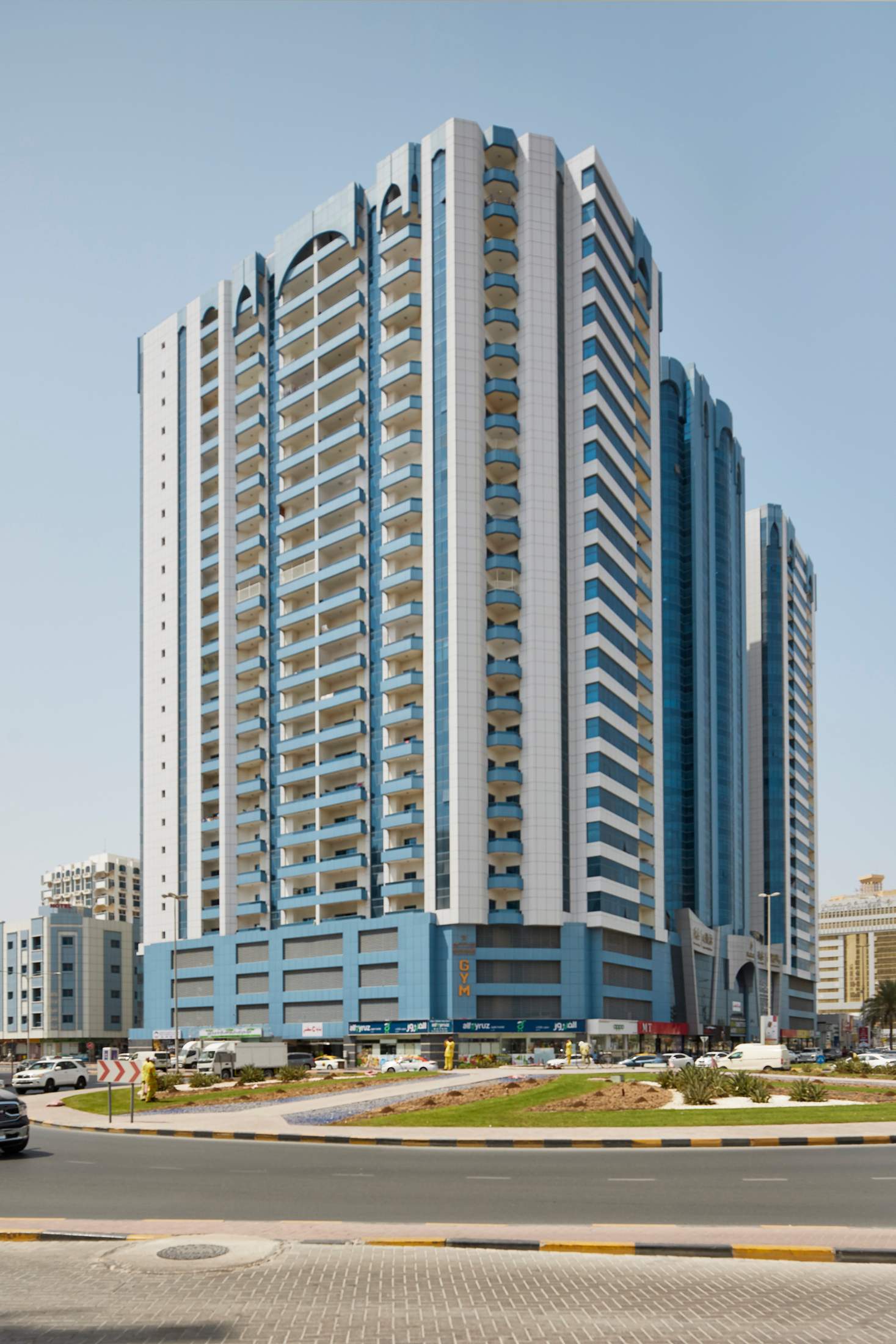 ---
Dekyi Liang, MBZUAI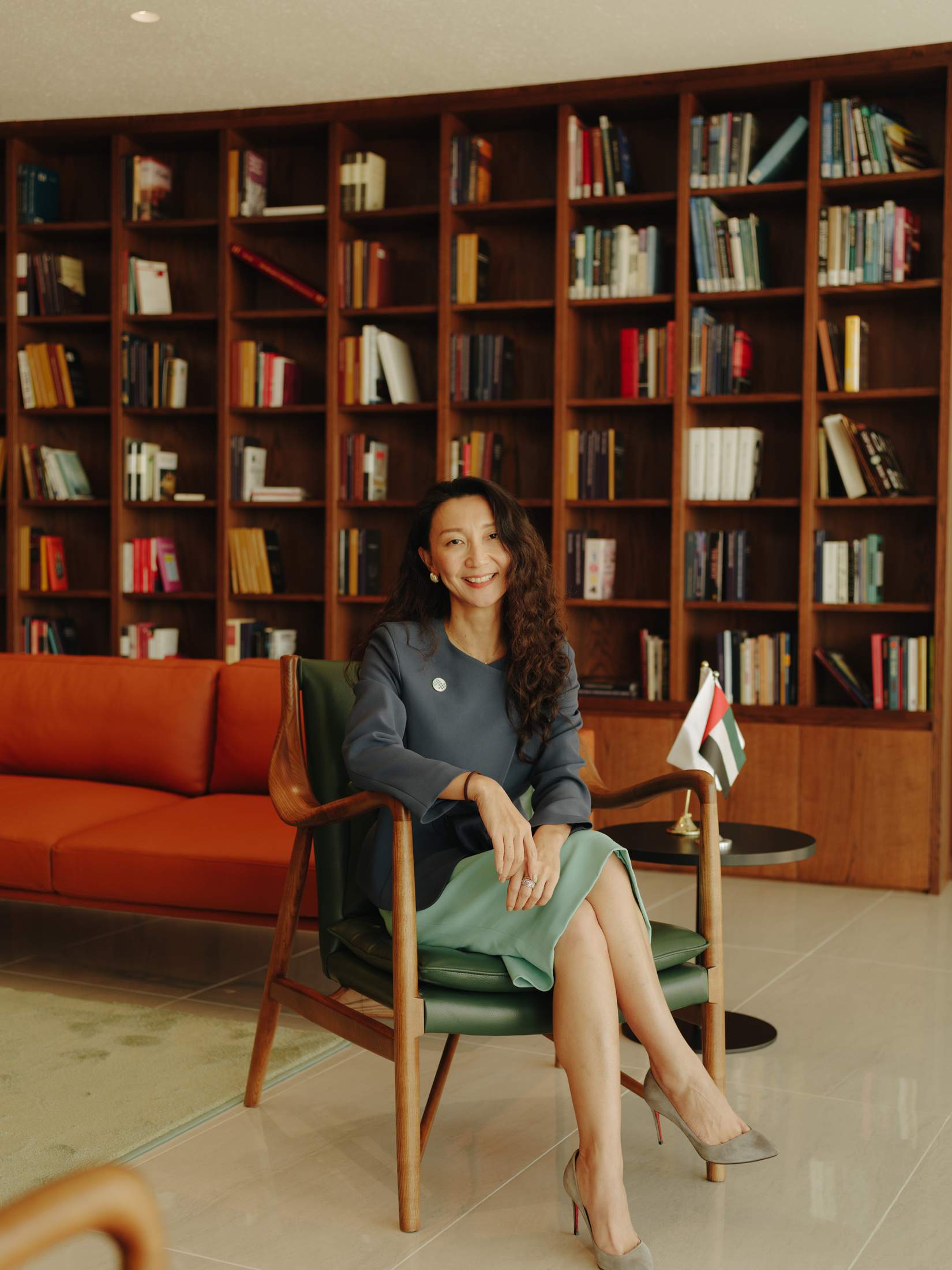 The world's first AI university is more than just a place to educate students – it is aiming to increase AI literacy for all. 
Amid the construction sites and eco residences of Abu Dhabi's Masdar City lies the Mohamed bin Zayed University of Artificial Intelligence (MBZUAI), the world's first research-based AI university. Its president, Eric Xing, has assembled a world-class faculty here, aided by his chief of staff, Dekyi Liang, who relocated from Beijing, buoyed by the institution's potential. "There are so many opportunities to build a business, but you find very few opportunities to build a university," she says.
With a background in everything from investment funds to sportswear, Liang can see beyond the often-narrow purview of academia. She has been instrumental in organising events and incentive programmes to engage with decision makers and increase AI literacy across the region. "A university alone cannot be called an ecosystem," she says. "Our mission is to support and foster both the startups and the transformation of local organisations."
MBZUAI has already collaborated with governmental departments and played a key role in the recent launch of the world's first Arabic LLM but it is still early days: the university has only just employed an alumni officer after its first class graduated in December 2022. Nevertheless, Liang is enjoying her newfound responsibilities: "We want to make sure that we are not only training good scientists and technologists, but also training good human beings."
mbzuai.ac.ae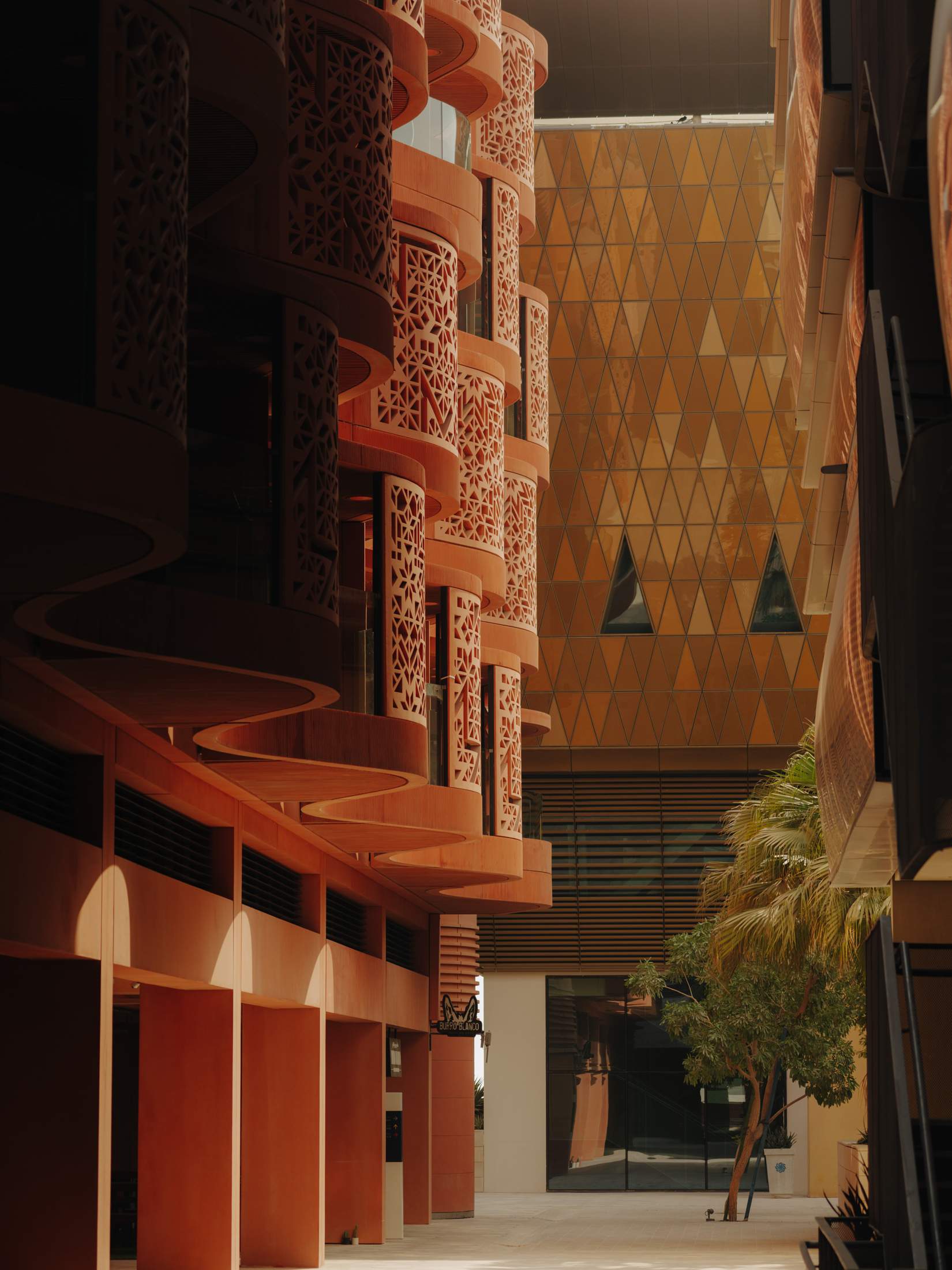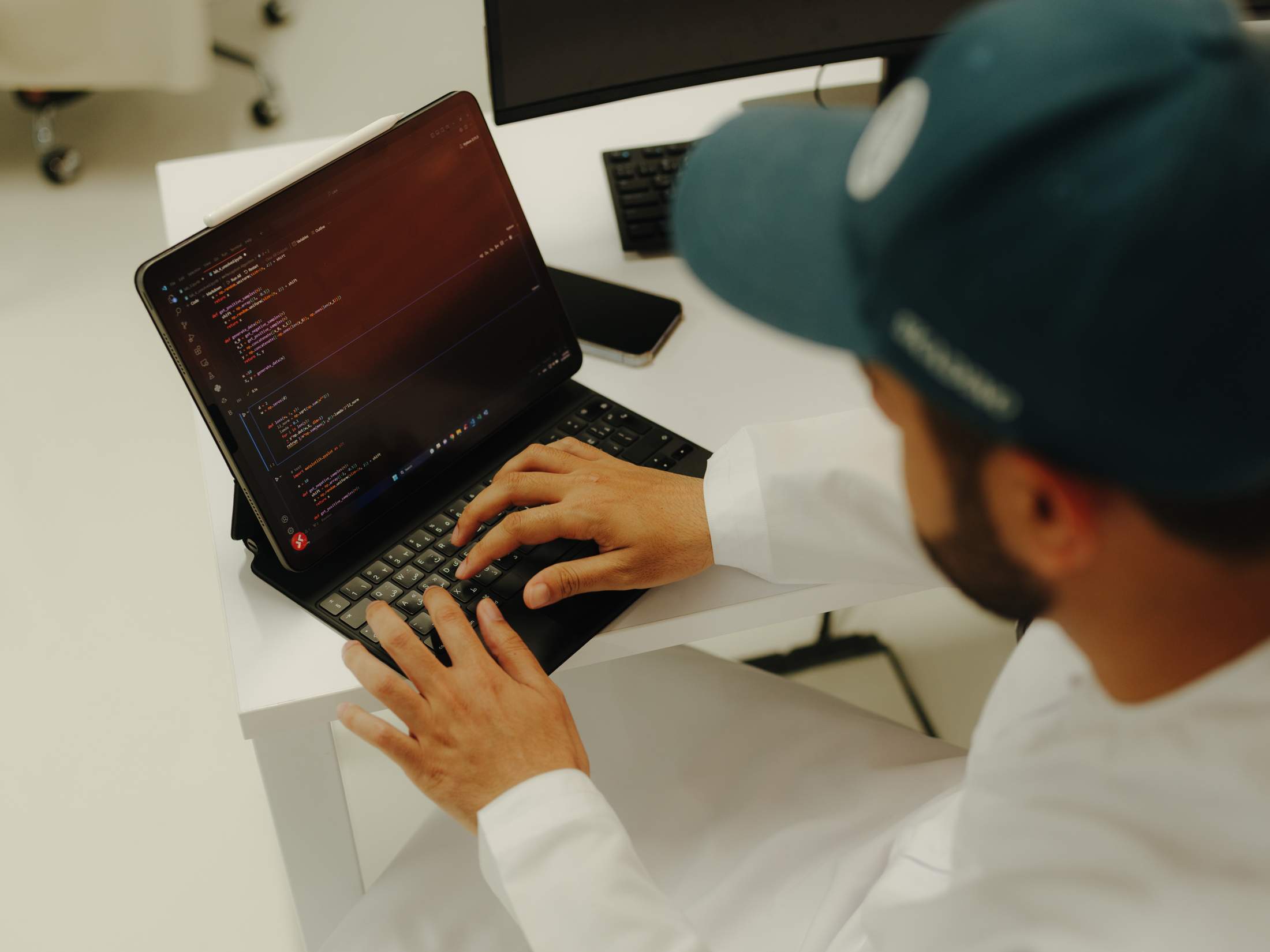 ---
---

A business leader reveals how he has benefitted from a dynamic, enterprising climate – plus two more success stories.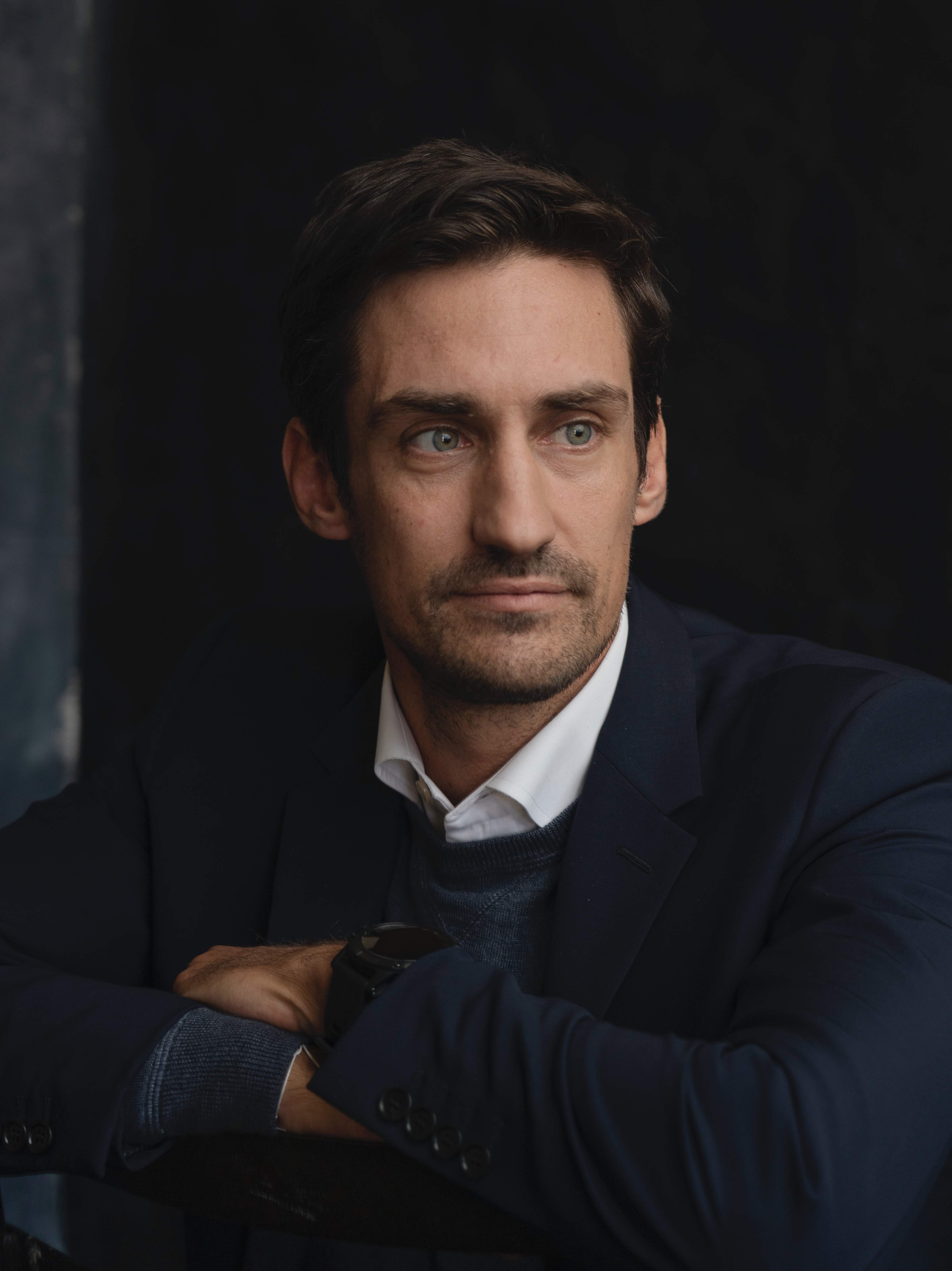 In May, Checkout.com became the first global-payments platform to secure an acquiring licence from the Central Bank of the UAE. It's just one instance of a leadership committed to supporting businesses and the digital economy at large. Checkout.com founder and CEO Guillaume Pousaz praises the country's dynamic mindset. "For entrepreneurs like me, this means an incredibly stable, open and business-friendly environment, where challenges are resolved quickly so that everyone can benefit," he says. Further examples include Omar Al Mheiri, who founded online workspace platform LetsWork after serving as "entrepreneur in residence" at Emaar Properties' in-house innovation lab. Meanwhile, in 2022, UAE University graduate Eman Al Shamsi joined Amazon Web Services as chief digital advisor, demonstrating the nation's commitment to producing talent that can contribute on a global scale.
---

Beyond 2031, the UAE has its eyes on another significant milestone: 2071, the country's centennial. With this in mind, the government has laid out a roadmap consisting of four key pillars: future-focused policymaking, excellent education, a diversified knowledge economy and a society that is both happy and cohesive. As AI continues to evolve at a rapid pace, it is clear that the technology will shape all of these focus points in various ways. Spend some time in the UAE and you might observe signs, billboards and the like that feature a quote attributed to His Highness Sheikh Mohammed bin Rashid Al Maktoum, the country's Vice President and Prime Minister: "The future belongs to those who can imagine it, design it and execute it." For many, AI is that future. As it moves, the world will move with it.