Itineraries & escapes. UAE / UAE
Sand, sea and summits
Dazzling skyscrapers might grab your attention in the UAE but natural wonders abound – if you know where to look. Plant your flag here and a host of mountain activities, dune-nestled retreats and spectacular beaches are just a desert drive away.
If you've sampled the culture of Sharjah, the Abu Dhabi art scene and the sky-stroking towers of Downtown Dubai, it might be time to make the uae a more permanent residence. Living here means hard work for many, but its inhabitants also know how to relax – often rather luxuriously – and make the most of their country's great and diverse outdoors. What about the beguilingly beautiful, ever shifting sands of the Rub' al Khali ("Empty Quarter")? How about seeking cooler climes (and some headspace) in the Hajar mountains or laying low in a lesser-known cove along the shimmering coastline? Here are a few ideas for getting off the well-trodden track and discovering a better work-life balance. From the shores of Khorfakkan to desert spas and high-altitude outposts, the uae has it all.
The Hajar (or "rocky") mountain range more than surpasses its simple moniker in splendour and boasts some of the highest peaks in the Arabian Peninsula. The range juts out between the eastern border of the uae and neighbouring Oman. Jebel Jais, in the range's northwest, within Ras Al Khaimah, is the uae's highest point at a whisker under 2,000 metres above sea level (which is more than double the height of the Burj Khalifa). These surprising lesser-known sierras of the nation's eastern frontier are a far cry from life below and conceal plenty of pleasant surprises. Nestled between peaks is the seemly Hatta Terrace, a four-bedroom villa with an infinity pool that's a show-stopping base from which to explore the area's countless diversions, from hiking and horse-riding to kayaking on the eerily beautiful blue-green lake of Hatta Dam. Biking is also big business in the mountains and many firms, including Hubbers, offer rental bikes on which to explore its rugged trails.
Hatta address book
1. stay: Hatta Terrace
A bolthole two hours' drive southeast of Dubai. Even the journey across the desert to get here feels like an escape.
hattaterrace.com
2. do: Hubbers bikes
Pick your difficulty on the green, blue, red or black bike trails that criss-cross the mountains.
hubbers.ae
3. buy: Hatta Honey
The nation's largest honey producer makes 20 tonnes every season.
hattahoney.ae
4. see: Hatta Dam
A perfect picnic spot with views of soaring summits and iridescent waters.
visithatta.com
5. see: Hatta Heritage Village
Expect some of the UAE's oldest finds, including Bronze Age burial sites.
visithatta.com
Desert
To really understand the uae requires taking the time to reckon with the seemingly endless desert that ensconces the nation's cities. That needn't mean mounting a camel, spending a night under the stars or "dune bashing" in an suv (though all are options). Instead, consider how Emirati culture was forged – through hardship and with ingenuity – and how far the country has come. Some 60 years ago, it seemed inconceivable that such places might soon feature air conditioning and water, never mind a world-leading spa. Luckily, today the deserts and oases, such as Al Ain and Liwa, have more than their share of spots in which to contemplate and unwind. Even the range of accommodation demonstrates the extremes. For a project that exhibits all the profound beauty of the desert while also embracing its heritage, we suggest Al Faya Retreat, for which three 1960s single-storey stone structures – a shop, a clinic and a filling station – were transformed into a modernist outpost at the foot of Mount Alvaah, amid the reddish sands of Sharjah. Bab Al Shams is a closer-to-town alternative – and a more mainstream take on the spa concept – near Dubai's city limits. It's been a favourite with residents looking for an escape since it opened on the edge of Al Marmoom Desert Conservation Reserve in 2004.
Five retreats in which to escape the city
1. Al Faya Retreat
A tasteful redraft from Jonathan Ashmore's Anarchitect shows that the region can do contemporary modernism with the best of them.
myskhotels.com
2. Bab Al Shams
A lavish luxury resort with charming courtyard gardens and private terraces, plus excursions. 
babalshams.com
3. The Ritz-Carlton Ras Al Khaimah
Located in a nature reserve, this site isn't to be confused with its sister hotel at Al Hamra Beach.
ritzcarlton.com
4. Tilal Liwa Hotel
Near to the towering Moreeb dune, this Zayed City hotel feels a long way from everywhere else.
danathotels.com

5. Al Wathba, Desert Resort & Spa
A luxe option with 103 guest rooms (and villas) in the desert just beyond Abu Dhabi.
marriott.com
Sea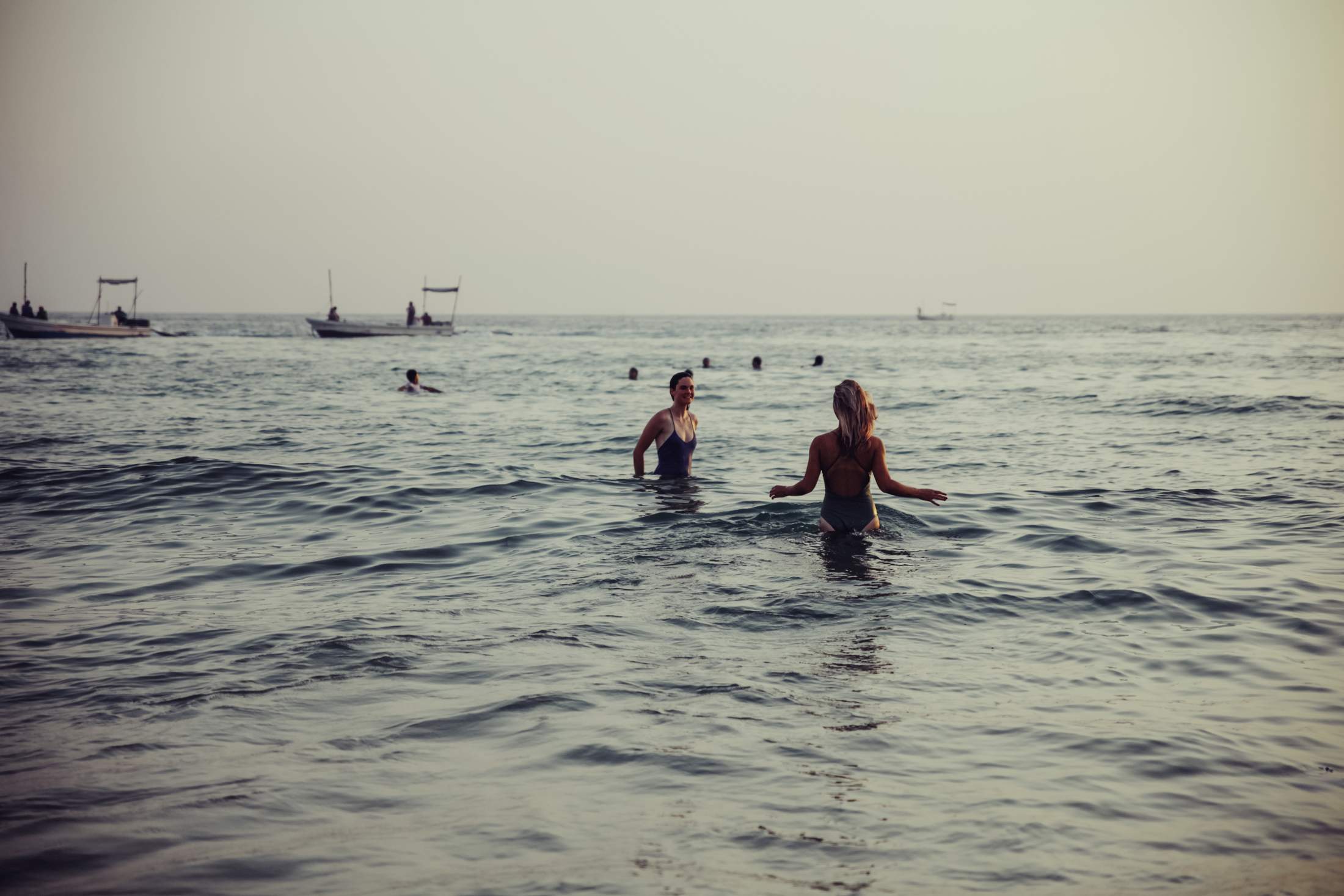 The uae has more than 700km of coastline: 90 per cent faces the Gulf, while a 70km sliver to the east is lapped by the Indian Ocean. What's more, the sea has always connected the uae with the world beyond it. Before the country was a centre of global trade and aviation, the Gulf was a productive fishing ground and the core of the pearl-diving industry (the tradition dates back thousands of years). In a story of decline and revival, that market was destroyed by the emergence of Japanese cultured pearls in the early 20th century. Little did the Gulf's divers know that within a century their hunting grounds would support some of the world's most prime real estate, boasting beach clubs, hotels and restaurants that tempt millions of visitors a year. There are diversions to tempt you too: from boat trips to night swimming and surfing, best enjoyed in the cooler months between December and March. Here are a few of our favourite places to clock off and dive in.
Five beaches on which to cool off
1. Khorfakkan
The uae's east coast boasts some of the country's most breathtaking natural beauty. This 3km crescent-shaped bay faces the Indian Ocean and is as quiet as beaches come here.
2. Al Aqah
Fujairah is an emirate best known for its nature and undisturbed marine life. Just 45km away from the capital, you'll find cerulean waters, soft white sand and picturesque views.
3. Al Hamriya
Ajman is sleepier than its counterparts but the city has one of the most beautiful beaches on the Gulf coast, perfect for surfers and sunbathers alike.
4. Al Sufouh
Dubai's beaches are many. For the most undisturbed option, make for Al Sufouh, a short drive from busy Kite Beach and complete with views back towards the city's famous skyline.
5. Mirfa 
About 90 minutes by car from the centre of Abu Dhabi is the village of Mirfa in Al Dhafra. This serene spot is descended upon every April when it hosts a 10-day water-sports festival. For the rest of the year, it's a hidden gem.