Design. UAE / UAE
Who we'd hire
Here's our wish list of firms that we would commission to create the perfect HQ, home or hotel. Read on for the studios on the up, furniture firms to tap and developers with whom to develop a closer relationship. Let's get going.
1. Tariq Khayyat Design Partners
to build a home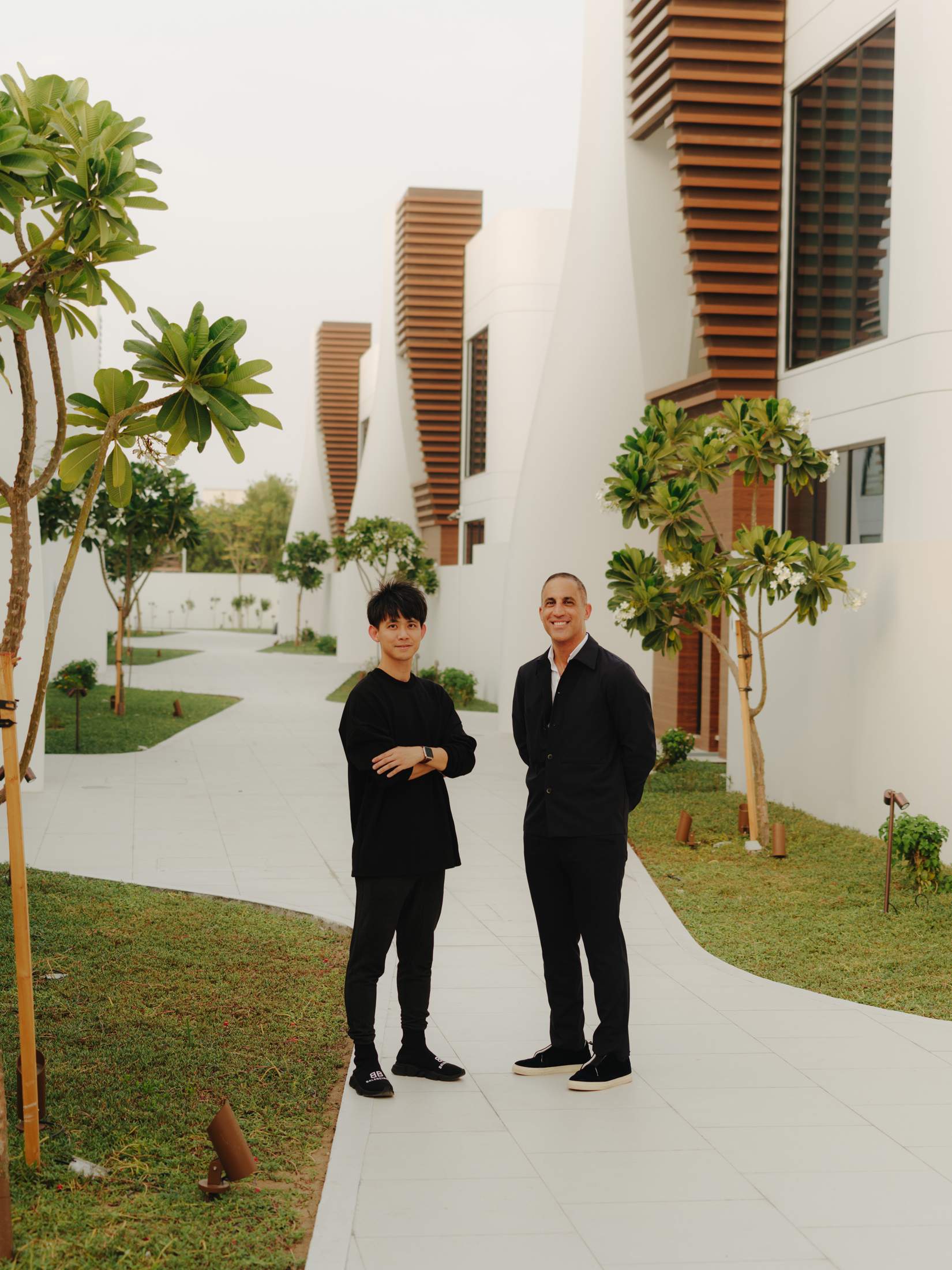 The uae has no shortage of empty land but it has filled its skyline with high-rise buildings to house its growing population. British-Jordanian architect Tariq Khayyat says that he wants to do things differently and create human-scale communities that are "a bit more horizontal" in their design. 
Khayyat came to Dubai in 2016 to set up Zaha Hadid's Middle East office at a time when the late British-Iraqi architect was taking on projects across the region. In 2019 he began Tariq Khayyat Design Partners (tkdp) with business partner Xiaosheng Li (pictured, on left, with Khayyat). Their latest project, The Fold in Jumeirah, Dubai, is a group of 28 villas that evoke rows of silk-white tulips. Louvred balconies offer space and privacy, while every home has a rooftop garden with views of the Gulf.
The Fold's defining feature, however, is a leafy plaza that zigzags between the homes and is designed to be shared by the residents. "We wanted to mimic the courtyards that you find in old Arab houses in Damascus or Beirut, where households gather," says Khayyat. "This central spine is a place for people to hang out, have barbecues and get to know their neighbours."
A communal space of this kind wouldn't be particularly remarkable anywhere else but villas in the uae tend to have high walls surrounding them and gates that open directly onto the main road. Privacy might be important but such an arrangement also gives neighbourhoods a cloistered feeling. According to Khayyat, tastes are changing; clients, he says, are seeking a more urban way of living and the market is less smitten with the ostentation of previous periods in the city's history. People are now prioritising quality and depth in architecture and that is bringing plenty of work to the firm's door. "Ten years ago, Dubai was like a hotel lobby, in the sense that you would often hear people saying that they were just going to stay for a while and then move on," says Khayyat. "The situation has changed and people have become more brave about investing in a long-term future here." This shift is reflected in the newer residential architecture: it's as though the city is at last lowering its shoulders and becoming more relaxed with itself.
The firm recently completed a mixed-use project called The H Residence, also in Jumeirah, which turned an old strip mall into cafés, shops and flats. At the centre of the property are spacious, shaded gardens; like The Fold, it's a building that was designed with the community in mind. "What's next for the uae is a lot more residential offerings that encourage connection and being sociable," says Khayyat. "We're living in an advanced digital age, especially here in the uae, and our role as architects is to create spaces for human interaction."
tkdp is casting its net across the region and now has projects planned in Saudi Arabia. "They're looking for uniqueness over there," says Khayyat. "The word 'iconic' is so overused but I do think that we create profound architecture."
tkdp.one
Know your neighbourhoods
Developers have shaped the major cities across the uae. Here are some addresses to know.
1. KOA Canvas
Developer: Mohammed Zaal/KOA
Built: 2018
A verdant enclave just outside Dubai that's a creative community with a co-working space.
2. Mamsha Al Saadiyat
Developer: Aldar
Built: 2019
A clutch of low-rise, Gulf-facing apartments just a short stroll from Louvre Abu Dhabi.
3. Dubai Hills Estate
Developer: Emaar
Built: Under construction
At its centre is a vast, Central Park-style green space, with room for markets and cafés.
---
to build an HQ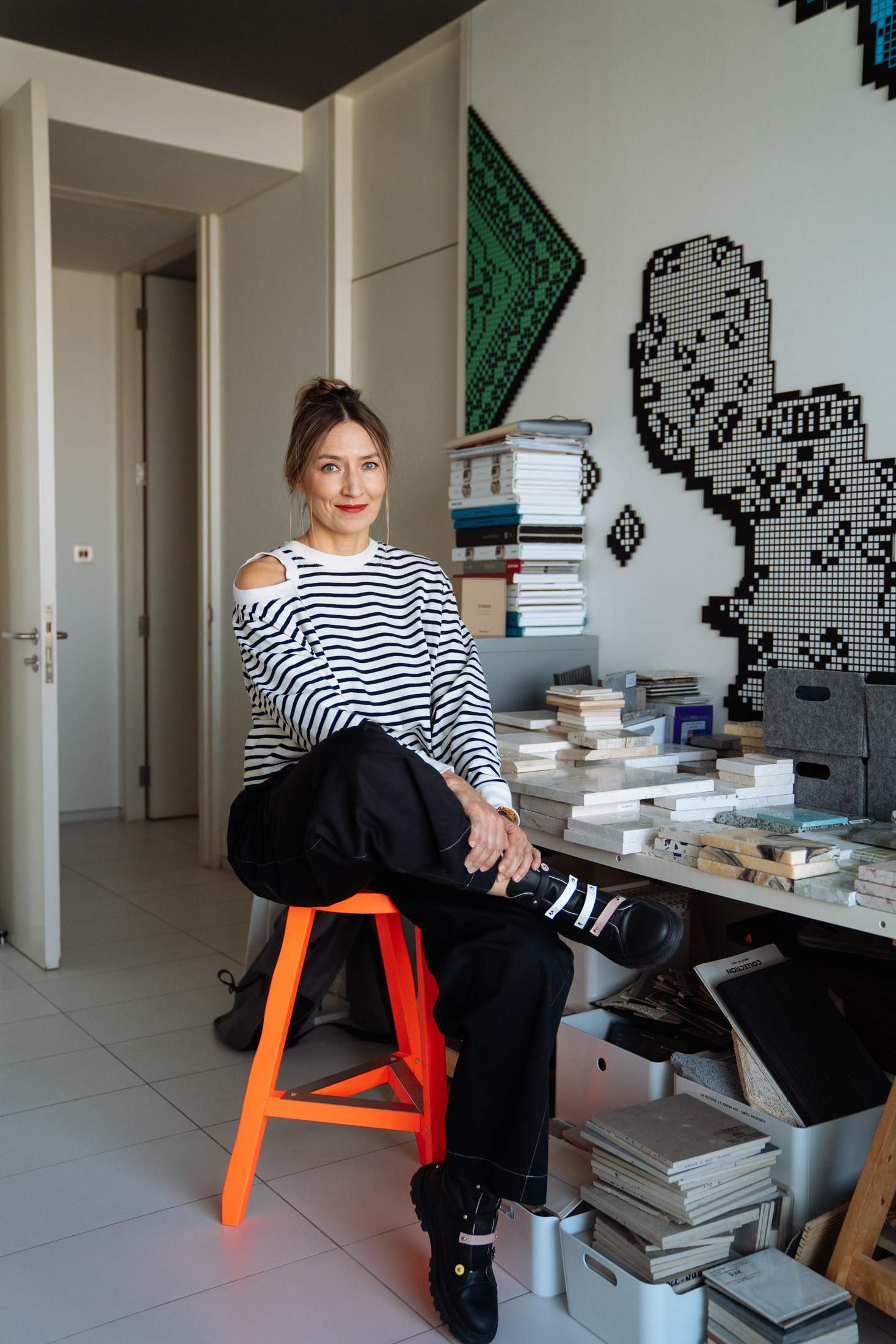 Agata Kurzela (pictured above) has carved out a niche by creating original, ambitious office spaces that never stray into cliché. With so many businesses pitching up in the uae, there's plenty of work for practices that are prepared to design offices which are both distinctive and pleasant to work in. The crucial thing is to cut through all of the "bread-and-butter corporate" designs, Kurzela tells monocle. "It's a land of opportunity right now but you have to be able to bring something fresh to the market," she says.
Her most recent project is for the uae government: she was commissioned to create workspaces inside a 1990s-built officers' club in Abu Dhabi. "The existing space was reminiscent of jfk International Airport's twa Terminal and already inspiring," says Kurzela, who is from Gdansk and worked for Roar Design Studio under Pallavi Dean before setting up her own practice four years ago. "It was a matter of redefining that canopy and trying to bring logic back to the space."
While the bones of the building were in excellent condition, modifications had been made over the years, including during the site's spell as a storage space. Subdivisions and structures had been added that obscured the simplicity of the original design. "It was a process of stripping and peeling away," says Kurzela.
To return attention to the dome, she brought in sparse lighting by Davide Groppi and introduced warm, inviting materials to keep this dune-like interior from feeling too austere. "We made sure that there was good lighting, excellent acoustics and a floor that logically works," says Kurzela, adding that it was important that this space could function both as an office and as somewhere to exhibit grand plans.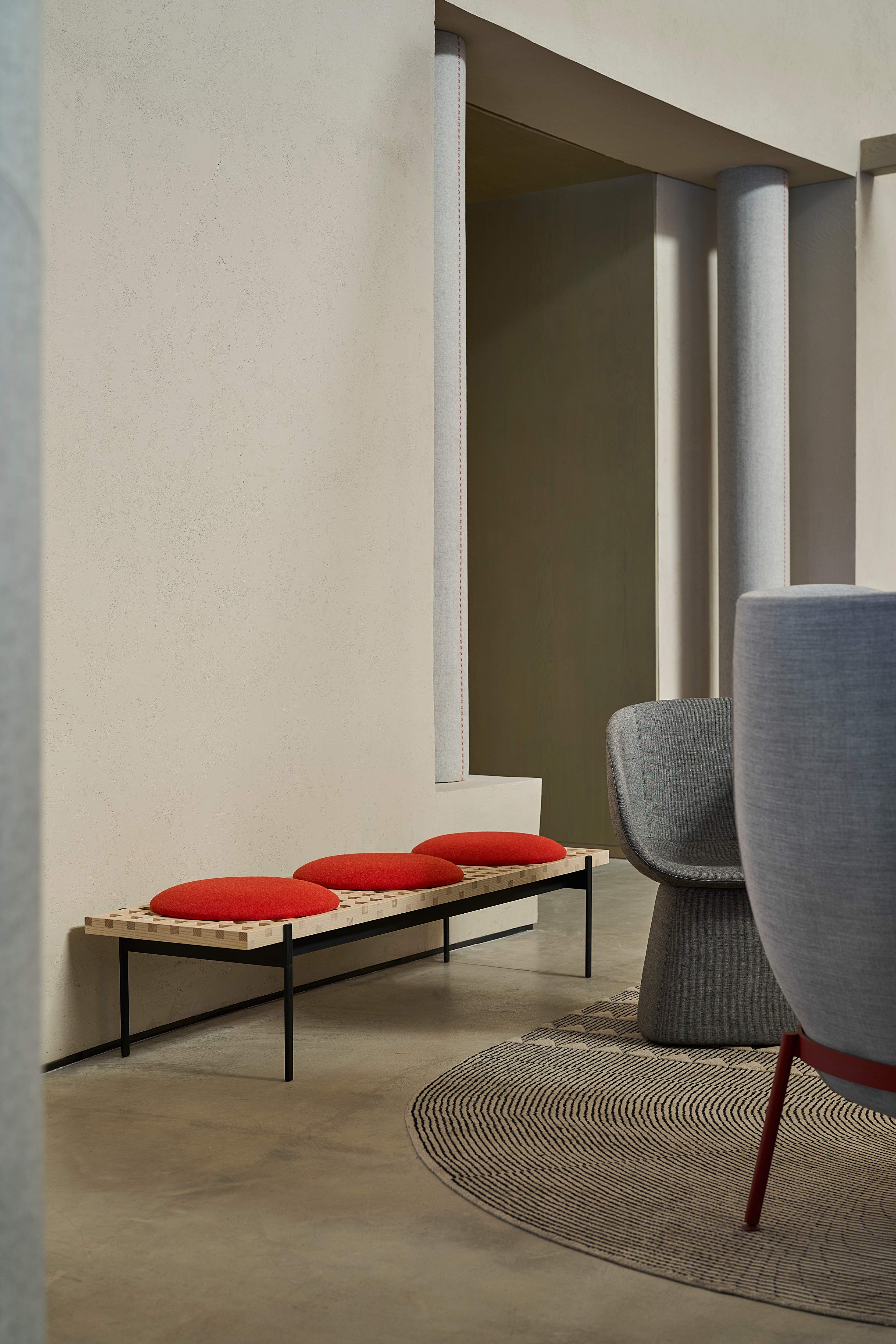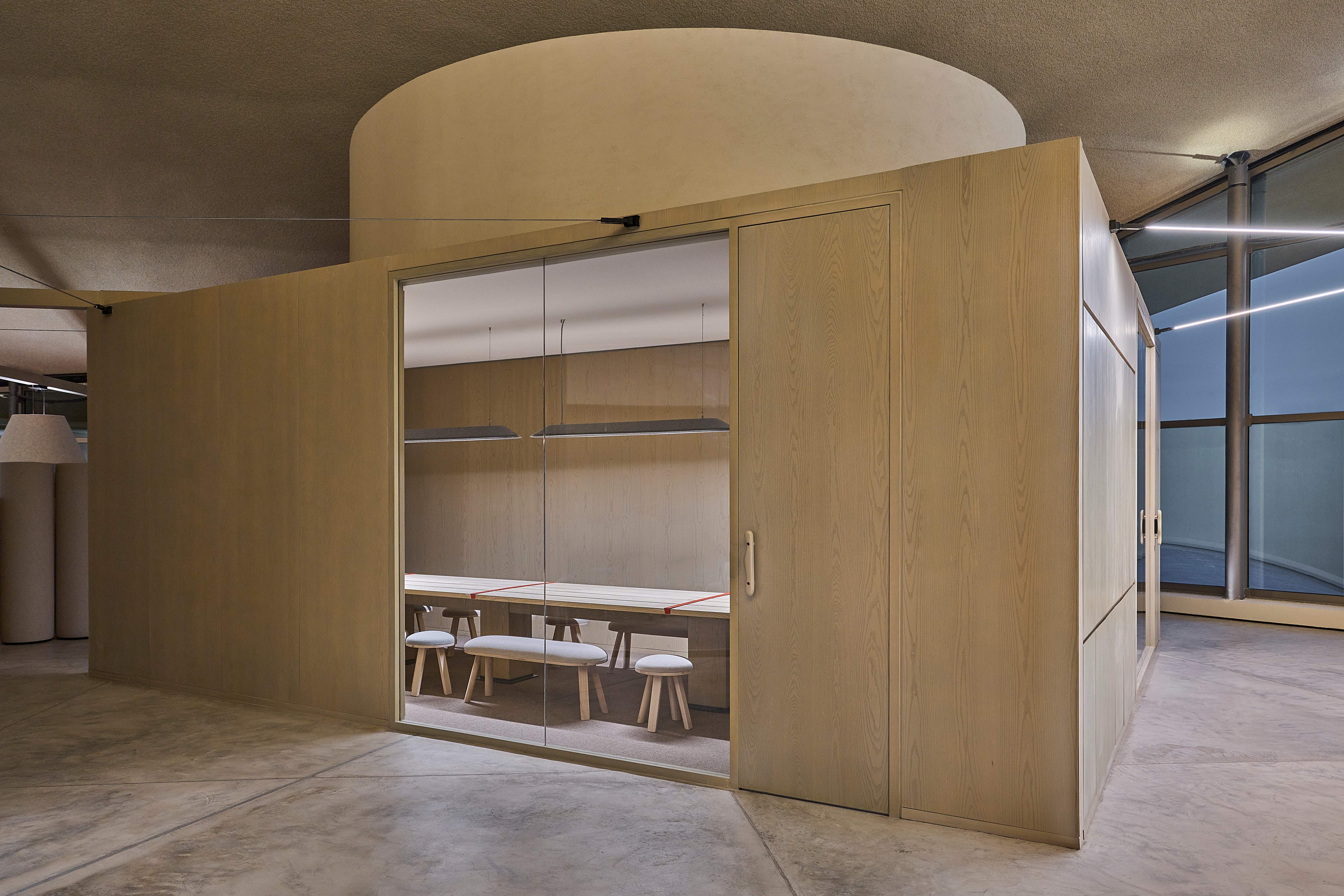 Though Kurzela worked with designers such as Latifa Saeed on the furniture, she also created many of the boardroom tables, desks and chairs herself, including an extraordinary travertine table that adds a tactility and texture to the space that complements the smooth curves of the roof.
Breathing fresh life into old buildings has become a hallmark of Kurzela's studio. Currently under construction is a residence in Abu Dhabi's coastal Al Nouf neighbourhood, overlooking a mangrove-filled beachfront. She has transformed an old chalet and added pavilions with living areas that embrace the sea. Her furniture work – including a carpet based on the proto-AI "Game of Life" algorithm designed by mathematician John Horton Conway in 1970 – will be exhibited this year as part of Dubai Design Week. Despite acknowledging the importance of technology, Kurzela worked with Afghan craftswomen, via an organisation based in Dubai's Design District, to complete the pieces.
Identifying reliable collaborators is essential for success in the uae, says Kurzela. "Relationships are priceless here." Asked what advice she would give to those who want to set up a practice in the country, she says, "It can be difficult to parachute in but find the people who you want to work with and go from there."
kurzela.com
Three ambitious UAE HQs
1. Dubai Petroleum
Dubai
Built: 1978
A modernist gem by Arab-American architect Victor Hanna Bisharat that fuelled Dubai's rise.
2. Cultural Foundation 
Abu Dhabi
Built: 1981
This building combines Arabian brutalism with grand tiled arches.
3. Siemens
Abu Dhabi
Built: 2013
The choppy zigzag façade offers smart external shading and helps to keep energy use down.
---
to build a hotel
Architecture in the uae can often seem extravagant but hotels with colossal façades, marble interiors and far-too-shiny finishes don't have a monopoly. Anarchitect was started by British-born Jonathan Ashmore in 2013 and has since been turning heads with its tasteful, smaller-scale take on hospitality. "We are the anthesis of all of that," says Militza Ashmore, the firm's executive director and Jonathan's partner. While bigger practices stretch budgets by rushing in to add floors and baubles, Anarchitect is eager to put forward a slower, far more understated take on hospitality.
Jonathan moved to Dubai in 2009, planning to stay for only a year in order to pay off his student loan. Militza joined him nine months later and neither has looked back. Soon, they started garnering lofty residential projects.
"One of my first commissions was a 750 sq m triplex on top of the Index Tower by Norman Foster, overlooking Burj Khalifa," Jonathan tells monocle from Anarchitect's studio on the 29th floor of the Marina Plaza Tower. "I felt that there was an opportunity here: there was a disconnect between architects and interiors, and what we wanted to do was overlap the two." 
The design-savvy residents of Dubai who followed design fairs such as Design Days and Downtown Design helped to influence tastes and the market of people who appreciated a subtler, more pared-back approach steadily grew. Anarchitect's ability to deliver this has helped to make it a go-to for hospitality projects. 
Today the studio has big ambitions but the team remains relatively small at 13 people. "There is an efficiency that gets lost in larger practices," says Militza. "Here, you cannot hide." Part of the firm's success stems from its fluency in adapting to international design languages. With bureaux in Dubai, London and Belgrade, its staff members are well travelled and forced to reckon with different design sensibilities and cultures on most projects. The result is a practice that is as confident with Balkan brutalism as it is with British tradition or Emirati ambition. "In Dubai, clients from the Middle East or Africa feel comfortable that we know where they are coming from," says Jonathan. 
"There was a disconnect between architects and interiors; we wanted to overlap the two"
Following the success of Al Faya – a transformation of a 1960s grocery shop and clinic with a petrol pump into a desert retreat and spa beneath Sharjah's Mount Alvaah – Anarchitect reimagined another heritage property in the northern emirate. Com­prising of two 1950s family houses, The Serai Wing hotel was once the home of pearl merchant Khalid Bin Ibrahim. This inner-city sanctuary opened in July and is designed to be flexible: acting as either individual rooms or an entire, rentable palace. 
Giving buildings a new life requires plenty of thought. "Simply rebuilding isn't enough," says Jonathan. "It needs to have a clearly defined usage, whether that's a spa, winery or wellness retreat."
anarchitect.com
Three design-minded stays
1. Al Faya Retreat
Sharjah
The uae's oldest petrol pump and a desolate shop and clinic have been transformed into a modernist-inspired hotel, restaurant and saltwater pool. 
2. XVA Art Hotel
Dubai
Just a few minutes' walk from Dubai's historic Creek, xva Art Hotel provides a shaded courtyard and welcoming Persian- style architecture. 
3. The Chedi Al Bait
Sharjah 
Traditional woodwork frames the preserved historical homes at The Chedi Al Bait. Heritage design and classic Emirati hospitality equals a warm welcome. 
---
for a private hospital
"We're designing the buildings that nobody wants to go to," says Stas Louca, (pictured on the left above), one half of Dubai-based H+A Architects, a firm that is rethinking how hospitals and healthcare should look and feel. "We're interested in how principles associated with hospitality can reduce the anxiety of going to these places." After working at regional outposts for major international firms, Louca and H+A's design director, David Lessard, set up their own practice in 2017. It recently moved into a new office in Dubai's Al Quoz district and has been attracting clients in Saudi Arabia, Sri Lanka and the Seychelles. 
A remodelled hospital in Dubai and a new oncology centre in Sharjah embody their ideas about making medical facilities feel less clinical. "It's about natural materials, intimate spaces and good acoustics," says Lessard, who is from the US. "If you squint, they almost have a spa feel."
More than 647,000 medical tourists came to the uae seeking treatment last year and this $270m (€253m) industry is only expected to grow. Hospitals are competing to give patients not only the best treatment but also the most comfortable stay. "Hotels have been talking for a long time about the experience but healthcare hasn't taken a 'guest-first' approach," says Lessard.
According to the architects, the biggest opportunities might lie in spaces that blur the lines between health and hospitality. H+A has been appointed to work on a 60-key hotel in Cairo with a detox and weight-loss clinic attached. "The biggest trends will be around mental health," says Louca. "Many new clinics are serving patients who want to take a break and focus on themselves."
h-a.global
Where's the opportunity?
Dubai Healthcare City, a cluster of facilities that were built with medical tourism in mind, are about to undergo a facelift of their own.
---
for the furniture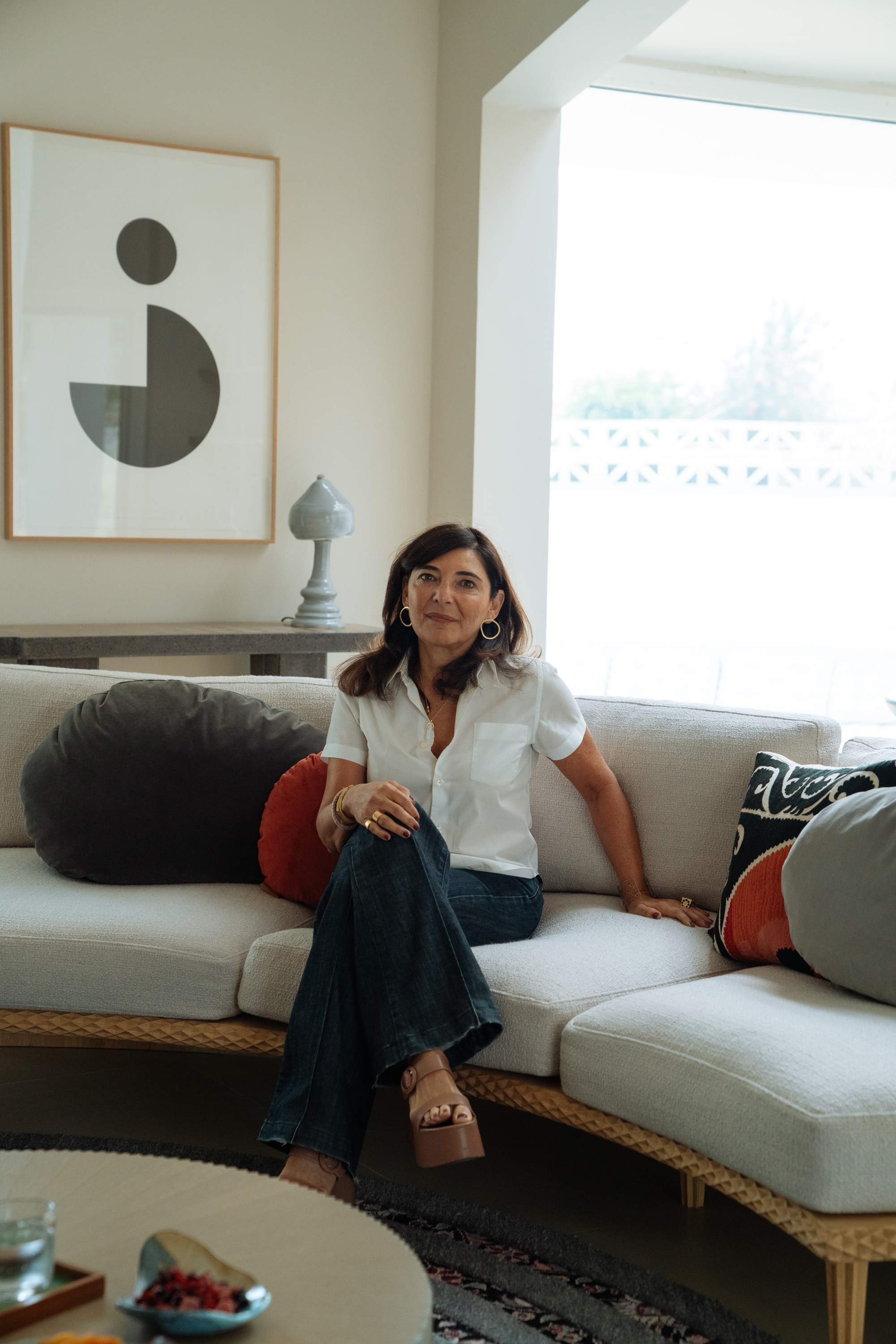 "We're aiming to be the Hermès of the Middle East," says Lebanese designer and studio founder Nada Debs, whose firm is renowned for dovetailing high-quality craft with considered cultural references and detailing. It's this knack that landed her commissions to renovate the Arab League Hall and the uae's Mission to the United Nations, both of which combine traditional methods with a modern finish. Following the 2020 port explosion in Beirut, Debs decided to look east for a safe setup and opened a studio in Dubai. When monocle visits her villa in Al Safa, by the Dubai Water Canal, she tells us about her mission to make craft and heritage the crux of home-making in the uae and beyond. "My home has become a showroom," says Debs, who admits that many still need convincing to favour the well made over the well known.
At her tranquil home, light floods in through large windows and skylights. Rugs meet marble and wood pairs with textiles; there's an unapologetic abundance of material. The forms of her furniture have an almost Scandinavian-style simplicity, meticulously balanced against Debs' tendency to deploy striking patterns and colour from Middle Eastern design. Every piece holds clues to its handcrafted back-story: a telling scrape of a chisel or a carefully sewn bead. "Just as food tastes best when it's cooked slowly by someone you love, craft captures the energy of a person," says Debs. It's the time and consideration spent on every object, as well as its balance of form and features, that give a home a true sense of serenity.
nadadebs.com 
What we'd buy
Debs' upcoming furniture range Retro Couture features a cane cabinet. She has been working with Palestinian refugee women in Beirut camps who have added traditional stitched motifs.