Design and travel. Restaurant Awards / Global
The 50 best restaurants 2015
The restaurants that normally win awards are obsessed with foam and dry ice but a great restaurant needs none of that. Here we celebrate the places we would go back to for their food, great chefs, old-school staff, lively manner and perfect dining rooms. All food here is guaranteed craze-free.
When was the last time you were satisfied with a list of the best restaurants from around the world? While most rundowns seem preoccupied with recongratulating a handful of lauded chefs at the same few restaurants, we've set out to venerate the places that have been consistently good for decades, as well as those that have the makings of becoming such stalwarts. Forget square plates, foams, emulsions and innovation for its own sake; our selection celebrates the art of hospitality done well with simple, honest food.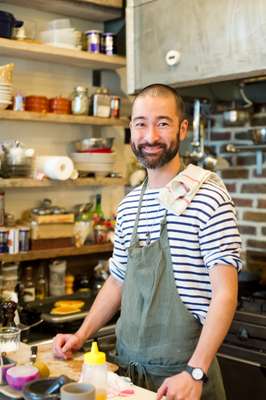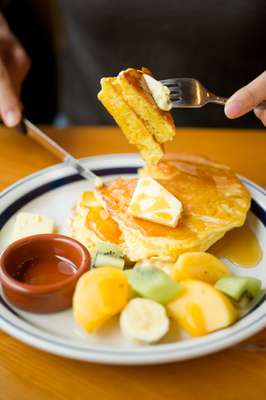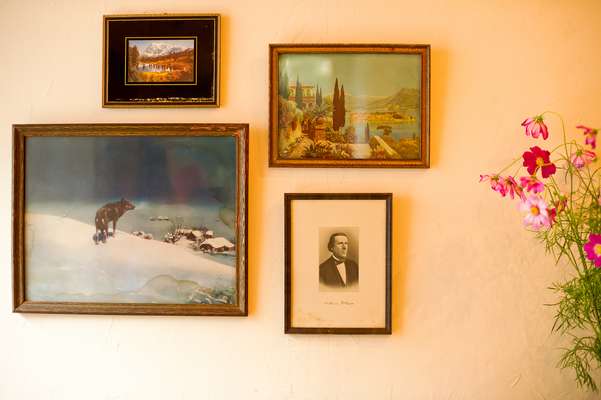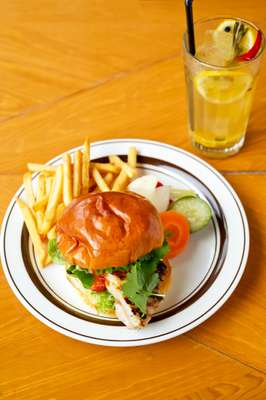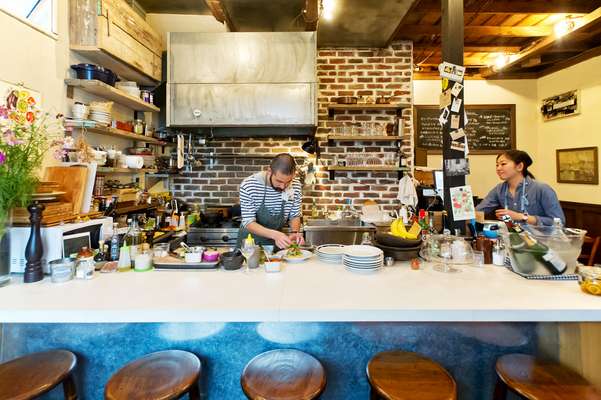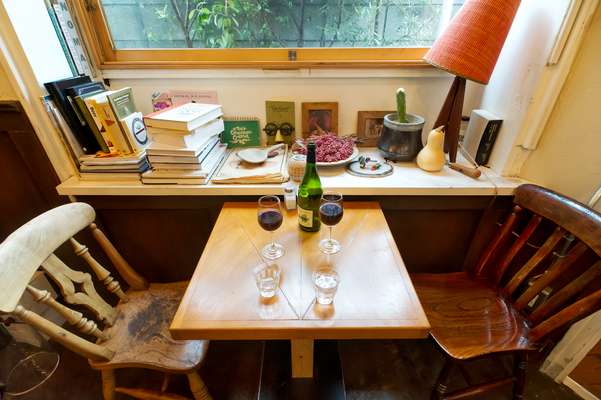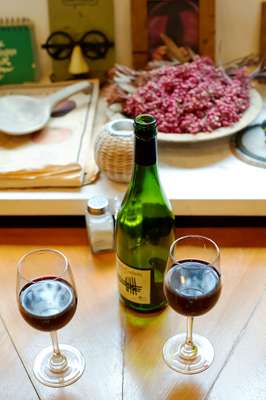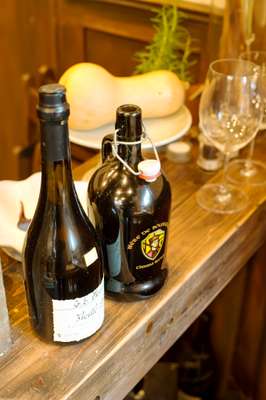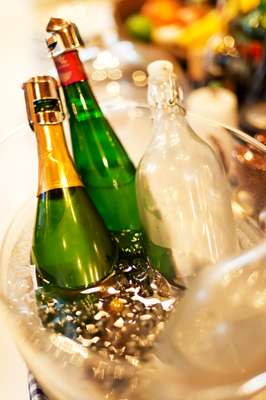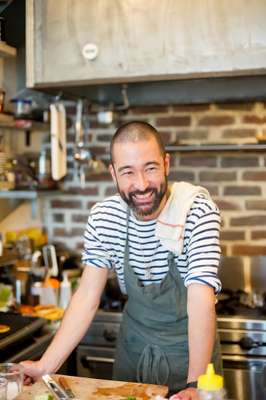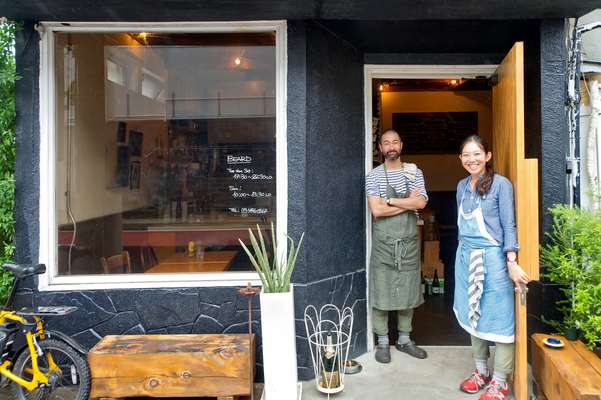 At its core our list suggests that the dining experiences we treasure and remember aren't about pageantry or pretence. Instead we think the best ones centre on memorable meals and the dishes you find yourself coming back for time and again. Our editors and correspondents travel the globe on assignment and have developed a keen nose for joints where the maître d' remembers your name. Judged by our editorial teams in London, New York, Toronto, Hong Kong, Zürich, Istanbul, Tokyo and Singapore, plus correspondents in cities from Bogotá to Beirut, we've put together some of the finer examples of dining we've found.
01 - The winner for 2015
Beard, Tokyo
As a statement of simplicity and substance we've selected this under-the-radar Japanese restaurant as the embodiment of hearty food done well. Beard is a reminder that Tokyo's most pleasurable dining experiences can be found in small, unassuming restaurants. Owner-chef Shin Harakawa chats with customers as he cooks and describes his food as simple. But he has worked at a Michelin-starred restaurant in France, and Chez Panisse in Berkeley, and is a master with tasty ensembles. In summer he might make marbled rockfish with bouillabaisse risotto or a salad of mozzarella, beetroot, fig and plum.
02- Established favourite
The River Café, London
Self-taught Ruth Rogers won a Michelin star in 1997 (with her late cooking partner Rose Gray) and her fresh take on Italian food has made her kitchen a launch pad for several now-famous chefs. The River Café itself eschews such celebrity and instead embraces a daily service that is kind, uncomplicated and delicious. Located by the River Thames in London's Hammersmith, the café opened in 1987 as a canteen to her architect husband's adjoining studio. The space has a crisp interior, wide windows and an open kitchen crowned by an incongruous but playful pink pizza oven.
03- Down-to-earth delight
Pa&Co, Stockholm
A classic on Stockholm's restaurant scene, this small bistro has held on to its spot in the limelight ever since it opened about three decades ago. The dark-wood-and-chandelier decor and the menu are basically unchanged, as are many of the customers. You won't find Michelin stars and the latest in gastronomy here; instead there are many famous faces, a joyful, intimate vibe and delicious Swedish husmanskost such as råraka, which is a fried potato rosti topped with Kalix Löjrom (delicious Swedish caviar), sour cream and finely diced red onion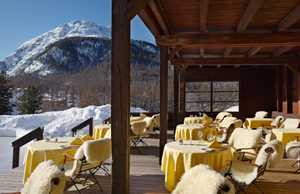 04- View from the top
Le Pavillon, Pontresina, Switzerland
The Grand Hotel Kronenhof in Pontresina is home to Le Pavillon, a 1930s wooden restaurant on the hotel grounds. Its two levels are open in winter and summer with ample outdoor space for lounging and a bite to eat. A rich Bündner Gerstensuppe (Swiss barley soup) or a plate of air-dried meats and mountain cheeses make for a memorable snack. Fine de Claire oysters are served with a champagne mignonette and those wanting heartier fare would do well to choose the melted-cheese pasta dish pizzoccheri. Ingredients are sourced from the surrounding Engadin Valley. The restaurant interior is cosy and lined
in aromatic pine; in winter outdoor seating is bedecked in furs and in summer a lawn beckons. The best is of course for saved for last: the nut torte and view from 1,800 metres up of the surrounding Alps and turquoise Bernina River below are sublime.
05- Aussie-style Asian
Cho Cho San, Sydney
Cho Cho San is restaurateur Sam Christie and chef Jonathan Barthelmess' second and best restaurant. Having opened The Apollo, their wildly successful Greek, across the street in 2012, the pair knows the neighbourhood and its tastes. Behind a giant brass screen lies designer George Livissianis' elegant take on a Japanese drinking den. Dishes run from simple, moreish starters to steamed pork katsu buns that are soft to the touch, stuffed with crumbed pork and shredded cabbage and all held together with just the right amount of chilli sauce.
06- Dumpling den
Din Tai Fung, Taipei
It's not easy to expand a small restaurant into a global group that maintains high standards and just-so service but Yang Bingyi, the man behind Taiwan's Din Tai Fung brand, has. Specialising in xiaolongbao (steamed soup dumplings), Din Tai Fung now operates restaurants across Asia, Australia and the US but the original shop on Taipei's Xinyi Road is still the best. The staff work with military precision; different and highly attentive teams undertake the arrangement of seating, serving and clearing. And look through the window into the kitchen where you'll see an equally disciplined team assembling dumplings filled with pork, truffle or crab. Once the bamboo steamers filled with xiaolongbao arrive at your table, be sure you know how to eat them correctly by placing one in your spoon, breaking the skin to allow the soup to escape and garnishing with soy and vinegar-soaked ginger slices.
07- Inclusive institution
Zum Schwarzen Kameel, Vienna
Surviving four centuries is almost unheard of in the restaurant industry; affable owner Peter Friese has been here since 1977 as well. Kameel (as locals affectionately refer to it; the full name roughly translates as "the black camel") is famous for its storefront wine bar. Patrons chat and choose from more than 800 wines as they snack on tiny crustless sandwiches that Friese's mother first started making half a century ago. In the back room dining is more formal: here, Austrian classics are served in an art nouveau setting; diners are surrounded by ornate tiled walls and woodwork. Zum Schwarzen Kameel turns 400 in 2018; its name now extends to a patisserie and deli up the street. Last year the Golden Quarter – Vienna's new upscale shopping district – opened steps away. Nonetheless, Kameel "is one of the most egalitarian places in Vienna; a president can sit next to a labourer," says Friese.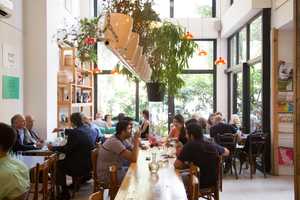 08- Host with the most
Tawlet, Beirut
Beirut is a city where food is central to almost everything, from family to business. Kamal Mouzawak is without doubt an extraordinary man who has used food to bring people together in an even bigger way: across the country's sectarian lines. He founded the city's first farmers' market, Souk el Tayeb, mixing everyone together from Druze to Sunni. Then he launched Tawlet, where every day different cooks bring produce to life in dishes that introduce you to local specialities that you'd be hard pressed to find in any other restaurant. The results are extraordinary.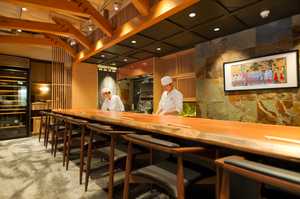 09- Perfectly formed
Maru Aoyama, Tokyo
Owned and run by kaiseki-trained chef Keiji Mori, this small restaurant has the perfect combination of good food – Kyoto cooking without the formality – friendly service and an inviting interior with a long wooden counter and piles of earthy Japanese crockery.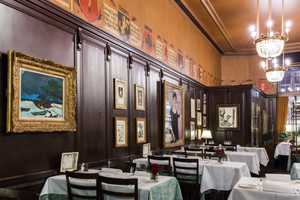 10- Artistic impression
Kronenhalle, Zürich
Where else can diners enjoy German-Swiss classics such as minced veal and liver-dumpling consommé in the company of some of the world's greatest 20th-century artists? Picasso, Cézanne and Klee are all for show on the wood-panelled walls of the elegant neighbourhood joint that Hulda and Gottlieb Zumsteg opened in 1924. Their paintings are part of the extensive collection that Hulda's son Gustav – a close friend of regulars Chagall and Miró – spent his life amassing. The unique ambience and exquisite service make a lasting impression.
11- Cosy cuisine
Ett Hem, Stockholm
A dinner at Ett Hem, a boutique hotel and restaurant, feels like a family meal. The hotel is housed in a former private home and every night the chefs offer a house menu that the guests gather to eat in the cosy kitchen, the lush orangery or the beautiful dining room. The food is clean and unpretentious, served on large shared plates. The chefs double as waiters, stopping to chat with guests as they present the dishes. "We have no written menus, and the guests don't ask for them, either," says owner Jeanette Mix. "In the evening we simply serve that day's dinner."
12- Informal and inviting
Sea Horse, Helsinki
This has been a destination for the Finnish capital's most discerning diners since the 1930s. You'll find classics including creamy salmon soup, meatballs and herring served in an authentic setting. Sea Horse has a bohemian reputation but it's not just for the artistically inclined; its friendly atmosphere seduces visitors from all walks of life. Locals playfully call the place Sikala, meaning pigsty; it's a nickname earned in decades past when the restaurant was less formal. The menu has echoes of this era: vodka schnapps is among the starters
13- Thai trattoria
Appia, Bangkok
Some restaurants aim to please by catering to what's expected. Roman trattoria Appia succeeds by bringing simple regional Italian cuisine to a Bangkok culinary landscape that has previously been dominated by haute-cuisine clichés and cream-laden carbonara sauces. Brought to life by former Aman Resorts executive chef Paolo Vitaletti, the menu at Appia gives jaded Bangkok diners a slice of his life as the son of a butcher in Rome's Testaccio district. Soft beef tripe stewed in tomato sauce, a rich and tender oxtail stew, porchetta stuffed with liver, rosemary and fennel pollen are served alongside an ever-rotating roster of specials. The wine list focuses on the Mediterranean and pastas made freshly every day.
With Jarrett Wrisley of Soul Food Mahanakorn working front of house, Appia manages to balance its meaty, rustic offerings with a relaxed and extremely welcoming ambience.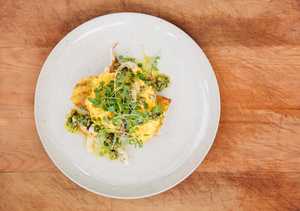 14- Kiwi cuisine
Ortolana, Auckland
A bistro, situated in the city's waterfront district of Britomart, that is an outpost of culinary firm Hip Group. Seasonal dishes pack a punch, with many ingredients coming fresh from the group's own farm in Kumeu, 25km outside the city. Try the crayfish ravioli with preserved lemon and herbs.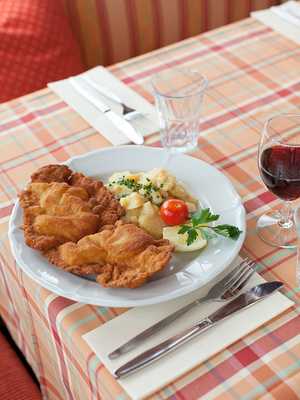 15- Filling fare
Chasellas, St Moritz
Perched on Piz Nair, the small stone building of Chasellas is a sanctuary for hungry hikers and skiers by day and a wonderful restaurant by night. Platters of meats and cheese help daytime visitors refuel; in the evening there is a mix of cuisine du marché and refined Italian cooking.
16-Good spirits
San Angel Inn, Mexico City
Housed in a stately hacienda-style mansion, this restaurant is far away from the trendy bars and bistros in areas such as Condesa and Roma. The service is outstanding: in addition to offering advice on the menu, the knowledgeable staff can help pick out the best of the expansive tequila offerings.
17- Nice slice
Orlando, Forte dei Marmi
There's a certain orthodoxy to the perfect Italian pizza recipe – thin crust, pulpy tomato sauce, stringy mozzarella – yet truly original variants can sway the strictest connoisseurs. Orlando's version of a margherita is anything but traditional: its puff pastry smothered with gouda cheese is intensely tangy but many agree that it's the tastiest in Forte dei Marmi. Managed by Orlando's son Piero Tosi, this family-run institution has remained faithful to its bygone 1970s look. Sat on orange director's chairs, visitors write their orders on a notebook and wait for fresh slices to appear from the oven.
18- Mother knows best
Marinehof, Hamburg
Owner Astrid Wettstein has always been about comfort food. She learned to cook northern German cuisine from her mother, and small but important skills (like letting peeled potatoes sit overnight before frying, lending them an unusually smooth texture) add up to sublime simplicity.
19- Quiet giant
Fook Lam Moon, Hong Kong
Delicacy is the essence of dim sum and this restaurant's humble location on Johnston Road in Wan Chai doesn't do its mastery of the art justice; the har gow and beef balls justify its reputation. Most customers have frequented the place – rare in that it's a teahouse without a kitsch interior – for decades.
20- Alpine artisan
Wirtshaus zum Rehkitz, Kitzbühel
Diners seeking storybook Alpine views and a little altitude can't go wrong here. Dishes include roast duck (the house speciality), wild salmon and classics such as Tafelspitz (prime boiled beef). The Kaiserschmarrn, a pancake-like dessert topped with plum compote and powdered sugar, is the region's finest.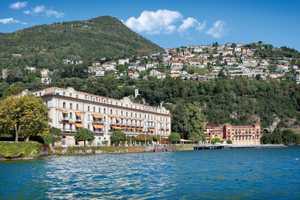 21- Elegant affair
Villa d'Este, Cernobbio
A summertime lunch on this hotel's terrace beside Lake Como is both dignified and delicious. Seasoned waiters in black tie and smart jackets deliver plates under silver cloches. After a palate-cleansing sorbet and coffee there's the extra treat of a walk in the property's vast gardens.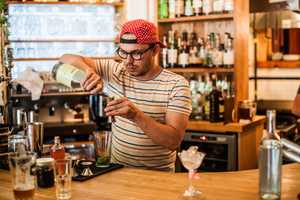 22- Instant favourite
The Federal, Toronto
Walk past The Federal in Toronto's Dundas West neighbourhood on a given evening and you'd expect it had been here forever, yet it was only opened three years ago. "The food is our top priority," says co-owner Zach Slootsky. "The wine list, cocktails and everything else exist to support it."
23- Meat feast
Golden Brown, Tokyo
Nobuya Hisatomi has given the hamburger a dignified upgrade. His burger shop's patties are a combination of lean Australian beef and Wagyu fat and the domed buns have the perfect amount of fluff thanks to a particular strain of wild yeast. In all there are 22 varieties to choose from.
24- Just-so Japanese
Dinings, London
Founded in 2006 by former Nobu colleagues Tomonari Chiba, Keiji Fuku, Masaki Sugisaki and Nick Taylor-Guy, Dinings is in an easily overlooked Edwardian townhouse on the bend of a street in Marylebone. The tar-tar chips are a fitting introduction to the team's tapas-style creations.
25- Sumptuous siren
Bagno Bruno, Forte Dei Marmi
With a backdrop of mountains and the pristine beaches of northern Tuscany, it's little wonder that Bagno Bruno has stuck with the tried and tested since it opened its cheerfully painted doors in the 1950s. The star turn is the sumptuous spaghetti alle arselle (with clams); regular diners head in from Milan to get their fill.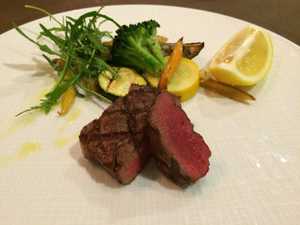 26- Take your pick
Appia Alta, Tokyo
The menu here is a feast for the eyes as well as the stomach. Instead of providing a piece of paper, waiters wheel out long carts brimming with the season's best: thin slices of raw Wagyu, oysters from Oita, skewers of giant Pacific octopus, blocks of Kumamoto beef tenderloin, handmade pasta and more desserts than a well-stocked patisserie. The multi-course tasting menu is exceptional but many of the standout items that emerge from the kitchen are dishes of customised portions and ingredients that Appia Alta's chefs have created at diners' requests. An extraordinary culinary experience.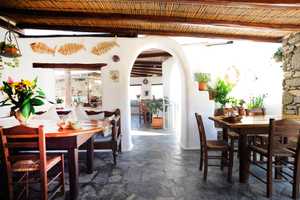 27- Beach paradise
Fokos Taverna, Mykonos
This is a 25-minute car journey from Mykonos's harbour but it is worth the trip. Owned by a Greek-Canadian couple along with their daughter, it serves fish and meat grilled on the barbecue. Combine with revivifying dips off the parasol-free beaches of Fokos and Mersini.
28- Time-honoured tradition
Restaurant Roberto, Geneva
Situated a stone's throw from Geneva's Jet d'Eau, this quaint restaurant was founded by Roberto Carugati in 1945 and is now in the hands of his daughter Marietta and grandson Alexandre. With 70 years having passed, the location may have changed but the philosophy has not altered a bit.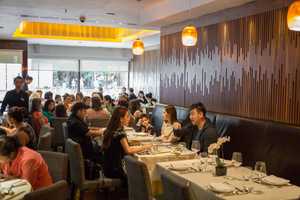 29- Best buns
Royal China Club, London
Even after the steam dissipates, Royal China Club's buns stay as fluffy as when the lid is first raised from their woven baskets. Stuffed with prawns and seafood, and served in a dining room that has the intimacy of a private club, it's easy to see why this is widely considered London's best dim sum.
30- Royal flush
Kallmünz, Merano
This mansion in the mountains of Merano has been home to many members of the European aristocracy and Kallmüntz continues to create regal repasts using simple ingredients. South Tyrolean and Mediterranean staples are best enjoyed on the terrace, overlooked by the castle's age-old turrets.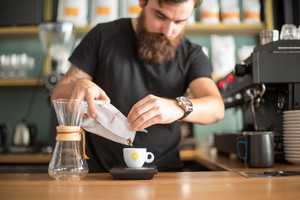 31- Close to home
Gauge, Brisbane
Jerome Batten is a pioneering force in Brisbane's hospitality scene. His first venture, Sourced Grocer, served world-class produce from the city's subtropical surrounds; his second, Gauge, brings these bounties to customers in a homelier setting. While the mood is laidback and the price points amicable, Gauge's dishes offer a complexity pushing an ambitious gastronomic agenda. When Gauge's chefs aren't busy plating up combinations of cucumber kimchi, pork cheek and confit of heirloom tomatoes, they're curing their own pastrami, pickling celeriac and rolling oats for the next busy day.
32- Join the club
Bagni Sillo, Sori, Italy
The cobbled path from Sori Station, just outside Genoa, winds down a narrow street for a few minutes before you reach Bagni Sillo. With its blue loungers perched on rocks dropping into an immaculate cerulean sea, this terraced beach club has the folklore of the quintessential bagni, less the crowds that take to many of Liguria's beaches. Alberto Gastaldelli and Giovanna Chiappe have been looking after this charming institution for about 30 years, with Giovanna manning a kitchen that presents simple, tasty regional mainstays. Aperol spritzes and salty Ligurian focaccia are always on hand.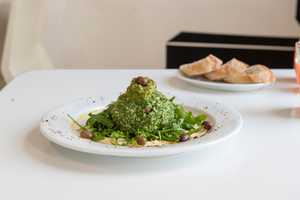 33- Good as it gets
Dizengoff, Auckland
A high-ceilinged space in a heritage building, Dizengoff is neither the newest nor the fanciest joint on the Ponsonby strip – but it's still the best. The coffee from Kiwi supplier Allpress is as good as it gets and the Jewish-inspired menu – see salmon-scrambled eggs via bagels – is comforting and moreish.
34- Do the twist
Nora Gray, Montréal
In the four years since it opened, Nora Gray has become one of the most-treasured names in Montréal's (already rich) restaurant landscape, known for offering an ambitious but grounded twist on southern Italian fare. Chef and co-owner Emma Cardarelli sources everything from Québec.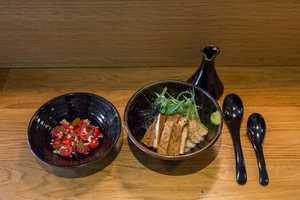 35- Surprise, surprise
Koya Bar, London
Serving sumptuous bowls of hot or cold udon noodles that are freshly made on-site each morning, this Soho pit stop is as welcoming to the lone diner as to a party of four. It is a contemporary and compact take on the traditional Japanese udon-ya (udon restaurant) that wins because of its respect for authentic Japanese cuisine. A specials menu that changes daily adds surprises that head chef Shuko Oda creates each morning from ingredients that are delivered at dawn. Although staple dishes such as the buta-kakuni (braised pork belly cooked in cider) have a loyal following, these specials are the big draw.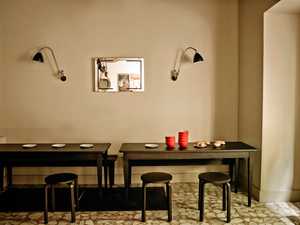 36- Reigning Spain
Celso y Manolo, Madrid
Carlos Zamora opened this classically styled tasca last year. The emphasis is on straightforward Spanish dishes, organic produce and a friendly, informal atmosphere. Diners gather around the prominent marble bar to watch food preparation, sip on vermut and savour the breadth of cuisine.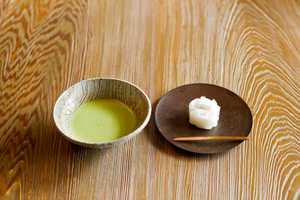 37- Chef's choice
Yakumo Saryo, Tokyo
To dine in Yakumo Saryo is to be transported into another world created by Shinichiro Ogata. From the moment you walk up the leafy steps you know you're in for something special. Chef chooses the dishes, which means the only decision guests have to make is whether to have a chilled saké or a crisp koshu wine.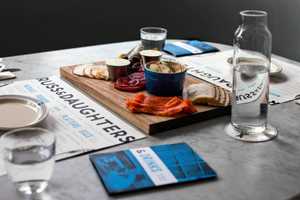 38- Family matters
Russ & Daughters, New York
Joel Russ opened this Jewish deli on East Houston in 1914 and it has changed little since then, a time warp serving fish-based takeaway fare and now run by the fourth-generation Russ family. "Food is a conduit for memory and most of our important memories revolve around family," says Niki Russ Federman, co-owner and great-granddaughter of Joel. Recommended nibbles are the pastrami-cured smoked salmon (on a bagel, obviously) and the heebster (whitefish-and-baked-salmon salad with horseradish-dill cream cheese). The latest offshoot, which opened in 2014, is a café on Orchard Street.
39- Star spot
Santa Lucia, Milan
Nestled in the heart of Milan's San Babila neighbourhood, Santa Lucia is one institution that is unswayed by crowds that beset the city for its various annual fashion and design shows. Currently located close to the grand Duomo, the restaurant started life on Via Agnello in 1929, first opened by Leone Legnani and his wife Rosetta. White-jacketed waiters move briskly, presided over by black-and-white photos of cinema's golden-age stars who have graced the restaurant over the years. The fare is Neapolitan but beyond the exemplary pizzas there is a mean steak on offer – and we would suggest the antipasti.
40- Fisherman's friend
Els Pescadors, Barcelona
Located on the 19th-century Plaça Prim in Barcelona's one-time textile hub Poblenou this fisherman's favourite is at the heart of the entrepreneurial area's upheaval (see issue one of the forecast). Simple but refined fare includes prawns and sardines served in a simple, convivial space.
41- Have a butcher's
Sternen Grill, Zürich
On the Bellevueplatz, the Rosenberger family has been serving St Gallen bratwurst, Bürli rolls and kicky mustard for half a century. The same family-owned butcher has made its white-pork-and-veal bratwurst for 30 years. They are ordered through a takeout counter and enjoyed wrapped in wax paper.
42- Quietly confident
Gambrinus, Lisbon
Lisbon has a high turnover of loud, fancy restaurants but Gambrinus has been earning quiet respect for about eight decades. Its chefs have been committed to traditional Portuguese fine dining since 1936 yet it's the high standards of service and classic modern decor that make this a must-go for a great meal.
43- Raise the steaks
Hafuu (Honten), Tokyo
Regulars hesitate to share the name of this Kyoto steak house and you can see why: reasonably priced Wagyu beef of this quality and price is a rare find and only possible because Hafuu's owner is a butcher. The restaurant, on a quiet residential street just south of Kyoto Palace, is small and welcoming. Take a seat at the counter, order one of the set meals and watch the action in the kitchen. The original dinner course includes slices of lightly roasted beef, butter-soft Wagyu filet steak and a palate-cleansing yuzu sorbet. It's so good that you might want the take-away beef-cutlet sandwiches too. Open for lunch and dinner.
44 Belgian brothers
Au Vieux Saint Martin, Brussels
Always open and ever busy, Au Vieux Saint Martin's quick dishes remain true to the restaurant's oh-so-Belgian roots. It has been run as a family affair since 1968 by three brothers, whose grandfather Joseph Niels invented the recipe for the restaurant's filet américain, which remains a staple of the menu.
45- Tricks of the trades
Karakoy Lokantasi, Istanbul
This family-run spot is a modern take on the classic Turkish esnaf lokantasi (tradesmen's restaurant). The food is hearty, home-cooked fare and owner Oral Bey greets diners with a warm handshake and makes sure there is always space for locals. It is 15 years old but the service is as spirited and speedy as the day it opened. You'll find everyone from shopkeepers having a simple soup to designers and artists tucking into long lunches with Turkish white wine served from glass beakers. The tiles of the dining room are Turkish quartz and the work of architects Autoban.
46- Top it off
DOC Carlton, Melbourne
With a mixture of Italian charm and Australian ingenuity, doc Carlton is the centrepiece of Tony Nicolini's selection of restaurants across town. Pizza toppings are meticulously sourced, from the hills of Abruzzo to the nearby suburb of Carlton, and served on a base perfected by Nicolini's father Vito.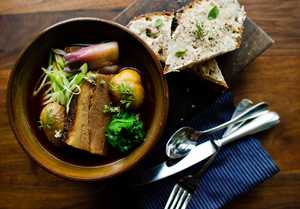 47- Hip hangout
Bar Tartine, San Francisco
In the agricultural breadbasket of California, skills such as preserving and pickling can feel like a throwback to the Old World. Then again, with the state's brutal drought perhaps they are needed more than ever. Bar Tartine, opened in 2005, brings them to the forefront along with other traditional approaches such as fermenting, making vinegars and infusing oils. There is an east-European accent to the food but influences range from Scandinavia to East Asia. Chefs Nicolaus Balla and Cortney Burns are in the process of taking over the restaurant from its former owners. Can they hold on to its umami-inflected magic?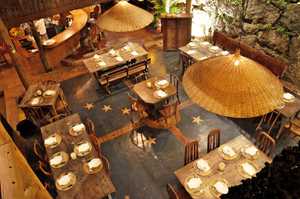 48- Roots abound
Aprazível, Rio de Janeiro
Sitting at the top of hilly Santa Teresa, Aprazível (literally "pleasant") is a Rio institution: Ana Castilho opened the restaurant in her house in 1997. On the menu are imaginative Brazilian dishes inspired in part by Castilho's upbringing in Minas Gerais, Brazil's culinary heart. She calls it "roots cuisine".
49- Rural idyll
Mercearia Gadanha, Estremoz, Portugal
For a culinary masterclass in the understated and the delicious head to the Mercearia Gadanha in the Alentejo region. The bucolic landscape is the nation's agricultural heartland and in a one-stop grocery shop in Estremoz, chef Michele Marques' culinary creations are scaling new heights.
50- Beside the seaside
La Fontelina, Capri
Since opening in 1949, little has changed at La Fontelina. The beach club's rickety straw-and-bamboo structure has blown out to sea several times but this jet-set favourite continues to attract a dolce vita crowd while keeping things eminently uncomplicated. The menu is guided by whatever the fishermen catch.