Cities / Córdoba
Watch this place
Ed Stocker reporting from Córdoba: It may be Argentina's second city but that hasn't stopped it creating a new science centre and investing in cutting-edge architecture. And one thing that won't change: its love of a salty sausage.
Population: 1.3 million
Founded: 1573
Area: 576 sq km
City GDP: €12.8m
Main exports: Agriculture, cars, software
Córdoba's mayor is seated in a throne-like wooden chair in his city hall office. With his rosary beads and a small crucifix dangling from one of the hefty seat's ears, he brings his fist crashing down on the table in front of him every time he wants to make a point, leaving his cortado coffee cup trembling.
Ramón Javier Mestre, the 42-year-old mayor of Argentina's second city, hails from a political dynasty. His father, like him, was mayor (and the original owner of the table-and-chair set) and he commands the authority of a true Latin American caudillo. But he is also determined to leave a legacy and that involves putting his city back on the international map. "This used to be one of the most important cities in the region," he says. "We're working to make sure it will be again."
Traditionally it has been Argentina's capital, Buenos Aires, that has concentrated disproportionate amounts of power and influence. Before the advent of viable roads and railways, "the port" was the only link with the outside world. Even today, the majority of the country's media outlets and multinationals are located there, leaving cities such as Córdoba – with a population of 1.3 million – feeling like a shunned cousin at a family gathering.
Mayor Mestre is keen to point out that his city, above all others in Argentina, has "achieved a tolerable equilibrium" with the capital. But Córdoba's relative isolation, more than 700km from Buenos Aires in the centre of the country, may also be its selling point.
Rolling mountains and lakes surround the city. Its landscape is reminiscent of Central Europe – albeit with a drier climate – attracting a wave of German, Swiss and English migrants and even a certain Che Guevara (when he was still known as Ernesto), who moved with his family from his birthplace of Rosario to the Cordobese town of Alta Gracia in the 1930s in a bid to quell his asthma.
While other cities in the Southern Cone – the austral extremities of South America – have razed historic monuments and edifices in the name of progress, Córdoba has managed to preserve its heritage as one of the continent's major Jesuit centres. The Catholic order – which counts Pope Francis among its faithful – constructed some of the city's most beautiful buildings before it was expelled from the Americas in 1767, including founding the University of Córdoba more than 400 years ago, making it one of the oldest in Latin America. The city is dotted with remnants of this industrious past, including the Unesco-protected Manzana Jesuítica, a Jesuit-built block in the centre of the city that contains an impressive church and the Monserrat College.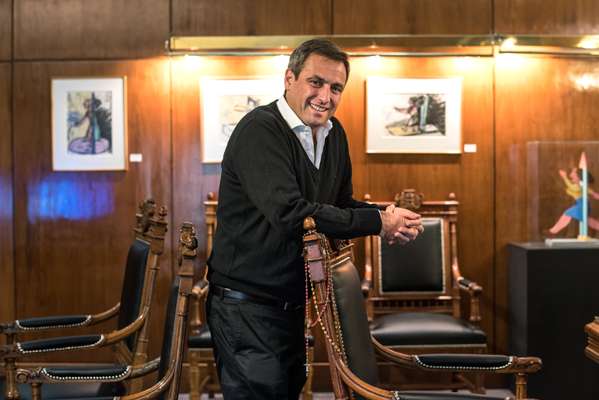 History and topography have also helped to shape a particular sense of identity. The mayor mentions that Cordobese "feel different" from the rest of the country, citing the city's distinct music cuarteto. For Carlos Jornet, news editor at La Voz del Interior – the city's main broadsheet – Córdoba has a "rebel spark", from being a hotbed of the anticlerical movement to fomenting the Cordobazo, a May 1969 civil uprising against the military government of the time. "Córdoba has always seen itself as having ideological, political and social forces that contested what the capital has to say," he says from the newspaper's headquarters, located on the edge of the city.
Yet wander around Córdoba at the weekend and you'll soon discover two things the city is particularly proud of that go beyond history and higher education, straight to the stomach. Head to Sarmiento Park in the bustling Nueva Córdoba neighbourhood and the smell immediately hits you: smoke wafting from grills, tempting the evening joggers doing circuits with calorific delights. The vendors are hawking choripán, a wonderfully fatty, highly salted pork sausage in a bun that the city claims to have invented. "That's one thing that I think is unbeatable about Córdoba," says architect Lucio Morini, whose practice faces the park, just a few minutes' walk from the sausage stands. "It's something unique that belongs to us."
Fat demands a digestif and in Córdoba that comes in the form of a fernet and coke, a cocktail pedalled at the bars in nearby Güemes, a neighbourhood currently undergoing a revival. Fernet may originate in Italy but Argentina has adopted it. Morini claims that Córdoba pioneered the long drink approach – and that Buenos Aires has only properly caught on in the last five years.
Of course, claiming a coke-based drink and a sausage as city icons fuels the argument that Córdoba is a little provincial. And there's an element of truth to that assertion, not that the Argentinian palate has ever been particularly adventurous, bowing to the holy trinity of pizza, pasta and parrilla (grilled meat). Yet the city has changed rapidly over the past few years.
"Córdoba has taken many architectural risks recently and I think we're seeing the results," says Morini, who used to work for Herzog & De Meuron in Switzerland. "I like Córdoba more and more; I was very critical before. I think that public projects have made things change a lot."
Morini has a vested interest in declaring the triumph of public architecture because he's been behind much of it – but he has a point. His firm designed the 2011 Civic Centre, a bold, honeycomb-like structure on the edge of the Primero River that is the seat of the provincial governor. He was also behind transforming the Palacio Ferreyra – now one of the city's premier cultural institutions – from a French-style mansion into a fine-art museum. And across the road at the Caraffa Museum he was responsible for the addition of modernist glass-and-metal passageways.
Morini takes us on a tour of the Nueva Córdoba neighbourhood, explaining how the barrio has been returned to its former glory, dominated by leafy boulevard Avenida Hipólito Yrigoyen. We arrive at his latest project, a shell-shaped science education centre that includes a rather shiny silver-and-red tower, complete with a winding external staircase leading to a square box on top. The tower will function as a stargazing telescope when finished at the end of the year; the garish colours, he says, are there to help get children interested in learning.
On the way back to Morini's office is another architectural landmark, which was completed in 2011. Known as the Faro, or Lighthouse, a walkway curves up from street level to Sarmiento Park, bending sharply skywards on both sides. Near the park entrance a tall, thin lighthouse-like tower stretches up some 100 metres. The curvaceous walkway actually has a double function. It serves at what its creators call a "democratic" public space and is also the roof for a cultural centre and provincial archive building below (both completed after the initial tower). That space has become an attraction as Cordobese test their bmx skills on the slopes; they've even invented a new type of urban tobogganing, involving sliding down at full pelt using a piece of cardboard as transportation. On several occasions it has ended badly for the thrill-seeking individual, hospitalised with a broken bone or two.
The architects agree that something needs to be done to curb this new fad – but they want their project to remain accessible to all. "We've used the building as topography," says one of the Faro's six designers, Cristián Nanzer, standing in the middle of the walkway with his colleague Alejandro Cohen. "The space above is more successful than below. People come here at the weekends to play music and sunbathe."
Córdoba's design boom isn't limited to the public sector, with private Cordobese firms such as Alarcia Ferrer making an international name and architect Carlos Ciravegna winning a prize at last year's International Biennial of Argentinian Architecture for his 5 Houses project. Driving out to see the houses, located west of the city in Villa Carlos Paz, it's easy to see what has attracted people to this part of the world. Carlos Paz winds round the shimmering San Roque Lake, with deep-green-hued hills in the near distance. The houses themselves are impressive, bright-white units jutting out from rock that forms part of the landscape. Ciravegna thinks a big reason that Córdoba is producing such interesting work is due to the eight universities in the city. "And then," he adds, "maybe it's just that Cordobese people tend to be more creative."
That creativity is evident in the art scene, inspired by the countryside and the space. Raúl Díaz – a contemporary artist of international repute who works with everything from wood and resin to mud – has a stunning studio and home in Unquillo, north of Córdoba. "This is an area with a lot of painters thanks to the Italians who settled here in the first half of the 20th century," he says, as his many dogs wag their tails around him. But the market in Córdoba isn't easy and he tends to find more of an outlet overseas.
It's a feeling echoed by Maru Becerra, owner of Via Margutta contemporary-art gallery in the city who attends 63 global fairs a year, and collector Marcos Espinosa, who used to own a gallery in Buenos Aires and recently moved back to his home town. Espinosa's house is cluttered with local artwork – from José Malanca to Francisco Vidal – and he says the draw of being based here is undeniable. "Artists may want to travel abroad but they always return."
Yet creative industries that didn't exist here not so long ago are starting to flourish: the fashion scene is a prime example. With more local universities teaching the vocation, the transformation has been rapid. Gime Guzmán is the editor of fashion journal Ay Mag and helps run Transeúnte, a fashion label and shop. He says there was "an explosion" of designers who went professional a few years ago, also helped by the government's promotion of the "Made in Córdoba" brand.
Córdoba is a place taking its first explorative steps, one with the potential to establish itself as a hub for not just design and architecture but fashion and food. In the latter category it's chefs like Sibaris restaurant's Roal Zuzulich and República's Miguel Escalante who are making a difference – Escalante's white salmon al vapor with black garlic sauce and curried cauliflower is about as far away from choripán (a traditional Argentinian street-food-style sandwich) as you can get.
"When we opened last year the Cordobese press asked if the city was ready for this type of cuisine," says Escalante. "I don't know the answer but someone has to start doing it." It is pioneers such as Escalante – and his peers in other industries – that may just grant the mayor's wish of getting Córdoba back on the map and the world dancing to a cuarteto rhythm.