Cities / Hanoi
Changing of the guard
James Chambers reporting from Hanoi: In Vietnam's fast-paced capital where two wheels still rule the streets, old-world charm and the status quo are being challenged by a rapid social and urban transformation.
Population: 7.5 million
Name: Hanoi means "inside the river" in Vietnamese
Founded: Celebrated 1,000 year anniversary in 2010
Number of lakes: 112 (with total surface area of 7m sq m)
Weekend getaway: Halong Bay is a 3.5 hour drive
On a balmy summer's evening in the French Quarter, guests of the historic Metropole hotel sit out on the terrace sipping cocktails while two elderly Vietnamese gentlemen play badminton in the nearby Dien Hong flower garden. This tranquil setting, amid the colonial architecture and leafy canopies of one of Hanoi's most well-heeled areas, offers a glimpse of the city's old-world charm. Yet it's a side of Hanoi that is fading from view. Modernity has come to the Vietnamese capital at breakneck speed and many residents – together with the city itself – are simply trying to keep up.
By seven the sun is down and the shuttlecocks are packed away. Time to head northwest along Trang Tien, a downtown boulevard that throngs with two-wheeled traffic. Hanoi's rapid population growth (it has doubled in size to seven million in the past decade) is loudly on display outside the Trang Tien Plaza that opened just after the turn of the millennium and sells premium European fashion labels. Young families and couples park their scooters here to pick up ice cream at the famous Kem Trang Tien parlour.
"Hanoi is still a city of the streets," says Diego Chula, founder of Vietnamese fashion label Chula, which has two boutiques in Hanoi. An outlet in the South Korean-owned Lotte Department Store, Hanoi's solitary skyscraper donwtown, closed after a two-month trial due to sluggish interest. "There are not enough people visiting shopping malls," says the larger-than-life Spaniard, who regularly wears his own colourful designs.
Arriving in Hanoi today it is easy to overlook the scale of urban transformation without talking to those who can recall the 1990s. UK ambassador to Vietnam Giles Lever began his diplomatic career in Hanoi in 1993, two years before relations normalised with the US and the communist country entered the Association of Southeast Asian Nations. "Street lights were still a novelty when I arrived, bicycles still outnumbered motorbikes and cars were very rare," says Lever in his office in a modern block south of Hoan Kiem Lake, which the UK shares with the South African embassy. Foreign investment became feasible in Vietnam after the Doi Moi economic reforms in 1986 but lingering international isolation halted a stampede. Vietnam had barter trade with Cuba during Lever's first posting and he remembers being able to find enormous boxes of Montecristos at the market being sold for a pittance – minus a humidor, of course. "It was a lottery when you got them home as only half of them would be smokable."
Nowadays international patronage is more likely to come from a g20 country. Concrete signs of this can be seen on a 50km car drive, along a new six-lane highway north of the city. Crossing the Red River on the Japanese-funded Nhat Tan Bridge has cut journey times to Noi Bai International Airport in half; both bridge and airport opened last year. Proximity to the cargo terminal has fostered an international automotive cluster at he Binh Xuyen Industrial Zone in Vinh Phuc province. Honda – undisputed king of Hanoi's streets – is here, while Piaggio picked the site for its first production in Asia Pacific. "Vespa represents Italian style, fashion and elegance and we created this aspirational product in this market," says Miguel Charneco Garrido, who oversees the company in the region. Vietnam is Piaggio's largest market and it sells more bikes here than in the whole of Europe. "Now is the perfect moment for the premium product," he adds, immaculately turned out in full suit and tie despite the sweltering heat.
Four-wheeled traffic is becoming more common but barriers to car ownership remain high. Steep import taxes increased again this year. Add on a lack of coherent urban planning and chaotic congestion and scooters continue to be the most practical way of traversing this compact city. However, worsening pollution is a major talking point, prompting many road users to don face masks. Plans to improve transport infrastructure are in the works; a five-line monorail is under construction but the project is currently delayed until 2018. Hanoians are unlikely to hold their tongues – and their breath – for long. Threats to the environment provide a rallying call for collective action, partly because residents spend so much of their lives outdoors. Protesters took to the streets last year to stop the cutting down of roadside trees; then earlier this year activists marched through the capital after dead fish began washing up on the beaches of central Vietnam.
Although many of the monorail stations remain a pinpoint on a map, there are several reasons for optimism. The Green One un building is a model of sustainability: solar panels contribute 10 per cent of the power and even contribute energy to the national grid on weekends. Meanwhile Japanese architect Takashi Niwa, who established the Hanoi office of architecture firm Vo Trong Nghia in 2010, has a signature style of wrapping buildings in a "sustainable skin" of trees and plants. "We want to bring nature back to the city," he says.
Credit for the single most significant enhancement to the city's quality of life goes to the local government for opening up access to the waterfront of Hanoi's largest lake, Tay Ho ("West Lake"). Since then public and private initiatives have taken root. Chu Kim Duc started Think Playgrounds in 2014 to provide a safe place for children – including her own – to play in the capital. "When I was a child we didn't have playgrounds, we played on the empty streets," she says. Projects tend to be community based but last year she collaborated with the local government on the launch of Play Street, a pop-up playground that takes over Dao Duy Tu Street in the Old Quarter for two hours every Saturday night.
Relics from the past continue to cut across this ancient city. At regular intervals a rusty locomotive rattles along the French-built railway line that still runs at street level. State-owned operators, such as the railway, still dominate the Vietnamese economy. More importantly the Communist party in this single-party state steadfastly controls all aspects of free expression, from owning all media outlets to breaking up public protests and censoring the arts (see panel below). Nonetheless the most noticeable hangover for visitors is the time that Hanoi keeps. While Ho Chi Minh City has become a 24-hour city, nightlife in the capital comes with a curfew. Roadside bars known as Bia Hoi (fresh beer) take over entire pavements right up until midnight, at which point the taps are turned off and the stools are packed away.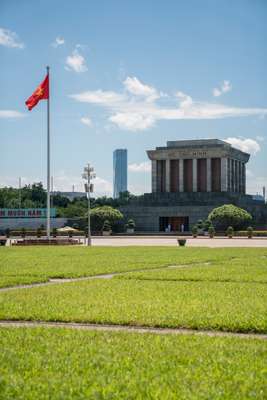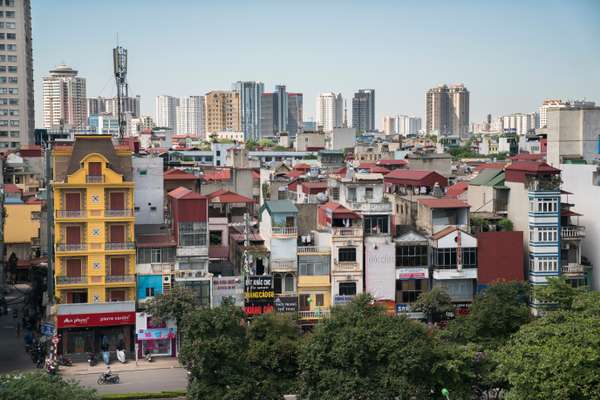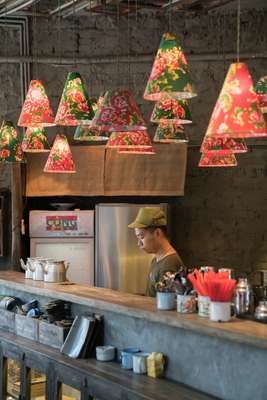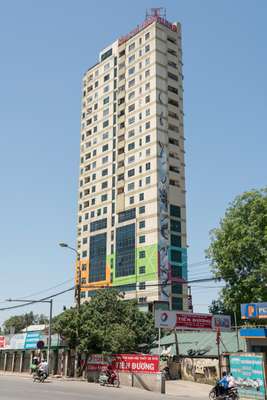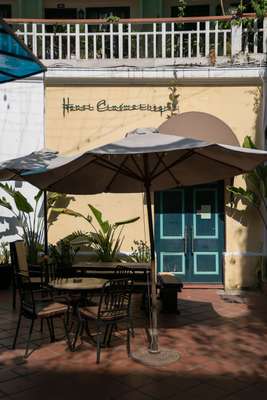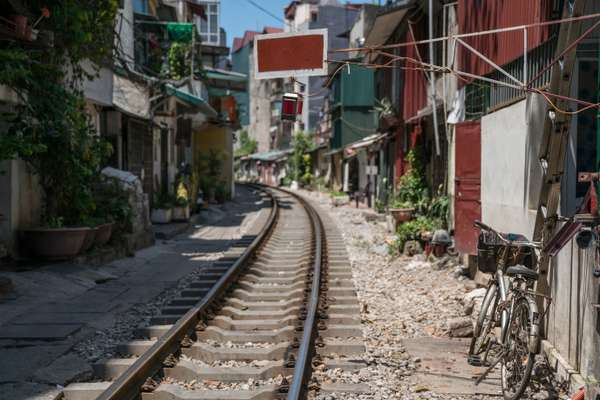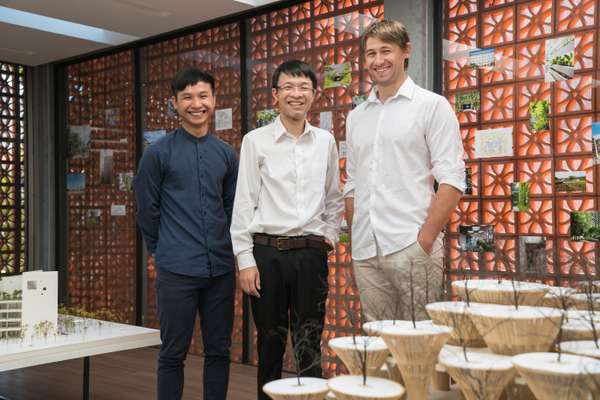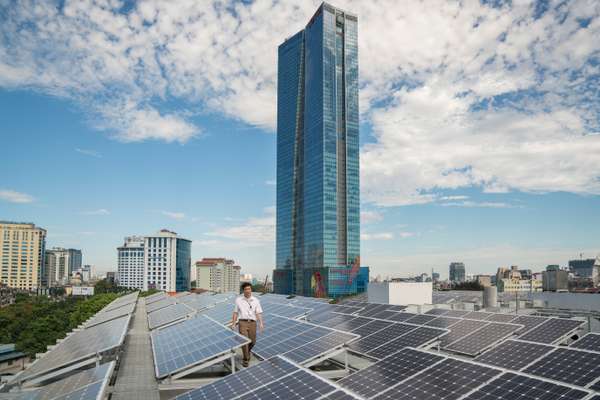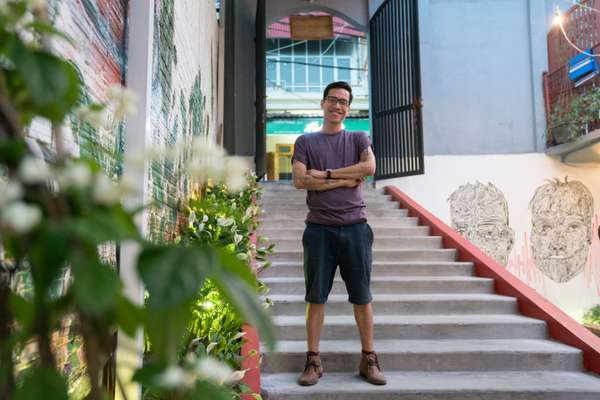 Frustrating as this can be for tourists, it does leave ample opportunity for a crucial 05.00 wake-up call when sprightly silver-haired citizens fill the streets to do aerobics exercises, ranging from ballroom dancing and synchronised fan-waving to the life-affirming "laughing yoga". For now Hanoi's old guard keeps the city running on agricultural hours. After all, rice paddy fields rather than sprawling industrial zones surrounded the city until not so long ago. But time is being called on the capital's traditional clock by a diaspora returning from Singapore, France, the UK and the US, bringing education, experience and a different world view to previous generations who studied in ex-Soviet states. English is booming as a result. "It strikes me as one of the big differences from the 1990s," says Giles Lever. "Back then English was not widely spoken even among government officials or middle-class Vietnamese."
Vo Duc Anh set up Hanoi Rock City with three friends after completing his A-levels, undergraduate degree and master's in the UK. "We wanted to give young Vietnamese somewhere to hang out and listen to live music," says Vo. The bespectacled 33-year-old sips whisky and wears a close-fitting T-shirt with rolled-up sleeves, revealing heavily tattooed arms. The ink suits the bar owner. The specs are a nod to his day job teaching maths to teenagers. Hanoi Rock City stays opens past curfew, a perk of being away from the town centre.
On the ride back into town, in the Hanoi darkness, swerving in and out of two-wheeled traffic, it is impossible to miss the mobility of this youthful population. Nightfall may hide the subtle changing of the guard in Hanoi but the future of this vibrant city is anything but dark.
---
Notes: Culture confidential
Small art projects are dotted all over Hanoi despite the headaches of putting on a show: photos of each artwork must be sent to the Ministry of Culture before an exhibition permit will be issued. No nudity, no politics, no Ho Chi Minh. Even fashion shows require approval. Consequently Hanoi's close-knit creative community are a resourceful bunch. Some use code words for an exhibition, others operate members-only events or advertise only on Facebook. Government art grants don't exist so alternative funding must be sought. Manzi Art Space runs a café and art shop to cover expenses. Foreign cultural bodies offer another important lifeline. "Japanese, French, German and Danish institutions are really important for the cultural art scene in Hanoi," says Nguyen Quoc Thanh, co-founder of prominent art group Nha San Collective.
---
HANOI DIRECTORY
Get up to speed on the city's best restaurants, transport, parks and more.
Sofitel Legend Metropole Hanoi: General manager Frank LaFourcade returned for a second stint unable to resist the charm of one of Asia's grand hotels. His favourite aspect? The garden, which he planted during his first sojourn.
15 Ngo Quyen Street, Hoan Kiem
+84 4 3826 6919

Pho Cuon 31: Residents head to Truc Bach's small island community for pho cuon (thin rice-noodle wraps). One person can easily devour a plate of 10.
31 Ngu Xa, Truc Bach, Ba Dinh
+84 4 3715 3679

Don's Bistro: Go to the top floor for modern Vietnamese cuisine and enviable views of West Lake. With experienced Canadian chef Don Berger at the helm, a good meal is guaranteed.
6 Quang An Road, Tay Ho
+84 4 3719 2828
dons-bistro.com
Madame Hien: Sensible diners frequent Didier Corlou's French villa in the evenings. His nearby Porte d'Annam restaurant (22 Nha Tho, Hoan Kiem) is good for lunch, fusing French and Vietnamese cuisine and providing a welcome blast of air-conditioning.
15 Chan Cam, Hoan Kiem
+84 4 3938 1588
verticale-hanoi.com
Tadioto: Embassy crowds mingle with Hanoi's close-knit creative community at this dimly lit salon. Expect book readings, classic cocktails and a closing time that slips beyond curfew.
24B Tong Dan Street, Hoan Kiem
+84 4 6680 9124

Reng Reng Café: Before setting up this tiny space, Nguyen Duy Bieu used to ride around Hanoi on a bicycle ("reng reng" means "ding ding") selling Arabica coffee produced at his family's farm in Da Lat.
3 Phung Hung Street, Hoan Kiem
+84 9 3365 3101
rengrengcafe.com
Cong Caphe: This homegrown chain has gone national, tapping into Vietnamese tastes where foreign coffee powers have struggled. Each uniquely decorated shop wears a communist-era uniform – with a wink.
Citywide
congcaphe.com
Silk: Hanoi has textiles galore with a cluster of shops on Hang Gai Street. Fetching scarves can be used as handy face mask when scooting around the city.
Scooter-savvy tourists are a common sight. Less confident riders rely on an informal taxi service called xe om. Look for drivers sitting on bikes at every intersection or wait for a "proper" taxi to beep.
Temple of Literature: Vietnam's first university, founded inside the Temple of Literature in 1076, makes Oxford and Cambridge look like freshmen.
+84 4 3845 2917
Thong Nhat Park: You are spoilt for choice when looking for water to splash around in. Head to Thong Nhat Park (Reunification Park) for fresh air, green scenery and the expansive Bay Mau Lake.
Tay Ho: The West Lake is Hanoi's largest, with a 17km shoreline and an island housing the city's oldest pagoda. Pull up a chair on Nhat Chieu, take in the city's sights and enjoy a rare breeze.
Tran Nhan Thon, Nguyen Du
Cinematheque: Hidden at the end of an alley, this arthouse gem has two screenings a night. Film-makers are often invited to present works in person.
22A Hai Ba Trung Street
+84 4 3936 2648
Always wear a helmet on a motorbike. Hanoi's brown-uniformed traffic police wait at most busy intersections eager to spot minor infractions.
Winter coat: Hanoi's weather is hard all year round. High humidity in winter can feel bitterly cold and Hanoians are still thawing out from last January.
Local information: Media in Vietnam is state controlled so search out small independent publishers instead. Ajar's beautiful poetry books come in English and Vietnamese.