Ed Stocker reporting from Lima: Centuries of immigration have made Peru's coastal capital the culinary envy of Latin America. Now designers hope to do the same for the city's architecture, from restoring colonial landmarks to creating modern marvels.
Population: 8.5 million
Number of metro stations: 26
Average summer temperature: 24C
First established as the capital: 1543
Lima-born luminary: Photographer Mario Testino
Bronzed, coiffed and wearing a checked shirt, Karin Sierralta is standing on the edge of a pebbled beach in Lima's Miraflores district greeting a motley crew of surfers dressed in wetsuits and clutching boards. It's early on a Tuesday morning and the Peruvian capital's notorious sea mist is just beginning to lift. There's a lot of handshaking, backslapping and gentle teasing going on before the group disperses.
The morning surfing routine is an essential part of Lima life across social strata. "This was an elitist sport," says Sierralta, president of Peru's National Sports Federation of Surfing, as he gazes at the rolling Pacific waves that make it possible. "But nowadays this is the sport with the most social inclusion in the country. Our champions are the sons of fishermen."
A few minutes' walk away and slightly set back from the beach stands Waikiki, Lima's most famous surf club. Its founder was a local millionaire who, in 1942, took a trip to Hawaii to play polo but returned with a love of the waves. Sierralta claims Waikiki is the oldest surf club in the world because, while establishments already existed in Australia and California, Waikiki was the only club founded solely for surfers. And it has clearly left its mark not just on Lima – where the International Surfing Federation was officially founded in 1965 – but also on limeños. "No sport in Peru has garnered as many world champions as surfing," he says with a grin. "We have 14 world titles." Indeed, on a continent where most children dream of becoming footballers, here in Lima they have other ambitions: becoming world-champion surfers.
Lima may have produced an abundance of household names from its surfer ranks but it has also been making its mark behind the scenes: no one is more celebrated when it comes to surfboard shaping than Wayo Whilar, in the business since 1969. The moustachioed, white-haired Whilar says his small enterprise can compete with the bigger companies by making bespoke boards and varying volume, flotation and artwork according to his clients' needs. These days he uses a computer in his workshop in the southern district of Chorrillos but says shapers still have to know how to make a board from scratch. It's an art form that he worries younger generations are beginning to lose.
Why does he think the sport has caught on so much in Lima? It has something to do with rebel spirit, he suggests. "If you're playing football you're in a team and have to be on the pitch at a certain time; when it comes to surfing, it's just you and the sea."
The rumbling ocean is one of many elements that identify the Peruvian capital. Beachside districts such as Miraflores and Barranco – the latter a one-time resort of the elite that has a reputation for the arts – are a world away from the museum-piece historic centre. Tired in places yet undeniably beautiful, the Plaza de Armas is the pièce de résistance, a frozen-in-time testament to the grandiose plans and intricate designs of the 16th-century Spanish conquistadores who made Lima the most important city in their empire. But it's the ocean that has controlled the ebb and flow of this city more than anything else, delivering waves of immigrants from Japan, who came at the end of the 19th century to work on plantations and drifted to the cities alongside Italians, Lebanese and Chinese. It's these communities – along with indigenous and Spanish influences – that have shaped contemporary Lima. And nowhere is this more apparent than in the city's food scene.
Over at Central restaurant, inland from the beach but still in Miraflores, the kitchen is buzzing with a legion of sous chefs prepping the evening's tasting menus. Of all Lima's assets, its gastronomy is arguably the biggest draw, making other South American cities pale in comparison with its sophistication. From the midday lines at tiny enclaves serving ceviche to people snacking on anticuchos (kebabs) on street corners in the evening, Lima is discerning about its food.
While chef Gastón Acurio brought Peruvian cuisine to the world and is undoubtedly revered among cooks here, the baton has passed to new pioneers. Among them is Central's star chef  Virgilio Martínez, widely deemed to have the best restaurant in Latin America and one of the finest in the world. He cites the unique combination of Peru's biodiversity and the stamp left by settlers, from the fish restaurants of the Japanese nikkei community to the Chinese chifa establishments that abound around Lima. "We were so curious about food that we shared," he says, sitting on a bench on the first floor of his restaurant. "For example, we let the Japanese touch our ceviche and turn it into what it is today. Before we used to marinate the fish for 20 hours – the short marinating time nowadays is Japanese."
Martínez's restaurant incorporates ingredients from around the country, from Andean tunta potatoes to Amazonian pitahaya fruit, and is a showcase for what he calls a "food obsession" in Peru that dates back thousands of years. Indeed in Lima it seems that every neighbourhood is on the verge of organising a mini food festival, while each limeño tries to outdo the other by finding the perfect huarique, the local term for an out-of-the-way, hidden spot.
Over in the neighbourhood of Surquillo, Héctor Solís is proving that simple, unpretentious food can go a long way. Dressed in a blue apron, he runs around the kitchen of his La Picantería restaurant before it's time for him to shoot off to his other locale: the more formal Fiesta in Miraflores.
"The picantería was born in Lima 200 years ago as a place where diners could sit down in people's houses to eat," he says. "People used to take their own fish and chicken along and have it cooked; a profit was made by selling chicha alcohol." Solís is on a mission to rescue a lost part of the capital's cuisine and his lunchtime-only joint prices its steaming fish sudados – or stews – and ceviches by the kilo. And yet it feels like there are thousands of chefs in Lima pushing the notion of Peruvian food, from Matías Cillóniz's vegetable-dominated menu at the recently opened Molle café – set inside a beautiful colonial house in Barranco – to the no-frills, bang-on-the-money ceviche from the people at Al Toke Pez, another Surquillo restaurant.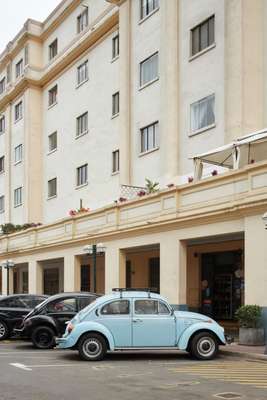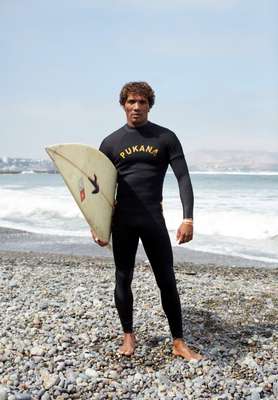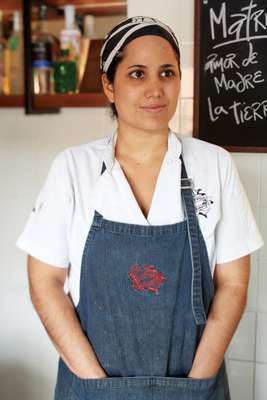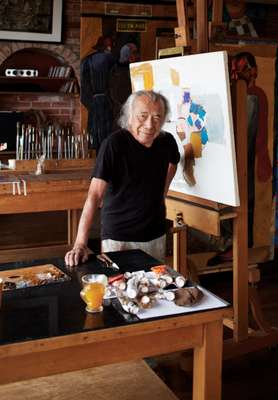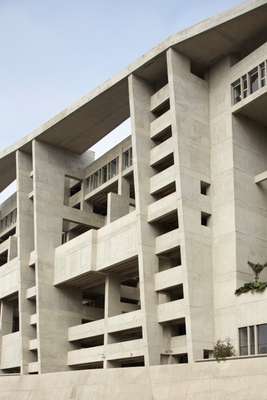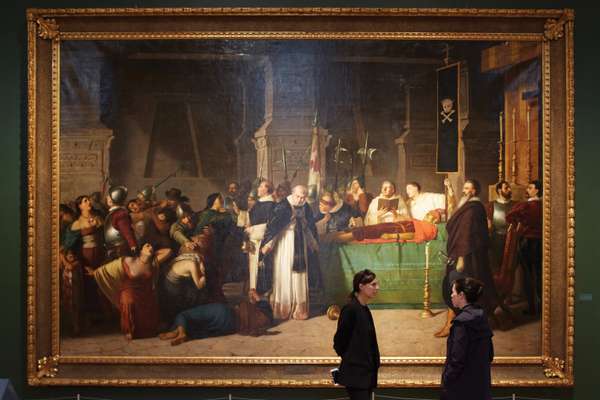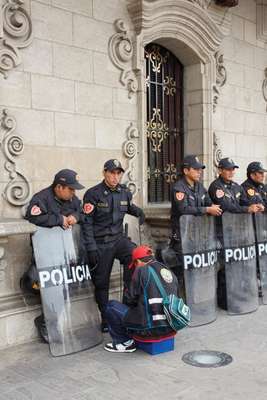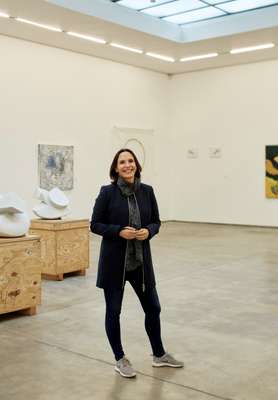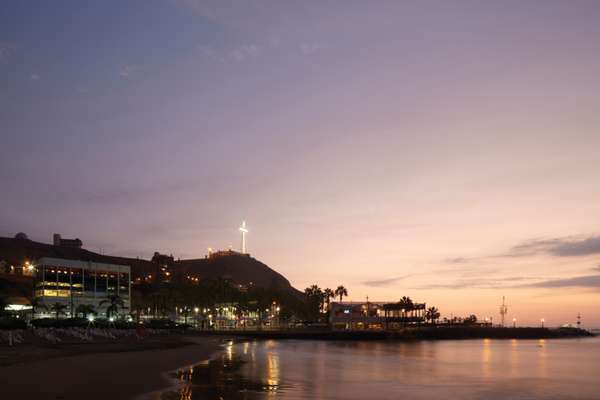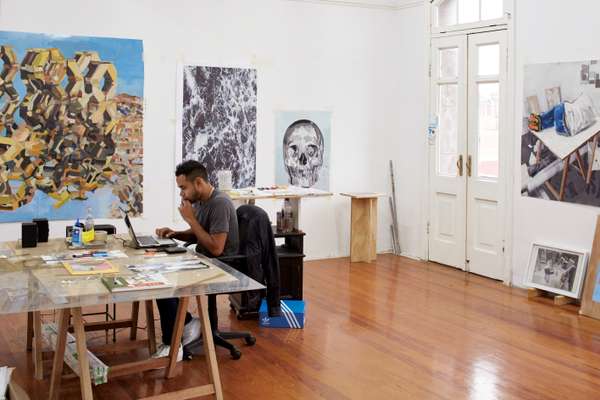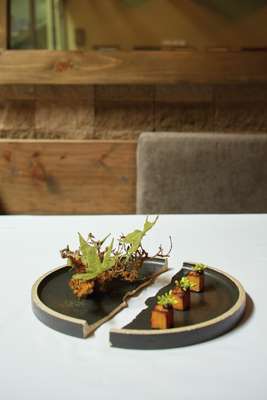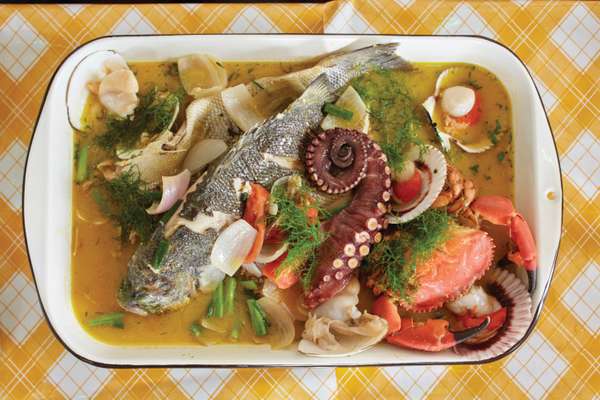 Peru has clearly tapped its rich lineage through cuisine and Lima is perhaps the ultimate realisation of that success. But if it can be done with food, why not in other areas? Architect Alexia León has a theory. "They say that after food, the second revolution in Peru is going to be design," she says, sat at a restaurant table at Matria in Miraflores – run by up-and-coming chef Arlette Eulert Checa – and tucking into scallops on the shell that are swimming in a citrus-pisco reduction. "Have you seen the amount of design that our pre-Hispanic history has? That's what we need to rescue."
León knows what she's talking about. One of the founders of the Association of Studies of Architecture, she works alongside her husband Lucho Marcial producing some of contemporary Lima's most interesting projects. In a city that can often feel chaotic and haphazard – 88 per cent of it has been built since 1960 – finding good design can be a challenge. Mid-century buildings such as the Galerías Mogollón in the centre, as well as several edifices overseen by former president Fernando Belaúnde Terry – who had a penchant for design – are in need of a facelift; elsewhere nondescript façades are the order of the day. Change, though, is underway. The first important move was the creation of the Ministry of Culture, founded in 2010 (it was previously called an "institute"); the second was the gradual incorporation of the competition model for commissioning new buildings. The latter is a sign that architecture has begun to be valued and that design is becoming purely based on merit in a country where backhanders and red tape have historically been rife.
León recently won the design contract for the forthcoming National Museum of Peru, set to be built on the outskirts of Lima. It's just one of several new projects in the pipeline, including a new contemporary wing under the grand 19th-century building that houses the Lima Art Museum and, outside Lima, a new visitor centre at Machu Picchu to be designed by Michelle Alejandra Llona Ridout. "I think a consciousness is being developed that you have to contribute towards your city," says León. "Architecture is one of those elements."
Head down Lima's Costa Verde – dominated by its fossil-rich cliffs – and you'll reach one of the most striking recent architectural projects: the Place of Memory, Tolerance and Social Inclusion. A starkly beautiful concrete complex eating into the cliff and looking out towards the Pacific, it was opened at the end of last year amid a mixture of fanfare and controversy. The space charts the country's past armed conflicts and its fight with communist guerrilla groups such as Shining Path between 1980 and 2000; the endless debate has been over whether enough space is given to the abuses that were committed by the state.
Why would the architects behind the building – another organised competition – want to grasp such a thorny political issue? "This is the first public project since the National Library in 1980," says Jean Pierre Crousse from Barclay & Crousse, the studio responsible for the scheme, giving a sense of the watershed moment it engendered. The idea of the building is to be neutral and "work with the memory of the space"; it feels like an extension of the cliff, melding tonally into the scenery. The construction may be a little homemade in places but Crousse says he was keen to leave traces of the human work on the project, from tiny dog footprints on the floor inside the building to the use of handmade concrete blocks that lend a sense of authenticity.
Along the coast and not far from Lima's international airport, the city's most ambitious project is taking shape. Callao is a shabby port area that has battled poverty and gang violence yet it's home to some of Lima's most historic buildings. They are mostly in a poor state of repair but Gil Shivat – an Israeli who prefers to stay out of the limelight – was enthused enough by the district to invest in its future. The Monumental project, overseen by his Fugaz organisation, was inaugurated in 2015 when regional design fair Casa Cor came to Callao. The result is "a mixture of social project and architectural recuperation", according to Fugaz director Sonia Cunliffe, who sips a cortado in Café Copello. The former hat shop is still decorated with the paraphernalia of its original trade and is one of several new projects initiated by the organisation in a block of refurbished and repainted buildings.
Up the road is the showpiece Casa Fugaz in Pasaje Ronald, a pristinely restored early 20th-century covered market with a stunning stained-glass roof. The aim of the project is to create a new art hub for Latin America. While Barranco – a seaside district known for its colonial houses – still counts artists such as Victor Delfín and Mariella Agois among its residents and has some of the cities best galleries, such as 80m2 and Galería Lucía de la Puente, there is a feeling that it has lost its edge. Monumental, with its ground-floor retail space and its vast studios upstairs, offers a different experience.
Working on a painting inside a large first-floor room with French windows looking onto a street mural, artist Hemilio Vargas Vera gives a sense of what it's like being in gritty Callao. "I like being away from the city centre – I've been a bit saturated by Lima and Barranco," he says. "Here it feels like having a residence in Havana."
Casa Dugaz is strange in some ways. When we visit there are few punters browsing the shops or wandering around the streets, perhaps due to Callao's reputation, although Cunliffe says 150 people visited recently. Yet the idea – which Shivat will hope takes off as Dubai Ports World expands Callao's nearby waterfront – could also provide impetus for other parts of Lima.
"You can either leave a place abandoned or you can give it a chance," says Lebanon-born Pascal Tasabay, owner of San Isidro design shop Lima Modern, which now has a second outlet in Casa Fugaz. Perhaps Lima's historic centre – crumbling in places and off-limits at night – will receive a similar facelift. If the design boom comes and better-conceived modern buildings and green spaces join restored colonial buildings, the city could add one more string to its impressive bow.
LIMA DIRECTORY
The best hotels, cafés, museums and restaurants – not to mention some particularly good
Hotel B: A beautiful belle époque mansion in Barranco. The majority of the hotel's 17 suites are in the original 1920s building, although there are several in a tasteful new-build annex beyond the patio. Lucía de la Puente's gallery is next door (she is one of the hotel investors) and there are plans to join the buildings.
204 Sáenz Peña, Barranco
+51 (0)1 206 0800
hotelb.pe
Second Home Peru: Another Barranco establishment. The hotel is basic but comfortable, run by the daughter of artist Victor Delfín who has a workshop near the house. Rooms are either in the main mock-Tudor home or perched on the top of a cliff, with views of the Malecón and Pacific.
366 Domeyer, Barranco
+51 (0)1 247 5522
secondhomeperu.com
Central: The award-winning restaurant from chef Virgilio Martínez is worth the hype. A showcase for Peru's diversity, the menu is exclusively tasting-oriented, including the Mater Elevations 17-course extravaganza featuring food sourced from minus 5 metres to 3,900 metres above sea level. Innovative and unforgettable; as such, be sure to book.
376 Santa Isabel, Miraflores
+51 (0)1 2428515
centralrestaurante.com.pe
La Picantería: Rescuing the lost spit-and-sawdust picantería of yesteryear, chef Héctor Solís's second restaurant is a laidback affair featuring fresh market fish from the region. The day's catch is listed on a blackboard and chalked out when it's been snapped up. Join a communal table, order a beer and try fish cooked to your desire. Open at lunchtime only.
388 Francisco Moreno (corner of Gonzales Prada), Surquillo
+51 (0)1 241 6676
picanteriasdelperu.com
Matria: The first restaurant from Arlette Eulert Checa, one of the few female cooks in Lima. "My idea is that the restaurant is accessible," she says, pointing to a table where a patron is sat who comes every week. The focus is on the freshest and most seasonal ingredients.
823 General Mendiburu, Miraflores
+51 (0)1 422 2784
matriarestaurante.com
Barra 55: Jerónimo de Aliaga's diminutive Barranco bar (the 55 in the name refers to its square metres) nods to Scandinavian design and offers the most complete gin list in Lima.
206 D Avenida 28 de Julio, Barranco
Colonia & Co: A newly opened restaurant, café and bookshop in a beautifully restored townhouse. Check out the food at Molle in the same space; and you can pop next door to the equally excellent Isolina taberna.
131 Avenida Prolongación San Martín, Barranco
+51 987 761 231
coloniaco.com
Chocolate: Get a bar from Cacaosuyo (try the Lakuna 70 per cent).
429 Avenida Mariscal Eloy Ureta,
30 San Luis
+51 (0)1 326 7600
Transport: It's chaotic; the best bet is an authorised cab or a taxi app.
Place of Memory, Tolerance and Social Inclusion: One of the most interesting buildings of recent years. The exhibition is also a fascinating dip into Peru's dark past.
151 Avenida San Martín, Miraflores
+51 (0)1 719 2065
lum.cultura.pe
Lima Art Museum (Mali): A guide to Peruvian art, from pre-Hispanic to contemporary, housed in a beautiful "eclectic" building dating from 1871.
125 Paseo Colón, Parque de la Exposición, Lima 1
+51 (0)1 204 0000
mali.pe
Malecón de Miraflores: Run, loiter or cycle on this stretch of greenery on the cliffs above the beaches.
Circuito de Playas, Miraflores
Jog: There is a decent 4km circuit around Lima Golf Club in San Isidro.
Avenida Camino Real, San Isidro
Barranco: Check out the artistic offerings of this bohemian hub, such as the 80m2 and Revolver galleries.
Traffic: It's terrible – especially if you have to get to the airport in rush hour.
Climate: Lima falls into a "comfort zone", meaning it's never really cold and never overbearingly hot. You'll need a lightweight jumper at most. Don't take an umbrella: it hardly ever rains.
El Comercio: One of the oldest newspapers in the Spanish-speaking world, dating back to 1839.
elcomercio.pe