Observations. People and places. / Global
The lay of the land
From Colombia to Moldova and a fair few places in between, we take stock of what makes the world go round – and yes, manicures and underwear both feature prominently.
01
Adrian Craddock
They may draw smaller crowds these days but Australia's Big Things are still among us
It takes a certain amount of courage to drive a car from Sydney to Brisbane. The 11-hour journey along the Pacific Highway is beautiful but can also be monotonous. There are vast stretches of road where the only things to look at are eucalyptus trees and houses. Everything starts to look the same, colours bleed together and the sound of freight trucks becomes deafening.
Thankfully there is one thing that breaks up the tedium of these sections: the presence of giants. Every now and then motorists get the chance to see enormous animals by the side of the road. The species vary from place to place: there's a man-sized mosquito on the outskirts of Newcastle; a colossal oyster in the town of Taree; and a three-storey prawn near the riverside community of Ballina. They are relics of a dying Antipodean tradition: the animals are oversized fibreglass models that are designed to convince travellers to pull over, take a photo and sample some of the region's finest produce. They are what Australian town planners call "shire promotional grotesques". To the broader public, however, they are known simply as Big Things.
The story of how Big Things came to pass can be traced back to an American immigrant called John Landi. In 1964 he bought a farm in the sleepy town of Coffs Harbour, Queensland, with the idea of turning it into a fruit-themed fun park. His first step was building a gigantic banana on the property as a tribute to the town's most profitable crop. It became a surprise hit; tourists flocked from all over to catch a glimpse of the Big Banana and Coffs Harbour was suddenly on the map.
Community leaders across Australia took notice of this success and tried to replicate it. As a result Kingston, South Australia, became home to a giant lobster; Glenn Senner built a huge ram in Goulburn, New South Wales; and a farmer in Robertson, New South Wales, turned a truckload of concrete into a potato. Each of these sculptures met similar criteria: they celebrated local industry, were hard to replicate and cheap to make. "They were meant to entice people into these highway communities," says Stephen Stockwell, a professor at Griffith University who studies the cultural significance of Big Things. "The hope was that travellers would have a look, stretch their legs and spend a bit of money."
Big Things became a mainstay of family holidays and were held up as examples of the country's knack for resourcefulness. Even the Australian National Travel Association was impressed: in 1972 it awarded its inaugural development prize to the owners of a fibreglass pineapple in Woombye, Queensland.
Alas, by the late 1990s Australia's tastes had moved on. Cheaper international air travel and a desire for more interactive experiences meant that the popularity of oversized models languished. "People didn't want gimmicks anymore," says Dr Ben Stubbs, who teaches travel writing at the University of South Australia. "They wanted something other than just a photo in front of an object."
These days many Big Things have fallen into disrepair. Their fibreglass exteriors show signs of wear and weeds grow at their bases. Vandalism is also a problem: the Big Bull in Wauchope, nsw, was demolished in 2007 after its owner became tired of people stealing its testicles.
Yet despite all the setbacks there are still about 150 Big Things dotted around the country, mostly between major cities. They may not pull in the crowds that they used to but it doesn't matter. To devotees such as Stockwell, they are more than just kitsch promotional tools: he sees them as monuments to Australia's sense of humour. "There's just something inherently funny about enlarging something that's mundane," he says. "I hope Big Things stick around a bit longer."
About: Adrian Craddock, Monocle.
Craddock is our Melbourne correspondent and former editor of the Smith Journal. His favourite Big Thing is the Big Banana.
02
Anastasia Moloney
Beauty salons are rife in Colombia – and it's the men putting the 'man' in manicure
At my local beauty salon, which is called Milagros (Miracles), attentive staff pamper regulars from dawn to dusk. One lady is being waited on by three young women as she watches the afternoon soap opera belting out from the television hanging on the wall. A beautician is hunched over her feet, which have been placed in a warm footbath; another is painting her nails a metallic-burgundy colour and a third is putting highlights in her hair.
Nearby a schoolboy sits in a mock black-leather armchair flicking through a magazine. Pointing to a photograph of Colombian football superstar James Rodríguez, he says to the hairdresser, "I want my hair just like that." His mother and teenage sister are having a manicure while sipping herbal tea. Nearby, unfazed by the fuchsia-pink walls, two gentlemen are having their nails buffed. No one raises a plucked eyebrow.
In Colombia you are never more than a couple of blocks away from a beauty salon. You'll find them everywhere, from a basic salon converted from a garage in a slum neighbourhood to luxury parlours in shopping malls and members-only social clubs in affluent areas. There's also a handy salon at Bogotá's airport.
Given the huge importance that Colombians place on image and looking well groomed – from polished shoes to polished nails, pressed shirts to coiffured locks – people here don't need an excuse to go to the salon. "Colombian women spend a lot of time and energy wanting to look good," says Paola Diaz, a manicurist at Milagros. "Going to the salon is a habit. It's not seen as a treat or luxury but something you just do."
And it's not just for the well-heeled. With a haircut or manicure on offer for the equivalent of €3 at your bog-standard hairdresser, it's affordable for many. It's also, as we've seen, quite normal for men to frequent beauty salons; at Milagros, about three out of every 10 manicures are for gents.
The first time I became aware of the penchant for nail care among Colombian men was about 10 years ago when I was at a military base on the edge of a rainforest. While speaking to a stocky army colonel I noticed he had immaculate nails covered with a shiny transparent gloss. From then on I couldn't help but notice that many men boasted a polish, from taxi drivers and supermarket cashiers to bankers and lawyers.
Once, as I was having a manicure at my corner hairdresser, Colombia's then attorney-general popped in for an express manicure while his bodyguards waited outside. "Good afternoon Mr Attorney-General," the beauticians said in chorus as he strode through the glass doors. A manicurist painted his nails with a subtle shimmery varnish and gave him a hand massage using her homemade exfoliant made from hand cream and sugar. "Thanks ladies, see you soon," he said as he left, addressing each manicurist by name. He left a fat tip.
Beauty salons are the second most common small business in Colombia after the cornershop; one recent study estimated that there's one for every 276 Colombians. You can even get a manicure behind bars. When Bogotá's largest women's prison hosts its annual beauty pageant, hairdressers and manicurists come in and set up a makeshift salon where inmates get ready before strutting their stuff in the prison yard, which serves as the catwalk. And while it's well known that male inmates call prostitutes to come to their cells, it has also been known for them to call in manicurists.
One male accountant I know tells me that he gets his nails done twice a month. "You talk and interact with hands so I think it's important to have neat and clean fingernails," says Carlos Andres Leyton. "Having a manicure is part of my personal-care regime – and it's also a little bit to do with vanity."
About: Anastasia Moloney, Monocle.
Moloney is our Bogotá correspondent. The full extent of her beauty regime is a closely guarded secret.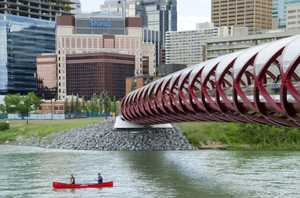 03
Jeremy Klaszus
Calgary's generation-spanning Peace Bridge keeping troubled waters at bay
It's Friday night in Calgary and a playful argument is underway on the Peace Bridge, a tube of bright-red steel with a glass roof and open sides. "You need a picture," says a woman to her partner, pulling out her smartphone. He shakes his head. "Don't want one." Undeterred, she throws her arms around him after passing her phone to a friend. Now he relaxes and laughs. They kiss with the bridge's X-shaped pattern as a backdrop. Up and down the bridge people are similarly posing and every so often an inline skater shoots out of the tube like a spitball from a straw.
The Peace Bridge has become a new defining symbol for a city that didn't know it needed one. Designed by Spanish architect Santiago Calatrava, the structure appears to rest lightly on each bank of the Bow River, which flows from the nearby Rocky Mountains. It connects a bohemian neighbourhood to the north with a new network of downtown cycle tracks. For those on bike and foot it's an artery into the heart of the city.
And yet when Calgary's city council approved construction of the bridge in 2008, it triggered an avalanche of derision. A city of 1.2 million, Calgary is accustomed to roomy suburbs and roads. Fuelled by oil and gas booms, new growth has sprawled onto the prairie since the Second World War, and until recently the car was king. For many, the idea of a ca$25m (€17.4m) pedestrian bridge did not compute. Questions were undergirded with the practical concerns of conservative prairie folk: isn't the money better saved?
Pundits lampooned it as a frivolous vanity project. Dissenting city councillors argued for a bare-bones structure built on the cheap. "The bridge symbolises waste," declared an editorial in the Calgary Herald in 2010. News of a dodgy tendering process and construction delays were met with I-told-you-so glee.
Yet here we are, with people of all ages converging in this funny red tube day and night. The bridge is not just tolerated but loved and explored from every angle; it was crossed nearly 4,000 times per day in 2015. It has also been put to other uses: two sunrise breakfast fundraisers have been held on the bridge in support of military families, with tables set out across the span. The earlier controversy is all but forgotten now.
For a city that has often relied on cowboy nostalgia – previously its signature architectural work was a hockey arena shaped like a saddle – the Peace Bridge is a futuristic dose of relief. In addition to making it easier to get downtown without a car, the crossing has done more for Calgary's brand than anything built during the past two decades. As a structure constantly rippling with human warmth it creates welcome, memorable delays. "I want to go this way, daddy," says a boy in a bike trailer as his father pulls him past the bridge. The dad considers, takes a wide turn, and goes in.
About: Jeremy Klaszus, journalist.
Klaszus is based in Calgary. He insists that he thought the Peace Bridge was cool before everyone else did.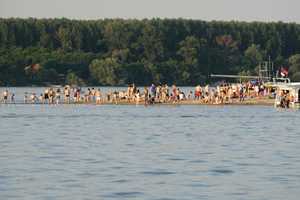 04
Guy De Launey
Belgrade doesn't let a lack of coastline get in the way of a citywide beach party
At first glance it looks like an emergency operation is underway. An olive-green military pontoon bridge stretches across the Danube from New Belgrade to a tree-covered island in the middle of the river. Scores of men, women and children are walking over the temporary structure as camouflage-clad soldiers observe proceedings from each end of the crossing.
But despite appearances, this is not an evacuation. If the people on the pontoon look bedraggled it is because the temperature is pushing towards an oppressive 40c. Their desperation to reach the other side is also easily explained: this is the start of the season on Great War Island, home to Lido Beach, one of Belgrade's favourite hot-weather hangouts. And the military? They built it "as a service to the public".
The short journey across the bridge reveals a dramatic contrast. On one side the severe concrete blocks of New Belgrade stretch into the distance but on Great War Island the view is distinctly rustic. Some people get on with the serious business of grilling their cevapi (skinless sausage) over the campfires that punctuate the shoreline. Others sunbathe on boats bobbing a few yards from the small sandy beach, while the more energetic take advantage of the volleyball and football courts under the shade of trees. Away from the sand a trail leads to allotments, a campsite and a small group dressed in medieval outfits throwing axes at a stump.
All of this goes to show that Serbia's landlocked status is not going to get between the people of Belgrade and their beachside fun. In the days of Yugoslavia they enjoyed easy access to the Adriatic shoreline – and many owned holiday homes on the Istrian and Dalmatian coasts. But the violent disintegration of Tito's socialist idyll put an end to that. Even for those who managed to hold on to their homes, dealing with the interminable summertime queues at the new border crossings can turn a quick trip to the seaside into a miserable ordeal.
Serbia lost its final slice of coastline when Montenegro declared independence 10 years ago. For a nation whose people are proud to say they embrace a Mediterranean mentality, it was a poignant moment. Rejected by their former compatriots, many Serbians have responded by making an annual southbound excursion, turning the beaches of Greece into their homes away from home. And rather than face the summer schlep along the autoput, plenty of Belgraders have embraced the impressive range of possibilities at home. Great War Island may not cry out for repeat visits – except among mosquito fans who take pleasure from making the best of it – but Ada Ciganlija is a different story. This island sits in the middle of Sava River, a short bike ride from Belgrade city centre. Causeways link it to the mainland and block off the river to form a large freshwater lake that is filtered through a fountain in the form of a gigantic bottle of Knjaz Milos (Serbia's answer to Perrier).
On summer weekends people come in their thousands to cool off in the lake and bask on the 8km of beaches serviced by an array of bars and restaurants. Adventurous souls can waterski, bungee jump or navigate a ropewalk through the trees. Inland there are cycle trails, barbecue pits, tennis courts and a nine-hole golf course. At night the bars become clubs and Ada takes on a more hedonistic atmosphere, with a 24-hour bike-hire centre ready to help punters on their wobbly way home ("Belgrade never sleeps," shrugs a mechanic when asked who would need to rent a bike at 03.00).
"I think a lot of cities are jealous of it," says Ralph van der Zijden, a native of Rotterdam who runs iBikeBelgrade, a bicycle-tour business. "My home town, Berlin and Paris all made these artificial beaches but they don't have the Mediterranean climate. It's a real luxury – what other city has something like Ada?"
Or, indeed, more than a dozen Olympic-length swimming pools – half of them outdoors. They include Kosutnjak, a multi-pool complex in the forested hills above the city, and Tasmajdan, the venue of the first-ever World Aquatics Championships in 1973. It all conjures up a time when accessible leisure for all was the norm here. For now, the spirit of Tito lives on at the lidos and beaches of Belgrade.
About: Guy De Launey, Monocle.
De Launey is our Belgrade correspondent. He claims his idea for this story had nothing to do with his need for a holiday.
05
Elle Hardy
Meet the Gagauz: a minority in Moldova in need of a stronger voice
In the bowels of Moldova, one of Europe's smallest, poorest nation, lies a smaller, poorer nation recognised by no one. The Gagauz, about 150,000 or so Christian Turks, are a matryoshka people: a minority nested within a minority, a little people with an appetite for autonomy but not the fight for it, extracting a living from viticulture, tractor manufacturing and occasional regional patrons. A rural people, the Gagauz declared independence in the hot mess of the crumbling Soviet Union 25 years ago.
"The Moldovans came down to stop them with knives and farm implements so the Russians gave the Gagauz guns," says Cosmas Shartz. An American Orthodox-convert monk, Shartz found the Gagauz through a footnote in a book on Turkish grammar. Given permission by his abbot to find out more about these Orthodox Turks, he learnt the language through YouTube clips of Gagauz television.
The language, derided by its distant cousins as "speaking Turkish backwards", has been battered by empires; the tongue of the Greeks, Bulgarians, Romanians and Russians each cleansed its Ottoman palate. Unwritten until the late 19th century and rewritten from Cyrillic to Latin at the end of the 20th, it is "an inscription on the heart", says local artist Manjul, a close friend of the monk.
Gagauzia, a wind-blown beauty, flutters between corrupt Moldova, a demanding EU and Russia and Turkey's exacting cultural powers. "Anything good you see going on is done with Turkish money," says Shartz. "But Russian is the prestige language here."
In the capital of Comrat, Shartz translates the church services into Gagauz only two out of every three weeks, after a falling-out with the Moldovan rotation priest. At Easter, Irina Vlah, the governor of Gagauzia, posted a traditional message on social media in Gagauz: Christ is risen. "She spelt two out of the three words incorrectly," says Shartz. "'Christ' and 'risen'."
The language will die out in 40 years and Shartz is critical of the triage. "It's not going to survive on a poetry competition once a year," he says. "We need stand-up comics telling dumb jokes in Gagauz at bars in the evenings."
This is a place where glistening Mercedes taxis skid around loaded donkeys, where many prefer their access to the divine unmediated and where resuscitators of the local tongue are praised in Russian. "Whether there is the will to ensure that the language will survive depends on whether the Gagauz people value their own distinct identity," says Shartz. "That question cann't be answered yet – at least not by me."
About: Elle Hardy, Writer/photographer.
Hardy is a writer and photographer who focuses on eastern Europe and the former Soviet Union. Her Gagauz is so-so.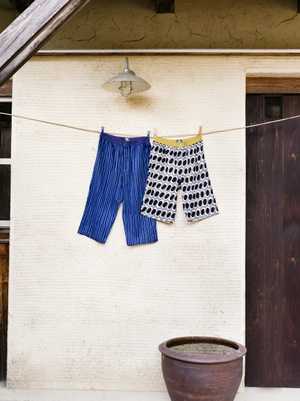 06
Kenji Hall
Japan's previously shunned 'suteteko' underwear is suddenly out and about
I was eager to update my wardrobe in time for Japan's sweltering summer and this was the year that I would try out a pair of traditional knee-length undergarments known as suteteko. They are a modern version of the long underwear that has been worn beneath kimono or hakama for centuries. The name is thought to have been invented in the 1880s by a storyteller who performed a dance that exposed the trunks under his kimono. Made of a lightweight stretchy cotton, suteteko are designed to be unobtrusive and absorbent. They survived Japan's transition to western clothing in the late 19th century but two decades ago sales started to drop.
The problem wasn't the product: it was the association with ojisan, a type of abhorrent middle-aged Japanese man who stripped down to his suteteko at home during the hottest months and didn't put on anything more when running errands in the neighbourhood. To many young Japanese, the archetype – lounging in a white vest tucked into his white suteteko – represents all that is unfashionable. In popular culture he's an easy target for mockery, a caricature that turns up in films, anime and manga for a laugh.
Keisuke Takemura doesn't find such depictions amusing. His family's Osaka business, As Corporation, has manufactured suteteko for three generations. He remembers years ago when the company asked men and women in their twenties, thirties and forties what they thought about suteteko. "Most told us, 'It's what old men wear,'" he says.
Faced with the unsettling prospect of an ever-shrinking market, the Takemuras experimented with a softer knit and an expanded range of colours and patterns in the mid-2000s. Until then the standard suteteko sold in department stores were white or light blue. Instead of the usual industry practice of hiding where the item is made, the Takemuras reveal all: they are woven and sewn in Shiga and patterns are printed in Kyoto. They opted for a romanised spelling for a new brand, Steteco. It wasn't long before fashion retailer United Arrows and an art museum gift shop agreed to carry the products and the media soon came calling. Steteco products are now sold by more than 60 fashion retailers around the country.
The Takemuras aren't the only ones benefiting from the suteteko revival. Uniqlo now has a cotton Steteco line of shorts for men and a separate Relaco line for women. Wacoal's version are polyester. Hanes calls its knee-length rayon shorts Neoteko. But the Takemuras are among the few producers who haven't tinkered much with a fabric that was developed centuries ago.
To look for a pair I visited Tokyo's Shibuya Hikarie, a glass tower full of fashion, beauty and food boutiques. At the small shop run by Takemura's As Corporation, a staff member assured me that even when wearing Steteco I wouldn't notice them. I opted for a solid colour, pulled them on and forgot about them. On the phone with Takemura later, I got a few styling tips. "They're under my clothes when I go to work but at home I wear them with a T-shirt. I go to the shops in them. We tell people it's OK to wear them instead of trousers or shorts within a mile of home," he says.
It's a surprise that the company responsible for the comeback of suteteko is now telling people to do exactly what got this item of clothing a bad rap. Or maybe that's why they have not disappeared. The blurred distinction between underwear and ordinary clothes is a practical sartorial solution in a country where summer is too hot to wear much of anything.
About: Kenji Hall, Monocle.
Hall is our Tokyo-based Asia editor at large. In this piece he has told us more about his underwear than his Tokyo colleagues are comfortable about knowing.
07
Kati Krause
Germans are keen cyclists – but it's a journey of discovery that comes with potholes
Ever since the first columns of Mercedes and bmws made their way from the Rhineland to Rimini in the 1950s, Germans have had a reputation for being both avid drivers and keen holidaymakers. It's a reputation maintained, 60 years later, by thousands descending upon Mallorca, Antalya and Lake Garda every year, painting the narrow street corners of northern Italian villages with the expensive varnish of German premium cars.
Yet Germans are increasingly choosing to holiday in their own country – and they like to do so on their bikes. Of course politically, economically and in terms of daily transport, Germany remains a car country. However, national cycling lobby adfc estimates that 4.5 million Germans took extended bike holidays last year, mostly within Germany – 11 per cent more than the year before. Factor in 150 million day trips and it's fair to say that Germans spend a lot of leisure time in the saddle.
For someone who grew up with the family ritual of bike trips to various Munich beer gardens, this comes as no surprise. Indeed, one of the first things I did when I moved to Berlin was buy a cycling guide. I spent my first summer exploring lakes, visiting sleepy villages and getting stuck in sandy soil or lost in forests as, again and again, I tried to escape the crowds by cycling off the beaten track. Publishing companies are well prepared for people like me. Every year newspapers crowdsource the most popular bike routes while magazines publish cycling guides – a surefire way to boost circulation. Bookshops set up tables with guides to cycling anywhere from the Ruhr Valley to South Tyrol, their covers featuring meadows, lakes and happy couples wearing helmets.
A quick look at the guides reveals a particular fixation with cycling near water. Indeed, the country's 10 most popular long-distance cycling paths run along rivers; the one Germans hold most dear is the Elbe route, which starts at the Czech border, crosses six states and ends in Cuxhaven on the North Sea coast. In the east, couples spend their summers cycling around Lake Müritz. In Munich, friends get together after work to bike along the River Isar and in Hamburg, families enjoy weekend bike trips along the harbour.
One reason that Germans love cycling so much might be a penchant for physical activity that requires costly equipment. In Europe, Germans still produce fewer bicycles than Italians and spend less money on them than the Dutch but the numbers have been steadily rising over the years. And Germans buy by far the most electric bicycles – nearly half the total sold in the EU last year. A few years ago I was still surprised when, battling strong head winds by the Baltic Sea, I was overtaken by two unfazed pensioners. It took me a moment to realise they were riding pedelecs. Today it's not only the elderly who use support: sales of e-bikes are being driven up by young people. Their barely visible engines negate embarrassment yet make that ride across the Alps a tad easier.
In Berlin the models jostling for attention with the Danish transport bikes aren't e-bikes but racing bikes. Men of all ages spend their evenings and weekends chasing each other through the Grunewald Forest (no, not like that) and along east German avenues. Afterwards the younger ones upload their times to Strava and the older ones, bellies squeezed into neon racing gear, pose next to their expensive toys. Yet those moments of harmony mask deeper discontent. Cyclists in Berlin and elsewhere complain about aggressive drivers, potholed tracks and a lack of cycling culture compared with Denmark or the Netherlands. In a 2015 survey by the Federal Transport Ministry, the number of people who said they liked cycling or used bikes as a means of transport fell and half of all respondents said they didn't feel safe.
In Berlin cyclists have taken matters into their own hands. It took just three weeks to collect 100,000 signatures calling for a referendum on cycling policy. If passed, the proposal would force the city to build more bike lanes, set up more parking spaces, combat theft and educate drivers. The municipal government is opposing the plan and calling for a compromise. Meanwhile, Berliners have to deal with a more acute bike problem: rogue cycling tourists. Bike tours clogging up streets and crossings enrage local cyclists who – this being Berlin – aren't afraid to express it. Germans may have discovered the joys of bike holidays at home but they aren't too keen on sharing them.
About: Kati Krause, Monocle.
Krause is our Berlin correspondent. She thinks riding an e-bike is cheating.
08
Kimberly Bradley
Is the success of Austrian agriculture rooted in unearthly know-how?
On nearly every skiing holiday in Kitzbühel, Austria, I stay in the adjacent village, Reith, in a 500-year-old farmhouse atop a steep hill. The large wooden house is used the old-fashioned way, meaning that people live in the front while animals – cows, chickens, and a fat friendly pig – are housed in the back (a thick wall and door separate the sections). During a recent après-ski chat in the kitchen, its creaky wooden floor completely covered in handbraided rag rugs and its stove running on burning logs, I complained to the lady of the house, Hanni, that my hair was growing more slowly than usual.
"Oh, you just have to have it cut on the right day. Then it'll grow faster again," Hanni said. She reached for a strange book on a kitchen shelf. It was an Austrian moon calendar listing the lunar, planetary and zodiacal cycles in a symbols-meets-text mishmash; a farmers' almanac of sorts. Hanni grew up in Tyrol and has lived with these symbols and sayings, as well as the natural cycles of life and death, her entire life.
She matter-of-factly explained that cycles affect how well plants grow depending on what day they're planted; the most auspicious day to slaughter a pig, for ease and taste (I've seen a few of her pet pigs come and go over the years); and, of course, the best days to trim hair, depending on whether you want fast, thicker or less growth. Some of this mystical knowledge has Austrian roots – and has made headway in contemporary culture. Take the international biodynamic farming trend, which involves not only almanac consultations but also, say, burying a cow's horn along with new seeds or sprinkling homeopathic concoctions on seedlings. Biodynamism gained traction with Dr Rudolf Steiner, a 20th-century Austrian philosopher, educator and esotericist known for his anthroposophic movement and Waldorf schools. He worked with farmers in the 1920s to devise methods of improving agricultural yields without the use of artificial interference.
The eccentric Steiner claimed that a farm, just like the world, is an organism that can be self-sustaining and that geotropic, tidal and perhaps even cosmic forces affect sowing and reaping, yield and quality. Depending on astrological influences and the positions of heavenly bodies it might be beneficial to, say, plant root vegetables at a certain time.
Hanni's forefathers knew many of these things before Steiner codified them. Recently the younger generation in Austria and beyond has come to embrace some of this knowledge, which makes sense in this age of genetic modification and mass production. Twenty per cent of Austria's cultivated land is farmed organically; many of Austria's elite winemakers have joined a new biodynamic farmers' association called Respekt-biodyn; and more than a few pay attention to auspicious days on the calendar. Even wine enthusiasts have picked up on almanac consulting – not for growing but for drinking. A recent article on the blog Wine Folly claims that red wine tastes better out of the bottle on "fruit" days when the moon is in fire signs such as Aries, Leo or Sagittarius. (By the way, "flower" days are also OK but "root" and "leaf" days are especially bad; something to remember if your wine tastes off and you just can't explain why.)
Back to hair: after consulting Hanni's mysterious book I scheduled an appointment on an especially auspicious day for accelerated growth. My follicles did indeed seem to flourish. Whether it's about hair, health, gardening or household tasks, those far from Austria can reference an Austrian website called mondkalender-online.at, which suggests daily activities with peculiarly specific guidelines. For example: 13 June was a good day for "regeneration massage", all hair treatments, a Botox boost, transplanting potted plants, baking cakes, hunting, fishing and animal slaughter. The same date was not good for washing windows, watering plants or getting a tattoo on the lower back.
Of course, not all rural Austrians synch their lives with the heavens but a look at families planting gardens and harvesting grapes, or even overbooking hair salons in tune with the waxing moon, reveals at least echoes of a mystical and earthy belief system that has been quietly in action in this Alpine country for centuries. Some claim it is bunk. But if its practitioners really believe it works, why change it?
About: Kimberly Bradley, Monocle.
Bradley is our Vienna correspondent. Her hair is great, regardless of which day of the month she gets it cut.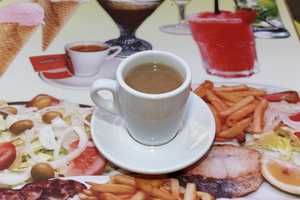 09
Liam Aldous
Limp lettuce is so passé – Spain is finally enjoying its salad days
Seventy million tourists are expected to arrive on the sun-drenched Spanish coast this year. The country has long been a beacon for hordes of hungry holidaymakers and record arrivals have started to make waves on the Mediterranean meal table too. A younger generation of foodies are finally upping their game – from delicious spreads to the service – and the proof is in the salad.
If you sit down this summer and want to gauge whether you're truly welcome at the Spanish table, cast your eyes over the salad menu. This section is the true harbinger of good hospitality. Whether it's on paper or hastily scribbled in chalk, a farrago of vegetarian clues will be right there in black and white.
Spain's subscription to a mass-tourism model tied to sun, sand and sangria has long shaped the way Spaniards view the world; every year they witness a conveyor belt of guiris (foreigners) itching to ingratiate themselves along their coastline for a bargain price. From the Costa Brava to the esplanades of the Canary Islands, cheap tourism is a staple of the summer season. The steadfast symbol of this cheap race to the bottom is the ensalada mixta. Call it the primary-colour palette of salad plates; a lacklustre compilation of iceberg lettuce, soggy tomatoes, white onion, hardboiled egg and mushy tuna. It is one of the country's most ubiquitous dishes and curt camareros have been practically frisbeeing it onto tissue-paper tablecloths ever since Franco abolished entry visas in 1959s.
But the monopoly on this mediocre mélange is suddenly imperiled by a new gentle breeze of gastronomic change. It is ruffling the leaves of the country's vegetable patch; Spain, it seems, is finally taking salad seriously.
On a cobbled street in the Basque seaside town of Getaria, a waiter sashays a salad onto a street-side table just a few metres from Balenciaga's birthplace. Grilled baby squid, balsamic-glazed cherry tomatoes and a mesclun of arugula, frisée and radicchio atop a modest porcelain plate seem oddly out of place at the Politena taberna. As part of an €11 menu del día, it's a welcome surprise; the chirpy disposition of the camarero dresses the whole experience with a further layer of sweetness. Instead of being treated like a disposable consumer, people are made to feel like valued customers.
Over in the fanatically flag-draped city of Barcelona, new vegetarian restaurant Green Spot is proving that a meatless meal doesn't have to be a preachy, patchouli-themed affair. Exuding Brazilian vibes care of architect Isay Weinfeld, a celery, apple and feta salad sits alongside a bowl of kale, quinoa, tomatoes and hazelnuts coated in a white miso vinaigrette. Not long ago a high-end vegetarian spot like this would have been sneered into oblivion before it even migrated off the business-proposal page.
Meanwhile, Mallorcan cuisine is being bolstered by hotels on a recruitment drive for international chefs with a knack for playful reinvention of local staples. Austrian chef Simon Petutschnig mans the Quadrat restaurant inside the palatial Sant Francesc hotel in Palma; his concoction of figs, mesclun lettuce, walnut bread and goat's cheese mousse mixes local delicacies with complex tecnhiques. Dishes like these are raising the (salad) bar on a fiercely competitive gastronomic scene but more importantly, you might even be fooled into forgetting the ensalada mixta ever existed.
Spain has long been one of the world's most popular summer refuges but this has cultivated a deep-rooted sense of complacency in the service sector – not least in the nation's salad bowl. But new well-tossed salads are not just colouring up menus: they are conveying a subtle, succulent and evermore sincere Spanish welcome.
About: Liam Aldous, Monocle.
Aldous is our Madrid correspondent. His latest expenses claim includes a suspiciously high number of salads.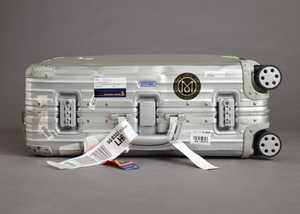 10
Tyler Brûlé
What's that noise? It's the sound of Airbnb giving our editor in chief a headache
It's 09.00 on Sunday morning and I'm almost enjoying a decadent little lie-in. I should be fully asleep but I'm slightly on edge as I know the silence of my quiet street in central London will be shattered in the next 15 minutes. For a moment I think about seizing the next quarter of an hour and drifting off but I'm already anticipating the disturbance and find it difficult to relax. Most of the time I'm an excellent sleeper but there's something about the set-up of my street (a canyon of mirror-image mansion blocks, little vegetation and not enough cars to create a bit of din) that makes it an incredibly noisy place for a street with very little traffic.
Suddenly I hear it. Often it starts with a slamming door – then an abrupt clatter followed by a hollow thud. It's followed by another, then two in unison and, depending on various conditions, there can be another volley. After a brief intermission, a bit of mumbled chatter, the wave starts to build. You'll be quite familiar with the sound: it's the rattle of little suitcase wheels juddering and jumping across the pavement. Little wheels that were designed to glide efficiently over kilometres of acrylic carpet and polished granite in airport concourses but were never intended to be assaulted by the streets of London – or Prague, Melbourne or Amsterdam for that matter.
Add to this cacophony the associated vibration that stirs a suitcase frame and you get this low growl that sounds like a horned, even horny, African animal loping along on an empty stomach. If there's a particularly large collection of suitcases being pushed and pulled down my street the sound can be positively deafening. Sunday mornings never used to be like this but then weekends haven't been quite the same since our cities have been overrun by Airbnbeasts.
Now before you take offence because you happen to use this hostel facilitator and don't want to be bundled in with the herd, allow me to illustrate the type of traveller I'm talking about – and why cities need to take action to not only make weekends more liveable for residents but also aid the suffering beasts themselves. While this type of lodging has been great news for travellers and homeowners looking to supplement their incomes, it's not been great for hotel groups who want a more level playing field; such short-term rental concepts largely get around occupation and other municipal taxes. It also means that local residents find themselves in stairwells and lifts with a cavalcade of people who they've never seen before.
The visitors who use these services – particularly those that are poor planners – have nowhere to leave their luggage once they depart their lodging. The result is wandering herds of perspiring Airbnbeasts towing suitcases, children, too many purchases and often too many layers. My Sunday-morning assault comes when one or two of the nearby flats that are in heavy rental rotation empty, resulting in extended families or groups of friends spilling out onto the pavement in unison and trying to pull themselves together before catching their 22.30 flight back to Trondheim. As bags often can't be left behind in an apartment and there isn't the always-useful bag storage one's offered at a hotel, the poor beasts are forced to find a place where they can leave their wheelies. However, they soon realise that such facilities don't exist in nearby subway stations and, for security reasons, lockers in department stores and shopping malls were pulled out years ago.
The solution? I'm considering investing in some tractor trailers and parking them in residential neighbourhoods to relieve these beasts of their burden and give residents some well-planned relief.
About: Tyler Brûlé, Monocle.
Brûlé is our editor in chief. His silver Rimowa suitcase makes an absolute racket.