Reportage 2. / Benidorm
Besides the seaside
Beyond the sunburn and sangria, what does this rowdy resort on the east coast of Spain have to recommend it? Well, there's a sunny architectural vernacular and Unesco World Heritage ambitions to consider. With a hanky on his head and a spring in his step, our intrepid Culture editor goes in search of the full story – and a full English or two.
In Benidorm, far beyond your balcony, heat haze shimmers around hillside shrubs. There is dust (and the smell of it) and the constant wash and whisper of the sea. The fat old sun sways and charges like a bull. As I walked out one midsummer morning, I could have sworn I was in Spain.
But then anglicisation happens quickly. Breakfast is full English and they'll fry all day so you can have it once with a cup of tea, twice with beer. Bars are called The Red Lion, Grand National, Champions and The Lazy Cow. There is a supermarket called Costa Less and another called Super Market that sells Heinz beans, Robertson's marmalade and T-shirts for underprepared stag parties that say, "Fuck off!", "Enjoy my cock" and "I don't need Google, my wife knows everything." The people who run it are Chinese but know a good, bawdy T-shirt slogan in English when they see one. On the Avenida de Mallorca, televisions play English and Scottish football highlights, ratifying old rivalries between halves of Glasgow, Liverpool, Tyne and Wear. There are newsstands emblazoned optimistically with the masthead of Germany's newspaper of record, the Frankfurter Allgemeine Zeitung, but its rusty black racks are stacked with the Brexit tabloids: The Sun, the Daily Mail and the Express. In a Spain of endless orange groves, your juice is from concentrate and your newspaper fears the foreign.
I know what you think of Benidorm and that's why I wanted to go: bit of a laugh, package holidays, all-inclusive food and booze. Brits abroad, maybe some Dutch and Germans. Fatties with tattoos getting sunburnt on a fortnight of forgetting. Away from the factories and mills and malls and building sites, leaving Aldi's shelves unstacked for a spell to drink Dutch lager in British pubs on Spanish soil and get a drastic wedgie from sunbathing inexpertly on Spanish sand. Oh yeah, we'll have a go at that. You want to live like common people? Well, it's miles better than you think. Many of Benidorm's buildings are beautiful. Much of the town was a planned, thought-through holiday resort. There is method amongst the madness of endless pints and blackboards offering gammon, egg and chips. There is a sci-fi solipsism in a city that defies its surroundings, that won't let you look at the hills and the woods yonder because it's built towers in mad arpeggios to stop you. "Look at me!" says Benidorm. Look inside. Look…
Here's the plan: breakfast goes until 11.00 so set the alarm for 10 minutes prior and hare downstairs with a bit of a head. Whack back six aspirins with a full English washed down with three black coffees and a palate-cleansing pint of cava (it's free!) and get down to the shuttle bus – after performing the Three Esses (of course) – by noon. Levante Beach? Boom.
Nab two loungers with an umbrella ("parasols" is just an old fogey's name for trainers, innit?) and get nice and lobster while finishing last night's kip. A bit burnt? Good lad. Now put on your suncream. You know what they say about sun-lotion factors, son: 30's girly; 20's plenty; 10's for men. Slap some on and get in the sea for a pee. Now, when it comes to rehydration, there are three choices: cerveza, sangria and Sex on the Beach. Last night was big so let's be good and just do sangrias with beer chasers. Sex comes later.
Sorted. Recreation? We'd play bat and ball but I lost the bats trying to park a charter flight last night so it's football and the goal's the girls three rows away – boot it in and hope for the best. Feeling shy? Buy them a Sex. Oh, they all want one. Sex five times, señor. Chance would be a fine thing! I'd bosh my Grisham but I smoked chapter six when I lost my Rizlas. Got a light, mate?
Bit more of that and then it's time for a stroll down Levante to see what we can see. Well, we know what we're gonna see but we wanna see it anyway. Birds, beers and banter with other blokes; fair enough. Tiki's is kicking-off big style. Cold pints so cold that they make your hand cold until you stop holding them – which is never! That, ladies and gentlemen, is probably what you think it's like. And you'd be right. It's great.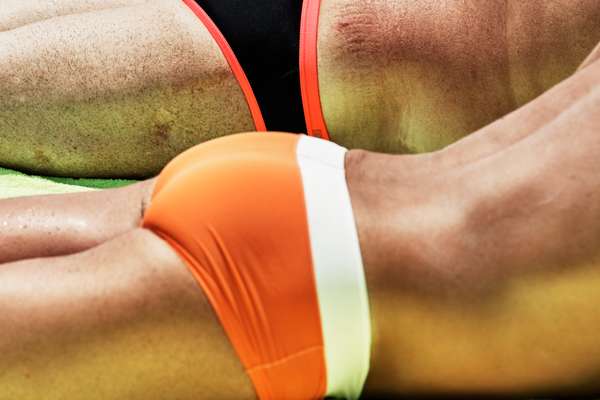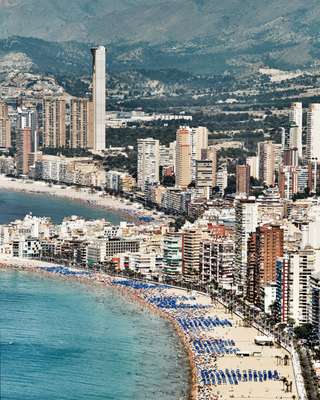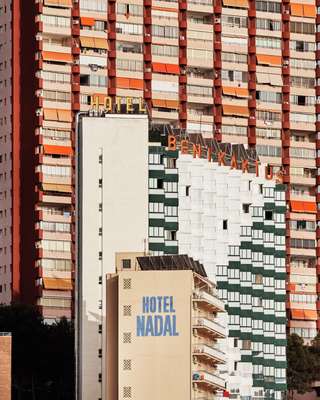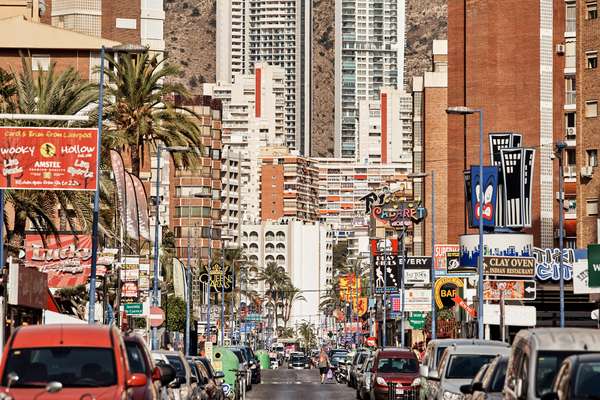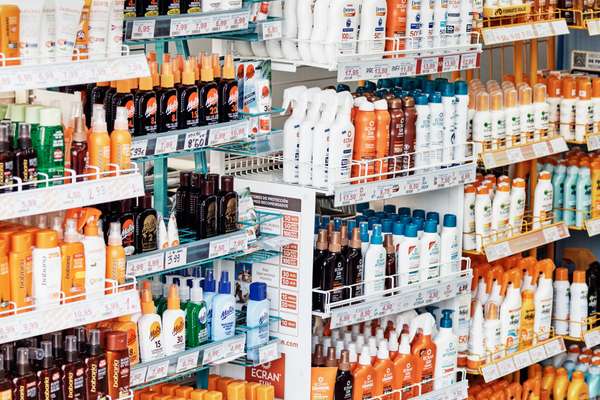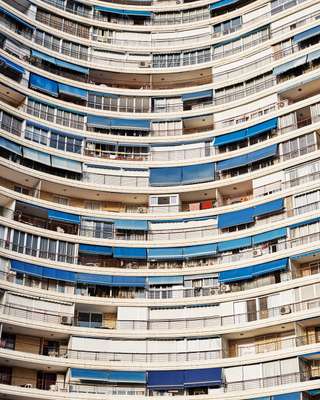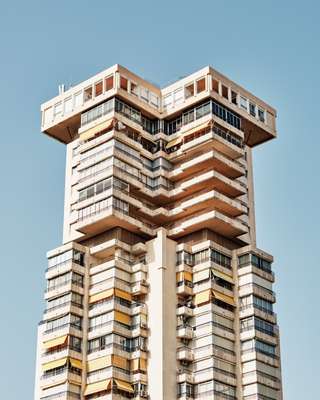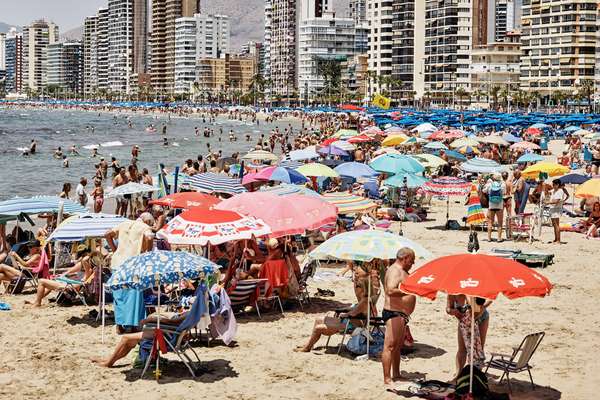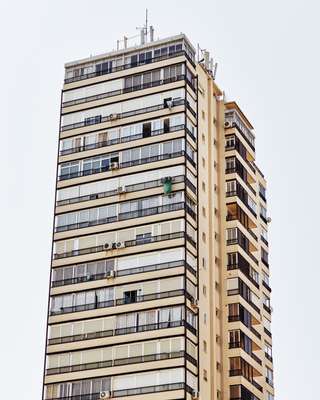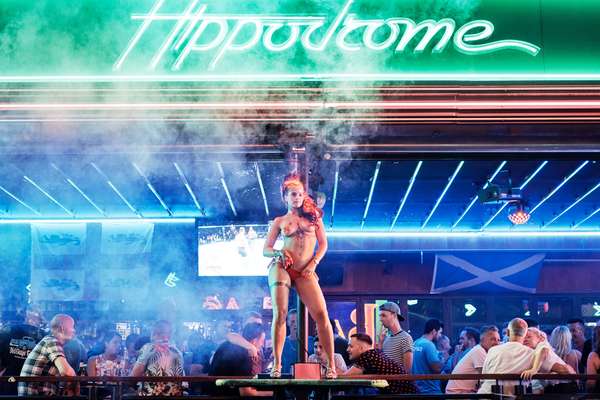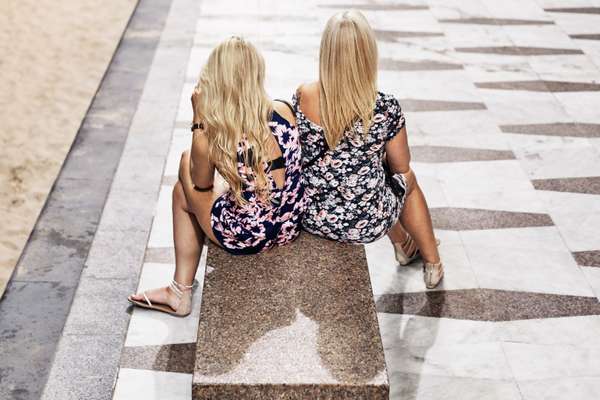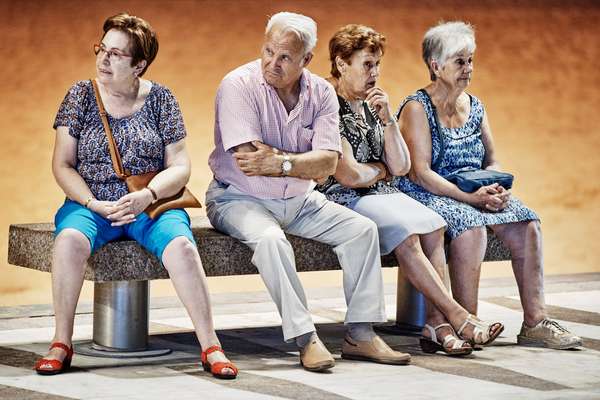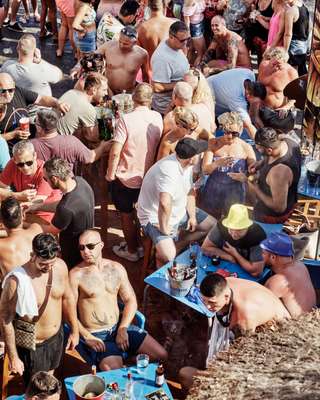 Why would you come to Benidorm? "Because anything goes here, doesn't it?" says Carrie from Coventry. "People don't judge you." Do you think I'm judging you? I'm here writing about Benidorm. "Not until now, no!" But I'm not, I say. I'm just wondering. "It's cheap, it's an escape, it's silly fun," says her friend Katie. Escape? "There's not much where we come from, so you go to London and it's expensive and you have to plan a night weeks in advance and everything closes early. If we weren't on Tash's hen, we'd come out here anyway, I reckon, on a girly holiday."
Tash is unavailable for comment because she's drinking a "wonky pint", made of at least four different types of spirit, out of a penis-shaped flask. It would be funnier without the straw. Katie obliges and throws it to a passing barman and now six women in their thirties (one of whom, rather brilliantly, is a police officer) are challenging Tash to down it in one the only way she can: by miming oral sex on a 14-inch fluorescent yellow cock filled with gin, vodka, Southern Comfort and Archers (and orange juice).
Over the road, a big blonde spills out of a little shirt on a bucking bronco, a televised cage fight reaches its bloody climax and a go-go dancer suppresses a yawn as she chats to a group of lads who want a photo. It's 21.00 on a Tuesday and we can feel the warmth of the belly of the beast.
Earlier that day, on a wander down to the Playa de Poniente (what you might call the "Spanish side" of Benidorm), we bump into Glen while wandering about the high-rises looking for photo opportunities. He's got some wonderful tattoos ("No Surrender" over a British bulldog in football kit on his right calf, for example) and we wait until he's finished chatting with a sober-looking German couple from Mülheim before asking him why he comes here. "Well, back in the day I was going up near Girona, you see," he says, a chipper 70-year-old in shorts and a baseball cap. "We had the sun most of the time and was in the pool drinking with the Dutch and splashing the Germans, you know, and someone said, 'You could do all that for half the price and twice the sun in Benidorm.' So we never fuckin' looked back!" We? "Me and the old lady; she's upstairs having a kip. I'm going on down the beach for a few beers – you lads coming?"
On the way, as the locals perform their evening paseo, Glen's an oracle of 30 years of Benidorm hearsay and the state of the city today. "Well, we've seen it change: you used to get more of other nationalities but now it's just English and Scottish and all the rest of us British," he says. "But people get stupid over on Levante; it's all fuckin' cocks out and no-one needs that at lunchtime." The Brits are spoiling their own little bit of Spain? "In a way, 'cause you got your lads coming out on a stag or whatever and they'll have a laugh and dress up and it's fair enough but I seen a bloke trying to get into a nice bar – full of Spanish people, older people and that – and he's got two big cocks strapped to his hands – one black, one white – and he's drunk and these cocks are hitting people and that's no good, not at lunchtime."
Wow. "Yeah, but he had one of each colour so at least it weren't racist." And off Glen goes with a twinkle in his eye and a shimmy to an eternal, internal "La Bamba". Tomorrow, he and the old lady will fly back to Southend-on-Sea.
The next morning I look across the city of towers from my hotel balcony and can only see other people blinking into tomorrow on 1,000 other hotel balconies. Am I in a JG Ballard novel? In which a talented but scarred property mogul has invented a town dependent upon vice as an anthropological experiment? When I'm out at night in the breathless tangle of sweat, beer and perfume between Calle Ibiza and Avenida del Mediterráneo, I feel like I'm in a Michel Houellebecq book; like the saucy seaside postcard has been souped up to the max, then legalised, taxed and professionalised.
In fact, Benidorm was the imagination of something of a magus, a supposedly ordinary character who achieved some extraordinary things. Pedro Zaragoza was born in Benidorm in 1922, left to be a railway porter and a phosphorous driller and met other ordinary Spaniards from industrial Extremadura. He returned with a hunch and the official, printed "General Plan for Urban Organisation" for his hometown: Benidorm's three miles of golden beach should attract those other ordinary Spaniards but, definitely, mostly sun-starved northern Europeans.
Zaragoza was mayor of Benidorm at 28. Seeing that the future was the bikini but fearing confrontations between sunbathers and priests, excommunication from the Catholic church and an almighty ticking off from General Franco, Zaragoza rode the nine hours to Madrid on his Vespa and, freshly shirted but with trousers stained with engine oil, lobbied El Generalísimo at the Prado and was rewarded with a kind of carte blanche for his bit of the Costa Blanca. Benidorm grew upwards, helped by the mayor's early guerrilla marketing: he left home-picked almond blossom in Swedish department stores and erected hand-painted signs to Benidorm on German autobahns. Zaragoza could have had a sunny career on Madison Avenue.
In fact, by the late 1960s, Benidorm had a certain mini-Manhattan look to it. It's still among the tallest cities in Europe, which is striking considering the town's decade of slow growth. Sure, it packs them in but into older rooms in older blocks. Out and about the Spaniards, mostly locals, are proud of Zaragoza and know him by reputation. Later, in a bar, Pete from Govan sums it up nicely: "Aye, you can tell a nutter with a messiah complex built this place." Go anywhere else much, Pete? "Not for a second, pal. I've always loved it here." Pete's been coming, now with his family, for more than 20 years.
Why else would you come to Benidorm? Because of these very same buildings that hem you in and make you look up and make you wonder. Oriol Bohigas, the architect and urban-planner of much of much-admired modernist Barcelona, advised Zaragoza on Benidorm. Many of the buildings, with awnings of orange and yellow and faded pinks and brilliant blues on modern, brutal and beautiful bodies, are a place-fancier's heaven.
In interviews Zaragoza liked to illustrate his architectural ambition with a wine bottle substituted for a tower block: no good on its side so stand it up straight so it can see the sea. (Sure, but look at the space you'd get for parks and gardens underneath if you turned it upside down. Plus, how do you get the wine out?)
The current mayor is Toni Pérez and his wheeze is an application for Unesco World Heritage status for Benidorm; you can hear the laughter ringing from here to Machu Picchu. His pitch is that while of course there is cultural and historical interest in the town that invented European mass tourism, it's also always been a sustainable city. It grew up rather than out; despite everything Benidorm's footprint is actually more Manolo Blahnik than Reebok Classic. Considering it comes third only to London and Paris in terms of hotel beds, it's a svelte little number.
The days and nights happily blur into one another. The tan deepens and the beer tastes better earlier and earlier in the day. Steady on, Benidorm's winning. Let it. Let it for a weekend of weakness. I ask Coventry's hens what they think of Benidorm's Unesco bid and they laugh – but then Carrie clinches it. "No, but seriously: where can you get a nice cold pint near the fucking pyramids?" With that, I feel like this dirty old town is sort of sacred too.
---
Robert Bound is Monocle's Culture editor and has been with the magazine since inception. He is also a regular presence on Monocle 24, not least with the aptly named weekly show Culture with Robert Bound. He is also our most tanned staff member – he seems to be a close relative of a lizard. (A nice one, mind you.)