Four-day weekends / Global
Break from the norm
Escape the city for a long weekend and discover the anti-Saint Tropez, a Thai-Skandi bolthole and a Canadian island with Japanese blossom. Only problem: leaving.
1. The world is your oyster
Cap Ferret, France
Anne-Marie Dubois stands in the cool, clear shallows of the bassin d'Arcachon about to take her first plunge of the weekend: a brisk breaststroke along the bay, skirting the oyster beds marked by lines of sculptural wooden staves. "It's fresh today," she says, launching off and dodging a splashing quartet of bronzed children who have jumped from a tethered sailing boat. "I live in the 17th arrondissement just beside Montmartre but I spend half of my time here in Cap Ferret. This place is my other life."
Cap Ferret sits at the end of a tapering 21km-long spit that is a 75-minute drive west of Bordeaux. Covered in mature pine forests and crisscrossed with cycle paths, it has the crashing Atlantic Ocean on one side and the serene waters of a tidal lagoon on the other. It feels wild. Sun-bleached, humming with cicadas and scented with pine resin, it is a place of Citroën Mini Mokes, surfboards, stripes and the wooden shacks of the thriving ostreiculture that line the seashore. It has a Californian swagger with some very French touches: here a typical aperitif is a chilled glass of white Bordeaux and a dozen oysters served by a cheerful mollusc farmer on his wooden jetty. (Rusting tractors and gurgling equipment only add to the charm.)
"We don't tend to dress up," says Bordeaux-born Damien Deffieux, whose grandmother moved here in 1950 to run the post office. "And, in fact, we don't tend to see many foreigners. It's mainly Bordelais and Parisians who come down on the tgv. There's a special navette [boat] to pick them up from the station and bring them across from Arcachon on Friday nights."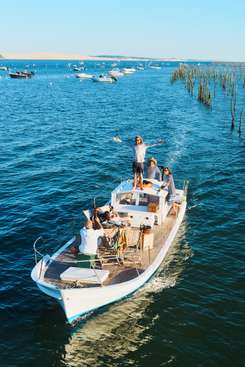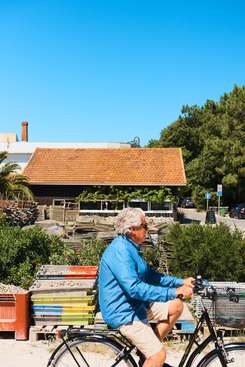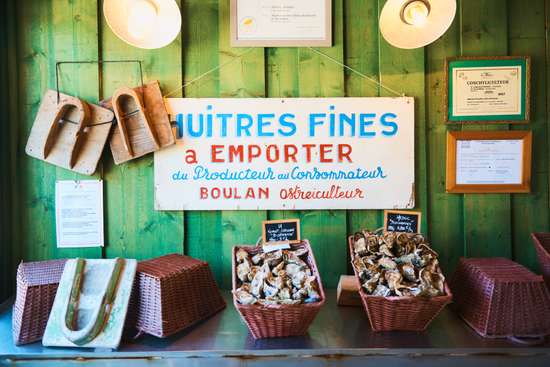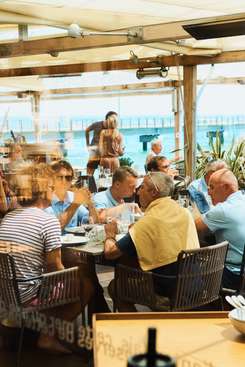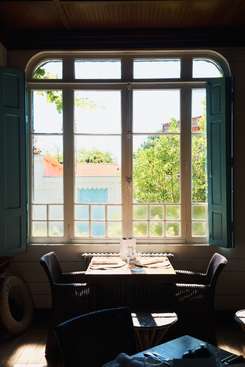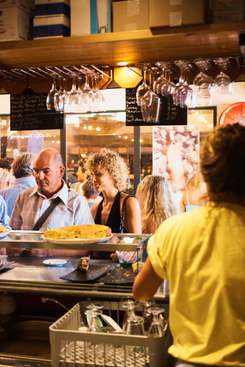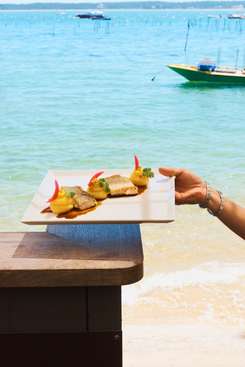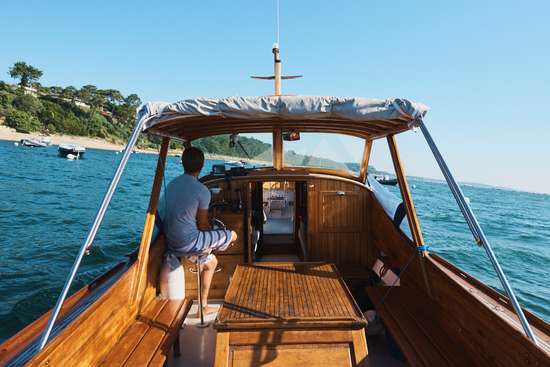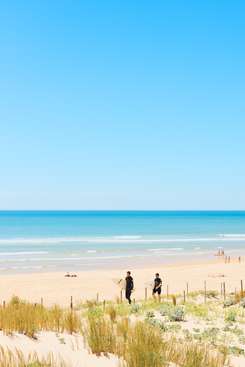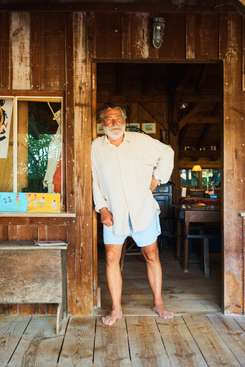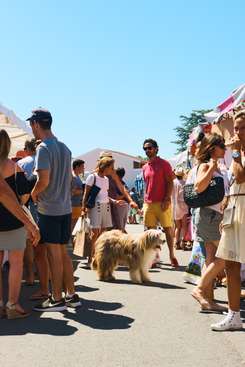 Today it's touted as an anti-Saint Tropez but Cap Ferret has always been something of an alter-ego to chic, urban Arcachon. In the 19th century the latter was a popular thalassotherapy spot, stomping ground of Napoleon iii and home to summer casino soirées. Meanwhile, the headland across the water was a hinterland home to resin-tappers, oyster-farmers and hunters here for the wealth of birds and wild boar. "It was off the grid," says one local. "A place you brought your mistress to."
Though its wooden villas and whitewashed 1950s church are clearly an exercise in modern civic planning, the peninsula has kept this air of otherness. Very few buildings are taller than the trees and private swimming pools are rare. One of the most fêted restaurants in town is the family-run Chez Hortense, a green-and-white painted cabin that's set in the forest and is known for its fantastic moules.
And then there are the residents, the Ferretcapiens as they are known, whose idea of luxury is a glass of gris in the morning's covered market alongside vegetable sellers who order litres of diluted, thirst-quenching sirop de menthe. "This place is all about nature, the beach, the dunes; you can be alone in the middle of August with nothing but sand and surf," says Caroline Bird, whose husband's family has been running the coutellerie (knife stall) on the market for 30 years (her bestselling product is, of course, an oyster-shucker).
Even though recent years have seen the arrival of smart Parisians in increasing numbers, there is a consensus that any new ventures will honour the pared-back holiday mood. "It's not unusual for us to have four generations of the same family at one table," says Pascal Nibaudeau, a Michelin-starred chef who was tempted away from Bordeaux a few years ago to run Café Pinasse (named after the famous flat-bottomed wooden boat of the bassin.) "They want the same table at the same time on a Friday night. Of course they may well have a big house, a boat, but you would never know. We have to respect that spirit in the restaurant – and on the plate."
Cap Ferret is something of a shot in the arm for weekenders yet increasingly its residents have a base both here and in the city. At the furthest point of the headland, Philippe Bartherotte shows us around his family home: a sprawling single-storey wooden shack that was built by his father, Benoît. Philippe divides his time between his apartment and office in Paris's 2nd arrondissement, and Cap Ferret, where he and his sister Marguerite launched fashion brand G Kero. Decorated in Marguerite's drawings, their collection is inspired by the lush foliage and wild sandy environs of their home. "It's a powerful energy," says Philippe as he walks through a grove of yuccas and onto the beach. "We are at an extreme point here. You really feel it. In the surf, in the waves, you really are gone. That's my antidote to city life."
Stay: Hotel La Maison Du Bassin This timber building contains 11 rooms decorated with antiques, linen and rattan. The bar is a fine spot for a cocktail whether you are staying or not.
5 Rue des Pionniers Cap Ferret
Eat/drink: Chez Hortense Dine under striped awnings with stunning views of the Dune du Pilat at this exercise in understated chic. 26 Avenue du Sémaphore
La Cabane du Mimbeau This cabin produces some of the best oysters in France and serves them iced with a glass of white wine.
Rue des Pêcheurs
Getting there: A new Paris-Bordeaux train service takes two hours. From Bordeaux station hire a car and drive 90 minutes west, or change trains and alight at Arcachon. Then a boat across the bay takes 30 minutes.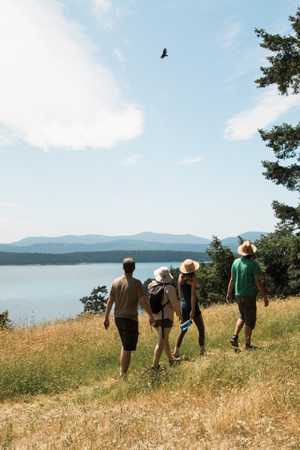 2. Peaceful, easy feeling
Gulf Islands, Canada
Named after the Spanish explorer who disembarked here in 1792, Galiano Island is a long, green sinew of an island in the Georgia Strait off Canada's western coast. It's roughly the same size as Manhattan but with a permanent population of just 1,100. "It's a nurturing place," says Conny Nordin, owner of the Galiano Inn hotel, which is home to the island's only spa and best pizza oven. "Once people arrive it makes them feel that they're miles away from anything."
As the road slips by on the ride north it's easy to see what she means. Our only companions along the woodland route are a car or two, a lone hitchhiker and glimpses of the wildlife that is abundant here: a deer peeping up from the grass, swarms of red-tipped dragonflies and a hummingbird or two. Galiano Island forms a lush green barricade of sorts in the waters between the city of Vancouver on the mainland – only an hour away by ferry – and the cluster of hundreds of islands and islets known collectively as the Gulf Islands.
"Every island has its own magic," says the bus driver known locally as Tommy Transit, dressed in an Aloha shirt and a straw fedora. His vehicle is wending its way towards the Galiano's main ferry terminal as part of the annual Tours des Îles weekend, which offers free bus rides and discounted boat trips for islanders so that they can meet their neighbours. "We're so close but it can be hard to mingle," says Marilou Rogers, a Galiano estate agent. "There was a time when you would hear of the fishermen on Galiano working all day and then rowing out to a dance on one of the other islands in the evening."
Those near-but-distant neighbours include Salt Spring, the largest and most developed of the southern Gulf Islands and home to the archipelago's major hospital, police station and junior and secondary schools (served by a school boat, wryly named the MV Scholarship). Pender Island is home to Sea Star vineyard, whose riesling and pinot gris are among the best in western Canada. Mayne Island was once home to a large Japanese community (who planted the many fruit orchards that still flourish there), only to be interned on the mainland during the Second World War. That heritage is now marked by a tranquil public garden replete with cherry blossoms.
Yet in Galiano the number of public beaches, hiking and bike trails beats anywhere else on the archipelago; regular coastline visits by itinerant pods of orca whales also help the growing hospitality sector. "We're the closest island to Vancouver but we really feel like we're the furthest away," says Jesse Keefer on the veranda of Bodega Ridge Lodge, the hotel he has owned since 2003 and which overlooks the turbulent, whale-populated waters of Trincomali Channel below. Keefer's lodge, the cabins of which are furnished with rich woollen blankets and striking light fittings by Vancouver-based Bocci, has become a mainstay of Galiano's offering.
"I feel that Galiano was bypassed for a few years," says the hotel's GM Sarah Penfold, who moved here from Vancouver in the spring. "People went to Mayne, to Pender and Salt Spring. But I think they are starting to see the opportunities here." Jesse McCleery, co-owner and chef at Pilgrimme, agrees. The restaurant he launched with his wife Leanne Lalonde two years ago has been hailed as one of the best new openings in Canada. "It makes our life so much easier when the vegetables here are so fresh and taste so good," he says. "We have neighbours who drop things off from their gardens; boxes of figs because they have too many. You wouldn't find that anywhere else."
Some of those who serve Pilgrimme's kitchens also sell their produce at a weekly market in the community hall at the island's northern tip. Among them is photographer-cum-farmer Henny Schnare. "There's one thing that marks Galiano out from the other islands," she says, her stand covered by the brilliant-green lettuce leaves she harvested earlier that day. "Joy."
Stay: Bodega Ridge Lodge Renovated in 2003, these seven lodges occupy a particularly tranquil spot. The wine cellar has a fine collection from the mainland's Okanagan region.
bodegaridge.com
Drinks: The Crane and Robin Cheerful, unfussy outdoor bar looking out to Montague Harbour's seaplane pier.
3451 Montague Road
Shop: Galiano Soapworks Linda Cupples's soaps and creams are made with ingredients such as lavender and rose petals.
galianoislandsoapworks.com
Getting there: From downtown Vancouver it's an hour to Tsawassen ferry port; there are two departures per day to Galiano Island. Sea Air, a seaplane company, also serves the Gulf Islands from a base in Richmond.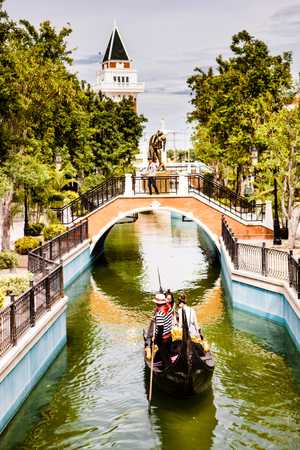 3. Safe haven
Hua Hin, Thailand
A train squeals to a halt at Hua Hin's red-and-gold-coloured wooden railway station and a fresh batch of Bangkok weekenders spill onto the platform. It costs just thb44 (€1) for the four-hour journey from the capital, although at two hours a taxi ride is speedier (though a high-speed train is on the cards). This train is what made Hua Hin a bolthole for Bangkok's residents when the Southern Railroad connecting Thailand to the Malaysian border was built in the early 1920s. "People come here for the seaside, the weather and the golf courses but mainly to relax," says David Martens, general manager at Centara Grand hotel.
With few beach nightclubs, Hua Hin has a tranquil poise that's in stark contrast to its racy west-coastal cousin."People here are quieter than those who go to Pattaya," says architect Duangrit Bunnag, who recently opened the minimalist Hotel Bocage. "It's about daytime activities, evening dinners and calm nights." Mornings on Hua Hin's beach find sunbathers spread on the white sand but Thais shun the intense early-afternoon heat in favour of shady pool-side umbrellas and beachfront cafés. At this time of day sleek bistros are packed with Bangkokians enjoying coffee or cocktails with a touch of sabai sabai: a Thai expression equivalent to Danish hygge.
Along the pier there are Swedish, Swiss, German, Norwegian and Russian flags adorning restaurants that cater for homesick travellers. Grocery shop Villa Market has a corner dedicated to Nordic produce; Swedes in particular have flocked here (about 3 per cent of Sweden's population is said to visit Thailand each year). Some came to wait out their long winters but eventually stayed and now support foreign-language newspapers and radio stations, as well as a healthy property market. When the clock tower chimes 16.00 it's time to head back to the beach, lemongrass mojito in hand. These last few daylight hours may not help the tan but that's not really a priority in Hua Hin: sabai sabai is a much breezier affair.
Stay: Hyatt Regency A teak reception area, gardens and a spa feature. Book into The Barai: a hotel within the hotel.
huahin.regency.hyatt.com
Eat/drink: Let's Sea Family-style Thai dishes are on the menu but if you're in the mood a little earlier in the day, champagne breakfasts are also served under the seaside patio.
letussea.com
Shop: Seenspace Beachside mall offering homeware, fashion and stationery exclusively produced by small Thai businesses.
seenspace.com/huahin
Getting there: Trains from Bangkok run all day and the journey is about four hours. For an easier trip, a private taxi will take you on the two-and-a-half hour drive for about thb2,000 (€50). Book ahead.