Reinventing the river cruise / Global
Going with the flow
Nolan Giles & Marie-Sophie Schwarzer report: The laidback charms of a fine river cruise offer an antidote to our fast-paced lives. Here are the essentials for the perfect freshwater getaway, on board The Escapist's very own vessel.
A river cruise might offer a slow and steady voyage but this old-fashioned mode of transport is flourishing. As markets expand into Asia, ship designs slowly improve and time away from the frenetic life we live on land becomes more desirable. Yet, from the Mekong to the Mississippi, the experiences that these cruises offer are still lagging behind the wants of today's more discerning travellers.
It got us thinking: how could the sector be made more ship-shape? the escapistriver cruise remains a leisurely paced ride but is also one unafraid to shake up the itinerary. Our captain is someone who can set a steady course, front a good conga line and lead a shopping spree through a city's best independent retail streets. Our bar staff can both stir up a nice negroni and our guests' imaginations, pointing out the best architectural sites and cultural spots on the river banks.
Our aim is to provide a voyage where connectivity isn't about technology. In fact, the only hotspots on our river cruise are the deck and entertaining spaces designed for mingling. The real connection here is the one made between passengers. With a shallow hull and a snug ship size to navigate narrow waterways we've thought carefully about our cruise, from the tactility of the ship's design elements to the highlights both on and off board that we will deliver to our cruisers. Care for a ride?
Our drinking destination is inspired by the bars on the Italian ocean liners of the early 20th century. Replete with brass railings and sturdy stools, it provides space for socialising from morning to well past midnight.
Recruiting Australian firm Nexus Designs, whose portfolio includes various maritime projects, we'll incorporate a seafaring-inspired palette. Classy naval stripes and sea-rope detailing will be used sparingly. Expect sturdy, elegant furniture: Patricia Urquiola's Husk Chair from b&b Italia, with shelled bottoms reminiscent of a boat hull, will be paired with tough-to-topple stools from Artek.
Boarding and Transport Touches:
Our cruise introduces the world's best ride on, ride off facility for cycling passengers, with leather bracelets from Ludwig Reiter serving as beautiful boarding passes – and a keepsake of your journey.
The narrow width of the ship and the shallow hull allows cabins on the lower deck to feature wide sash-windowed cabins to let the breeze in. Subtly curved bay-window seats optimise the lighter side of cabins, while a cosy atmosphere is provided by the blankets from Texidors in the corners that sunlight struggles to reach. Furniture tidies away under desks and table to promote openness.
Our timber decks are host to both relaxation and exercise. Yoga and tai chi classes take place on the lower rear deck, which also provides a sanctuary for afternoon sun-bathing. More vigorous activity occurs on the upper level, with a plunge pool, bar and dance floors adorned with furniture from the seafaring nation of Portugal: the loungers by Lona, the tables and chairs from Adico.
Entertaining and Dining Area:
Our entertaining area occupies much of the saloon deck and offers great views through its wide windows. Inspired by Italian modernist Gio Ponti's cruiseship designs of the 1950s, it flows from a formal dining area into a more relaxed setting. Here a bandstand hosts a programme starting with classical and turning to Euro pop as the night progresses.
It's hard to find a better outfitter for our well-dressed river cruise staff than Veneto-based Italian brand Barena. We'd commission navy lightweight bombers, well-constructed blazers and striped T-shirts to provide our crew with an informal uniform that works on both the waterways and the winding shopping streets of the cities we visit.
Rather than bombard guests with luxury offerings, all essentials are at one kiosk, from bathers to gin-and-tonic mixer sets. Print pick-up points mean you can grab the papers – especially monocle's summer weekly.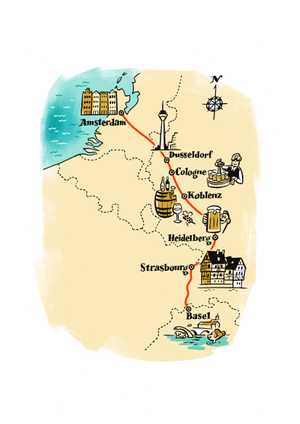 Victor Hugo once wrote of the Rhine that "the whole history of Europe lies in this river". Indeed, for centuries this wide-banked waterbody proved a profitable trade passage between Germany, the Netherlands, Belgium, France and Switzerland. Today it's still a major artery for the river economy, with some 100,000 ships a year travelling its course. A number of these vessels are cruiseships taking in the castles, vineyards and industrial cities that the river rolls past.
Our trip avoids the tourist traps and dives deep into the contemporary culture of the cities upon which we hoist our landing ropes. Here the best in design, art, drinking and eating is sampled with unhurried pleasure. Beginning in Amsterdam, where we pedal from contemporary galleries to lively bars and cafés, the cruise makes its way through Germany, winding from wineries to world-class malls, with refreshment stops at plenty of beer halls. In Strasbourg we navigate the city's dining scene before our final port call in Basel offers summertime swimming, or tours of the city's storied design sites.
Before our river cruise makes its sunset journey south, guests have an afternoon in Amsterdam to visit the famed Rijksmuseum, or pedal around its smaller art galleries, before boarding for a round (or two) of aperitifs.
Our retail stop in Düsseldorf's combines independent shops with the Daniel Libeskind-designed Kö-Bogen mall. Look for gifts on Königsallee street and flowers for your cabin from Carlsplatz market.
The city provides a restful late-afternoon stop-off. Take in a view of the river from a good spot on the terrace of the Long Island Grill & Bar (complete with a glass of riesling), followed by a stroll along its historic banks.
In the heart of Germany's wine country, our Koblenz stop offers trips out of town for afternoons of tasting and good dining. Highlights include a visit to the Weingut Schwaab winery to sample its sharp rieslings.
Onward journeys are available from the historic town of Heidelberg. A trip can be organised for an evening meal and a night on the tiles in Stuttgart's Mitte and Rathaus drinking districts. A more laidback afternoon can be had at the upmarket Engelhorn department store in Mannheim.
Our stop in the Alsatian capital provides a tour of the region's distinctive cuisine, with a moveable feast beginning at L'Épicerie and ending at Le Bistrot des Copains, where its famous tarte flambée can be enjoyed in a rustic- style setting.
What better way to end a summer cruise than a dip in the river in the historic Rhine bathing house? In winter we'll organise a trip to the Vitra Design Museum, featuring works from the likes of Verner Panton and Alexander Girard.
We're eyeing up two other destinations. The first is the Douro River from Porto, which snakes its way through one of the world's oldest demarcated wine regions and into Spain. The second journey takes in the wonders of Southeast Asia on a slow ride down the Mekong. Guests enjoy the wonders of Cambodia and Vietnam – and plenty of city stops for shopping and dining.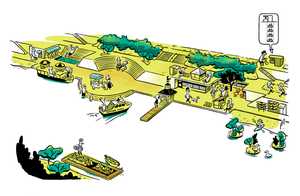 Close to the edge
The perfect riverfront
Typically rolling through a city's central business district, where noise levels are not so restricted due to a lack of residents, the urban riverfront is a location ripe for reinvention. While these areas once bustled with trade, today they tend to fall into lifelessness, particularly after sunset. Here we have combined the best in practice globally in an effort to reignite the river economy and, in the process, form our perfect riverfront.
Swim in the pool or drink on the deck at our version of Berlin's Badeschiff (bathing ship). Expect more rigorous exercise at our heated lap pool – or just dive into the river.
The wide promenade is designed with flexibility in mind, to host various events and markets and provide plenty room for our food vendors. Wide tiered steps offer ample seating space, while safe access to the water allows for interaction with the river.
While one bank of the river is reserved for citizens, the opposite will be managed as a nature reserve, respecting the biodiversity of the river. Floating farms and gardens also service the riverfront's many eating spots.
Stepped platforms towards the riverfront provides vantage points and spaces for all manner of recreation. Thick vegetation on top promotes privacy and softens the sounds drifting up from the entertainment.
The timber jetty provides a focal point at the centre of the riverfront, where visitors can catch water taxis or hop aboard various dining and drinking cruises.
Old trade buildings and warehouses are repurposed into a lively selection of restaurants and bars, with plenty of outdoor shaded seating for summer days and a good few fresh fish dishes on the menu.
Besides a well-stocked lending library, newspaper and magazine kiosks provide international titles and essentials such as sunscreen, towels and beachwear.
At the higher street level a Giken underground bike-storage system from Japan provides spaces for bikes, so the river promenade remains a decluttered pedestrian-friendly zone.
The quieter end of the river offers a staircase for access and exercise, as well as kayak hire. The influx of morning and evening foot traffic, in the form of people exercising, fuels trade for restaurants and coffee kiosks.