Turkey's beach clubs / Aegean coast
Sea change
Christopher Lord reporting from the Aegean coast, Turkey: Political upheaval and terror attacks have hit tourism hard here but beach clubs are being buoyed by a homegrown crowd escaping city life and uncertainty.
The west coast of Turkey is the country's version of California. It's a lithe and liberal stretch of wild bays that rise to fir-tree hilltops. There are vineyards for reds and whites, and innumerable beach hotels with sunset views. Like California, this part of the country is a region increasingly at odds with the rest of the country. It too is a bastion of opposition to the authoritarian tenor coming from central government. Some 70 per cent of voters in the city of Izmir rejected president Recep Tayyip Erdogan's referendum bid for greater power in April, and statues of the secular republic's founder, Mustafa Kemal Ataturk, keep watch over the small towns.
In another nod to the Golden State, this part of Turkey is prone to earthquakes: at dawn we're awoken by a rumble of five-ish on the Richter scale. "We hardly notice them anymore," says Ulgar Ciftci, general manager at 7800 Cesme, a beach club and hotel on the Cesme peninsula close to Izmir.
From one of the balconies, wrought in sharp lines and ThermoWood by Istanbul-based architect Emre Arolat, you can almost see Greek islands through the heat haze, while below us is a palette of varying blues: a seawater swimming pool with a tropical aquarium at the deep end and beyond that a turquoise bay of temperate Aegean Sea.
The outlook may be sunny but last year was a terrible one for this part of the country. Hoteliers, beach-club proprietors and restaurateurs along the west coast had to roll with many seismic shocks: terror attacks in Turkey's big cities that scared off foreign tourists and a president who shook his fist at the world, first at Russia, curbing a lucrative charter-holiday trade, and then western Europe.
Nearly a year to the day after the failed coup, the apex of Turkey's annus horribilis in 2016, we take a drive through the southwest to see how its beach towns and beach clubs, such as 7800 Cesme, have fared as a key component of the economy has fizzled away. We find a much-diminished overseas tourist trade but a resilient industry that has seen business owners battle on despite it all. For Turks themselves, going to the beach has taken on a greater significance.
As overseas arrivals fell off, Ciftci says he saw a surge of Turks escaping the chaos of the cities and heading to his patch of seafront. They came to swim, dance and drink during the club's midday happy hour at a time when people needed to kick back more than ever. In fact, this region of Turkey has long been a place of refuge: the coastline of Cesme is dotted with 1960s summer houses that middle-class families still air out at the start of every summer when the heat and dust in the big cities becomes unbearable. It's a tradition that was started by the Ottoman sultans who once escaped to summer palaces along the Bosphorus.
"Here I can wear what I want and, with everything that's happened in this country, it's a place you can really escape to," says Nezlican Yoney. She's sitting cross-legged in a nautical-striped swimsuit at the end of a wooden jetty in Aya Yorgi Beach, on the tip of the Cesme peninsula; she works for a technology company in Istanbul. "This is a more feminine place somehow," she says. "We come here as a reminder of the old days."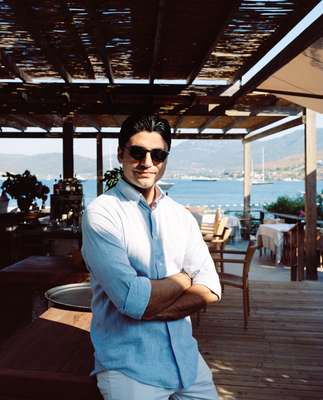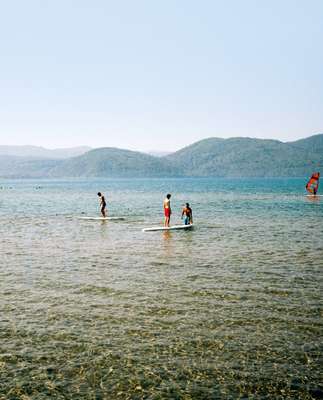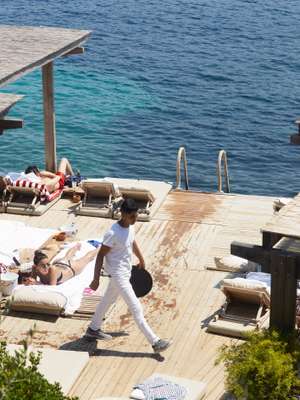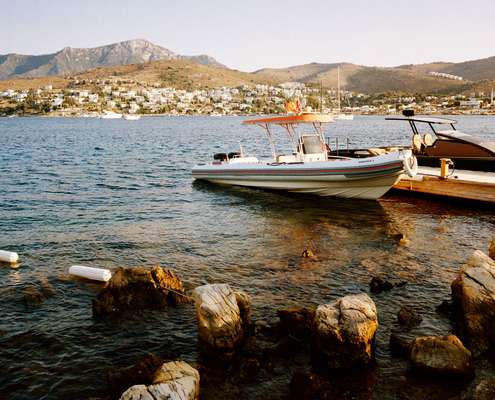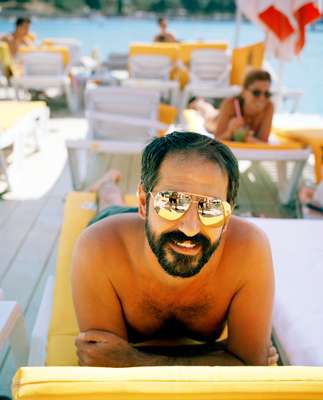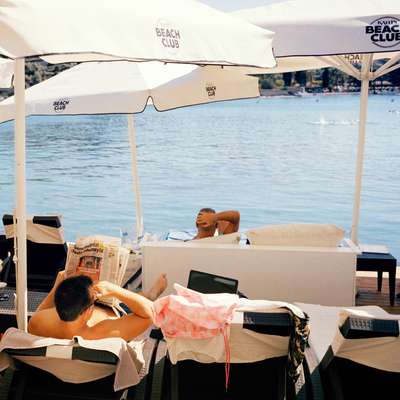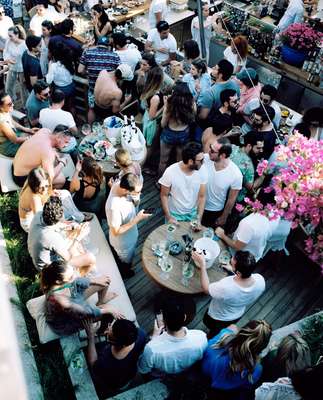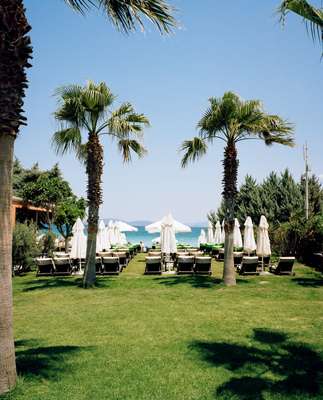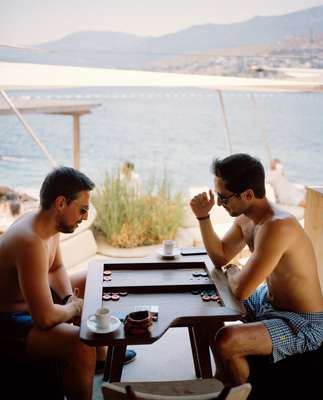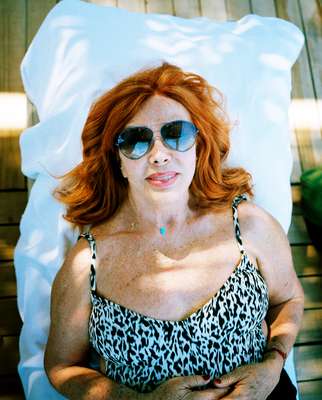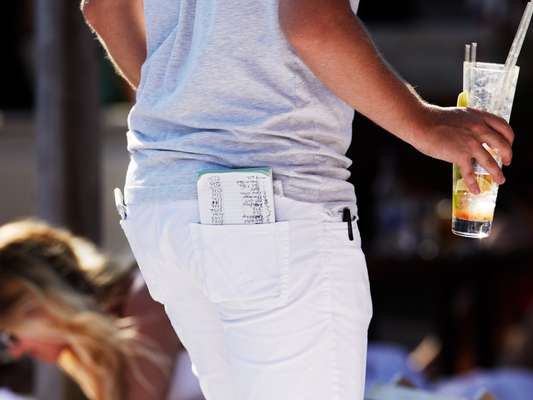 Aya Yorgi and its beach clubs are a rite of passage for many Turks. Jutting into the bay are several beach bars with wooden jetties upon which hairy bellies turn a deep brown. It's a place where young people come to get away from parents, to party hard at beach-club bars with names such as Paparazzi and to do somersaults into the Aegean Sea. Even though pitchers of Bomonti beer are being handed out and we are all in our swimwear, you still hear profound things being said on these boards.
Kivanc Kilic's family have run the jetty called White Beach for the past three years, and while he serves the beers and keeps the music in check, his mother does the books at the bar. Their clientele is mostly Turkish these days but Kilic has been surprised by the particularly slow start to the summer. A friend interjects. "This country is changing," she says. "It's the ideology of the government."
It's a common refrain on the west coast. The crowd are changing, some say, and don't party as hard as they used to do. Others put it down to a more conservative Turkey, creeping in during 15 years of Erdogan's Islamist political party rule.
When Ataturk conjured the Republic of Turkey from the ashes of the Ottoman empire in 1923, he set about remaking the country in a secular mould. It would keep its face turned to the West, the Arabic alphabet was scrapped in favour of Latin letters and the fez was banned, along with the headscarf, in public buildings.
A key component of Ataturk's ideology was rediscovering the body and its recreational pleasures in a bid to distance Turkey from a socially conservative past. He encouraged men and women to head to the seaside and, making use of his potent personality cult, he led by example. At the modernist "marine mansion" he had built in Florya on the outskirts of Istanbul, he had a personal photographer on hand to document and distribute images of his daily dip in the Sea of Marmara. "He would drink and carouse toward high noon, take a swim, a nap and work for the rest of the day," was how Life magazine described Ataturk at Florya in 1938, accompanied by a snap of his "dissipated" body reclining in a bathing suit. Aside from the bit about work, Life could almost be describing the scene at Aya Yorgi's beach clubs today.
Pleasure is etched into the landscape of this region. From Cesme we next drive around the concrete-covered hills of Izmir and towards the small town of Aydin, where the oldest-surviving complete musical composition was excavated from the ground in the late 19th century. Dated variously from 200bc, the Seikilos Epitaph's lyrics in Ancient Greek are an exhortation to have fun: "While you live, shine/Have no grief at all/Life exists only for a short while/And time demands its toll."
We pass green fields where broken marble glows white in the midday sun and stop at Ephesus, the startlingly intact remains of an Ancient Greek city that once drew vast crowds of tourists in sun hats, sandals and socks (it even has its own private airport). But the hawkers who peddle guide books and postcards out front bemoan the diminished number of visitors they get to hassle, even if a few do still come. "And that's how we know it was once a working brothel," says a tour guide to two bemused Chinese tourists with matching orange parasols as they pass a patch of rubble labelled "The So-Called House of Pleasure".
Nearby fishing towns such as Kusadasi today bear the hangover of the 1990s when Turkey, a relative latecomer to mass tourism, embarked on a building spree. Now there's an abundance of outsized resorts and concrete-block holiday flats, with many beach clubs of varying quality dotted all the way to Bodrum.
It's for this reason that the less-developed parts of the southwest are even more precious. "Being on the Aegean is a privilege, it's a beautiful piece of this planet," says Kamil Ozavar, founder of Xuma, perched at the end of the Bodrum peninsula in Yalikavak. Xuma is a barefoot sort of place with groups of people chattering away in the "mothership" restaurant, while women strut by in Ibiza-esque cover-ups. There's also a recording studio behind the volleyball court.
"To be able to touch the ground, to be by the water and outdoors: that is the most important thing for us and the complete opposite of build, build, build," says Ozavar. The son of a jewellery seller with a shop in Istanbul's Grand Bazaar, he sidestepped the family business 20 years ago to start something fresh on this stretch of once-empty beach. He flicks through aged photographs of the early days when the surrounding hills were devoid of the holiday homes that now overlook the bay.
Until last year, about 30 per cent of Xuma's guests were foreigners but that number, we're told, has dwindled to almost none. Ozavar had to adjust to the shift in business but the show must go on. Only a week after the coup attempt he was on Skype reassuring Dutch, US and German musicians who were billed to play. Most still came and some 3,500 people, mostly Turks, showed up to party.
Doruk Kurt, an economics student on summer break, believes that the last two years have transformed Turkey into a nation of boxers who keep getting back up despite the turmoil. He's stuck holding his friends' phones while they do backward somersaults into the immaculate sea, with a group of young women looking on. "You can separate us in a hamam," says Kurt, referring to the traditional gender-segregated bath houses found across Turkey. "But you can't separate the sea – and that was Ataturk's idea too."
On another corner of Bodrum, Macakizi is a beach club that caters to a more jet-set crowd. It began as a breezy beach pension in downtown Bodrum in the 1970s. It was founded by Ayla Emiroglu – dubbed the Queen of Spades – and regulars (reputedly) included Mick Jagger. It became Turkey's first beach club in 1982 and subsequently shifted to various bays around Bodrum before the founder's son, Sahir Erozan, returned to Turkey in 2006 after running restaurants in Washington. He transformed the place into a high-end hotspot for anchoring offshore, with 74 hotel rooms on land and a clientele of regulars, including one or two billionaires who drink in the view from the decking.
There may be more cigars and superyachts than the early days but a bell still rings at 14.00 every lunchtime, as it has done since Ayla first started cooking, to signal that lunch is served. Over a plate of tender doner lamb, Erozan outlines the situation. "I admire the cojones of these investors, the hoteliers, who stuck it out. It's the same story that everybody spins but it is resilience. Turkey went through 10 years of growth. Now I think we've hit bottom and we'll come out as a strong nation."
From Bodrum we continue east along the coast. If we kept on going we'd end up at Marmaris, where President Erdogan was taking a holiday break as last year's coup unfolded. Instead we stop at Akyaka, a quaint beach town that's become popular with Istanbullus as a bolthole. It has a constant breeze that's perfect for kitesurfers, who bob around in the bay.
For many young Turks there's a pressing question about whether to remain in a country that feels much changed. Some talk about a future in Berlin, Lisbon, Athens or London. But for now the southwest is an escape from the politics; at Akyaka there's a steady wind to blow it all away.