Report / Semmering
Sleeping beauty
Nolan Giles reporting from Semmering: A mountainside fin-de-siècle resort town in Austria is being reawakened from its slumber by new arrivals who come armed with a vision – and a paint brush.
Surveying deep and green valleys rolling towards Austria's craggy Rax mountain range, Michael Niederer points to a stone railway bridge nearby as a red passenger train rumbles over it and nature's silence is broken. "They built the railway line before they'd even invented a train powerful enough to use it," he says from our vantage point on the terrace of Villa Antoinette, a 1912 home he's renovated and runs as a luxurious 13-bed retreat with partner Andreas Wessely. "It was the mid-19th century and they had to hold a global competition to quickly find an engineer for the new train."
The "they" in question was Südbahn, the state-established southern Austrian railway company founded in 1859. The project spoke to a level of ambition, leaning on the side of recklessness, which defined this corner of the old Habsburg empire. The train line dipped past the Alps and dived through the Dolomites, taking people from Vienna to Trieste on the Adriatic coast; Semmering was the "somewhere in between" stop. Although a tiny dot on the map, it was an important one for the Austrian empire's elite. Here, at 1km above sea level (an optimum spot for fresh air, apparently), a man-made paradise was driven into the lush mountainside. And it was in Semmering that grand Mitteleuropean summer culture reached a champagne-soaked crescendo.
The decadent palace hotels and spa houses that rose up here became the backdrop for Europe's most hedonistic holidays and an inspiration for some of the Viennese coffee-house literati's most charming works. It's these bombastic influences that Niederer and Wessely have channelled into their property: Villa Antoinette. "We've stepped into big footprints," says Wessely, popping open a bottle of prosecco, as Niederer, an interior designer, leads a tour through the villa. He points out patterned tiling alive with the flamboyant colours of 19th-century Gründerzeit grandeur. Delicate art deco chandeliers in the bedrooms capture the gold evening light filtering through the windows, while a handsome vintage ceramic urinal in the guest bathroom harks back to Austria's pre-Great War wealth. "Well, you need somewhere to rest your whiskey glass," says Niederer.
Operated like a traditional mountain chalet since 2016, the villa's luxury accommodation references the glory of Semmering's crown jewel, the Südbahnhotel. Perched just out of sight on a huge curving plot, this palatial hotel has hugged the pine-covered Pinkenkogel mountain since 1882.
"The last client left in 1976 but for me the hotel is not dead, it is just sleeping," says Edgar Bauer, an optimistic hotel and tourism consultant tasked with managing the creaky historical site. "You can still feel it through the patina, its magic and its life – we are just waiting for the next guests to arrive."
Magic is certainly the right word to use when describing the Südbahnhotel experience. It's a magic that stirred the imagination and pens of great Austrian writers (and guests) Stefan Zweig, Franz Werfel and Karl Kraus. It's a magic inspired by fairytale-like views of rolling forests, snow-capped mountain peaks and crystal lakes. It's the kind of magic best enjoyed with a crisp glass of champagne on the terrace. The same crisp champagne that drove a number of Südbahnhotel's more voracious drinkers into winters of detoxing at the nearby Kurhaus (health retreat). And sadly it's a magic that was extinguished by the marauding Nazis who declared Semmering "free of the Jews" in the 1930s, draping their swastika flags down the historic walls of the hotel and ending a remarkable chapter in European history.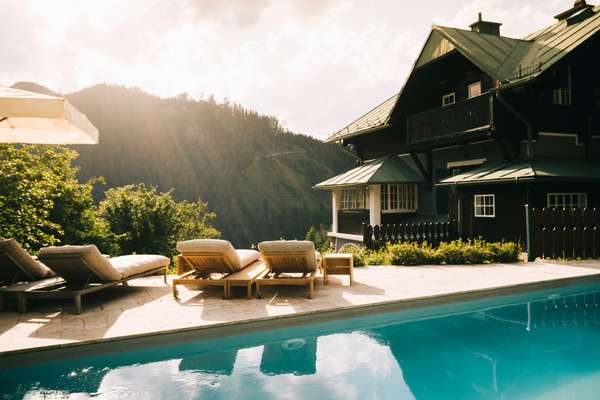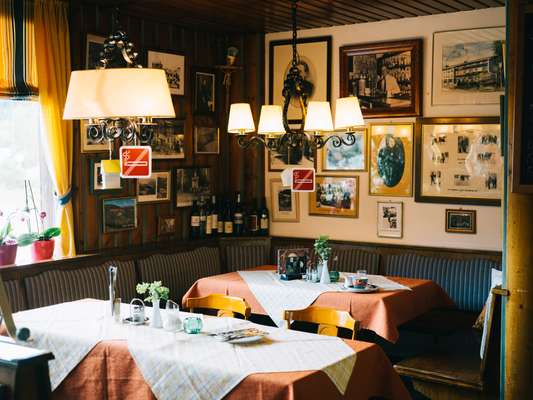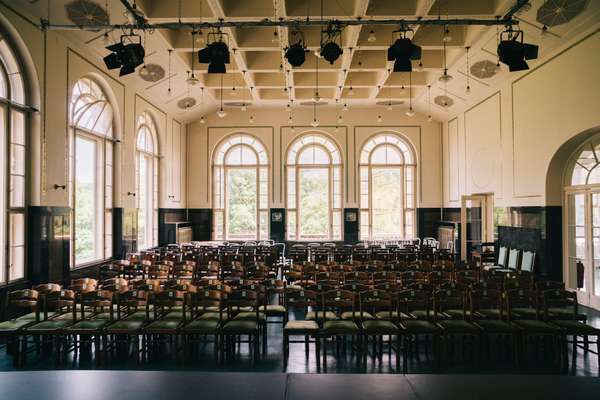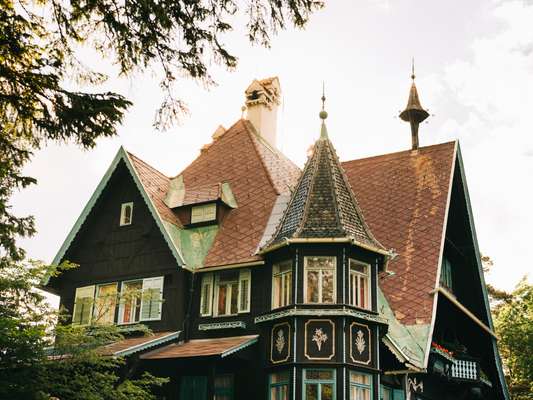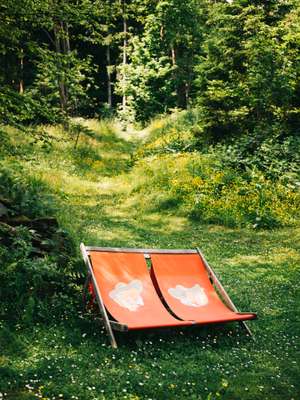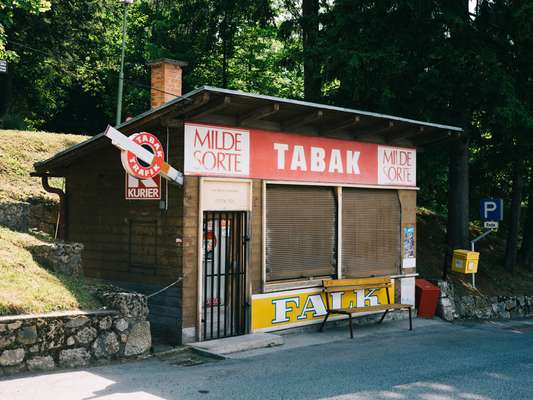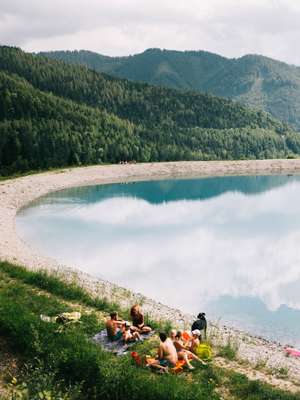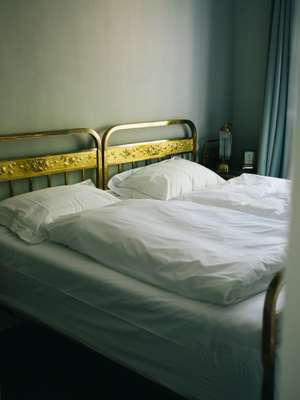 Thankfully Südbahnhotel remains in good condition and under the ownership of a wealthy and highly private German businessman. Much of the original furniture remains, including chaises longues that wouldn't look out of place in Freud's office. As such it doesn't take much time wandering the grand reception and ballrooms for the mind to conjure up images of Austria's Jewish bourgeoisie and intelligentsia (who made up a good chunk of the hotel's guests), servants and trunks in tow, spending happy summers here.
"You came here with your children and your friends," says Yvonne Oswald, a photographer and artist, who spent five years documenting the building for her book Das Südbahnhotel. "You would come for the whole summer while your father was in town working during the week, having his young girlfriend in the city and coming up for the weekend to meet the family. There is a spirit here that has never gone; it is a monument from Austria's fin-de-siècle days that is still in its original state. I had to follow the traces of a fantastic society that had initiated so much."
Oswald has a deep connection to Semmering and its surrounding region. A descendant of the Habsburg dynasty, her great-great-great-grandfather, Johann of Austria, was brother to the emperor and pushed for the railway line to head through Semmering. Oswald leads us through the town's mountainous surroundings (at a considerably more relaxed pace than that which her ancestor's project tore through the valleys here), introducing us to the "Semmering Style". This unique architectural form characterises many of the villas here and is a stylistic mismatch of all that is alpine and kooky in the region. Typically wooden, with complex arches and features, it's a style that's hugely decorative, with fine and fun carvings bringing to life what would ordinarily be dull elements, such as window shutters. Colourful painted motifs that entwine dark wooden timber support beams are a strong feature too.
"Like Semmering itself, it was free," says Oswald, noting that for the area's Jewish contingent it was one of the few places in Austria that was void of the antisemitism that marked the era. "Up here everybody did what they wanted," says Oswald.
The stories behind these spacious villas are just as colourful as the style that defines them. Famously Austrian socialite and composer Alma Mahler banished her third husband Franz Werfel to a villa to stop him from partying and force him to finish the book he was working on at the time. Names that have made a lasting impression on European culture continue to be reeled off along this mountainous journey. Sigmund Freud's case study of "Katharina" originates here and Stefan Zweig's Burning Secret was supposedly set in the Südbahnhotel.
The legacy of Adolf Loos, the Austrian pioneer of modernism, remains here in a more concrete (well, timber) form too at the Looshaus, an alpine diner and hotel of his design, completed in 1930. Today it serves the region's best schnitzel and offers a compelling architectural experience. It's also a beacon for the sort of people that Semmering needs more of: young, educated crowds with a taste for the past but with their eyes set on the future. The Looshaus manages the tricky juggling act of celebrating the area's rich past while offering a product suited to a contemporary audience.
The same can be said of Villa Antoinette where, as the evening light dims, something of a mini-summit has congregated around the outdoor dining table."People who have always lived up here don't understand what people from the city yearn for," says Andreas Wessely, as he recalls the shock that reverberated through Semmering's 600 or so citizens as Bentley and Mercedes S Class cars started growling through the town toward their villa when it opened. "The world is getting smaller and the weather is getting hotter, and people here fail to see that luxury today is this," he adds, as he raises his glass to the fresh air of Semmering.
While Edgar Bauer unveils the business reasoning and logistics behind how he sees Südbahnhotel going through a multi-million euro transformation into a health or culture retreat, Niederer and Wessely are giddily discussing plans to turn a nearby property they've just viewed into a boutique hotel. In any other remote Austrian mountain town they would sound like dreamers. But here in Semmering, a place defined by wide-eyed optimism, the groundwork they are laying for the future sounds truly intoxicating.
Stay:
Villa Antoinette: The magic of old Semmering has been wonderfully reimagined at this villa, which offers panoramic views and luxurious facilities. From its plunge pool and Jacuzzi, Finnish sauna and Turkish bath to its rooms furnished with art deco items, this retreat is designed for small groups to enjoy outlandish weekends and longer stays.
villa-antoinette.at
Villa Daheim: For a cosier and more rustic stay, the private apartments tucked into this villa suit couples and smaller groups. Close to the train station and tourism spots, it provides the perfect jumping-off point from which to explore Semmering.
villadaheim.at
Eat and drink:
Looshaus: Perched high up in the mountains at Kreuzberg, the timber architecture of this building represents the beginnings of Austrian modernism. The high-end meals offer some modern renditions of traditional Austrian cuisine while the ingredients are always fresh. Those wanting even more of the Adolf Loos experience can book one of the villa's comfortable rooms (but book in advance as the place is often full of hikers and architecture fans).
looshaus.at
Semmering Golf Club: The oldest golf course in Austria is a sight to behold, with far-ranging views and a cosy timber club house. It's also famous for its chef Herta Weninger's Schmankerln (Austrian sweet treats).
gcsemmering.at
Cultural event:
Kultur Sommer Semmering: Every summer the theatre at Kurhaus Semmering hosts actors, performers and musicians. A highlight for 2017 is one of Austria's best-known poets: Friederike Mayröcker.
kultursommer-semmering.at/spielplan
Cultural site:
Semmering Railway: Constructed between 1848 and 1854, this 41km-long railway is one of the greatest feats of civil engineering and was laid during the early pioneering phase of railway building. It runs through a spectacular mountain landscape and is a Unesco World Heritage site.