Restaurant Awards 2017 / Global
The 2017 Restaurant Awards
Our third annual awards celebrate and elevate an endangered species: humble neighbourhood restaurants, smiley staff and decent service.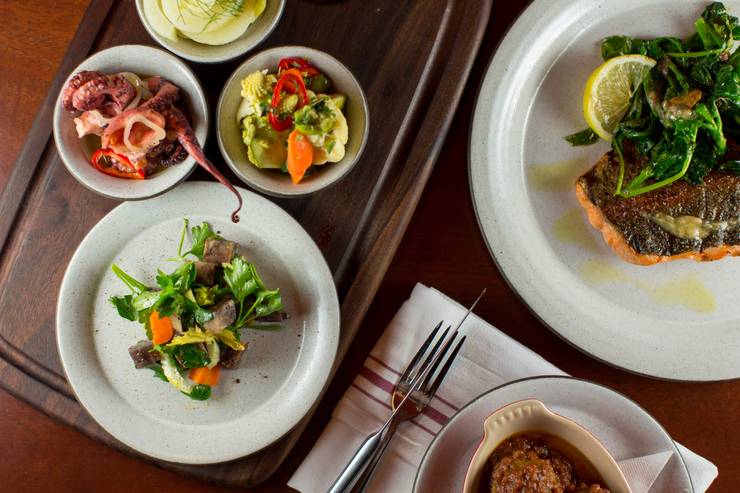 Far from the hifalutin haute cuisine of other restaurant rundowns, Monocle's third annual Restaurant Awards celebrate and elevate an endangered species: humble neighbourhood restaurants, smiley staff and simple service that often get lost in the fuss and froth of fine dining. Here we offer a manifesto for memorable meals that forgoes the fanciness of Michelin Stars and the tedium of minuscule portions served over many courses.
Instead, our awards go to the hearty, the honest and the interesting restaurants at which our correspondents and editors have eaten over the past year. Expect new entries from Hong Kong to Lisbon and London to Los Angeles, plus Paris, Perth, a new winner and a refreshed line-up in between. Hungry to know our favourite 50 restaurants from around the world? Do tuck in.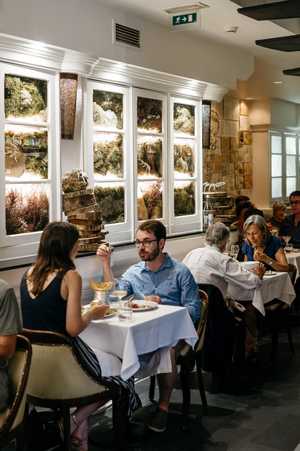 01 Bistro 100 Maneiras
Lisbon
We've made no secret of our admiration for the Iberian peninsula and, after years of relative culinary obscurity, Portugal's capital now has much to commend it – in particular Bistro 100 Maneiras. The food is superb but there's more to it than that, including a cocktail bar, informal dining room and even a smokey anteroom that stokes the coals of conversation between diners.
Spread across two floors of an art deco mansion in busy Bairro Alto, the white-walled spot serves painterly plates with Portuguese, Yugoslavian, Italian and French influences. Sarajevo-born chef Ljubomir Stanisic opened the 80-cover spot in 2010, a year after launching an inventive multi-course tasting menu at this place's fancier sister joint, Restaurante 100 Maneiras. Yet it's the informal feel and ever-changing cast of interesting and eccentric locals that are the crucial ingredient here.
Kick off with a thirst-quenching cocktail and moreish potato-skin crisps dipped in herby yoghurt. Next choose between the grilled octopus with zesty lime risotto and the pork tenderloin with creamy beetroot polenta. The doors are open everyday until 02.00 and there is no fussy maître d' chivvying customers in and out. For that reason, we're always happy to linger.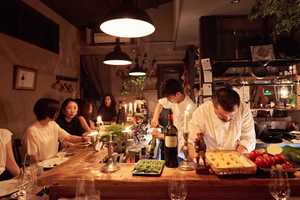 When Toshiji Tomori opened his counter restaurant (and last year's winner) in Matsumizaka in 2015 it seemed to hit its stride in no time. Cignale became the city's hot ticket as diners rushed to try Tomori's modern version of Italian cooking made in an open kitchen with Japanese ingredients.
It's difficult to define the cooking at Cignale: Tomori spent four years working in Piedmont and Tuscany – and he still makes everything from the pasta to the limoncello – but he has also been influenced by his stint at Californian food-to-table mecca Chez Panisse. Reservations are elusive but dinner at Cignale is always a culinary thrill.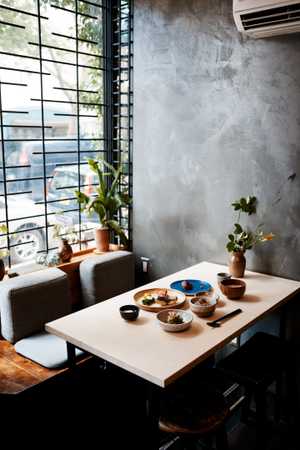 Tucked away down a tree-lined Williamsburg side street, this 12-seater serves breakfasts or lunches of ichiju-sansai, a traditional Japanese set meal made up of fish, egg, side dishes and miso soup. At night the restaurant transforms and assumes another name: Yuji Ramen. The man behind the magic, Yuji Haraguchi, is a self-taught chef with a background in seafood merchandising.
There's no menu here, just an invitation to choose from a daily selection of locally sourced fish. Expect sweet-miso tuna fillet served alongside seven-grain rice, a silky onsen tamago egg served in soy broth (stir it up and pour over your rice) and seasonal vegetables. Food is served on delicate plates made by a local potter and the flavours are punchy and robust. The restaurant gets busy so be prompt with your arrival time. Then sit, eat and walk away wondering how such humble ingredients can make for such a satisfying feed.
Few superlatives do justice to the culinary feats and convivial air achieved at Ruth Roger's riverside restaurant. It's the little things that leave the largest impressions: the honesty of the hospitality and the chefs doing justice to the ingredients.
Founded in 1987 by Rogers and her late business partner Rose Gray, the venture was originally a small café abutting Rogers' husband's architecture studio (yes, Richard, or Lord Rogers). In many ways it's the fact that the River Café has kept its small, service-focused feel that helps it stay honest and fresh, despite fast approaching its fourth decade of service.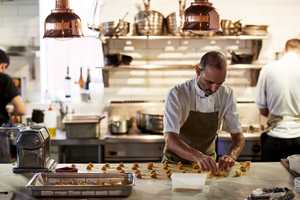 Tipo 00's understated dining room is an oasis of Italian hospitality in Melbourne's otherwise frantic CBD. Since opening in 2014 the restaurant has earned its stripes by plating up some of the best pasta in Australia (not easy given the size of its Italian diaspora). Among its tastiest dishes are pan-fried calf liver and rabbit tagliatelle.
Set up by Kamal Mouzawak, Tawlet (literally "table") embodies the best of culinary culture in Lebanon: genuine hospitality, a relaxed atmosphere and stunning food. The menu changes daily depending on the cook's hometown, with Syrian, Armenian and Palestinian dishes appearing alongside Lebanese classics and regional specialities.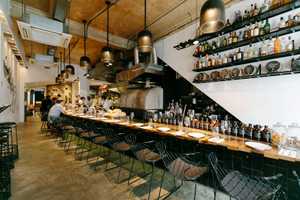 The most important thing in this Australian-barbecue restaurant on the edge of Singapore's hip Chinatown is the large wood-fired kiln, which yields the flank steaks and bone marrow that gave Burnt Ends its name. The steak, pulled-pork sanger and smoked quail eggs are perfectly paired with wine from small family-owned vineyards.
Many a London restaurant follows a tried and true formula. Bar seating? Obviously. Snappy service? Certainly. Enticing drinks list? Negroni please. So what is it that makes one place stand out? The chef.
Isaac McHale (of modern-British haunt The Clove Club) caused quite the stir when he declared that a simple Italian using British ingredients would be his next venture. His dab hand in the kitchen shines through on a stellar menu – the conchiglie (seashell pasta) with pork sausage a must – and his obsession with quality ingredients paired with impeccable technique make for an outstanding repast.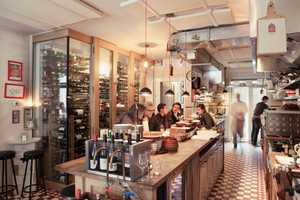 09 Worst Wijncafé
Amsterdam
Since opening this joint in 2012, owner Kees Elfring has garnered a name for having the finest sausages in town. Favourites from his ever-changing roster include wild boar and lobster with fennel, while guest spots are often given to international purveyors such as the Spigaroli family, which has been curing Italian charcuterie since 1850.
Chef April Bloomfield and restaurateur Ken Friedman took over this century-old San Francisco institution to much fanfare in 2014, renovating the space and revamping a menu that now features Italian and Mediterranean specialities. The café's original atmosphere has been maintained, with red-leather banquettes and the original nicotine-tinged murals gracing the walls.
The off-menu beef, pork and guanciale (made from pig cheek) meatballs in a piquant tomato sauce are an absolute must-try, while the Spanish octopus, served with butter beans, tomato and parsley mayonnaise, is a delight of equal measure.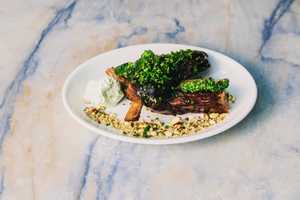 11 Servicio Continuo
Barcelona
Nacho Alegre's late-night bar has filled a gap in Barcelona's substantial entertainment offering. Until it opened last year there was nowhere in town to grab a midnight bite and an expertly prepared cocktail on your way home, or en route to something even later. Now you can tuck into chef Carlos Yáñez's twist on hotel-lobby dishes.
serviciocontinuo.com
This no-reservation yakitori-ya (a Japanese grilled-chicken-skewer specialist) is run by Canadian chef Matt Abergel and team. The chickens arrive daily from a farm in the New Territories – the bucolic wetlands and mountains surrounding the city. The breast yakitori is served with soy sauce and wasabi, and packs a serious punch.
yardbirdrestaurant.com
Tomonari Chiba's decision to bolt from the Nobu stable in 2006 was a judicious one; his subsequent Japanese restaurant in Marylebone has been one of our favorites ever since. A small but superb cold kitchen and bar-seating upstairs, and a dimly lit downstairs dining room, are the canvas for the picturesque and painstakingly done dishes.
Reservations are a hassle as there are just 28 covers but a trip to the converted Edwardian townhouse is worth the palaver. Despite recently opening a larger space in Knightsbridge and operating a berth in Tel Aviv's Norman Hotel, our allegiances lie firmly with the original premises.
dinings.co.uk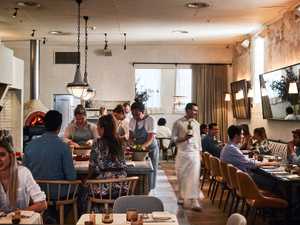 This winning combination of Chez Panisse alumnus Danielle Alvarez and all-conquering restaurant group Merivale was the most exciting opening in Sydney last year. These days haphazard open-kitchens tend to dominate dining rooms but here Alvarez glides across the pass with such elegance that her presence is calming.
As with any Alice Waters protégé, Alvarez's produce is the star of the show and simple things are done exceedingly well. Look out for an exquisite and delicate pasta: tagliolini with squid, chilli and kale, with parsley pesto. A true standout on Sydney's competitive and at times fickle food scene.
merivale.com.au/freds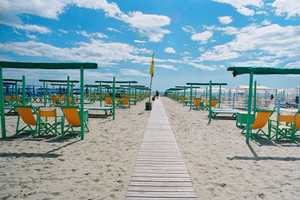 15 Bagno Bruno
Forte dei Marmi
The Tuscan seaside resort of Forte dei Marmi is well known for its wealth of immaculately manicured beach clubs, which are popular come summertime. But it's standout Bagno Bruno that earns our vote for its continued commitment in a kitchen that has seduced the palates of discerning Florentines and Milanese for generations. A must for any visitor is a plate of spaghetti alle arselle, a pasta dish served with the teeny clams found along the region's seashore.
bagnobruno.com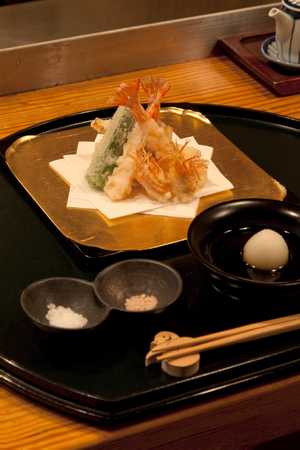 16 Yoshikawa-inn, kyoto tempura Yoshikawa
Kyoto
From behind the 11-seat counter the chef deep-fries fresh seasonal ingredients, such as prawns, vegetables and Japanese whiting, in a pot of hot oil. Each item is delivered on its own and with only the briefest explanation. The lack of fanfare leaves diners free to focus on the flavours.
kyoto-yoshikawa.co.jp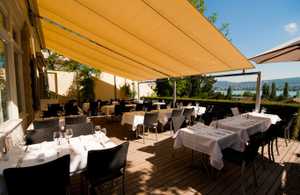 17 Restaurant Bürgli
Zürich
A room with a view is nice but a dining table with one is much nicer (providing you're in the right restaurant). Bürgli, in the hills of Zürich, fits the brief perfectly. Its outdoor dining space, naturally shaded by trees, and vista of the lake provide prime conditions for happy feasting. It's like a summer version of Zürich's beloved Kronenhalle: lighter and brighter but with just as much to gaze at.
With the air scented by garden and grill, cheerful waitresses innocuously deploy wine for all while taking orders from the straightforward menu. And what to order? Ambassadors lamb or green salad and grilled entrecôte.
restaurantbuergli.ch
18 The Veranda Inn at Bad Schörgau
South Tyrol
Run by Gregor Wenter – wine-and-cheese specialist and director of hotel Bad Schörgau – and chef Egon Heiss, this restaurant is furnished with wooden tables and loden-upholstered chairs. Its dishes teem with local touches, from its signature Kaiserschmarrn (shredded pancake) to braised shoulder of ox with carrots picked from the neighbouring Afingsbruckhof farm.
bad-schoergau.com
It's hard to find somewhere modern and modest in London's pumped-up and over-financed food scene. But Portuguese Bar Douro, nestled away from the crowds of Borough Market, amiably achieves both. A smart scalloped marble counter permits close-quarters dining, as well as a view of the unassuming chefs at work. Matching plates, typography and chefs' jackets are perfectly thought through and don't feel gimmicky.
Simple dishes of Portuguese classics such as pork with clams or salt-cod hash, and daily specials such as pica-pau (fried-meat with pickles). Well priced, well run and well done.
bardouro.co.uk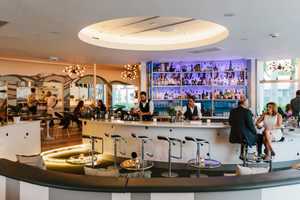 20 Vagabond Kitchen & Bar
Miami
The interior of this Miami Modern restaurant next to the hotel of the same name is sprinkled with colour and charm. Columbian chef Andres Villa focuses on contemporary food and fresh ingredients. Look out for the salt-roasted baby beetroot salad (the labneh and tangerine give it a nice kick).
vagabondkitchenandbar.com
21 SpiseBar Nr 20
Copenhagen
Tanya-Maria Solskov turned a rundown bodega on a Nørrebro backstreet into this cosy neighbourhood spot in 2014. Besides the tapas, head chef Jens-Erik Rasmussen's weekly menu includes one meat-based and one vegetarian dish. From gazpacho to jerk chicken with corn purée and popcorn, the changing menu warrants multiple visits.
+45 4536 0290
Gary Hoopengardner and Maren Thimm built a cult following in Berlin for their lunch service at the former Chipperfield Architects offices in Mitte. When the canteen closed temporarily for refurbishments in 2011 the duo took the time to open Lokal, a petite corner restaurant just a few blocks away.
Berliners fill the homely collection of mismatched chairs come evening. Popularity keeps the staff on their toes so the service can feel rushed but it is never gruff (unlike many other establishments in the German capital). The true star though is the dependable and delicious German fare.
lokal-berlin.blogspot.de
Named after a briny twist on the classic Bloody Mary (with added clams in case the pun passed you by), this 11th-arrondissement haunt goes beyond its cocktails when it comes to serving up fine seafood. The tin crockery feels more campfire than haute cuisine but the food far surpasses any and all expectations set by the minimally decorated dining room.
The crab fritters and marinated fish are fine choices – as are the Normandy oysters when they're in season – as one might expect from the Michelin-starred team behind Septime. There are no reservations so get here before 19.00 to avoid disappointment.
septime-charonne.fr
Husband-and-wife duo Dylan Jones and Duangporn Songsiva (the latter known simply as "Bo") are pioneering green initiatives on Thailand's dining scene by running a restaurant with zero waste and working closely with a fresh crop of Thai farmers.
Dinner is a choice between two set menus, each with a solid spread of Thai classics such as grilled-but-still-tender pork and spicy jungle curries, which are tweaked according to the availability of produce. Some of these raw ingredients are for sale in a corner grocery store, perfect if you fancy taking home some sprouted brown jasmine rice or salty fish sauce.
bolan.co.th
Winter-and-summer venue Chasellas is beloved by alpine-sport enthusiasts who enjoy hearty mountain fare that's served on a terrace perched on Piz Nair. Sausages and perfectly crisp potato rösti make for a tidy lunch but by night chef Steven Müll er turns out refined dishes within the stone building's snug dining room.
suvrettahouse.ch
Set on the shores of Lake Como, Villa d'Este is a grand hotel whose kitchen avoids over-the-top fanciness in favour of good old-fashioned food and button-bright service. The menu veers toward the classics: beef tartare and spaghetti aglio, as well asolio e pepperoncino made with the purest extra-virgin olive oil from Sicily.
villadeste.com
A cornerstone of the community in Helsinki's Töölö neighbourhood, Elite has served Finnish dishes for 85 years. It is still undiscovered by most foreign visitors but among locals it has a grand reputation for having catered for some of the country's most important artists.
The restaurant is famous for its steak – which is named after beloved Finnish actor Tauno Palo – but other must-try dishes include salmon soup with rye bread and Elite's version of vorschmack (minced meat or herring with onions and spices). During the summer months be sure to get a table on the outdoor terrace, where locals gather to enjoy the long bright evenings.
elite.fi
28 Petz Im Gusshaus
Vienna
Gusshaus serves mostly Austrian fare alongside thoughtful French and Mediterranean updates. Viennese chef Christian Petz took over the restaurant in 2015 and has been preparing his favourites here ever since. He likes to experiment with offal but also makes a mean schnitzel and venison goulash. Zum Wohl.
gusshaus.at
29 Casa Cavia
Buenos Aires
The food at Casa Cavia is overseen by Julieta Caruso, who trained at Mugaritz in Spain. Each dish here is linked to a story (the building is home to small publishing house Ampersand), with the menu arranged in chapters in a manner that mercifully avoids pretention. Expect staples such as lamb steak and dulce de leche biscuits.
casacavia.com
30 Meze by Lemon Tree
Istanbul
While other restaurants have tried to dress up and gastronomify the classic Turkish meyhane experience, Meze by Lemon Tree has stayed true to its origins with homely service and a few much-loved rituals.
You select cold starters from the counter while the waiter intones each by name – sea-bass ceviche, peppers packed with sweetly seasoned rice, fiery antep ezmesi (diced tomato salad) – to be followed by the restaurant's signature warm humus scattered with slices of sujuk sausage or calamari cooked in a walnut sauce. Be sure to peruse the pared-down but well-chosen Turkish wine list too.
mezze.com.tr
31 Warung Dandelion
canggu
Owner Yunus Gani's hospitality and humorous yarns are a wonderful accompaniment to the atmosphere in this warung (neighbourhood shop). Sample Indonesian specialities such as the crispy ayam bakar (chargrilled chicken) or nasi campur (mixed rice), and gaze out at the mesmerising view of the rice paddies.
+62 857 9446 9891
At West Hollywood's Norah, chef Mike Williams has created an adventurous yet accessible menu, with offerings such as uni-butter (made with sea urchin) poached prawns and cornbread. While the food changes week to week, be sure to keep an eye out for the jasmine congee (an Asian porridge dish) with glazed pork belly.
You can also opt for the five-course tasting menu, designed for sharing and featuring the day's freshest market fare. The spacious 120-seat restaurant has an eclectic feel as well, with trees rising out of the white oak floorboards and unpolished wood alongside a wraparound marble bar.
norahrestaurant.com
At Casa Macareno the small details are served with effortless precision, from the succulent food to the unceremonious but polite service.
It may have brandished four different names across its façade since opening in 1920 but this beloved taberna's fifth coming is a fresh yet reassuringly familiar take on the traditional Spanish restaurant at the hands of young hospitality honchos Sergio Ochoa, Julián Lara and chef Pepe Roch.
The trio have even raised the bar for the city's sacrosanct diario (daily set menu) with proudly Spanish recipes plucked from across the peninsula.
+34 911 660 921
Stockholm's southern island of Södermalm has its share of the capital's budding and beautiful new restaurants but Bleck is ahead of the pack. Known as Lilla Blecktornsparken ("little tin tower park"), the green space that surrounds the low-slung wooden shack was named after a turret that still stands in the pocket-park's southeastern corner.
The pleasures of this rustic spot are best enjoyed from the terrace and notable dishes include the pumpkin ravioli with sage and the smoked avocado and aubergine on socca (a Genovese crêpe). Fear not: there's plenty for the meat-minded too and the menu changes regularly.
restaurangbleck.se
35 Tan Tan Noodle Bar
São Paulo
No city outside Japan is home to more Japanese than São Paulo. With one million people of Japanese descent in Brazil's largest city, it's surprising that it took so long for izakayas and udon bars to spring up. The Tan Tan Noodle Bar, opened in 2015, was worth the wait.
Chef Thiago Banãres' small but excellent menu offers six choices of noodles, four of ramen and seven mains, including a robust and beautiful katsu sando sandwich. With only five tables and nine seats at the counter, Tan Tan is small but mighty and patrons don't seem to mind waiting, or taking their noodles outside and standing up.
tantannb.com.br
There's something reassuring about New York's Peasant, an unpretentious staple that can be relied upon for comfort food. The fodder here is far from miserly and riffs on rustic Italian worker's classics.
While the menu includes plenty of winter warmers, such as suckling pig and rabbit ragu, there are also lighter classics, such as skate with lemon, white wine and capers. It's located in what was once Little Italy but has since been rebranded as Nolita and one of the major draws is the extensive Italian wine list that spans Piemonte to Sicilia. Va bene.
peasantnyc.com
37 Mulato
Santiago de Chile
Chile's slender figure boasts landscapes and climates from the Pacific Ocean and Atacama Desert to the rugged Andes – and its culinary flavours and ingredients are just as varied. Amid the belle époque-style cobblestone streets, stately architecture and quaint cafés of resurgent Barrio Lastarria, Mulato pays daily tribute to Chile's diverse dishes.
The chef keeps recipes hearty by sourcing produce from nearby markets Mercado Central (the capital's oldest) and La Vega, as well as his own farm. Try the pullmay, a Southern Chilean seafood soup of shellfish, crab and potato dough, with king crab from Patagonia.
307 José Victorino Lastarria
When the whirlwind tradeshow circuit whisks our editors off to Milan, you'll be sure to spot us here. First up, a French 75 (a gin and champagne cocktail) and a little vitello tonnato (veal with a mayonnaise-like tuna topping that's far nicer than it sounds). Next, plump for a thin and crispy Neapolitan-style pizza from the on-site wood-fire oven.
Having stolen our stomachs with its 2013-opened space in Brera, the team opened another spot this year closer to Piazza Repubblica. Both are excellent but the added outdoor seating, brass bar and sublime pastries at the latter edge it into our 2017 round-up.
drymilano.it
Propeller has been serving exquisite Middle Eastern food from a former bus garage in Fremantle since 2014. Last year owners Siobhan Blumann and Hamish Fleming commissioned architecture firm Spaceagency to redesign the restaurant's dining room and the result is impressive: the new space features high ceilings and a slew of louvered windows.
Since the renovation head chef Kurt Sampson's menu has stayed largely unchanged, with barbecued squid and wood-fired courgette pide (Turkish-style pizza) still attracting crowds. The craft beer and local wine remain as enticing as ever too.
propellernorthfreo.com.au
40 Milgo & Milbar
Tel Aviv
Based in one of those 1930s Bauhaus buildings that Tel Aviv does so well, chefs Moti Titman and Or Michaeli have achieved miraculous things with this lively and understated bar. The highlights of its varied menu include house-smoked pink trout, soy-glazed pork, and whitefish fillet with baked Jerusalem artichoke.
milgomilbar.co.il
41 Taberna dos Mercadores
Porto
Ensconced in Porto's Ribeira neighbourhood, this bolthole has space for just 18 patrons. Behind the counter chefs prepare plates of baked cod with chickpea crust, lobster and Arouquesa (veal served with hot rice and pork sausage). Meals are best topped off with a generous glass of tawny port.
+351 22 201 0510
42 Ask for Luigi
Vancouver
Opened in 2013 by chef and co-owner JC Pourier, this neighbourhood restaurant in Vancouver's east end has become a prime spot for simple, well-executed Italian fare. Handmade pasta has long been the draw here: the salt-cod ravioli served with artichoke cream and the house-made tonnarelli served with lamb ragu are standouts on the seasonal menu of sharing plates.
The interior, designed by Craig Stanghetta of Vancouver firm Glasfurd & Walker, is understated and intended to enhance the communal atmosphere. The panacotta and a grappa-spiked espresso are fine ways to round off an excellent meal here.
askforluigi.com
Fasano – the hotel and its namesake restaurant – sits on the highest peak of the Uruguayan resort city, with an unparalleled view of the Punta skyline. Designed by Isay Weinfeld in 2010 and renovated last year, the hotel is managed by Brazilian hotelier Rogério Fasano.
The restaurant is in a new wing of the hotel, which happily maintains many of its pre-renovation charms, such as the uneven stone stairway that leads into the main room. The regional Italian cuisine is the work of Brazilian chef Zé Branco, who delights in adding Uruguayan dishes to the menu. It boasts dishes such as a sumptuous seven-hour cooked lamb.
fasano.com.br
44 Flavio al Velavevodetto
Rome
The Testaccio area has long been the Italian capital's culinary centre and this restaurant is actually built into Monte Testaccio: a mound formed in ancient times from shards of broken amphorae and discarded pottery. Flavio's menu is invariably Roman and heavy on meat but if abbacchio alla cacciatora (lamb stewed with wine and vegetables) isn't to your liking, try regional plates such as cacio e pepe (pasta with creamy pecorino and black pepper).
Don't shy away from the house wine either; it comes from Flavio's private vineyard in northern Lazio. Word to the wise: save space for the homemade tiramisu – it's sublime.
ristorantevelavevodetto.it
New Zealand's all-conquering Hip Group turned the hospitality scene on its head when it opened this downtown favourite. Expect timber tables, steel-framed windows and a small courtyard tucked down a pedestrian laneway. Most of the goodies here are grown on their own farm west of the city before being elevated by the deft hands of head chef Kevin Puyat.
Heirloom vegetables and too-good-to-be-true salads compete for diners' attention with the market fish and chicken cotoletta (cutlet). The gnocchi and gnudi (similar to the former but with ricotta and semolina) dishes are also excellent.
ortolana.co.nz
Veteran restaurateur and hotelier Jürg Müller transformed the storied Du Théâtre – just behind Zürich's ornate Opera House – into a spot that seamlessly combines Asian specialities with Mediterranean staples, prepared and finessed by Japanese head chef Keisuke Takatori. Simply furnished with wooden chairs and tables, the Seefeld restaurant, a block from Lake Zürich, radiates a casual comfort that doesn't distract from the exquisite dishes served on handmade wood- and-porcelain platters.
Why not pair mezze with fresh sashimi, followed by a Thai curry and gambas al Ajillo? On a hot summer's day we recommend ordering the Sashima Peru Style, which features raw tuna, salmon and kingfish with coriander rice and avocado-tomato salsa, while the Shabu Shabu Japanese hotpot (to be ordered a day in advance) will transport you to a chilly Tokyo evening.
du-theatre.ch
Arts Café has become one of Montréal's most charming lunch spots since it opened in 2002. The sweet potato and Québec-blue-cheese eggs benedict is a breakfast staple, while its take on shakshuka (a North African casserole of baked eggs and tomatoes), spiced with cardamom, cumin and served with potato toast, is great for lunch.
artscafemontreal.com
48 Pizza 4P's
Ho Chi Minh City
Prior to serving international guests in a French colonial building in the heart of Ho Chi Minh City, Pizza 4P's was founded to serve family and friends in the founder's backyard in Tokyo. "That backyard oven took me and my friends six months to build and instantly became a great spot for get-togethers," says Yosuke Masuko. "That's the magic of pizza."
Masuko first moved to Vietnam to work in venture capital before quitting his job and rekindling his passion for pizza. The kitchen, led by head chef Takaki Yoshikawa, has not shed its Nippon niche and still serves a superb salmon sashimi pizza.
pizza4ps.com
49 Farmhouse Tavern
Toronto
Having opened in Toronto's formerly industrial Junction Triangle neighbourhood in 2012, owner Darcy MacDonell's vision for the Farmhouse Tavern was to showcase Ontario produce wherever possible. The result is an impressive selection of regional craft beer and a variety of wine predominantly from Prince Edward County and the Niagara region.
Head chef Ashley MacNeil has filled the restaurant's menu with considered plates; the ploughman's platter consisting of cheese and cured meat is a popular appetiser, while the grilled trout with seasonal vegetables is an exciting entrée.
farmhousehospitality.tumblr.com
Thai food in London took time to find its feet. But much has changed with the arrival of Kiln – from the folk behind The Smoking Goat – which opened in Soho last year. The dark wood-panelled restaurant buzzes with activity, with clay ovens working overtime to send out impeccably balanced dishes, such as the signature clay-pot-baked glass noodles with pork belly and crab.
It's reassuring to see the chefs chat about flavour balance as they test the dishes winging their way out of the kitchen. The mark of success? That this humble spot seems to nail the divine Thai-flavour trinity of sweet, sour and salty with each and every dish.
kilnsoho.com