Travel Top 50 2018/19 / Global
Travel Top 50 2018/19
We meet the airlines, hoteliers and service stars worthy of celebration in our annual honorifics for the best in the world of travel.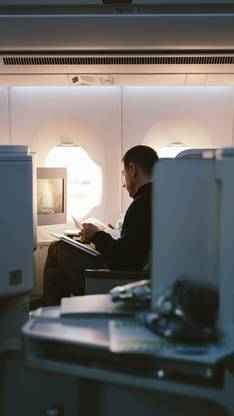 1.
Best value for long-haul
Finnair
Finland
With extra leg room, double armrests between seats (no more vexing tussles over elbow room), plush Marimekko pillows and well-chosen in-flight entertainment, Finnair has distinguished itself as the long-haul airline of choice. The Finns know a thing or two about eating well and you'll land in Tokyo or Beijing sated. The Business Class meals draw on typical Finnish flavours, with several menus to choose from: gourmets should opt for the reindeer entrecôte or the whitefish with carrot puree for something lighter.
finnair.com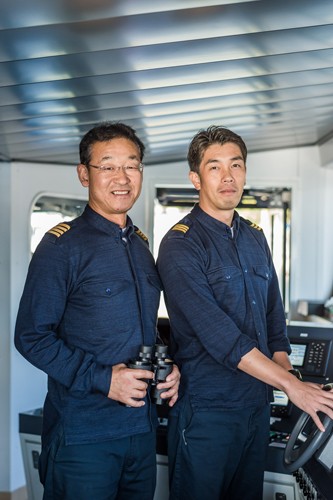 2.
Best at the helm
Hirofumi Ochi
Japan
Hirofumi Ochi (pictured, on left) is the captain of Guntu, the world's most exceptional cruise boat: 80 metres of Japanese craftsmanship, designed by architect Yasushi Horibe and built by carpenters in the Tsuneishi shipyard near Hiroshima. A crew of 46 and 38 passengers (berthed in wood-lined rooms) travel the Seto Inland Sea. Ochi is an old hand: he spent 20 years on tugboats, and ferry boats before that. "The Setouchi currents can be difficult, fast and then slow. Some routes are too narrow for regular ships." None of it fazes the captain.
guntu.jp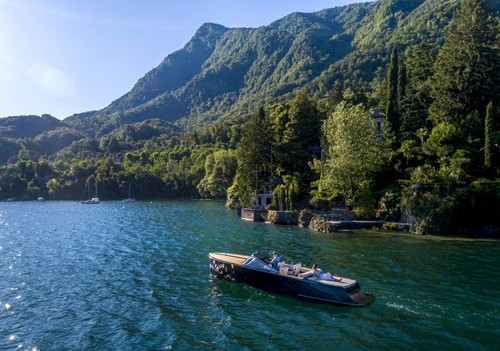 3.
Best med runabout
Vita X
Lake Maggiore, Italy
Stewart Wilkinson made his money in finance before founding Vita Yachts in 2017. "I had been interested in the electric transport revolution for quite a while and wanted to combine what's happening in the automotive sector with traditional boat design," he says. When the opportunity presented itself, Wilkinson bought a factory on Lake Maggiore to build the first full production all-electric powerboat: Vita X. With its carbon composite hull and teak deck, Vita X marries the design of a classic 1960s sports boat with cutting-edge innovation. Not only is the Vita X kind to the seas thanks to its waterjet-powered electric motor, it also cuts down on noise: "It is totally silent; all you can hear are the wind and the waves," says Wilkinson.
vita-power.com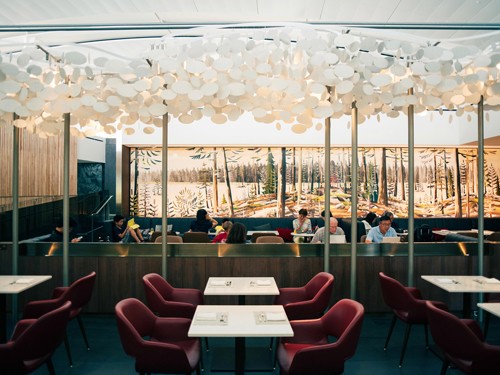 4.
Best bit of commissioning
'That Place To Which We Always Return' by Gavin Lynch
Toronto Pearson International Airport
The highlight of Air Canada's recently opened Signature Suite lounge in Toronto's Pearson Airport is a large-scale painting by Ottawa-based artist Gavin Lynch, entitled "That Place To Which We Always Return". The mural of a Canadian forest landscape is a pleasant counterpoint to the interior's otherwise contemporary aesthetic. Located in the lounge's dining room, the piece invites viewers to contemplate their journeys and adds to the serene atmosphere.
torontopearson.com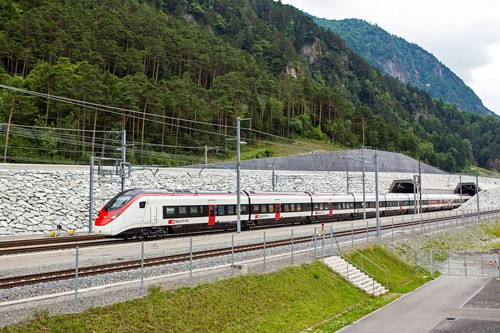 5.
Most-anticipated rolling stock
SBB
Zürich to Milan via the Gotthard Base Tunnel
The celebrated Gotthard Base Tunnel opened in 2016 but it is only at the end of the coming year that it will provide a high-speed link between Zürich and Milan. Swiss train operator sbb will run Stadler-made trains capable of 250km/h speeds through the world's longest tunnel. The ec250 train model (dubbed the Smile) has been designed specifically for the Gotthard: there's step-free access from two distinct platform heights and carriages are well-insulated from noise as well as fluctuating temperatures.
sbb.ch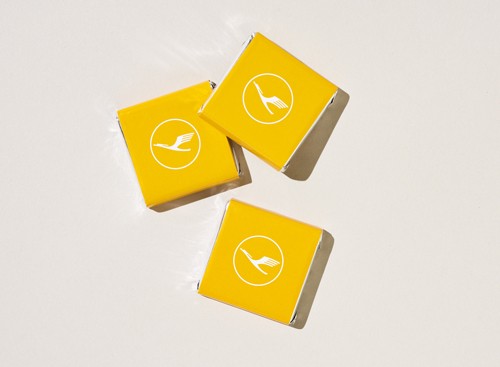 6.
Best in-flight giveaway
Lufthansa's chocolates
Germany
As part of Lufthansa's rebrand earlier this year (see issues 110 and 111) the carrier has opted for a darker blue as its lead colour and a redeployment of its standout yellow hue. Among the best features that the German flag-carrier has rolled out is its new chocolate pass-around service in bold yellow, with the signature crane set in the middle of the packaging. Next time the flight attendants come round with the Schokolade, be sure to opt for two or three rather than just one. These are collectors' items, for sure.
lufthansa.com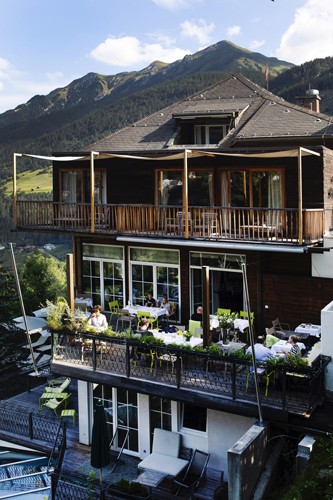 7.
Breakfast that gets you out of bed
Haus Hirt
Bad Gastein, Austria
At Haus Hirt in the Austrian Alps the breakfast hours are flexible and the views of the mountains hard to beat. Throughout the morning, ayurvedic and vegan dishes are served alongside alpine delights such as organic sheep's milk yoghurt made by the Eisl family and Alm butter from the Nassfeldalm. For those with a sweet tooth there's nut Striezel baked by pastry chef Milenko Paunovic based on his grandmother's recipe. It's encouraged to pack a picnic: sourdough bread from Mühlhof and local goats' cheese with pumpkin seeds make for a seemly snack after a long hike.
haus-hirt.com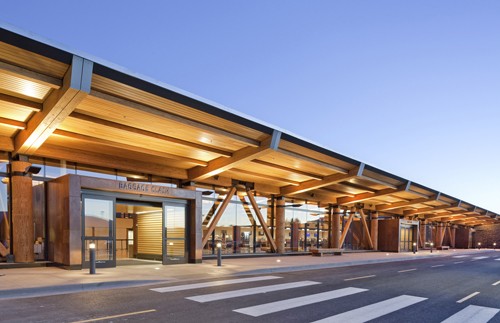 8.
Top touchdown
Jackson Hole Airport
Wyoming
Airport architecture too often errs on the side of the glassy, wipe-clean and sometimes willfully ugly – not what your beleaguered senses hanker for after an exhausting journey, nor the ideal lasting memory of a wonderous new world explored. Not so at Jackson Hole. As the only US airport within a National Park, this small Wyoming hub afforded architecture firm Gensler a pretty backdrop against which to place an experiment in natural materials. The lodge-like woody affair riffs on the vernacular of the region's hardy barns and keeps a low profile (no higher than 5.5 metres) to preserve the views towards the Grand Teton mountain range. Natural light and tactile textures abound, and finishes include russet-hued steel and ground-concrete floors. Beyond the south-facing side lies a stone wall and native flora aplenty. All in all, it's a fitting introduction to the destination and one that smaller airports elsewhere would do well to look at for direction.
jacksonholeairport.com; gensler.com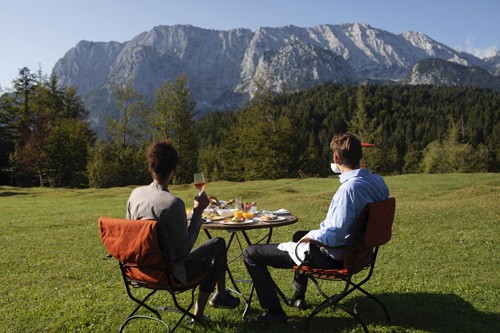 9.
Best weekend escape
Schloss Elmau
Elmau, Germany
Schloss Elmau is a palatial hotel nestled in the Bavarian Alps. With the highest staff-to-room ratio in Germany, the hotel prides itself on its service and has hosted numerous world leaders. Upon arrival, guests are greeted by proprietor Dietmar Müller-Elmau and his team. "We accompany every arriving guest to the lounge where we offer them a drink of their choice; if they arrive early and the room is not ready we invite them for lunch and to the spa," says Müller-Elmau. At the end of this year, a new hotel manager duo arrives: Yasmin Cachemaille and Urs Grimm from the Victoria-Jungfrau Grand Hotel & Spa in Interlaken. "They bring with them many years of management experience and a passion for hospitality," says Müller-Elmau.
schloss-elmau.de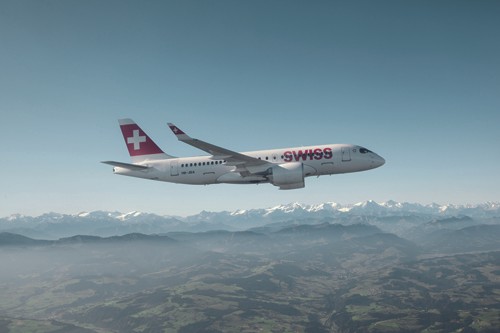 10.
Favourite short-haul hopper
Swiss's Airbus A220
Switzerland
By 2019, Swiss will have all of its 30 Airbus a220 aircraft in service. The new fleet, previously known as the Bombardier C Series, promises increased cabin comfort, broader seats, bigger windows and a 20 per cent reduction in fuel consumption. Noise emissions have also been cut in half. Paired with the Swiss hospitality we all know and love, the Airbus a220 makes for the perfect city-hopper.
swiss.com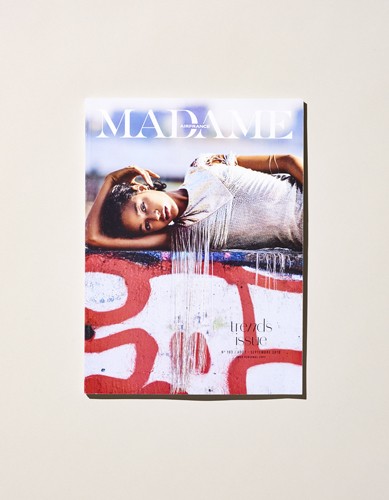 11.
Most readable in-flight magazine
Air France 'Madame'
France
A flag carrier based in the fashion capital of the world needs to accessorise accordingly. Along with its stylish Accent collection of bags, Air France has one of the best in-flight magazines. The collaboration with Condé Nast reflects Air France's fashion-forward approach. The bilingual lifestyle magazine, solely published for the airline, can be found in the seat pocket in first and Business Class, as well as across Air France lounges. With a focus on hospitality, travel and fashion – listing the latest openings and collaborations – this publication is sure to help your flight, well, fly by.
magazines.airfrance.com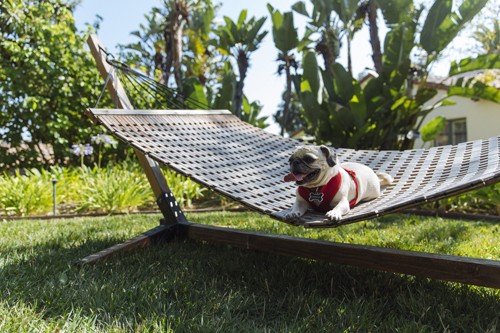 12.
Top dog-friendly hotel
Belmond El Encanto
Santa Barbara
Upon checking in at this scenic hilltop Santa Barbara resort (located a few leaps from an off-leash dog beach), four-legged guests receive personalised welcome notes, a plush bed and bowls from which to enjoy meals from the hotel's canine menu. Organic chicken with kale and rice, salmon with bulgur wheat, carrots and peas, tender ground Angus burger, lavender biscuits and "pupcakes" are just a few of the options. "Our pastry supervisor was the inspirational driving force behind the launch of our most recent canine guest menu," says Marc Fialip, executive assistant manager of Belmond El Encanto. "We tested some of the recipes on staff pets and they have all approved."
belmond.com/elencanto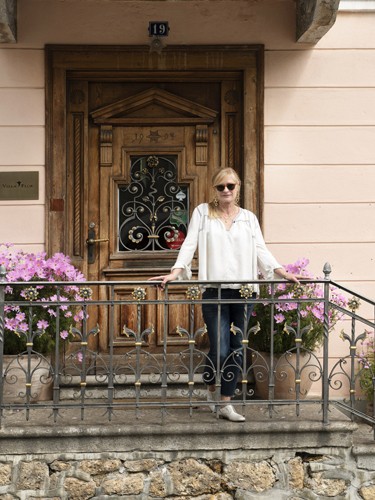 13.
Hostess with the mostest
Ladina Florineth, Villa Flor
S-chanf, Switzerland
Villa Flor is a snug hotel in the Swiss village of S-chanf, run by Ladina Florineth. When she came across the art nouveau property in 2009, she felt inspired to transform it into a guesthouse fit for the Alps. As a one-woman business, Florineth treats the hotel as a home and her guests as friends. "Since I run Villa Flor by myself it's very personal," she says. Besides manning the reception desk and serving homemade breakfasts, Florineth puts on two art exhibitions a year. Currently, she's turned her hotel into a showcase of art by South Korean artist Chung Eun-Mo. Florineth also has an eye for design. She picked up most of the hotel's furnishings, including the impressive Sarfatti-style chandelier in the breakfast room, from vintage shops and flea markets in Paris. What drives her? "I enjoy meeting new people and personally taking care of them," says Florineth.
villaflor.ch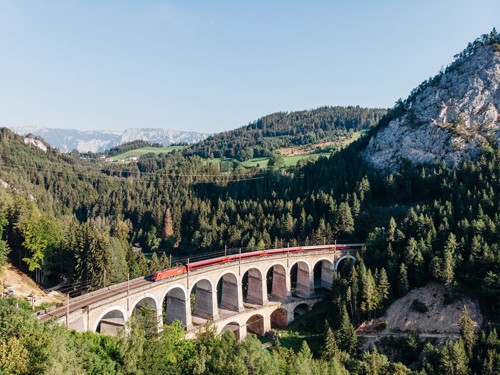 14.
Most picturesque rail journey
ÖBB
Vienna to Venice
You could catch an overnight train but that would rob you of those stunning views of the Alps. After leaving Vienna's station behind, the rose-red Railjet silently speeds towards the Unesco World Heritage listed Semmering Railway, a 41km stretch that cleaves through pine-peppered hills and passes castles set on rocky peaks above placid lakes. The journey continues along the Veneto plains and crosses the Venetian Lagoon before coming to a halt at Venice's Santa Lucia station, a few steps from the Grand Canal. Reaching speeds of 230 km/h, Öbb's new trains complete the journey in a shade under eight hours.
oebb.at
15.
Eyecatching public transport branding
Metro do Porto
Portugal
Well-branded public transport systems are few and far between: clunky logos in vivid and quick-to-date colours tend to be the norm. The city of Porto's simple and elegant metro branding is a pleasant exception. Created in 2004 by Sino Design in collaboration with graphic designer Pedro Almeida, the curvy navy-on-white circular logo conveys movement with its soft cartographical feel. The project encompasses a full system of signage and public information as clean and refined as the logo itself. Conceived when the city had just one metro line, it has developed to accompany the growth of the network to its current six lines.
metrodoporto.pt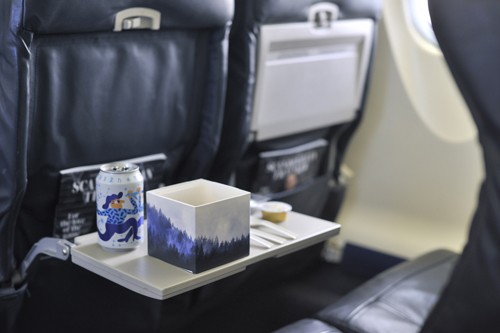 16.
Best in-flight meal packaging
New Nordic by SAS
Sweden
In-flight meals often lack in flavour and take up the entire tray table – not so at Scandinavian Airlines (sas). Its solution, the Cube, was conveived by sas head chef Peter Lawrance and head of onboard product and services Gustaf Öholm. This smartly designed cardboard box, served on short-haul flights across Europe, is filled with compactly presented New Nordic-style meals. Lawrance sources seasonal ingredients from Scandinavian farmers and every meal is topped off with delicate chocolates from Hedh Escalante in Malmö. "It's so much easier to handle for our flight attendants who can say au revoir to those clumsy in-flight trays," says Öholm.
flysas.com
17.
Leading luggage brand
Proteca
Japan
Launched by Japanese luggage makers Ace in 2005, Proteca's handy cases include creations by Tokyo-based design studio Nendo and come with more extras than a Swiss Army knife, such as an led light that switches on automatically when it gets dark, a deodorising copper-jacquard interior and noise-minimising casters on the wheels. These carefully considered functions come courtesy of the Ace Technology Institute in Japan, which carries out rigorous quality controls next to the Hokkaido factory where the bags are made.
proteca.jp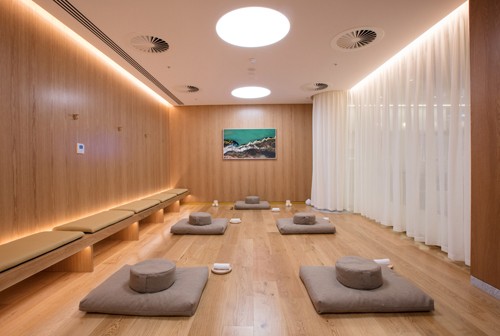 18.
Unbeatable transit lounge
Qantas
Perth International Airport
Sydney-based designer David Caon's lounge evokes a spa thanks to a calming colour palette and wellness studio offering 15-minute stretching and meditation workshops. Yet fresh air and natural light are probably the best medicine to fight fatigue and there's plenty of that to be found here: the sun-filled lounge opens up on to an outdoor terrace where chefs prepare grilled delicacies to kick-start your day.
qantas.com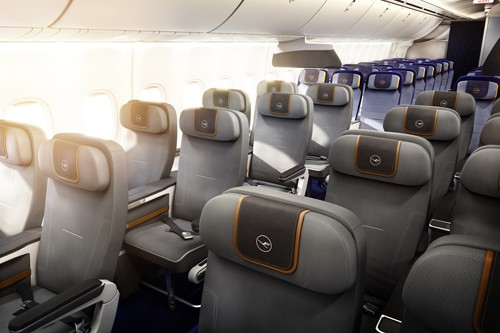 19.
Comfiest Premium Economy
Lufthansa
Germany
Lufthansa introduced Premium Economy in 2014 and it's still at the top of its class. The reason being that it's simple, practical and as comfortable as can be. The seats, fitted by Zim, offer 50 per cent more space compared to Economy, as well as a double armrest between seats, a cocktail table and foldable tray table, additional storage space, a footrest, socket and 11-inch personal touchscreen monitor.
lufthansa.com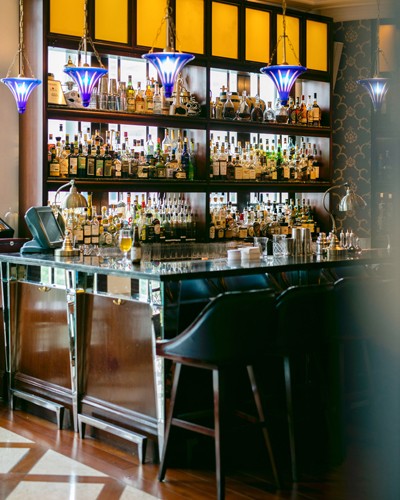 20.
Best hotel home brew
Island Ale
Shangri-La, Hong Kong
There's only one place in the world where you can drink an Island Ale beer and that's at the Shangri-La Hotel in Hong Kong. The custom-made beverage is a pale ale launched in collaboration with Hong Kong brewery Young Master and inspired by the hotel's signature scent, Essence of Shangri-La. "We wanted to transform our popular house perfume, used in every Shangri-La around the world, into a cool and refreshing drink," says assistant manager of food and beverage, Conor Hadlington, who came up with the idea. An aromatic, hoppy base note, and spicy ginger and citrusy bergamot top notes make this a fitting thirst-quencher after a sweltering hot day out and about in Hong Kong.
shangri-la.com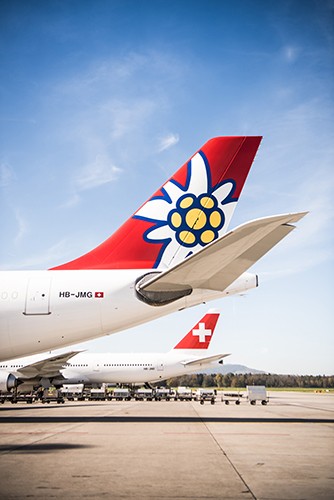 21.
Leading leisure airline carrier
Edelweiss
Switzerland
Edelweiss has been taking the Swiss on holiday since 1995. The airline, which focuses on seasonal destinations such as Olbia and Palma de Mallorca, is launching a new set of flights to cities including Buenos Aires, Ho Chi Minh and Colombo, extending the airline's range and saving passengers the headache of connections. What makes Edelweiss stand out is its friendly and precise Swiss service: traditional dishes are served on board and there's no lack of comfort either. Business Class seats extend into a two-metre bed so you'll arrive at your destination as refreshed as an Edelweiss flower in fresh bloom.
flyedelweiss.com
22.
Best airport: Europe
Zürich Airport
Switzerland
Switzerland's largest international airport is also the country's most important transport hub. Serving some 29 million passengers and 185 destinations a year, it connects Switzerland to the world and thanks to its adjacent train station, it connects Zürich to the rest of Switzerland too. Not only is it within easy reach of the city centre, it's also a compact and comfortable destination in itself. Thanks to a concise yet well-curated duty free, retail and F&B selection, it's a pleasant place to spend a layover. The best places to linger are the new Swiss lounges.
zurich-airport.com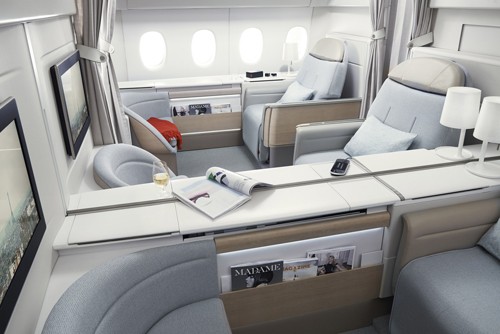 23.
Leading long-haul first class
Air France
France
Air France's La Première cabin has received an overhaul courtesy of PriestmanGoode. The UK design agency opted for bright and unobtrusive materials with a natural feel for the pods, separated by thick full-length curtains for privacy without feeling boxed-in. In the kitchen, Air France teamed up with four of the nation's most celebrated chefs. When departing on a long-haul flight from the home base at Charles de Gaulle, caviar and foie gras are on the menu, on shorter routes champagne and freshly baked cheese sticks make for a nice nibble.
airfrance.com
24.
Most-anticipated airport
Istanbul New Airport
Turkey
With two terminals, six runways and a capacity to handle 150 million passengers per year, Istanbul's upcoming second airport (set to become the largest in the world) is a whopping project and statement that the city is backing tourism and international trade for the years to come. The new home for national carrier Turkish Airlines, located in Arnavutköy, will also be a fine thing to behold, with its design referencing the city's traditional architectural highlights such as the soaring Süleymaniye Mosque. The international design team was led by London's Grimshaw architecture firm.
igairport.com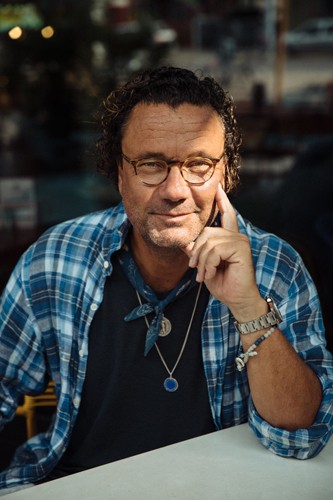 25.
Most dynamic hotelier
Christoph Hoffmann, 25hours Hotels
Germany
Together with his business partners Kai Hollmann, Ardi Goldman and Stephen Gerhard, Christoph Hoffmann established the 25hours Hotel Company in 2005. The zealous ceo travels 250 days a year and has overseen each of the hotel's 13 openings, with more to follow in cities from São Paulo to Sydney. Hoffmann's keen eye for design, hospitality and local collaborations has given 25hours the vitality the brand is known for. "We've always developed hotels ourselves to give them that personal note and character."
25hours-hotels.com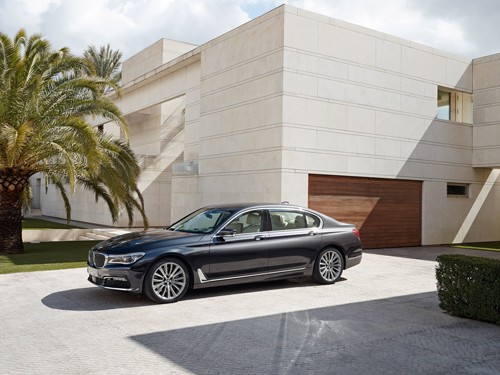 26.
Comfiest pick-up
BMW 7 Series Executive Lounge
Germany
It's not the first year that this bmw wins a top spot here and there's plenty of reasons for that. Nader Faghihzadeh outdid himself when he designed this car for the German brand. The Executive Lounge – as the back bench is called, and you'll soon see why – features butter-beige Nappa leather seats with a massage function that's adjustable via a tablet, extendable legroom, adaptable footrests, foldable tables, Bowers & Wilkins speakers and clever light design to ensure a pleasant journey. High-rolling indeed.
bmw.com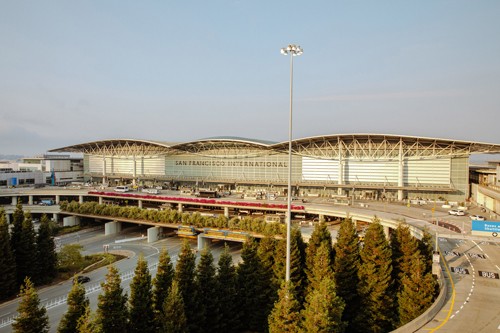 27.
Best airport: Americas
San Francisco International Airport
California
Anyone who has spent time in New York's trio of diabolical airports – Newark, jfk and LaGuardia – will know these are not even in the running. San Francisco (sfo) is a dream, however. It's not just the manageable size and the Cali-friendly staff – it's also got a lot to do with the food. Most US airports tend to offer the same medley of deep-fried, big brand junk. Not so at sfo where you can eat healthy fodder at Napa Farms Market, which serves everything from organic oatmeal to clam chowder.
flysfo.com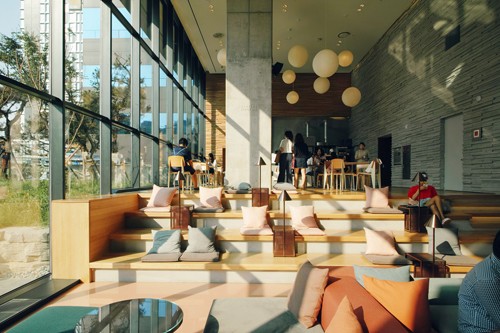 28.
Craftiest hotel partnerships
Ryse Hotel
Seoul
Venerable hotels with shops and art galleries are nothing new but Ryse in Seoul has revitalised the approach. The 274-room hotel, styled by London's Michaelis Boyd, holds its own in the youthful neighbourhood of Hongdae with a three-storey boutique courtesy of Korean streetwear shop Worksout. Concrete fixtures contrast with vintage furniture and colourful clothing, shaking off the traditional image of stuffy hotel arcades. An outpost of businessman-turned-artist Ci Kim's Arario Gallery keeps the creativity going in the basement.
rysehotel.com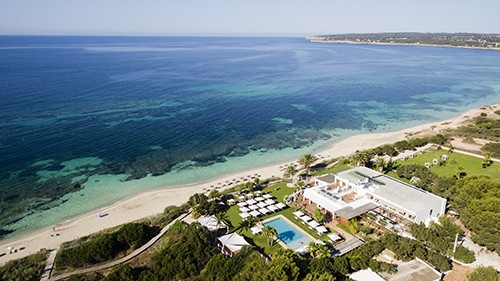 29.
Most appealing beachside revamp
The Gecko Hotel & Beach Club
Formentera, Spain
When Pablo Carrington acquired Formentera's decades-old Gecko Beach Club in 2016, he spent a year in reconnaissance to give it a revamp. He called on long-time collaborator Antonio Obrador to brush up the interior with the Mediterranean island's signature cobalt blue, plus soft fabrics and wooden furnishings. And The Gecko wants to become Formentera's first plastic-free hotel, switching to biodegradable products and environmentally friendly uniforms by Ecoalf.
geckobeachclub.com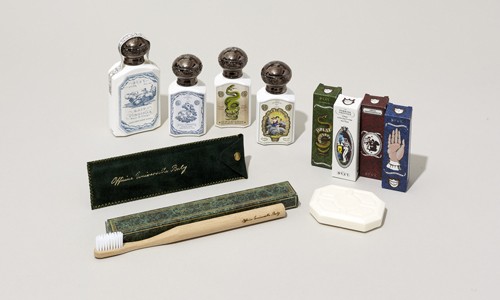 30.
Best hotel amenities
Buly 1803 for Hôtel de Crillon, A Rosewood Hotel
Paris
The newly renovated Hôtel de Crillon at Place de la Concorde in Paris has teamed up with Buly 1803 to create a set of hotel amenities. Originally founded by Jean-Vincent Bully some 200 years ago, the brand was recently relaunched and suits the long history of the Crillon well. Inside each kit there's a selection of essentials including shampoo made exclusively for the hotel, a wooden toothbrush and a hand-carved comb, as well as other toiletries infused with yuzu and Peruvian heliotrope.
rosewoodhotels.com; buly1803.com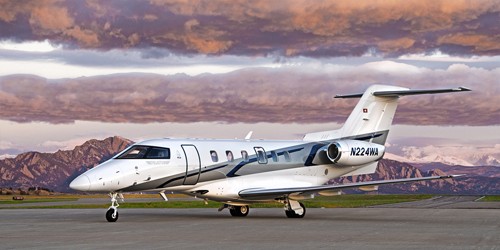 31.
Top timesaving investment
Pilatus PC-24
Switzerland
This twin-engine business jet, produced by Swiss aircraft manufacturer Pilatus, is the only plane to combine the versatility of a turboprop with the cabin size of a medium-light jet and the performance of a personal jet. Categorised as the first Super Versatile Jet, PC-24 launched in 2013. The aircraft has been designed for short and unpaved runways, giving it the edge in challenging terrain around the world.
pilatus-aircraft.com
32.
Most appetising menu design
EVA Air
Taiwan
On board Taiwanese airline eva Air, the menu gives passengers a glimpse of the country from above. "People should spare a few seconds for Taiwan's landscape," says the globetrotting Taipei-based designer Johnason Lo, whose studio has given the in-flight menu of the island's leading airline a facelift. Building a link between the entrées and their origins, Lo used a series of colourful bird's-eye view shots of Taiwan's fields on the menu covers, which are are as seasonal as the dishes within. If you look closely you'll spot the shadow of a plane, evoking the view from the window.
evaair.com
33.
Greenest airport extension
Oslo Airport
Norway
Despite doubling in size following its nok14bn expansion in 2017, Oslo Airport is proving that transport hubs can be environmentally friendly. In fact, the Nordic Office of Architecture, tasked with the extension, managed to build the world's greenest terminal thanks to the use of eco-friendly materials such as timber sourced from Scandinavian forests, reducing the building's c02 emissions by 35 per cent (in addition, the building's shape helps to cut energy consumption by more than half). For passengers (there's now the capacity for 32 million a year, up from 17 million) that also means shorter walkways between gates, reduced queues and more shops to choose from.
avinor.no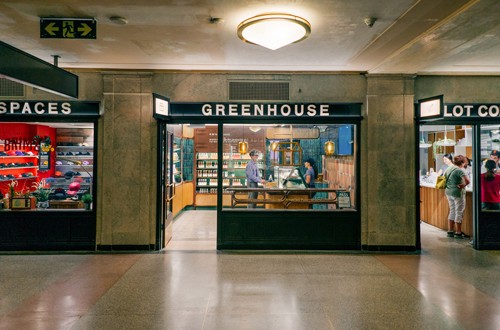 34.
Outstanding retail revamp
Union Station
Toronto
Enter the revamped retail complex (in the works since 2009) at Toronto's Union Station, the country's busiest transit hub, and you'll be struck by the absence of cookie-cutter chains. Instead, the city's best independent retailers, including Pilot Coffee Roasters and Greenhouse Juice Co, line the Front Street Promenade. Their shopfronts are inspired by the station's beaux arts Great Hall dating from 1927. "Placing brands that are truly born and bred in Toronto is like an homage to the city and a much better articulation of its identity," says Anthony Green, co-founder of Greenhouse Juice Co.
torontounion.ca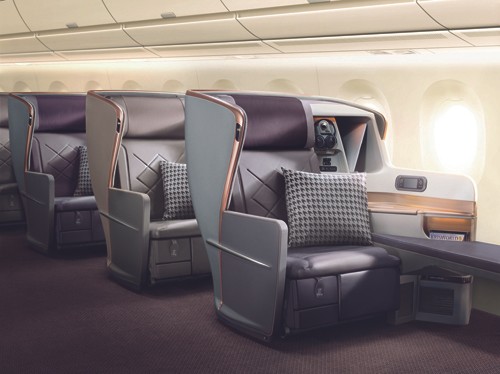 35.
Comfiest Business Class seat
Singapore Airlines
Singapore
Naturally, the world's longest flight calls for comfortable seats and on Singapore Airlines' Airbus a350-900 ultra-long-range craft connecting Singapore with New York, only the best are available. The plane is divided into Premium Economy and Business Class, making the most of its extra-wide body, higher ceilings and larger windows. Business Class travellers will find the 19-hour journey – which launches this October – to go by faster than expected, ensconced within hand-stitched leather cocoons that recline into a bed. There's also plenty of storage space for devices, reading material and carry-on baggage, making it easy to stay organised in-flight.
singaporeair.com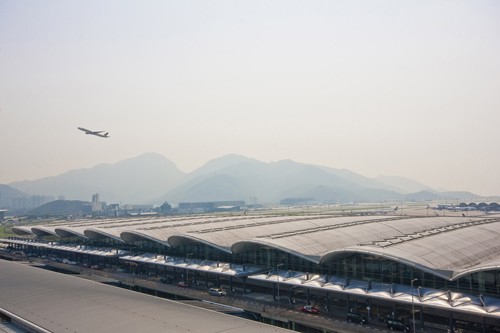 36.
Best airport: ASIA
Hong Kong International Airport
Hong Kong
From touchdown to taxi, express train to take-off, the journey through Hong Kong International Airport (hkia) is breezy. The development of a new retail complex will add more space to linger but the airport remains focused on what it does best: smooth and seamless transitions. Automated immigration gates with easy enrolment for pre-clearance mean frequent travellers enjoy the same privileges as residents, stepping off the plane and zipping through immigration in minutes. Meanwhile, construction of a third runway is underway and the completion of the development within the next 10 years should cement hkia's position as Asia's premier aviation hub.
hongkongairport.com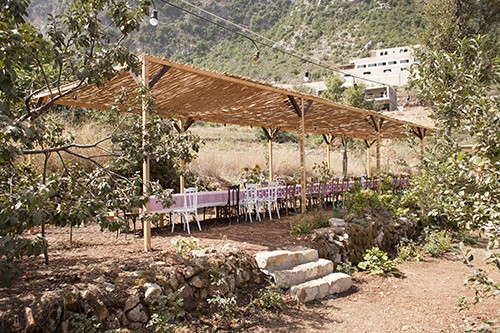 37.
Chicest short-stay set-up
Beit Douma
Lebanon
Beit Douma is a 19th-century stone house 1,100 metres up in the bucolic setting of the Batroun Mountains. "It was about replicating our home and our way of life," says Kamal Mouzawak, a key player in Beirut's food scene, who owns Beit Douma with fashion designer Rabih Kayrouz. Behind Beit Douma's distinctive yellow-and-red shutters are vaulted wooden ceilings, soaring arched windows and numerous antiques; the effect is of a home from another era. Every inch is carefully conceived and there is a series of connected, airy communal spaces to enjoy.
soukeltayeb.com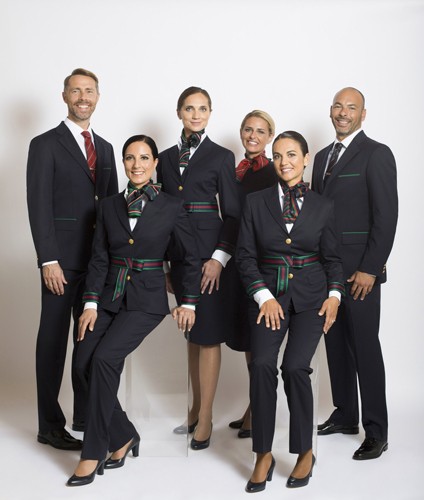 38.
Sharpest airline uniforms
Alitalia
Italy
Alberta Ferretti's redesigned uniforms for airline Alitalia effortlessly merge Italian elegance with functionality. A departure from previous suits, which featured bold red and green, the lightweight uniforms come in a more understated navy blue breathable wool. Subtle references to the national flag, including tri-colour grosgrain ribbons and red silk ties, ensure that crew members maintain an air of sophistication. Designed with the suggestions of Alitalia staff in mind, the suits represent a fresh beginning for the brand amid financial struggles, putting the focus firmly on Italian flair.
alitalia.com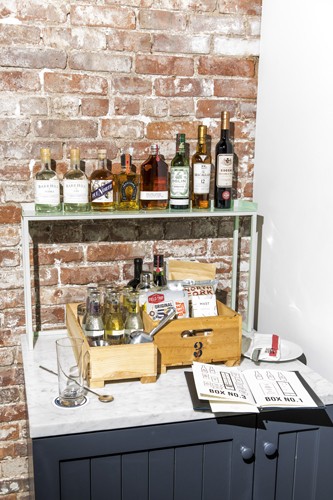 39.
Best-stocked minibar
Wythe Hotel
Brooklyn, New York
The minibar is normally that thing you try your best to avoid but at Wythe any attempt to follow that credo goes out the window, fast. The reason? The hotel takes the selection of in-room temptations to new levels. Wythe cares deeply about small-batch local products: there's bourbon courtesy of the excellent Kings County Distillery, made down the road at the Navy Yard, as well as Van Brunt rum (also from Brooklyn); and there's Mast Brothers chocolate and Field Trip beef jerky. Not forgetting crisps from Long Island and cheese from Vermont. We could go on. There's little reason to leave the room, in fact.
wythehotel.com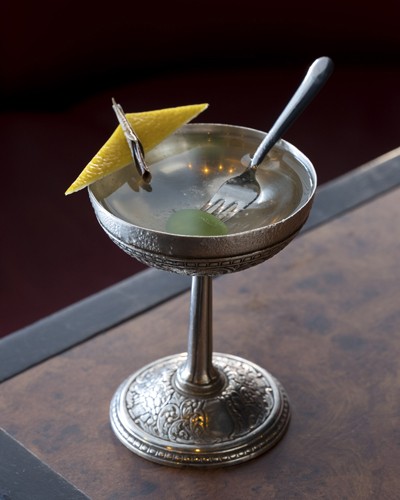 40.
Liveliest hotel bar
Frank Bar
São Paulo
Less of a hotel bar, more of a speakeasy, Frank at São Paulo's Maksoud Hotel is a decadent yet cosy space that stays open till dawn and brings guests and locals together. Homemade tonic water, fermented Amazonian fruits and potent liquors are shaken and stirred at the jacarandá-wood bar, getting people up and dancing to the live blues bands. "We want Brazilians to explore new tastes but without any of the snootiness that comes with it," says head barman Spencer Amereno Jr, who is making a big name for himself in the cocktail world. "Here there's almost a house party vibe."
maksoud.com.br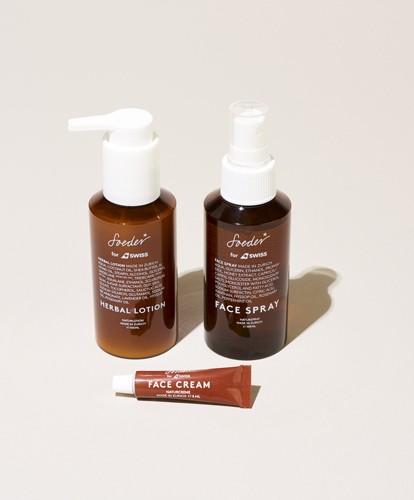 41.
Best in-flight amenities
Soeder, Swiss Airlines
Switzerland
Zürich-based Soeder has collaborated with state carrier Swiss in this Business Class offering of cosmetics. Soeder is a young brand being hailed for its sustainable products – which range from home furnishings to clothing – designed to last for 50 years or more. Its facial set is scented with herbs from the Alps and includes ingredients such as olive oil and natural stem-cell cultures from raspberry leaves (no, really). "Airlines don't normally concentrate on natural, organic products," says partner Mathyas Kurmann, who looks after the brand's soap offering. "Since our unique organic care products are made in Switzerland it's a perfect fit for a Swiss airline."
en.soeder.ch; swissair.com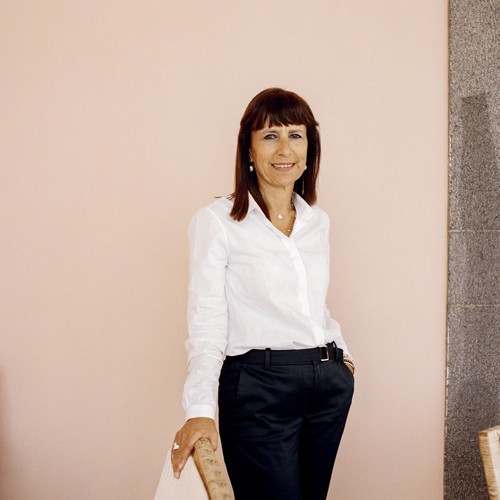 42.
Customer-service star
Rosalina Batista
Belmond Reid's Palace, Madeira
Customer service is perhaps the most important part of any hospitality venture and businesses aspiring to greatness would do well to take a leaf out of Belmond Reid's Palace in Madeira. The service here is warm, hospitable and faultless in its attention to your needs without being obsequious. In large part, that's down to Rosalina Batista, director of human resources at Reid's since 2014 and responsible for training the hotel's 235 staff in its service ethos. "We have a long tradition of service here; it's not something you can create from one day to the next," she says. "Not a week goes by without us having a training session to help our staff develop and improve the way they interact with guests, through role play, group training and coaching with experts. Everybody, whether they are guest-facing or back of house, contributes to the guest experience: waiters can't deliver a great meal without clean dishes and clean linen."
belmond.com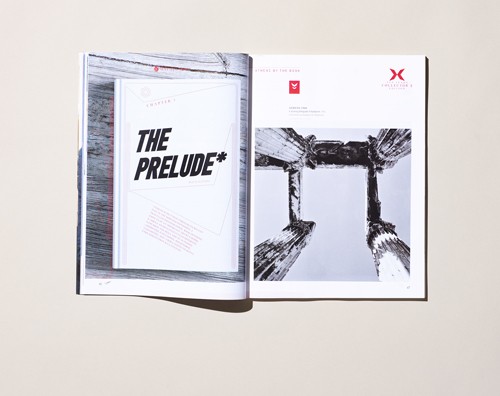 43.
Top airport magazine
2board, Athens International Airport
Greece
Athens International Airport's (aia) award-winning magazine 2board, launched in 2008, is a bilingual service-based publication exclusively distributed at aia. Designed and published by Identity Media, each issue explores the best Greece has to offer. Under the editorship of Petros Bourovillis, the travel and hospitality focused magazine has become a staple for travellers.
aia.gr
44.
Top brand programme
Air France Music
France
Music has been aloft since the 1990s at Air France but over the years it has taken the onboard selection of tracks to another level. In 2010 the French flag carrier launched its own music label, which goes beyond the standard in-flight pop tunes. The airline has collaborated with artists from Nils Frahm to Lana del Rey. "We even brought a preview of Charlotte Gainsbourg's album and presented Phoenix live with Daft Punk in New York," says Mélanie Guillain, Air France's brand content manager. The latest Air France playlists are available online.
music.airfrance.com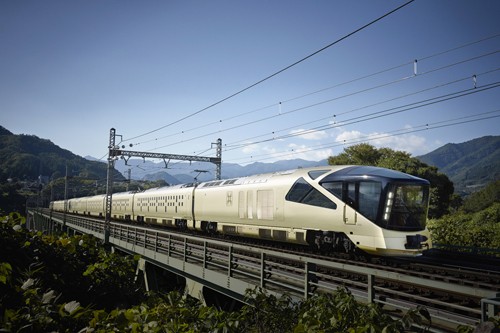 45.
Most deluxe train
East Japan Railway Company's Train Suite Shiki-shima
Japan
The romance of slow rail travel revived. Launched in 2017, this 10-car train has private sleeping quarters, lounges and a dining car for journeys to scenic spots in Japan's northern and eastern regions. The cars are a marvel of engineering: bathtubs of cypress wood that won't splash when the train rocks; handwoven carpets; and decorative walls of lacquer and washi.
jreast.co.jp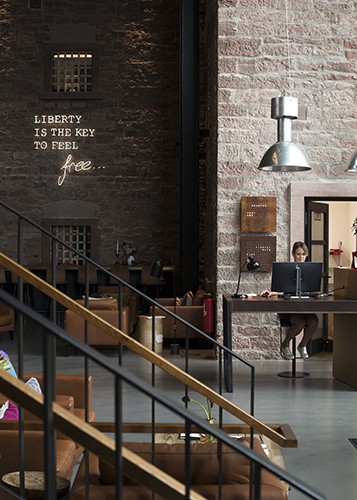 46.
Liberating hospitality transformation
Hotel Liberty
Offenburg, Germany
If your travels take you to Offenburg in the German state of Baden-Württemberg, you'll do well to stay at Hotel Liberty. The name is telling: the hotel is housed in an old prison dating from 1845. When it closed its doors some 10 years ago, investors Christian and Dietmar Funk decided to turn it into a hotel. Its 38 rooms, restaurant, lobby, lounge and bar, revamped by design studio Knoblauch, give hint to the building's past, and there are some carefully refurbished reminders, such as the prison cell doors, that have been left intact. A life sentence here would be a joy.
hotel-liberty.de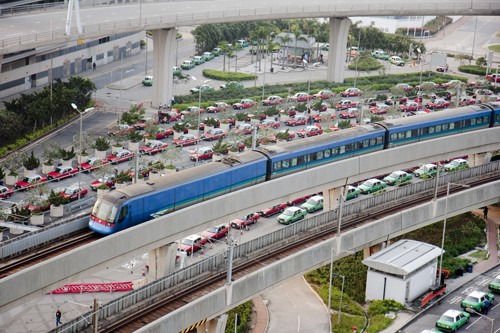 47.
Speediest airport-hotel link
Airport Express
Hong Kong
Getting from airport to hotel doesn't get easier than this. At the Four Seasons, a lift takes you down to the Airport Express, which whizzes you to your plane. The Express has been running since 1998; it's the only rail link to the airport but it's also the only one you need – zipping passengers from city centre to terminal within 24 minutes. The first station is at the ifc mall, situated right below the hotel; for those hopping on at any of the four stations in between, the trip to the tarmac is even faster.
hongkongairport.com
48.
Most convenient in-room feature
The Middle House
Shanghai
With hotel rooms becoming technological playrooms, the simple act of turning off a light and closing the curtains could soon require a degree in computer engineering. The Middle House in Shanghai – the latest addition to Swire Hotels' house collection – has taken a reassuringly tactile approach to calling it a night: a knotted rope hanging from the ceiling next to the bed. It looks like a summons for a Lurch-like footman but one firm tug and it's lights out. Smart TVs and the usual gadgets are still present in the 111-room hotel, designed by Italian Piero Lissoni, but it's good to know sleep is close at hand.
themiddlehousehotel.com
49.
Best roadside stop
Marché
Switzerland
This summer, Basel-based retailer Coop presented a concept for its regional Marché restaurants, which can be found at 16 airports and rest-stops across the country. The makeover was introduced at the Bellinzona service stations just off the A2 highway in Ticino. As part of the redesign there are counters serving regional produce, as well as a kitchen with live cooking displays, all served in a bright dining room. The Marché service stops have been a Swiss favourite for years and the move away from processed foods is welcome. The concept will roll out to all Swiss Marché restaurants over the next few years.
marche.ch
50.
Most elegant shuttle
Venetian water taxi from airport to city
Venice
There are two kinds of taxis you can get once you've landed at Venice's Marco Polo airport. But here white cabs that deliver passengers to Piazzale Roma (Venice's only vehicle-accessible square) seem incredibly run-of-the-mill compared with the water taxis docked next to the terminal. Consorzio Motoscafi Venezia has around 100 boats roaming the city's canals 24 hours a day. Its wooden motorboats, complete with padded seats, have a distinct 1950s flair and will make an airport transfer feel like a mini-cruise (especially if you ask the driver to take the route down the Grand Canal).
motoscafivenezia.it