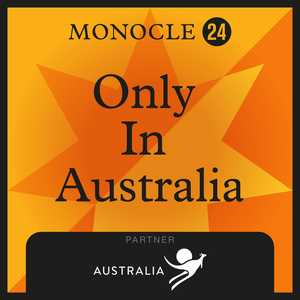 Entertaining / Podcast
In 'Only in Australia', Georgina Godwin visited every corner of the country to explore the unique nature of Australian luxury and meet some of the country's creative entrepreneurs and eco-tourism pioneers. It was a luxury travel experience defined not by opulence and gold taps but by immersion in wild, untamed landscapes and the innovative accommodation designs embedded within; by the chance to connect with the world's oldest living culture; and by exclusive access to a distinctively Australian creative scene. Now that the world is opening up again, join her to explore.
RSS Feed
4
Latest episode
Architecture & Design:
Australians are known for embracing the outdoors and nowhere is this more prevalent than in Australian architecture. Join Georgina Godwin as she dives deep into Australian design, where hotels and public spaces are immersed in and inspired by the land, and where nature envelops accommodation.
Episode
Date
Description
Download
Play

4

4 Aug 2020
32 min

Architecture & Design:

Australians are known for embracing the outdoors and nowhere is this more prevalent than in Australian architecture. Join Georgina Godwin as she dives deep into Australian design, where hotels and public spaces are immersed in and inspired by the land, and where nature envelops accommodation.

Download
Play

3

28 Jul 2020
30 min

Entrepreneurs & Innovators:

With bravery, optimism and often a wry smile, Australian entrepreneurs have forged a progressive and innovative tourism industry, that offers travellers unparalleled experiences from the ocean to the outback. In this episode, meet some of the country's best and brightest tourism minds, and learn how their vision and ambition have transformed what it means to holiday in Australia.

Download
Play

2

21 Jul 2020
30 min

Fine Drinking & Dining:

Unrestrained by culinary tradition, Australia's fine drinking and dining scene applauds creativity and food fusion. The country's outdoor eating culture is enlivened by some of the world's best fresh produce, breathtaking landscapes and ideal growing conditions. Get your tummy ready to rumble as Georgina Godwin takes a tour through some of Australia's finest dining rooms, vineyards and cellar doors, with star wine-makers, foragers of fine food and industry-leading artisans as her guides.

Download
Play

1

14 Jul 2020
30 min

Art & Culture:

In this first episode we examine arts and culture, and how travellers can not only join the audience in iconic Australian artistic venues but also explore behind the curtain, with exclusive access to once-in-a-lifetime, immersive cultural experiences. We'll take you behind the scenes at Opera Australia and backstage at the Sydney Opera House. We'll also tell the fascinating story of the National Gallery of Victoria in Melbourne and reveal the extraordinary vision of the man who created a venue unlike any other, the Museum of Old and New Art in Tasmania.

Download
Play