Briefing / Global
Asia
Briefing
Princess Kako's style under scrutiny and India puts its weight behind manufacturing.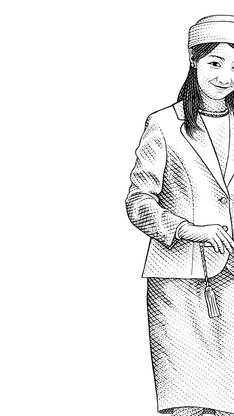 STYLE LEADER NO.63
Informal attire
Japan —
PRINCESS KAKO
Ever since footage emerged of a nine-year-old Princess Kako twirling around a Tokyo ice-rink, the granddaughter of Emperor Akihito has been marked out as a star of the Japanese royal family. The second daughter of the Emperor's second son Prince Akishino, she was educated at the posh Gakushuin School in Tokyo and now studies at the city's International Christian University.
The gossip magazines love her, devoting countless pages to recording her dual existence as a university student and a royal who, now she is 20, has started to perform public engagements. The media attention isn't always positive though. Her wardrobe of sleeveless tops, trainers and shorts with bare legs (unheard of for a royal) is picked apart by the tabloids along with everything from her blue nail polish to her rumoured use of coloured contact lenses and even eye glue to give her a more wide-eyed look.
Others praise Kako-sama's elegance and beauty. Fan blogs gush over her appearances (and those of older sister Princess Mako, who is studying to be a museum curator at the University of Leicester in the UK), and praise her normality.
The fuss has been compared to the excitement in 1958 when Kako's grandmother, now Empress Michiko, got engaged to the crown prince and became the first commoner to marry into the world's oldest monarchy. Kako-sama, whose little brother Prince Hisahito is third in line to the throne, is still learning the ways of imperial discretion though: "My shortcoming," she once said, "is that I have a short fuse just like my father."
1.
Hat
For this solo public engagement, Princess Kako opted for something fashion critic Don Konishi compared to wappa or bentwood. Hardly a compliment.
2.
Hair
Here she has opted for a royal-appropriate look but her hairstyle high point was her 20th birthday when she wore a tiara and was compared to Audrey Hepburn in Roman Holiday.
3.
Suit
Commentators weren't kind about her salmon pink suit and Konishi has said she should leave the "remote world" of royal tailoring and become an ambassador for modern Japanese fashion.
4.
Shoes
Off duty Princess Kako is often in trainers. But for this outing she wore a sensible nude court shoe à la Kate Middleton.
What to make of it?
India —
MANUFACTURING
India's government wants to transform the country into a manufacturing powerhouse. So when Taiwanese electronics manufacturer Foxconn announced in August that it will invest €4.5bn in a plant in Maharashtra state – and contribute to a consortium's €18bn for solar energy projects – the idea didn't seem so far-fetched.
With the slogan "Make in India" the rebrand has conveyed to the world that the country is open for investment. But prime minister Narendra Modi has offered no roadmap and analysts are now asking whether the project goes far enough and urging caution about reading too much into the Foxconn deal. "Expectations of how much of an impact it will have are overdone," says Alberto Moel, an analyst with investment firm Bernstein Research.
India's renewed emphasis on manufacturing is driven by a need to put more people to work. By 2022 the government aims to add 100 million new manufacturing jobs, spur development along the Delhi-to-Mumbai industrial corridor and boost exports.
Shifting workers out of agricultural jobs (currently half the population) to the manufacturing sector makes sense: productivity and GDP would increase. But India's track record isn't as solid as Southeast Asian countries and China, and its reputation for red tape and hurdles to acquiring land give some companies pause.
---
Into the fold
Timor-Leste —
POLITICS
Timor-Leste, Asia's newest nation, hopes to get the regional seal of approval to join the Association of Southeast Asian Nations (Asean). The waiting could soon be over: an Asean working group considering the bid of this oil-rich country of 1.2 million is nearing a decision in the coming months.
Timor-Leste's government believes it can point to a record of steady improvement since gaining independence in 2002. To build a network of allies, Timor-Leste has opened diplomatic missions in the 10 Asean capitals and it counts neighbour and former occupier Indonesia among the firmest supporters of its bid.