Vienna travel guide
Sport and fitness
The best options for keeping fit on your stay in the Austrian capital make the most of its natural assets. So read on for our round-up of the finest ways to work out in the open air while soaking up the city's sights.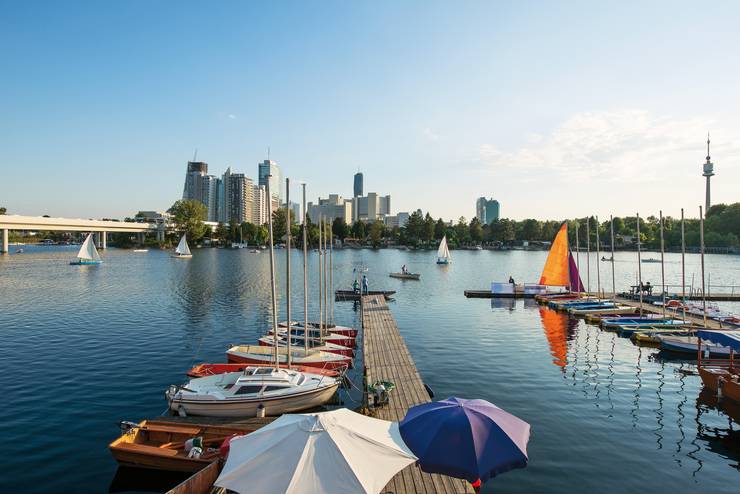 Swimming at Alte Donau, Donaustadt
Conjure up a vision of a central European river paradise with water clean enough to drink, banks lined with old-growth trees and swans gliding through rustling reeds. Amazingly you can find this just seven subway stops from Vienna's city centre. As the Alte Danube (Old Danube – a former arm of the great river, now more like a lake) gently curves around Donaustadt's skyscrapers, it offers nearly 8km of watery respite for an estimated one million visitors every year. Well-kept public swimming areas, boat-rental outfits, a sailing school, waterfront restaurants and private cabanas line the shore. "When the weather's good we come here," says media consultant Ralf Strobl, who's known to sleep in his cabana in a marina near the U1 stop. To really experience life like a Viennese, this is a must-visit.

alte-donau.info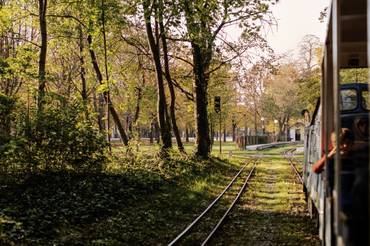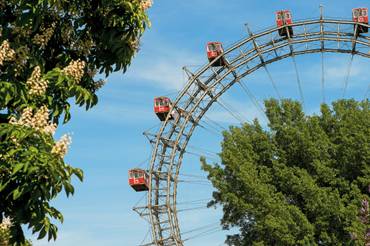 Distance: 13km
Gradient: Flat
Difficulty: Easy
Highlight: Lusthaus, a 16th-century hunting lodge built by Emperor Maximillian II, is a picturesque restaurant in which to enjoy the best of Viennese cuisine
Best time: Any weekday during daylight hours
Nearest station: Praterstern
The Prater, a former imperial hunting ground that's one of the best-loved parks in the city, covers an area of 6 sq km. Even though it's located just a few kilometres from Stephansplatz, the landscape is wholly natural with vast lawns, woods and streams. The park also has its own hiking route known officially as City Hiking Trail 9. Start at Praterstern station and head down Hauptallee through towering trees on either side, passing the Pratermuseum. Take a right when you reach the Jantschweg onto an unpaved path among the soaring trees, turning left and running straight on. As the path has no set route, you've got the freedom to move around as you wish, passing the Konstantinteich along the way, over a bridge past the clay tennis courts of the Wiener Park Club and back into the woods along the Lusthausstrasse. Further down you'll reach Hauptalle; take a right and continue until you arrive at Lusthaus at the centre of a roundabout. To make your way back up, circle around the Lusthauswasser next to the Golf-Club Wien. Cross the main road of Aspernallee until you end up next to the Wirtschaftsuniversitat Wien to walk back up, weaving your way north to Praterstern station.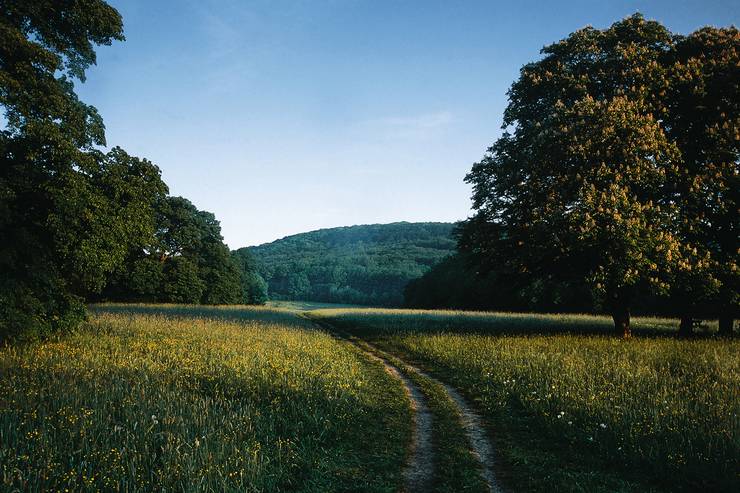 Venture out of the Innere Stadt when the sun's out and you'll see people striding toward the hills. Vienna's Forestry Office has mapped more than 500km of trails, including 11 city hiking paths that are easily accessed by public transport. For the best view of the city, catch the D line tram out to Nussdorf and follow the signs for the City Hiking Trail 1. This jaunt into the Vienna Woods is a steady climb past vineyards and up to Stefaniewarte, which at 484-metres-high affords unspoilt views back to the city. The viewing tower, designed by Ferdinand Fellner and Hermann Helmer, opened in 1887 for Belgium's Crown Princess Stefanie – after whom it's named. The hike is a 11km round trip.

kahlenberg.wien
Images: WienTourismus, Christian Stemper, Paul Bauer