Map / NRW
Getting to know the region
Plot a course straight for North Rhine-Westphalia and get to know your way around the region.
North Rhine-Westphalia in western Germany is the nation's most populous state with 17.9 million residents. Once known as the "land of coal and steel", nrw remains Germany's leading industrial region, valued for its seamless blend of cosmopolitan cities and sprawling countryside.
The area was first settled by Germanic tribes and then later by the Romans during the reign of Julius Caesar. In the early Middle Ages it became part of the Holy Roman Empire until 1648, when the signing of the Peace of Westphalia brought the Thirty Years' War to an end and introduced Germany's modern nation-state system. Yet it wasn't until after the end of the Second World War in 1946 that nrw was officially established.
Characterised by woodlands in the northern lowlands of Westphalia and by the verdant hills and river valley in the southern realms of Bergisches Land, Siegerland and Eifel, the state is situated at the heart of Europe. Internally it borders Lower Saxony, Rhineland-Palatinate and Hesse; internationally it shares borders with Belgium in the southwest and the Netherlands in the west.
nrw's Rhine-Ruhr region, centred around the state capital, Düsseldorf, is the third-largest urban area in western Europe (after Paris and London) and the core of the so-called "Blue Banana", Europe's urban-industrial corridor. nrw's location, infrastructure and river network continue to ensure its influence. Home to more than 40 rivers, including the Rhine, Ruhr and Lippe, and 120 harbours, including the world's largest inland port in Duisburg, it's well positioned for trade and travel. The Rhine alone links Germany to Switzerland, Liechtenstein, Austria, France and the Netherlands, which may explain nrw's fierce European spirit and openness to the world.
---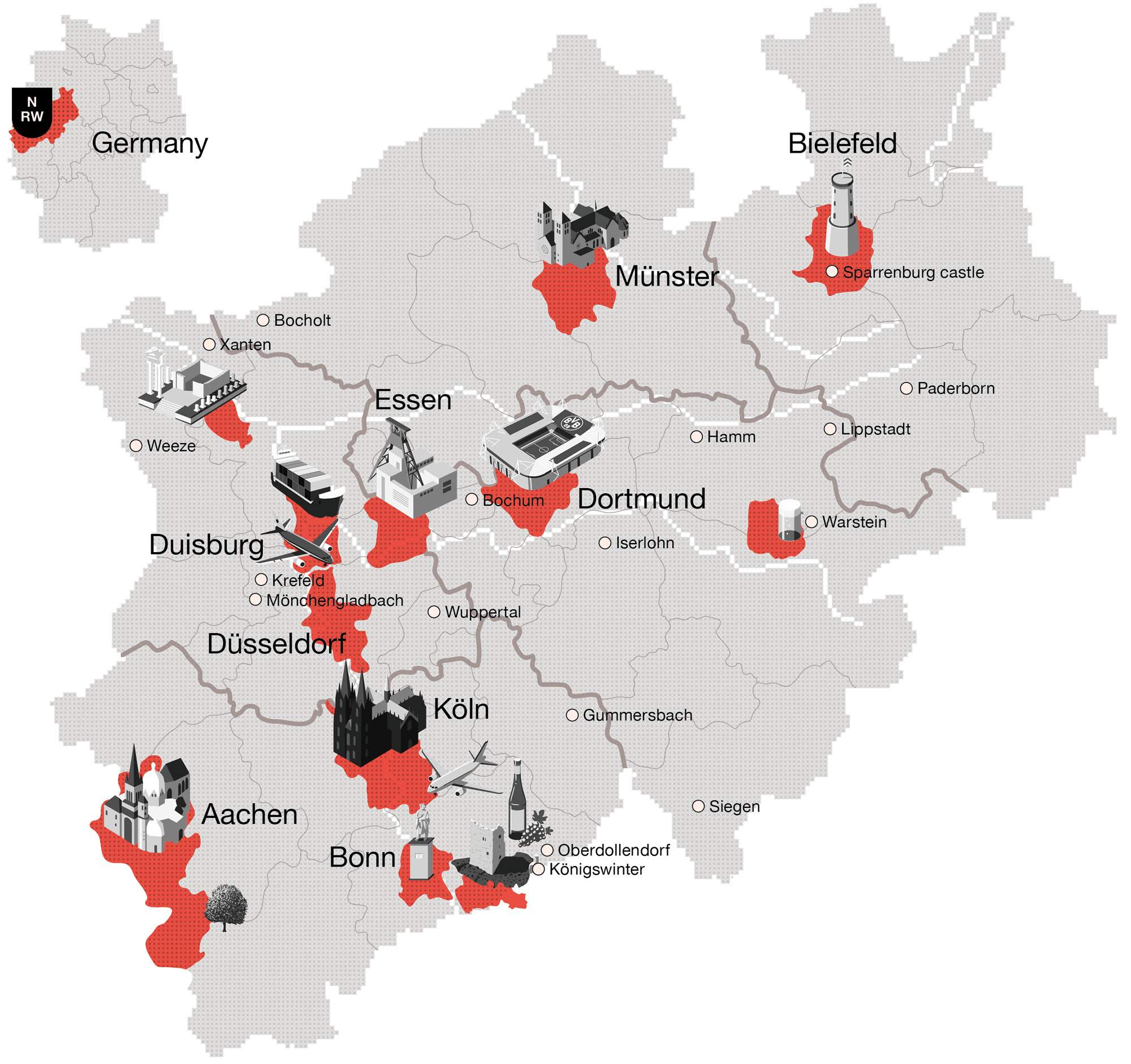 ---
Köln cathedral
Unesco-listed 13th-century cathedral
Zeche Zollverein, Essen
Design museum and cultural complex on a former industrial site
Signal Iduna Park, Dortmund
Germany's largest football stadium; home of Borussia Dortmund
The port of Duisburg
The world's largest inland port
Aachen cathedral
One of Europe's oldest cathedrals, built under Emperor Charlemagne
Köln Bonn Airport
Connects more than 100 destinations
UN campus, Bonn
Seat of 23 UN organisations
Drachenfels, Königswinter
Historic castle ruins in Siebengebirge
Oberdollendorf wine region
nrw's storied vineyards
Warsteiner brewery, Warstein
In Arnsberg Forest Nature Park
Archaeological park, Xanten
Ruins of ancient Roman settlement Colonia Ulpia Traiana
Münster cathedral
The St-Paulus-Dom is a symbol of the city
Sparrenburg castle, Bielefeld
This historic fortress dates from 1250
---
Located in the heart of Europe, getting to and around nrw is a cinch. Six airports, including international hubs in Düsseldorf and Köln-Bonn, offer a host of direct flight routes. The state is also easy to reach by train, thanks to its rail network of 6,000km of track, and via the Autobahnen, which ensures swift links to the European road network at limitless speeds. Here are a few stop-offs on your journey, key connections and landmarks to admire.