Fashion: Interviews / Global
Connective threads
We meet the leaders of three heritage houses that are adapting to the industry's ever-changing demands while upholding their history and time-tested values.
Stefano Canali
President & CEO, Canali
Italy is brimming with best-in-class artisans and global fashion houses that invest heavily in tailoring so it's not easy to survive as an independent brand. Canali is proving to be an exception, turning its independence into one of its greatest strengths. The Milan-based label has been family-owned since Giacomo and Giovanni Canali opened a tailor's shop in 1934. Today the Canalis remain against bringing in external investors and pursuing rapid expansion. "We don't publish quarterly results or answer to investors so we can take the time to make the right decisions based on our values rather than the need to show short-term profit," says Stefano Canali, grandson of one of the founders and the company's ceo since 2018.
Canali has been leading the way when it comes to responsible manufacturing. The brand is among the few that still make all of their products in Italy, never resorting to cheaper alternatives abroad. Now it wants to raise the bar even higher with a new range of clothes made from recycled fabrics, by reducing the sizes of collections to avoid overproduction and lobbying for Europe-wide sustainability regulations. These collections have also helped the brand to express a clearer perspective. Today the brand's ceo is aware that there is less room for traditional silhouettes or stiff shoulder pads but it is staying true to Italian elegance and the art of tailoring, offering looser suits and experimenting with materials. "That is paying off," says Canali. "Sales grew by 38 per cent in the past year."
Beyond overseeing the brand's design evolution, Canali has sought to highlight the humanity at its core by opening new, more welcoming shops around the world – and being a great host during the company's seasonal presentations, which usually take place in Milanese palazzi. Here, he speaks to monocle about how he is leading the business into the future. 
How does family heritage influence the business?
Our heritage is synonymous with the company's values. The Canali story is one of resilience: the Second World War erased everything and my family had to invest all that it owned to rebuild the company. By the 1960s the market had moved on from our core overcoat business so we had to start from scratch and refocus on suits. There's an optimistic message there. I often find it interesting to look back, especially since the pandemic, which was the third critical turning point in the company's history.
What are some of the changes that you have had to implement because of the pandemic?
Our product offer has evolved in response to the fact that the world has changed – and so have our customers' needs. But anything that we propose still remains consistent with our identity. We will never completely diverge from who we are. The classic suit doesn't really exist any more; you won't see pinstripe suits and big shoulder pads in our collections. Volumes are changing and the fits are getting wider but there's always a common thread: high quality. Even when we're designing a simple jersey jacket, we'll work with the best tailors. For instance, we created a cotton-cashmere- corduroy suit for next autumn; it was hard to get right as it can't be ironed but our artisans had the skills needed to innovate and come up with new constructions.
Have you also had to rethink your retail strategy?
Our shops are about a third of the business and are crucial to delivering the brand message to our customers. Our most important recent opening was on Madison Avenue in New York. We had a new shop concept and location, which resulted in our highest-ever turnover. We're also going ahead with renovations to our flagship in Milan and looking more closely at the Indian market, which is usually quite neglected. We want to create a typical Milanese home away from home and ensure that our new shops feel warm and welcoming. There are enhanced customisation services and bigger lounges, where customers can relax. 
Sustainability has been a big focus for you. What is your approach to that area of the business?
It's important because we're all contributing to climate change. I was in my home town in January and there was no snow on the mountains. Something is changing and we must act. Italy could become a paradigm for sustainable production. Our Care capsule is an example of our upcycling efforts: we used recycled or certified organic materials for products across all key categories, while the filling in our down jackets was made using scraps from the production cycle. That needn't mean compromising on standards; the quality is still there. 
Is state intervention necessary for major changes?
It is and that's why I became a founding member and joined the board of directors of the first association in Italy created to tackle clothing waste, following the EU's extended producer-responsibility schemes. We are waiting for government approval to start operations but, when it comes through, we'll be working on reusing or recycling unsold clothing and ensuring that it's recycled as raw materials, resold or discarded responsibly. The initiative was first launched in France; Italy is the second country to take it on. The change in government has delayed getting it off the ground but it's now back at the top of the agenda and we're well-positioned to tackle the issue. 
---
Ginny Wright
CEO of the Americas, Audemars Piguet
Last year, Swiss watch-maker Audemars Piguet's sales surpassed those of historic rivals such as Patek Philippe for the first time, with revenues reaching €2bn – a 28 per cent increase on 2021. Demand for the brand's Royal Oak model, now one of the world's most coveted sports watches, has never been so robust, with customers willing to wait for years to get their hands on one. This year the Royal Oak Offshore, which paved the way for the brand's larger-sized watches, is celebrating its 30th anniversary and demand is bound to grow even further.
To maintain momentum, the Swiss house, headquartered in Le Brassus, is investing heavily in the US, which is one of the top markets for the sector. Americans spent more than $3.8bn (€3.5bn) on luxury watches in 2022, according to the Federation of the Swiss Watch Industry.
Ginny Wright, Audemars Piguet's ceo of the Americas since 2021, is the driving force behind the company's success in the region. A seasoned US luxury executive with experience at brands such as Kiehl's, Lancôme and Ralph Lauren Fragrances, she looks beyond short-term goals when laying out her strategy. At the top of her agenda? Establishing personal relationships with clients, designing new AP Houses across the country to combine retail with entertainment, and making space for more women to join the company, both as staff and as customers.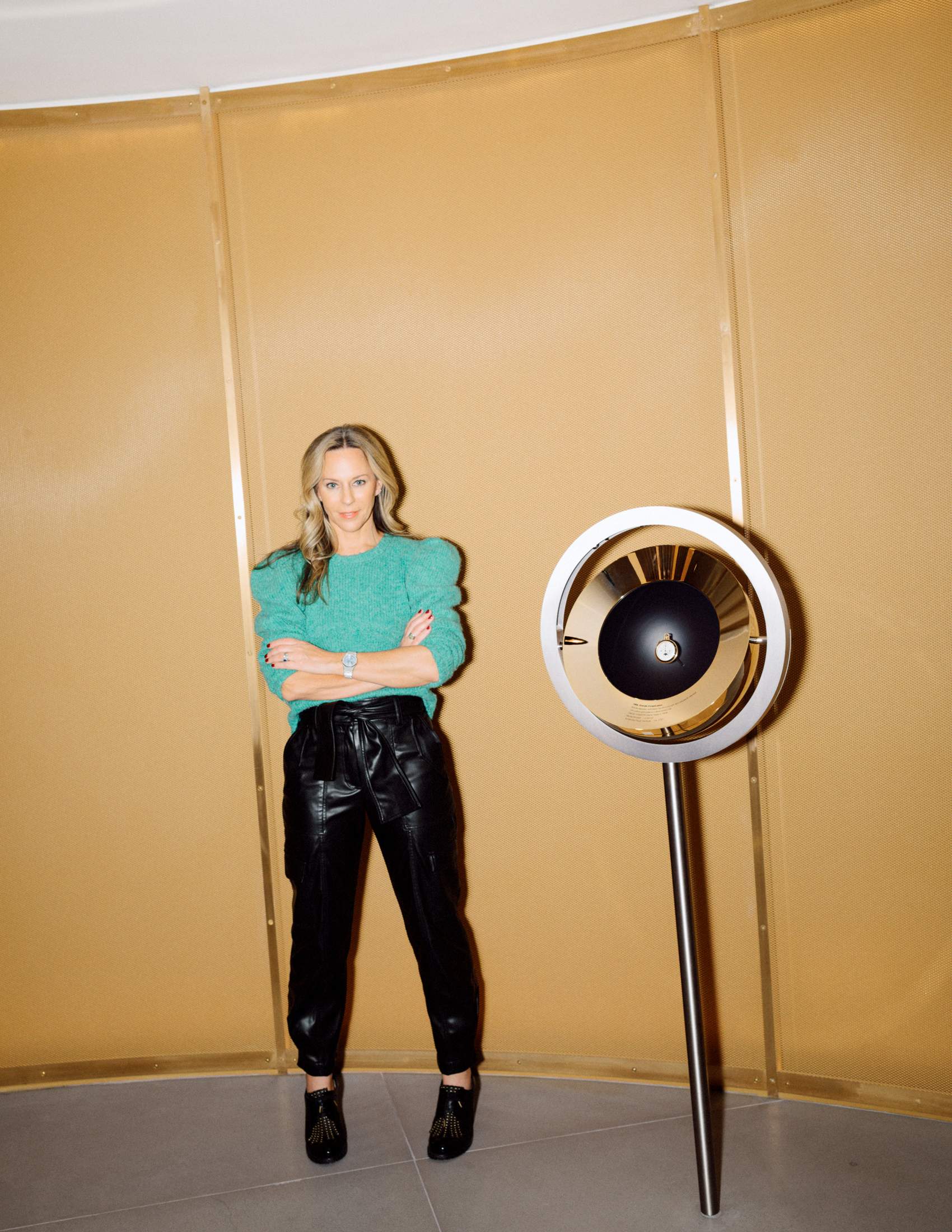 You've had a varied career both within the luxury space and outside it. What lessons have you brought to your current role from your previous experiences?
I couldn't have started further from luxury, having majored in economics and political science, with my first job on Capitol Hill. But I always had a keen interest in luxury, fashion and beauty. I discovered Audemars Piguet when I was studying at essec Business School outside Paris; both L'Oréal and lvmh sponsored the programme at the time and there was a big focus on luxury. When I went on to work for Kiehl's, I found a business that was family-owned and focused on keeping its heritage, thoughtfulness and craftsmanship. I made sure to bring [to my role] this understanding of the respect that you must have for a brand, especially one in which the founding family is still involved, as well as a commitment to getting to know the client and being close to them.
Your watches, particularly the Royal Oak, are limited in number. How do you balance that with your efforts to expand the brand's customer base?
We have made significant strides in increasing our availability. In 2021, for example, we were producing 45,000 watches; the following year the number increased to 50,000. Because it takes so much time to craft these timepieces, limited production is both a natural consequence and a necessity. People understand what goes into creating our watches and are willing to wait for one.
Where does the Royal Oak Offshore collection, which celebrates its 30th anniversary this year, fit in the house's catalogue?
The Royal Oak Offshore collection allowed Audemars Piguet to experiment a little more and take bigger risks. It was a chance to tap into popular culture too, with a series of partnerships, first with Arnold Schwarzenegger in 1999 and then with Jay-Z in 2005. We've done so many different versions of the Offshore. That's what's so fun about it.
What makes the US market unique?
The US is the brand's number-one market. We have a rich history there: our first boutique in New York opened in 2003. It started when François-Henry Bennahmias, the brand's global ceo, was running this region. He helped to introduce US hip-hop and sports culture to our headquarters in Le Brassus, Switzerland. We now want to speak to the next generation of collectors here and bring more women into the brand. When I started, 16 per cent of our US clients were self-purchasing women. In less than two years, that number has grown to 24 per cent. Women are starting to feel more comfortable coming into an Audemars Piguet shop; they're not paying as much attention to novelties and are instead buying watches to mark milestones and looking for businesses that share their values. This is the brand that dynamic women who are now running companies or hedge funds are looking for.
You have been opening AP Houses in several US cities. How is the AP House experience different from that of a typical watch boutique?
When you enter one, it will feel as though you're stepping into someone's apartment. AP Houses are open-plan, with a dining-room table, couches and a beautiful bar with a piano and guitars that you can pick up and play. Of course, we have watches on display; it's just a far more relaxed environment in which to experience them. We're working with local designers so that each house has a connection to the city that it's located in.
This is shaping up to be a tumultuous year in terms of geopolitics and the global economy. How will you sustain growth in this environment?
We want to bring new clients to the brand but we're also focusing on a different type of growth [relating to our existing clientele]. Having direct relationships with clients and ownership of your retail makes a huge difference in how people spend time with you and how they make shopping decisions. For us, it's about making the effort to get to know people. That's what makes us so appealing to anyone who is just entering the watch world.
---
Adolfo & Adriana Domínguez
Founder & executive president, Adolfo Domínguez
When Adolfo Domínguez took over his family's tailor's shop in the 1970s, few could have predicted that the young Galician designer would reshape the country's fashion landscape. His signature linen suits were a breath of fresh air and quickly became the go-to look for a generation of Spaniards seeking to break away from the Franco years and its stuffy tailoring. By the 1980s the brand had expanded internationally with shops in Paris and London, and in 1997 it became the first fashion company to be listed on the Madrid stock exchange. Domínguez remains the brand's main stakeholder and a board member, though much of the responsibility has been passed on to his daughter, Adriana, who is now its executive president. monocle met the duo to discuss their investment in well-designed shops and ability to push boundaries, and how they protect their heritage while still evolving with the times.
How have you found the process of passing the business down to the next generation?
adolfo: I inherited the brand from my parents and now I'm passing it on to my children. The main thing that the transition has taught me is how innately Adriana understands the brand. She has grown up with it and so doesn't need to learn what its core principles are. This also allows her to break, adapt and reinvent these principles with more freedom.
Which principles are you working to redefine?
adriana: My father has always been an environmentalist. He did interviews in 1992 with El País about ecology before the issue became mainstream. But environmental responsibility is a moving target. We are now hiring a chief sustainability officer because, though we have people working on implementing sustainable practices, what the department needs is its own leadership. Nearshoring during the pandemic pushed us forward; now we have between 30 and 40 per cent of our production in close proximity, particularly in Portugal. We also want to contribute to the debate on consumption. The most responsible thing that you can do is to consume less, which means higher quality at higher prices. That's where we sit in the market.
adolfo: We're also one of only a few brands to be selling more linen than cotton. Producing linen uses far less water than growing cotton and you don't need as many pesticides. My grandmother grew flax and used it to make linen. Everything in our house was made from it: sheets, towels, shirts. The flax would be cut and then left outside in the rain for three or four weeks. Every harvest is different so you get a very different fabric each season. When I was starting out, it was the era of polyester. People were used to things not getting creases. So when I started selling shirts and suits made from linen, it was difficult. We had to be patient. That's why I came up with the marketing slogan, "La arruga es bella," meaning, "Wrinkles are beautiful." I truly believe that they are. 
You've opened a new flagship shop in Madrid. Why are bricks-and-mortar outlets still important?
adriana: People sometimes need the convenience of online shopping but, at other times, they want the experience of going into a shop and being treated well. We don't only operate in capital cities: for example, we have 127 shops in Mexico. We've been in Japan for almost 20 years and we have 19 shops there. We really try to get close to our clients, particularly in countries that appreciate our styles.
How have your shops changed over the years?
adolfo: When we first opened our shops in the 1980s, I thought that we were inventing a unique look; young people tend to think that way. It turns out that we were just reproducing Bauhaus principles without knowing it. That kind of simplicity still feels so modern. Then, for a few years, we switched to a warmer, classic European look, using more dark wood but always keeping a certain simplicity. Now, with my daughter onboard, we're back to the minimalism that we started out with.
adriana: We use limestone for the walls because it ages very beautifully. We aim to refurbish old shops as well as invest in new ones. That's why we believe in using materials that will last. Our floors are made from locally sourced wood, using up the whole of the trunk by collaging together bigger and smaller pieces. We also collaborate with artists. Regina Dejiménez, for example, created a woven-textile wall hanging for our new Madrid shop and Galician artist Idoia Cuesta made an installation from wicker branches for our flagship in Ourense. These partnerships speak the language of our brand, which is about beauty and exclusivity.
What is your approach to seasonal collections?
adriana: My sister used to arrange for a number of our designers to spend Monday afternoons learning traditional weaving techniques. They come back with these designs made by hand on looms, which are then sent to be industrialised. We're bringing ancient ways of weaving linen back to life. We also have what we call "the Ágora", in which our designers come together with artists for three weeks to create collections from scratch, like they do in haute couture. They're not looking at what everyone else out there is doing; instead, they're coming up with new concepts for runway collections that are then adapted for sale in our shops. Our designers love it and it helps us to attract talent. We're a designer brand that lets designers be artists. That's a rarity in the industry.
photography: Piotr Niepsuj, Ryan Lowry, Carlos Chavaria