The good life, by design / Global
Urban planning, sociable living
For a city built almost entirely within the past 40 years, you'd expect tip-top infrastructure and Dubai has happily obliged with a swift network of roads, an efficient metro system and the world's busiest international airport a handful of sand's throw from the city centre. Dubai banked on connectivity and it has paid off in spades.
Getting into and around Dubai is a desert breeze. Dubai International Airport is a 15-minute taxi ride from Downtown. The world's busiest air transport hub for international passenger traffic, DXB plays a key role in the success of the city: 141 airlines offer direct access to more than 265 global destinations. It is within a four-hour flight of one third of the world's population and within eight hours of two thirds so work or leisure trips are easy. The Emirates airline is a core driver of the economy, propping up trade and industry with its impeccable service and unbeatable global reach.
Dubai is the region's technology hub and the city's infrastructure has innovation set into every aspect of the urban fabric. An efficient driverless metro system that serves the city centre is bolstered by car-sharing services such as Ekar and Udrive that facilitate easy hops across the city. Dubai is straightforward to traverse, with the beaches just a 20-minute trip from Downtown, the desert a further 20 minutes and the mountains less than 90 minutes away. In short, Dubai has a bigger capital's infrastructure on an intimate scale.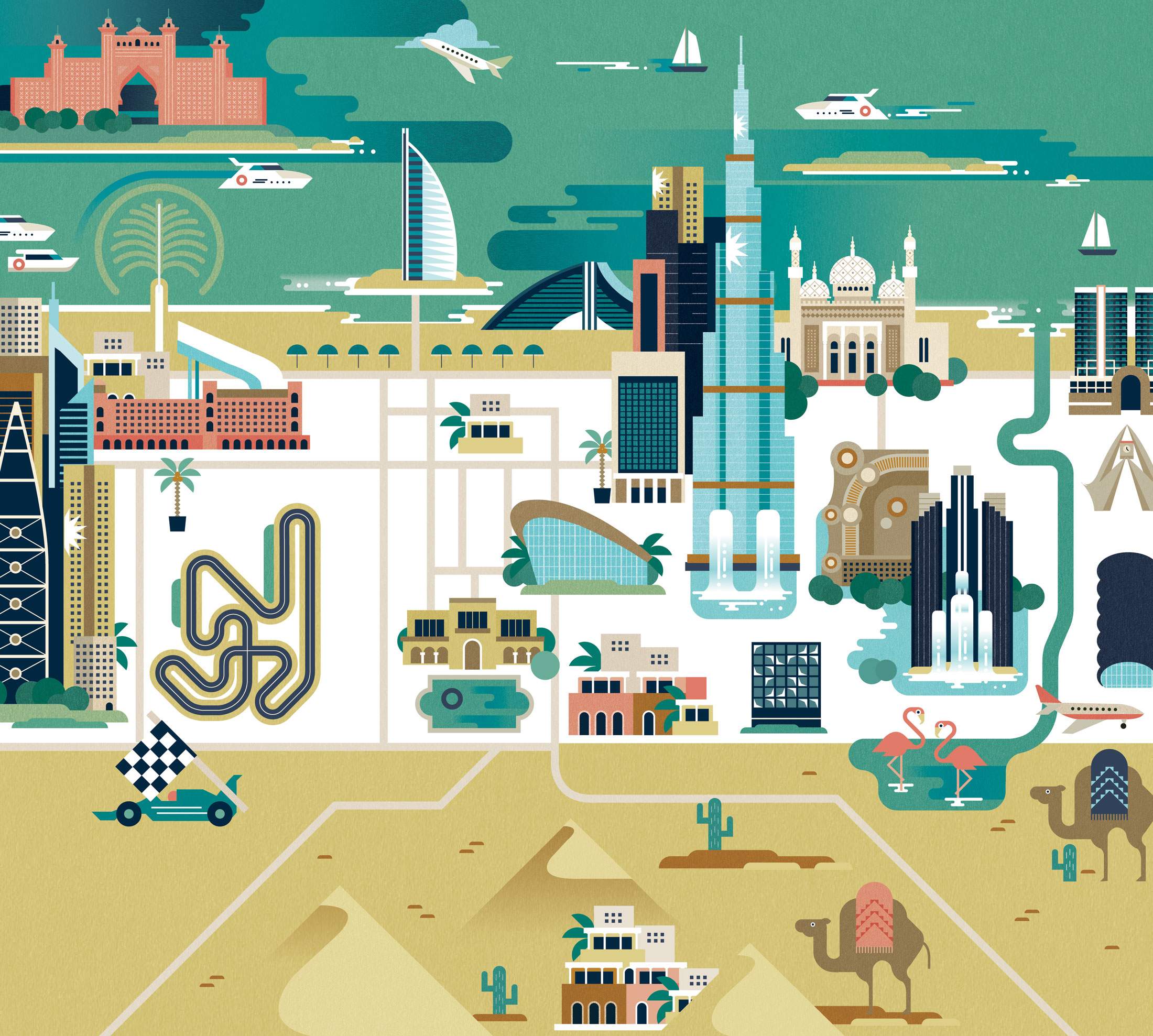 Palm Jumeirah: This iconic artificial residential island is constructed in the shape of palm fronds.
Dubai Marina: An affluent district known for yachts, The Beach at JBR, outdoor activities and alfresco dining.
JLT: Jumeirah Lakes Towers (80 mixed-use towers on the waterside, great for promenades) is a project by the Dubai Multi Commodities Centre.
Motor City/Sports City: These two residential neighbourhoods on the outskirts of town close to the autodrome have fantastic sporting facilities.
Business Bay/Downtown: These neighbouring districts are the city's commercial heart.
Arabian Ranches: This high-end residential development is envied for its villas, golf club and equestrian and polo club.
D3 (Dubai Design District): The city's creative hub, where innovation and invention keep the city powering forward.
Jumeirah: The most relaxed place to live in the city, Jumeirah runs along the coast and is enjoyed for its beach and laid-back attitude.
Deira: Where it all began. This is the oldest commercial district in Dubai, bordered by Dubai Creek, the Emirate of Sharjah to the east and the Persian Gulf.
To learn more about business in Dubai please visit Business Dubai.