Residence / Zealand
Inner peace
The foreboding exteriors of the Fredensborg Houses have been compared with a prison. But peek inside and Jørn Utzon's revolutionary housing project is every bit as captivating as his masterpiece: the Sydney Opera House.
At the same time as Jørn Utzon was designing the Sydney Opera House he was planning a settlement in his homeland for Danes returning from careers abroad. One of these projects was monumental, a landmark that would transform the identity of a nation. The other was modest: a low-rise medium-density housing scheme. Both, however, were true to his belief that an architect should "fall in love with the nature of things instead of fighting for form and style".
Utzon had already built the Kingo Houses in Helsingør when he began to plan Fredensborghusene (the Fredensborg Houses) in north Zealand on a sloping site near Fredensborg Palace, bordered by oak and beech trees. It was the late 1950s and the settlements were pioneering both architecturally and socially; they still feel daring 60 years later.
The foreboding brick walls of the Fredensborg Houses are broken only by small doors and windows; in April Danish newspaper Berlingske compared their appearance to a prison or crematorium. But step beyond the brick threshold and inside you'll discover enchanting lightfilled rooms. Utzon was especially interested in the spaces between outside and in that bridged public and private, natural and man-made. The uncompromising exteriors of the Fredensborg Houses serve to heighten the cosiness within. Taking his cues from Chinese courtyard homes and the adobe structures he'd seen while hiking in the Atlas Mountains, Utzon designed multiple L-shaped quarters with large living rooms facing the generous rectangular courtyards, which are enclosed by stepped brick walls.
The residences dot the rolling hills in this green corner of Denmark but they remain close enough together to maintain a strong feeling of community across the neighbourhood. Utzon not only designed the buildings but also the interiors and furniture for the communal spaces: boxy wooden chairs and bench seats are complemented by his New Angle tables and Sundowner lights. "Utzon combines the sublime with the everyday," says Sebastian Skovsted, a partner at Copenhagen-based Skovsted Johansen Arkitekter. "They are quite modest, simple houses but they emerge from the ground, evoking an existential sense of being a human in the landscape."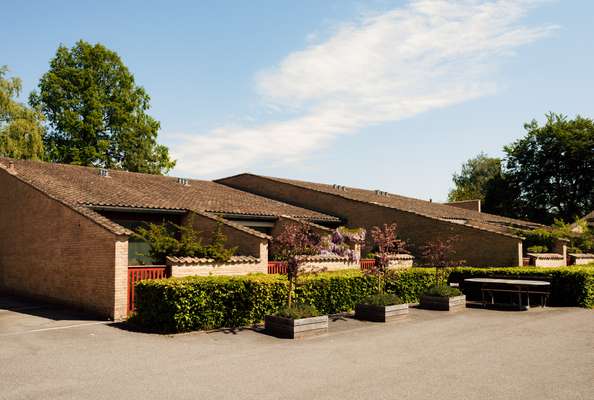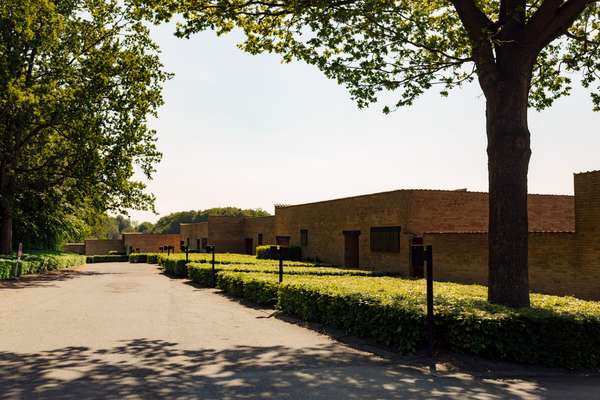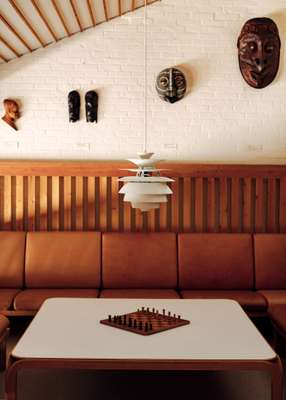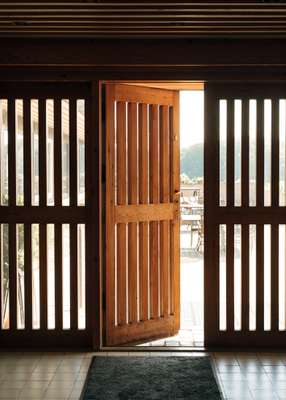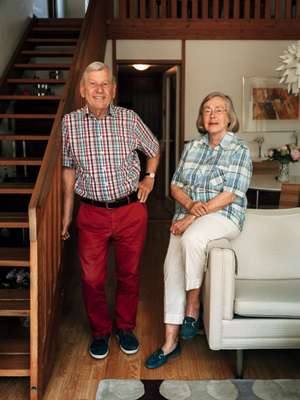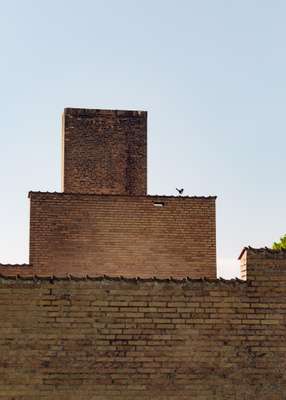 The project was the vision of Jørgen Saxild, an industrialist for whom Utzon had designed a bank in Tehran. Saxild was concerned about the wellbeing of his many expatriate workers, who often returned to Denmark after long periods abroad.
When the Fredensborg Houses were completed in 1963 they were something of an oddity: the architecture was considered radical, as was the communal way of living. The uptake was initially slow but today this is a thriving neighbourhood of retirees with 500 applicants on a waiting list to occupy the 77 homes. All the accommodation is rented but for many the houses have become homes for life; new arrivals tend to replace residents who have passed away. Two have lived here since the 1960s while another celebrated his 100th birthday in August with a communal party.
"If you want to be sociable, you can be," says Birthe Holme Nielsen, who moved to Fredensborg with her late husband after spending 10 years on the waiting list. "But if you just want to have your privacy, that's not a problem. We felt lucky when we got here."
As a 25-year-old in the 1960s Hanne Grane Engel lived at Fredensborg, which was then seen as a development promoting a revolutionary way of living. She returned to Fredensborg 11 years ago, leaving behind a career at an international company as a product development manager. Engel is now chairman of the self-governing residents' committee that organises cultural events and tours.
While residents are aware of the building's architectural significance – Fredensborg was listed as a heritage site in 1987 – most are effusive about their way of life. Their monthly rent, which is about €1,800 for a medium-sized house, includes 12 dinners a month for every resident, served in the timber-lined common dining room. There are bridge groups, drawing and singing clubs and daily dog walks.
"We were not especially interested in the architecture," says resident Kirsten Thomsen. "It was more the concept. We thought it was a good place to grow old." She has, however, grown to admire Utzon's thoughtful details, such as the open pine staircase in her house.
The architect believed the "principal rule" of a home was to provide scope for its residents to express themselves, so he kept adornment to a minimum. Untreated pine and painted plywood are prominent; a splash of Frank Lloyd Wright's favourite Cherokee red on doors and window frames contrasts with white walls. All the kitchens are utilitarian and bathrooms across the board are small. Very little can be changed now that these are heritage-listed buildings so the Fredensborg Houses remain faithful to Utzon's vision.
The houses have long been an architectural pilgrimage and interest in them has intensified with 2018's Utzon100 events run by the Utzon Center in Aalborg to commemorate the centenary of the architect's birth. Students from France, Germany, the UK and even as far afield as Australia have been among the visitors so far.
As we reach the end of our tour of the neighbourhood we join Lissie Christoffersen in her courtyard garden. The rhododendrons and Japanese maples here are a reminder of 25 years spent in Asia but her lifestyle epitomises that of many of the site's residents, who have come to form new lives in the Fredensborg Houses. She looks out across a lawn to a row of neighbouring homes whose stepped walls break the regularity of the brick structures. She has seen plenty in her life but today says she could not imagine living anywhere else.
"It's beautiful. I can't get better."