Brands to watch / Global
Material thinking
Fashion's ever-shifting landscape evolves at breakneck pace. Looking set to push the envelope this year are a Dutch textile virtuoso, a Milanese team with a famous past and a New York label whose bold take on the made-to-measure model could make a big impression.
Borre Akkersdijk is something of a textile genius. The 33-year-old founder of Amsterdam fashion brand and textile studio Byborre sells his sculptural menswear designs to agenda-setting shops. Yet it is his behind-the-scenes work that is most impressive: he conjures cutting-edge knitted materials for the biggest names in performance wear, including Adidas, Nike and Gore. They come to his lab, with its circular turquoise Santoni machine, to collaborate on fabrics that distinguish themselves for their functionality. They are anti-bacterial, anti-odour, temperature-adaptable – and have a futuristic aesthetic, with bumps, pinholes and undulating surfaces. "We want our fabrics to be recognisable without a logo," says the designer. "We want you to pay attention to how they are made."
Akkersdijk studied design in Eindhoven and at the Fashion Institute of Technology in New York, where he became fascinated with the behaviour of different fibres; he did stints in product development before establishing his textile studio in 2015. The fashion brand – "A showcase for what our materials can do," according to the designer – followed in 2016.
Akkersdijk has a set process when working with companies. "The moment brands say they want our look, I say, 'Let's sit down, discuss who we are making this for and understand a day in the life of that person.' Then we can start building the perfect textile." Brands are drawn to Byborre's combination of striking aesthetics – typically incorporating vibrant colours and "jagged gradients" that look like a pixelated computer screen – and practicality. One particularly pioneering material is a quilted double jersey made using mattress insulation and boasting impressive temperature adaptability (it alternately insulates and ventilates).
Byborre's partners include outdoor heavyweights such as Japan's Descente All Terrain, as well as automotive companies and sportswear giants. The studio is working long-term with Adidas on development across the brand and launching an "off-bike" collection with Rapha, not to mention consulting the Dutch gymnastics team to help improve the stretchiness of some of Byborre's clothes.
Akkersdjik ushers us through the "machine room" where the Santoni, its two rows of 1,008 needles whirring at speed, is churning out a raspberry-coloured nylon jersey flecked with indigo chevrons. Algorithms for the machines are built by senior knit engineer Annemarie Reedijk, who is the third generation of knitters from Reedijk Knitting (in the city of Ommen) and came to Byborre via American Apparel. "When you're a designer you just think of the aesthetics," says Akkersdijk. "But we have to create tools and software to bridge that gap [to see if those aesthetics are possible], which is why we have Annemarie. Of course, it's fun to make art but the aim is always to make a scalable product."
Byborre's success ties in with the dominant athleisure trend but Akkersdijk is sure his designs are not a fad. "The future consumer will need to have their wellbeing addressed also – it can't only be aesthetics." His ethos is informed by the city of Amsterdam and "how people move in it": every day he cycles across town in the mercurial Dutch weather. (To this end he shows off some trousers with Gore-Tex panels on the front to protect from rain and a melange jersey on the back for aeration.)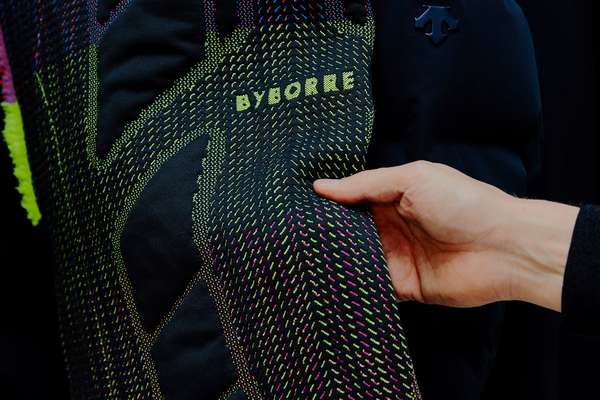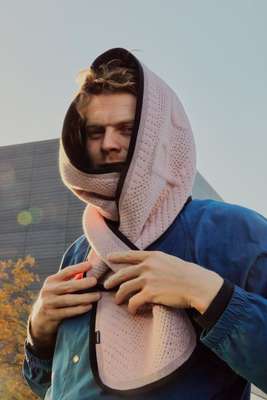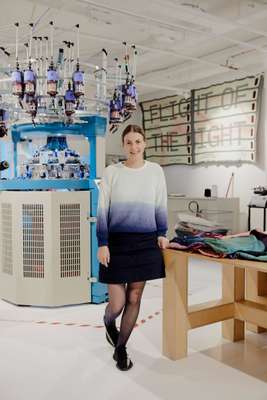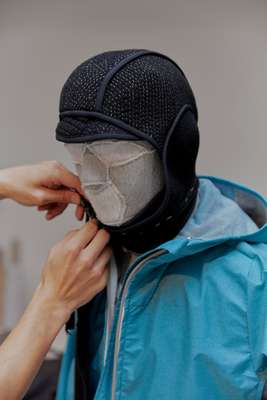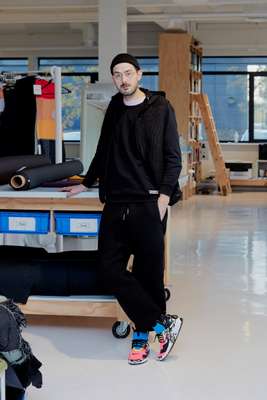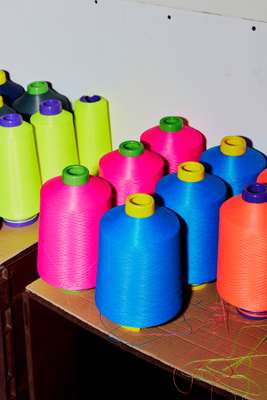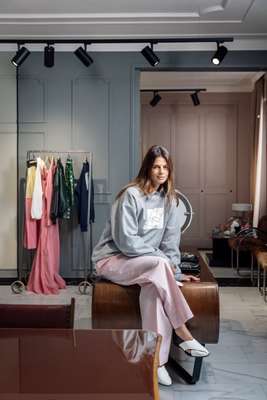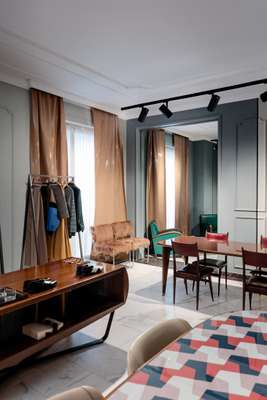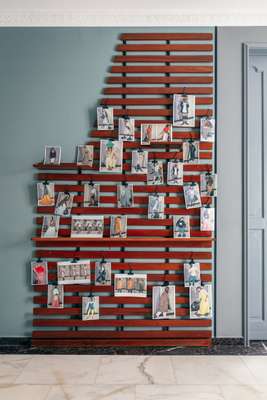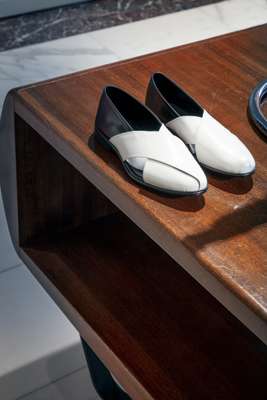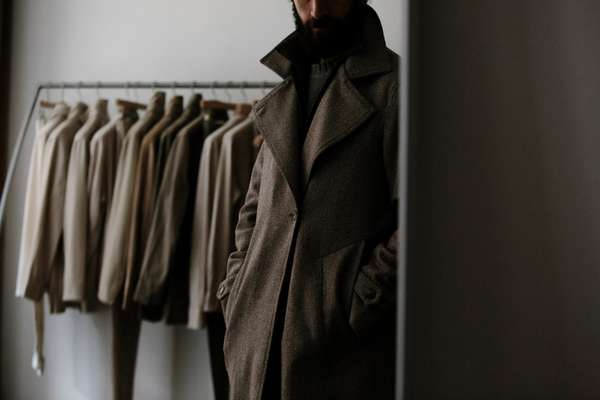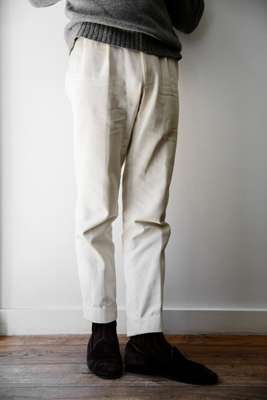 Akkersdijk wants to use his relationships with mega-brands to change how these behemoths think about production. "Why not listen to the end consumer in the beginning and design especially for them?" he says. "The moment you are born you are wrapped in textile and then you are in contact with it your whole life."
---
In 2016, when Consuelo Castiglioni and her family left Marni (the brand she founded in 1994 and sold to Renzo Rosso's OTB holding company), a significant voice for thoughtfully eccentric, feminist-friendly fashion vanished from Milan. Yet some see hope in a new brand with a fair bit of shared DNA. Unwilling to permanently depart fashion, the Castiglioni family turned to plan B – or, in their case, Plan C. That's what Carolina, the 37-year-old daughter of Consuelo, has christened the womenswear label that she has created with her father and brother (her mother is enjoying a hiatus). The first collection will hit shops this spring.
"It wasn't hard to launch," says a softly spoken Carolina, wearing a pair of giant pink trousers from Plan C's debut line. "We've already done this kind of project as a family but this time it has a smaller, more human dimension to it." Fabric suppliers and clothing manufacturers (mostly Italian and Japanese), together with an interested sales network, were all readily available thanks to their Marni tenure.
The new brand, however, is a more modest affair. It gained an impressive 100 stockists at its first presentation in September and Carolina intends to keep its retail presence mostly limited to those shops. Unlike Marni – a big house raking in nearly €200m annually – Plan C has just a narrow collection of women's daywear and a handful of accessories. Going forward the family plans to host biannual showroom presentations of new collections – eschewing elaborate runway shows, as well as the "infinite, non-stop collections" of Marni, as Carolina puts it. That's where she worked for 13 years in the commercial and then retail arm, before designing the children's collection along with various special projects.
Inside a 1960s palazzo in the centre of Milan, the brand's small team works in a colourful apartment-style showroom. The space was previously the atelier of Carolina's great-grandmother, whose fur company became Marni in the hands of Consuelo. Today Carolina's own flea-market furniture – the mid-century designs sometimes spruced up with a bright wallpaper tabletop or furry upholstery – mirrors the contrasts and quirks of the clothing. Cappuccino-coloured vinyl curtains match a glossy trench hanging on the metal racks. Her designs are distinctive – that Marni idiosyncrasy shines through in extreme sequins, oversized and sculptural silhouettes, clashing colours and fabrics from Japan and Italy that are memorable to the touch: crispy cotton, thickly coated canvas, papery double-face lambskin and stiff organza.
There's Marni's signature anti-bourgeois clash of masculine and feminine, as Carolina pairs menswear button-downs and sporty K-Way-style jackets with long dresses or mini-skirts. "Everything's intuitive, everything's according to my own taste," she says, clutching a black pouch imprinted with a scrawly drawing by her four-year-old daughter. (The family legacy of design will continue, it seems.) "The Marni aesthetic is present because I spent so many years there. Maybe I have the same influences as my mother because I've always lived inside her world. But we're different ages and we're two different people."
The ingredients are similar but the look belongs to Carolina, as she proves when she pulls together her own outfit: a billowing, off-kilter ensemble. She combines those pink trousers with a voluminous sweatshirt and two layers of shirt collars poking out at the neck. She's recasting the Castiglioni dynasty in her own image.
---
One of menswear's most forward-thinking brands moves at a snail's pace, field-testing items and fabrics for a year before selling them and using a business model that eschews instant purchases. Stòffa, a four-year-old label whose co-founder, Agyesh Madan, has studied computer engineering, business and fashion (the latter at Parsons), fuses the best of technology with the oldest way there is to dress a man: made to measure.
Stòffa's products – long coats, pleated trousers, knitted shirts – are sober and rich. A piece like its flight jacket (cut higher than usual at the waist, with oversized pockets and a tall, rollable collar) suits men who appreciate small details and items that last (jackets cost from €700, trousers from €240). Furthermore, Stòffa offers something attractive for those who crave limited editions: the chance to buy one-of-a-kind pieces.
The customer process begins at one of Stòffa's pop-ups: the label calls them "trunk shows", which is a misnomer since there's not much available to buy on the spot. Instead men make an appointment with a fitter for a 45-minute consultation. They start with a discussion about the client's lifestyle before moving on to style preferences and measurements. Once an order is placed it's emailed to Stòffa's Italian factory; production starts at once and the pieces can be picked up in a month at the next pop-up. It's a departure from what Madan calls the usual made-to-measure timeframe of "three fittings and six months".
Both Madan and co-founder Nicholas Ragosta (who decline to pose for press portraits because they don't want to be the "face" of a brand that involves many different people) understand what it's like to have special clothing needs, as the pair have what Madan calls "problematic bodies". "We're both short," he says. "And my natural waist is super high – regular pants fit so low, it's unbearable." Ragosta is built like an Olympic swimmer on top but his body tapers so sharply that jackets that fit his shoulders are always long and boxy.
Yet many men can wear standard sizes so why not sell some ready-to-wear online? "One reason we do made-to-measure is that we believe the process delivers a superior product – and the second is waste," says Ragosta. "We've tried to set our business up in a responsible manner and be considerate of our environmental impact: making product we don't necessarily need is something we're trying to avoid." To illustrate how far this is from the norm, Madan recalls a case study he worked on at Stanford, which required him to explain the fashion industry to one of his teachers. "He said, 'Wait, you're telling me there's a business where you expect not to sell 40 per cent of what you make? That's ridiculous.'"
If Stòffa has its way and made-to-measure ends up being a bigger part of the future, that kind of inefficiency may become a thing of the past.