The perfect night out / Beirut
No sleep 'til sunrise
Tumbledown infrastructure and high living costs make Lebanon a tough place to live but few cities are as adept at casting worries aside and celebrating life at the end of the week. Dancing shoes at the ready.
Had London's Bloomsbury Set been formed today in Lebanon's capital, there's a fair chance they would meet at Aaliya's Books, a breezy bar with a chessboard floor nestled in east Beirut. It's late afternoon and nearly winter but the doors are propped open to the street outside – all the better for enjoying one of the final pleasant evenings of the year. Friends settle on low leather sofas, their shoes tapping on the stripped wooden floorboards. The reassuring chink of glasses and bottles rings out from behind the bar, where manager Farouk Hariz is calmly transforming the scene from day to night. There's a low-pitched hum of excitement: it's Friday night after all.
Outside, smokers gather in a cluster in an alleyway. They're stood next to wooden fruit crates overflowing with paperback books and a chalk-daubed sandwich-board tempting passers-by to join the evening's entertainment. Delivery boys from the surrounding restaurants sit on stationary motorbikes, waiting for their next order – everywhere in Beirut delivers.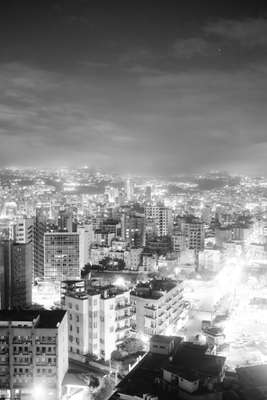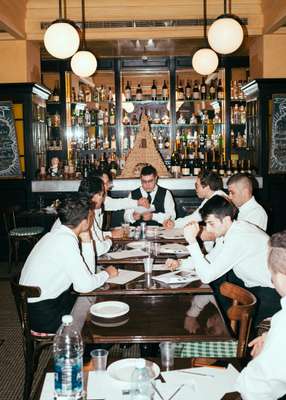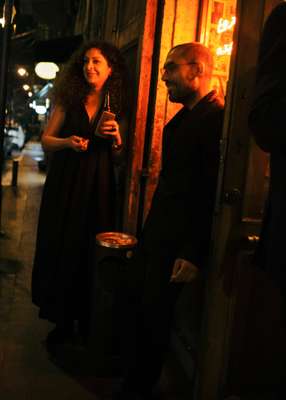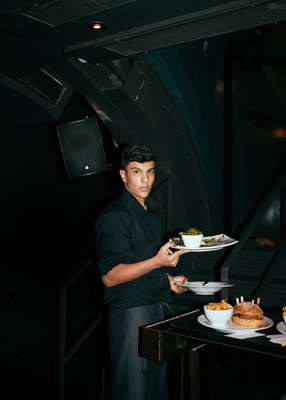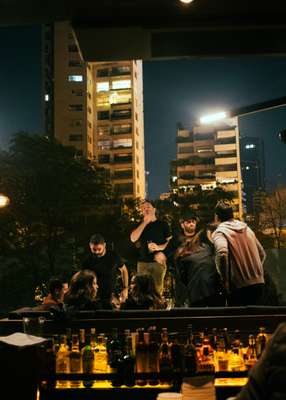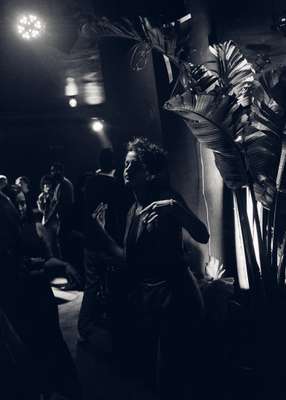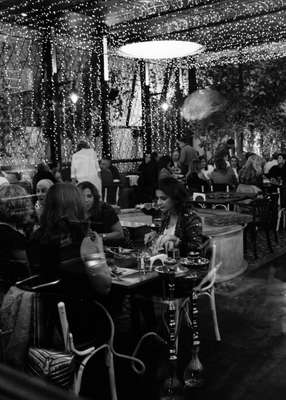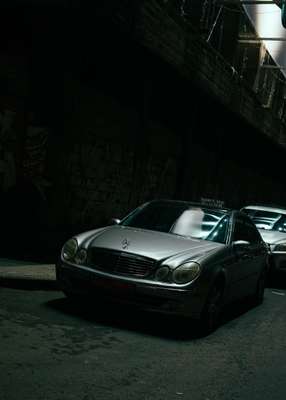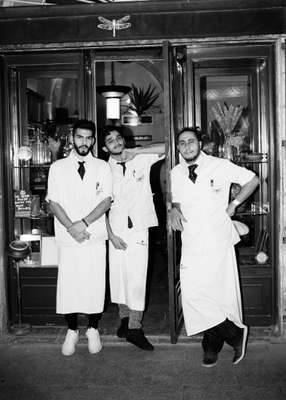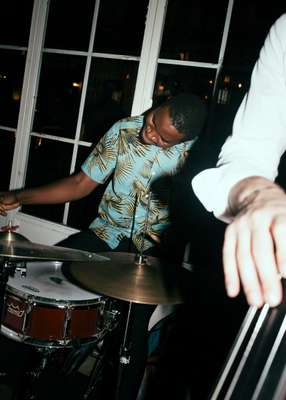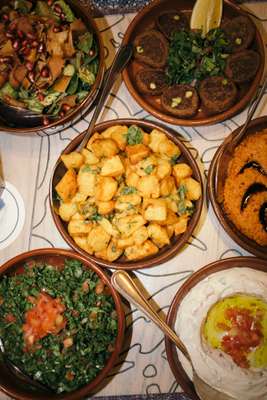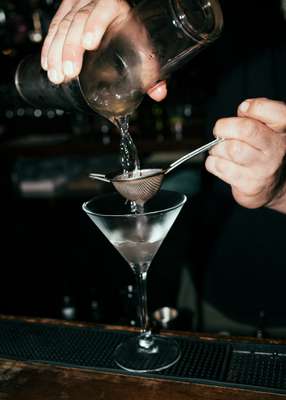 Aaliya's hosts a bohemian crowd of Beirutis and foreign visitors, young and old. Many are draining their final coffee of the day, snapping shut their laptops and considering their first rosemary martini of the weekend. Work is done, for this week at least. With a fractious political landscape and tumbledown infrastructure, Lebanon is not always an easy place to reside. Living costs are high and, as state supplies are often inadequate, many people work two or more jobs in order to cover the additional costs of basic services, such as water and electricity. These concerns don't go away but they also don't stop the Lebanese enjoying their free time. There comes a point in the week when they exhale deeply and utter the word khallas ("that's enough"). Now, as night falls, it's time to celebrate life and put worries aside until tomorrow. From Aaliya's we stroll west down a street marked Gouraud on maps but more often known as Gemmayze. As visitors quickly discover, many of the city's streets have multiple names and most locals navigate by way of landmarks. Here, fun can lie in the journey itself. It's now very definitely dark. Beirutis gather outside dimly lit hole-in-the-wall bars for aperitifs. "Happy hour" runs from dusk until dinner.
Jars of dried and pickled ingredients line the apothecary-like shelves and vitrines of Dragonfly, a low-lit bar with vaulted ceilings run by 35-year-old Nino Aramouni. Drinkers visit for an Old Fashioned or Gin Gimlet. Heels and red lipstick are not out of place here but neither are trainers, chinos and an artist's satchel. "People should feel at home here," says Aramouni, who greets drinkers like old friends (many of them are). "They are coming here to have fun. Leila here, she is one of my best customers," he says, gesturing towards one member of a group. Some prop up the bar while others curl up on old leather cinema seats.
We turn to dinner next. Unsurprisingly, Lebanese fare with all its delicious variations is what the city does best. Loris is housed in a punch-pink Ottoman mansion and by 21.00, gaggles of diners dressed to the nines have arrived: men in sharply cut blazers and women in skin-tight dresses have taken their seats in the mosaic-floored central courtyard. Jaunty waiters carry platters of grilled meat aloft to place on long tables. Colour-coded aprons convey the staff hierarchy; a grey suit marks out the boss.Time for grilled kefta and marinated chicken with a big dollop of toum (whipped garlic), pomegranate-bejewelled tabbouleh and fattoush salads, and rich ruby muhammara, a piquant pepper and walnut dip. Music is absent – at least for now – and instead the high-ceilinged dining room fills with the cacophonous chatter of friends. It's difficult to leave: don't expect the bill to arrive quickly in Beirut, where evenings roll on long and languid. Dinner over, groups hail taxis or wait for the valet to return their polished black Mercedes (everywhere in Beirut delivers). From low-key bars and humming restaurants, it's time to take things up a notch – literally.
Well above the leafy gardens and St Maron church on the street below, terrace bar Centrale welcomes a smart crowd of well-coiffed couples in discreet but expensive-looking clothing: a turquoise jacket here; a quilted leather clutch there. Black stools and tables – fully booked on most weekends – are built into a wall facing the bar and a DJ judiciously masters a playlist of tasteful pop. It's almost midnight but in this city that means the night has only just begun. It's time to hit the dancefloor, so there's another stop on the journey. Our taxi driver gets lost on the 10-minute drive to a cluster of warehouses-turned-clubs in Beirut's port district of Karantina. These aren't the sorts of places that are signposted but we get there in the end. Boasting banana plants and a silver disco ball, ked is hosting the Beirut Groove Collective DJ ensemble. Their selection eschews well-known hits in favour of the less familiar strains of African funk and Arabic fusion – to thrilling effect. The lively crowd here is different again: there are more hi-top trainers and dreadlocks than stilettos and face lifts. A couple sneaks a furtive kiss as we enter, seeking the shadows away from the turquoise blur of flashing lights within.
It's 03.00 but Beirut doesn't stop. Abu Hassan, an open-all-hours café in the Armenian quarter of Bourj Hammoud, does a steady trade as revellers come to calm down and sober up. On the menu, fried eggs with spicy sujuk sausages are found next to piles of green olives, pink pickles and scarlet tomatoes, finished with crisp potato chips. As the sun rises, partygoers turn in or move on again to places unknown. Beirut has again delivered on the night that its revellers sought. But khallas – that's enough. For tonight at least.
Address book
Aaliya's Books, Gemmayze
This lively bar-café-bookshop is a home-from-home for creatives, journalists and photographers. It also holds regular live music and dance events – from Scottish ceilidhs to swing nights – and a book club, naturally.
+961 1 566 375
Dragonfly, Gemmayze
Smart barmen in white lab coats mix up aromatic concoctions for drinkers in this low-lit, smoke-free bar.
+961 70 784 292
Loris, Gemmayze
Middle-class Beirutis dress up for weekend dinners at this classic Lebanese restaurant, serving mezze and grilled meats, with solicitous service.
+961 1 568 567
Centrale, Saifi
This upscale terrace bar, reached via a caged lift, is a hangout for chich groups of girlfriends and other sophisticated sorts.
+961 3 915 925/+961 1 575 858
Beirut Groove Collective at KED, Karantina
Established in 2009, this DJ group plays African funk and northern soul to a cool but friendly crowd. ked is among the various club venues in the Karantina industrial district.
+961 70 934 904
Abu Hassan, Bourj Hammoud
Service is around-the-clock at this traditional Lebanese café, serving staples such as eggs, hummus and warm flatbreads that are ideal for soaking up the excesses of the night.
+961 1 266 888