Brand Hong Kong / Global
Green solutions
Green shoots are sprouting all over Hong Kong – from farms in the countryside to warehouses in former industrial areas.
When a new idea takes root in Hong Kong, it can quickly blossom. Green measures are sprouting all over the city and rapidly changing accepted behaviour. This sustainability drive is being led by a talented crop of business leaders who are willing to get their hands dirty. The public sector is also rolling up its sleeves and rolling out convenient community-wide schemes, with some financial incentives. With a waste-disposal fee on the cards for households, Hong Kong's environmental credentials are growing greener by the day.
---
1.
On the farm
Growing produce in the city is helping its restaurants thrive.
Most mornings Chunling Fong, a former marketing executive, can be found at Farmhouse Productions in Kam Tin, tending to her aubergines. The 37-year-old took over the running of the small farm in April 2021. When Fong is not planting seeds, watering plants and nurturing the soil, she is running a co-operative with other farmers around the New Territories. Their fresh produce is pooled and sold to customers around Hong Kong, from households to some of the city's best restaurants. Michael Smith has been a customer since he opened his first restaurant Moxie in 2021. "In the summer, we took pineapples, passion fruit, cherry tomatoes and the best rainbow chard," says Smith, who first came to Hong Kong to work as a chef six years ago. In that time he has seen the quality of local produce rise to restaurant standard, even if the quantity might never be enough to sustain a whole menu. Smith and Fong keep in regular contact about what's in season. "Sourcing local ingredients means we can be more dynamic with our menus," says Smith. "Some dishes are only there for a week, which is exciting for our diners."
---
2.
Easy access
Clever design and convenient locations make recycling a breeze.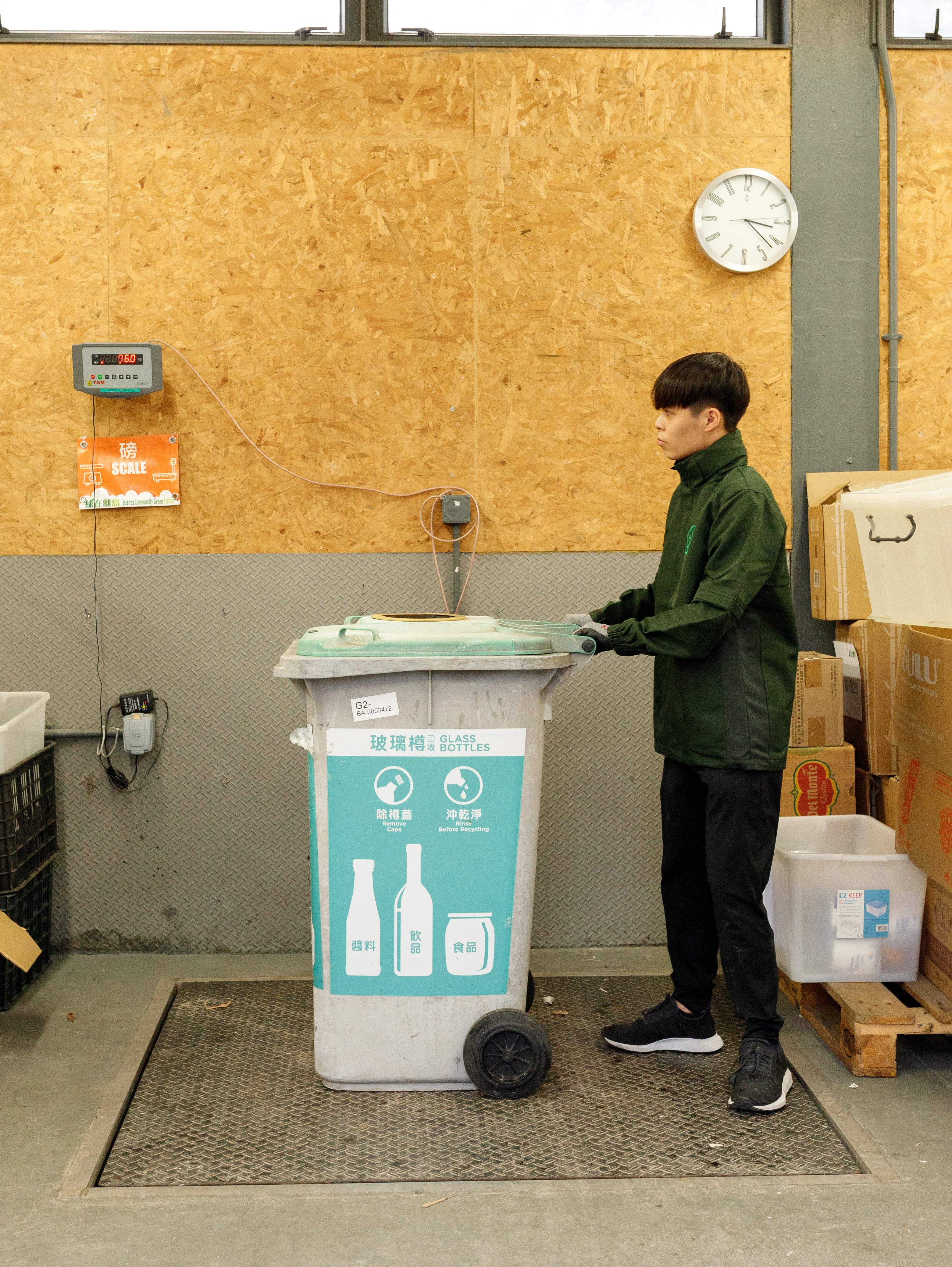 Eight is traditionally a lucky number in Hong Kong but six is quickly gaining ground, at least when it comes to the environment. The number, a homophone for green in Cantonese, is the new logo for a citywide recycling network called Green Community, which is being spearheaded by the Environmental Protection Department (epd). The logo can now be seen across Hong Kong, from high-street recycling stores to more than 100 mobile collection booths (recycling spots), which pop up on pavements on a weekly basis. The Green Community scheme originated in 2011 and went through a major expansion and slick rebrand in 2020. The new-look recycling stores have sleek green-and-grey storefronts, brightly lit interiors and a loyalty points scheme for turning waste into rewards. They are conveniently located in every one of the city's 18 districts and have extended service hours; there's even a nighttime self-service option. "The demand is increasing," says Jason Au Yeung, an assistant environmental protection officer at the epd. Au Yeung can foresee a further expansion of the network to keep up with its growing popularity.
---
3.
Growth industry
Desire for high-quality vegetables led to a sky-high garden scheme.
Green ventures are sprouting throughout Hong Kong, not just in the countryside. On the 24th floor of an industrial building in Aberdeen, a district on the south side of Hong Kong Island, soft jazz is piped through speakers into a brightly lit room full of baby bok choy, red-veined sorrel and 30 other types of microgreen, garnish and edible flower crops. Common Farms launched in 2017 after co-founder Jessica Fong traveled to Italy to source produce for the restaurant where she worked. Fong saw the wastage and quality loss that occur when food is shipped thousands of miles and consumed long after harvest. In response, she studied agriculture, bought seeds and rented a space to grow her own vegetables. Indoor vertical farming seemed like the perfect fit for Hong Kong: one of the world's densest urban developments, which imports about 90 per cent of its food. Vegetables grown by Common Farms are available online, in supermarkets and at high-end restaurants, such as Roganic. "We're 15 minutes away from Central, so we can give people a glimpse of what is possible with local production and having food that is fresh," she says.