Big Interview / Milan
Material effect
Renewing a heritage brand takes a special kind of vision. As the newly installed head of fashion house Hugo Boss, Daniel Grieder explains how he is balancing traditional tailoring with innovative technology to create a business fit for a new age.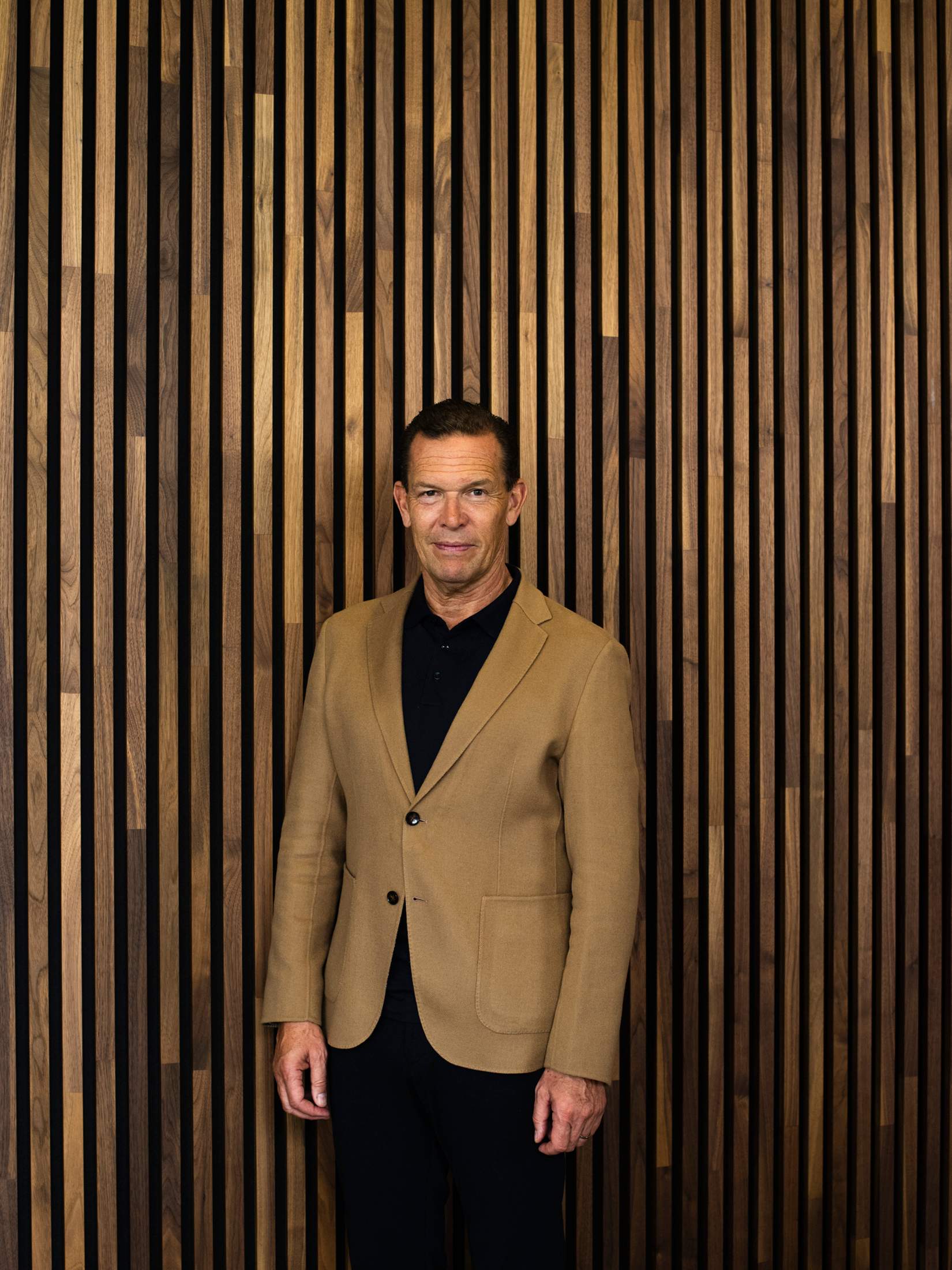 When Daniel Grieder became Hugo Boss's ceo last summer, the German fashion giant's signature suits had started gathering dust in a world where office work and business dress codes were being questioned. Still, Grieder saw "immense potential" in bringing the brand's tailoring into the future and reintroducing it to the global fashion market from a new perspective – one that takes into account post-pandemic notions of office wear, the new rules of branding and responsible manufacturing.
His formula includes refreshed logos and retail concepts, high-profile marketing campaigns and deep investments in materials that promise to transform the industry. "The vision is to become the next big global name," says Grieder, a veteran who spent more than 23 years at Tommy Hilfiger and its parent company. "I see Hugo Boss as a premium, tech-driven platform that will change fashion."
His all-encompassing strategy offers a framework for how heritage brands can stay up to date in the modern fashion landscape and is putting Hugo Boss on track to achieve its target of doubling its revenues and reaching $4bn (€4.1bn) in sales by 2025. Speaking to the new generation and broadening the brand's range to a full "lifestyle offer" is one part of his revamp plan. But tailoring will remain an integral part of both the Hugo Boss business and people's wardrobes, as far as Grieder is concerned. 
It's why the brand's most recent collection, shown at Milan Fashion Week – a large-scale production held at the Velodromo Vigorelli stadium – was brimming with monochromatic grey and black suits with subtle updates such as crease-free fabrics, looser silhouettes and untucked shirts. 
Grieder spoke to monocle about how Hugo Boss is helping to define the "suits of the future" and how he plans to execute the brand's ambitious strategy over the coming year to keep the fashion house at the top of shoppers' minds.
What are some of the most important changes you are working towards for 2023?
The world is changing, of course, so we have been working to rebalance our different retail channels and to renew both the product and the way in which it is marketed. We want to continue to be the best when it comes to tailoring but we also want to add sportswear and casual clothing to our offer so that we can build a 24/7 lifestyle brand. We are putting a lot of effort into our different product groups, which include outerwear, shirts and knitwear, while also focusing on getting the best experts to work on each of these categories.
How are you adapting your approach to tailoring to suit modern lifestyles?
Tailoring continues to be our dna. The difference is that now it's as important in men's wardrobes as it is in women's. Tailoring should become more performance-driven: we are redesigning our suits for the future with stretchy, breathable and wrinkle-free fabrics. I wanted to create a suit that feels the same as an Adidas tracksuit but looks more polished. If any brand can offer this vision of dressing for the office, it has to be Hugo Boss. 
You chose to create a distinction between the Boss brand, which is more premium, and Hugo, which targets a younger demographic. Is there a risk of alienating existing customers with this younger approach? 
We want to keep our loyal customers but at the same time if, as a brand, you don't welcome new audiences you'll just grow old. We've seen it with businesses such as Gap and Esprit. My aim is for Hugo Boss to stay relevant for younger audiences without completely losing older ones. We will have different shops for different purposes, including several premium locations, like the one on London's Bond Street, that carry Boss Camel – our top range, which is now in line with brands such as Eleventy and Brunello Cucinelli. 
Have you had to rethink manufacturing to reach your financial targets?
There has been a complete industry shift when it comes to manufacturing. In the past, brands would just produce in the Far East but that's changing. Everything sold in the US should be produced in the US, everything sold in Europe should be produced in Europe and so forth – that's our vision moving forward. The industry needs a new strategy and I believe that doing it by region is the name of the game. We already have our own factory in Izmir, Turkey, and about 300 people in our headquarters in Metzingen handcrafting products. It's an expensive part of the business to maintain but "Made in Germany", just like "Made in Italy", counts for a lot. 
How are you staying ahead when it comes to environmental responsibility?
There are basic action points, such as using more green energy and less water. But to me that's just box-ticking; the industry should go further. Fashion is producing too much waste because there's not enough planning, so we are building a team of people in Porto dedicated to gathering, analysing and implementing business and sales data so that it can forecast its volumes and plan its production more efficiently. We've also invested in HeiQ AeoniQ, a material-innovation lab in Switzerland, because we think they have found the alternative to polyester. We're working on a capsule collection with them in early 2023; if we can prove that their fibre can replace oil-based materials such as nylon and polyester, we can change the industry. 
What's your vision for Hugo Boss's shops?
Retail needs to be entertaining. You need to convince people to come in and spend half an hour in your shop. The times of people waltzing in and you just asking, 'How can I help you?' are over. We are opening new shops and want to be present in all key cities in Europe, Asia and the US. But destination shopping is becoming more and more important, so we want to be in holiday resorts from St Tropez to St Moritz. I've heard that physical retail is over many times but it's far from the case. Younger customers, looking for a reason to come into town and hang out, want physical shops – even digital pure-plays like Alibaba in Asia are looking to establish a physical presence. 
You have chosen not to bring in a big-name designer to lead the creative teams. Is this a healthier design approach for brands?
I don't believe in a big designer coming in and changing everything; the brand's direction shouldn't be in a single person's hands. We have specialists leading different parts of the business and that creates more balance. We are a team.