The auction: behind the scenes / Global
The Big Frieze
A London October used to be known for falling leaves, drizzle and an uneventful art sales calendar. Auction house Sotheby's saved its strength – and its best lots – for New York's crucial sales in November. But then, in 2003, Frieze arrived.
In October 2003, Frieze Art Fair – in London's Regent's Park – hit the ground running. Internationally renowned galleries bought booths, illustrious collectors attended, public galleries scheduled their blockbuster shows for that month and the parties raged all week. Satellite fairs sprung up and did good business too.
It was the auction houses who stood to gain the most, though. Sotheby's toyed with an edgy October sale when it sold the contents of Damien Hirst's Pharmacy in 2004 and it now regards this month as crucial to its year.
Over the page, five key characters in Sotheby's London set-up talk to Monocle about their part in the October push, from peeling bubble-wrap from fresh consignments and planning a party just the right side of "edgy", to chasing "mega-clients" around the globe with a multimillion-pound richter under their arm to the theatrical excess of sale night.
On page 82, read our guide to an auction and follow a Frieze diary that tips the highlights of a thronged week in London for the art world and hangers- on.thanks to the revolutionary effect of organisers Amanda Sharp and Matthew Slotover's fair, it's not even October any more – it's Frieze Week. Frieze Art Fair runs 16-19 October
Months of preparation are poured into each auction at every level of the house, from cataloguing works and entertaining clients to the final hammer blow. Meet five key members of the well-oiled machine that make the sale (as pretty as)
Head of private client group
A behind-the-scenes, plane-hopping aide d'art
"We offer a bespoke service to our 'mega clients': in the London office we're covering nearly 5,000 clients from the UK, Europe, Middle East, Russia and India. For the October sales, they will be incredibly busy with Frieze and the week around it, so we'll find out about their movements, make introductions, get them tickets, make their lives as easy as possible. They lead very hectic lives that we must work around. It can be a case of suddenly jumping on a plane to go to meet them in Geneva, for example. They step off their private jet, we show them a picture on the tarmac and then they jet off again.
On sale night, some clients want to come in and be in the thick of it in the sale room, so we make sure they're seated in the right place. Others want to be in a private room with champagne or whatever and others will be busy and in a different location, so we'll be on the phones. London is a central point: so many of our clients from new markets have homes here and Frieze is an incredibly important week for the art market in Europe – it's very much the focus."
Head of special events
Before hammer time come the cocktails, for dressed-up deals
"We put on a lot of special events, about 100 a year – lunches, dinners, big parties. We have a good cellar. Personally, it's all about the party. By the end of August we're pushing the contemporary department to give us an image for the invitation to our preview party for Frieze week. There are so many parties going on that week and the first hit that people get is the invitation, so we need to make sure ours is better than the rest – that it leaps out. Our guest lists are very important, we look at who's buying – new buyers as well as our regulars, and the Frieze parties usually bring in a slightly edgier crowd. Selling works in conjunction with the ICA's 60th birthday will add to the mix.
The parties are for networking and enjoyment. We encourage a lot of our big collectors to come and deals are done – you can see it by the fact that our experts and heads of department are engulfed with the particular clients they're talking to. Whether or not everyone's looking at the art on the walls and really considering it over their Martini with some serious music going on in the background, is difficult to say. but i'm sure it's all going in."
Department manager, auction operations
Cacioppo's technical team handle works from arrival to departure
"The contemporary sales give us new challenges, shall we say. In terms of hanging and storage, it's no longer just stacking paintings against a wall.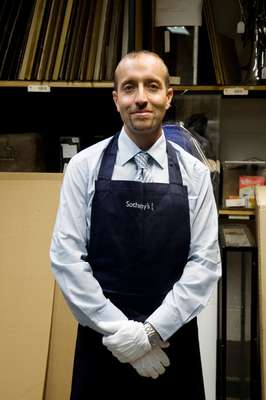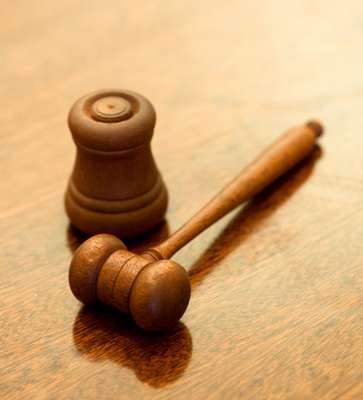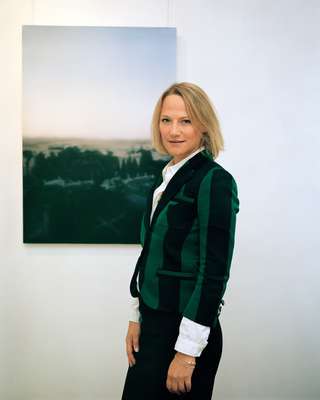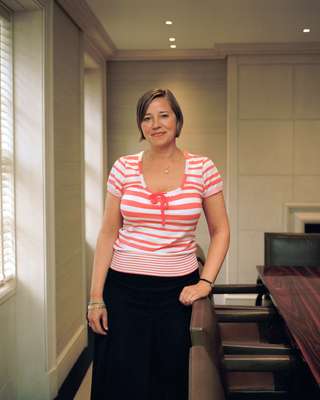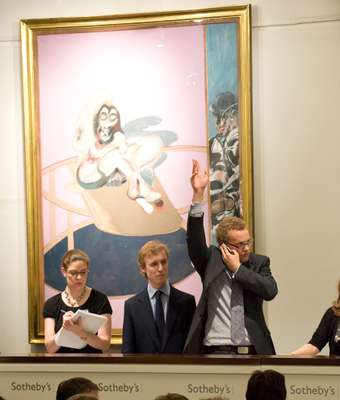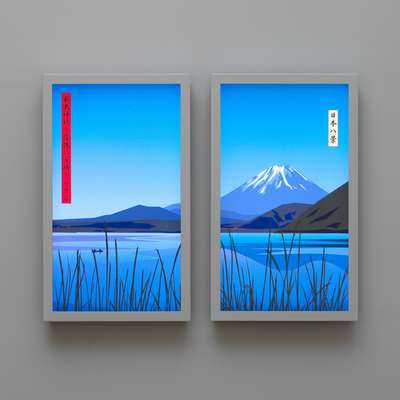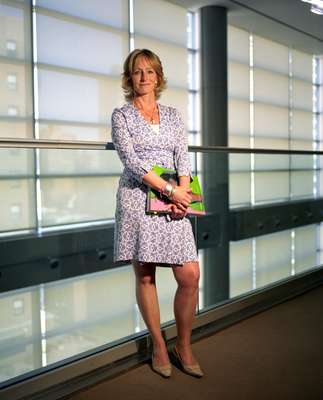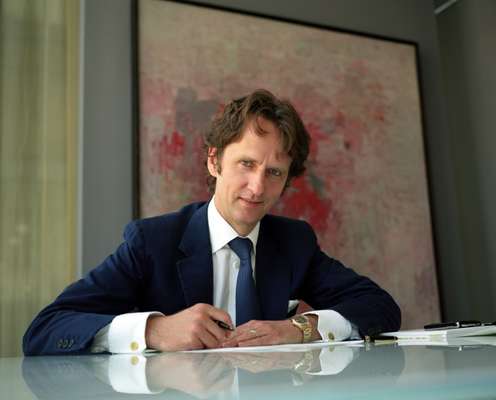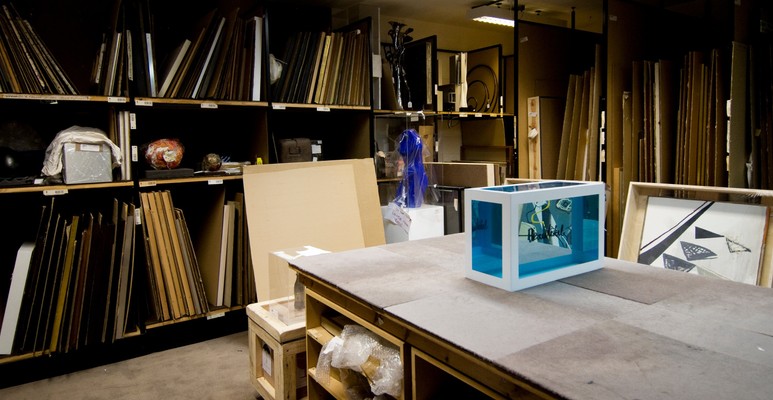 For the forthcoming Damien Hirst sale (see issue 16) we've had to strengthen floors and thicken walls to accommodate the tanks of formaldehyde and the heavy hanging works. Due to the quicker cycle of the year, we're exposed to a lot more a lot faster; after hirst we'll have a furniture sale, then perhaps old masters, before contemporary again in October. A lot of installations happen overnight. In October, the view lasts until midday and the sale is at seven, so we have five hours to transform the galleries and set up the sale room.
We've had a three-tonne Anish Kapoor sculpture and an Antony Gormley angel with a five-metre wingspan to get out of the gallery – so it's all hands on deck. At 17.00 the experts give the final oK, down to making sure the chairs are perfect, the lighting's oK and then there'll be 400 people sitting down ready to buy the stuff. it's incredible, really. i'm like the ultimate party planner."
Worldwide head of contemporary art
The expert's expert and a passionate and witty rostrum showman "the calendar used to be cyclical, now it's full-on. In the past 10 years London has emerged as a centre for contemporary art and Frieze has been pivotal in attracting global buyers, helped by the fact that it was easy for foreign wealth to move to London. Luckily for London there's no longer an old boys' club that thinks contemporary art is something their child could do. October is now recognised as a time that's good for buyers and sellers, supply and demand. New collectors have also changed the scene; it's amazing how ferociously Asian, russian and Middle Eastern buyers have started at the very top: there's no hesitancy to buy the best or to spend a lot of money.
Yes, I stand up and hold the gavel in my hand but I am the last minute of a long, long process. Livening up the sale is incredibly important, making sure there is a rhythm – around lot 14 you have a highlight and around lot 30 there's a major highlight. It's very similar to putting on an opera – the right stars and right sequence of arias. I have a nap before an auction. I look at the catalogue, see who'll be bidding on the phone, talk to my experts. In my head I go through how I'll open the bidding but at the same time I shut my eyes."
Chairman of contemporary art, Europe
Oversees a secret empire of connections and collectors across Europe "Frieze is fascinating. before Frieze we had October sales, but they were really just to tide us over between June and November. A year later we tried an October evening sale with Pharmacy [the sale of art and effects from Damien Hirst's London restaurant, 2004] and it was very successful. This is now the week when most of the international collectors are in London and come into the sale- rooms. the October sales are where we can be a bit more daring, selling young artists with less exposure because it's always seen as the 'Frieze sale'.
In the lead-up we go through what we have consigned, what's out there, what we really need while balancing our October and November lots. Luckily a lot of Americans love attending our Frieze week sales. We have a wish list, of course. It would be wonderful to get a great work by Jeff Koons, and we're talking to people – we know where certain pieces are, which means travelling. And yes, I have jumped on a plane with a painting under my arm. Depending upon the size, they sometimes get their own seat.
On sale night I'll have two phones going and sometimes a person dialling for me to save time. That's when you hope you've double-checked the mobile numbers. People love coming in October; it's a very special energy that that week has created."
Preface
Within hours, an auction house's display galleries are transformed into the sale room for the theatre of the auction. From technicians to specialists, these are the key components that turn selling art into a slick spectacle.
Writer Tom Morris
01 Technicians On average, 10 to 20 technicians work front and back of house during the sale. Their duty is to move the art on to the easel as it goes under the hammer. In total, Sotheby's in London employs around 30 technicians.
02 Staff Standing with auctioneer Tobias Meyer are Nigel Harrison, head of bids and Saul Ingram, managing director of the European Contemporary Art Department with a bid clerk.
03 Media
On average, 30 to 40 print journalists and up to 10 photographers attend a sale – the former stand at the left side of the podium, with the crew on a platform at the back of the room.
04 Bidders
The prime places to sit are in full view of the auctioneer in the centre of the room. Some bidders prefer to be towards the back in order to see who is bidding against them. Forty to 50 per cent of buyers bid through a Sotheby's member of staff or an external agent or dealer. During the October sales however, most of Sotheby's clients are in town for Frieze, so there is increased activity on the sale room floor.
05 Capacity
Sotheby's main sale room in London has the capacity to accommodate around 400 seated and 200 standing clients. For popular sales, seating is put in the auxillary auction rooms and hallways where bids can be relayed to the auctioneer. For contemporary and Impressionist sales, it's standing room only.
06 Lots
The works in each sale usually go on view four or five days before the auction. Bar the highlights that the specialist departments wish to remain on view throughout, the exhibition is usually dismantled before the auction – for evening sales by noon, for day sales the night before.
07 International specialists
During evening sales, up to 50 telephone lines are open to take bids from Australia, Russia, South and North America and throughout Europe. Elizabeth Taylor bought one of the Duchess of Windsor's jewels by phone while poolside at her Hollywood home.
As well as other Frieze-week sales by Christie's and Phillips de Pury, the London art world is abuzz in mid-October. Here are some 2008 highlights.
Concrete and Glass
East End
2 October – late October
A pre-Frieze fix of art and music that promises to showcase the best of the East End. While the music only blasts over opening weekend, the site-specific artworks last all month. Expect uneven brilliance done with charming scattergun style.
Saatchi Gallery
Duke of York's HQ
Opens 9 October
Charles Saatchi's YBA temple finally throws open its doors in all its Sloaney splendour. The converted Duke of York's barracks launches with "Revolution Continues: New Chinese Art" and this time, thanks to a partnership with Phillips de Pury, entrance is free.
Dominique Gonzalez-Foerster
Tate Modern
14 October–13 April 2009
Following Doris Salcedo's cracking Shibboleth, next in the Unilever Series sees the Turbine Hall filled by French artist Dominique Gonzalez- Foerster. Known for her son et lumière installations, it's not yet confirmed how she'll respond to the cavernous space but expect multi-sensory seduction.
Julian Opie
Lisson Gallery
15 October – 15 November
Opie's new works at the ever-expanding Lisson present his unmistakable take on landscape and portraiture. Embracing and distilling the detail of Dutch and British masters and adding Hiroshige-style Japanese landscapes (top) enriches Opie's witty line- based characters.
Catherine Opie
Stephen Friedman Gallery
15 October – 15 November
In a break with her often provocative portraiture, US documentary photographer Opie presents a new collection of stark Alaskan seascapes (above). Hung closely together, the huge works invite total immersion in this mythical wilderness of the popular American psyche – Emile Hirsch-style.
David Altmejd
Stuart Shave/Modern Art
16 October – 15 November
Canadian artist Altmejd makes figurative sculptural installations that meld organic materials – hair, taxidermy, clay, plants – with hard-edged mirror and metal. His mythological, often grotesque creations enthralled visitors to 2007's Venice Biennale, and this show promises no less impact with its folkloric themes of werewolves and magical energy.