Asian barbecue / Global
All up in your grill
Fiery Sichuan-influenced skewers, tasty miso-infused rice balls, succulent pork belly and tender steak: our barbecue line-up has plenty of sizzle.
Recipes & food styling: Aya Nishimura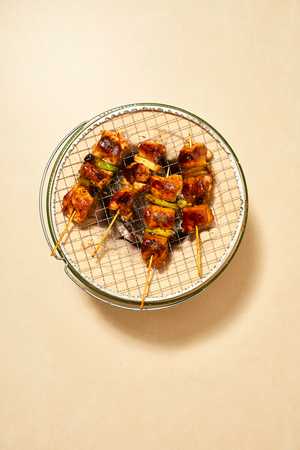 Chicken and spring-onion yakitori (skewers)
(Serves 4, makes 12 skewers)
12 bamboo skewers
1kg skinless, boneless chicken thighs, cut into 4cm cubes
15 spring onions (about 240g), using the white part only, cut into 4cm pieces
4 tbsps sunflower oil
120ml yakitori sauce (see below)
Shichimi togarashi (Japanese spice mix)
1. Soak bamboo skewers in water for 15 minutes; this will stop them burning.
2. Make the yakitori sauce.
3. Spear the chicken and spring onions onto the skewers – there are no strict rules but aim for a good mix of both chicken and spring onion.
4. When your barbecue is ready, brush the skewers with oil, place over medium head and cook for 3 minutes on each side. Then brush with the yakitori sauce, cook for 1 more minute on each side, brush with the sauce again and cook for 1 further minute each side.
5. Serve hot, with extra sauce and a sprinkle of shichimi togarashi. Serve.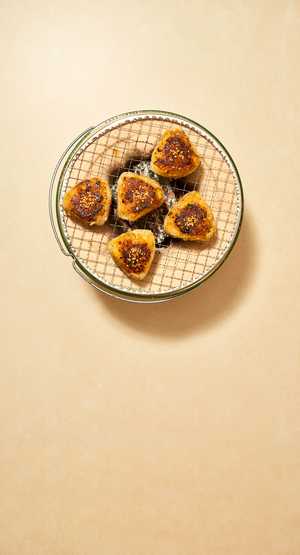 Miso yaki onigiri (rice balls)
(Makes 7)
300g Japanese sushi rice
2 tbsps sesame oil
Pinch of shichimi togarashi
Miso paste
5 tbsps miso
4 tbsps mirin
1 spring onion, finely chopped
1 garlic clove, crushed and made into paste
1. First, cook the rice. Place it in a fine sieve and set over a medium-sized bowl filled with cold water. Gently stir and wash it with your hands. As soon as the water turns milky, lift the sieve, drain the water and repeat the process three or four times, until the water runs clear. Leave in sieve to stand for 30 minutes.
2. Place the drained rice in a heavy medium-sized saucepan, pour in 350ml water and cover with a heavy tight-fitting lid.
3. Heat the pan over a high heat and bring it to the boil. Do not lift the lid. Instead, as soon as you can hear the water boiling vigorously, turn the heat down to low and cook for 11 minutes.
4. Remove the pan from the heat and leave to stand, covered, for 10 minutes.
5. Open the lid and gently fluff the rice.
6. Slightly wet your hands. Make your left hand into a cup shape and place about 100g of rice into it. Use your right hand to meet the left to close the cup, squeeze and shape the rice into a triangle using your left palm to form the edge. You need to compress the rice as much as possible so that it stays together when you are cooking it on the barbecue. If you find this process too messy, you can line your hand with a sheet of clingfilm.
7. Mix the miso paste ingredients until they are formed into a smooth paste.
8. Brush the onigiris with sesame oil and cook on a barbecue for 2 minutes each side, until both sides are crispy. Brush again with miso paste and cook for 1 more minute on each side (keep an eye on it as miso is very easy to burn).
9. Sprinkle with shichimi togarashi to taste and serve.
Japanese chicken tsukune (meatball skewers) 
(Serves 4 as a starter, makes 8 skewers)
8 bamboo skewers
400g chicken mince
1/2 tsp saké
Salt and pepper
1 medium egg
1 spring onion, finally chopped
4cm fresh ginger, finely grated
2 tbsps cornflour
2 tbsps sunflower oil
8 fresh shiso leaves (stems removed)
150ml yakitori sauce
1/2 tbsp white sesame seeds, toasted
1. Soak the skewers in water for at least 15 minutes. This will prevent the wooden skewers from burning.
2. Mix the mince, salt and pepper, saké and egg until well combined and sticky.
3. Add spring onions, grated ginger and the cornflour and mix again. Divide the mixture into 8 and shape on skewers like a kebab. Oil your hands as this will help to prevent the mince from sticking to your fingers.
4. Ideally rest the tsukune in the fridge (or in the freezer) for at least 1 hour, or overnight, as this helps to firm up the mixture. When ready to cook, wrap the tsukune in the shiso leaves.
5. Brush the tsukune with oil and put on the barbecue over medium heat. Cook on both sides for 3 minutes each or until they are golden brown and cooked through. You can also cook them in sunflower oil in a frying pan over a medium heat. Covered with a lid, it should take about 3 minutes on each side. Brush with yakitori sauce and cook for another minute on each side.
6. Add the rest of the yakirori sauce to the pan and cook until the sauce is thick enough to coat the tsukune. Brush the tsukune with the thickened sauce, sprinkle on sesame seeds and serve.
(Makes about 225ml of sauce)
150ml soy sauce
100ml mirin
50ml saké
5 tbsps light-brown sugar
1cm fresh ginger, peeled and thinly sliced
1 spring onion, thinly sliced
1. Place all the ingredients in a bowl or jar and shake to combine. Serve.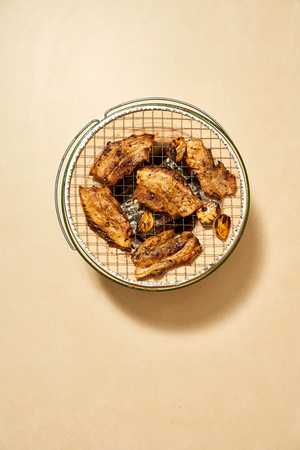 Samgyeopsal pork belly with miso sauce, kimchi and spring-onion salad, wrapped in lettuce
(Serves 4 as a main, 6 as a starter)
500g pork belly, skin removed, cut into 5mm slices (You can get it pre-sliced in an Asian supermarket. Failing that, see the method below.)
12 garlic cloves, peeled and sliced in half lengthways
Sesame-oil sauce
4 tsps toasted sesame oil
4 pinches of sea salt
Miso sauce
3 tbsps gochujang (Korean red chilli paste)
3 tbsps miso
2 tbsps saké
4 tsps sugar
2 tsps sesame oil
1 garlic clove, crushed into paste
Head of frilled lettuce, washed and separated
200g good-quality kimchi
Pa muchim (Korean spring-onion salad)
8 spring onions
1 tbsp toasted sesame oil
1 tsp caster sugar
Pinch of sea salt
1 tbsp white sesame seeds, toasted
2 tsps gochugaru (Korean chilli flakes)
1 tbsp rice vinegar
1 tbsp soy sauce
1. If you can't get hold of thinly sliced pork belly, partially freeze the pork (for about 2 hours) or pre-freeze it and slice the meat when half defrosted. (It is much easier to slice it thinly when it's half frozen.)
2. Arrange the meat on a large plate and pat it dry to get rid of moisture. Keep it in the fridge while preparing the sauces and the spring-onion salad.
3. Mix sesame-oil sauce ingredients in small bowl. In a separate bowl, mix all the miso-sauce ingredients until well combined.
4. To make the salad, cut the spring onions into fine strips. Put the onions in a small bowl of cold water to crisp up. When you are almost ready to start the barbecue, drain the water completely then mix with the rest of the onion-salad ingredients in a small bowl.
5. Arrange the lettuce and kimchi in bowls. Set all the items on the table ready to be served.
6. When the barbecue is ready, grill the pork belly and garlic over medium heat until browned and cooked through – about 2-3 minutes on each side.
7. Arrange the pork belly and the garlic on a plate and bring to the table. Take a leaf of lettuce, add the pork belly, the sauces, grilled garlic, kimchi and spring-onion salad on top (or create your favourite combination), wrap it and eat.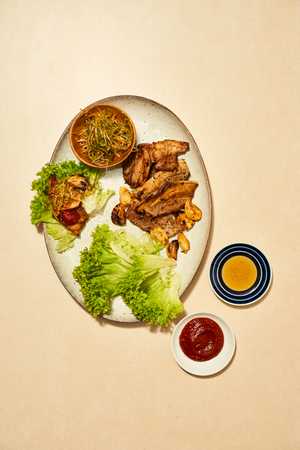 Barbecue tips and tricks
1. Temperature: Leave a section of the barbecue clear of charcoal so that you can move food away from the heat if needed.
2. Charcoal: Hold off putting the meat on the grates until at least two thirds of the charcoal has turned white and has stopped smoking.
3. Spread the heat: Move the hot charcoal around to disperse it evenly (apart from that one section).
4. Keep your distance: Set the grill rack at least 20cm above the coals. While cooking, brush the meat with oil or marinade and turn it regularly.
5. Meat thermometer: Worth investing in so that you can measure the internal temperature of your food and prevent under or overcooking.
6. And finally: Clean your barbecue – a dirty grill means bad-tasting food.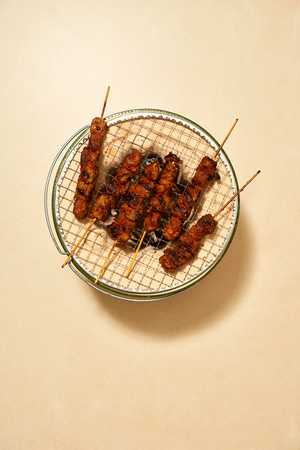 (Serves 4, makes 12 skewers)
12 bamboo skewers
800g lamb shoulder steaks (2cm thick), cut into 2cm cubes
2 tbsps soy sauce
3 tsps cumin seeds
1/4 tsp ground white pepper
1 tsp chilli powder
1/2 tsp Sichuan pepper
1 tsp caster sugar
1 crushed garlic clove
1/2 tsp sea salt
Peanut oil, to brush the lamb
Lime wedges, to serve
1. Dry toast the cumin seeds in a small frying pan over a medium heat. As soon as you can smell the seeds toasting, remove from the heat and tip into a pestle and mortar to grind roughly.
2. Mix 1 tsp of the ground cumin with 1/2 tsp chilli powder and set aside.
3. Mix the soy sauce, 2 tsps of ground cumin, white pepper, 1/2 tsp of chilli powder, ground Sichuan pepper, caster sugar and garlic, then add the lamb cubes and toss well.
4. Marinate for a couple of hours – or, preferably, overnight.
5. Soak the bamboo skewers in water for 15 minutes.
6. When the barbecue is ready, spear 6 or 7 lamb cubes onto each skewers.
7. Season with salt and brush with peanut oil.
8. Grill over medium heat for about 6 minutes, turning frequently until charred (or less if you like your lamb rare). Towards the end of cooking, sprinkle with the extra cumin and chilli powder.
9. Serve hot with lime wedges.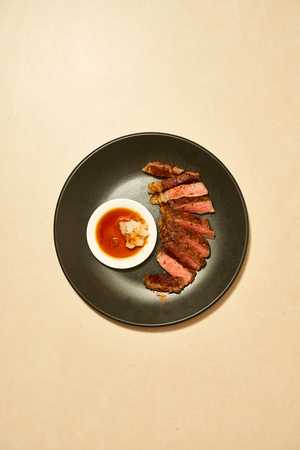 Barbecued steak with garlic soy sauce
(Serves 4 as a main)
4 thick sirloin steaks (250g-350g)
For the sauce:
2 tbsps mirin
2 tbsps saké
4 tbsps soy sauce
2 tbsps rice vinegar
4 tbsps clementine juice
1 garlic clove, peeled and crushed with the back of a knife but left whole
200g daikon mooli (radish), finely grated
1. Take fillet out of the fridge and salt generously all over at least 30 minutes before cooking. Leave out for long enough to bring to room temperature.
2. To make the sauce, gently heat a small pan with the mirin and saké. Remove from heat and then add the soy sauce, vinegar, clementine juice and crushed garlic. If you are making a larger batch, keep this sauce in a clean screw-top jar. It can be stored for up to two weeks in the fridge.
3. When the barbecue is ready, grill the steak over medium-high heat for 2-3 minutes on each side, depending on the size of the steak and how rare you like it. Remove from the heat and let the beef rest for 10 minutes.
4. Slice it and eat with the sauce and grated daikon.
5. If you are not using a barbecue, heat a frying pan over medium-high heat. Add the fillet and cook for 2-3 minutes on each side. Remove from the heat and rest the beef for at least 10 minutes.