Top 50 restaurants / Global
The Monocle Restaurant Awards
Our fifth annual Restaurant Awards celebrate great drinking and dining without the foam, fuss and trickery. Let us show you to your table.
What makes a good restaurant?
It's a question that niggles at chefs, designers, diners and investors but one that's yielded very little in the way of convincing answers. Food fads move quickly and customers can be fickle, the popularity of cuisines and ingredients ebbs and flows, and what made a hip new joint a year ago isn't guaranteed to draw crowds today. So, when we set out to launch our annual Restaurant Awards five years ago, we knew we needed to take a fresh approach and spurn that appetite for novelty. We were bored with the same clutch of starry chefs getting all the kudos and column inches for their ever grander (and less personal) restaurants and tasting menus.
What about the neighbourhood favourites where our editors actually went when they were on assignment in Bangkok, Tokyo, Toronto and Los Angeles? We quickly saw a niche for recommending restaurants to our readers and saw a wider goal of vaunting the work of chefs who might not make the fussy foamy lists you see in red-covered books monogrammed by the Michelin Man. This was also a good excuse to test all of our entries rigorously and on several occasions (we always pick up the bill too). We only included what we consider to be classics – or places that we feel have the makings of becoming one.
So, what did we learn? What makes a good restaurant? Well lots of things, from service to portion size – but good restaurants are two-a-penny and often open then close in a flash.
What makes a great restaurant?
Ah, well there's a question worth asking. Read on for the editors' take from our black book of places to drink, break bread and be merry. But there can only be one winner – read through to the end to find out. 
Cuisine: North German
Go for: The locals
Husband and wife Jan-Ole Bauer and Terry Krug opened their restaurant in 2009. In Germany local pubs are known as Krug and the name is appropriate here: this candlelit tavern of 40 covers is a hit because of the locals. The menu changes regularly but expect regional cuisine, such as North Sea mussels with fennel and white wine. The standout dish when we visited was pickled pumpkin with burrata and fig tapenade.
krughamburg.de
Cuisine: Asian (via Scotland)
Star dish: The fish pie
This 180-seat restaurant opened in a 1930s-built ex-airport terminal and the menu is a celebration of travel. Malaysian lamb rendang and Keralan fish curry honour the building's former life as a gateway to the world but British-style fish pie owes its place to Scottish chef-owner Colin Mackay, who started Blackbird with Kerwin Go in 2014. Try the prawn scotch egg with coconut sambal on betel leaf.
blackbird.com.ph
Cuisine: Japanese
Go for: Forest-foraged fare
Tomofumi Fujimaru's wine shop and restaurant in Tokyo's Asakusa-bashi district is home to 1,000 bottles from the world's finest regions. The recommendations of its staff alone make it worth a visit but you'll want to stay for the bistro menu: a Hokkaido hunter-farmer collective charcuterie plate, miso-fermented vegetables, minced-meat tonkatsu and pasta handmade by a ramen-noodle master.
papilles.net
47.
Wirtshaus zur Brez'n — Munich
Cuisine: Bavarian
Go for: Fresh-baked bread
Known for its contemporary riff on the bold flavours of Bavaria, this tavern and beer garden turns 50 this year but still draws a spirited, bohemian bunch. Roll up for the range of lunch options: the Schweinebraten (roast pork) with potato dumplings is the finest in town. For snacking, the Brezn (pretzels) that give the joint its name are freshly baked long into the evening.
zurbrezn.de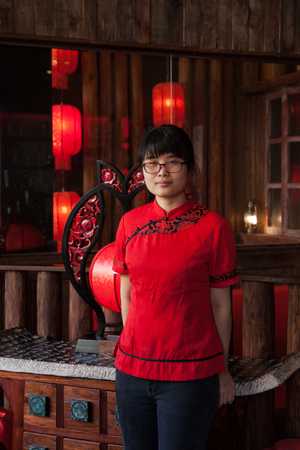 46.
Dragon Inn Club — London
Cuisine: Chinese
Try the: Dim sum
Any restaurant with "club" in the name makes the ears prick as much as the tastebuds. The hint of licentiousness; the whiff of late-nightery. Fortunately your mouth will thank you too: this is a friendly, spicy dim-sum-and-Sichuan joint done out like a kung-fu film set – with a menu of unctuousness and zing. The bottle of 50 per cent proof Chinese liquer is a must. We challenged a group of Hong Kong businessmen to a drinking game and came second.
dragoninnclub.co.uk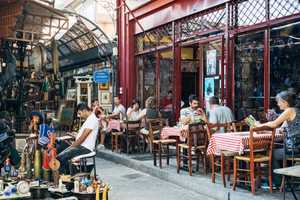 45.
Café Avissinia — Athens
Cuisine: Greek
Go for: Food with a view
Hidden away in Monastiraki's antiques market, Café Avissinia is decorated with paintings and knick-knacks collected by chef and cookbook writer Ketty Touros-Koufonikola. It's a classically Athenian spot, whether you opt for the bistro-style ground floor, the first-floor restaurant or the rooftop (all have Acropolis views). The spin on Cretan dakos salad with rusks and cheese is delicious and basics such as crusty bread or white-roe taramasalata are outstanding.
cafeavissinia.net
Go for: Anything from the grill
The 33-seat Edulis, opened by husband-and-wife duo Michael Caballo and Tobey Nemeth in 2012, is on the first floor of a downtown Toronto house. The pair spent years cooking around the globe and the flavours they brought back are Mediterranean and Spanish-inspired.
The menu depends on what's found at nearby markets but features the likes of charcoal-grilled prawns served with a herb salad, ajo blanco (a cold soup that predates gazpacho), a wild ginger-and-saffron vinaigrette and green almonds. After a lauded restaurant debuts, its quality can waver; not so Edulis. After seven years it's good to know that it's still only Caballo and Nemeth in the kitchen – when they need a night off they simply shut the restaurant.
edulisrestaurant.com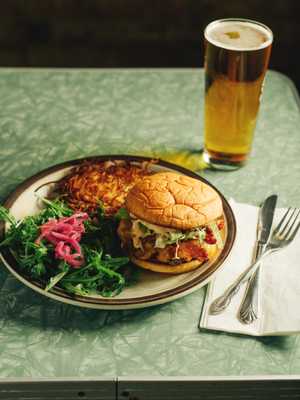 Cuisine: American comfort food
Don't miss: The burger (go on)
Since it opened in 2012, The Federal has become one of Toronto's most charming and unpretentious neighbourhood dining rooms. The menu is a delightful constant in a city where new openings are chalked up by the week. The standout dish is the Four Guys Burger, a juicy patty slathered in The Federal's secret burger sauce – a reliable option whether eating with friends or out to impress a (hungry) visitor.
Owner Zach Slootsky earned his stripes waiting dining rooms across the city so it's no surprise that the service is friendly and low key. It belies the staff's encyclopaedic knowledge of ingredients and Canadian-brewed tipples on the short but fine drinks menu.
thefed.ca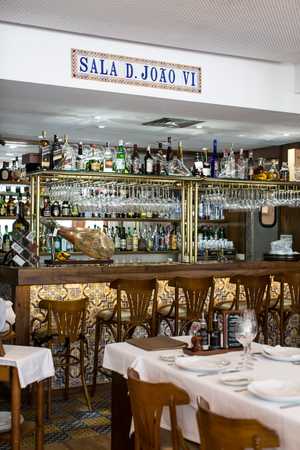 42.
Rancho Português —  Rio de Janeiro
Cuisine: Portuguese
Go for: The cod
Already established in São Paulo, Rancho Português opened its doors in front of Rio's Rodrigo de Freitas Lagoon in 2014. The two-storey restaurant has a panoramic view of one of the city's most-famed postcard landscapes but as soon as you walk inside, everything feels Portuguese. The wood-panelled room is graced with typical azulejo tiles, Vista Alegre tableware on the walls and a fado soundtrack.
When it comes to food, the establishment carries some of Portugal's most traditional fare, served in large sharing portions. There are 15 different cod dishes on the menu, including the bestselling bacalhau lagareiro, and the bountiful dessert cart is filled with custard tarts and other mouthwatering eggy puddings. To accompany the extensive menu the restaurant's wine cellar stocks more than 200 types of wine from every corner of Portugal.
ranchoportuguesrio.com.br
41.
Babel — Paarl, South Africa
Cuisine: Farm-fresh European
Go for: The wine, setting and sun
Gardeners on the Babylonstoren farm work with the chefs from its onsite restaurant, Babel, to ensure that every dish is made using ingredients grown on the farm. Imaginative pairings – pumpkin fritters with burnt sage and date butter, plum-and-peanut chicken – are paired with the farm's award-winning wine. Don't skip the starter: colour-coded salads (red, yellow or green) showcase what's been picked that day.
babylonstoren.com
Cuisine: Mediterranean
Best dish: The pork croquettes
Tucked in a small side street near Funchal cathedral is Kampo, an intimate 39-seat restaurant owned by chef Júlio Pereira. Since opening its doors at the end of 2018 it has already claimed a spot at the top of the Atlantic island's restaurant scene. Kampo is known for its homemade bread, using a recipe from Pereira's childhood, but the pork croquettes marinated in garlic and wine are a firm favourite.
39 Rua dos Murças, 9000-058
Cuisine: Middle Eastern
Pick a: Window seat
This 30-seater Middle Eastern restaurant was opened in 2018 by Israeli chef Asher Goldstein, UK-born James Ward and Italian sommelier Simone Sammuri, who still man the lunch and dinner shifts. The menu offers manti dumplings and chicken schnitzel, plus hummus and halloumi. It's a no-reservations spot so diners sip glasses of white while they wait at this corner of Tel Aviv in Wan Chai. Visit our shop if you're nearby.
francis.com.hk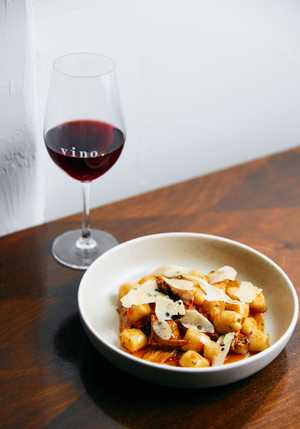 Cuisine: Italian
Don't miss: The pasta
Melbourne's pasta bar Tipo 00 is back on our list this year. Since it opened in 2014, wine aficionado Luke Skidmore and chefs Andreas Papadakis and Alberto Fava have rebuffed the city's weakness for fad-driven fare. Instead the trio offer straightforward pasta in a casual setting – in tune with the broader aim of our Restaurant Awards.
"We didn't want to do a trendy restaurant for a year or two and move on," says Papadakis. "We wanted to do something classic that would become a Melbourne institution." Only three dishes (squid-ink tagliolini, braised duck with gnocchi, and pan-fried calves liver) stay put on the constantly evolving menu, yet this standout institution draws a staunch crowd of regulars.
tipo00.com.au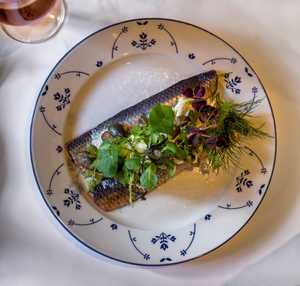 37.
Schønnemann — Copenhagen
Cuisine: Open sandwitches, Danish stye
Go for: The herring or the eel
This city-centre lunch cellar is Copenhagen chefs' choice for the city's best smørrebrød (open sandwiches). While it looks every inch the traditional Danish lunch joint – sage-green walls, wooden panelling and white tablecloths – the quality of ingredients sets it apart. Start with marinated herring, then try the smoked eel or Bettina's Favourite: braised pork belly with demi glace and rhubarb. A taste of some of the 140 schnapps on offer is obligatory.
restaurantschonnemann.dk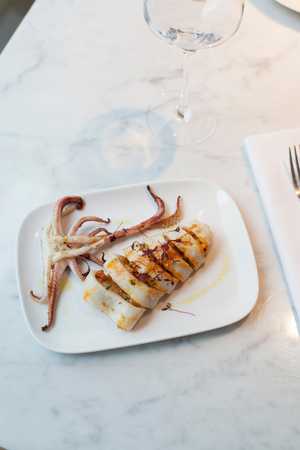 Cuisine: Basque
Go for: Something from the wood grill
Nemanja Borjanovic and Melody Adams' 70-cover stop-in on Marylebone's pretty Seymour Place never disappoints. Lurra – Basque for "earth" – opened in late 2015 and is a fitting follow-up to close-by Donostia. The dining room is a whitewashed, marble-topped affair with pale wooden furniture and pistachio-green upholstery, all selected by Adams.
A shelf of design books at the back adds a homely feel, while the brass balustrade leading up the oak staircase to more tables is an elegant touch. Order the turbot or anything from the robata grill; you won't regret it.
lurra.co.uk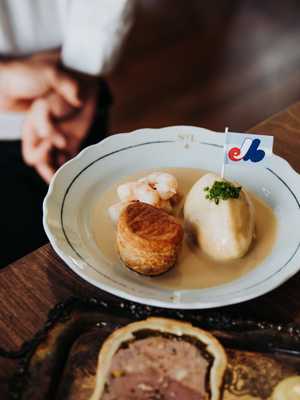 35.
St Lawrence — Vancouver
Cuisine: Quebecois
Go for: Confit duck and pommes Anna
Jean-Christophe Poirier made his name in Vancouver with his light-touch, elevated Italian menus but it's at St Lawrence – an intimate dining room inspired by the Quebecois fare of Poirier's youth – that he's cemented his name as one of Vancouver's most notable restaurateurs. Comforting venison tourtière, pork cretons and sugar pie are the classics that rub shoulders with staples from the archives of French cooking.
stlawrencerestaurant.com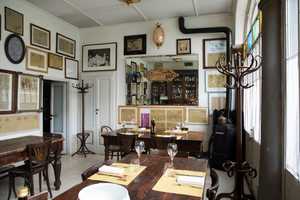 34.
Osteria della Villetta — Palazzolo sull'Oglio
Cuisine: Italian classics
Best dish: Veal ragu lasagna
This charming family-run osteria serves plenty of smiles and comfort food. Fourth-generation owners Maurizio Rossi and Grazia Omodei greet guests with a glass of bubbly – try Rossi's own Zéro Dosage pinot noir – and read off the day's specials from the chalkboard. Enjoy plates of fresh fish from nearby Lake Iseo or a light vitello tonnato, before moving to lasagna made with veal ragu and Grana Padano.
osteriadellavilletta.it
Cuisine: Casual farm-to-table
Go for: The set menu
Nestled in a renovated 90-year-old residence, Monk has been open since 2015. Yoshihiro Imai, its friendly owner, takes charge at a convivial open counter. He cooks everything in a wood-fired oven, from his signature pizza to seasonal vegetables and venison. He sources from trusted producers or picks up ingredients from farms in nearby Ohara. The set dinner, which might include roasted pork with vegetables, draws diehard food lovers from Kyoto and beyond.
restaurant-monk.com
32.
Contramar — Mexico City
Cuisine: Mexican
Try: A dessert – any dessert
Mexicans tend to be pretty relaxed about time but surprisingly few will be late for a lunch booking at Contramar. Take our advice: always book ahead here, lest you have to queue outside while ogling the rosy fillets of red snapper that float from the kitchen. Chef Gabriela Cámara has orchestrated a menu that will forever be riffed on, including seared-tuna tostadas with chipotle mayo and fried leeks, and huge planks of tender grilled fish. Don't miss the dessert tray, which towers with delights from fig pie to rich, crumbly bottomed cheesecake. Don't be late.
contramar.com.mx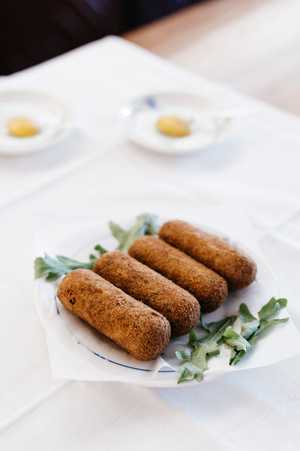 Go for: A long, late meal
The restaurant industry is known for its changing tastes; today's hot opening is tomorrow's leftover. But, as Lisbon's Gambrinus proves, it is superior service, a well-designed space and a menu that's focused on quality rather than gimmicks that will ensure the kind of longevity newer venues dream of.
Gambrinus has been around in its present form since 1964 and still features furniture and lights designed by architect Mauricio de Vasconcelos, including generously sized tables positioned a comfortable distance from each other. Suited waiters and white-linen tablecloths add to the classic feel and the food is reliably excellent, with a focus on fresh seafood, daily specials and a menu of traditional Portuguese dishes.
gambrinuslisboa.com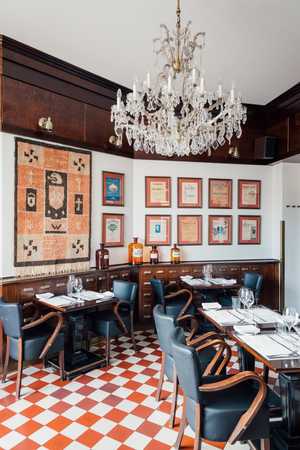 Cuisine: French-Finnish
Plump for: The steak
Though Carelia, a former 1920s pharmacy, hasn't issued a prescription since 1995, the French-Finnish brasserie is still known for its healing powers, though of a different sort: a dose of pike with cauliflower-and-crayfish sauce will have you on the mend in no time. Other highlights include beef tartare, and roasted neck of veal with kohlrabi and mushrooms.
The restaurant also has a reputation for stocking some of the best drinks in a town: the wine list features rare imports from small European producers, with a focus on France. Ask for sommelier Laura Koskenkari's help in pairing dishes to the right bottle; she won't lead you astray.
ravintolacarelia.fi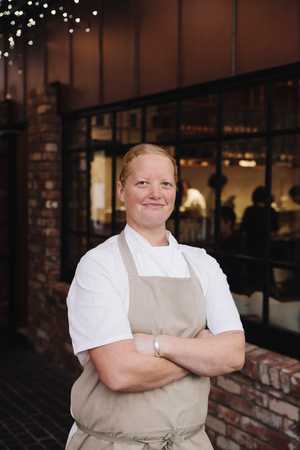 Go for: Bright, breezy breakfast
Market-garden-style restaurant Ortolana has been a crowd favourite at Auckland's waterfront Britomart precinct since opening in 2014. This all-day offering is a favourite of ours too, marching its way back onto our top list for another year. Plates such as the breakfast eggs or the chicken cotoletta (cutlet), served within the outpost's lofty conservatorium interiors, have us returning time and again.
"These dishes represent our commitment to provenance," says executive chef Jo Pearson. Good news for Aucklanders: Hipgroup, which is behind Ortolana and three other restaurants, as well as cafés and shops, is set to open a fifth offering in Britomart later this year.
ortolana.co.nz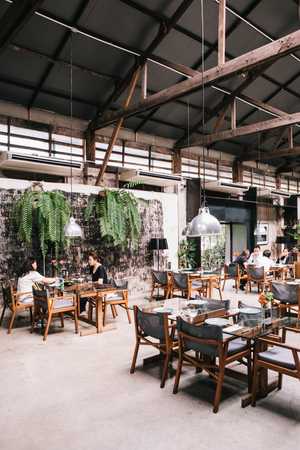 28.
The Never Ending  Summer — Bangkok
Cuisine: Thai
Stay for: Digestifs on the terrace
This restaurant is a great excuse to spend an evening on the less-trodden side of the Chao Phraya River. Located in the Jam Factory, a compound designed and developed by Duangrit Bunnag, The Never Ending Summer serves the food that Bunnag and fellow members of Thai high society grew up eating, much of which is impossible to find outside private homes.
Dishes include a cubed watermelon starter served with a rub of dried shallots and fish, and a spicy pea-and-aubergine dip served with hard-to-find vegetables and leaves. Head over earlier than your reservation to wander around the Jam Factory, before settling into the beautiful loft-like dining room.
41/5 Charoen Nakhon Road
27.
Bagno Bruno — Forte dei Marmi
Cuisine: Italian
Go for: Spaghetti alle arselle
Patrons come to Bagno Bruno for tasty seafood in simple surroundings. Since the 1950s this family-run establishment on the sun-kissed Tuscan coast has pulled in Milanese diners in search of local speciality spaghetti alle arselle, a pasta dish prepared with tiny clams found in abundance on the seashore. Pair with a chilled bottle of Vermentino and a platter of fritto misto; follow this up with a postprandial snooze within earshot of the waves.
bagnobruno.com
26.
Zur Alten Kaisermühle — Vienna
Try the: Spare ribs
This isn't Vienna's fanciest restaurant but it might be the most homely. The wood panelling inside shows its age (it's been here since 1893) but it's the outdoor grill and the twinkle of fairy lights off the surface of the Alte Donau that clinch the deal. Grill-gleaned delights include sticky spare ribs with slaw and fries, and vast sharing platters. Wash the food down with grüner and stick around for the sun dipping behind the trees, with the ebbing tide as your soundtrack.
kaisermuehle.at
Cuisine: Italian
Best dish: Spaghetti vongole
You might need some help spotting Pace (pronounced "par-che"): this Italian bistro lurks beneath a convenience store and dry cleaners. Let your eyes adjust to the dark; celebs like to keep a low profile. But we're here to eat. Chef-patron Sandy Gendel's menu has an Italian flavour, with riffs on linguine alle vongole and pennette arrabbiata, but the cedar-smoked salmon has achieved fame in a town where swimming upstream is a civic pastime.
pacerestaurant.com
24.
E' Passata La Moretta — Rome
Cuisine: Italian
Go for: The bubbling atmosphere
When the premises of Giulio Passami L'Olio were destroyed in a fire in 2018, staff and residents were bereft. The owners promise that Giulio's will be renovated but they have sated customers' appetites in the meantime by opening this sister restaurant. La Moretta offers the same delectable wine and Roman classics, including rigatoni co la pajata (rigatoni with calf's intestines).
6 Vicolo della Moretta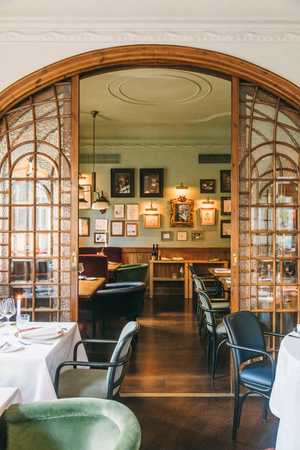 Cuisine: Mediterranean
Go for: Architectural inspiration
In a city known for Gaudí and good grub, this grande dame outshines the rest for both architecture and a more-than-decent feed. It's housed in Casa Sayrach – a grand mansion in a busy but pretty portion of Eixample, complete with a gothic staircase hewn in the style of the city's best Modernisme. La Dama's interior is akin to a living room frequented by Barcelona's fin de siècle elite.
The grand ante-bar is a great place to settle for vermut before dinner, or if you need to wait for your table. Spanish and Mediterranean influences abound but the menu is eclectic and skews towards French cuisine: expect ibérico ham beside burrata or scallops au gratin, along with the mushroom and truffle pappardelle.
Sitting on plush banquettes surrounded by soft candlelight and dim art nouveau fixtures, diners can savour a sophisticated dinner that can – and should ideally – be made to last for hours. Try the roast pigeon with an aged Spanish red.
la-dama.com
Go for: A taste of how far Swiss food has come
Opened in March 2017, Schnupf offers just four starters, two main courses and three desserts, including sardines on toast and a much-lauded steak frites with béarnaise. There's also a neat wine list, Adler Bräu beer on tap and a seasonal cocktail menu. Schnupf is open until 02.00 Thursday to Saturday and there's a bar, as well as a laidback dining space.The best tables are in the secluded garden, which is open year-round.
schnupf.bar
Try the: Pizza
Owner Johan Agrell named this place after writer Karen Blixen's character Babette, who introduces French cuisine to Scandinavia. The neon rooster in the window is now iconic in the Vasastan district, whose residents flock here for a marriage of Italian, French and Swedish food. The pizza is as good as anything you'd find in Naples and best prefaced with lemoned almonds and a glass of wine.
babette.se
Cuisine: Spanish
Best dish: Tapas
An air of romanticism has always wafted through this softly lit joint in Madrid's north. Married couple Tessa Walmsley and Ginés Sánchez Rubio run the restaurant with their daughters, serving a subtle reinterpretation of Spanish staples. With a quiet atmosphere underscored by a pianist in the corner, this is the sort of institution that deserves to be savoured at a slower pace.
laparrarestaurante.com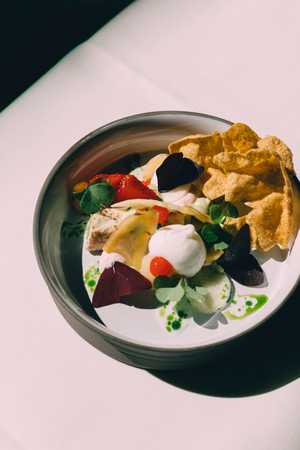 Cuisine: French
Go for: Mitte's best bites
Auguststrasse might be the centre of Berlin's gallery scene but discerning diners will know the street for another reason: Pauly Saal. For the past seven years the restaurant has been operating out of the gym hall of a former Jewish girls' school in Mitte. Grand Murano glass chandeliers hang from eight-metre-tall ceilings, dwarfing diners who sit around crisp-white tablecloths on plush, green-upholstered benches.
While the interior may evoke the glamour of 1920s Berlin, head chef Dirk Gieselmann's menu is a contemporary update on classic French grub (think sea bass fillet with braised fennel and quail breast with kohlrabi and liquorice jus). A consistently refined but unfussy affair.
paulysaal.com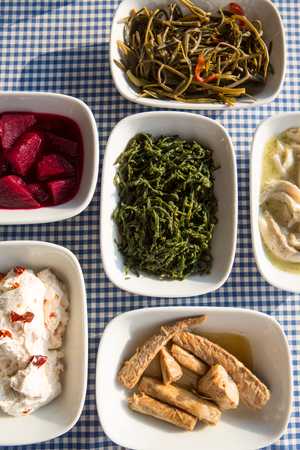 18.
Kalpazankaya — Istanbul
Cuisine: Turkish
Go for: An escape from the crush
Since 1959 this open-air meyhane in Burgazada has been the best getaway cure for Istanbul's chaos (be it urban or political). Hidden in between pine trees on the backside of the island, Kalpazankaya is a host of simple pleasures. The fact that the venue can only be accessed on foot or by horse and carriage has helped maintain its privacy; the panoramic sunset over the Sea of Marmara makes the journey worth it.
The Bucak family add flair to the simply decked out terrace of blue-and-white-chequered tablecloths and wooden chairs. Start with the sea-bass ceviche in a mustard vinaigrette sauce; steamed sea beans with a lemon-garlic dressing; and atom, a dish of charcoal grilled aubergines mashed into yogurt and topped with chilli-peppers fried in butter.
Leave room for the fresh selection of fish from the region. For those uninterested in seafood, the lamb that's been slow roasted in a clay oven is the go-to option.
kalpazankaya.com.tr
Cuisine: Pasta, mainly
Best dish: Erm, the pasta
Sicilian native Francesco Costanzo brings the flavours of his homeland north, to Milan. At his restaurant, Pastamadre, the chef presents spaghetti, macaroni and caserecci dressed up in inventive sauces. Tempt your taste buds with his spaghetti alla chitarre with octopus ragu or summertime classic pasta alla norma. Don't skip dessert or you'll miss out on cassatina, a creamy ricotta cake, or a saffron panna cotta with almond and raisin crumble.
pastamadremilano.it
Cuisine: European (via Uruguay)
Go for: The Bauhaus digs
The building in which Flora Bar is housed, from Bauhaus luminary Marcel Breuer, makes this dining experience rather special. The excellent small-plate food is from the same team – featuring Uruguayan chef Ignacio Mattos – that brought you downtown's Estela and Altro Paradiso. Flora is a little more upmarket, reflective of its Upper East Side environs. Sample everything from jamón croquettes to purple endive salad with pecans and blue cheese.
florabarnyc.com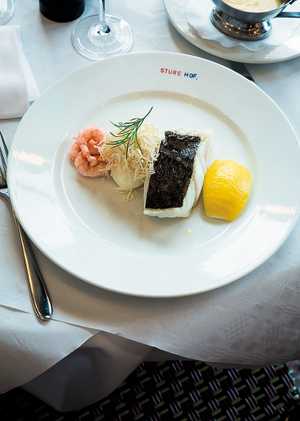 Go for: A late-night nibble
Fresh seafood is the order of the day at Sturehof, although this city favourite started as a German beer hall back in 1897 before restaurateur PG Nilsson (a monocle investor) and the PA&Co gang acquired it. Don't fear the extensive menu: perhaps start with some knäckebröd, then half a dozen oysters followed by deep-fried perch from the waters of Lake Mälaren. You can dawdle over that last glass of wine as the place is open till 02.00.
sturehof.com
Cuisine: Italian
Go to: See how a great restaurant is run
An Italian with a barbecue mentality but linen napkins: praise be. Founded in 2010 by Tim Siadatan and Jordan Frieda (the team behind pasta joint Padella in Borough Market), Trullo boasts sound and smiley staff and a primi menu that alone could land it on this list. The restaurant offers Italian classics from bruschetta, carpaccio and burrata to liver, chicken legs and a fresh catch of seafood.
trullorestaurant.com
Best dish: The monkfish
Since 1987, Venice chef Cesare Benelli has sought to procure the best products for Al Covo from farms and small-scale producers on the lagoon and north Adriatic Sea. Situated in the Castello district, his establishment attracts diners in search of an authentic culinary experience – in a town that too often disappoints. The Adriatic monkfish wrapped in crispy pancetta and the braised radicchio di Treviso endives are not to be missed.
ristorantealcovo.com
12.
Outerlands — San Francisco
Cuisine: American
Go for: A seaside sojourn
Located in Outer Sunset, San Francisco's beach town within a town, this is very much a neighbourhood joint that fills with a brunch crowd at weekends. What sets it apart is its dedication to excellent organic fare. The food is unfussy and comforting, from Berkshire pork and beans to a grilled cheese sandwich. The sort of spot where you come for lunch and you're still in situ hours later for a sundowner cocktail.
outerlandssf.com
Go for: A slice of old Lebanon
Established by Joe Jammal in 1981 as a bolthole for friends and family during the civil war, this joint remains a sanctuary for those looking for a slice of quiet on the Lebanese coast. It's set in a secluded shingle cove and its most coveted tables are those in the shallows. It's a family-run laidback place (wearing swimmers at the table is fine) but don't be surprised to see glamorous types being ferried in from their yachts.
jammalrestaurant.com
Cuisine: Swiss
Best dish: The chicken
Contented families have come to family-run Emilio since it opened in 1940. One of its secrets is the signature poulet rôti, which is served with your side of choice (we go for fries and creamed spinach). Finish off with the roulade Española (a cake roll filled with butter, almond or lemon cream), made fresh every day. The menu here hasn't budged since its inception and neither has the look of the interior, with white tablecloths and wood-panelling galore.
emilio-restaurant.ch
Cuisine: Modern European
Go for: The whole menu
Cornwall-born David Gingell runs the kitchen in this elegant former garage and his menu is gymnastic in its use of what's fresh and available. Meanwhile Jeremie Cometto-Lingenheim, who hails from Alsace, marshals the front of house with Gallic bonhomie and charm aplenty. The wines are organic and the tables are communal, with a view of the daily changing menu as colourful dishes fly out of the lively open kitchen. Small-plate perfection.
primeurn5.co.uk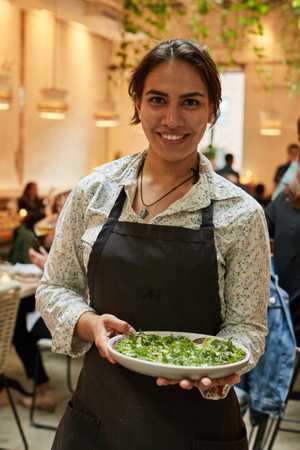 Cuisine: Mexican
Go for: A glimpse of new New York
Located north of Williamsburg in the Greenpoint neighbourhood, Oxomoco is a beautiful plant-filled space with an ample patio at the front. The Mexican fare from chef Justin Bazdarich (of pizzeria Speedy Romeo fame) has certainly been Americanised but it loses nothing for it. The inventive tacos – some on blue corn tortillas – are a must, including the vegetarian beetroot "chorizo" featuring crispy potatoes, avocado and salsa. Excellent drinks, such as a tamarind orange margarita, seal the deal.
oxomoconyc.com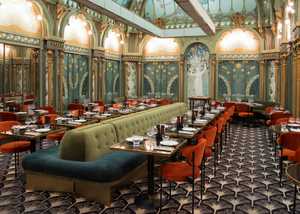 Cuisine: Meat-minded
Go for: The Wagyu
Eating meat was starting to look a little unfashionable before the opening of Beefbar on Rue Marbeuf, off the Champs-Élysées. Behind the restaurant's success and meaty ethos is Riccardo Giraudi, who grew up in Monaco in a family that's been importing the finest cuts since 1960 – and today sells 90,000 tonnes of the stuff per year.
The art nouveau-style room, listed as a historical monument since 1985, has been revamped by architecture firm Humbert & Poyet, with tables in lacquered walnut and velvet banquettes. It's all presided over by a glass roof decorated with curly plant-frond motifs. Even the hardware draws a smile: the crockery is made by French porcelain-maker Bernardaud, which conceals emoticons on each plate (a steak here, pig's snout there). Then there's the food served on them. Meat is the marvel here and available in all its forms, from mini-burgers with truffle sauce to Kobe karasumi.
paris.beefbar.com
6.
Cignale Enoteca — Tokyo
Cuisine: Japanese (via Italy)
Go for: The cosy counter seating
Toshiji Tomori's restaurant continues to impress with the quality of its cooking and snug interior. Italy is at the heart of his food thanks to four years' hard graft in Piedmont and Tuscany, but it is infused with Japanese ingredients and techniques. Expect slow-roasted Japanese pork, the freshest fish carpaccio, homemade bread and a good glass of wine. Guests budge up around a counter inches from where Tomori and team are hard at work.
cignale.jp
Go for: A Roman holiday in BKK
Appia changed Bangkok's Italian dining scene when it opened in 2013, with chef and co-founder Paolo Vitaletti bringing his own brand of Roman cookery to the Thai capital. "It used to be a copy-and-paste of hotel Italian food," he says. Homestyle cuisine is baked in at this cosy 50-seater trattoria in Sukhumvit, with almost half of the menu's dishes originating in Vitaletti's mother's kitchen in Rome.
appia-bangkok.com
Cuisine: Contemporary Swiss
Best dish: Entrecote with smoked paprika
This spot in Niederdorf has been a restaurant for a century but it's the intervention of a lively young trio that's made the difference. Nenad Mlinarevic, Valentin Diem and Patrick Schindler teamed up to create a fresh riff on all that stodgy Swiss goodness. The rye-wheat sourdough is a reason to visit in itself but save room. Expect reconsidered classics from pork belly to Aberdeen Angus entrecote.
bauernschaenke.ch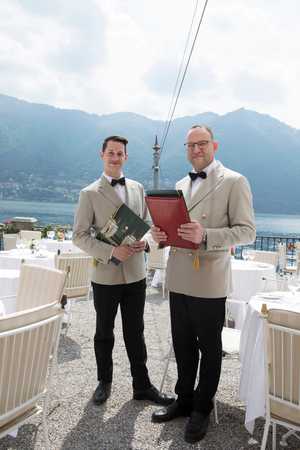 Cuisine: Mediterranean
Star dish: The ceviche
The waiters set the tone for the dining experience at Veranda, the main restaurant at Villa d'Este – the grand hotel that graces a privileged slice of real estate on Lake Como. At lunchtime servers don cream-coloured jackets; at dinner they wear traditional black. The kitchen's philosophy is classic with a splash of creativity. Mediterranean ceviche is prepared with fish that's combined with the freshest seasonal fruits and aromas from the garden.
villadeste.com
2.
The River Café — London
Go for: A spot on the terrace
The River Café's inclusion might not shock our regular readers (we're in our fifth year of celebrating the Awards and it's featured every time) but the consistency and charm of Ruth Rogers' Hammersmith haunt is exactly what we set out to recognise. On a recent trip we found ourselves at a Thames-side table in the sun, enjoying platefuls of peerless primi and glugs of fine wine followed by Rogers' feted chocolate nemesis dessert. Award well earned.
rivercafe.co.uk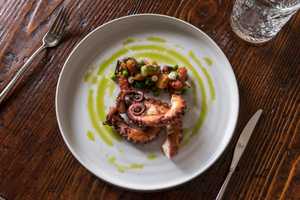 1.
1477 Reichhalter —  Lana, Italy
Cuisine: South Tyrolean
Go for: The night – it's a hotel too
For a long time it wasn't clear what would happen to this building in the heart of South Tyrolean Lana in northern Italy. What was a homely trattoria for more than 40 years has now been given a new lease of life by native Klaus Dissertori, whose stop-off scoops this year's top place in our rankings. "We realised a long-time dream with this project," he says.
It's small even by local standards: there are eight rustic rooms that were redone by Italian interior architect Christina von Berg. She's opted for natural wood combined with modern touches to add a contemporary frame to the age-old Gasthaus.
Martina and Andreas Heinisch are in charge of the food, which ranges from hearty breakfasts to Tyrolean staples, and there's wine made from the region's increasingly coveted grapes. There's stellar homemade bread and jam for the à la carte breakfast, and traditional dishes are served at lunch and dinner. The osso buco is knockout.
"I've known Andreas since kindergarten," says Dissertori. "He made a name for himself across the region before starting this venture with Martina." This is a place in which to escape the daily grind and, thanks to nearby sister hotel Schwarzschmied, you can – and really should – make a weekend of it.
1477reichhalter.com