On the move / Zürich
First-class fare
The vast kitchen of Swiss caterer Candrian lies beneath Zürich's main station. We ventured below to learn why feeding Gipfeli to commuters is only part of its plan.
Close to 500,000 rail passengers per day hop on trains at Zürich Hauptbahnhof, making it the busiest station on Switzerland's dense rail network. But it doesn't only serve as a rail hub: its central location has also made it a popular shopping mall. Since 1923 the Candrian family has been an essential part of managing the station's restaurants, takeaway spots and concessions – outlets that have helped grow the company's restaurant portfolio to 45 locations in Zürich and across Switzerland. Current head Reto Candrian, the fifth generation of the family, has been expanding its reach beyond sausages at the station.
The heart of Candrian's success lies beneath Zürich Hauptbahnhof. It's a large kitchen that makes everything from sausages to canapés, sandwiches and croissants, all sold within just a few hours at outlets at the railway station and elsewhere in the city. "We decided to focus on the production ourselves," says executive chef Christoph Banz who, after a career in the hotel business in Toronto, Hong Kong and Shanghai, returned to Switzerland to head up one of the country's busiest kitchens. "That was 20 years ago and I still particularly enjoy this unique setting, which is hard to compare."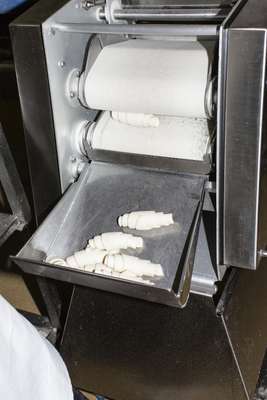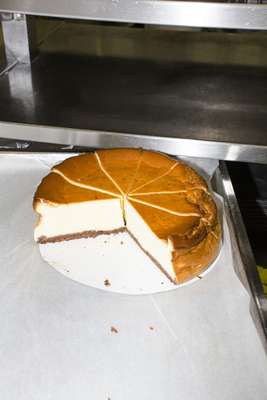 The teams work hand in hand to ensure smooth operations. Buns are made from scratch a few metres from the butcher, who smokes bacon and salmon for salads and sandwiches. A recent addition has been the butcher's very own pastrami, which has proved a hit with commuters. It all gets assembled in the sandwich kitchen next door, which produces up to 700,000 per year in about 40 combinations. "Thanks to economies of scale we are capable of running production in an economically viable way," says Banz. "Being close to the outlets, we are able to cater to clients' needs and quickly adapt to new demands despite relatively small amounts." Combining it all in one central kitchen – even if it is unusually placed – has been the secret of the company's success.
As well as quick bites, menus for the company's higher-end restaurants are also honed here beneath the railway station. This includes the fare at French bistro Brasserie Lipp and Clouds, a fine-dining restaurant in Zürich's high-rise Primetower. "Because we do everything ourselves it reduces the number of suppliers we work with and increases the amounts ordered," says Banz. The same applies to meat that the company sources from local butchers. The approximately 570,000 sausages made in the kitchen are served across Zürich and the recent addition of Bauschänzli – a beer garden near the lake – to Candrian's portfolio will result in a projected 20 per cent increase in bratwurst consumption, says Banz. "In making products from scratch we also retain the professional pride needed when working with the quantities we deal with."
Another important part of the operation is the cold kitchen, which assembles salads, prepares dressings and arranges canapés for private events or larger-scale affairs, including the annual Oktoberfest beano in the upstairs railway hall. "It's stiff competition, with food retailers moving further into the catering business and opening up new fast-serve formats and catering options," says Banz, who is nonetheless confident that Candrian's approach is sound. He also credits its international ethos: there are people from 70 countries working on everything from rösti to onigiri, baguettes and burgers. Meanwhile the coffee served in the restaurants is roasted closer to home – a few hundred metres from the station in the firm's own roastery.
The Candrian family is keen on developing the production centre; a brand-new kitchen is currently being installed, which will increase output for the restaurants. The team aims to expand and develop new ideas too. "We constantly evolve the concepts to make sure we cope with passenger demands, by doing things ourselves that we can quickly test and improve," says Banz. A recent trial he conducted (the parameters of which were not disclosed) resulted in modification of a croissant's shape. If Candrian's progress so far is anything to go by, the whole model of catering is also on track to be subtly challenged and reformed.
In numbers:
700,000 sandwiches sold each year
130,000kg of flour used in bread production per year
1,400 croissants made each day
200,000 cakes and patisserie produced each year
6,000kg of ice cream sold each year
18,000kg of rösti made each year
80kg of mushrooms used each week to prepare Züri Gschnätzlets
25,000kg of salmon bought to be smoked, cured or cooked per year
110,000kg of meat go into annual sausage production
10 tonnes of bacon sold in breakfast buffets and sandwiches each year