Top 25 / Global
Working up an appetite
Whether you're peckish on business in Hong Kong or parched on a beach in Honolulu, we've got you covered with our rundown of the best places to refuel, renourish and relax in 25 cities.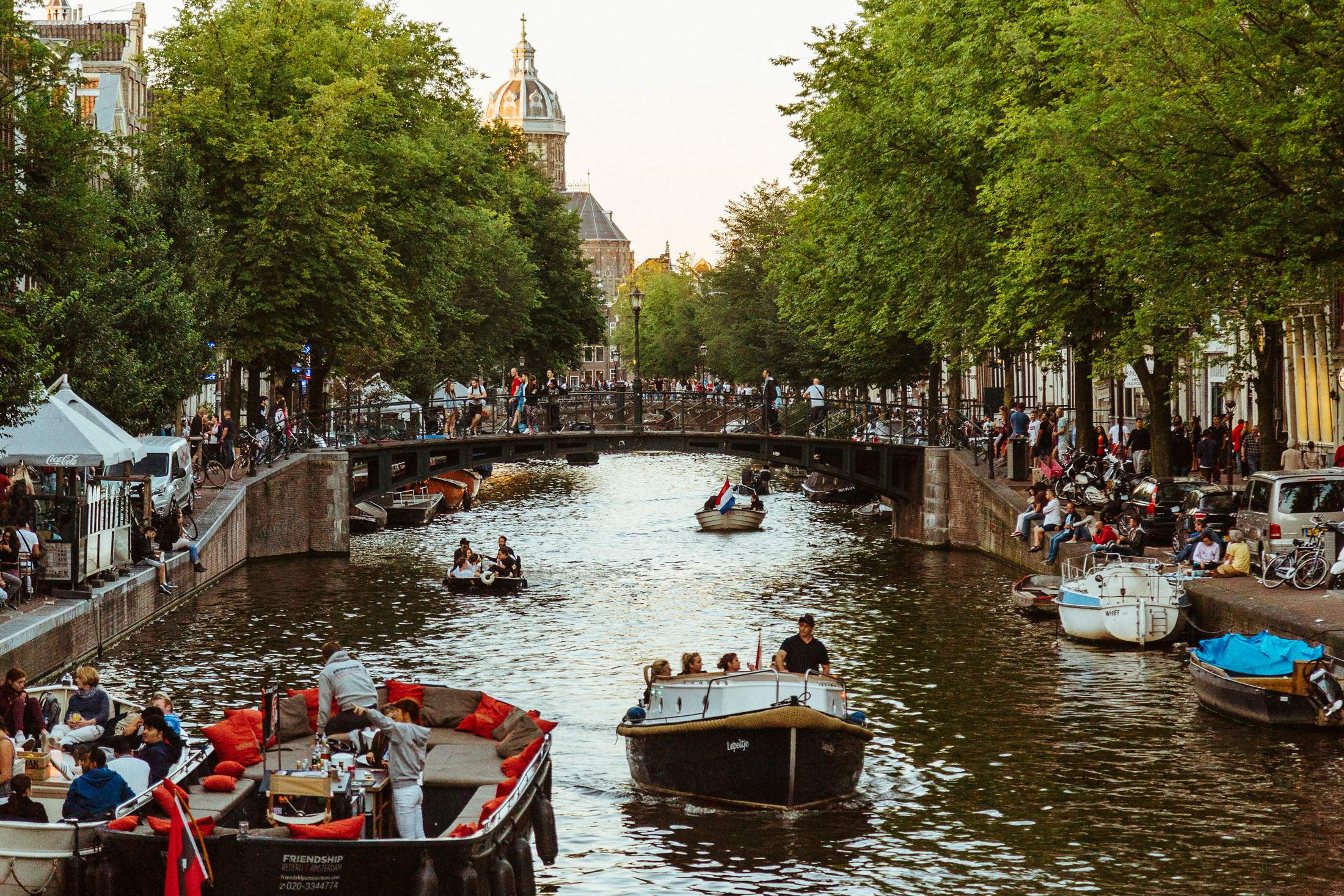 Amsterdam is not famed as a culinary destination but if you know where to look, there's plenty going on. There has been a huge shift from the exotic to the homegrown: nearly all of the best restaurants now use seasonal Dutch ingredients from sustainable producers. Few locals live in the city centre so some of the best places are a little further afield.
Breakfast: Bistro Berlage: The building that now houses Bistro Berlage was designed by Dutch architect HP Berlage in 1903 and sparked the beginning of modern architecture in the Netherlands. It also serves a decent breakfast. The room that now holds the Bistro Berlage was originally the stately entrance and the art nouveau interior includes brickwork and tile tableaux by Dutch-Indonesian artist Jan Toorop. It's inexplicably overlooked by tourists – especially first thing – and remains a quiet spot for an Illy coffee and some simple Dutch staples.
1-3 Beursplein, 1012 JW; 131 (0)20 530 4146; bistroberlage.com
lunch: Worst Wijncafé: In a quiet part of Westelijke Eilanden, this haunt was set up as a way for owner Kees Elfring to bring quality sausage to the city – and it's usually full of people trying out the homemade selection, including a wild boar, fennel and lobster mix (better than it sounds). Starter-sized servings are ideal for a borrel (evening drink).
171 Barentszstraat, 1013 NM; 131 (0)20 625 6167; deworst.nl
coffee: Lot Sixty One: As beans are roasted on-site, the air in this Oud-West outpost (pictured) is heavy with the scent of coffee: rich and earthy with a hint of chocolate. Beans are from small farms, such as Finca Toño in Costa Rica's West Valley, and change seasonally according to the harvest. A great place to grab a velvety espresso while en route to the shops at De Hallen.
112 Kinkerstraat, 1053 ED; 131 (0)61 605 4227; lotsixtyonecoffee.com
dinner: D'Vijff Vlieghen: D'Vijff Vlieghen (Five Flies) in Centrum opened its doors in 1939 but the dazzling interior – with its antique glassware, tiles, prints and wooden beams – feels centuries older. Five themed rooms provide plenty of snug spots that belie the restaurant's size. Ask for a tour to see the Rembrandt etchings and Walt Disney drawing in the guestbook, then try the tuna steak in speculaas spices.
294-302 Spuistraat, 1012 VX; 131 (0)20 530 4060; vijffvlieghen.nl
drinks: Café Welling: Bruine cafés are an intrinsic part of Amsterdam life and Café Welling in Oud-Zuid is one of the most charming examples. A favourite among writers and artists, perhaps because of its location within earshot of the Het Concertgebouw concert hall, this small but atmospheric bolthole is a snug spot.
32 Jan Willem Brouwersstraat, 1071 LK; 131 (0)20 662 0155; cafewelling.nl
Until recently, finding a decent meal in Athens could feel like a wild goose chase. But today the streets are inundated with snappy bars and taste-making bistros, as well as farmers' markets and delis. In Greece, breakfast is light and lunch readily sacrificed in favour of a long and leisurely dinner, especially in summer. But Athens isn't short of brunch spots and bakeries or cafés churning out coffee from brikis (small copper pots). It has plenty of cocktail and wine bars too: think jazz-filled gardens and rooftop terraces. Oh, and never underestimate the power of fine street food: savour the souvlaki.
breakfast:Queen Bee: At this Kolonaki café, French baker Kamel Saci takes charge of breads and New Yorker Sal Lamboglia focuses on the brunch menu. Laid out on the counter, in front of the open kitchen, you'll find sandwiches (try the mortadella focaccia), cakes and French pastries, including probably the best croissants in town.
45 Patriarchou Ioakeim, 106 76; 130 210 720 9933
lunch: Cherchez La Femme: This is a polished breed of kafeneio, a place where you can sample mezze while sipping ouzo or wine. It might recall a Parisian bistro – leafy wallpaper, antique bar, marble tables – but Andreas Lagos's menu reimagines Greek food in mezze portions. Highlights include saganaki (pan-fried cheese) with marmalade.
46 Mitropoleos, 105 63; 130 210 322 2020; cherchezlafemme.gr
coffee: Warehouse: Greek barista George Loukas serves single-origin coffee and speciality blends from Africa and Latin America, as well as hot chocolate prepared with Valrhona chocolate. The corner shop has industrial-style furniture, plays soul and jazz and offers seating inside and out. At 13.00,Warehouse turns into a bar-cum-restaurant with a full menu and wine list.
21 Valtetsiou and Mavromichali, 106 80; 130 215 540 8002; warehouseproject.gr
dinner: Seycheles: Sit outside at this former residence (pictured) on Avdi Square, Metaxourgeio, and enjoy recipes from all over Greece: black-eyed pea salad with smoked eel, slow-cooked octopus with pickled okra, or pappardelle with kavourmas (sautéed meat). There's lots of local cheese too.
49 Keramikou, 104 36; 130 211 183 4789; seycheles.gr
drinks: Baba au Rum: Lively bar that paved the way for the city's buzzing cocktail scene. The space is decorated with Tiki elements and vintage details, such as 1950s lighting and a toy merry-go-round.
6 Klitiou, 105 60; 130 211 710 9140; babaaurum.com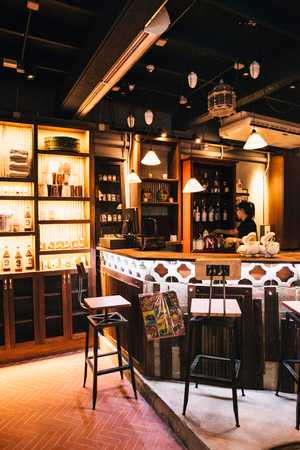 This is a city where you can always eat well: nearly every street corner has a stall selling something delicious and even the city's most commercial districts are home to great independent bars and restaurants. You'll be spoilt for choice so you might want to try a new place for every meal.
breakfast: Mont Nomsod: Grilled toast with coconut custard from Mont Nomsod in Pathumwan might not sound the part – this simple breakfast staple is probably the last thing anyone would think of buying. A thick hunk of grilled bread spread with everything from coconut custard to creamed corn or avocado doesn't taste like anything you could rustle up at home – in a good way.
1-3 Pencil Road, 10200; 166 (0)2 224 1147; mont-nomsod.com
lunch: Issaya Siamese Club: Step into the garden of this Sathorn hangout and you'll forget that you're close to two of Bangkok's busiest thoroughfares. The jewel in the crown of chef Ian Kittichai's Bangkok restaurants, Issaya serves lunch and dinner in a restored wooden house that dates back to the 1910s. The menu combines Kittichai's traditional cooking with his modern approach to sourcing and plating food. Try the mussuman gae: a lamb shank in a delicate curry sauce.
4 Sri Aksorn Soi, Chua Ploeng Road, 10120; 166 (0)2 672 9041; issaya.com
coffee: Casa Lapin: This hard-to-find Thonglor café is well worth the hunt. The second outpost designed by architect Surapan Tanta (the original spot off Thong Lor is a good pit-stop too), this bright café is a good place to grab a coffee and a snack and read one of the magazines on offer. There's a comfy seating area upstairs, a large communal table on the ground floor and a terrace with covered seating.
Opposite Samitivej Hospital, Sukhumvit Soi 49, 10520; 166 (0)81 261 2040
dinner: Err: Hidden in a small alley between Wat Pho and the river in Phranakhon, Err raises the bar when it comes to the food (and drink) found in typical Bangkok pubs. Opened in 2015 by the team behind BoLan, this casual spot (pictured) that opens at 11.00 serves dishes that are designed for sharing. Order skewers of moo ping (spicy pork) and a plate of the tasty look chin ping (pork meatballs).
394/35 Maharaj Road, 10200; 166 (0)2 622 2291; errbkk.com
drinks: AR Sutton & Co Engineers Siam: This bar – dreamt up by Ashley Sutton, the creative force behind some of Bangkok's most popular drinking spots – is on the ground floor of a large mall. The menu is small and the drinks are the classics: amaretto sours, negronis and very dirty martinis. Private nooks abound. Park Lane Ekkamai, Sukhumvit Soi 53, 10110
One of the major draws of a trip to Lebanon is the food – and rightly so. But be sure to get beyond the tabbouleh and hummus that you'll find at home and into a world teeming with cherry-drenched kebabs and tahini-spiked yoghurt. The Arabic food in Beirut is Levantine – encompassing not just Lebanese but also Armenian, Syrian and Palestinian influences – and it's more diverse and infinitely richer than you could hope.
breakfast: Lahmadjun from Ichkhanian Bakery: This family-owned bakery has been perfecting its itsy menu since 1946. Its Armenian version of this thin, meat-topped pizza is unrivalled for breakfast; there's also a vegetarian option. Note: it's closed on Mondays.
Hussein Beyhum Street; 1961 (0)1 375 178
lunch: Maryool: A Mar Mikhael-based collaboration between restaurateur Karim Arakji and former Tawlet chef Reem Azoury, this small sun-drenched restaurant (pictured, on next page) offers a little bit of everything. From hearty home cooking to unusual small plates and dips inspired by Iraq, Yemen, Iran and elsewhere, everything is made for sharing. The musakhan taco – a modern update on a Palestinian chicken-and-sumac classic – is unmissable. Pharaon Street; 1961 (0)1 442 045; maryool.com
coffee: Kalei Coffee Co: The first thing that will win your affection at Beirut's original microroastery is the garden; the second is the smell of freshly roasted coffee. Co-owners Dalia Jaffal and Andre Fadel source the beans themselves everywhere from Honduras to Ethiopia, with a bean-to-cup business model that ensures a decent brew.
Street 54, Impasse 18; 1961 (0)3 780 342; kaleicoffee.com
dinner: Em Sherif: Yes, the decadent hand-painted ceilings and mirrored tables are a lot to take in. But hang in there because if you can get used to the extravagant interior (pictured, above and on previous page), an onslaught of exceptional food awaits you – 33 courses to be exact. Leave room for a taste of each dish assembled by chef and co-owner Mireille Hayek.
Victor Hugo Street; 1961 (0)1 206 206; emsherif.com
drinks: Centrale: Designed by architect Bernard Khoury, Centrale is housed in a renovated 1920s home, with a French restaurant on the ground floor and a bar perched above it in a long tube-like structure. Catch the lift, pull up a stool and order a cocktail or a glass of burgundy from the French wine list. And be sure to dress for the occasion: it's a high-end place with a dress code to match.
Takchi Building, Mar Maroun Street; 1961 (0)1 575 858; centrale-beirut.com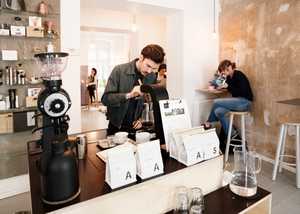 As Berlin's independent arts and music scenes have settled down, creatives have been turning their attention to food and quietly converting the city into a culinary hotspot. Traditions from Prussian heritage, west Berlin's French fixation and east Berlin's Vietnamese diaspora were thrown out, rediscovered and expanded on as an influx of people brought in new ideas.
breakfast: Café Einstein Stammhaus: During the Weimar Republic, Jewish banker Georg Blumenfeld hosted aristocrats in this 19th-century villa. It wasn't until 1978 that the building found a new use: Austrian Uschi Bachauer opened it as a coffeehouse (pictured, top) in the hopes of reviving the coffee-drinking culture of prewar Berlin.
58 Kurfürstenstrasse, 10785; 149 (0)30 263 9190; cafeeinstein.com
lunch: Rogacki: Smoked eel has been a northern German delicacy for centuries but when Rogacki opened its fish smokery in a small Charlottenburg backyard in 1932, it was the district's first. It became a prime destination in the 1970s; today it continues to sell everything from coffee to cured meat.
145/46 Wilmersdorfer Strasse, 10585; 149 (0)30 343 8250; rogacki.de
coffee: Bonanza Roastery Café: Third-wave coffee shops abound in Berlin but Yumi Choi and Kiduk Reus pride themselves on pioneering the trend. Their café (pictured, above) in Prenzlauer Berg opened in 2007 and was so popular that people still drink their coffee standing. But don't fret: that doesn't happen at the newest Kreuzberg location, a spacious former carpentry workshop.
70 Adalbertstrasse, 10999; 149 (0)30 208 488 020; bonanzacoffee.de
dinner: Lokal: When Maren Thimm and Gary Hoopengardner closed lunch spot Kantine for renovations in 2011 there was a palpable sense of mourning among Mitte diners. But a few months later they launched Lokal. With its bright dining room, jumbled furniture and simple yet modern German food, it's a reprieve from the area's conceptually ambitious fare.
160 Linienstrasse, 10115; 149 (0)30 2844 9500 lokal-berlin.blogspot.de
drinks: Hops & Barley: This microbrewery has emerged as a favourite among the city's avid beer drinkers since opening in 2008. It combines traditional unfiltered brewing with innovative recipes and natural flavours. On tap are pilsner, dark malts, cider, Berlin-style weisse (a wheat beer dubbed the "champagne of the north" by Napoleon's troops) and friendly staff.
22/23Wühlischstrasse, 10245; 149 (0)30 2936 7534; hopsandbarley-berlin.de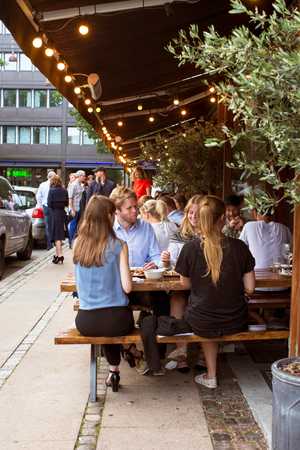 If you like to eat well – and eat dishes you might not have tried before – you're lucky to be visiting Copenhagen now rather than 10 years ago. Why? The city's chefs are looking beyond the fussy New Nordic trend.
breakfast: Møller Kaffe & Køkken, Nørrebro: This modern café in a former bank building was designed by Arne Jacobsen. Chef Andreas Møller's pithy menu includes homemade Nutella, and pork from specialist Spis Min Gris.
160 Nørrebrogade, 2200; 145 3150 5100; kaffeogkoekken.dk
lunch: Kadeau: From their origins on the Baltic island of Bornholm, the Kadeau team have brought a welcome warmth. Contemporary yet comforting food is the order of the day. It's pricey but the superb seafood, richly flavoured meat and Bornholm-grown vegetables add crunch.
10B Wildersgade, 1408; 145 3325 2223; kadeau.dk
coffee: The Coffee Collective: Founded by four top baristas, The Coffee Collective was one of the first to emphasise ethically sourced beans and quality processing. The roaster and a new café are located in Frederiksberg but the original tiny space in Nørrebro is still a top pick.
10 Jaegersborggade, 2200; 145 6015 1525; coffeecollective.dk
dinner: Pluto: This lively central restaurant has a New York feel to it thanks to its bar stools and open kitchen. Its French-based menu has licence to roam the rest of the globe and readily lends itself to the small-plates menu concept.
16 Borgergade, 1300; 145 3316 0016; restaurantpluto.dk
drinks: Ved Stranden 10: With an interior of Danish design classics, interesting wines from smaller producers and a Monday-night meal by a guest chef, this is the wine bar of distinction in the city. Sommelier Christian Nedergaard will let you try his more challenging natural wines before you commit to a glass.
10 Ved Stranden, 1061; 145 3542 4040; vedstranden10.dk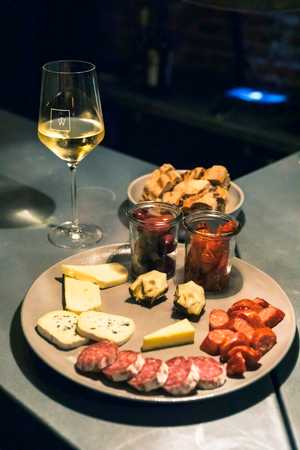 Hamburg is blessed with an abundance of fresh seafood so, from the humble sandwich truck to the loftiest of restaurants, fish is ever present. Locals have also figured out that the best way to deal with an inclement winter is to wait it out in quaint bars and toasty cafés, a warming ale or cinnamon-laden Franzbrötchen in hand.
breakfast: Erste Liebe Bar: This low-key café-bar (pictured, above) offers a breath of fresh air from the pricey boutiques of Neustadt. Join the cool cats for a cup of coffee, a slice of apple pie and a browse of the newspapers on offer, or come back at lunch for pasta salad and a pilsner from the nearby Ratsherrn brewery.
3 Michaelisbrücke, 20459; 149 (0)40 3690 1808 ersteliebebar.de
lunch: Fräulein Fritz: Connecting the modern and grittier sides of St Georg, this spacious restaurant stands out for its pared-back decor and wholesome cooking. Open for just three hours a day – between 12.00 and 15.00 – it offers a lunch menu that changes daily according to the ingredients available.
21 Lindenstrasse, 20099; 149 (0)151 1551 5531
coffee: Café Paris, Altstadt Hamburg institution: In the morning this historic art nouveau venue, which opened in 1882, is packed with a pre-work crowd enjoying madeleines and coffee. At lunch waiters ferry trays of steak frîtes between kitchen and tables and the evening fizzes with popping corks.
4 Rathausstrasse, 20095; 149 (0)40 3252 7777 cafeparis.net
dinner: Marinehof: Occupying the ground and first floors of an apartment building where founder Astrid Wettstein lived, Marinehof's blonde-wood chairs and tables (pictured, bottom) sit beside vast windows that let in ample sunlight. The menu features German standards and chef Claudia Krügerke's take on Mutti-küche (comfort food).
77 Admiralitätstrasse, 20459; 149 (0)40 374 2579; marinehof.de
drinks: Weinladen: With the motto "wine without a dress code", Weinladen (pictured, below) has been serving the good stuff since 2014. The exposed brick and metal tabletops only add to its viticultural finesse. 
29 Paul-Roosen-Strasse, 22767; 149 (0)40 3702 9728; weinladen.de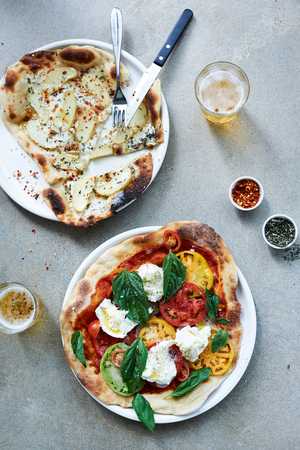 Traditional Hawaiian food is rooted in the land, as evidenced by typical dishes such as kalua pig (pork roasted in a pit oven), laulau (pork slow-cooked in taro leaf) and poi (a starch staple made from pounded taro). But today food in Honolulu is more of a hodgepodge, reflecting the tastes of the waves of immigrants who have come to these islands from Portugal, China, Japan, South Korea, Vietnam, the Philippines and elsewhere over more than two centuries. Unfamiliar terms abound – opakapaka for snapper, limu for algae, shoyu for soy sauce – but don't be intimidated: it's a good time for dining in Honolulu.
breakfast: Morning Glass Coffee: Weekend brunch is a good excuse to drive out to Morning Glass Coffee. Chicago native and former Starbucks executive Eric Rose and his staff make biscuits and gravy, savoury pancakes with macaroni and cheese, and omelettes of applewood smoked bacon or local Ali'i mushrooms.
2955 East Manoa Road; 11 808 673 0065; morningglasscoffee.com
lunch: Bills Hawaii: Bill Granger's laidback Aussie style works a treat in Honolulu's Waikiki. Located near the ocean, Bills (pictured) features a beach bar on its ground floor and a restaurant upstairs.The sun-bleached interior is a welcome departure from the area's more generic offerings. Opening at 07.00 with a breakfast menu, the service continues into lunch and dinner, with a menu including courgette fritters with tahini yoghurt, yellowfish curry with butternut squash, kimchi-fried rice and pizza.
280 Beachwalk Avenue; 11 808 922 1500; billshawaii.com
coffee: Aloha Coffee Lab's The Curb at Pan Am: Hawaii's coffee scene isn't as promising as elsewhere in the US and there aren't too many third-wave cafés. It's not easy to find a good brew and it's even harder to find espresso made with Hawaii-grown beans, which is why Tokunori Kuwahara's kiosk deserves a mention. He opts for beans grown on farms in Kona and Ka'u – and uses the beans within weeks of roasting.
1600 Kapiolani Boulevard; 11 808 724 2969; alohacoffeelab.com
dinner: Mud Hen Water: Chef Ed Kenney is a prominent figure on the Honolulu restaurant scene: he also runs Town and Kaimuki Superette. Mud Hen Water focuses on showcasing the Hawaiian cuisine he grew up with. The crudités feature hummus and crunchy kukui (candlenut) chips, octopus in a soupy stew of lu'au (taro) leaves with nuts, herbs and spices and opah (moonfish) wrapped in banana leaves and cooked over coals.
3452Waialae Avenue; 11 808 737 6000; mudhenwater.com
drinks: The Tchin Tchin! Bar: This surprisingly spacious wine bar from the owners of neighbouring restaurants Livestock Tavern and Lucky Belly is located up a flight of stairs off Chinatown's Hotel Street. Its extensive drinks menu was the first in town to dedicate a full page to the syrupy sweetness that is vermouth. We'll drink to that.
39 Hotel Street; 11 808 528 1888; thetchintchinbar.com
Many Hong Kongers live in apartments with limited space for cooking and eating so you'll regularly see large groups dining out. Over the past few years the restaurant scene has boomed. Independent streetside spots that specialise in paella or fried chicken can be found alongside restaurants showcasing traditional Chinese staples, from mouth-numbing Sichuan spice to comforting Cantonese dishes.
breakfast: Common Ground: Neighbourhood cafés serving tasty salads and good coffee are common in cities such as New York and Sydney but they are rare in Hong Kong. Tucked away on a set of stairs between bustling Soho and residential Mid-Levels, Common Ground (pictured, above and below) fits the bill. Having studied in Los Angeles, twins Caleb and Joshua Ng wanted to create a laidback restaurant reminiscent of those on the US West Coast. They succeeded.
19 Shing Wong Street; 1852 2818 8318
lunch: Ho Lee Fook: After cutting his teeth in Sydney at, among others, Marque and Ms G's, Taiwanese-Canadian chef Jowett Yu is exploring his version of modern Chinese cuisine in Hong Kong with Ho Lee Fook. The basement beneath the kitchen throngs with a fashionable young crowd but it would be wrong to view this as a flash in the hipster pan. Weaving in and out of Asia's many culinary traditions, Yu's food is at once familiar and innovative.
1-5 Elgin Street; 1852 2810 0860; holeefook.com.hk
dim sum: Yan Toh Heen: Most visitors tend to stay on Hong Kong Island but it's from Kowloon that the iconic view of Victoria Harbour can be seen. Yan Toh Heen has the cityscape as its backdrop – and some of the town's best dim sum. The seafood dumpling trio – grouper, prawns and scallops – is a particularly good choice.
18 Salisbury Road; 1852 2313 2323; hongkong-ic.intercontinental.com
dinner: Yardbird: Having opened its doors on Bridges Street in 2011, Yardbird moved to this bigger space in 2017. The no-reservations yakitori-ya (Japanese grilled-chicken outlet) is a staple of the Hong Kong food scene. Run by Canadian chef Matt Abergel, the restaurant orders fresh birds on a daily basis to reduce waste.
154-158 Wing Lok Street; 1852 2547 9273; yardbirdrestaurant.com
drinks: Butler: Butler transports you to an old-world Tokyo bar. With several years of experience at Ginza's best cocktail spots, Japanese owner Masayuki Uchida aims to offer the best in Japanese bartending culture.
5F, 30 Mody Road; 1852 2724 3828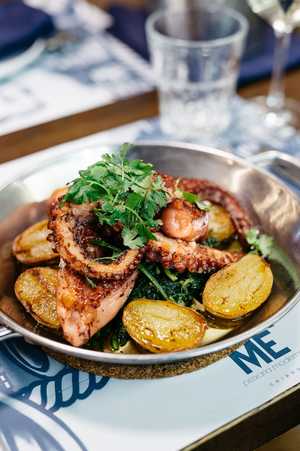 Lisbon's restaurants were once limited in number and had a provincial feel. Today that couldn't be less true. Locally sourced ingredients, particularly those whipped out of the ocean, are world-class and chefs are utilising them in canny ways. There's a strong focus on Portuguese fare, with a passion for updating traditional tropes.
breakfast: La Boulangerie: This is the place for the best croissants in Lisbon – and possibly Portugal. Flaky, buttery and baked on the premises, they're worth the visit alone. Or try the continental breakfast for freshly baked rolls with jam and butter.
42 Rua do Olival, 1200-742; 1351 21 395 1208
lunch: Sea Me Peixaria Moderna: Portugal's love for all things piscine is reflected at this smart restaurant (pictured, bottom right). You can choose your catch from a wide selection on ice or ask the friendly staff for their recommendations. Dishes are simple, adorned with potatoes and a small salad; the focus is on the quality of the fish.
21 Rua do Loreto, 1200-149; 1351 21 346 1564; peixariamoderna.com
coffee: Hello, Kristof: This cosy space (pictured, above and right) on Rua do Poço dos Negros, one of the streets that reflects Lisbon's rapid gentrification, is dedicated to coffee and magazines – founder Ricardo Galésio is also a magazine art director.
103 Rua do Poço dos Negros, 1200-336; hellokristof.com
dinner: Café Lisboa: This graceful space is on the ground floor of Lisbon's 18th-century opera house and its gilt ceilings and old-world interiors evoke times past. Along with the dining room there's a terrace for summer; both are overseen by chef José Avillez. Open from midday until late, this is a great spot for a relaxed lunch, an afternoon cocktail or a romantic dinner.
23 Largo de São Carlos, 1200-410; 1351 21 191 4498; cafelisboa.pt
drinks: Park Bar: Lisbon's original rooftop bar can be tricky to find: it's on the roof of a municipal carpark. But it's worth searching out: the space has been cleverly converted with low tables and plants. There's a friendly atmosphere and DJs with upbeat playlists.
58 Calçada do Combro, 1200-115; 1351 21 591 4011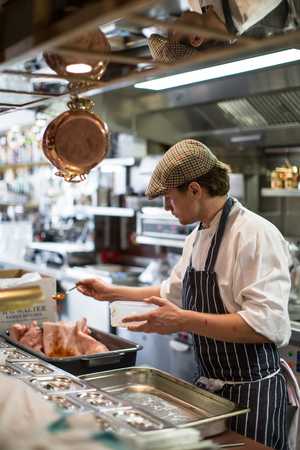 London's magnetic pull has tempted some of the world's most promising chefs and restaurateurs to the British capital – but it's not the high-profile crowdpleasers or big-brand openings that fill our culinary hitlist. Instead we've handpicked the best independent and unique venues for different occasions, be it client dinners, must-impress lunches or cosy crannies for dinner à deux.
breakfast: Honey & Co: Pastries rolled with fig or sprinkled with pistachios entice passers-by into this masterful purveyor of Middle Eastern cuisine, while colourful jars of preserves attest to the region's natural pantry. The menu offers the kind of comfort food that husband-and-wife co-founders (and chefs) Itamar Srulovich and Sarit Packer remember from their Israeli childhoods. Honey & Co is buzzing from breakfast to dinner.
25A Warren Street,W1T 5LZ; 144 (0)20 7388 6175; honeyandco.co.uk
lunch: Lemonia: Gems like this Greek taverna are hard to find: always busy and run by penguined-up older waiters who carry out their duties with a healthy dose of wit and a wry smile. The food at Lemonia (pictured, top) is homely and satisfying and the service – though perhaps a little brisk for some tastes – is never rude. Opt for the hummus and tzatziki to start, plus calamari and the artichoke and broad beans; then plump for the slow-cooked lamb kleftiko or moussaka for your main.
89 Regent's Park Road, NW1 8UY; 144 (0)20 7586 7454; lemonia.co.uk
coffee: Workshop: The fourth outpost of the Aussie beansters is a 25-seat horseshoe-shaped bar serving enviable macchiatos and pour-over coffee made using beans that are processed at its nearby roastery.
1 Old Street Yard, EC1Y 8AF; workshopcoffee.com
dinner: The Palomar: Run by the team behind Jerusalem's hip Machneyuda restaurant and two siblings who owned iconic London nightclub The End,  The Palomar (pictured, left) is a mixture of Mediterranean, Arabic and Jewish cuisine brought together in a playful atmosphere. Devotees flock for dishes from the raw bar including kubenia (hand-chopped beef fillet with bulgur, tahini, pine nuts and herbs), which pairs well with the buttery kubaneh (Yemeni bread) and tomato sauce.
34 Rupert Street,W1D 6DN; 144 (0)20 7439 8777; thepalomar.co.uk
drinks: The Nags Head: Not to be mistaken for the risqué gentleman's venue of the same name elsewhere in the UK capital, this is a charming curio-crammed villagey affair of wood panelling, low ceilings and English ale.
53 Kinnerton Street, SW1X 8ED 144 (0)20 7235 1135
LA's food scene is thriving. The weather helps: a Mediterranean climate and proximity to the Central Valley means that fresh ingredients are abundant. It has become a magnet for nationwide talent too. Mexico has exerted the most palpable influence on flavours favoured by Angelenos but the contributions of the Korean, Japanese and Chinese communities are also hefty.
breakfast: Sqirl: This postage stamp-sized café (pictured, right) is charming, filled with attractive people and serves easygoing fare. It's popular too, which might mean a bit of a wait, but it's a small price to pay for the rhubarb lemonade and the sorrel-pesto rice bowl.
4/720 Virgil Avenue, 90029; 11 323 284 8147; sqirlla.com
lunch: Ostrich Farm: This Echo Park restaurant, opened by husband-and-wife team Jaime Turrey and Brooke Fruchtman in 2014, is a place in which to linger – as demonstrated by the constant crush of devout patrons.
1525 West Sunset Boulevard, 90026; 11 213 537 0657; ostrichfarmla.com
coffee: Verve Coffee Roasters: Verve Coffee outlets (pictured, bottom) can be found across the city, though its headquarters are in Santa Cruz. Owners Ryan O'Donovan and Colby Barr learned the ropes at other ventures before starting their own business in 2007.
833 South Spring Street, 90014; 11 213 455 5991; vervecoffee.com
dinner: Gjelina: Something of a Venice Beach institution. The decor is modern but what brings the punters here is the food. The Moroccan baked eggs with merguez sausage, swimming in tomato sauce with yoghurt and coriander, will bust any hangover.
1429 Abbot Kinney Boulevard, 90291; 11 310 450 1429; gjelina.com
drinks: The Nomad Hotel Los Angeles: This gem of an opening (pictured, left) from the all-conquering Sydell group is a superb place to stay. Even if you're not hunkering down for the night, the lobby bar is a great place to see and be seen. You'll get what we mean when you take up residence on a peacock-green banquette.
649 S Olive Street, 90014; +1 213 358 0000 thenomadhotel.com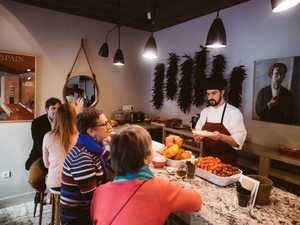 The eating, the drinking, the being merry – is that all people in this city do? The answer is a robust yes. The Spanish capital's appetite knows no bounds and a new generation
of chefs and entrepreneurs are upping Madrid's edible offering, transforming the city in the process.
breakfast: Federal Café: Madrileños have never really jumped aboard the big-breakfast bandwagon; the most elaborate indigenous rendition consists mainly of tomato toast served with coffee the colour and consistency of crude oil. Even the word "brunch" seems to have been lost in translation but the two Australians that are behind Federal Café in Conde Duque have been nudging Madrid's morning food culture towards a more Antipodean interpretation.
Plaza Comendadoras 9, 28015; 134 915 328 424; federalcafe.es/madrid
lunch: Celso y Manolo: Traditional tascas are resurgent in Madrid, tapping into a love for authentic food and informality. A tasca typically serves unfussy cuisine over a prominent bar and can be a loud, somewhat dated environment to eat in. Not so in this well-measured space (pictured, top and above). Food entrepreneur Carlos Zamora offers a modern take on the concept but ensures that a hearty helping of tradition makes it into every dish.
Calle de la Libertad 1, 28004; 134 915 318 079; celsoymanolo.es
coffee: Toma Café: The expansion of this espresso bar (pictured, right) reflects Madrid's nascent but growing coffee culture. The undeniable pioneers of this caffeine revolution are Patricia Alda Díaz and Santiago Rigoni, a Spanish-Argentinian couple whose positivity is suitably conducive to purveying caffeinated drinks.
Calle de la Palma 49, 28004; 134 917 025 620; tomacafe.es
dinner: Circo de las Tapas: The only animals to be seen at Antonio de Santiago's "Tapas Circus" are of the edible variety. But the owner is an ever-accommodating ringmaster who offers plenty of Spanish charm and an enticing menu of no-nonsense dishes. Don't leave without trying the tasty tortilla de patatas.
Calle Corredera Baja de San Pablo 21, 28004; 134 686 044 746; circodelastapas.com
drinks: Bodega La Ardosa: A Madrid institution, the Bodega La Ardosa dates back to 1892. A miniature television stacked among the wall of dusty bottles is perhaps the only clue to the fact that the world outside has changed since. Sate your appetite with the rabas de Cantabria (crispy fried calamari) and the sublime grilled artichokes.
Calle Colón 13, 28004; 134 915 214 979; laardosa.es
The culinary landscape of Mexico City is one of extremes: you can be dissecting the alta cocina (haute cuisine) of Polanco by day and tucking into charred al pastor tacos from a street stand by night. The city does highbrow and homely equally well.
breakfast: Café Nin: This building on the charming Calle Havre in Juárez used to house the second (and more roomy) outpost of Elena Reygadas' cherished bakery Panadería Rosetta. In 2017, however, she changed the name, took over the space next door and extended the menu, dubbing the new venture Café Nin.
73 Havre, 06600; 152 (55) 5207 7065; cafenin.com.mx
lunch: Cicatriz: An all-day café in the finest sense of the word, Cicatriz is owned by expat brother-and-sister duo Scarlett and Jake Lindeman. There's a succinct bar menu that boasts a fried-chicken sandwich – a sort of Mexican hot-chicken hybrid that tosses the succulent cutlet in a spicy salsa macha oil. Yum.
44 Dinamarca, 06600; cicatrizcafe.com
coffee: Café de Tacuba: Dark wood, ornate azulejos and gilded mirrors make a coffee break in this storied café (pictured, below) a delight. Opened by Dionisio Mollinedo in 1912, it has been a favoured haunt of artists, writers and an eccentric clientele ever since.
28 Tacuba, 06010; 152 (55) 5521 2048; cafedetacuba.com.mx
dinner: Tetetlán: More than a restaurant, Tetetlán (pictured, above) is a cultural centre and architectural gem housed in the former stables of Casa Pedregal. As famed for its design as its dishes, it is quintessentially Mexican. The light fixtures and the floating zigzag stairs are truly arresting.
180 Avenida de las Fuentes, 01900; 152 (55) 5668 5335; tetetlan.com
drinks: Tío Pepe: This cantina has been in operation since the 1870s and glimmers with age (as do the patrons). The booths are especially good spots for a round or two of straight tequilas, rum and ice-cold Victorias. Roving merchants pass through offering peanuts and fava beans if you fancy a snack.
Corner of Dolores and Avenida Independencia, 06050; 152 (55) 5521 9136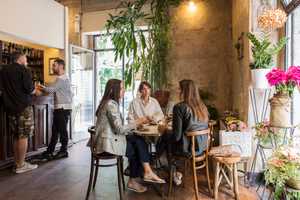 The Milanese might habitually be in a hurry but when it comes to drinking and dining, they know how to slow things down. The day unfailingly begins with the requisite coffee stop while evening is heralded by a well-appointed aperitivo before dinner, which can last into the early hours.
breakfast: Taveggia Milano 1909: Taveggia first threw open its doors in 1909: the year of Marinetti's Manifesto del Futurismo, when power lines and factories were springing up across the city and change was afoot. For more than a century it has lured visitors with its legendary rice pudding and 30 types of brioche.
Via Uberto Visconti di Modrone 2, 20122; 139 02 7628 0856; taveggia.it
lunch: Trippa: With his handlebar moustache, gregarious nature and way with offal, Veneto native Diego Rossi is one of the most popular chefs in town. "I wanted to open a proper trattoria," he says. "Our dishes are honest: what you see is what you get." You won't find a menu on the website as it changes depending on what's available at the market but the eponymous fried tripe, kidneys, liver, heart, lung and sweetbreads all feature heavily. Less daring diners and vegetarians need not despair: there's more standard fare available too.
Via GiorgioVasari 3, 20135; 139 327 668 7908; trippamilano.it
coffee: Fioraio Bianchi Caffè: As the name suggests, this is first and foremost a flower shop but owner Raimondo Bianchi was inspired by the classic Parisian bistro. He opened the cosy venue (pictured, left and below) on between San Fermo and Montebello in the 1970s and the Milanesi bene (the city's "old money") have long since adopted it as one of their own.
Via Montebello 7, 20121; 139 02 2901 4390; fioraiobianchicaffe.it
dinner: A Santa Lucia: Jacketed waiters (pictured, below left) move briskly, presided over by photos of cinema's golden-age stars, such as Frank Sinatra and Liza Minnelli, and the stream of intellectuals, entrepreneurs and musicians who have graced the restaurant over the years. Neopolitan fare at its finest in San Babila.
Via San Pietro all'Orto 3, 20121; 139 02 7602 3155; asantalucia.it
drinks: Dry: You can't go wrong with the pizze classiche but the bite-sized focaccia laced with vitello tonnato (a veal-and-tuna combo) is textbook. Be sure to leave room for a cocktail: we recommend the French 75. Dry is only open in the evening; for lunch head to the newer sister venue Dry 2, near Porta Venezia.
Via Solferino 33, 20121; 139 02 6379 3414; drymilano.it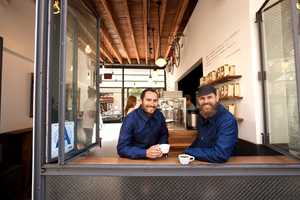 It might have something to do with the tip culture but service in New York is slick; waiters here know that they have to work for that 20 per cent so you'll be well attended. The restaurant scene is diverse and international, claiming to be the best in the US (Angelenos and Chicagoans would disagree).
breakfast: Café Cluny: Brunch doesn't always have to be a blowout (though it can feel that way in New York), which is where this French-influenced establishment in the West Village comes in. Waiters in striped shirts can serve you homemade granola should you wish to sidestep the eggs; the franglais frisée salad aux lardons is also a classic.
284 West 12th Street, NY 10014; 11 212 255 6900; cafecluny.com
lunch: Café Colette: The beautiful people of Williamsburg flock to this New American bistro for rustic, creative food. Take a seat in the greenhouse garden, prop up the zinc-covered bar or, for maximum people-watching potential, claim one of the tables that line the façade. Hearty mains feature butter-bean-and-kale stew with grilled sourdough.
79 Berry Street, NY 11249; 11 379 599 1381; cafe-colette.com
coffee: Gasoline Alley Coffee: Something about this cubbyhole-sized shop (pictured, bottom) in Noho – and its brew – keeps us coming back. The menu is simple and the benches are great for people-watching.
79 Berry Street, NY 11249; 11 347 599 1381 gasolinealleycoffee.com
dinner: Bacaro: Find a quiet corner in this Venetian joint, where wooden tables are lit by blown-glass chandeliers. Founded in 2007 by Kama Geary and chef Frank DeCarlo, the Italian gastropub has a marble bar and private dining in vaulted catacombs.
136 Division Street, NY 10002; 11 212 941 5060 bacaronyc.com
drinks: The Nomad Bar: If you can't get a table at the Nomad restaurant, its bar (pictured, below) evokes a similar opulence. Accessible from the street or the hotel's library, its two-storey space has mahogany-lined walls, leather booths and a mirrored bar.
10 West 28th Street, NY 10001; 11 212 796 1500; thenomadhotel.com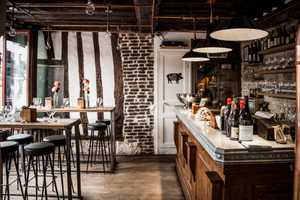 The traditional Parisian food scene is not one that typically leans towards accommodating the desires of its diners: many restaurants have set times to eat and set menus to eat from. Luckily the sheer quality, ambition and beauty of the food compensates for any rigidity you might encounter – and how could you not eat well in France?
breakfast: La Bourse et la Vie: Daniel Rose, the US-born chef behind venerable restaurant Spring one arrondissement over, has opened this upmarket bistro that puts the spotlight firmly on great ingredients. His French wife, chef Marie-Aude Mery, runs the tiny kitchen, which is open for breakfast, lunch and dinner (a rarity in Paris in itself).
12 Rue Vivienne, 75002; 133 (0)1 4260 0883; labourselavie.com
lunch: Ober Mamma: This restaurant and cocktail bar (pictured, above) is the second to launch under the Big Mamma group umbrella (more have followed, including in London, see page 84). It's the place to head to if you fancy a break from rich French fare in favour of pasta or an authentic  wood-fired pizza.
107 Boulevard Richard Lenoir, 75011; 133 (0)1 5830 6278; bigmammagroup.com
coffee: Ten Belles: Paris is no longer a city of second-rate coffee if this establishment is anything to go by. Ten Belles, run by chefs Anna Trattles and Alice Quillet, is something of a cult spot for beanheads and on any given day punters gather at the front window, chatting among the blooms overflowing from Bleuet Coquelicot, the florist next door.
10 Rue de la Grange aux Belles, 75010; 133 (0)1 4240 9078; tenbelles.com
dinner: Anahi: Behind a discreet black-and-white shopfront on a backstreet you'll find some of the best Argentinian food in Paris. The restaurant (pictured, below) was a little worn after 30 years of operation so it was recently revamped by Humbert & Poyet. Chef Riccardo Giraudi goes to nearby producers for his menu of South American classics; naturally barbecued meat features heavily, along with a stellar ceviche.
49 Rue Volta, 75003; 133 (0)1 8381 3800; anahi-paris.com
drinks: Frenchie Bar à Vins: Chef Gregory Marchand's wine bar (pictured, bottom), on a small side street minutes from Sentier Metro station, opened just two years after the 2009 launch of his neighbouring restaurant Frenchie. Both establishments (as well as the takeaway lunch spot Frenchie to Go) were named after the moniker given to Marchand by UK chef Jamie Oliver.
5-6 Rue du Nil, 75002; 133 (0)1 4039 9619; frenchie-restaurant.com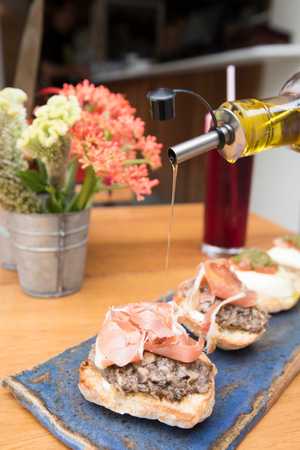 Eating out in Rio hasn't always been the most exciting experience. But that is changing as a new wave of chefs and food-industry entrepreneurs start to put the city on the culinary radar. Service might be slow by North American standards but staff are – almost without exception – friendlier.
breakfast: Talho Capixaba: What started out as a Leblon butcher shop in the 1960s has expanded over the years into a complete deli with a bakery, patisserie and wine cellar. It's where locals come to restock the gourmet items in their fridges and there is always a queue to eat in. The breakfast here is worth the wait.
Avenida Ataulfo de Paiva, 1022; 155 (21) 2512 8760; talhocapixaba.com.br
lunch: Jojo: Joana Carvalho (known as Jojo) set up this charming bistro (pictured, above) on a quiet street in Jardim Botânico in 2011.There are just 14 tables, all on the pavement and adorned with candles in the evenings to create a romantic air.
Rua Pacheco Leão, 812; 155 (21) 3565 9007; jojocafe.com.br
coffee: Da Casa da Táta, Gávea: This small and buzzy spot serves a delicious Brazilian spread of cake, bread, fruit and coffee, guaranteed to bring some comfort to even the weariest travellers.
Rua Professor Manuel Ferreira, 89; 155 (21) 2511 0947; dacasadatata.com.br
dinner: Gero, Ipanema: When hotelier Rogério Fasano opened Gero (pictured, below) in 2002 he raised the gastronomic bar for Rio. The menu is heavy on Italian staples such as lamb shanks and veal ravioli; our top picks are saffron risotto with ossobuco or crushed potato with goat's cheese and egg yolk.
Rua Aníbal de Mendonça, 157; 155 (21) 2239 8158; fasano.com.br
drinks: Bar Lagoa: Few spots in Rio have the heritage of this 1934 art deco establishment overlooking the lagoon. Originally called Bar Berlin, the place used to cater to the community of German immigrants drawn by the Bavarian food and music. The music balcony is no longer in use but the schnitzel and potato salad are still favourites.
Avenida Epitácio Pessoa, 1674; 155 (21) 2523 1135;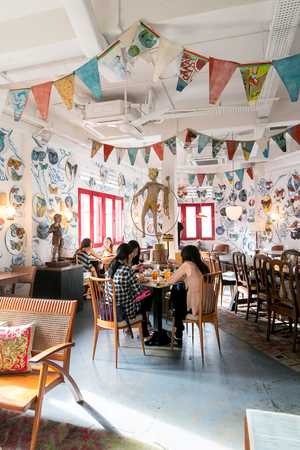 In the island-state you'll find both outdoor food courts – known as kopitiam – offering tasty street fare and fine-dining establishments set up by starry chefs. But the bits in the middle are where Singapore excels.
breakfast: Ronin: This café (pictured, below) flies under the radar: it doesn't have a phone number but it does have a loyal clientele base of in-the-know breakfast-lovers. Husband-and-wife duo Vincent Teng and Laura Phay oversee the team serving aromatic coffee and a hearty brunch menu.
17 Hongkong Street, 059660; ronin.sg
lunch: Super Loco: During a trip to Mexico, Singaporean brothers Christian and Julian Tan were blown away by the grub. "We left inspired to bring that amazing experience to Singapore," says Christian. Since opening in 2014, Super Loco (pictured, above) has become the prime spot for those seeking salsa and tacos.
60 Robertson Quay #01-13, 238252; 165 6235 8900; super-loco.com
coffee: 40 Hands: The name stems from the belief that the entire coffee process from bean to cup takes 40 people to complete. Get here a little after dawn to secure a spot as the Tiong Bahru space quickly fills up with citizens eager for their morning caffeine fix.
78  Yong Siak Street, 163078; 165 6225 8545; 40handscoffee.com
dinner: Candlenut: For chef and owner Malcolm Lee, who is of Peranakan heritage, Candlenut in Tanjong Pagar is his way of sharing his culture through food. "It's like going to grandma's house, where the food is lovingly cooked," he says of his approach. Expect delicious classics such as rendang (dry beef curry), prawn sambal, chicken satay and braised mixed vegetables.
Dorsett Residences, Unit 01-03, 331 New Bridge Road, 088764; 165 8121 4107; comodempsey.sg/restaurant/candlenut
drinks: Potato Head: ptt Family, the group behind Bali's Potato Head Beach Club, ventured into Singapore's hospitality scene in 2014. A 1939 shophouse became their sprawling space (pictured, top), emblematic of the brand's whimsical aesthetic.
36 Keong Saik Road, 089143; 165 6327 1939; ptthead.com/singapore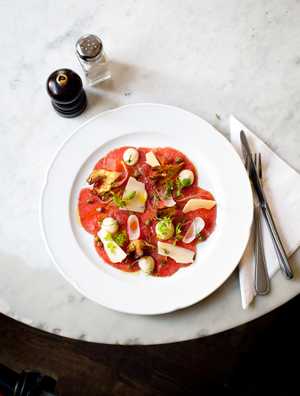 Clichés notwithstanding, Stockholm's culinary scene really does dish up a smörgåsbord of delights on the dining table. Contrary to the image painted by the at-times-worthy New Nordic movement (forage this, foam that), there's a likeable focus on hearty and informal meals that comes from a tradition of husmanskost (homely food).
breakfast: Java Whiskers: In 1954, Stellan Åström designed and opened a café, then hired a young Polish woman to work there. More than six decades later Magdalena, who subsequently became Mrs Åström, still comes in every week to bake an array of traditional Swedish cakes and pastries. The fact that the food is delicious just adds to the appeal of what is Stockholm's best-preserved mid-century café.
48 Surbrunnsgatan, 113 48; 146 (0)8 300 476 javawhiskers.se
lunch: Pelikan: Pelikan (pictured, above) is the sort of heartwarming restaurant where the waiter has been there for 30 years and the laughter ricochets around the walls until well past bedtime. Its history goes back to 1664 but it's been serving traditional Swedish fare at this address since 1904. Don't fill up on the free knäckebröd: wait for wholesome plates such as roasted reindeer with root-vegetable terrine and lingonberries.
40 Blekingegatan, 116 62; 146 (0)8 5560 9090 pelikan.se
coffee: Johan & Nyström: Opened by a group of coffee-loving Stockholmers in 2008, Johan & Nyström is the quintessential hangout for Södermalm's cool cats (of which there are many). There's a second branch in Kungsholmen but this larger, split-level space is our favourite.
7 Swedenborgsgatan, 118 48; 146 (0)8 5302 2440; johanochnystrom.se
dinner: PA&Co: This pocket-sized Östermalm bistro (pictured, below) started life as more of a hangout when five pals got together and bought the space in 1986 to host their friends and family. Though it quickly grew in popularity, the intimacy remains undimmed and the food is as delectable as ever (it even released a cookbook in 2016 to mark the 30-year milestone).
8 Riddargatan, 114 35; 146 (0)8 611 0845; paco.se
drinks: Katarina Ölkafé: This small Södermalm bar stocks an encyclopaedic range of beers from microbreweries across Sweden. The pretty bottles form a library of libations, illuminated by lantern-style lamps. During the long and dark winter, well-heeled folk huddle around the taps but spill out onto the street as soon as summer arrives.
27 Katarina Bangata, 116 39; 146 (0)8 644 6443; katarinaolkafe.se
Visitors are often awed by the strength and breadth of Sydney's dining scene, which benefits from the quality of the country's produce and often fuses Asian influences with Aussie staples. Some of the best chefs in the world ply their trade here, with a decent new restaurant opening most weeks.
breakfast: Bills: Have you ever watched a great film only to discover that the novel it's based on is even better? It's a fair analogy for Bill Granger's flagship in Darlinghurst, the restaurant from which his international expansion took off. Diners shake off hangovers over hearty breakfasts and foremost on the menu are the light-but-filling sweetcorn fritters. Brunch is treated as a religion here; not visiting is akin to blasphemy.
433 Liverpool Street, 2010; 161 (0)2 9360 9631; bills.com.au
lunch: Acme: The food and service is provided by a foursome: Andy Emerson, Cam Fairbairn, Mitch Orr and Ed Loveday (from whose forenames the Acme acronym is derived). Grab a seat and enjoy one of the lip-smacking pasta dishes or opt for the boloney sandwich, which has earned itself semi-mythic status since the restaurant opened in 2014.
60 Bayswater Road, 2011; +61 (0)2 8068 0932; weareacme.com.au
coffee: Artificer: This pared-back coffee shop is run by two of Sydney's best baristas. After winning The Sydney Morning Herald's Best Barista award in 2012 and 2013 respectively, Shoji Sasa and Dan Yee opened Artificer. The duo stick to making espressos on their Seattle-built Synesso machine and brewing filter-style coffee.The latter is served in cups made by Ceramic Studio En, an Artarmon-based Japanese pottery specialist.
547 Bourke Street, 2010; artificercoffee.com
dinner: The Apollo: Chef Jonathan Barthelmess and restaurant impresario Sam Christie opened this Greek joint (pictured) on Macleay Street in Potts Point in 2012. It serves the kind of food you'll find yourself remembering long after you've left. It's summed up by the saganaki cheese dish with oregano, honey and lemon, which arrives at the table bubbling in a skillet.
44 Macleay Street, 2011; 161 (0)2 8354 0888; theapollo.com.au
drinks: Earl's Juke Joint: This King Street space was previously a butcher's shop called Betta Meats and its façade, from the bold red lettering to the wispy white curtains and jars of pickles in the window, hasn't changed. An eclectic crowd gathers to sample the classic cocktail menu and the relaxed, neighbourhood feel.
407 King Street, 2042; facebook.com/earlsjukejoint
It's not only Tokyo's sushi chefs and kaiseki specialists – celebrated defenders of traditional Japanese cuisine – who deserve a mention.
breakfast: Yakumo-Saryo: There is no better place for a traditional Japanese breakfast than this gorgeous restaurant in Megurp. But don't expect bacon and eggs: your first meal of the day is likely to include white rice, himono (semi-dried fish) and konbu tsukudani, a soy-sauce-stewed kelp dish.
3 Chome-4-7, Yakumo; 181 (0)3 5731 1620; yakumosaryo.jp
lunch: Shiseido Parlour: Shiseido Parlour started in 1902 as a soda fountain in a pharmacy. Since then it has stuck to what it does best: Japanese-style western cuisine, known as yoshoku, that came into vogue in the 20th century. Here it is served by waiters in crisp shirts and bow ties.
8 Chome-8-3, Ginza; 181 (0)3 5537 6241; parlour.shiseido.co.jp
coffee: Fuglen: Opened by Einar Kleppe Holthe, Peppe Trulsen and Halvor Skiftun Digernes, this café feels more like a well-loved lounge. Furnished with the best of mid-century Norwegian design, it serves coffee by day; at night it's an inviting bar.
1-16-11 Tomigaya, Shibuya-ku; 181 (0)3 3481 0884; fuglen.no
dinner: New York Grill: Who could tire of the view from the New York Grill? Tokyo is laid out before diners on the 52nd floor of the luxury Park Hyatt Tokyo. The menu is rock solid – a good chance to try Kobe prime cut or Sendai tenderloin – and the Californian wine list is one of the longest in Japan.
52F, Park Hyatt Tokyo, 3-7-1-2 Nishi Shinjuku, Shinjuku-ku; 181 (0)3 5323 3458; tokyo.park.hyatt.com
drinks: Old Imperial Bar: As the name suggests, the Imperial Hotel is a thoroughly classy establishment that has been in business since 1890.The Old Imperial Bar on the second-floor mezzanine exhibits the best traits of an old-school approach.
1-1-1 Uchisaiwaicho, Chiyoda-ku; 181 (0)3 3539 8088; imperialhotel.co.jp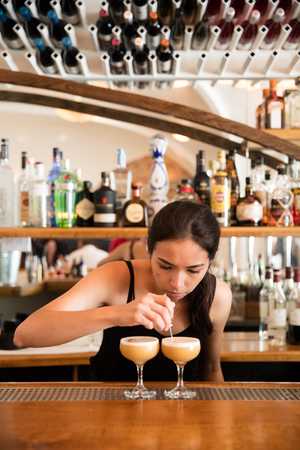 Canada's cities like to jostle for the title of the country's culinary capital – but Toronto has the strongest claim. Why? It continues to attract some of the world's best chefs, sommeliers and cocktail-waiters.
breakfast: Caplansky's: In 2009, Zane Caplansky sparked a delicatessen revival when he opened this venue. "My family's been in the business for four generations," he says. "My great-grandmother used to make corned beef and pickled-tongue sandwiches for garment workers."
356 College Street, M5T 1S6; 11 416 500 3852; caplanskys.com
lunch: The Black Hoof: Ingredients here are provided by organic and biodynamic companies and farmers so the menu changes frequently.
928 Dundas Street, M6J 1W3; 11 416 551 8854 theblackhoof.com
coffee: Crafted: This café in Trinity Bellwoods has mastered coffee-brewing every which way, attracting those in search of a pour-over, French-press or famed six-hour cold-drip coffee.
pilotcoffeeroasters.com
dinner: The Commodore: A restaurant and cocktail bar (pictured, above) with a focus on seafood. Dishes include reimagined comfort food and French and Asian flavours.
1265 Queen Street West, M6K 1L4; 11 416 537 1265; commodorebar.ca
drinks: Bar Raval: This tapas and cocktail bar has become one of Toronto's most talked-about watering holes. Its interior has had people flocking to it as much as the menu but do stay for a sip.
505 College Street, M6G 1A4; thisisbarraval.com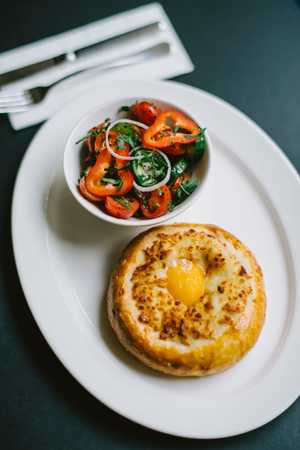 The fact that Viennese food is one of the few examples of the world's cuisines to be named after a city (rather than a country) says a lot about its historic roots and significance. It's the capital of strudel, schnitzel, sausages and sachertorte. And what would Vienna be without its coffeehouse culture?
breakfast: Café Ansari: This family-run café (pictured, above) serves a fusion of Middle Eastern and Georgian co-owner Nina Ansari's native cuisines. Try the Georgian breakfast: a dough dumpling filled with creamy mozzarella, topped with a fried egg and accompanied by a cherry-tomato salad drizzled with red basil dressing.
15 Praterstrasse, 1020; 143 (0)1 276 5102; cafeansari.at
lunch: Zum Schwarzen Kameel: Owner Peter Friese (pictured, right) has headed this Viennese institution (pictured, bottom) since 1977 but Kameel (as it's affectionately referred to) has been around for almost four centuries – and it remains "one of the most egalitarian places in Vienna", says Friese. "Here a president can sit next to a labourer." The restaurant enjoyed a makeover in 1901 and today is a wonderful example of art nouveau decor, with its tiled walls, hanging lamps and wood panelling.
5 Bognergasse, 1010; 143 (0)1 533 812 511; kameel.at
coffee: Café Prückel: Originally designed in the colourful, dreamy style of Austrian artist Hans Makart when it opened in 1904, this café's interior was later updated by architect Oswald Haerdtl, resulting in today's 1950s-inspired decor. Its large windows are perfect for people-watching over breakfast – we recommend the traditional wiener frühstück (Viennese breakfast) and the apple strudel – and you can get stuck in to a wide selection of newspapers over a coffee.
24 Stubenring, 1010; 143 (0)1 512 6115; prueckel.at
dinner: Pfarrwirt: Take a seat in "Beethoven's favourite spot" and let the kitchen spoil you with classics such as prime boiled beef and wiener schnitzel. It might be a 20-minute drive from the centre of town but this feast is well worth the trip.
5 Pfarrplatz, 1190; 143 (0)1 370 7373; pfarrwirt.com
drinks: Volksgarten Pavillon: This 1950s-style pavilion with views of Heldenplatz is a perfect place to stop off for a coffee – or perhaps something a little stronger. Come here in the evening for drinks and to hear top DJs; the highlight is the legendary Tuesday- night techno party during the summer months.
Volksgarten, 1010; 143 (0)1 532 0907; volksgarten-pavillon.at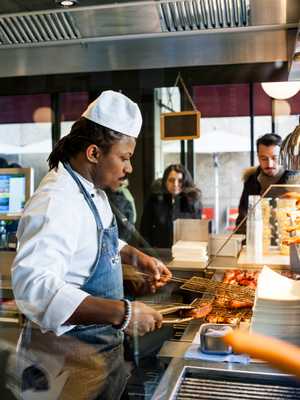 What was once a dependable but lacklustre mix of Swiss- focused restaurants has slowly shifted gears to become more flexible and international in its outlook. Along with the city's time-honoured boltholes, these newcomers are shaking up the scene. Further brightening the mix are cosy all-day drinking spots and a bubbling outdoor apéro culture.
breakfast: Café des Amis: Head here to start the day with a hearty breakfast platter or finish up with late-evening drinks (the café becomes a bar as the day draws to a close). In warmer months, the outdoor seats under the awning are a popular spot.
Nordstrasse 88, 8037; 141 43 536 9381; desamis.ch
lunch: Sternen Grill: You can't come to Zürich and pass up a sausage or two – and Sternen Grill (pictured, above) offers some of the best in town. For more than half a century, the Rosenberger family have been serving their pork-and-beef cervelat and veal-and-pork bratwurst with crispy bürli rolls and punchy mustards.
22 Theaterstrasse, 8001, Kreis 1; 141 (0)43 268 2080; sternengrill.ch
coffee: The Monocle Café: Our Zürich outpost (pictured, below) opened in 2018 and we like to think that it's one of the top addresses in town to grab a coffee (and pick up the latest issue of the magazine). A short walk from Zürichsee, the space was turned into a café and shop by our in-house design team.
90 Dufourstrasse, 8008, Kreis 8; 141 (0)44 368 7071; monocle.com
dinner: Kronenhalle: Hidden behind an austere Biedermeier façade on Rämistrasse, this is a Zürich institution. Hunker down in the dark, teak-panelled bar or dine in the bustling brasserie; expect German-Swiss classics and exceptional service. Don't miss the chocolate mousse.
4 Rämistrasse, 8001, Kreis 1; 141 (0)44 262 9900; kronenhalle.ch
drinks: Bar Sacchi: Having played bartender and host for many bars and pop-ups across town, Claudio Sacchi struck out on his own in 2017. The menu offers classic cocktails and natural wine but it's the negronis – stored in a barrel and shot into tumblers through a soda gun – that have the regulars returning.
1 Bertastrasse, 8003, Kreis 3; sacchi.bar