Hospitality, Vienna / Vienna
Something on the side
Vienna, home to more city vineyards than anywhere in the world, hosts a curious culinary event that brings food (and wine) lovers out in force: welcome to the 'Heuriger'.
"The Heuriger is a place that sums up Austrian hospitality," says Clemens Keller, managing director of Mayer am Pfarrplatz winery. He's standing overlooking a verdant courtyard filled with people knocking back glasses of his white wine. "It's a place where differences disappear. The boss in his suit can come here but so can any worker. Everyone feels comfortable."
Keller evokes the German word Gemütlichkeit, a term that's not easy to translate but is akin to the Danish word hygge, which denotes a sense of deep comfort, ease and hospitality. It's here, in Vienna's down-home wineries, or Heuriger ("hoy-rigg-ah"), that visitors can get closest to understanding it.
Sirbu is one such Heuriger. It's a few hundred metres uphill from Mayer, near the city limits. This simple tavern opens at irregular intervals but offers some of the most stunning views over the rooftops and spires of the Austrian capital. Locals loaf under rose-heavy trellises to sip grüner veltliners, rieslings and gemischter satz (a blend of white grapes unique to the Austrian capital's viticulture and grown in the same vineyard) overlooking the terraced vines and the city lights below.
The strange appellation Heuriger, by the way, comes from the word "heuer" (meaning "this year" in Austrian dialect; "Heuriger Wein" being "This year's wine"). It designates a genre of informal tavern in which a vintner's own just-made wine is on offer, usually served with simple, sumptuous and mostly uncooked fare that's made on-site (cooking means they'd need a pesky restaurant licence).
These restaurants should be considered the nocturnal, fun-loving cousin of the more austere and intellectual Viennese coffeehouses – or perhaps an outdoorsy, tipsy relative of a German beer garden. The clichéd version is a simple hut or clutch of rough-hewn tables at the edge of a vineyard but today many have morphed to become more like conventional restaurants – some with stately wood-panelled interiors. Whatever form they take, Heuriger are social levellers.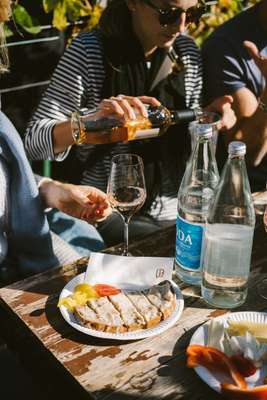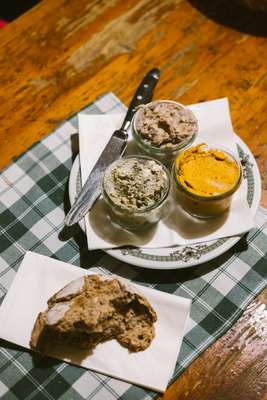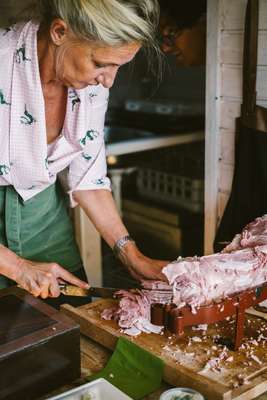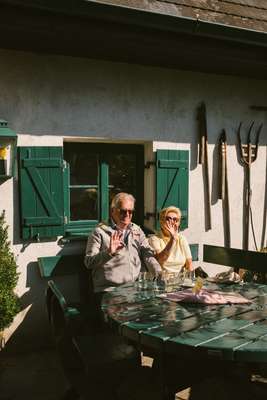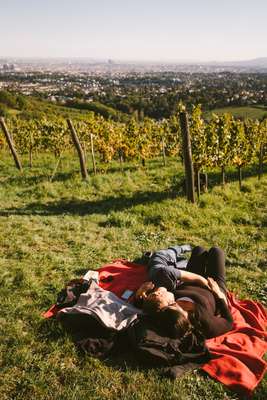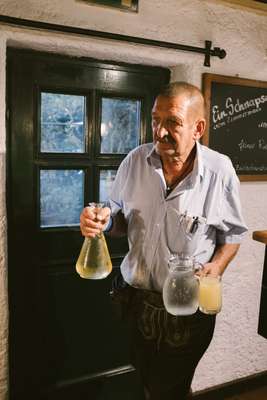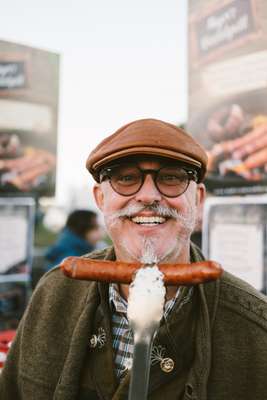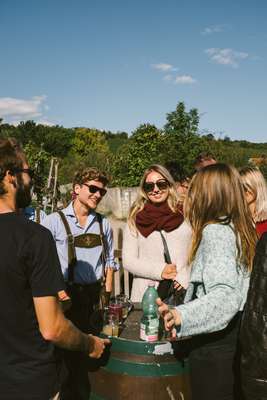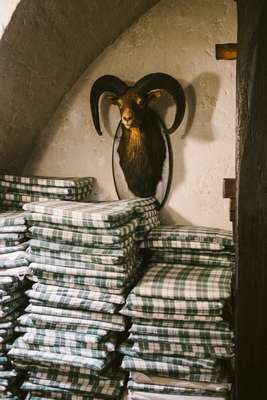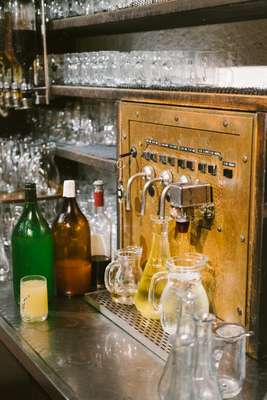 They are also unique to eastern Austria (grapes don't grow well in the higher Alps), with hundreds of Heuriger nestled in rural valleys in the country's provinces and, amazingly, in Vienna itself. This is the only capital city with winemaking inside the city borders; the 700-odd square hectares of lush vineyards include 190 vineyards within city limits. The most rustic are known as Buschenschank.
"The Heuriger is really an extended living room," says Norbert Walter, whose eponymous tavern (one component of his larger vineyard called Weingut Walter) is a cute hut in the shadow of a hill called Bisamberg, near the Danube. Originally from western Austria and once a politician, Walter began growing and serving his own wine a decade ago, after encountering this appealing patch of land while on a city hike. Walter grew up in the countryside and, after years in the city, was itching for a change. "I found out that the plot was for sale," he says, recalling how he met its previous owner and cut a deal. "We drank five bottles of wine and then the land was mine."
Walter has made Weingut Walter's Heuriger into a small oasis. He and his "better half" serve bread, cheese and spreads such as Liptauer, which is a paprika and cottage-cheese concoction that tastes infinitely better than it sounds.
The vineyard is known for its clear veltiner, two different rieslings and a chardonnay that's stored in a wooden barrel in the hut; Walter also makes zweigelt, a light, crisp red that's not well known outside Austria but should be. Kids giggle as they play hide-and-seek between the rows of growing vines; as dusk falls, the adults begin giggling too.
Walter operates a handful of vineyards on parcels spread throughout the city's winegrowing districts but only serves his wine here. "The rule says that you have to serve your own wine," he says. "The only exception to this is when you have a year with hail, flooding or a destroyed crop; then you have to register with the authorities." Regulations? Heuriger seem a bit lawless and earthy but are in fact tightly controlled – the tavern tradition itself was born from an imperial decree. In 1784, Emperor Joseph II declared that Austrian vintners had the right to grow and process wine, as well as sell and serve it on their own land, without having to procure an expensive restaurant licence. But this privilege came with strict guidelines stating, for example, that Heuriger can operate a maximum of 300 days a year. (Note that the decorative bundle of pine branches displayed near the establishment's nameplate mean something: if a bough is visible, the Heuriger is open.)
Another rule: wine is the one drink on offer. Never beer and certainly no soft drinks or coffee – although Almdudler, an Austrian carbonated, herbal concoction known as Kacherl, is allowed. The wine must not only be the vintner's own but also come from the most recent crop. The cold buffet was only allowed as of 1939, although until a few decades ago it wasn't entirely unusual to see guests bringing their own snacks. And serving hours still end at midnight, sharp.
Back at Mayer am Pfarrplatz we're overlooking a quaint ensemble of buildings. They're accessed through an arched door leading to an inner courtyard under a canopy of trees and vines. Mayer is one of the city's most elegant such restaurants – and one of the oldest. The main building dates to 1683. "In 1817, Beethoven lived here for a time, bathing in the thermal bath next door to remedy his hearing loss – as did fellow composer Franz Schubert and later philosopher Friedrich Hegel," says Keller. "He had to move around the city because he couldn't pay rent." The composer was writing his Eroica symphony at the time.
At Mayer the buffet, in a separate room just off the garden, is a cornucopia of options, including Apfelstrudel. Guests also come for the entertainment. A small troupe (generally a violinist, accordionist and a guitarist or two) shows up at 19.00 every evening to play and sing old Viennese folk songs. "Sadly the music [part] is a dying art," says Keller. "The older musicians just don't want to teach the younger ones but there are enough older ones still around."
Customs evolve and change. Several Viennese Heuriger, including one indoor dining space at Mayer am Pfarrplatz, have turned into Heuriger-restaurant hybrids, serving hot fare such as schnitzel and Schweinsbraten (pork roast). Other vineyards, including Weingut Christ, have upgraded to contemporary interior design, often holding wine tastings inside a sleek showroom alongside its earthier outdoor Heuriger operation. Serving older vintages is also beginning to be tolerated. Some Heuriger operate year-round – an affront to the original rules that once held sway.
One welcome change is the increased co-operation between Vienna's vintners. In December last year, Norbert Walter was voted president of the city's vintner's association, which works with the city government to advocate for winegrowing. Initiatives such as WienWein – a marketing group of six new-generation vintners, founded in 2006 – host events and tastings. A highlight is the annual "wine hiking day" in September, timed to match the grape harvest. Winemakers erect temporary Heurigen in addition to the permanent ones, so hikers can sample their vintages as they take in the scenery.
The Heuriger is here to stay – in some form or other. Whether the wine is from this year or last, there's nothing like sitting under the stars with friends and hearing crickets chirp in the very vines that produced what's in your glass. Prost.
Vienna's Heuriger address book
Mayer am Pfarrplatz
One of the oldest and fanciest in town, with a variety of fare and music every night. Beethoven lived here too.
2 Pfarrplatz, 1190; pfarrplatz.at

Heuriger Sirbu
Views over Vienna and an unpretentious atmosphere make this a favourite.
210 Kahlenberger Strasse, 1190; sirbu.at

Weingut Walter
Tucked in among the vines, this is perfect for a sunny Friday evening.
7 Untere Jungenberggasse, 1210; weingut-walter-wien.at

Weingut und Heuriger Christ
Has a sleek modernist interior but there's additional room outside for quaffing.
10-14 Amtsstrasse, 1210; weingut-christ.at

Burschenschank Stift St Peter
This venue has belonged to Benedictine monks since 1042. Bask in tradition, wine and nightly music.
5 Rupertusplatz, 1170; stiftstpeter.at